It has officially been a year since I started doing this Flea Market flipping gig full time. Wow. What a year it's been! I have always loved being an eBay seller (for the past 20 years), but I wasn't sure if I could really support a family of 5 with it.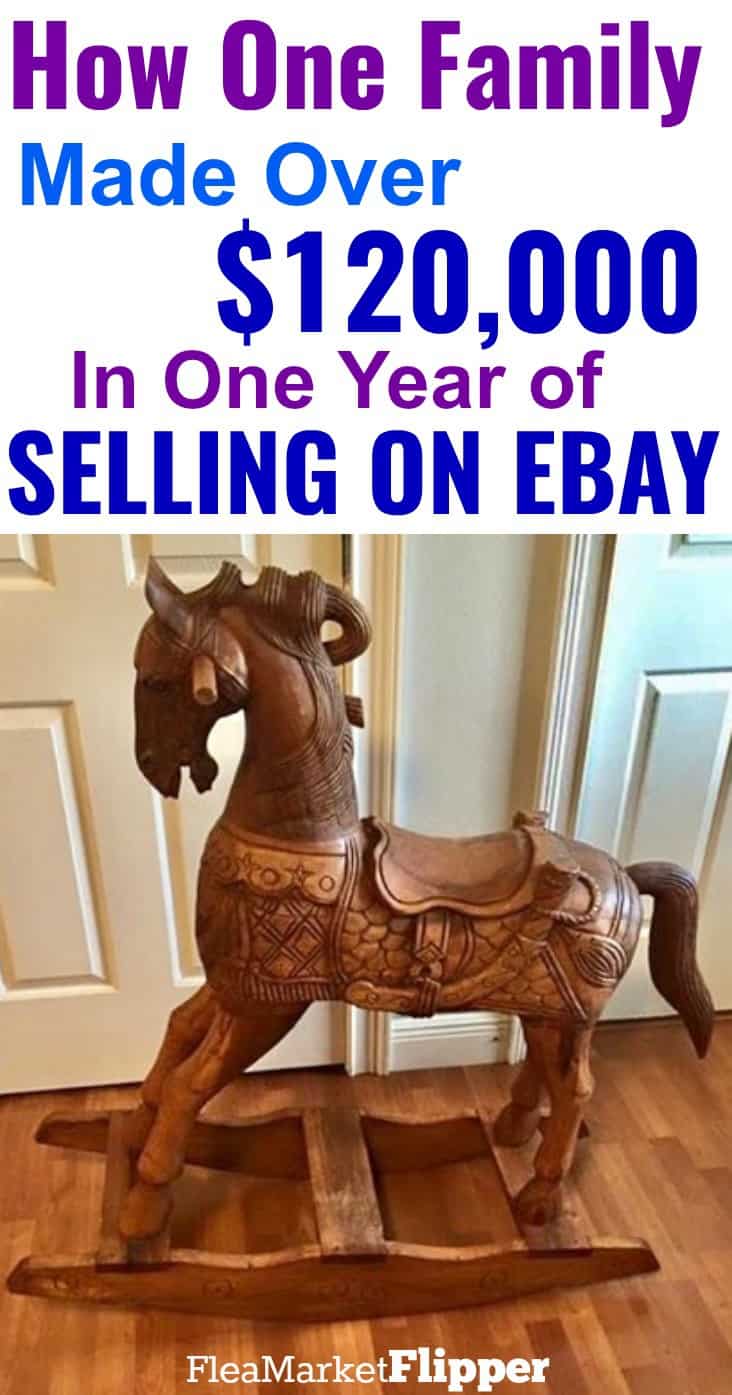 In case you missed it, I quit my job in May last year to do our side hustle gig full time. I wish I could say that because business had been going so well, I decided to jump right into full time and it was a seamless decision. The reality was that while our income was really good for a side income, it wasn't quite enough for full time, but I had a pretty good push into it because my employer had cut off my benefits.
This post may contain affiliate links. Please see our full disclosure for more details. 
I had been with that company for 8 years doing insurance inspections. I liked it because it was flexible hours and I only ever saw my boss 3-4 times the whole time with them. I had a good boss, but it's always nice when you're left alone most of the time. 😏
They made cuts and cut benefits for all the field inspectors. (I did home insurance inspections). That was when I decided it was time to jump into buying and reselling  and become an eBay seller full time.
Was it scary? Yes! We had just had our third baby 6 weeks earlier so it wasn't the ideal time to lose health insurance. Melissa had stopped doing personal training sessions when baby boy was born and wasn't planning to go back this time. So, we had already cut back on our monthly income, and then losing insurance and the extra income from that job was a bit stressful. But it is what I needed. It was what we needed. 
We have a strong faith in God and believe He lets things like this happen to help us grow and for a plan greater than we can see. This was definitely true this past year. We couldn't see it at this time last May, but the following months would be some of our highest we have ever had in our past 20 years of flipping items. Since I was full time, I treated it more like a business instead of a hobby, and it paid off. Since going full time last May, we have had $128,548 in sales!
Favorite flips from the year
We had our largest sale last September which was a security tower that we purchased for $6,000, and sold it for $25,000 30 days later! It was an exciting flip. The kids even got to try it out:
We did learn some things from that sale with Paypal, which is going to be a blog post very soon. There are a couple things we would have done different in handling the large transaction that would have saved us a lot of headache with PayPal. But even with those hurdles, we were super stoked for that large return on a single item.
Here are a couple other of my favorite flips:
This buttered popcorn prop wasn't the most profitable flip, but c'mon. Who doesn't want a 7-foot tall buttered popcorn at their house? I bought it from an auction for $20, and sold it for $140 on eBay.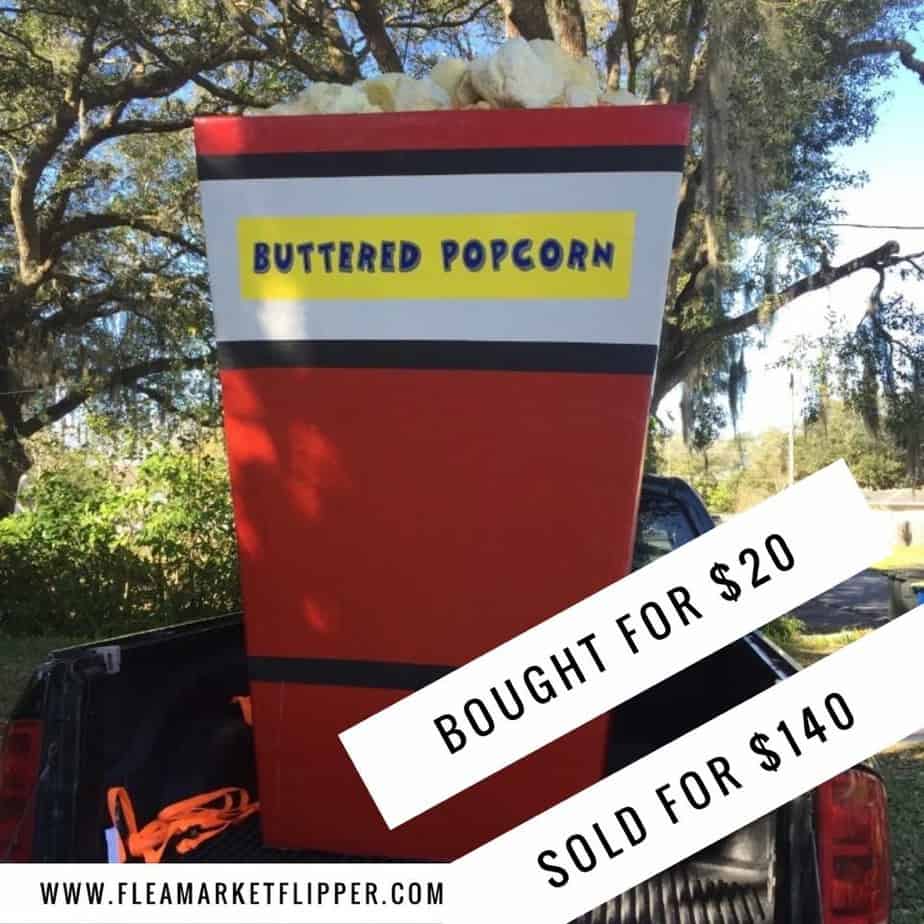 This was one of my favorite finds that hasn't been flipped yet. It is a gorgeous hand carved rocking horse that is just waiting for the right collector to see it. Look at that detail. Isn't it fantastic?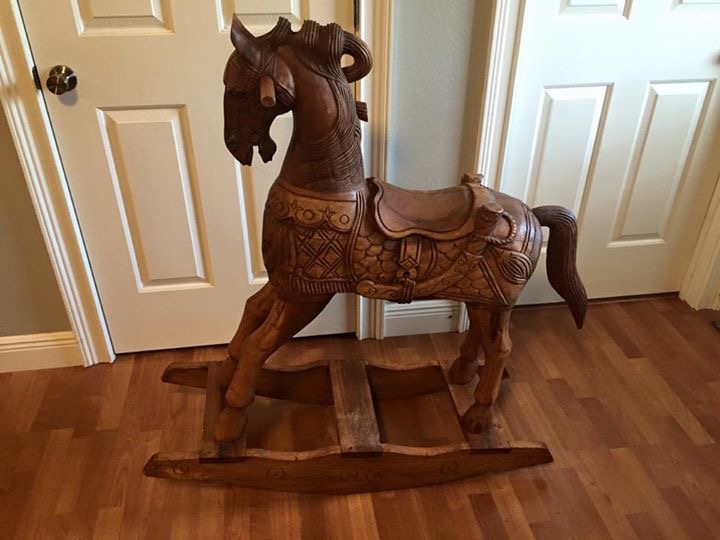 This next flip was definitely a favorite – just look at that return! I bought this magnetic medical machine for $5 at the flea market, threw it on eBay and after a few months sold it for $700! I had no clue what this machine did, but I risked the $5 investment because it looked like it could be expensive. I still don't know what it does. But someone out there did, and that's all that really matters.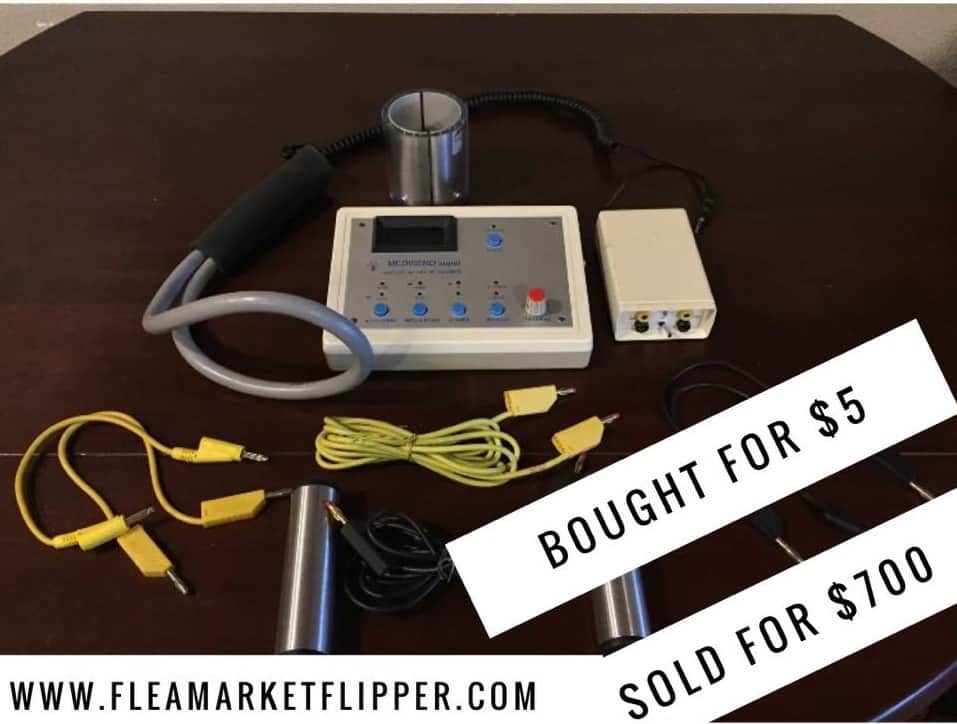 Full-time eBay seller income
This past year really has been so much fun for me. Yes, of course it's work, but it's what I love so being an eBay seller doesn't usually feel like work. I've been able to spend more time hunting for treasures (which is my FAVORITE part!), and buying a lot of fun items. And, just to clarify, when I say full-time, I still don't mean full-time hours. I am really NOT a work-a-holic. At all. I like having fun too much. I love spending time with my wife and kids. I would rather push something off a little to go do something with my family, or help out a friend. Melissa has to remind me sometimes to make sure I am getting things done (she is the planner/work-a-holic in the family).  We probably could have had an even larger return on some items had I put more hours into it, but to me family and friends are worth more than a little extra money.
May – $8,366
June – $8,685
July – $17,704
August – $8,095
September – $31,886
October – $4,314
December -$19,779
January – $2,655
This brings our total sales for the year to $128,548 Not too bad if you ask me! I have to give the credit to God – He is the reason behind any success we have.
You may notice that our income is a little all over the place. This makes creating a budget REALLY difficult. And, in case you missed it, I am not the organized, planner-type, but we have to have some sort of plan in order to make the budget work each month so we are prepared for the lower months. Our friend Charissa Quade wrote an e-book exactly with people like us in mind: Budgeting Made Easy: Thriving on Any Income. You can check out her guest post on our blog: 4 Powerful Ways to Make The Most of Your Variable Income to get some more tools in your tool belt for your budget.
And if you're really serious about getting out of debt and taking control of your finances, check out Tracie Forbes' Financial Reboot  course. Tracie is the founder of Penny Pinchin' Mom , a phenomenal money saving blog. (Who doesn't love saving money??)
What next?
You may have also noticed that we haven't had the really huge months lately. That's because I haven't been actively looking for more items to flip since we are planning to move into a 5th wheel in the next month or so. We plan to do some flipping form the road, but not any large items.
So, if you are thinking about starting a new venture, but are scared it won't pay off, just do it! You will only know if you can do it if you try. And if you are interested in trying your hand at flipping items for a profit and becoming an eBay seller, check out our e-course Flipper University, where I take you through the step by step process of finding treasures and then selling them online for a profit.
Looking back on the year, I would call it a success. Not only from a financial standpoint, but from a family one as well. We have been able to spend more time together. And one of my great ideas so far this year came while we were on a afternoon walk with the family. We try to make it a point to walk to our local downtown area at least 4 to 5 times a week just to get the kids out and get some fresh air. Melissa and I believe it's so important to get some type of exercise daily. That being said we picked up an awesome electric wheel chair one afternoon while on our family walk. I told Melissa I was going to write an e-book to help people find out if flipping items is the right side hustle for them. So 5 Ways to get free Items to resale for profit  was born. This ebook is excellent for people who want to start flipping but don't have a lot of money to invest on inventory. It walks you through 5 different ways of finding inventory for FREE.
Check out our FREE 5 day e-mail course to see if flipping could be a good fit for you! This will also sign you up for flea market flips and eBay seller tips that we send out weekly. (Don't worry, we won't overcrowd your inbox, and you can unsubscribe anytime.)
Related Posts
How $1 Paid our Electric Bill This Month
3 Ways to Save Money on Shipping for eBay
Should Buying or Selling on eBay Scare You?
We Want To Hear From YOU!
Have you thought about becoming an eBay seller recently? Either part time or full time? What is holding you back from jumping in and doing it?