Welcome To Flea Market Flipper! We are glad you are here!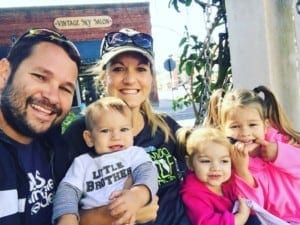 The Most All Inclusive Reselling Course Available

We Are Here To Support You To Be Successful

Helping People Become Their Own Boss On A Daily Basis

19 Years Of Flipping Experience At Your Fingertips

Professional And Community Support For Your Business Venture
Do you love going to flea markets, yard sales, and thrift stores? Would you like to turn that passion into an income? Do you already make a side income by flipping used items but want to step it up to the next level?
If you answered yes to any one of those questions than make yourself at home. Our family would get along great with you because this is who we are and what we do (and what we have been doing for 20 years now!)
Myself (Rob) and my wife Melissa are the creators of Flea Market Flipper. We are so glad you are here!
My passion for buying and selling started when I was a young kid. I have six older sisters and since there were so many of us to provide for, my mom would go to thrift stores and garage sales to find clothes and toys for us. Saturday yard sales were a big to-do at my house. We would get out the local newspaper Friday night and circle all of the good looking sales we wanted to go to. My mom would buy items for our family, but also bought things to resell and make some extra money. (7 kids cost a lot!)
Melissa and I were married in 2007 and she quickly learned my passion for buying and selling used items. We both always treated it as a hobby that made us a little extra cash now and then. That is until our first daughter was born. Oh how kids change everything! Melissa cut her personal training business way down to part time so I had to pick up the slack by selling more. It's funny what you can accomplish out of necessity.
Last March our 3rd child was born and in May I took the leap to doing this full time. It was crazy timing, but God always has things in the works. Last year ended up being our biggest year at $133,00 in sales! We couldn't believe it. God is good.
We started this blog to encourage others to step up their game and increase their income from selling online (we mainly use eBay). We created an all inclusive online course to teach you the ins and outs of buying and reselling and how to make the most bang for your buck! Check out what Flipper University is all about!
We are excited you stopped in, and would love to have you as a part of our flipping adventure! Drop us your e-mail to catch some of our latest flips, and as a thank you we would love to give you a list of 4 tools that helped me turn $40 into $1,000 recently. You can get that list HERE.
Course Info
Join the Flea Market Flipper on his adventure!!
Flipper University is here to help those who want to become a professional flipper. Check out our course to see if this would be a good fit for you!
Course Info