26 May

How I Quit My Job to Flip Flea Market Stuff Full-Time

Last week I mentioned that I had recently quit my 'real job', so this week I wanted to elaborate on that.

I did in fact quit my job. For the past 7 years I have been a home inspector for an inspection/ report company. Insurance companies would hire my (former) company to do inspections and reports for them. An inspection is usually done at the purchase of a home, a switch of insurance companies, or if it has been a certain amount of years since the last inspection. My job was to check out the roof and house conditions, and if there was one of those old school super dangerous diving boards on the pool! (Poor kids these days don't know what they missed out on).

I enjoyed this job as I had control of my schedule.  They gave me a number of houses to inspect and I would get them done in a week or two.  I also liked that I only met my boss in person 3 times- not because he was a bad boss, but just because I don't like having to answer to someone. I have always preferred to be my own boss, but if there was ever a job (with a boss) that was made for me, it was this one.

But the timing was right for me to leave this job. The work had slowly been declining over the last year and a half, so my main income has been coming from flipping items each month. I basically had this job for health insurance, and I was just notified in March that we would be losing it by the end of that month. I decided it was time for me to put all my focus into my flipping business.

One of the crazy things about this timing is that my wife just stopped her personal training business to be home with our three kids. She stopped when our son was born at the end of March. She is just focusing on the kids and working with her network marketing nutrition company. So the things we were both doing part time, are now what is bringing in our full time income. I have to give huge credit to God- I firmly believe He has His hands in it.

I think EVERYONE should have a side hustle going on. Something they are doing/building part time to help out with their financial future. You never know what lies ahead, and when that additional income may be needed. Life can throws us crazy turns, and by having an extra income it saves us from dealing with extra anxiety and stress.

Flipping items has been a great income for me over the last 20 years. It is something I truly enjoy doing. Now I'm just increasing the amount of time I spend doing it so I can make a larger income to support my family. Learn how YOU can buy and resell items for maximum profit HERE!

I am so excited to be doing this now full time. It is something I truly enjoy doing, and when you love something, it never feels like hard work. If finding treasures at flea markets, thrift stores and yard sales is something that you love to do, have you ever thought of making an extra income from it? If you have and are ready to kick it up a notch, check out our e-course Flipper University. Where we teach you the ins and outs of buying and reselling online. If you haven't really thought about it before, than is it something that could interest you? Would you like to make extra money this year? Do you enjoy frequenting flea markets, thrift stores and yard sales? If so, than this could be a great fit for you!

These past two weeks have been pretty awesome for flips! (Which is especially great since I am doing this as my main income stream- ha). Here are a couple of the flips that happened over the last two weeks. I started off the week selling this pitching machine.  I bought it for $30 at a yard sale and sold it for $600 online. 4 out of the 5 items sold in the past 2 weeks were sold on . If you don't already have an account with them, and would like to sell online,  I would highly suggest !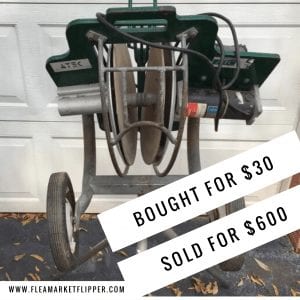 The second thing I sold was a Cadillac subframe. I bought it from the flea market and sold it online for $800.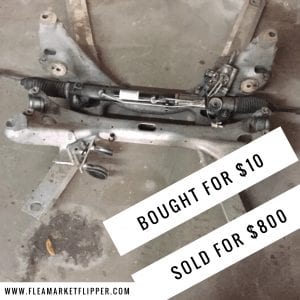 I bought the blower below at the flea market for $100, and was able to sell it this week for $500.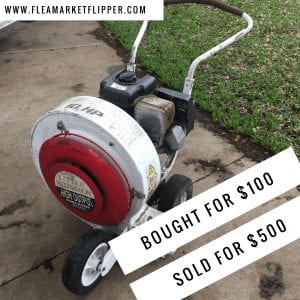 I had this outboard cover for about a year, but it wasn't very big so it didn't take up a ton of room in my garage.  I bought it for $20 and sold it for $250.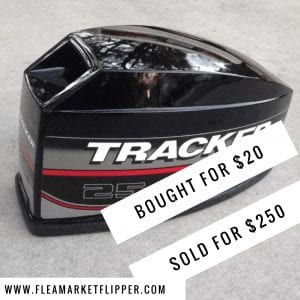 Lastly, I found this commercial steam cleaner from Goodwill for $18. I sold it for $200 online.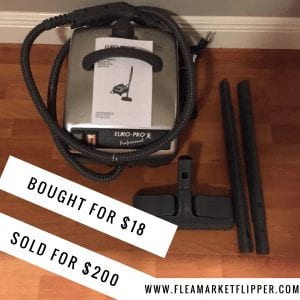 So it has been a pretty decent couple of weeks. No complaints here! And in honor of my recent 'job retirement' I would love to check out our new FREE 5 Day E-mail Course if you think flipping items for profit could be a good fit for you.
I WANT TO HEAR FROM YOU!
What is your second income stream at the moment? Do you have (or even need) one? Comment below!