Here is our Flea Market Flipper income report for last month. You may wonder why we post our income reports online, because it's kind of a scary thing to do. For one it helps us stay accountable and make sure we are listing enough items each month, and for two we want to help others be successful at their flipping business. I have seen several bloggers and entrepreneurs post their online income reports and it has really helped me to push harder with my business. I am a more laid back person so a little extra motivation is good for me. 😉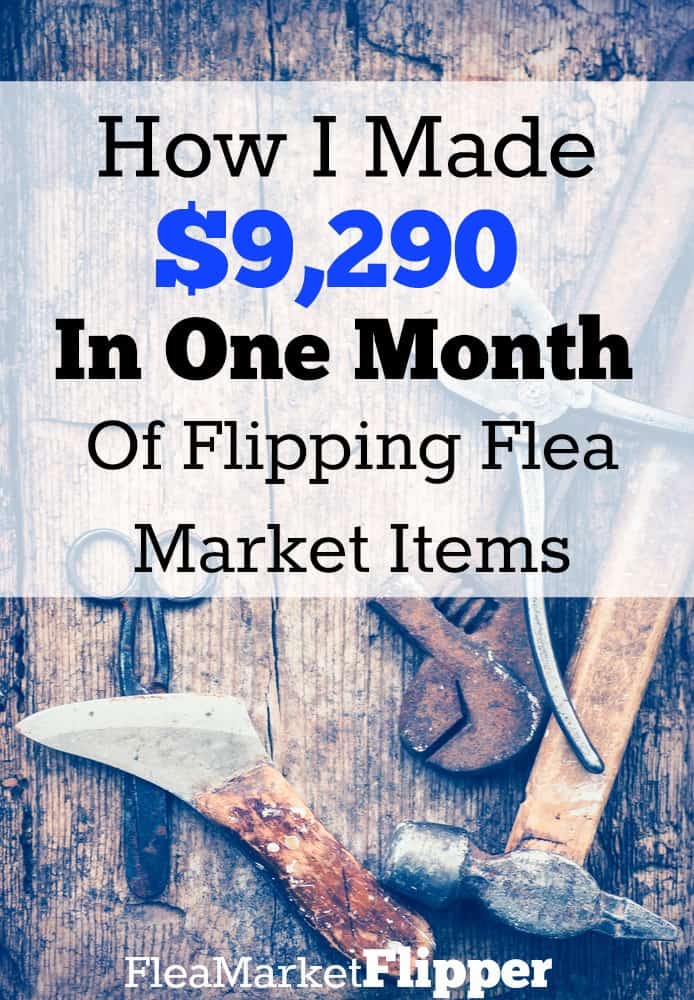 This February proved to be a great month like last February! Even with 2-3 fewer days than every other month of the year, it was one of the top three months
out of the past twelve. Maybe it has consistently been a good month because it's my birthday month. 🙂 That must be it. I have been working hard to get more items posted lately. I have more things sitting around that are not listed than I want to.
Our total for the month was $9,290 in sales! Beating out February last year by just over $1K.
The first sale of the month was one of my more 'unique' items. It was a high-beam spotlight. What's so cool about that? Well, it was actually used buy NASA to light the space shuttle runway for the shuttle coming in. That is how powerful it is!! And of course we didn't just buy one of these lights, we bought 5! Ha. I actually can't take credit for this find, my sister found them at a local auction (a benefit of living close to the Kennedy Space Center).  We sold this one light for $3,400! So my half was $1,700.
Who would want a light that can shine into space?
Sometimes you never know who would be in the market for an item. But there are actually several people out there who love gadgets like these. The guy who bought our light traveled 6 hours to come help us get the rest working in exchange for purchasing the light at a lower cost (we can actually get much more for the rest of them). He has a couple more of the lights as well. I don't know what people use them for, but to each their own. Ha. 🙂  He did mention his friend caught a tree on fire with them one night. We can say they are a little bright.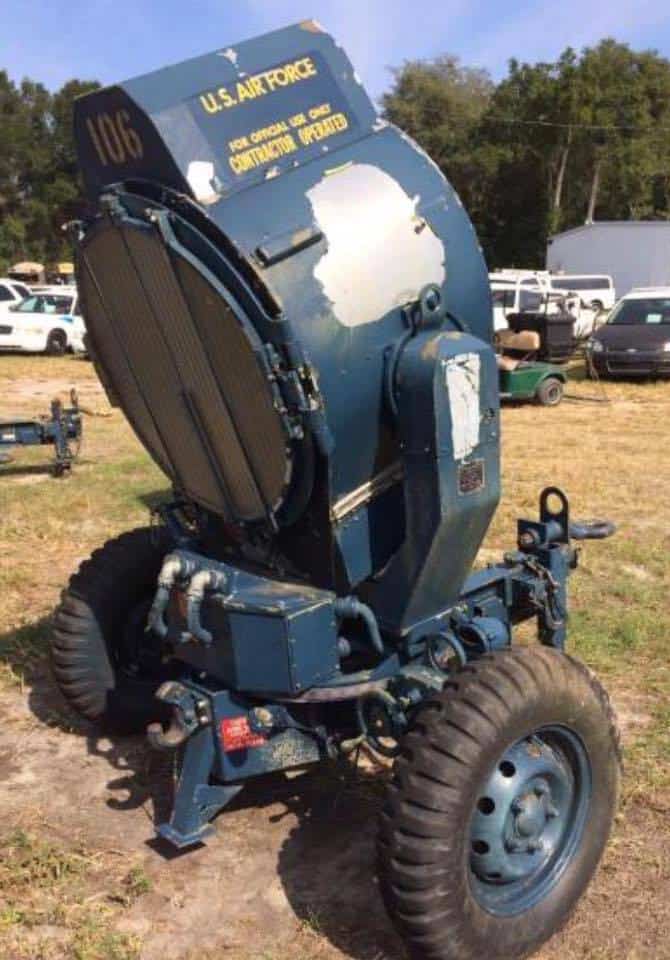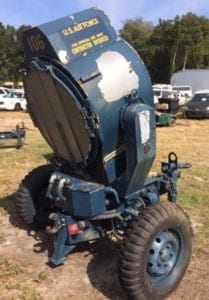 Another interesting history fact is they were first created to be used by the military to shine on enemy planes. But after they were used briefly, it was decided it was a bad idea to let the enemy know exactly where you were located. That is when NASA began using them.
Earlier in the month I sold three items in one day that totaled almost $1,000.
One of my vintage coin operated arcade games sold for $520 on eBay and the buyer paid an additional $180 to ship it. I had brought it out at our yard sale in the week prior and put a $350 sticker on it (and would have taken $250 for it). It didn't sell so I listed it on eBay and was able to get much more for it!  I really wanted to keep it, but we are in the process of decluttering and cleaning out inventory, so it was time to go. One day I will have my game room with all vintage arcade games in it. I packaged the game up and put it on a pallet and sent it to Texas. Some of you may have seen the video of this pallet job from my latest eBook The Art Of Shipping: How to Package and Ship Items for eBay. It isn't super hard once you do it a couple times, and shipping larger items has definitely increased our income over the past year (from $42,000 in 2015 to $133,000 in 2016).
I also sold a water heater for $450 and our dryer for $100. (We replaced our dryer for a newer one for $25 from a flea market buddy.)
One awesome flip last month was a medical vest that I paid $20 for from the flea market and sold it for $695! I sat on this one for a while. Medical equipment isn't easy to sell on eBay. They don't usually like it and can remove it after a day or so. You have to use the proper disclosures when listing it, but that usually isn't enough. If someone reports your listing it will be removed. You have to have a license to sell most medical equipment. I have sold several of these vests over the years, but the price for them has drastically dropped. (I made $3,000 on the first one I ever flipped.) The restrictions on listing medical equipment were a lot looser several years ago, now I just list it in the hope someone buys it before it can be removed. I also thoroughly say in the disclaimer I am not a medical professional and for the buyer to please get the proper advice before purchasing and using the equipment.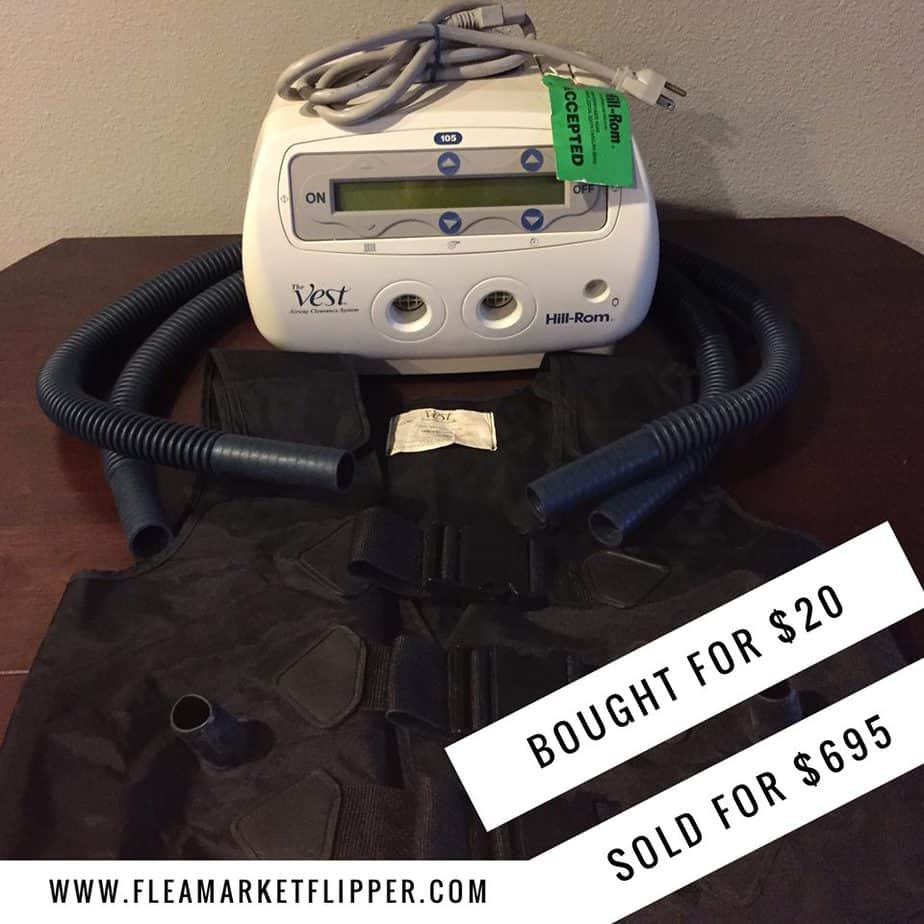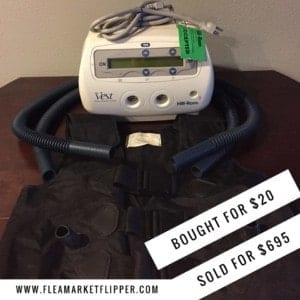 Ever have a moment you wish you could go back in time and redo something?
I had that moment last month.
If you have been here a while, you know that 2 years ago I purchased 60 Sleep Number Mattresses at one time. These have been such a great seller for me! I paid $60 per mattress and have been able to sell them for $450-$650 each. Great profit! The problem is that I just realized this past month that I can separate all the parts (they contain, foam, air chambers, mattress pads, pumps, and remotes) and make close to $1,000 per whole mattress set.
*facepalm*
Oh well! There isn't anything I can do about it now that I only have around 10 left. They have still made us money and for that I am very grateful. In February we sold 5 air chambers for $125 each ($625) and 3 foam sets for $250 each ($750). I am going to have to find another hotel that is upgrading their beds soon! 🙂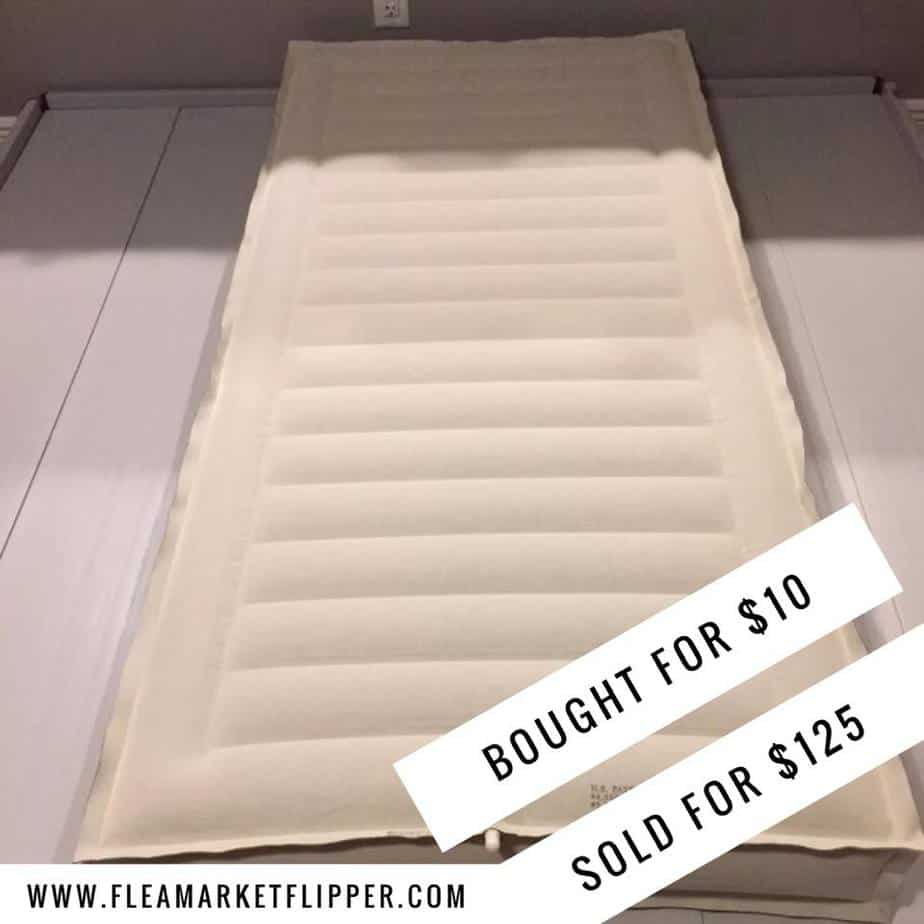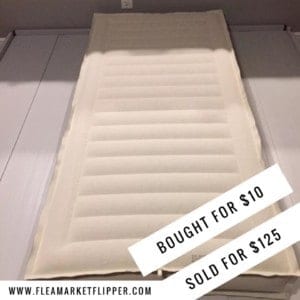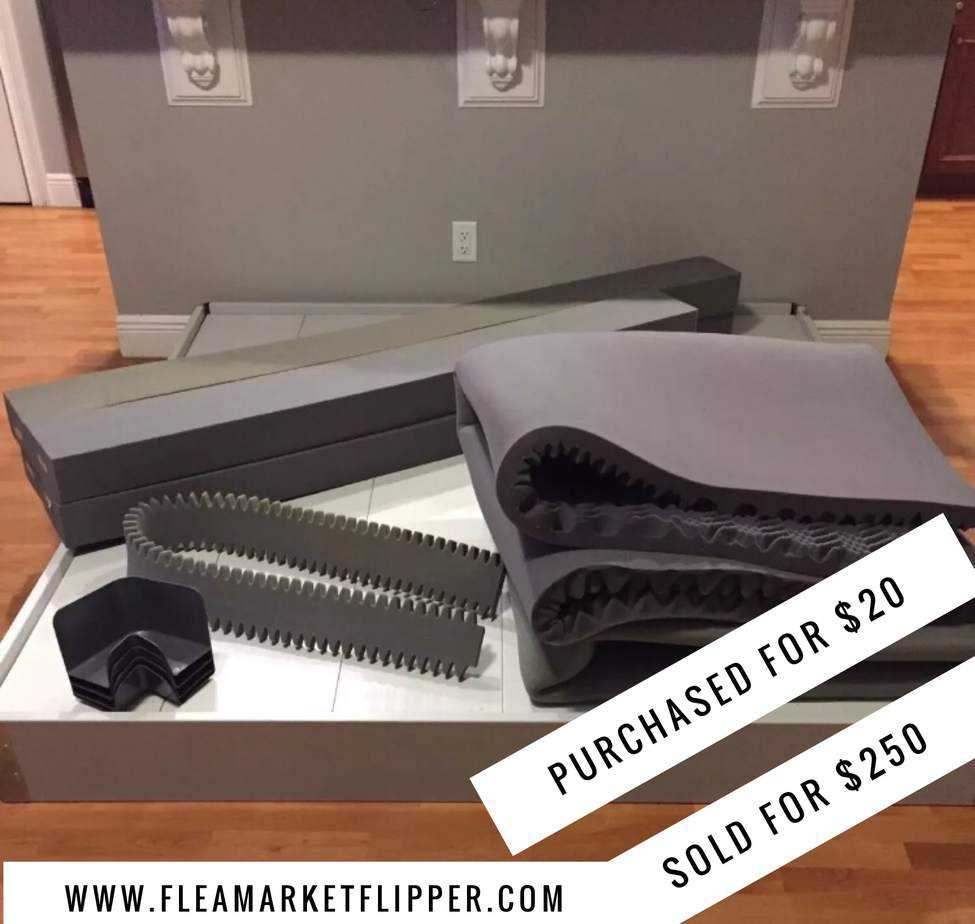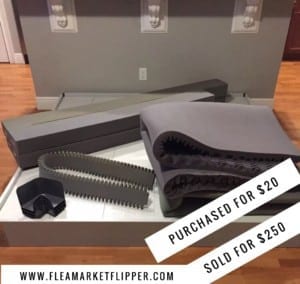 Looking for the best type of  item to flip? Here is one of mine:
Many people ask me what is the 'best' item to flip. As you can see, I flip all sorts of weird things. Basically anything that I think can make a profit is up for grabs.
One category that is consistently good is appliances. If you can find a good resource for higher end appliances, you can make some great money flipping them! I find them regularly at my local flea market where usually two or three of the vendors will have them. Also several of the thrift stores around me will carry them occasionally.
This past month I sold a warming drawer for $350. I bought it for $25 from a vendor at the flea market. These aren't really hard to package up and ship out; they fit in a box rather nicely with the right foam.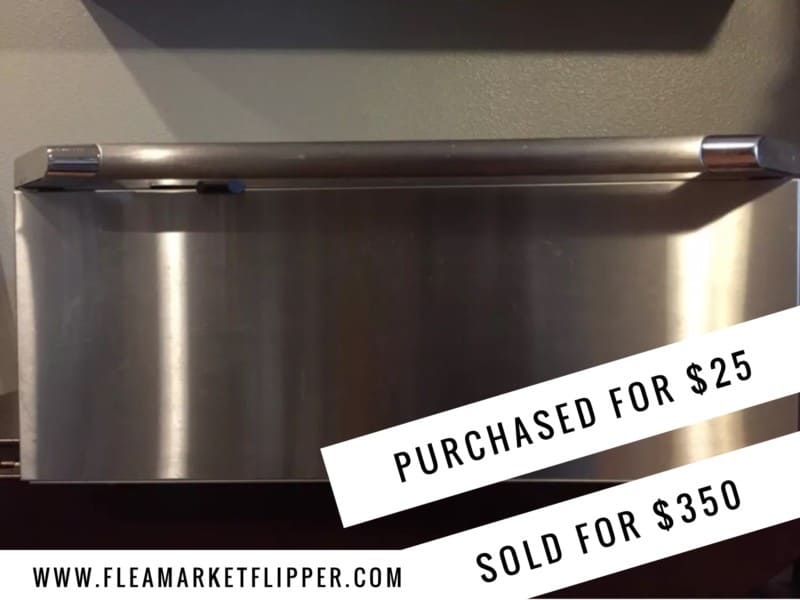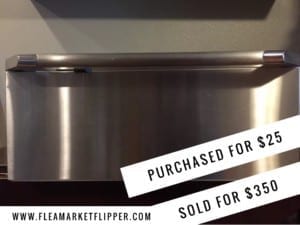 Sometimes you have to trust your gut.
I don't even know how many times my wife Melissa thought a purchase was a bad idea and then was very thankful for the return on my investment. My investments may look a little different than other people's investments, but they are definitely that. I can't tell you of an investment that I have made where I have lost money. I may not make as much profit as I had hoped, but I don't recall losing money very often if ever. Maybe on some $10-$20 items that ended up at a yard sale after taking up too much shelf space for too long, but not on a larger item that I spend a little more on sometimes. Before I spend money, especially a couple hundred dollars, I do research on an item. I look for comparable items that have sold, what a new one is worth, what a used one is worth, what they have sold for and what they haven't been able to sell for.
Sometimes I will sell a big purchase quickly and sometimes I sit on it for months. This flip was the latter, but still just as exciting when it sells! We bought a small street sweeper from an auction for $670, put about $250 into it, and sold it for $4,100! Pretty good ROI if you ask me! (This was a flip Melissa was not a fan of at first –  however she was a fan a couple weeks ago.)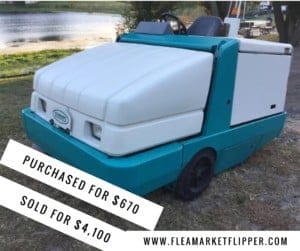 Marriage saving tip: If you are married, be sure to be on the same page as your spouse with your flips. Don't go spending your whole savings account as an investment, especially without your spouse knowing. As a couple you can set up a separate account to buy and sell from. Keep a percentage of each of your sales to go toward buying more fun items. Discuss these numbers together. What are you setting aside to spend, and what are your goals are to make with it? It is better to have a plan and conversations before any larger purchases. 🙂 
Check out this FREE DOWNLOAD of the BEST PLACES TO FIND ITEMS TO FLIP.  Drop us your e-mail and the list will be sent to your inbox. This will also add you to our flipping update list (Don't worry, you can always unsubscribe anytime you don't want to hear about recent flips or eBay tips.)
So that is February in a nutshell! Bring on March! 🙂 We are already almost halfway through. Anyone else feel like time just whizzes by?
If flipping items for profit is something that interests you, then check out our e-course Flipper University. Our goal is to help YOU make an extra $500, $1,000, or more per month, depending on your needs! Check out the course HERE to see if it is a good fit for you.
I Want To Hear From You! (Comment Below)
Does selling on eBay intimidate or excite you?
Related Posts:
The Shortest Month Of The Year Brings in $8K
The Art Of Shipping: How to Package and Ship Items for eBay
How We Made Almost $1,000 in One Day of Flipping Flea Market Items