Let's face it, 2020 has been a crazy year. The pandemic has brought a lot of uncertainty and stress. The extra pressure and unwanted changes can make anyone start to think they want to escape the rat race.
But sometimes those new, unexpected changes in job can pose some really great opportunities!
Flipper U course member Nancy went from a stressful job of traveling full-time to working from home due to Covid-19. This unexpected change in her job gave her the opportunity quit the rat race to pursue flipping as her side hustle (and hopefully soon to be full-time hustle!)
We are super stoked to share her success story with you today!
Finding Another Way
Up until this year, I was living in a very remote area traveling all week for my job as a Manufacturer's Rep selling wholesale gifts to retail establishments. I had been in sales and marketing for years.
I enjoyed what I did but I wasn't making the money I should have been for the expenses I had and with being gone from my family much of the time. I was starting to feel very weary with all the travel, renting an apartment more centrally located to my territory, and having to haul my travel bags in and out of my car.
In January 2020, I started to wonder how I was going to make it this year and what options I had to quit the race race of stressful travel.
My husband has a timber harvesting business and I spend a lot of time helping him with everything that doesn't require chopping down a tree or working on equipment.
I was finding that I was spending a lot of time away from my husband and my two cats that I adore. I would be gone all week and come home on the weekends to clean up the house, cook meals for the week, spend time with my cats and husband…and I would try and fit that all in to just two days!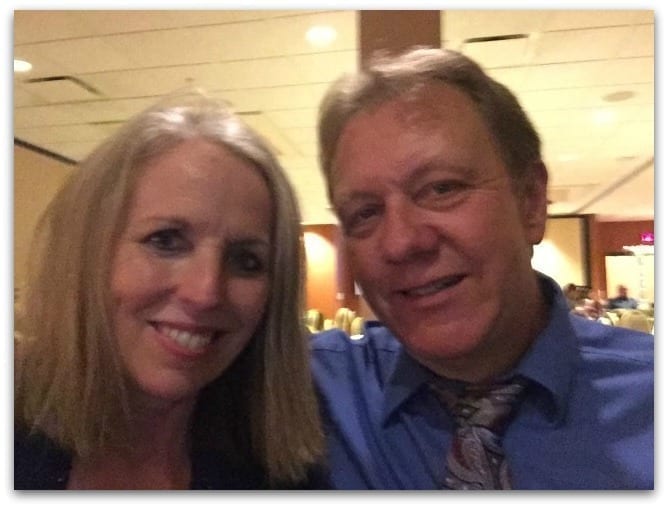 At the end of February, we were starting to hear rumors of how covid was going to shut many things down. By the second week of March, I had to cancel all of my appointments for the month and haven't been back on the road since.
I moved out of my apartment and back home full time and switched to doing much of what I was in my sales job before via phone calls and zoom meetings.
When I switched to working from home, I knew that was my opportunity to find something to make money from home.
I had just purchased a program to learn how to be a scopist – a proofreader for court reporters. As I started to study for this, I wasn't finding that the material was something that was going to "light me up" where I would be looking forward to doing every day.
At 63, I wanted to do something that I was going to love.
And then in May, I came across a FB advertisement for Flea Market Flipper and the rest is pretty much history!
I have always loved "junking" as we called it. My husband would occasionally buy large equipment to flip at times during our marriage. We did this on a small scale. That was before we even knew flipping large items could be a thing!
Flipping Could be Enjoyable and Lucrative!
While scrolling FB, I found an ad for Flipper U. I watched Rob and Melissa's video and checked out their information.
I knew immediately this was my ticket to escape the rat race of my stressful work that kept me from home. So I enrolled in the course.
I had just spent thousands on my scopists training and found it wasn't something I was totally passionate about.
I was scared I had lost my mind or maybe even being unrealistic, but I found myself purchasing Flipper U anyway!
To my surprise, I loved the course information. I joined the course members' flipping group and I was so amazed at how friendly and helpful the members were.
There was so much helpful information there – I had never been associated with any other group that was so willing to share their nuggets on their success. Oftentimes, other groups were less friendly and kept their wisdom and success tips to themselves.
I found myself daily reading every post and every answer within the posts. I couldn't get enough of it. It was so educational.
My First Flip for $800!
I did exactly what Rob and Melissa outlined in the training. That's the thing – it's pretty simple. I just took the information that was presented in the course and in the group and applied it to my own business.
I started with what I wanted to get rid of in my house. And what perfect timing! I had moved out of my apartment and had been home for almost 3 months. I started cleaning out closets and wondering what to do with all of my stuff.
I do not like to have garage sales or people coming to my house. I also knew with garage sales, people expect to be paying pennies on the dollar. I knew a lot of my items were worth more than just a few nickels.
I thought that listing my stuff on eBay would bring in a lot more money for the item. And I was right.
My first eBay sale was a vintage denim jacket from the 80s that had never been worn. I snagged it from a friend who used to be a rock star promoter. The jacket was embroidered with the band's name on it and very unique.
I posted that on eBay on auction and got $800 for it! I didn't even know what I was doing! But after that first sale, I was totally hooked! I also began to see visions of being able to quit the rat race of my daily job in my very near future!
From No eBay Experience to Flipping on eBay!
When I first jumped into Flipper U, I had only sold one item on eBay 15 years ago. Honestly, I had no experience with it and it was not something I was comfortable with.
Let me just say this, "If I had not taken Flipper U and joined the flipping group, I would have never thought about listing anything on eBay."
As I got familiar with eBay and received help from the course and the group, I started listing items from my house on eBay. I had quite a few of them to sell and it was providing a dual purpose – Making money and learning how to be successful on eBay.
I mainly focused on small items to sell because it was easier with the size. I zeroed in on smaller items that were worth more money.
I also began to stretch myself and have been branching out and trying my hand at larger items like Jenn Air cooktops. They are inexpensive to find and do pretty well on eBay.
I've also bought several Ab Loungers on the cheap. I haven't listed them yet – I want to figure out how to take them apart well enough to fit in a box and ship.
I love buying low and selling high and I have learned how to get really good at it. I like finding interesting items and I am still looking for my niche, so I am trying all areas to see what I like best.
All in all, I've been learning a great deal about eBay and my little side hustle has grown into some nice extra income!
Having My Sights on $5K a Month!
I have taken this year to learn as much as I possibly can. The education is paying off. My little side hustle has grown into almost $15K just this year.
I have my eyes on $5,000 a month consistently in 2021. I realize I'm a long way from this but I really feel I will get there.
It's encouraging to see so many other Flipper U graduates who are doing it and I know for the first time in my life that I can too.
My dream is to be making enough to pay our bills so my husband doesn't have to work so hard in his logging business. I know he supports me, but he is still not 100% on board.
But one thing he does know is that there are definitely others in the course members group who are hitting those numbers. I figure if I keep learning and stretching myself, I can too!
Flipper U Gave Me Confidence
Since taking the course everything has changed for me. I have something to really look forward to that I love to do. I think that's so important to love what you do. There are lots of ways to make money, I believe it's important to enjoy what you do.
On top of loving what I do, I get to learn every day from the members in the group. I'm always looking for my next deal and often, those ideas will come from the course members.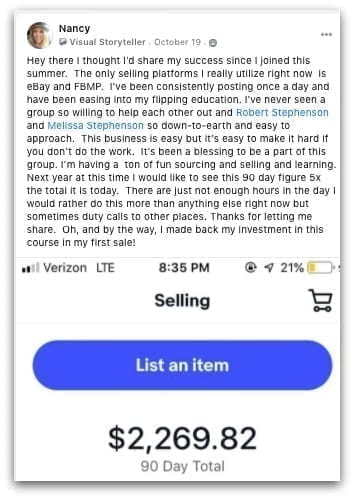 I would have never taken on sourcing Jenn Air cooktops or Ab Loungers had I not been connected with this group. They share their finds, their mistakes, their wins, and so much more.
I'm excited to see what 2021 brings to me.This course and the group have given me the knowledge and comfort level that if the bottom falls out of my life I have this vehicle that I can make money doing something I love and I wouldn't have to go out and get a dreaded job.
Flipping Has Pros and Cons Like Any Job
One of the best parts about flipping is that I have found a way of not only providing a viable means to earning money, but I can also utilize my best talents.
I can use my creativity, my love of negotiation, repurposing, and building something out of nothing. These are all things that I love and this business encompasses all the talents I have.
There is something to be said about having a job where you can use your talents – That's where the joy is!
I can make this flipping opportunity into anything I want. It's also fun to learn about the items I am selling.
But there is one setback I have with flipping – and one that I have to work through sometimes. I live in a rather remote area and I have to drive hours and hours to source items to sell.
I am not alone in this. There are several course members who live in remote areas. Through the encouragement of them, I have been able to find ways to work through this negative aspect for sourcing.
Winter is coming fast so things slow down substantially – and that means sourcing can slow down as well unless I find other sourcing alternatives. I have found that I need to learn how to do more online sourcing and be more creative.
Time can also be something that can be difficult. There's never enough hours in a day to do everything I want to do when it comes to flipping!!
Some Flipping Surprises
It's funny how I had my denim jacket in my closet for 10 years. I never realized someone would buy it at all – not to mention they paid $800 for it.
I've also sold laptops for parts. Before the course, I would have probably thrown the old laptops away. But I found that people actually pay quite a bit of money for items that are non-working!
I've sold new/old stove grates that were laying around my house for 15 years. Things I would never have thought about turned out to be money in my pocket!
I would have never done that if I hadn't seen the success of the other course members encouraging me to list them instead of throw them out!
I've also gone to pick up items to source and I've gotten free items that the owner just wanted to get rid of, like the brand new kitchen cabinet the owner was going to throw out.
You just never know what will happen in any given day of sourcing and selling.
Flipping Called My Name!
I'm so thankful that I found Flipper U. I just knew intuitively that this information was coming across my path for a reason.
Everything about it was calling my name! And the people involved seemed very down to earth and genuine and willing to share their information that helped them to get where they are.
That in itself has been very valuable and a big part of my success.
I had fear of getting started. When I first enrolled the course, I hadn't started doing anything with it yet.
Shortly after purchasing the course, there was a 30-day challenge within our course members group. I wasn't going to jump in, and then at the last minute I did!
I am so happy I did! That's when I listed the denim jacket – my VERY first thing! I made $800 and have never turned back!
We are super stoked for Nancy's flipping success and look forward to her continued success flipping!
Are you currently in a job you do not enjoy? Are you looking for a way to escape the rat race of your stressful job? Flipping could be your answer!
Check out our intro flipping workshop and see if flipping could be a way to ditch the job you don't love to do a job you do!
FURTHER RESOURCES
FREE Workshop How To Turn Your Passion of Flipping Items Into A Profitable Reselling Business
RELATED POSTS
How This Mom Of 6 Turned $0.50 into $100K By Flipping Used Items
How A Single Mom Went From Working Two Jobs To Making $5,000/Month On Her Flipping Side Hustle
How This 22 Year Old Athlete Made $12K In 3 Months From Flipping