What if all you needed was a change in mindset to start crushing your goals & dreams?
What if you already had the tools to be successful, but you just needed a little shift in your thinking to make it happen?
That's exactly what happened to this 22 year old who had a dream to become an OCR athlete. (That's obstacle course racing for those who may not know – which I didn't until this interview).
Today I am super stoked to introduce to you, Lucas, one of our Flipper U course members who due to his own negative mindset found very little success in his first 90 days of flipping –  $200 total in sales to be exact.
But wait for it…
A dream and a change in mindset set Lucas on a whole different path – and this mindset shift put $12K in his pocket over the next 90 days…
What a difference a change in mindset can do! Let's hear from Lucas.
A Dream is Born
My name is Lucas and I am a 22 year old from Jonestown, Pennsylvania. Above all else, my number one priority in life is being a Christian and following God.
Because of my desire to honor God, I have always had a strong work ethic and I believe that is what has helped me to succeed in the flipping business and other aspects of my life.
Before I became a flipper, I was working as a furniture delivery person and let's just say, I didn't like my job. It was difficult at times to feel motivated in my life because I hated the job I had.
In 2017, as a way to get past the fact that my job wasn't all that enjoyable, I signed up for an Obstacle Course Race (OCR) called "Rugged Maniac." I thought it would be a good way for me to get some fresh air and just take my mind off where I was in life.
This OCR race took my mind off my job, but more than that, I had a change in mindset because of it and was a catalyst for a whole new direction in my life.
I found out I was pretty good at obstacle course racing! That next year, I entered and ran 12 more races.
I loved the challenge of spear throwing, assault bike racing, and using thick braided ropes for jump roping! I also enjoyed the community atmosphere when I ran in the races.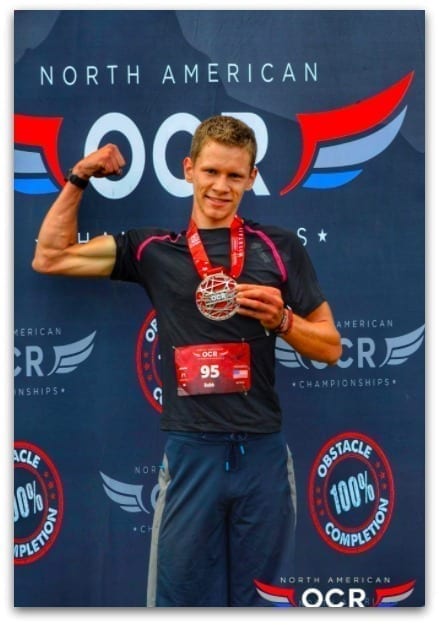 Even though I was still working a job I didn't enjoy, I was finding that I was looking forward to the OCR events so much that I rarely thought about how much I disliked my job.
As I entered into more races and became better and better, I started dreaming about the possibilities. I was passionate about obstacle course racing and I wanted to find a way that I could continue doing it more often. 
I was tired of the daily grind of 9-5 and that lifestyle didn't allow me very much time to train for my races. I had most of the money that I needed for supplements, racing gear, and training gear, but I knew there had to be a way to make more money while controlling my schedule and giving me time to train.
I started reading about other OCR athletes and how they were fulfilling their dreams. I decided that I would be one of those people who followed their dreams no matter what it took!
Work Less, Make More
Soon after I made a commitment to pursue my dreams to become a professional OCR athlete, I quit my job at the furniture store and never looked back!
I had enough money in savings to live for a while, but I knew it wasn't a permanent solution. I needed to make enough money to support myself, while having the time in my schedule to train.
In February 2020, I went on a search for ideas on how I could make money to support my dreams and allow me more time and a flexible schedule to train.
At first, I became really interested in real estate flipping and rentals. Over time, though, I realized that there was a pretty huge financial barrier to getting started in the real estate world and I didn't have the money at that point to invest.
I kept researching and after looking through many options, I found Flipper University!
When I saw the potential that other flippers were finding, I jumped in and hoped for the same success!
Mindset Makeover
As I began flipping, I focused mainly on finding and selling "smalls" or rare antiques from flea markets. It was a slow beginning and I wasn't seeing any progress.
I was feeling pretty discouraged. My first month of flipping, I only made $34.99.
I started to think I wouldn't succeed with flipping…and then I started to believe it.
And then to make matters worse, COVID-19 hit…
As I watched all the flipping success stories in the FB coaching group, I sat around my house on "quarantine" for months feeling sorry for myself, playing video games, and blowing through my savings with no goals in sight.
Then one day I just woke up.
I knew my life was going down a dark path and I wasn't making any progress with any of my dreams or my spiritual journey. In fact, I was going in the opposite direction!
That day I made a decision. I was going to place one foot in front of the other and never take "NO" for an answer again in any aspect of my life!
That intentional change in mindset and in my thought process changed everything.
I put the video game controller down, set myself on an OCR athlete work-out schedule, and I started moving toward my goals of becoming a professional athlete.
I wasn't where I wanted to be quite yet, but taking that first step to begin training gave me the motivation to give flipping another shot.
That first step changed everything.
I made a plan to put effort into flipping. I started using Flipper University as a resource to learn and get better. I started engaging in and paying attention to all of the posts in the Facebook group.
I knew I had all of the resources I needed to be successful. 
Now I just needed to do it!
I started taking sourcing seriously. I would scroll through and pay close attention to Facebook Marketplace. I was looking for and focusing my energy on things I could sell to make a profit.
Within the flipping group, I saw there were several flippers who had sold Nordic Track ski machines. This peaked my interest and I started the search for my own Nordic Track ski machines to sell.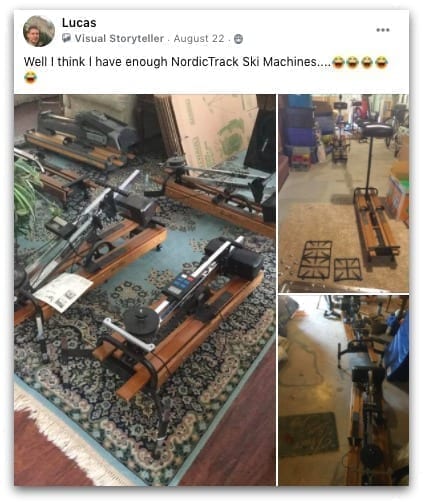 I found several of them in my area, I thought I had nothing to lose by sending out $20 offers to as many of them as possible. Some offers were accepted and some offers were rejected, but I just kept pushing through.
I listed my first NordicTrack Ski Machine on eBay. It took me a few weeks, but finally I sold my first NordicTrack Ski Machine and it gave me the boost of confidence I needed to keep on charging through whatever barriers were set in front of me.
That change in mindset helped me to gain momentum and some great sales followed as I continued to be consistent and list on eBay daily.
Currently, I have now sold 14 NordicTrack Ski Machines total and 5 of those sales were in the past 3 weeks!
As I started to find success, to use my resources, and get after it, the joy of life was returning.
Instead of making $34.99 like I did in February, in August I had made $2,765! 
Better yet, by October I had a 90 day total of $12,492!
Small Changes, Big dividends
I started noticing that those small changes in mindset were paying off and my negative attitude was turning positive.
I was now pursuing my dreams!
Since finding success with flipping, I have been able to train as an OCR athlete for 2-3 hours a day and I am making a living by flipping!
In my first 90 days, I only scraped up $200 in profits. My second 90 days, I made $12K and last month alone, I made over $6,000!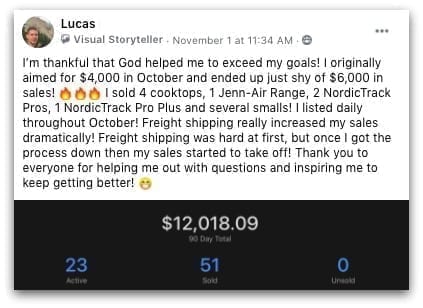 I am currently aiming for $5,000 in profit monthly consistently. I believe that would equal out to somewhere around $8,000 in sales monthly.
Once I'm consistently hitting $5,000 in monthly profit I won't stop there. I will aim for $10,000 in monthly profit and keep building from there.
Flipping has given me financial freedom to pursue my dream of becoming a professional athlete and competing at the highest level in Obstacle Course Racing. Large amounts of money are required to support that lifestyle and the transportation costs that come with it.
I've found flipping has opened up these opportunities for me and I have so much to look forward to!
The Nuts and Bolts of Flipping
Flipper University taught me so much about the nuts and bolts of how to actually source items and ship them correctly. It truly has given me knowledge on how to avoid so many mistakes that multiple other people have made and learned from.
The knowledge that Flipper U has passed on to me is priceless. I would also highly recommend the extra "Freight Shipping Course"!!!
That course has taken me to the next level and has saved me so much hassle and anxiety when it comes to shipping large items on pallets.
I've had the opportunity to source and sell some pretty crazy things…and some not-so-fun things! One of the best parts of Flipper U is it has taught me how to ship some unusual items and challenging things that often are overlooked by people who are sourcing.
The most annoying thing I have ever sold was a Chrysler Town and Country Floor Mat. This thing was around 60 inches long and a total pain to fold without damaging. I used the resources of the group for help and I managed to get it done!
This was a learning experience for sure. I had to buy a large box which increased the shipping costs, which led to a small amount of profit on it. That was okay because I sourced the floor mat for free and I got some valuable experience in the process.
None of this would have been possible without the resource of Flipper U, the training modules, and the people in the course members group.
Escaping the Job I Hated!
I enrolled in Flipper University to escape the 9-5 grind of a furniture delivery job that I didn't like. My bummer job would have me starting at 5 or 6 in the morning. If that weren't bad enough, I wouldn't get off until 6 pm or 7 pm. 
I remember there being weeks where I worked 60 hours or more! It was extremely stressful. As I worked this job, I saw my opportunity to fulfill my dream of becoming a professional OCR athlete fading away.
I knew if I wanted to fulfill my dream, I would need to start making some serious changes in mindset and in the direction of my life concerning my job.
I'm so glad I took the plunge and purchased Flipper U!
Training Free of Stress
Since deciding to take flipping seriously and quitting my job, I've had so much more free time to train in calisthenics and running! This extra time has given me the ability to pursue the dreams I have and I look forward to achieving them!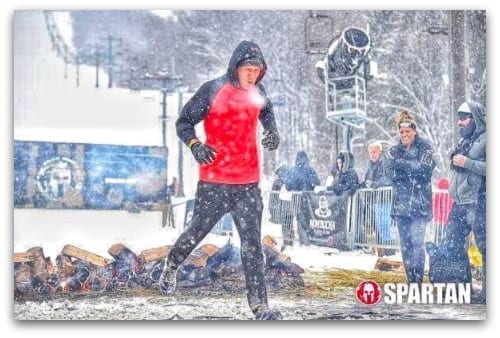 Being financially free is one of the greatest things that a human can achieve in their life! If it wasn't for the extra finances that I have been getting with flipping, my dream of becoming a professional athlete would not be something I could pursue.
Now don't get me wrong. I love flipping, but it isn't all roses and daisies. There will always be ups and downs and sometimes I can get really busy and not have time for everything. But I've decided to fight through those obstacles, make no excuses, and prosper. That change in mindset has helped me switch courses from moving farther away from my goals to closer to them.
My dreams depend on it!
Change In Mindset Equals Success
Today, I look at my flipping gig as an opportunity that God has blessed me with. It has given me the time and the funds to be able to pursue my lifelong dreams and I am so thankful for that!
Even though it's amazing, there are definitely some challenges with flipping that I have had to overcome.
I think my biggest challenge when I started flipping was actually myself! I was my own problem.
In the beginning of my flipping journey, I really just had a negative thought process. I would tell myself that I couldn't do it. I knew it was the wrong process of thinking and I needed a change in mindset, but I just couldn't shake it.
I would lie to myself and say things like, "there are only a handful of people who succeed in flipping items and they are very rare." As I repeated these same thoughts in my head, I started to believe that I was one of them that couldn't become successful at flipping.
When Covid happened, and I found myself sitting around for days playing video games, I had an epiphany. I came to the realization that I was going in the wrong direction and unless I put one foot in front of the other and had a change in mindset, I wouldn't end up going in the direction I wanted.
Not going in the right direction would lead me away from my dreams instead of closer to them. I refused to explore that possibility.
I started to slowly change my negative thoughts to positive ones and this gave me a radical change in my overall mindset!
Instead of believing I couldn't do it, I started telling myself that I was in control of my future. I realized that if I only put minimal effort into my business then that was all I would receive from my business. 
And I was right!
That change in mindset helped me to start putting some effort into my business. As I did this, I started seeing success. Not only that, I started to see my future as a professional OCR Athlete being a reality instead of just a dream.
I believe that anyone can succeed in this business if they are willing to make a change in mindset from negative thinking to positive thinking, taking time to learn, working hard, and deciding to never give up!
How awesome is that? A change in mindset from negative thinking to positive thinking can make all the difference. It can take you from no success to success in flipping! We are super stoked to see your continued success in both flipping and in your obstacle course racing dreams.
Are you stuck in negative thinking and need a change in mindset? Do you have dreams that you have failed to reach? Flipping might be the answer to get you where you need to be! Check out our free intro webinar today!
Free 5-Day Intro To Flipping Video Course
FREE Workshop How To Turn Your Passion of Flipping Items Into A Profitable Reselling Business
Related Posts
Make Money While Traveling: How We Made $24K On 30-Day Road Trip
Escaping the 9 to 5: How Jesse Quit His Job to Flip Full-Time
How This Serial Side-Hustler Made $50K in 2 Months By Flipping Large Items
How This Working Mom Paid Off 10 Years of Debt With Flipping Side Hustle