Today we got to hear from two of our Flipper University students, Brandon and Stephanie. They started their family flipping business in March 2018 and made $26K in sales by December 2018! Who said flipping can't be an awesome side hustle?
Brandon and Stephanie jumped in to the flipping world to create a money-making business they could all do as a family with the ultimate goal of paying off their equity home mortgage so they can retire early. Check out their story!
Tell us a little bit about yourselves.
My wife, Stephanie, and I both work in the computer fields. I am the Technology Director for the county we live in and Stephanie is the Technology Coordinator for the local school district.
We have been married 20 years and have had several life events that have changed our direction.  One significant life event was that Stephanie had cancer about 15 years ago and because of it we could not have children of our own.
We became foster parents and in the course of fostering, we were presented with a family of six siblings ages 11, 10, 9, 5, 3 and 2 thirteen years ago. We didn't know it at the time, but they were going to be separated and adopted to different homes.
We ultimately ended up adopting all six children two days before Christmas and you can just envision what a fun Christmas we had that year. Since that time, we have had quite a few different life adventures raising six kids!   We love them dearly and don't know what are lives would be without them.
Our oldest son is in the navy, the next two girls are grown and married, and three are still in high school.  Part of why we got started with eBay is we were looking for something to do together as a family and to make extra money to work on paying off our home equity loan.
We are trying to pay this off before we retire.  We also wanted something we can continue to do as a hobby together as we become empty-nesters in the next two years.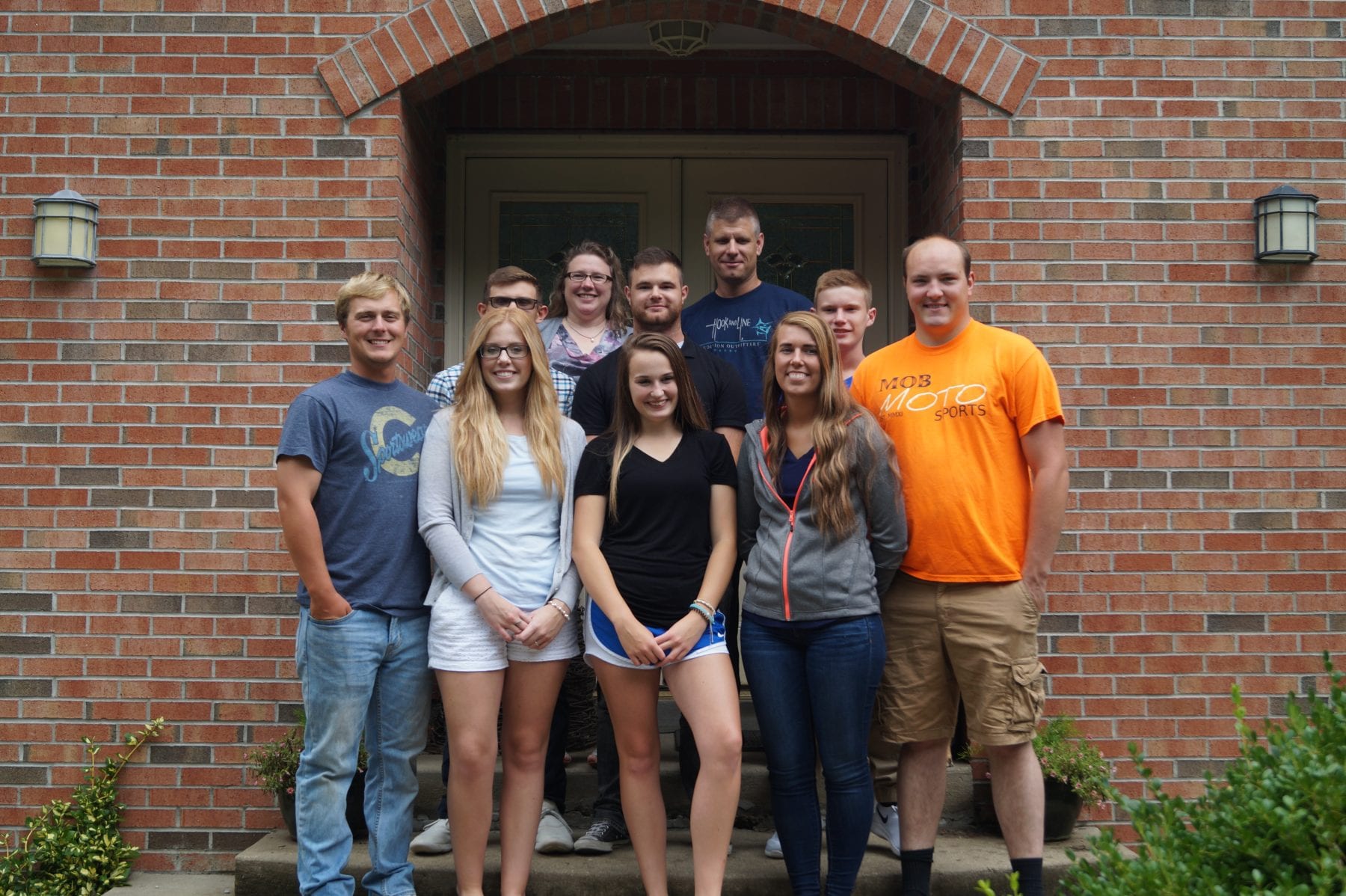 How did you find us at Flea Market Flipper?
Stephanie signed up for the Work-At-Home School that Caitlin Pyle brought together.  She went through several of the lessons and the different "work-at-home" concepts but most of those avenues were for individuals. We were looking for something we could do together.
We had always liked going to flea markets and other resale shops together. This was mostly just to look around for items for ourselves. Stephanie had been thrifting all of her life with her family.  Her great grandmother owned an antique business and her family was always "collecting" something.  I also have two uncles and a cousin who sell on eBay.
We decided that reselling would be an activity we could do as a family and even beyond when our kids become adults. It also helped that we could also rely on some of my uncle's expertise to help us get started in the reselling business. Flipper University was one of the classes Stephanie had access to from the Work at Home course.
We were really motivated to see that it wasn't only possible for you and Melissa to flip, but we could do it as well! We originally started it out as a hobby where we could make some side money. Our hobby turned into $26K in sales the first 9 months.
We took home about 60% of that after we paid for shipping and other fees. We decided to pay ourselves $500 a month and the rest we re-invest in our business to keep building our inventory to increase our profits.
It has been great to see what we have been able to do and we have really had a lot of fun working together as well. Our ultimate goal with flipping is to pay off our home equity loan and retire early. Stephanie can retire in 9 years and my plan is to retire at the same time. Our dream retirement is to take our camper and travel to some of the larger flea markets in the US and enjoy ourselves!
A lot of the people we talk to are reluctant to start flipping because they lack the funds to start. How much money did it take for you to start flipping successfully?
We started with the $0-down plan. As I have learned from the Flipper University coaching group, this is pretty standard. Most of us started cleaning out our own closets, garages, and homes to get our first sales. Stephanie and I had about 20 Red Line Hot Wheels that were just sitting around our house. We listed them on eBay and out of the 20 sales, we made about $350 profit!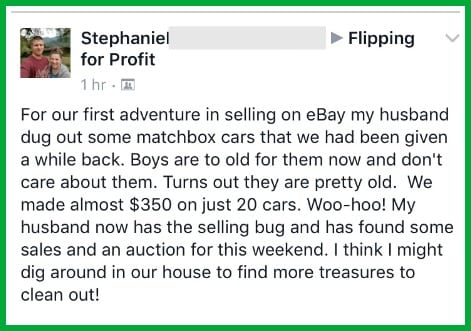 We took that money and reinvested it in other items to buy and bought our shipping supplies. We were pretty much up and running since that time. To help be a successful entity, we decided from the start to maintain different bank accounts for the business. This has really helped us to never feel like we are taking money from the family budget. Maintaining separate accounts also helps us to keep straight what we make each month and what we have to spend on new items and supplies.
There are those out there who are really intimidated to jump into flipping. What was one factor that you had to overcome to get start flipping successfully?
I think one of the biggest obstacles for us and also for a lot of people to get started flipping is the fear of shipping items. We had so many questions like: What do we charge people for shipping?  What boxes should we use?  How do we know what the weight of the box is and how much to charge?
I think there is always a fear that you will get the item purchased, sold, and shipped only to find that you lose money on shipping. For us, we just jumped in and with a little experience, failure, and trial and error we have gotten very comfortable with the whole process of shipping items.
One of the great things about taking Flipper University is to be a part of the coaching group. We are free to ask any question at any time and get help and answers. In fact, we recommend to others thinking about Flipper University to get in the coaching group and ask a lot of questions. There are a ton of us that can help.  This makes it so much easier to get over the learning curve and get started making some great flipping profit.
As you know, Melissa and I really enjoy flipping and we are together pretty much 24-7. We love seeing other couples who work together and enjoy flipping as much we do. We thought your flipping date night challenge idea you shared with the group was so awesome. Tell us how that is going!
Stephanie and I decided to do a date challenge for the year. We took your idea of the 2019 Flipping Challenge and changed it to the Date Night Flipping Challenge. Whoever wins pays for the date night! Here is how we worked it out.
We started off the challenge with each having a $5 auction item. Once we sell our item we put half the profit in the "Date Box" and use the other half to buy another item. Whoever has the most money at the end of the challenge chooses the date. If it's a flop, we'll spring for a cheap dinner. But if it turns out as planned, we are hoping to do a date night (or 2) at a nice hotel or take a short trip! Right now, it looks like we are going to be able to afford Chick-Fil-A. LOL.
The first items I sold were an Airbrush makeup kit and a blow dryer from one of our auctions. I sold it for a $42 profit putting $21 to the date fund and $21 for me to buy another item. Stephanie purchased a 12-place China set she picked up for $5. She has yet to sell hers, but we know eventually we will find the buyer. We'll keep you updated on how we do and what we end up doing.
We thought it was really awesome that you not only work with Stephanie, but also to involve your teenage daughter in making some flipping money. Tell us a little about the deal you worked out with your daughter:
We've always wanted this to be something we could do as a family. So the kids we have living at home are all pretty much involved in the family flipping business one way or another.
My youngest son has his own eBay account and he goes to auctions with me to buy. He has made about $1,000 over the last year. My youngest daughter is in charge of the skid of coffee/espresso machines I bought. I told her if she cleaned them up and got them ready to sell, I would share the profit with her 50/50.
She cleans them and tests them to make sure the machine works. If they do not work, she has learned to take those parts to fix another espresso machine or she will sell the parts. So far, she has fixed up six espresso machines and has made an average of about $20/machine after fees and splitting the profits with me.  She's a high school kid making $20-$30/hour – not too bad for a few hours of her time!
There's always pros and cons to every business. What would you say the pros and cons are with flipping?
The pros to flipping definitely outweigh the cons. I love that I get to spend more time with my family. We also really enjoy the excitement of buying and selling and the fact that we can make money doing something we love.
We spend a lot of time doing stuff together like going to the auctions and thrifting. Finding a great item that we know we can sell quickly for a big profit is so entertaining. The finding and selling keeps us going and motivated. I think another benefit is just knowing that we are investing a little bit of our time after work and making extra money every night.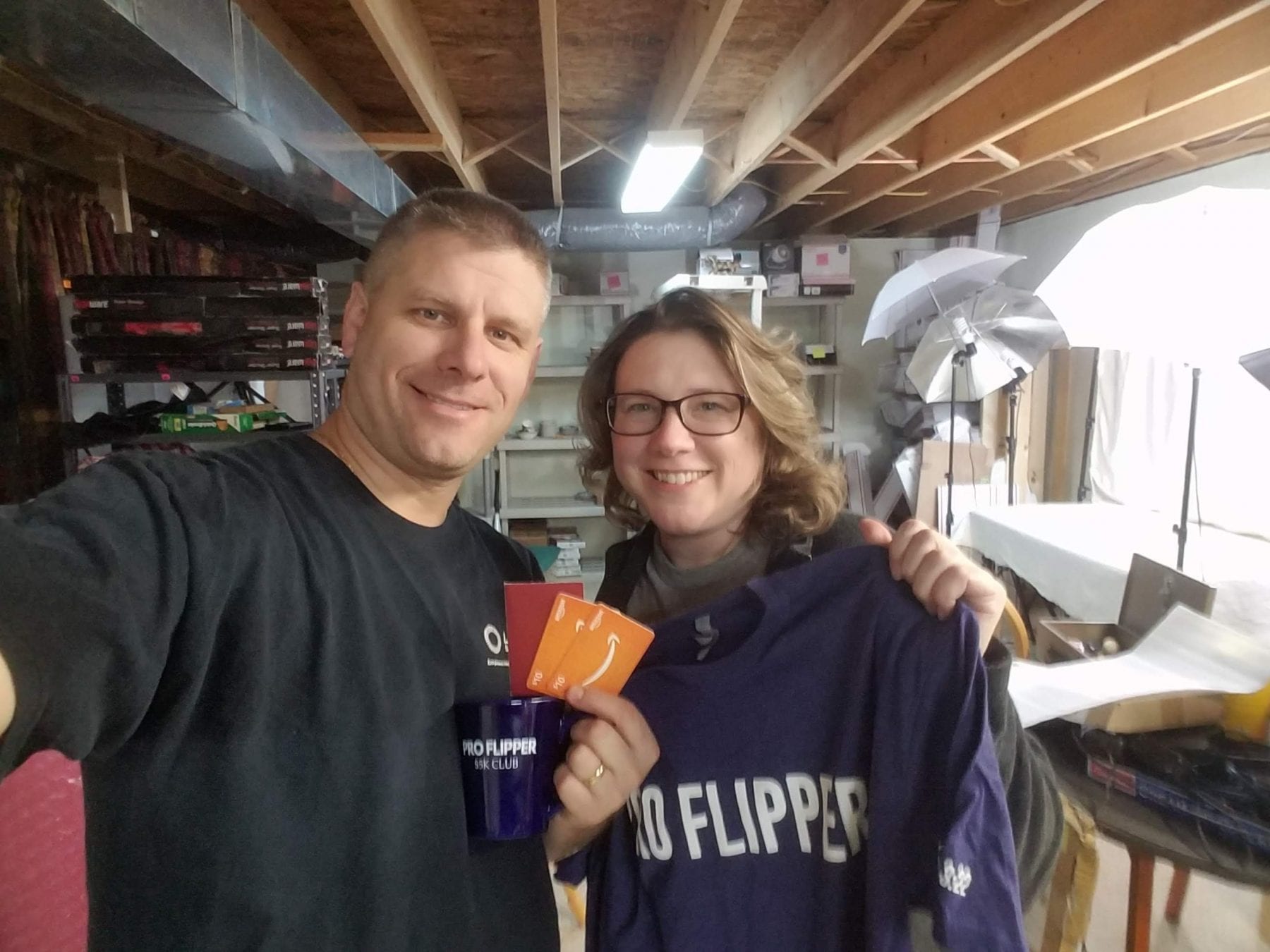 Flipping has also given us the privilege of having extra cash that is not in our budget. Our ultimate goal is to pay off our home equity loan. However, we have had a small setback the past couple of months with unexpected car repairs. We were so happy to be able to use our flipping income to pay cash for those expenses.
We did not have to pull any money out of our savings so that was really nice. We also decided to take our family to Florida over spring break. That is happening next week and the best thing about it is our flipping profits paid for the whole trip! Having that extra cash outside of our budget has helped us in so many ways.
I think the only negative thing we can think of is dealing with some people. There are people out there that you just can't make happy. Those are few and far between, but they are out there. That's when we rely mostly on the coaching group to handle any complaints that we get. We have been able to successfully handle those situations with the help of others who have more experience.
You and Stephanie have pretty much been the poster children for sourcing items at auctions. How has that been going?
We LOVE live auctions. There is something very contagious and thrilling about bidding live. We use an auction site online to find all my live local auctions. We also have two weekly consignment auctions we like to go to.
To be consistent, we have made it a habit to attend at least one auction a week. This helps build up our inventory. We also join in on some on-line auctions, however, these are becoming too expensive as everyone has seemed to find them as well. Along with auctions being our main way of sourcing, we have done pretty well at Goodwill and other thrift stores.
We do not specialize in anything in particular, but I am always looking for the unusual item that sells and that no one else wants to buy at the auction.
A few months ago, we purchased a lot of large bearings for farm equipment or heavy machinery. We weren't even sure what they were used for. No one else wanted them so I purchased all eight of them for $25. I used my local resources to find out a little bit more about them and I ended up selling them for $650 plus shipping.
We also purchased a laser hair comb once. No one knew what it was so I grabbed it for $12 and sold it for $120. There are so many things out there to buy to make a good profit. The thing is, anyone can do this with a little bit of support and training.
Brandon and Stephanie, thanks so much for sharing how flipping has become a big part of your life. We are super stoked to see how you do on paying off your home equity mortgage so you can retire early and enjoy your travel to flea markets! Keep us posted on your progress.
Have you thought about flipping for profit? Check out this FREE intro workshop to see if this is right for you.
Related Posts:
How This Mom Of 6 MADE $3,187 In ONE FLIP By Gaining Confidence in Shipping Large Items 
How This Single Mom Went From Working Two Jobs To Making $5,000 on Her Side Hustle
Flipping Success: Beaus Story From Quitting (For 9 Years) To High Profits
Resources
FREE Intro Workshop For Flipping Items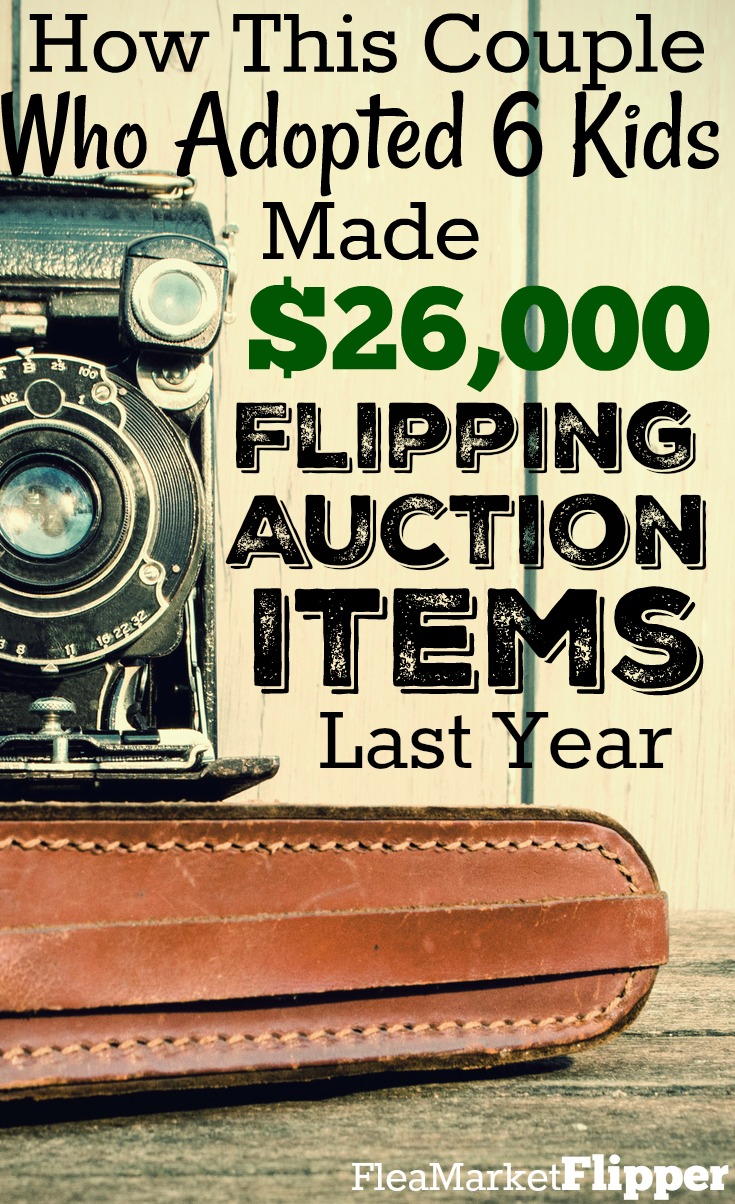 How This Couple Who Adopted 6 Kids Made $26K Last Year With Their Flipping Hobby