127 Yard Sale: 11 Tips For A SuccessFul Trip
127 Yard Sale Highlights
We just finished an epic yard sale.
It wasn't just one yard sale, but 690 miles of yard sales that spanned over 6 states and over 4 days!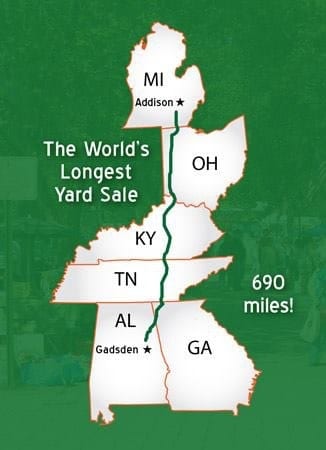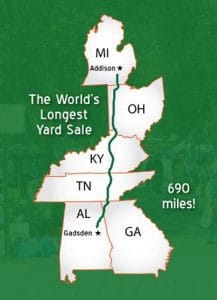 This yard sale was the 127 Yard Sale.
In case you haven't heard about it yet (we just learned about it 2 years ago), it's a 690 mile stretch of yard sales that run from Gadsden, Alabama to Addison, Michigan.
Yep — Alabama all the way to Michigan! (or visa versa if you go north to south).
It's a flipper's dream!!
You can check out the full route and even print off directions to major stops.
Just to give you a little history about the sale, here is an excerpt from the 127 Yard Sale website. 
"The 127 Yard Sale began in 1987. Mike Walker, former Fentress County Executive in Jamestown, TN, planned the event to encourage travelers to bypass interstate highways such as I-40 and I-75 in favor of scenic routes that would take them through rural communities and allow them to experience what the small towns and cities had to offer. With state parks, historical attractions, scenic drives, waterfalls, opportunities for hiking and biking, rivers and lakes for boating, train rides, horseback riding, fishing, bluegrass music, arts and crafts festivals, and more, this provided a great opportunity to bring more visitors to Tennessee and the 127 Yard Sale route. Visitors from across the country as well as those who have traveled internationally to the sale, will enjoy both the yard sales and attractions along the 127 Yard Sale route."
We love the idea of bringing people back to the scenic routes and experiencing the small town vibe. We definitely enjoyed that experience.
We got to see some cool things on our journey!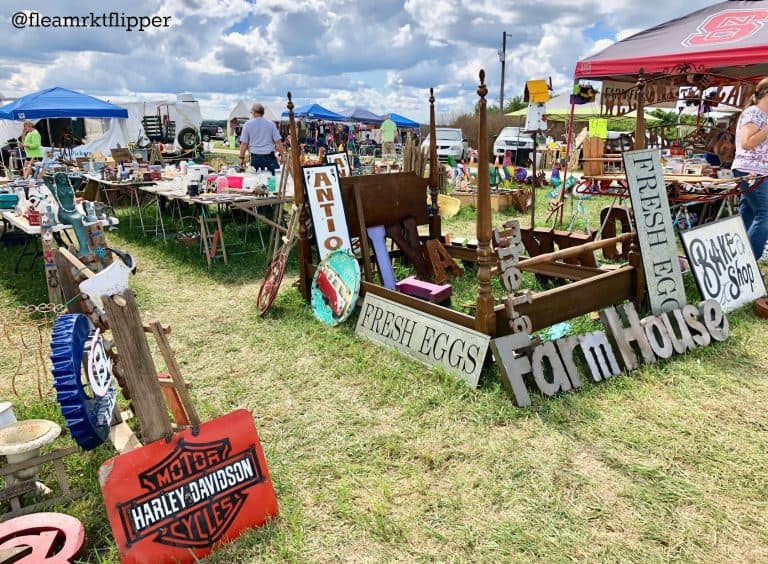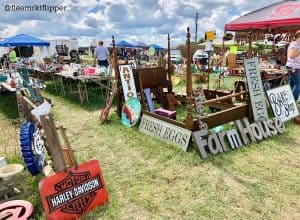 Check out this old kiddie car ride!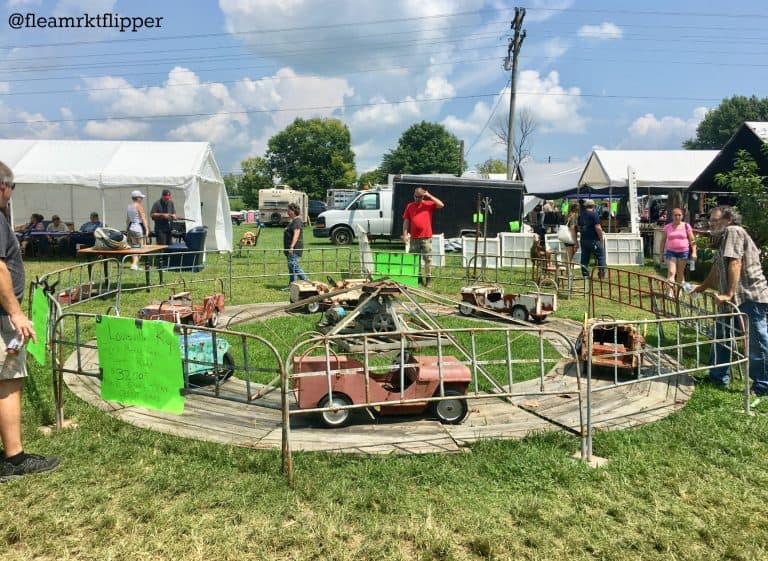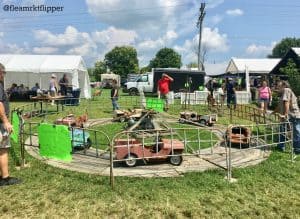 You can even find a deal on a casket! (a body may or may not be included).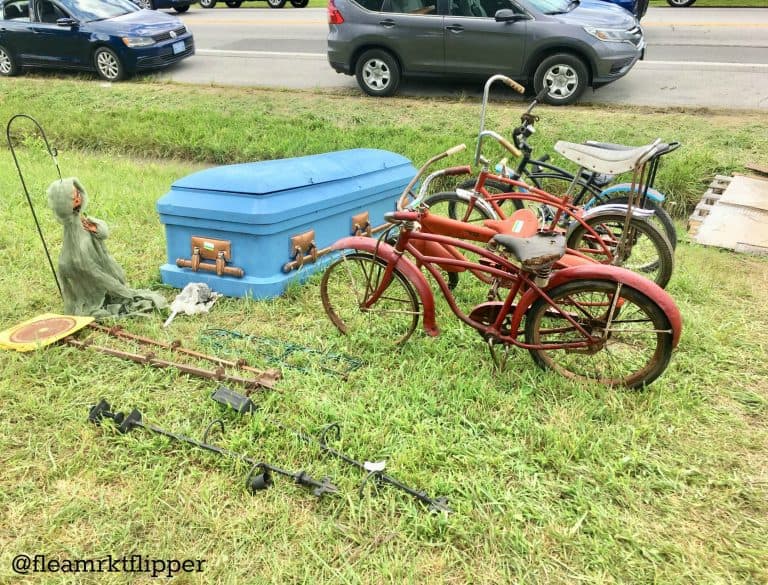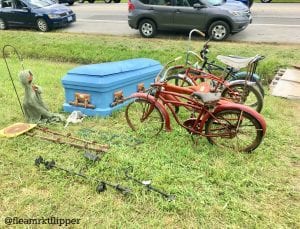 One of the coolest things we saw was not something super old, but definitely something I would have loved to buy. It was a splash pad fountain! It was from an water park and it would have been so cool to get! But, it was a little too big to put in the trailer, and it was a little outside our budget with the $4,000 price tag it had on it.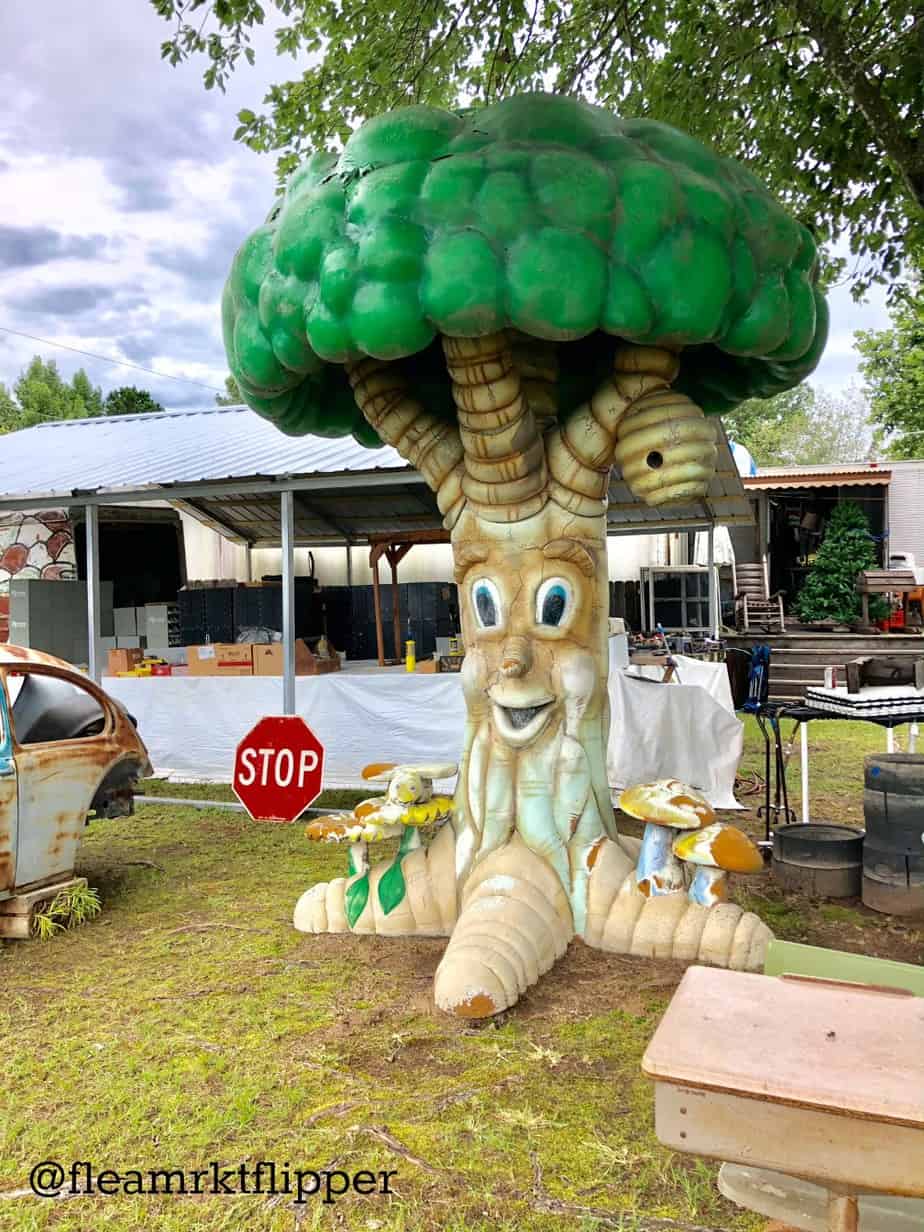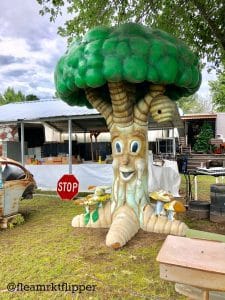 While we didn't snag this one up, we did manage to grab 12 items for a total of $562. They should bring in roughly $4,600.
Our finds from the 127 Yard Sale
The first item we bought was from the very first stop we stopped at. It was a shoulder brace with cold therapy. I didn't know exactly what it was, but when I looked it up, it seemed like it would be a good buy at $25. It should sell for around $300.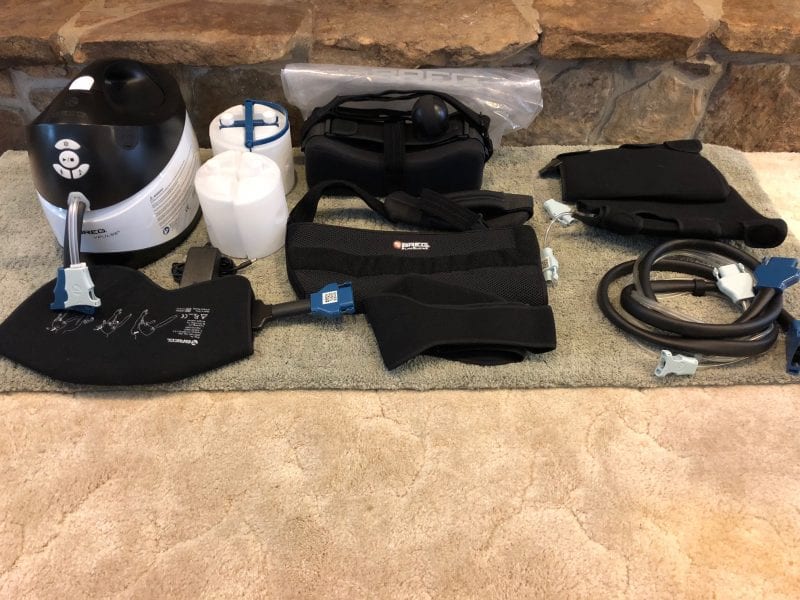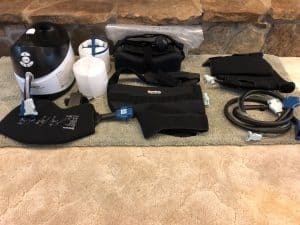 The next item we purchased was a stair stepping machine. We found this one at a thrift store in Crossville, Tennessee. We thought it was funny that the 127 Yard Sale went right through Crossville because that is where Melissa's grandparents live. We have been there for almost every Thanksgiving for the past 12 years, and we have a tradition of hitting all the local thrift stores on Black Friday!
It's not nearly as busy as other Black Friday shopping, and the thrift stores usually have some fun sales themselves. It's one of our favorite traditions to do with our extended family.
The thrift store we found this machine in was a new one to us. We noticed it right off 127 and since we had never been before, we thought we should stop and check it out! (and see if we will add it to the Black Friday route).
Here is the stair stepper we picked up for $75. It should sell for around $850.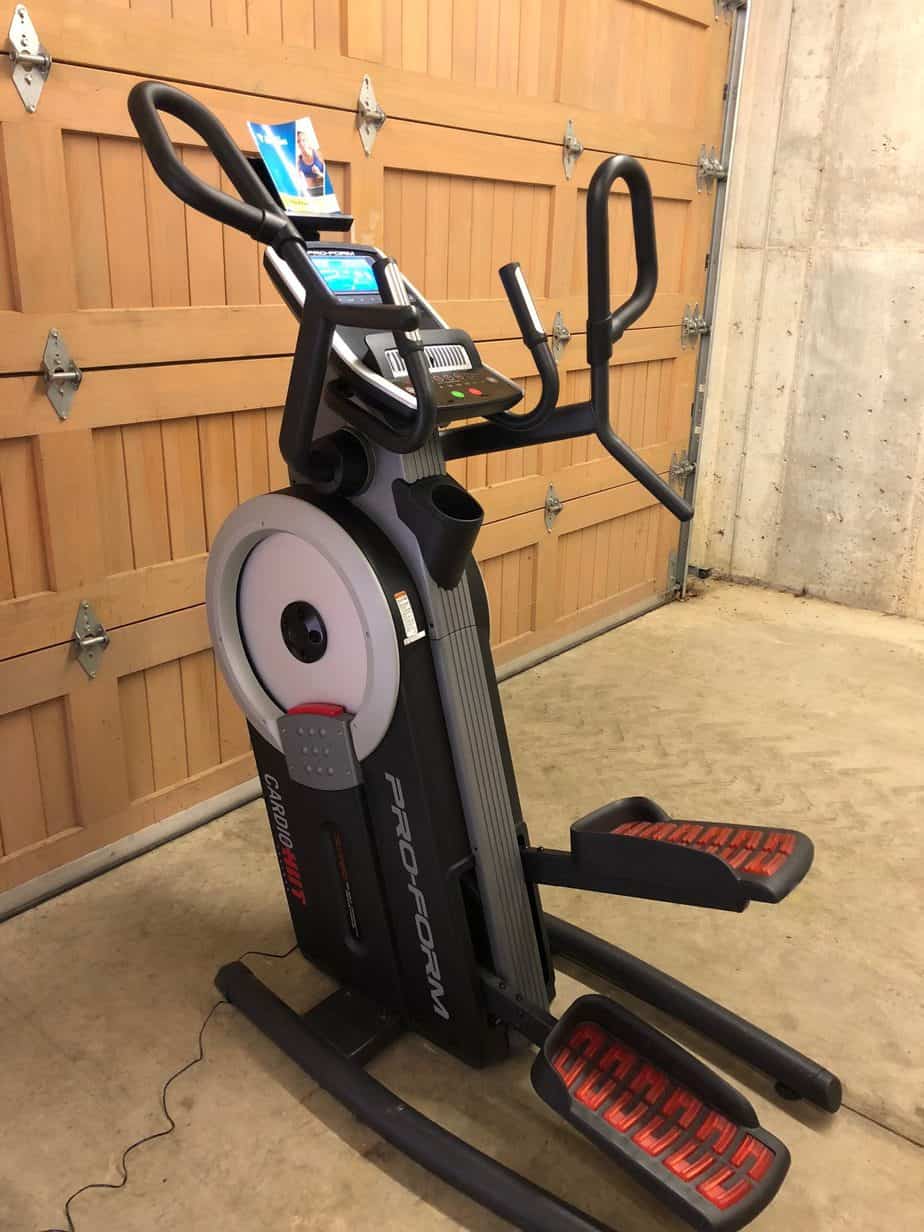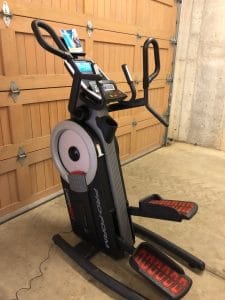 We found the next few items at the same stop.
We have seen people be successful with shoes, (We have an awesome reseller in our members community who rocks at shoes!) and we have been wanting to try our hand at it.
One lady had a whole bunch of nice shoes that she was selling for $5 and $7. We decided to pick up a few pairs. We don't have any really high end shoes, but should average a $20-$30 profit for each pair.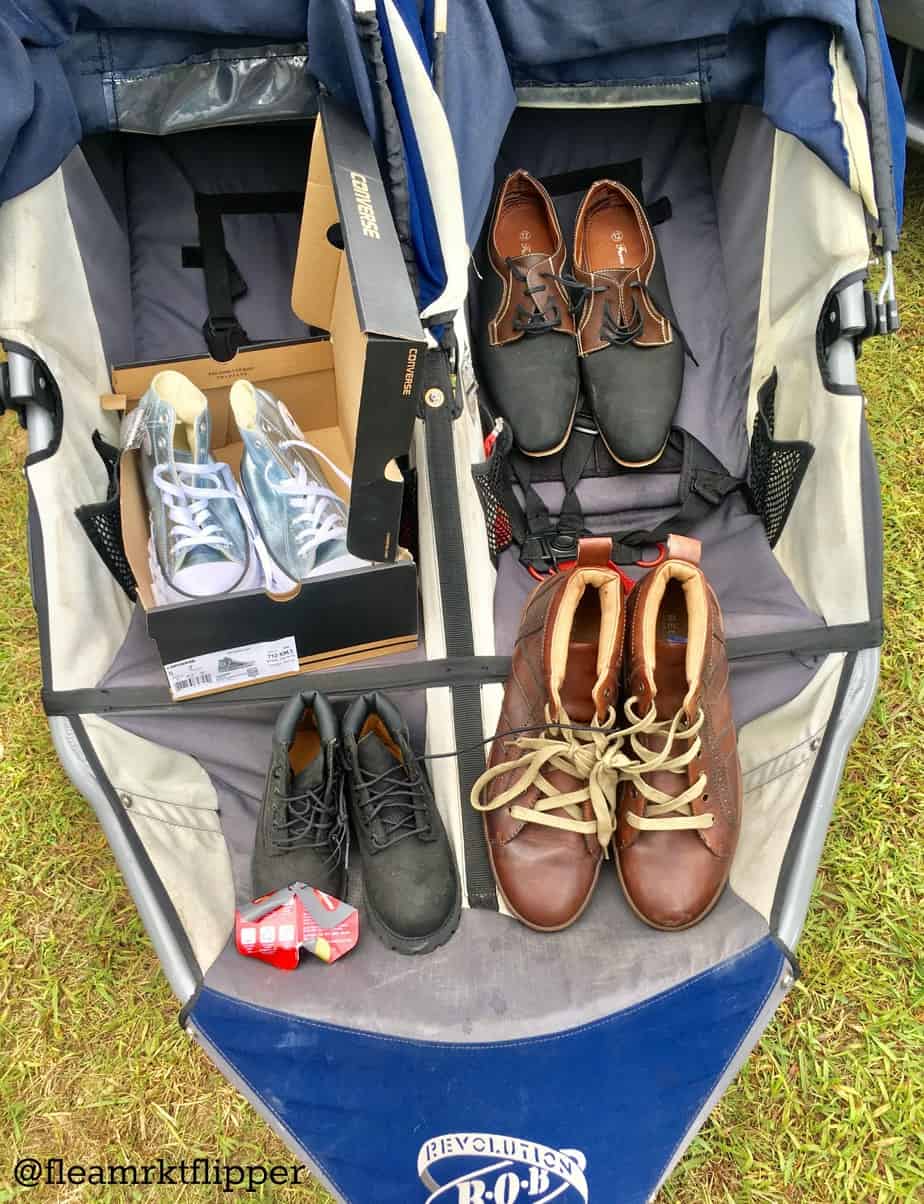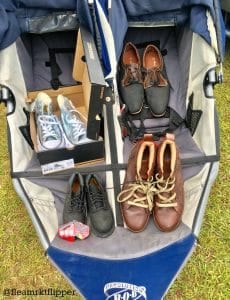 We will have to keep searching for those $100-$200 shoes!
At the same stop we found this cooktop. They were asking $50 for it. I offered them $40 and we had a deal. It should sell for around $300.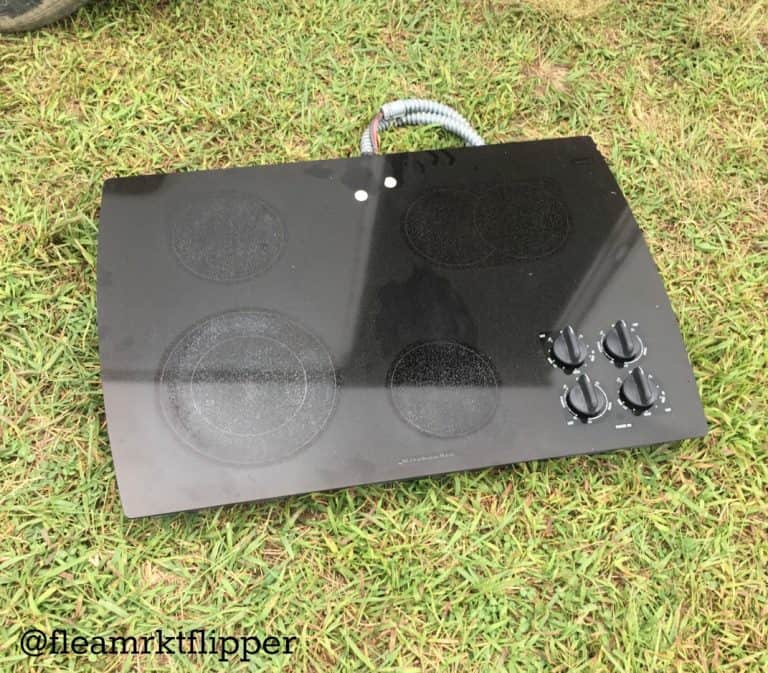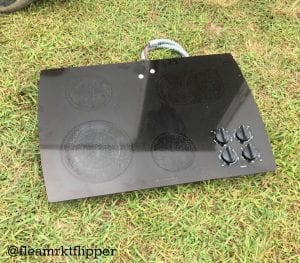 As the second day was coming to an end and vendors were closing up shop (at 7pm), we found these two boat motor cowlings. He had $20 on each of them but sold them to me for $15 each. They should bring in around $150 each.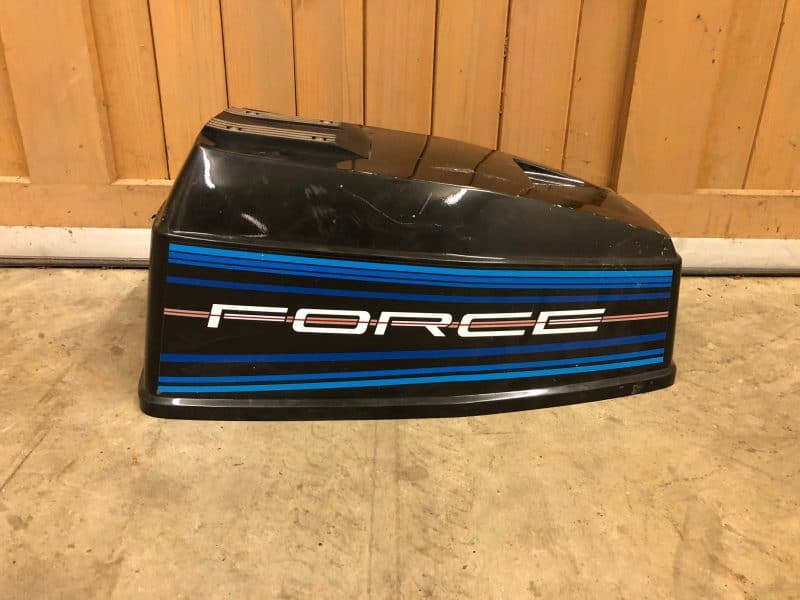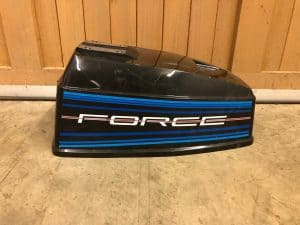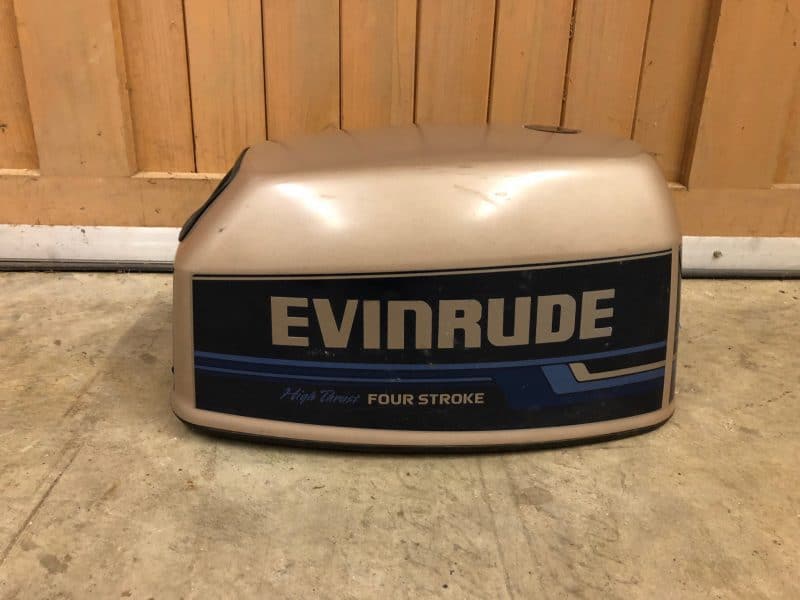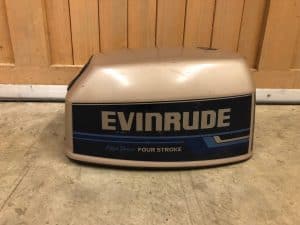 On day three we were almost skunked! We stopped at a lot of sales, but nothing really jumped out to us. Then at the very last sale like I mentioned earlier – we picked up this cement polisher.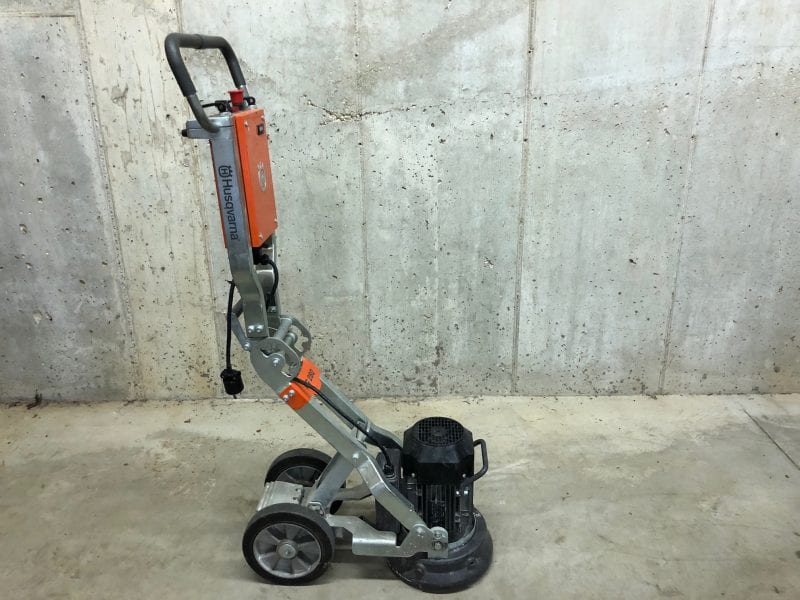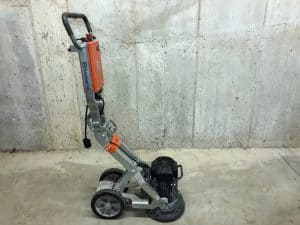 We picked it up for $360 and it should sell for around $2,000.
The last day of the sale we were further north and we were finding that sales were more spread apart then they were down south.
We stopped at one sale because one of our readers posted on our Facebook page and told us they were selling there. The sale was a little smaller so we probably wouldn't have stopped if she wasn't there. But we were so glad we did!
Not only did we get to meet Anneliese and her daughter, who refinishes some awesome pieces, (you can check out her Facebook page to see some of them).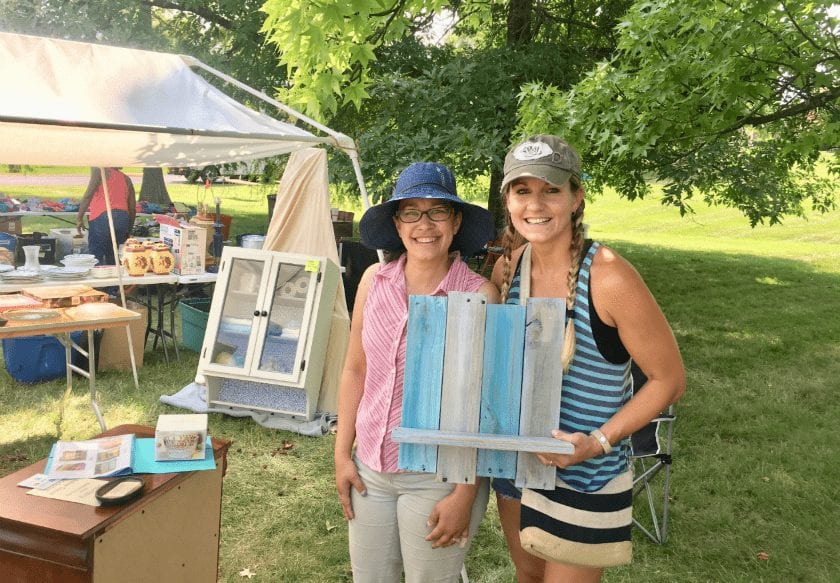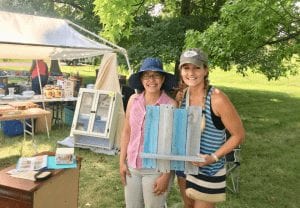 But, we also found two $5 items that had some great flipping potential!
We picked up a bike trainer for $5 that should sell for around $600.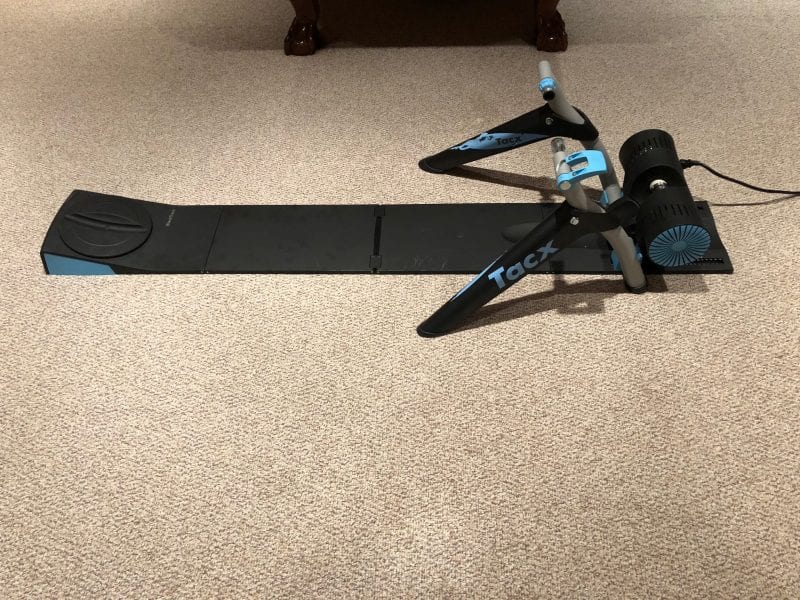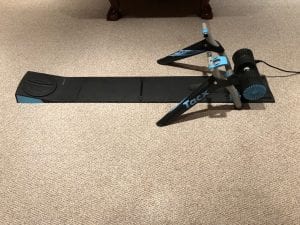 And also a bone healer kit for $5 (not exactly sure what it is…), but it should sell for around $100. I think it needs a new battery.
Itemized Items Purchased
Item                                             Paid            Should Sell For
Shoulder cryocuff                      $25                 $300
Stair Stepper                              $75                 $850
4 Pairs of Shoes                          $22                 $100
Cook Top                                     $40                 $350
2 Boat Motor Cowlings           $30                 $300
Cement Shine                            $360               $2,000
Bike Trainer                               $5                   $600
Bone Healer                               $5                  $100
Total spent: $562       Should be worth: $4,600
Related Posts
7 Tips For To Help You Make More Money At Your Next Garage Sale
How We Made $5,600 Selling On eBay While On The Road
Tips for a Successful Trip
Melissa has family in Michigan so we have made the trek there many times via the interstate. This was the first time we really got to take our time getting there and enjoy the process. Even with three little kiddos in tow.
Of course with new experiences, there are always things learned for the next time. So we wanted to give you our top 11 tips for hitting the 127 yard sale.
1.Bring a map. Definitely don't forget this one – because we did.
We are the generation that grew up with paper maps and landline phones, but also adapted to the GPS systems and phone maps early on. We rely on the map on our phone way too much now. We used to have a nice GPS system (that we bought from the flea market), but last year when we updated it – something happened and it didn't work properly – so we didn't mess with it and just relied on our phones.
One of the big reasons behind the 127 yard sale is traveling the back roads again. And with back roads in some states – comes no cell reception.
We learned this the hard way. While we were driving up from Tennessee to Kentucky, we lost all reception. This didn't matter as much while we were finding sale after sale. But it did matter a lot when we were driving after the sales were closed and eventually looking for a place to stay.
We highly recommend grabbing a physical Rand McNally Map! The one we all grew up reading. Melissa was getting so mad that we didn't have one. She learned to read a map at a young age with road trips with her family and it drove her crazy to be in the passengers seat with no map to read.
2.Bring cash. This sounds pretty logical, but if you are going for the sole purpose to negotiate and make money on your purchases, then bringing enough cash is essential.
More and more vendors are taking credit and debit cards with things like the Square, but the people who you are going to find the best deals at, will be people who aren't antique dealers and are just trying to make a few bucks on their stuff.
Cash is king like Dave Ramsey says.
Just as an example, we stopped at one place in KY where a vendor had the cement polisher for $550. I asked him what he would take and he said $400 for it. I only had $100 cash at the moment so I told him I would think about it and come back. We loaded the kiddos back up to see if there would be a gas station with an ATM nearby.
We ended up driving about 10 miles out of the way before we found an ATM, but we did!
We ended up driving back and offering him $360 cash and he took it! It probably helped that it was almost 7pm on Saturday night and he was ready to let it go.
3. Set your budget. This one goes along with bringing cash. Set your budget before you go, so you know your limits.
It can be super easy to get carried away at something like this. There are so many cool things EVERYWHERE!
Our budget was $500. We went a little over that, but not by too much. 😉
Saying no to items isn't too hard for us. We are here to make money so we only want to get things we know we can make a profit on.
4. Drink Water. Ok, we realize this one is pretty obvious, but it can be hot out there! Our first two days were overcast, but the last two days were pretty sunny and HOT.
It's so important to drink water and even electrolytes (which we did), on the days that are really hot and sunny.
If you pass out from the heat you won't be able to find more good deals. 😉
5. Have enough room for your treasures!
We decided to haul our enclosed trailer behind our SUV so we would have enough room for anything that we found. This also enabled us to put all of our bags in the trailer so we had more room in the car.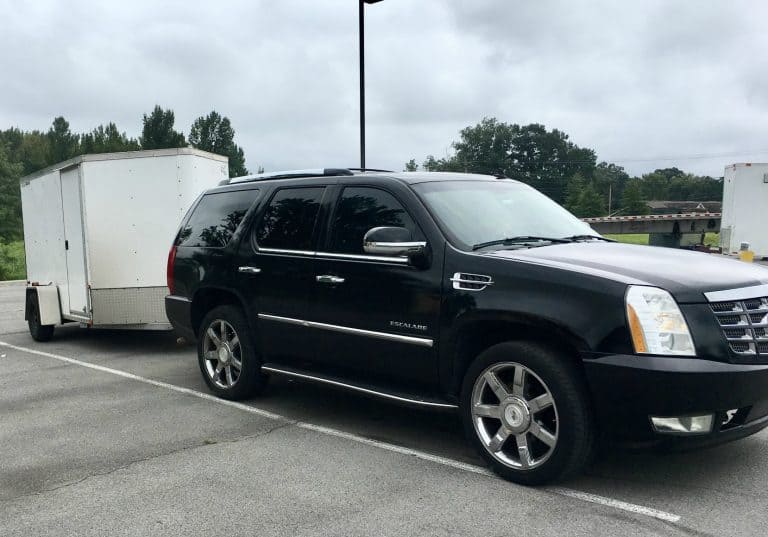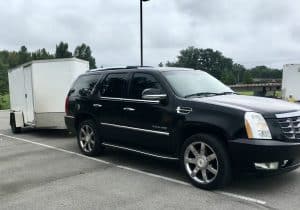 We did have a few limitations though with our trailer. We missed out on one lift that could have been a $5,000 profit! Had we brought our open trailer or our pickup truck, we would have been able to buy it, but it was 6" too tall to fit in our enclosed trailer.
Next year we will drive the pickup or use an open trailer so that we can pick up some larger items if we find them.
6. Bring a misting fan.
We would have totally brought these if we had thought about it early on. It would have helped both us and our kids out.
Melissa used to have these misting fans at horse shows when she was a kid.

They cool with air from the fan, and also can spray water in a mist on your face. So nice when you are walking around in the blazing sun!
7. Bring your smart-phone.
This is every flipper's best tool! If you want to check if something is a good deal and worth purchasing, then the smart phone is your best friend. Between Google and eBay we check almost every item we purchase.
We may not check something that is only $5 (We made two $5 spur of the moment purchases this trip), but for anything over $10 we will check it out.
We don't take a lot of risk when it comes to purchasing items. There is no need to when the Internet is at your fingertips. (As long as you have reception!)
8. Don't expect yard-sale prices everywhere.
While this name is the 127 Yard Sale, you can't expect low prices everywhere.
There are a lot of antique dealers and collectors who know exactly what their pieces are worth, and the prices show.
We expected higher prices going into the sale, so we knew we wouldn't be able to buy all the things.
There are plenty of people still having sales that are fair priced. We looked for the vendors that didn't have the perfect displays. The ones that has a mix of stuff, and not as well put together. We knew they would be the ones most likely to have lower prices and more willing to negotiate.
9. Stop at some of the smaller sales.
Some of the smaller sales have better deals than the ones with huge vendors that look like flea markets. A lot of the dealers and collectors with the higher prices are at these large vendor spots. Definitely still stop at them – it's so fun to look at everything! But don't dismiss some of the smaller sales if you are looking for some good deals and looking for items to flip.
10. Talk to people.
We went into this not knowing what to expect, and we found the people to be very friendly. It's always interesting to hear people's stories, and usually people who collect old items have some pretty good stories to tell.
11. If you bring kiddos, be prepared to break it up for them.
We travel with our kiddos fairly often, and they also go to the flea market with us on the weekends so they were a little familiar with what was about to go down on this trip. But, by the end of the day on the first day at one of our last stops, our middle one said "Another yard sale?!?" It was pretty funny, but they had been troopers through the whole day.
We had to break it up for them a little on the second day – and stopped at a bounce house in Crossville. They also happened to have a claw machine. Which is one of my favorite games! (and I'm also pretty good at it). 😉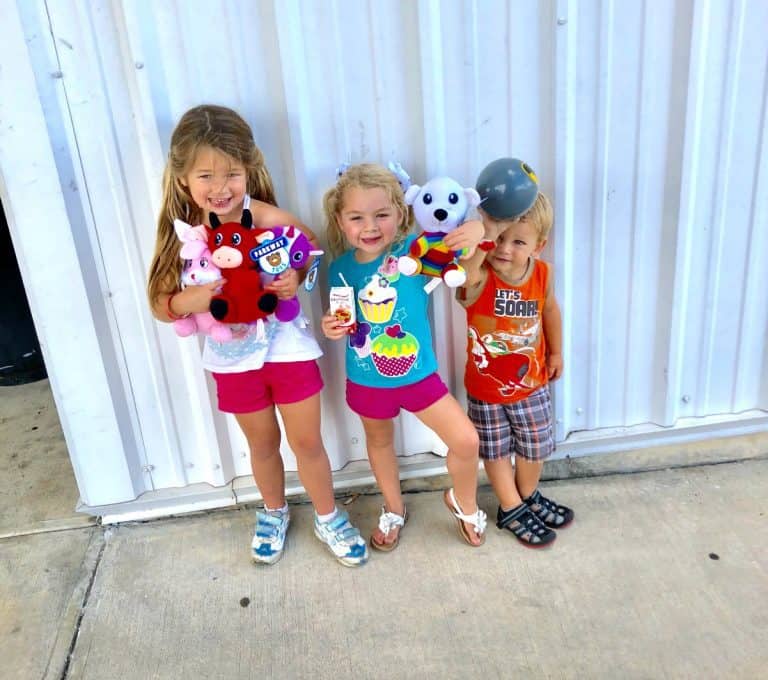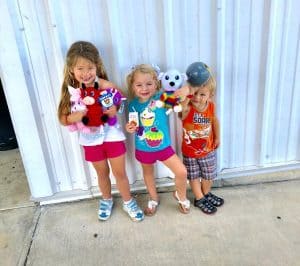 We may have also used some snow cone and ice cream bribery at times while out venturing through some of the sales. 😉
Our thoughts
We will be back! It was a fun trip and we plan to be back next year. (With an open trailer in tow).
Are you new at flipping but would love to make a good side income with it? Grab our free 5 day intro e-mail course to see if this is a good fit for you!  (This will also add you to our updates list – you can unsubscribe any time).
And if you are ready to increase your reselling profits NOW, check out our Flipper University course!
We want to hear from you!
Have you been to the 127 Yard Sale? If so, what is your favorite part of the sale?  Comment Below!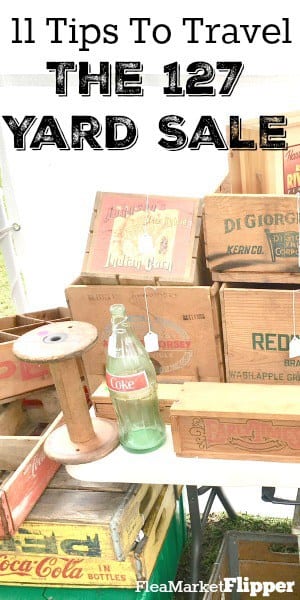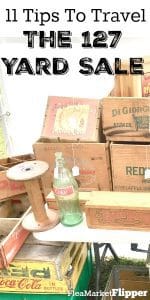 127 Yard Sale: 11 Tips For A SuccessFul Trip