Can I Flip Items On eBay If I Live Outside The United States? Jennifer's Success Story.
Can I flip items on eBay if I live outside the United States?
This question gets emailed to us quite often from people who live outside the US and want to make some extra income.
The answer that question? Yes! We have Jennifer, one of our Flipper U students, with us today who lives in the UK and has been doing great with her flipping side hustle.
This is proof that if you live outside of the United States you can flip items and make money!
Now, I am not saying there won't be some challenges to overcome. There will be a learning curve to master some of the out of country obstacles. However, anything worth doing is worth working through those challenges right?
Jennifer is proof flipping can be done outside the US!
We are super excited to share Jennifer's story with you today and we hope if you live outside the United States that you will be inspired to get started flipping today!
It's great to have you with us today Jennifer! Share with our readers a little about yourself:
My name is Jennifer and I am originally from the Deep South. I moved overseas in the 90's to teach English and never looked back.
In 2013, I married a Brit and after following him to South Africa, Australia, and Malaysia, we have recently relocated to the UK to settle in (just in time for Brexit to bring his industry to a standstill.)
Since the UK has been working over the past few years to make it more difficult for foreigners to immigrate, I will not be able to work a 9-5 job for the foreseeable future.
As you can imagine, this poses some financial challenges.
That is what initially drew me to look into Flipper University.
Selling on eBay seemed like an ideal way to contribute to the family finances without the need for my papers to be in order or for someone to hire a foreigner in a region of the UK with very high unemployment.
How did you find us at Flea Market Flipper?
I actually found Flea Market Flipper when I bought a bundle of courses that were offered together about a year or so ago. I don't remember the name, but there were maybe two dozen different work-from-home courses bundled together—proofreading, VA training, etc. etc. and Flea Market Flipper!
I dabbled with a few other courses to try to find a good fit for my family and one that could bring in some extra income.
Flipper University was the only one that I completed the materials and thought it was something I would enjoy doing and wouldn't necessarily need the follow-up course(s) before I could get started.
I realized I could pretty much get started making money right away and that's what I did.
How did you get started with selling items?
My plan was to get started with eBay as soon as I arrived in the UK. Well, we arrived in mid-July and it had been a bit more hectic than I was planning, to say the least.
In January, 2018, our tenant caused a house fire and the rebuild has been a never-ending nightmare! We've been living in our mostly-but-not-completely rebuilt house, trying to take care of all of our family obligations.
My in-laws and grandkids were the reason we decided to settle in the UK.
With that said, I didn't actually get started on eBay until August's member's coaching group 30-day challenge. It coincided with us emptying out the storage locker we've been paying to store our "treasures" in since 2013.
We realized that not only had we not missed any of the stuff, we had forgotten what most of it was. So far, we've mostly sold some old boxing memorabilia and variety of music-related items: some CDs, posters, and tour programs.
I got started taking photographs of our no-longer-treasured items as they came out of their boxes, and my husband starting listing them.
Our system at the moment is that I photograph, photo edit, pack, and post items and my husband lists them.
It's working out well so far, but he's currently looking for a job; once he goes back to work, it will become my job.
We love to see people making great money flipping! What are some of your financial goals with your flipping income?
My financial goals with flipping are pretty lofty! It will take me a while to get there, but so far, I'm enjoying it and I am happy with how it has gone so far.
As I said, I will not be eligible for traditional employment for some time. The process isn't quite as lengthy as in the US, but it's still going to be months, at least.
So, my first goal is to contribute a meaningful amount of money each month.
Then, I'd like to work it up to a full-time income.
I was a teacher, so we're talking a fairly modest sum here, maybe £3,000 per month. That's hopefully not too much of a stretch, because what I'd really like to do is pay off our mortgages.
The local economy has been terrible here for years. (If you've seen the movie Billy Elliot, that's where we live.)
We are the de facto head of household for my two adult step-children. Three houses. Three mortgages. Three sets of utility bills.
We aren't getting any younger and with Brexit, the local economy is set to get even worse. If we could pay off the three houses, that would make a massive difference to our retirement plans.
How has taking Flipping U helped you? 
Flipper U has given me so much good information about selling on eBay.
I really thought the days of people making money on eBay were over, and if it weren't for the lure of the August listing challenge, I would probably still be looking at all of our boxes of stuff and wondering if it should go in the trash or to a charity shop!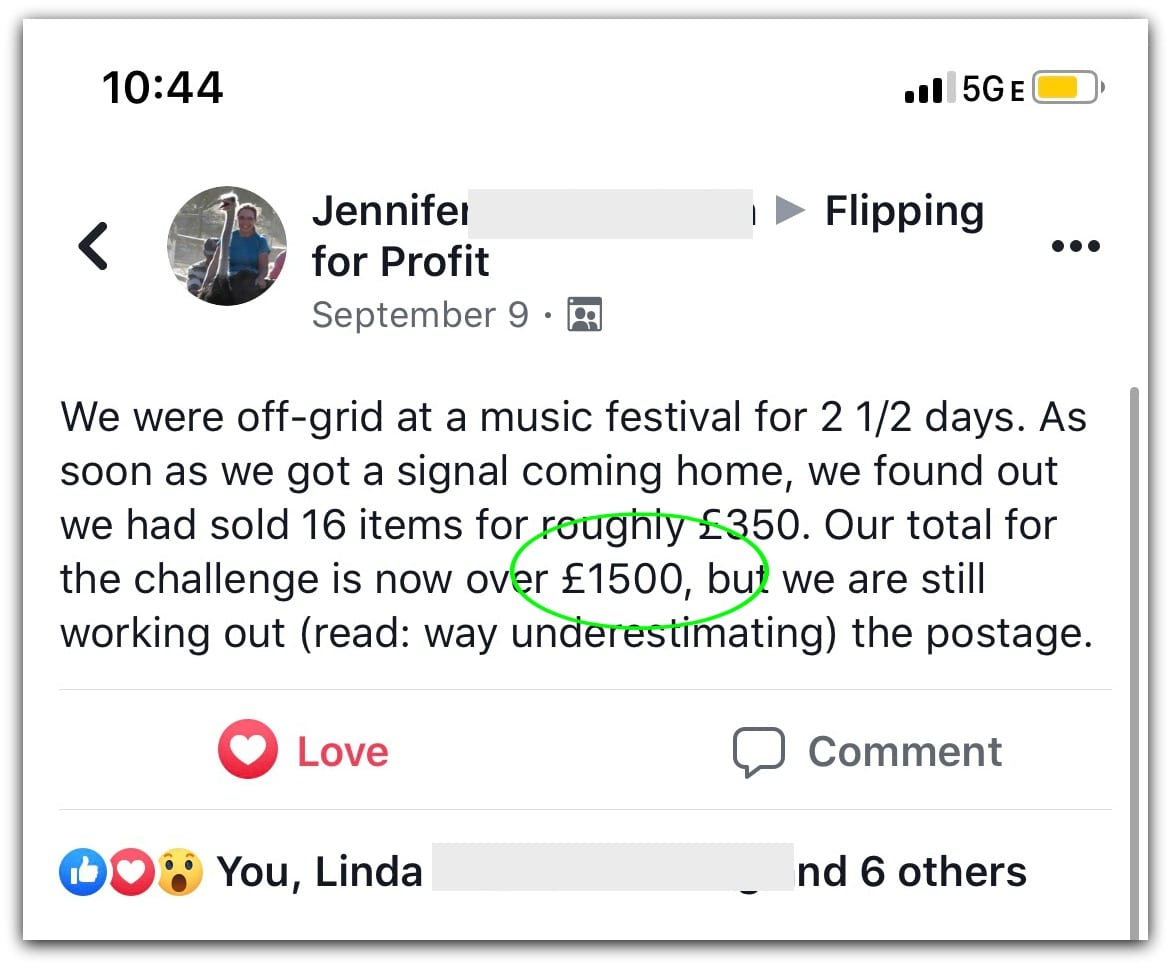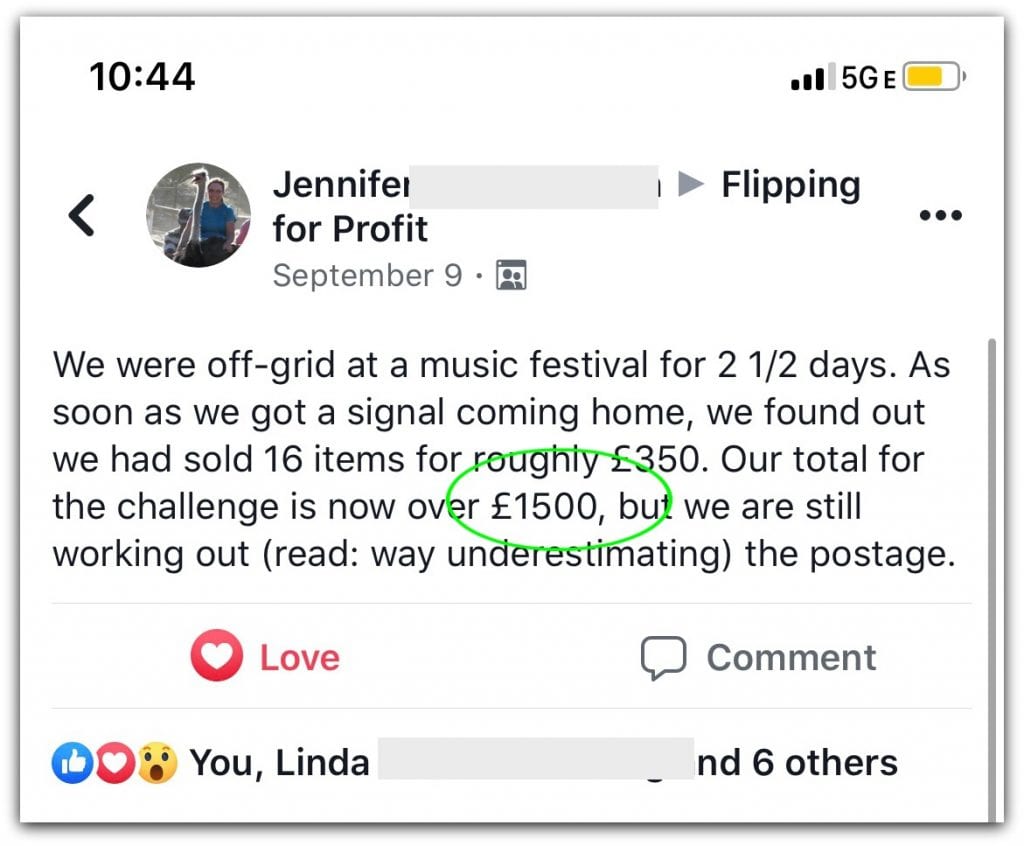 Instead of throwing everything out, as of today, (a couple of days since the challenge ended), I've turned 74 items into £1,800. I'm pretty happy about that!
That's the nice thing about having the coaching group. The challenge we all did for the month of August really got me started and I've been able to make some great money for my family.
I've also learned so much from the others in the group—everything from product photos to packing to estimating postage.
I'm still learning by trial and error, but the learning curve has definitely improved in my favor thanks to Flipper U and the coaching group.
What are some pros to flipping for you personally?
I like that I can do it from home, in my own time, and declutter at the same time (so far).
I love thrifting, so once I've gotten rid of our excess stuff, I'm really looking forward to having a legitimate reason for going to charity shops and car boot sales. (The UK doesn't really have garage sales, they have "car boot sales", usually in a field on the weekend).
People sell things from their car "boot" (trunk) kind of like a pop-up flea market.
Reselling used items meets a practical need for me (income), in a way that really suits my personality.
I wanted to do something that I could do from home that didn't require setting up a website and/ or looking for clients.
I also hate throwing away anything that someone else could use or enjoy. This lets me give things a second (or third) life and make money without having to market myself.
Sometimes people throw out things that they have no idea are valuable. Have you been surprised by anything you've managed to sell?
Today, I'm packing up a small stack of Mott the Hoople fan magazines my husband bought in the 70's.
To me, this is a pretty crazy sale for three reasons:
1. He's kept them for all these years.
2. Someone bought them.
3. That someone wanted to combine postage with a poster.
(Side note: if anyone knows how to pack a poster and an inch-thick stack of magazines together, I'm all ears!)
Because you live outside of the US, what were some challenges you had to overcome to be able to flip items on eBay?
Because I am not based in the US, I was quite nervous about getting started.
I stalked the FB group and asked questions if I couldn't find the answers I needed.
That was so helpful, in terms of providing practical information and getting me past my fears of angry customers with damaged packages. So far so good on that front.
BUT. . . I spend far too much time packaging items, partly due to my fear of items being damaged in shipping, but also because we FAR underestimated the packed size and weight of pretty much everything.
This is one of our learning curves we have to overcome being outside of the US.
There wasn't really anyone to learn from regarding shipping from the UK. Fortunately, our local post office is very friendly.
The first time I took in a stack of eBay parcels, they gave me a brochure clearly listing the shipping sizes and weights.
They are also quite happy to share their tips on how I can pack borderline items (size or weight) to try to reduce the postage.
I try to eliminate any extra space in a box before I ship it. Every gram and centimeter counts. The post office has slots different sizes must fit within and a tape measure to get the total size.
No eyeballing it for them!
After about two weeks, we had enough information and experience to learn from our mistakes, but I would estimate that 10% of sales have had correct (read: sufficient) postage.
For high dollar items, it's not so bad, but we've exactly broken even on two sales, only accounting for eBay and PayPal fees and postage. I think losing money on postage is a fear for a lot of people.
However, with some practice you can easily overcome this and be on your way to making great money.
(Check out Jennifer's totals for 60 days! £4,526 / $5,550!)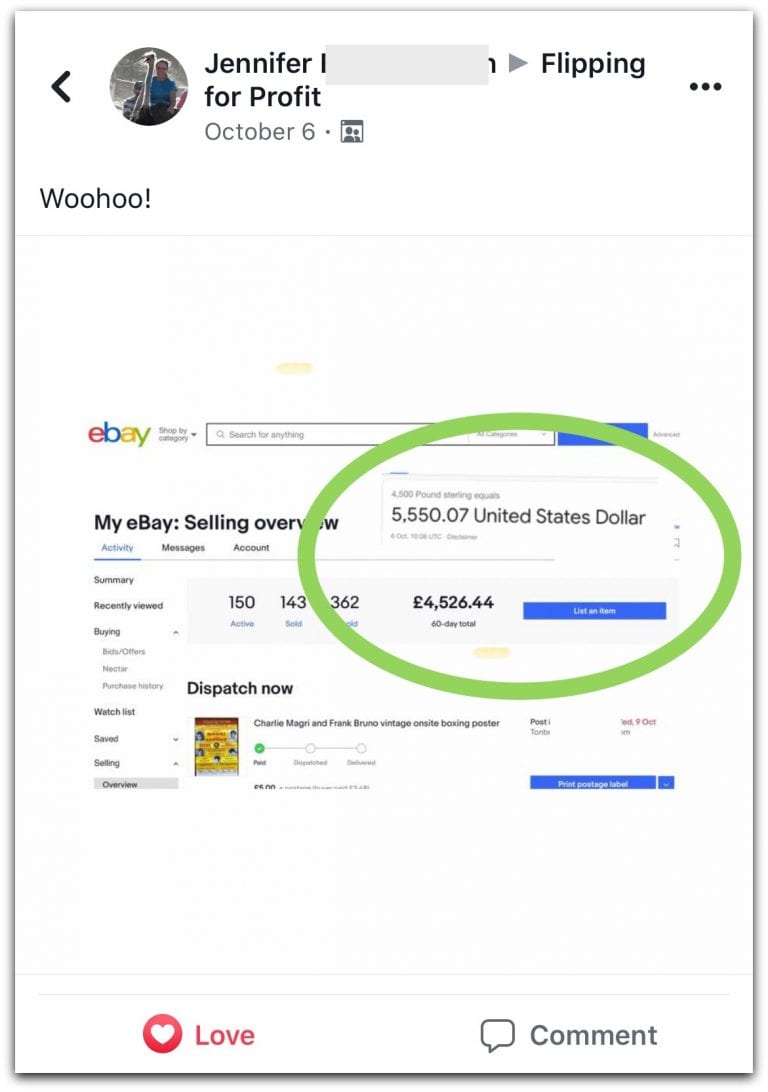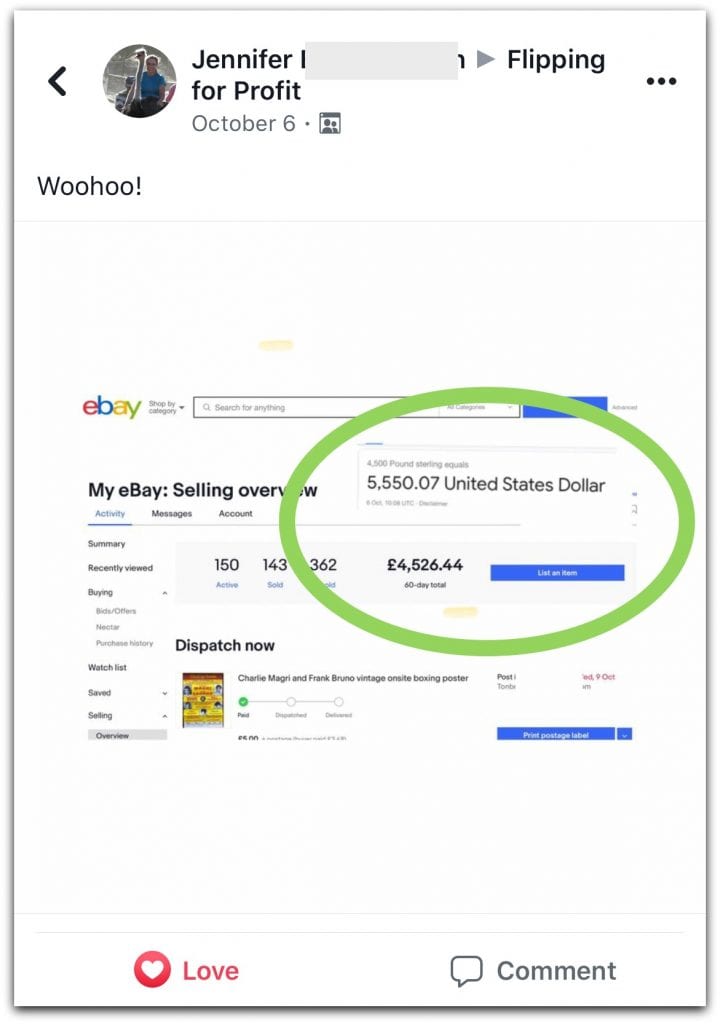 When you add in the time to photograph, list, and package the items. . . I considered them to be educational expenses!
Now, we're looking at the Global Shipping Program, which I think will work great for us and open up a larger market. I haven't pulled the trigger yet and will need to stalk the FB group posts a bit more first.
I'm also typing this at my desk, looking at several hundred books which neither my husband or I will be reading again and wondering if selling used books through Amazon FBA is worthwhile. I've got a lot more to learn about flipping, but I'm having a great time dipping a toe in and making cash while being out of the US. This is all being done with all of our unwanted items.
Jennifer, thank you so much for encouraging our readers to realize flipping is possible even for those who do not live in the United States!
This opens up many opportunities both for people who are unable to get foreign employment and even for our military families in foreign countries. We look forward to you mastering global shipping and on to paying off your three mortgages!
We want to hear from you! Do you think it's possible to flip items on eBay if you live outside the U.S.? Do you currently do this? Comment below! 
Further Resources
Make Your First $100 Flipping In 7 Days (Free Video Course)
Free Workshop How To Turn Your Passion of Flipping Items Into A Profitable Reselling Business
Related Posts
How This SAHM Made A $600 PROFIT On Her First Large Flip!
How This Professional Musician Flips Items in Order to Pursue His Musical Passion & Grow His Daughter's College Fund
How Flipping Items Allowed This House Cleaner To Reduce Work Hours To 25 Hours Per Week
How This Family Used eBay To Crush $65,000 Of Debt In Only 14 Months!
How This Single Mom Went From Working Two Jobs To Making $5,000/Month On Her Flipping Side Hustle
How This Couple Who Adopted 6 Kids Made $26K Last Year With Their Flipping Hobby
How This Mom Of 6 Made $3,187 On ONE FLIP By Gaining Confidence With Shipping Large Items
How This Widow And Her 4 Girls Are Flipping Items To Help Pay Bills and Fuel Their Dreams
How This Stay-At-Home Mom Makes $1,000/Month By Flipping Items
Can I Flip Items On eBay If I Live Outside The United States? Jennifer's Success Story.