How This Stay-At-Home Mom Is Making $1,000/Month Flipping Items
If you are a stay at home mom looking to make an extra income from home, then this is a great story for you! 
We have an awesome interview today with someone who successfully flipped some pretty large items from the very beginning.
Today we are talking to Angie, one of our Flipper University members. Remarkably, Angie has managed to buy and sell large, profitable items, even with her three small kids in tow!
She moved car seats around in her car and snuck boxes in between kids! The best and most amazing part? She was also 8 months pregnant while doing it!
Melissa and I know what it's like to have our kids along with us when we are flipping – but 8 months pregnant? That's impressive!
Angie made no excuses and we are so proud of her flipping achievement. We loved every minute of her growing profits, along with her growing family!
Her baby girl is now 6 weeks old and we get the chance to sit down with Angie and hear her secrets to how she managed to continue flipping even with limits!
Super stoked to hear her story and share it with you!
Tell us a little about yourself, Angie:
My husband and I have been married 7 years and during our first year of marriage is when we started flipping. We hosted a garage sale where a neighbor brought some items to contribute.
While assessing the prices of the items she left, I realized they were a potentially high value items, so I bought one of them myself.
That particular item never sold, however, it did give us "the bug" for flipping.
We started garage sale-ing and within a short period of time, we had some wins!
I remember early on picking up a text book for $3 and selling it within 12 hours for $125.  Woot, woot!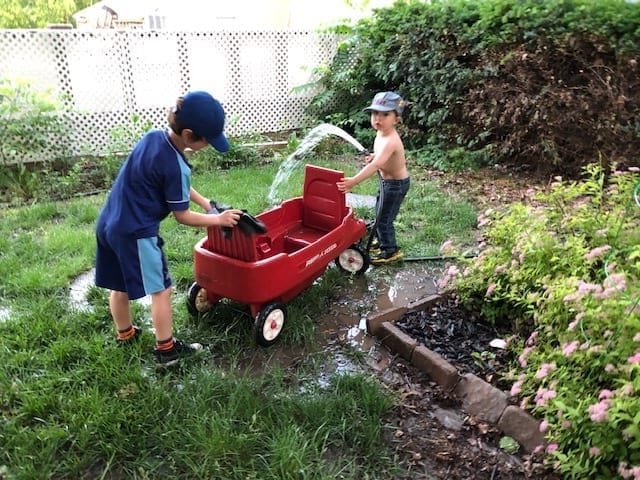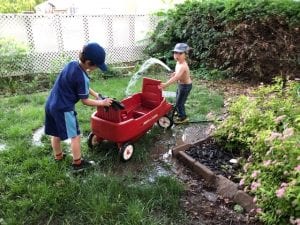 These early successes made us very enthusiastic about flipping.
A few months ago, I was thinking of my family and reflecting on the fact that garage sale-ing is truly one of the best things you can do with your kids. I realized there were several benefits to going to garage sales with kids:
1) They learn social skills/manners.
2) They learn budgeting skills.
3) They learn to save a ton of money.
4) They meet new people! (We have some new friends now!)
5) They learn so much in general with the research of new items.
We are homeschoolers and we are thrilled to have found this avenue for educating them in so many ways by doing an activity we love!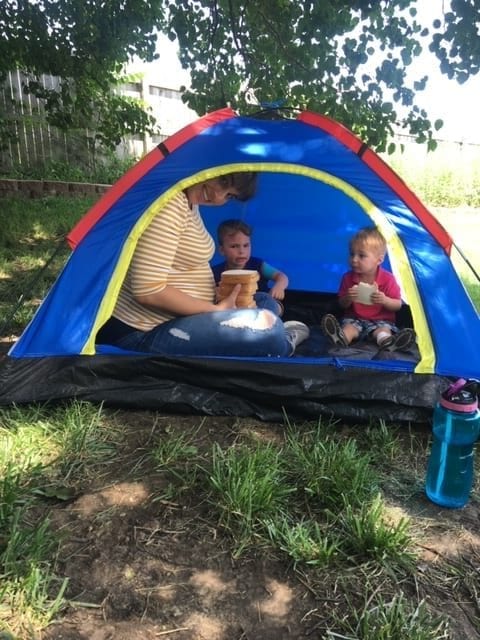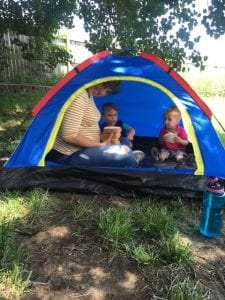 In November of 2017, we started attending a local auction every week, which has about a thousand pallets of goods at a time.
These are usually items that are lost in shipping, damaged boxes, returns, etc.
It can be very entertaining! We love doing this as a family. Some of our eclectic finds include a crossbow case, a patent leather storage bed, and a synthetic skin to practice tattoo makeup.
We have had a lot of success at the auction, including strollers, bed frames, and human hair extensions to name a few!
This auction really upped our game and realized pretty quickly that we could do well at this flipping thing. I remember when we used to be avid garage sale goers, I turned to my husband one day and said, "Do you think we'll ever get to the point where we'll be so good at selling higher value items that we won't even bother with stuff that's worth "only" $25 or so?"
To my surprise, he said, "Probably!" We kind of laughed about it at the time, never realizing it was possible to make a great income out of what we thought was fun and educating for our kids.
Since starting Flipper University, I'm trying hard not to spend time on items that will bring less than $200, unless they are small and quick.
Most of our inventory purchases now are through a variety of auctions, both in person and online, and we spend less time garage sailing than we used to.
This is just really to make better use of our time and honestly, it's a bit tedious for our four kids at their age. However, they have become masters of the free bins!
We get a lot of joy from our students who figure out that flipping can be very profitable! You are one of those people. What are your financial goals with your flipping income?
We previously tried to launch an app business, but it didn't take off.
In spite of my husband's salary and a tight budget, we are still just breaking even each month. So the extra income has been very helpful and I am super happy with it!
This allows for us to have a babysitter now and then which helps my husband and me have some time away.
But more specifically, I'd like to get to the point that we make $2,000/month profit in the next year. From what I have seen so far, I am sure we can get there!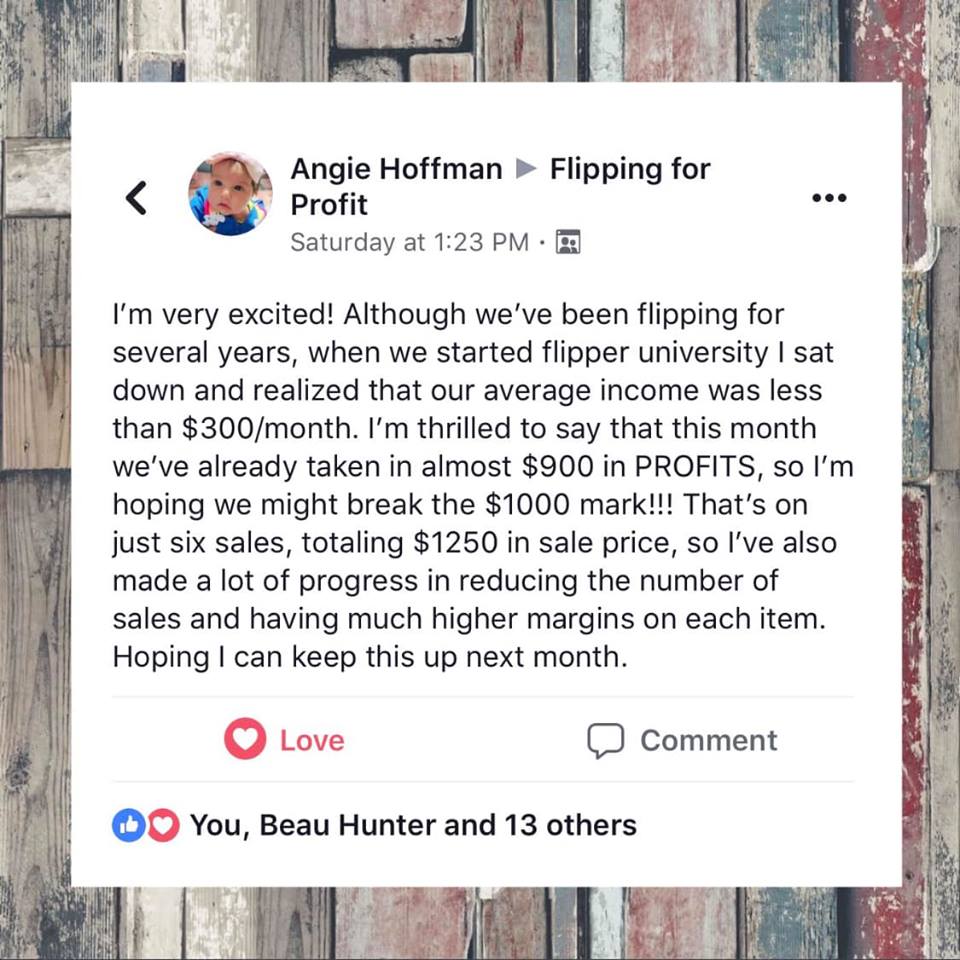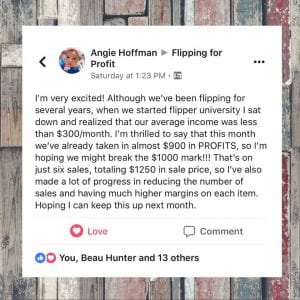 What are some tips on successfully flipping while having three small kids with you and being 8 months pregnant!
I think the first thing that I would recommend is to "Batch" your activities.  Most of our auction pickups are 30 minutes away. On our way to the auction, we go past some nice areas of town.
To get the most for our drive, I called the auction and asked if I could pick up my wins on Fridays (sometimes they'd say yes!). This would allow us to hit all the Friday yard sales at the same time.
Peanut butter and jelly sandwiches are a huge win so we didn't have to cut our day short or spend money on the road.
Having a remote start on our van was also very important when hitting garage sales, I'd park right in front of the house, then turn on the remote start to keep the car cool and lock it.
I was only a few yards away, but this allowed me to jump out with one kid at a time and help them learn appropriate behavior without any risk of overheating.
When selling, I'd list my husband's work as a possible meeting location, noting that they have to request this the night before.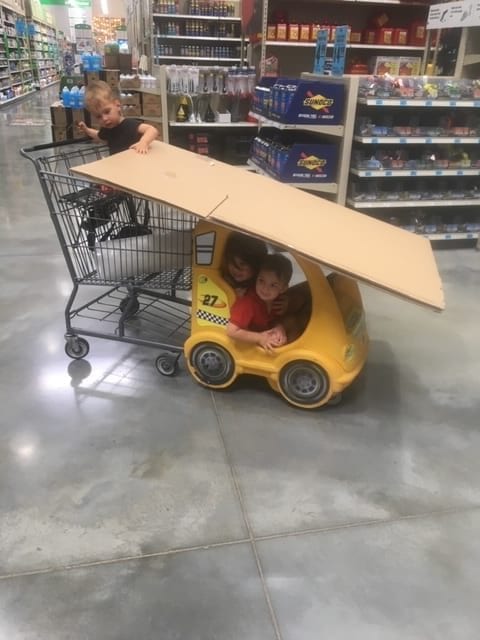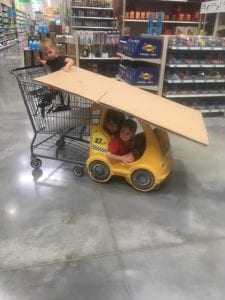 When shipping large items while pregnant, I set my auctions to end earlier in the day on Saturday and used FedEx so that I could finish preparing them and set them at the edge of the garage Saturday night and go ahead and request a pickup for Monday morning.
My husband set them in our driveway Sunday night before going to bed. What a win! Much easier than trying to fit a bed in a van full of kids!
We live in a low crime area within view of a school, and with plenty of traffic going by, so if I was determined to meet someone to sell a large item when it wasn't very feasible to leave the house, I'd use a dolly to get the item out on the driveway before the person arrived.
This would allow me to transact the whole deal in my driveway with lots of visibility. I could keep my kids safe in the house while I sold the item.
I had a lot of neighbors around to keep an eye out. I never felt unsafe doing it like this, but of course, everyone has to use their own discretion.
We know having three kids and being 8 months pregnant had to be a challenge! What are some other challenges that you have had to overcome to be successful at flipping?
There is a real learning curve involved in figuring out which items are profitable. It's still quite a gamble even though we've been learning for over five years!
This was a major selling point with the course, and I believe that investment has really paid off! I have learned a lot from the others in the group and have gotten more confident in the items that I am picking.
Also, a big goal of mine is to become confident with freight shipping and have learned so much watching the other students get good at it!
In fact, tonight I put in auction bids on a bunch of hand-tooled leather Spanish dining chairs, which will probably need to be freight-shipped, so wish me luck!
I also really appreciate having the other members of the group go through the bumps with me!  This helps me to learn and not repeat the same mistakes over and over. I've learned a lot and it has helped in my success.
One of the last items you flipped before your baby was born was the Hungry Hippo game you got at auction.   Tell us a little bit about that and how you got it sold!
A few months ago, I bid on and won a Hungry Hippos Arcade game. These are the ones you would see at Chuck E Cheese. I went to the auction to assess how I might pick it up, which would be challenging since I was 8 months pregnant and my husband was at work!
I won the auction paying only $15.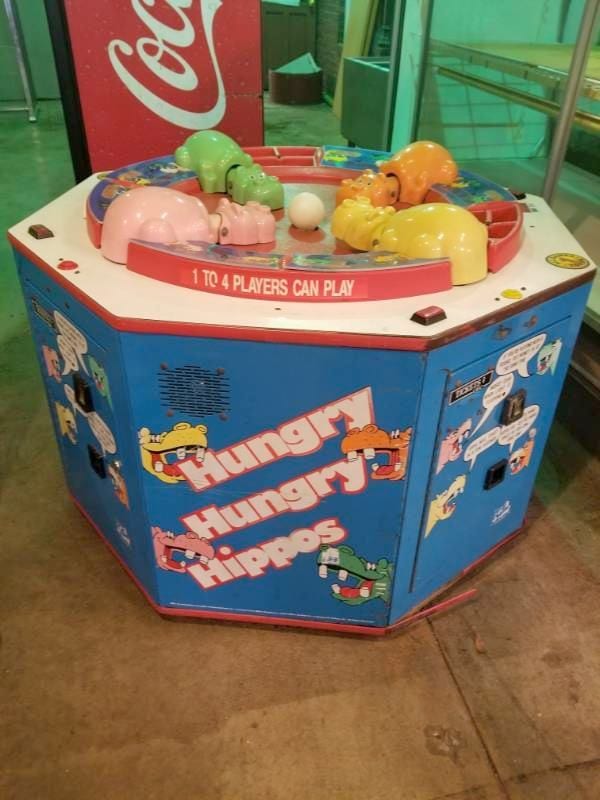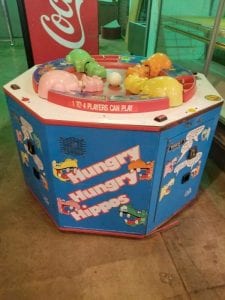 The game had a missing cover to it and the description said it was non-functioning. This was how I was able to get it at such a low price.
The great news was when I got there, they had FOUND the top plastic globe AND the guy said it powered on.
But the bad news was that it would definitely involve hiring a truck, taking the dome back off, turning it on its side, getting it on a furniture dolly, out multiple doors, down a ramp, and I'd need to clear out room in my garage for its arrival!
This would all have to be done while my husband was at work and not there to help me get it in the garage.
I had a friendly chat with the ladies at the checkout desk, and we laughed about the fact that I'd listed it on FB marketplace last night, hoping that someone would be interested before I had to hire a truck, but no such luck!
Returning to my vehicle, I tried to hire a truck right away, but none were available for a few hours so I went back home, made my kids lunch, and decided to use my thrown off schedule for some quality time with them.
Before going back to the auction, I called the auction company and let them know when to expect me and the truck, mentioning I would be truly grateful if there were any parts of the process (disassembling, etc.) that could be done ahead of time, since I have to pay by the minute for the truck driver's help AND I was pregnant!
Well, guess what? There was a lady standing in front of them who saw the game while picking up something else, and she wanted to buy it! I was super happy! She took my number, but never called back to confirm.
I went on with my life, and the kids and I went to a huge field across the street and had some TRULY AMAZING time together flying kites.
This was living the parenting dream where you wish every day could be just like this. My two-year-old was chasing bugs, other guys having total kite-flying success, everyone working together and no one fighting.
I felt like an AMAZING mom. Then my phone buzzed, notifying me that someone bought a stroller I had listed on Mercari, bringing $100 profit for me. I said to myself, "This is it! This is why I do it!"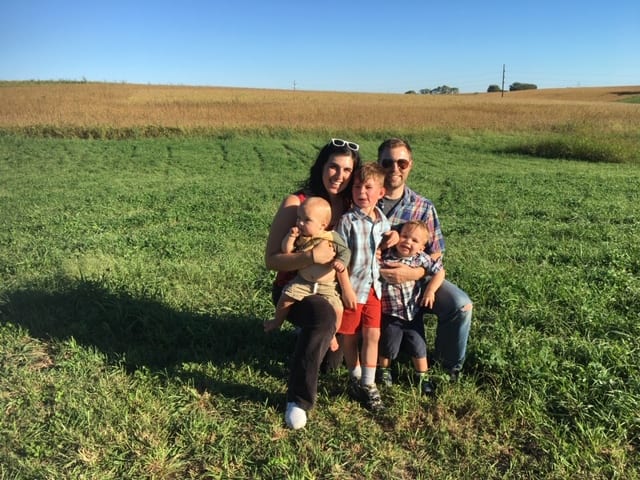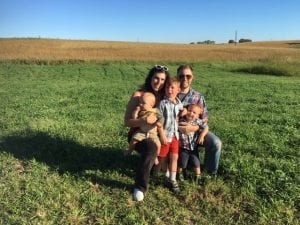 A few minutes later I got another call, and it was the auction gals–they've now graduated to calling ME!
They had another potential buyer, and this one pulled the trigger!
I cancelled the truck, loaded up the kids, and sold the Hungry Hippo for $230, which equates to 1400% profit, and I never even had to touch the thing.
So thankful for those kind of days and I am looking forward to many others just like it. I know not every day will be like that, but it was such an encouragement for our flipping future.
If you're just getting started, I encourage you to KEEP GOING! You will learn a lot, make some mistakes, but eventually you will get better and better at it increasing your profits to a whole new level!
Every day we get emails from people who are wanting to flip items, but something holds them back.  What words of wisdom do you have for those who may have challenges in their life who still want to accomplish a flipping side hustle?
Keep it fun!  Set up a separate bank account so that as you're successful, you put it right back into more purchases.  This has helped us a lot since we started the course!
I used to feel guilty about buying high dollar inventory, but now I feel justified doing it, because I know it's money that came from our side hustle.
My experience is the investment of that money will turn into more cash to fill our account with! It also helps to have a good support system.
My husband and kids are a great support, along with the flipping teammates I have in the coaching group that help with my success!
Here is a picture my three year old snapped of me while I was loading up a wagon we found on the side of the road (while very pregnant).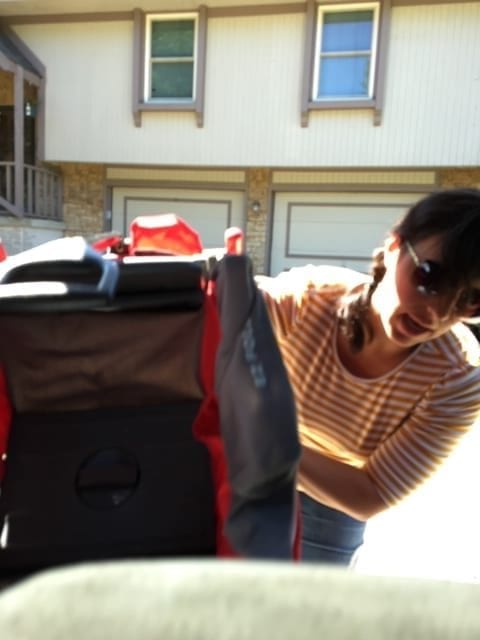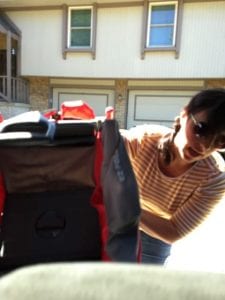 Angie, thanks so much for sharing with our readers that under any circumstance, including three kids and a pregnancy, anyone can be successful flipping!
This really is a legitimate business and anyone can make money at it if they put the work in. Flipping for us is a way of life and every day we see the potential to create income and support our family doing what we love to do!
Congratulations on your flipping success and we look forward to hearing about your next successful flips!
Further Resources
Make Your First $100 Flipping In 7 Days (Free Video Course)
Free Workshop How To Turn Your Passion of Flipping Items Into A Profitable Reselling Business
Related Posts
How This SAHM Made A $600 PROFIT On Her First Large Flip!
How This Professional Musician Flips Items in Order to Pursue His Musical Passion & Grow His Daughter's College Fund
How Flipping Items Allowed This House Cleaner To Reduce Work Hours To 25 Hours Per Week
How This Family Used eBay To Crush $65,000 Of Debt In Only 14 Months!
How This Single Mom Went From Working Two Jobs To Making $5,000/Month On Her Flipping Side Hustle
How This Couple Who Adopted 6 Kids Made $26K Last Year With Their Flipping Hobby
How This Mom Of 6 Made $3,187 On ONE FLIP By Gaining Confidence With Shipping Large Items
How This Widow And Her 4 Girls Are Flipping Items To Help Pay Bills and Fuel Their Dreams
How This Stay-At-Home Mom Is Making $1,000/Month Flipping Items