How This Stay-At-Home Mom Made A $600 Profit On Her First Freight Shipment
What would you say if I said you could take an item you got for FREE and sell it for $1,000?
Today we have one of our Flipper University students, Lisa, who did just that! If you have been around Flea Market Flipper on any given week, you know we find tons of free stuff that we either pick up on our nightly walks on the side of the street or that our friends or contacts give us.
Many people overlook free items thinking they have no value, but nothing could be further from the truth. We make thousands of dollars each year with free items and the best part – we can teach you how to find these free items too!
We are super excited for Lisa, who is a stay at home mom of two kiddos who is rocking it with her flipping side hustle.
She recently took our Flipper University Course in order to flip enough items to pay cash to buy a replacement van for her family. After finishing the course, she wasted no time finding a mind-blowing free item – a free item that she flipped turning it into $1,000!
We are so happy to share her story with you today!
We are so glad to have you with us today to share your flipping success, Lisa. Give us a little background about yourself.
My name is Lisa and I am a wife and stay-at-home mom to two little ones. I am originally from South Dakota, but I currently reside just outside of Seattle Washington.
I am very thankful to be able to stay home with our toddler and baby. We have so much fun! My husband is a school administrator/teacher and before we had kids I was an elementary school art teacher.
Our family's big goal with my eBay flipping is to save up $10,000 for a van!  We currently have two older vehicles and one is on its last leg. My husband's students joke that they need to buy him a new headlight to fill in the big hole where the blinker light used to be!
We are grateful to be debt-free by using Dave Ramsey's Financial Peace University. One challenge living in the Seattle area, is the cost of living is very high. In order for us to maintain our debt free lifestyle, we realized we needed an additional income source that I could do from home to help us reach our financial goals.
I had tried two other "side hustle" work from home options (photography and an Etsy Shop) in the past year and a half. I did not have much success with either of these.
When I was introduced to Flipper University, I thought this would be a very suitable side hustle choice for building up our van savings. Within a month of flipping, this was obviously the best side hustle for me!
It took very little money for me to get started. In fact, most of us start with our own stuff for free! I love the flipping side hustle, because I can work completely on my own time at home with my little ones and I don't have to spend valuable time marketing my business.
I just have to find and clean the items I am going to sell, snap some good photos, and write an honest description. It really is so easy!
We always love hearing stories of how people found us. How did you get to our course and what made you decide to jump in with both feet?
My aunt had gotten into flipping last summer and told me what she was doing. She sells mostly shoes and other clothing items/accessories from the Goodwill Outlet. I immediately thought it was something I could do.
I found Flea Market Flipper online when I was searching for information on what items to look for. I watched some of your videos and I saw that you had a lot of knowledge and were quite successful with flipping bigger items. I had some success and was making money with doing shoes from the outlet, but with two little kids at home, I just didn't have tons of free time.
I never really thought about flipping larger items, but I was interested in the idea of doing less volume for higher profit items. But like most people, I viewed shipping as a hassle and I didn't think I could figure out how to ship larger items.
I watched several of your videos on YouTube and I gathered from those that shipping freight was something you knew well and better yet, you could teach me.
One thing about Flipper University that we love is to be very involved in coaching our students. We really enjoyed being able to help you find and sell the free oven! Tell us about how that all played out.
At the time I signed up for Flipper University, one of the bonuses of the course was an OfferUp sourcing call with you. You had messaged me with a few good items to choose from and one of those items in the mix was the free combo oven. This was the item that worked out for us to pick up. What a great way to start!
The sourcing call was not only helpful in finding the free oven, but also to be able to see what kinds of items you were able to find in my area.
At the time, we did not have a large enough vehicle to transport the oven, but you recommended it would be worth it for us to rent a U-Haul cargo van to pick it up.
We currently live in an apartment complex and after we picked the oven up, it took me a few days to clean it up. After that, you were able to walk me through getting it listed on eBay.
We prayed it would sell in a week and thankfully it did! After it hung out in our carport for a week with a blanket over it, we were so excited when it sold!
We were very thankful for the support in walking us through packing it up and freight shipping it to its new owner! We rented a Home Depot truck to get it from our apartment complex to the freight terminal for shipment.
It was a little challenging renting the vehicles to transport and it took a little time, but it was well worth the money we got in return. I am now considering getting a little trailer in the future to make freight shipments easier.
I NEVER would have tried flipping such a large item without your help or the help of the freight shipping course.  You were able to give me great advice on listing the item, pricing it to make it appealing to customers, and making sure I included freight shipment information in the description.
My husband and I were confident with getting it packaged up on the pallet after watching the freight course videos. You even helped us walk through putting the information on the freight shipping website and purchasing the shipping —super, super helpful!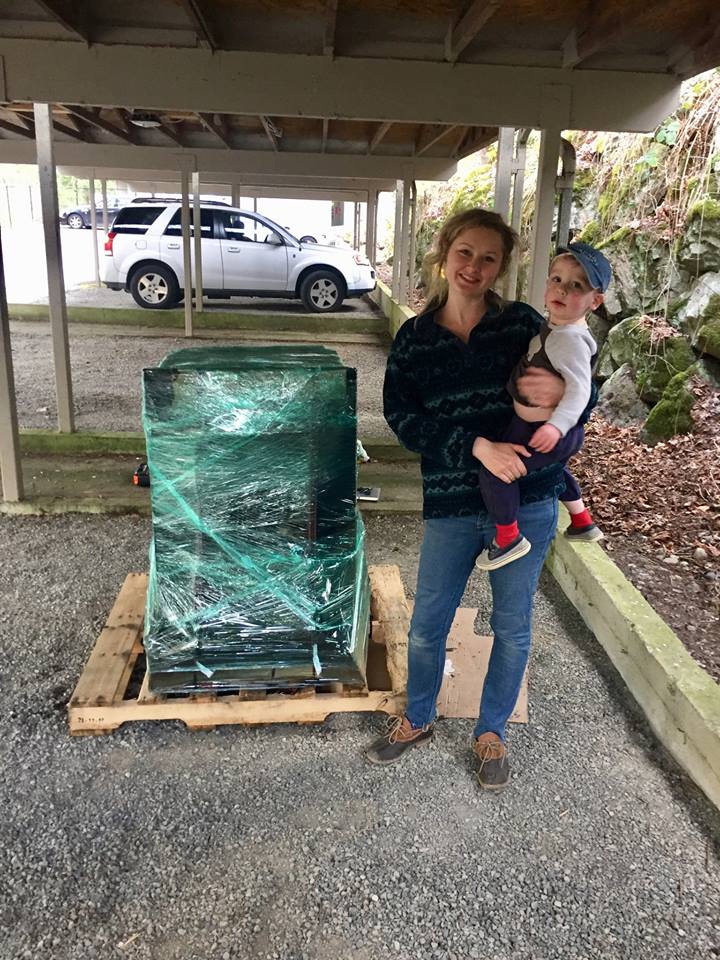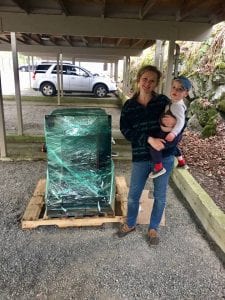 After we packaged it, you even informed me on what I needed to bring to the terminal and what to expect when I got there. Because of you and your expertise, we pulled off our first freight shipment without a hitch!
We know shipping freight can be very intimidating when people first are introduced to it. It's so important for us to help people overcome those fears to start making some BIG returns on their investments. How did you manage your own fears of shipping your first freight shipment?
Honestly, I never would've thought that flipping an oven was possible without your help. My husband actually thought I was crazy, but he knew you were an expert and so he was willing to give it a go.
It certainly turned out to be a good idea making $600 in profit in less than two weeks! This was all thanks to you giving us guidance throughout the entire process – from finding it, to listing it, to pricing it, to packing it, to shipping it.
Because of this support, we were able to confidently approach each step. I think just having the support to get through these steps for the first time was so helpful.
It made it possible for us to be successful and know that we can be successful again. I think the biggest challenge for us was renting the trucks and the extra time and money to organize the rentals.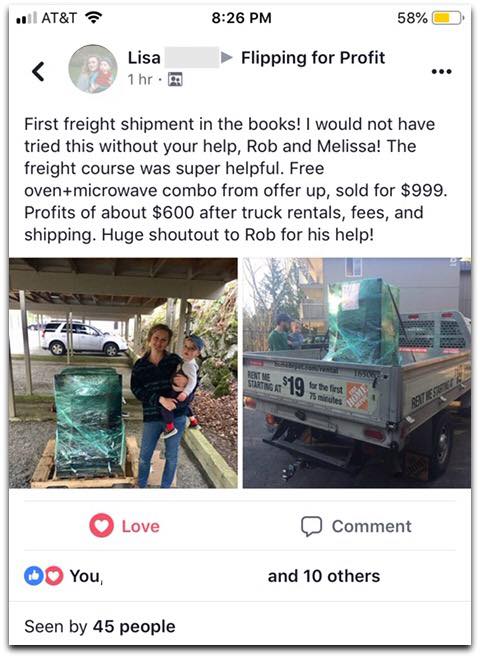 But looking back on it, even that wasn't a big deal because you even helped us move past that challenge. I would have had to find, clean, list, store, and ship a LOT of used shoes to make $600 profit.
We were really happy with how we moved through the whole process!
We get emails every day from people just like you. There are moms wanting to stay home with their children full time or just wanting to find that extra money in their budget every month. What advice would you give to others like you who may be thinking about flipping?
I think I would just say, "Give it a try!" Make a search around your house and find some things you already have you are not using and list them! If selling larger items for a bigger profit appeals to you, I highly recommend Flipper University. It's so much more than just a course!
After Flipper University, I have confidence in shipping freight.  I have also found the Facebook coaching group has been so helpful for me in getting advice.
I get tons of ideas from all of the students just seeing what others have had success selling. It has been a blessing to our family so far and we hope to reach our lofty goal of $10,000 to purchase our van in the next few months!
It has also boosted my confidence to be able to make some money in my free time. It is fun for me and my toddler, who enjoys getting to play with the stuff I sell before I ship it out!
Lisa, we have no doubt you will reach your $10,000 goal soon. Our entire coaching group is cheering you on!
Your experience flipping and shipping a freight item so soon really encouraged and gave confidence to so many in our coaching group. Thank you for sharing your experience and all of your success with us today. We look forward to pictures of your new family van!
If you are like Lisa and are ready to make an income by selling larger profit items, then check out our FREE workshop here to learn more about this flipping gig and see if it's a good fit for you! 
Further Resources
Make Your First $100 Flipping In 7 Days (Free Video Course)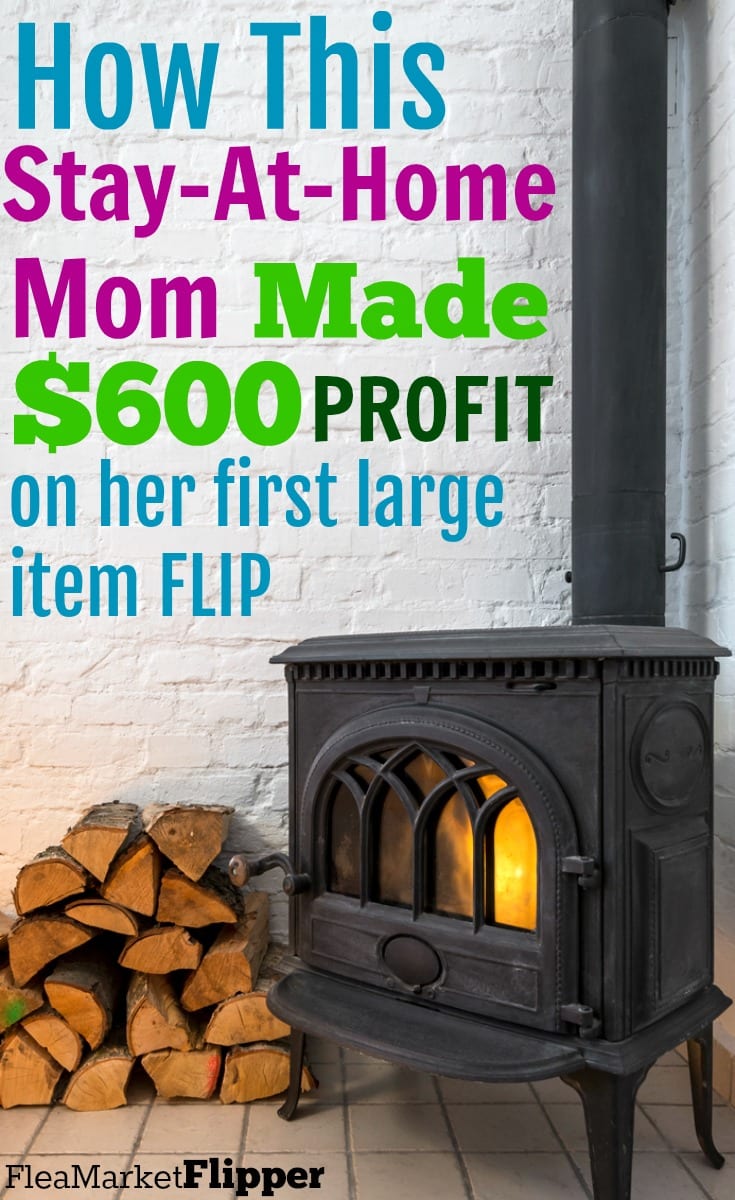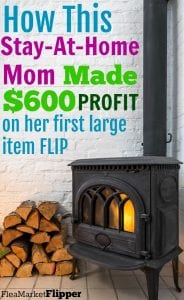 Free Workshop How To Turn Your Passion of Flipping Items Into A Profitable Reselling Business
Related Posts
How This Professional Musician Flips Items in Order to Pursue His Musical Passion & Grow His Daughter's College Fund
How Flipping Items Allowed This House Cleaner To Reduce Work Hours To 25 Hours Per Week
How This Family Used eBay To Crush $65,000 Of Debt In Only 14 Months!
How This Single Mom Went From Working Two Jobs To Making $5,000/Month On Her Flipping Side Hustle
How This Couple Who Adopted 6 Kids Made $26K Last Year With Their Flipping Hobby
How This Mom Of 6 Made $3,187 On ONE FLIP By Gaining Confidence With Shipping Large Items
How This Stay-At-Home Mom Made A $600 Profit On Her First Freight Shipment