What We Flipped To Make $21,105 In One Month Of Flipping Used Items
Do you love flipping used items? We do! I don't think I will ever be able to have a 'real job' ever again. (Well I don't think, I know.)
Today we are going to dive into what we flipped last month (which includes our largest flip of the year!)
But first can we agree the months just keep flying by!
It was just summer and now we are full fledged into all things fall.
Fall is one of my favorite times of the year – not because of pumpkin everything (that's Melissa's favorite)- but because Christmas will be here soon! 😉
(If you have been around us for any length of time you know I love Christmas!!)
But back to the fall.
Back to last month's flipping income report.
September was a whirlwind of a month with preparing and waiting for a hurricane, going to a conference in DC and while we didn't list and sell as much as we would have liked to, we did have our biggest flip of the year! (so far).
[siteorigin_widget class="WP_Widget_Media_Video"][/siteorigin_widget]
But we'll get to that one in just a bit!
In the month of September we sold 7 items for a total of $21,105 in sales! 
Let's dive in to what we sold:
Two Double Bob Strollers
We sold two double Bob strollers that we picked up at the flea market for $60 & $80.  We sold them both on Facebook Marketplace for $180 & $350.
Pizza Dough Roller
Next was a find from the 127 Yard Sale.
We picked up this Pizza Dough Roller for $100. It was our last pick from the trip.
It sold on eBay for $1,750!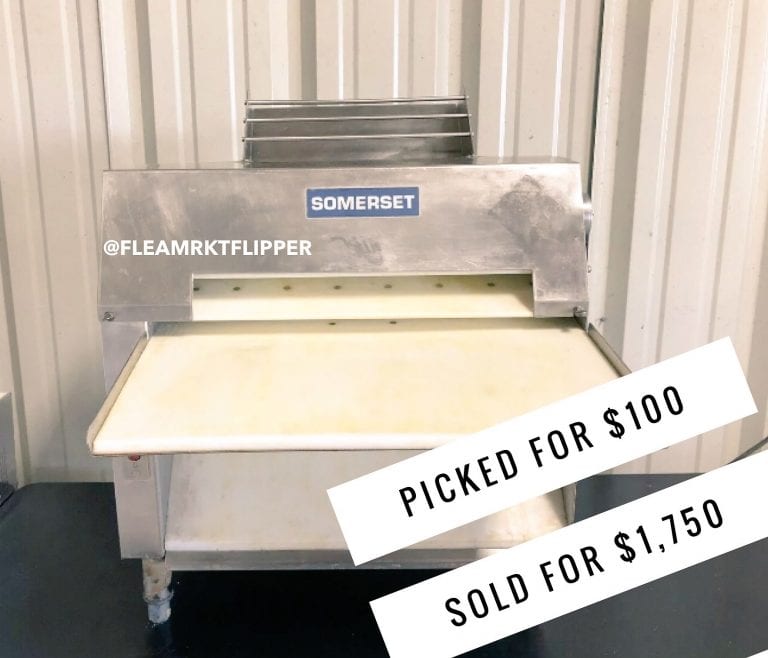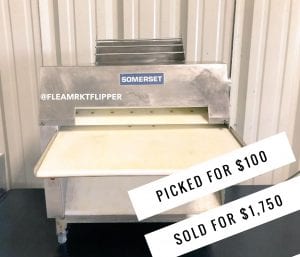 Antique Seed Cleaner
The next item was an antique which was pretty cool! It turns out it was an old seed cleaner.
This was in our warehouse when we moved in and we told our landlord we would help her get rid of some items.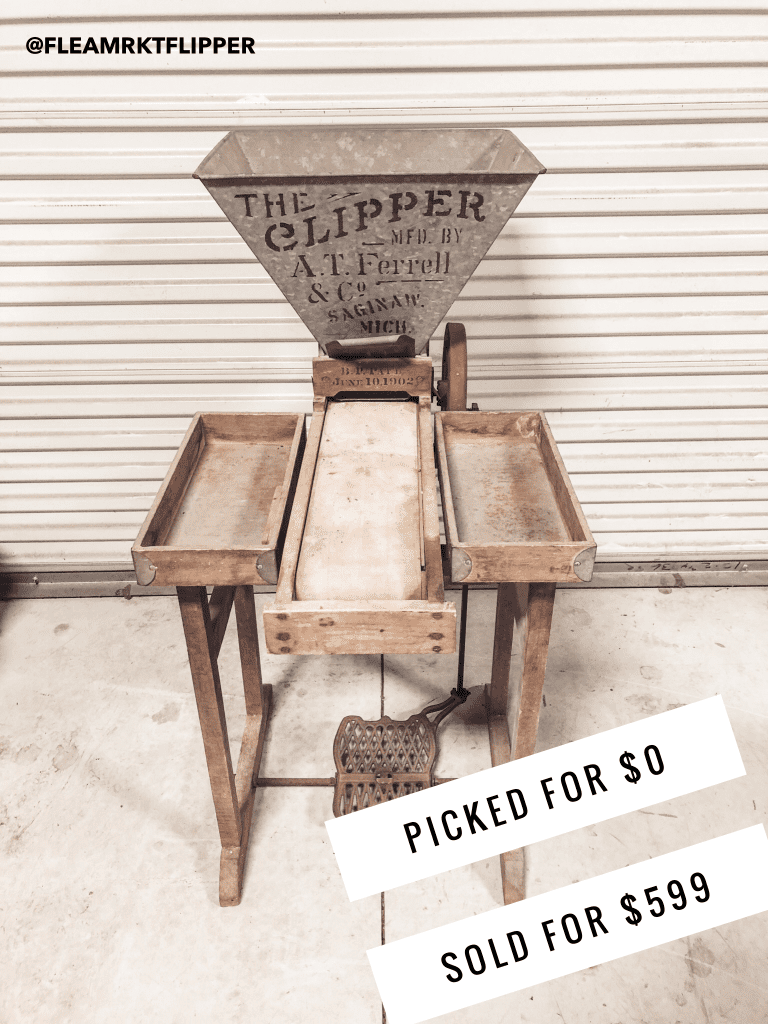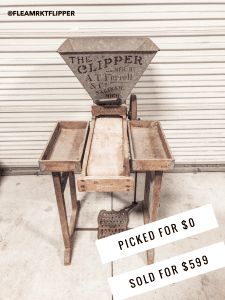 It sold on eBay for $599!
Walker
This next one had a cool story because it came from the trash! I literally pulled this walker out of the dumpster with another one similar to it.
It sold for $130 on eBay.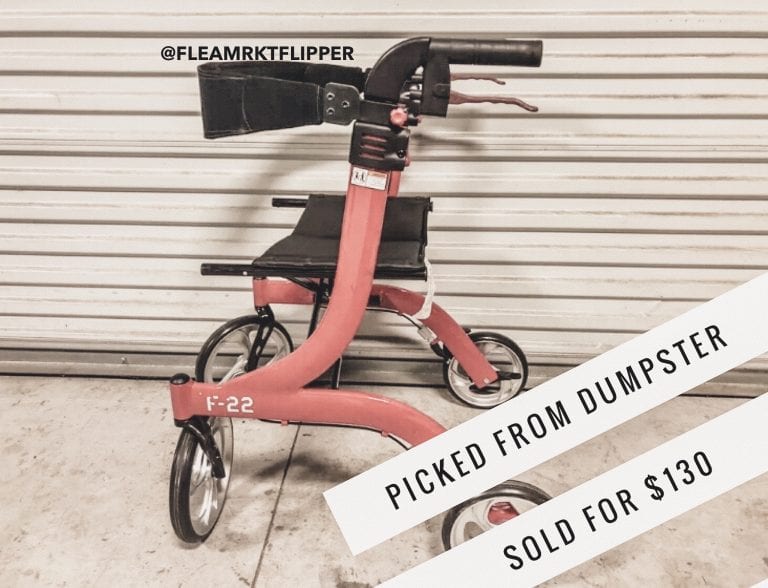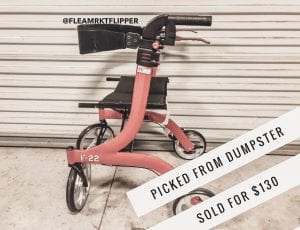 People just throw away money – it's crazy to me!
Oh, and this one got a retweet from Gary V! We were pretty stoked about that!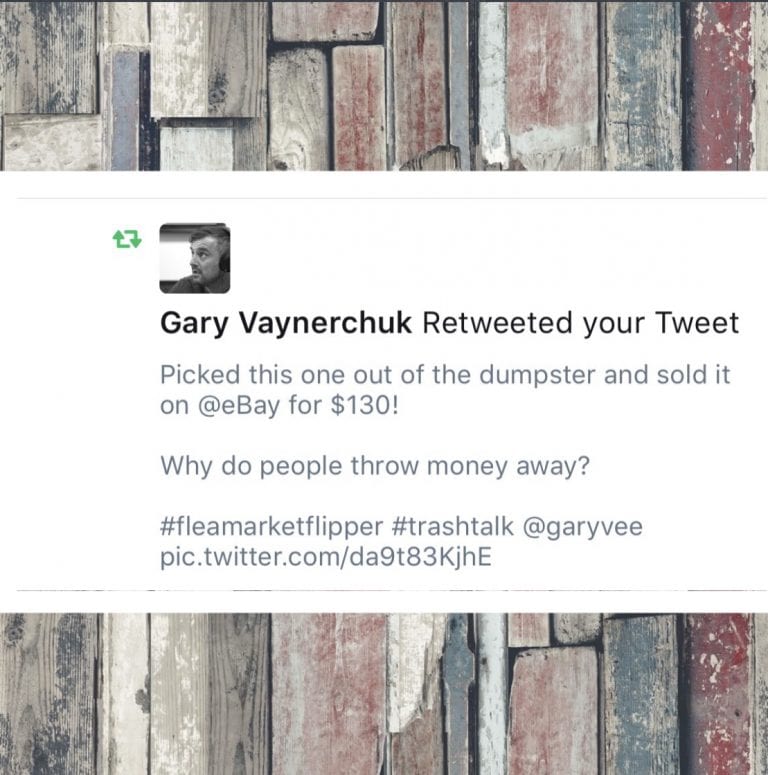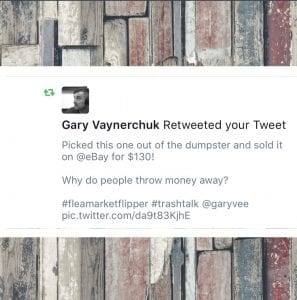 Ariat Boots
The last smaller item was a pair of Ariat boots. Melissa wanted to keep these, but then she always decides she would rather have the cash. Haha
Picked these for $11 at a thrift store and sold them on eBay for $95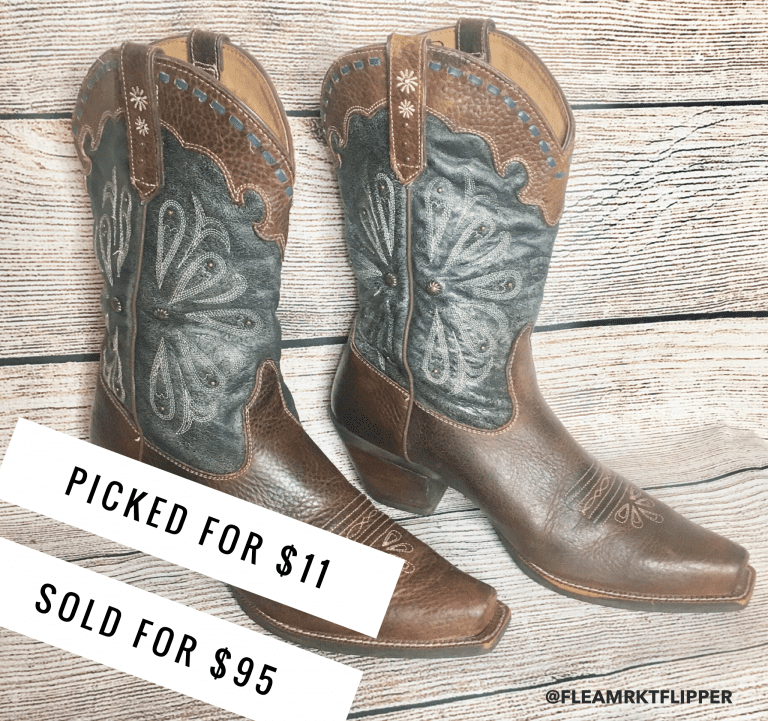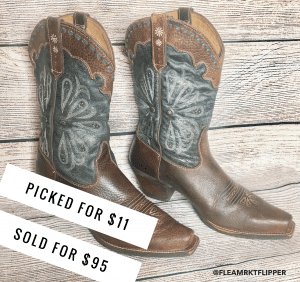 And last but not least….
The largest flip of 2019….
My International truck!!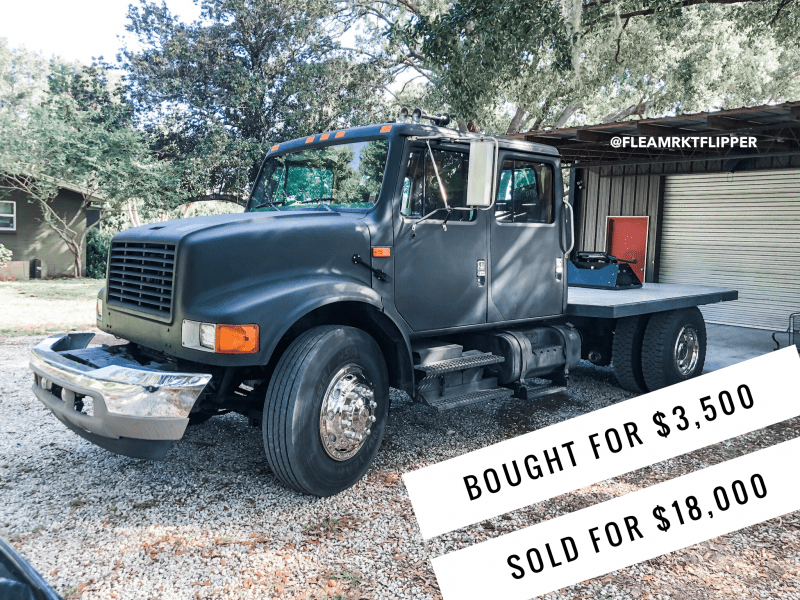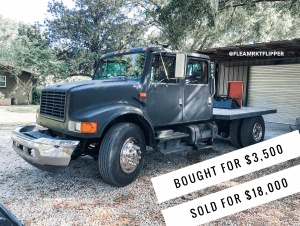 This one has a great story. We bought it to haul our 5th wheel. And it hauled it well!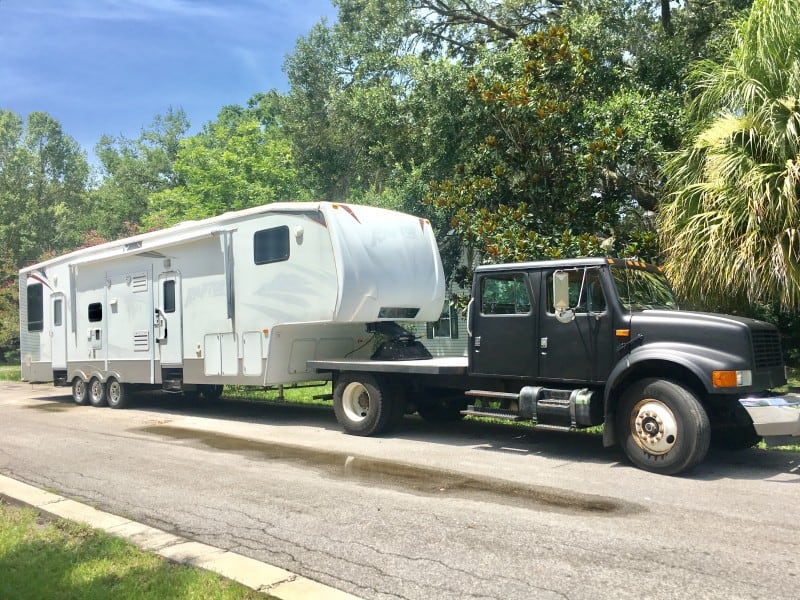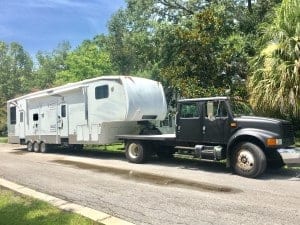 Our original plan was to move into the 5th wheel for a year of traveling before our kids started school. The timing didn't quite workout, but we plan to do it when the kids are a bit older.
But back to the truck flip. We bought the truck in Rhode Island for $3,500!
It looked a little different when we bought it though.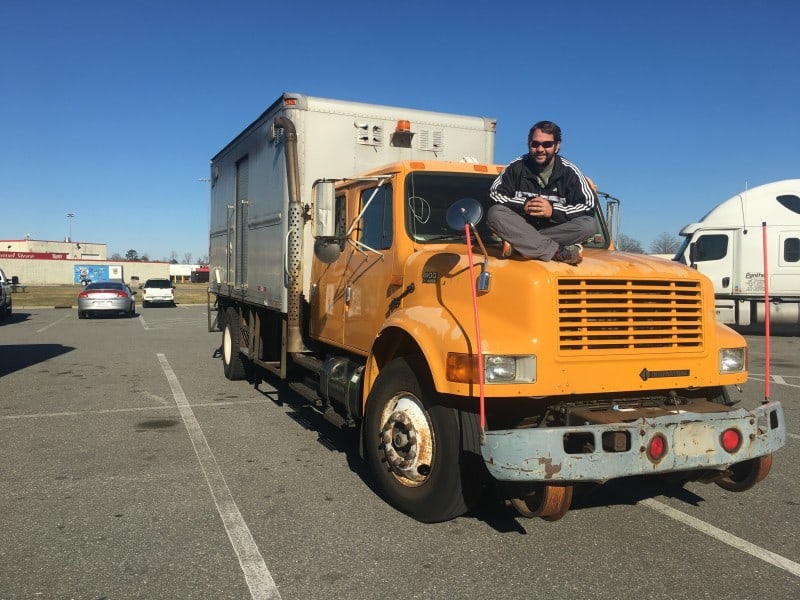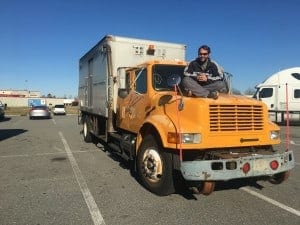 It was yellow, had a huge box on the back and the frame was longer.
So after I put in a little sweat equity, and three years of using it, we sold it for $18,500!
I did put some work into it, but it didn't cost me more than some time and a few materials. And we really broke even with the materials because the truck had a few things inside of the box when I bought it and I was able to sell those off to make a bit of money too. (There was a set of tires, some iron, and a few other things)
It was sad to see it go, but I hope to work on another truck here soon.
This flip was also a special one because it shows our lifestyle.
We don't buy new cars, boats, appliances, furniture or hovercrafts (can't wait to show some videos riding on the new-to-me hovercraft!). We pretty much buy used everything. And many times we buy it at a price that we can resell it after we use it and still make a profit!
I honestly love that part about this business!
And so do my kids. They get to play with fun things for a bit before we resell them. Toys never get old this way. 😉
Breakdown of Profits
Bob Stroller: Sold for $180, Picked for $60, eBay and Paypal Fees $0, Total Profit – $120
Bob Stroller: Sold for $350, Picked for $80, eBay and Paypal Fees $0, Total Profit – $270
Pizza Dough Roller: Sold for $1,750, Picked for $100, eBay and Paypal Fees $227, Shipping- $127, Total Profit – $1,296
Seed Cleaner: Sold for $599, Picked for $0, eBay and Paypal Fees $78, Shipping- $60, Total Profit – $461
Walker: Sold for $130, Picked for $0, eBay and Paypal Fees $17, Shipping- $16, Total Profit – $97
Ariat Boots: Sold for $95, Picked for $11, eBay and Paypal Fees $12, Shipping- $10, Total Profit – $62
International Truck: Sold for $18,000, Picked for $3,500, eBay and Paypal Fees $0, Shipping- $0, Total Profit – $14,500
Total Sales: $21,104  Total Profit: $16,806 
And that's a wrap!


This month we are doing a listing challenge in our Flipper U members group. The challenge is to create consistency in listing so to do one listing every day for the month of October. People are already seeing the fruits of the consistency so we are excited to see how the month ends up for everyone!
Have you thought of making an extra income flipping used items? If so check out how you can make your first $100 in just 7 days!  (This will also add you to our flea market flips and eBay tips newsletter.)
We Want To Hear From YOU!
Have you ever bought a used item, got some use out of it, then resold it for what you paid or for a profit? Comment below!
Related Posts:
How We Made $85,000 In One Year (In 15-20 Hours Per Week)
What We Flipped To Make $7,080 In One Week
How I Quit My Job To Flip Flea Market Stuff Full-Time
Further Resources:
What We Flipped To Make $21,105 In One Month Of Flipping Used Items