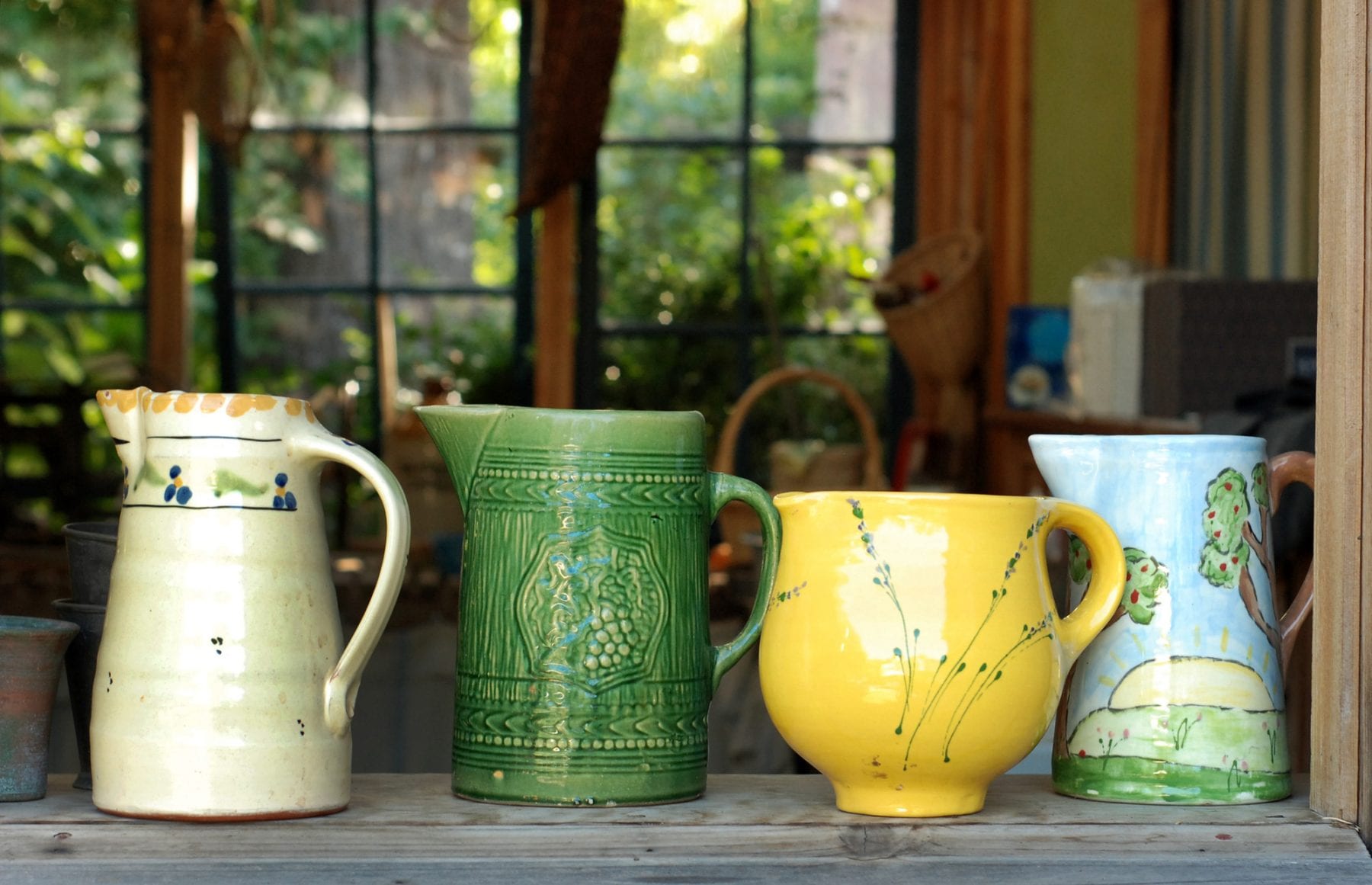 February 06, 2020

How this Small-Town Preacher's Wife Flips Used Items For An Extra Income

Have you ever struggled to get employment because you move a lot? Maybe you live in a small community with little to no employment opportunities.

Today we want to introduce Flipper U student Katie, who has found success with flipping while relocating to another state and moving to a small town.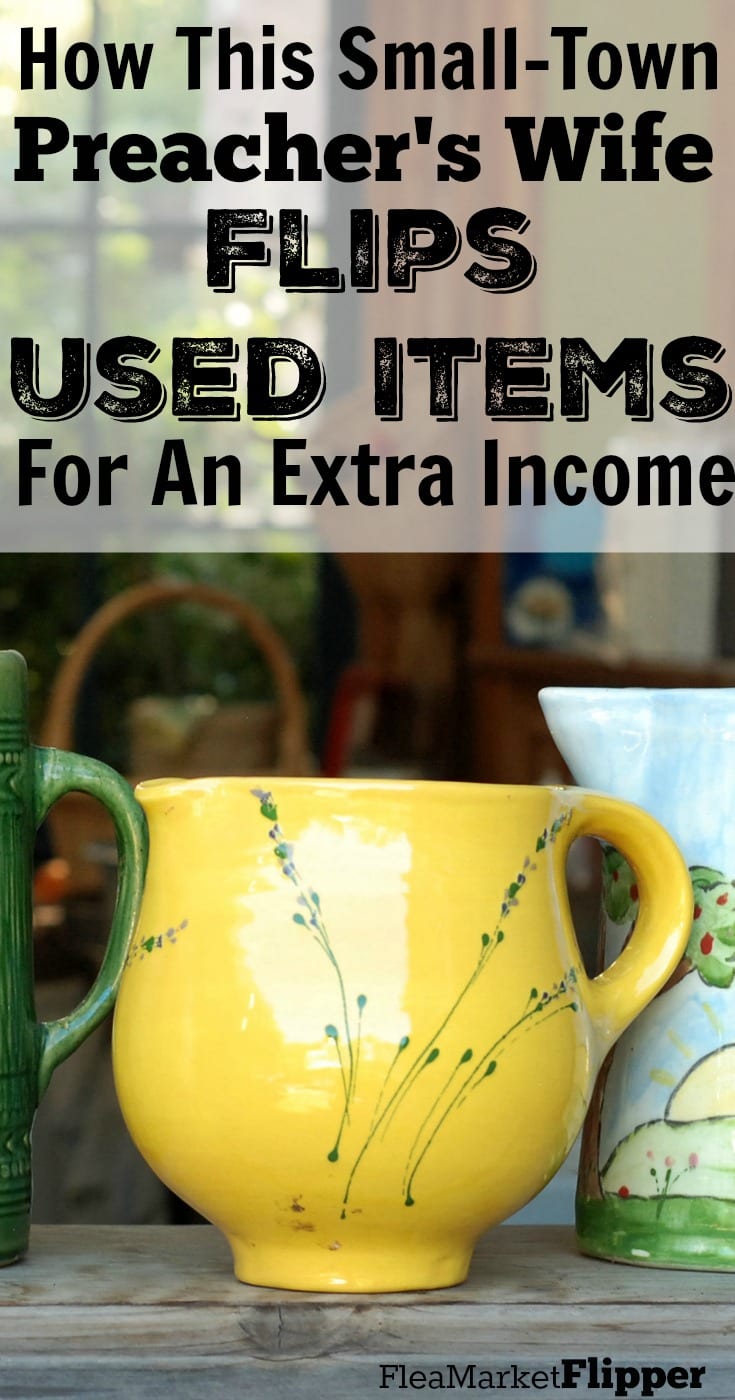 She has managed to succeed and we are so inspired by her.
Amazingly, Katie has moved to 11 different states and has lived in 19 different houses! She currently is living in a town with less than 2,000 people.
It's so small they don't even have a Fedex store!
Katie admits she loves flipping because she doesn't need compete with other jobs applicants for one job, she can live anywhere, and no one gets to tell her she's too old or too sick to work her business.
She's making no excuses and winning with her flipping side hustle.
Welcome Katie! Your story is very inspiring to us! Share with our readers a little about yourself.
I am an active Christian in the church of Christ, where my husband is also a full-time minister. As a minister's wife, I stay pretty busy, while trying to put God and my family first.
As the virtuous wife did in Proverbs, my goal is to find opportunities to help meet the needs for my family. We move frequently, sometimes across the country.
With the challenge of moving often, I have found that flipping works well for me. I also struggle with fibromyalgia and my husband diabetic. Due to our health issues, working outside the home is very difficult.
I love reading, listening to music, crafting, and learning new things. Put me in front of some dirt with flowers and I am happy!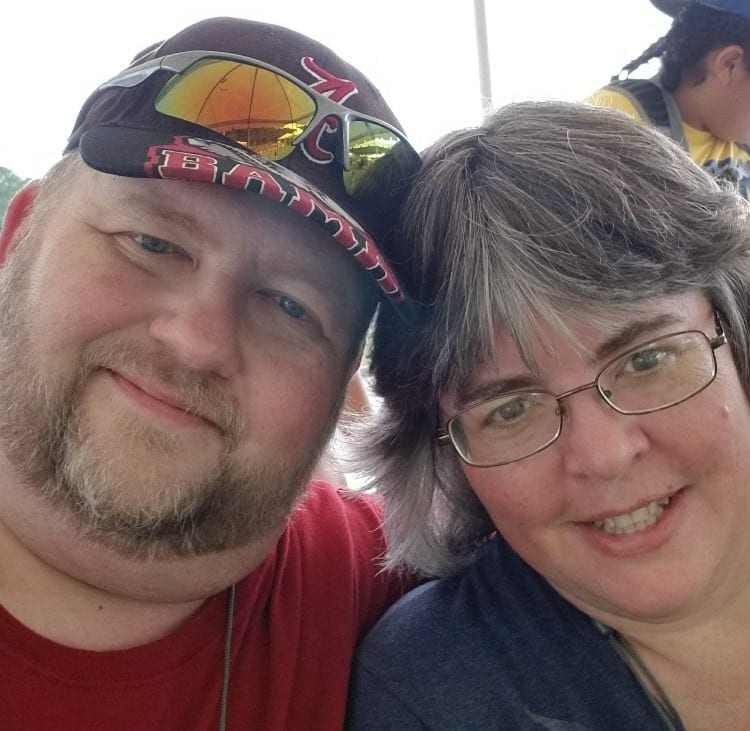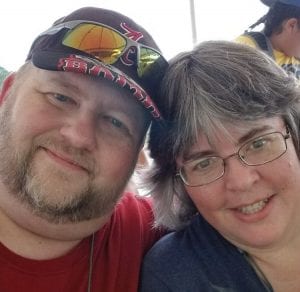 My son lives four long hours away with my two adorable granddaughters and his wife. Our adult daughter still lives with us and works at Hobby Lobby. She is a very creative soul.
I have a degree in Psychology from King University. I went back to college later and got my teacher certification in K-6 education.   I worked a year in an elementary school as a preschool teacher.
After that experience, I learned to be a dog groomer a pet sitter. I have also taken care of children and the elderly in the past.
Through my years, I have tried many different direct sales and MLM like Amway, Avon, and Tupperware. After all of this experience, I have concluded that if I want to get ahead I need to venture out on my own.
And at this point in my life, I don't want to get more in debt learning another skill or starting another business. Don't get me wrong, I will invest in myself when I can, I just don't want to gamble my time and money on education that is not showing current results in today's market.
How did you find us at Flea Market Flipper?
I had been scouring the internet for an opportunity to make money on my own schedule for several years. I have tried the surveys and other ways of making money.
Along the way, I have found a lot of scams with very few legitimate income opportunities.
That's when I came upon and participated in a week-long summit with Caitlin Pyle. Out of all the skills training that was brought up during that week, flipping sounded the most appealing to me.
I could start out with no investment by finding free items that I could sell locally at first. I also realized I could take my job of flipping with me and do it from anywhere when we had to move. I considered it a win-win!
I have always found treasure hunting appealing. My husband and I have found great deals over the years. And flipping gets me out of the house from time to time.
We get emails all the time from people who want to flip, but they don't know where to start. How did you get started? 
I started with flipping anything in the house I could convince my family to part with.
We did yard sales twice a year and then what didn't sell we put on the curb for the Wednesday night bargain hunters. GASP, right?
One day my husband said his office chair was broke. I yelled out, "Don't take that to the curb, I can flip that!" I took a few pictures of the chair and posted it on Facebook Marketplace. Jeff said, "No one will want that. It is leaking grease and it tilts."
Much to his surprise, I sold that broken chair for $25! That's when I was hooked.
Soon after that, I had my first eBay sale. I found a Fisher Price helicopter at a yard sale for a quarter. I put it on eBay on auction and it sold for $10!
My word, it was so much fun hearing the ping sound on the phone every time someone bid on the helicopter. That was my first experience with eBay, and I learned to love my eBay sales!
I still get nervous that my sales won't go as planned. But, overall, they have gone well. I realize I am doing these customers a service. They don't have time to shop or don't have a desire to, so they come to me and I will deliver it right to their house!
And to think I used to hate to shop. I just didn't have a purpose for shopping and now I do.
It's awesome to see the variety of items the coaching members sell. What items do you focus on selling?  
As I said before, I am not a shopper. I hated Black Friday shopping. After I exhausted my own stash around the house, I had to find new sources of items.
I was amazed at how much stuff I actually did have around my house to sell! I sold my husband's video games and movies online receiving quite a bit more than at our own yard sales.
Instead of going shopping at a store, I took my new skills I learned from Flipper U and quietly search eBay for an item's worth at yard sales.
Jessica, my daughter, said I was too obvious! I tried for months to find those big flips, but was satisfied to find quite a few medium flips. I was still making money and that made it worth it!
I sold a Kirby Vacuum and a couple golf sets for a few bucks. My husband had some medical problems crop up where we spent a lot of time going to doctors.
And then we moved out of state, sending everything into a whirl wind. We ended up selling our truck to make ends meet, which put a halt on flipping bigger items. During this time, I prayed to God for me to find a way to make this flipping work in my situation.
After that prayer, my current adventures with flipping got much more successful! Back in August, we had a group challenge in our coaching group to list one thing a day on eBay.
At that time, I just didn't have enough items to sell. This is when I went out of my comfort zone to find some items to participate in the challenge.
I decided to start selling clothes. I noticed there were always clothes at every yard sale. Many times people would make a great deal with me just get rid of their clothes. I would sell them for $8-15 on average, but this started me having some money flowing in regularly. My listings went from under 20 to 125 items!
It's great to see some consistency in your sales now that you are getting comfortable finding and listing new items. What are your financial goals with your flipping income?
My ultimate goal is to learn how to make flipping a full-time income. This would allow Jeff to go part-time with preaching and allow me to be able to visit the family more often.
I also would like to move a little closer to the children. Right now, my goal is to pay down the medical debt we have accumulated, put a small amount of money into savings, and re-invest the rest back into finding more inventory to sell.
We think the members in our coaching group are so awesome! How has being in this community helped you find success flipping?
The reason I took the Flipper U course was I wanted to make money. After watching your videos and seeing how you made flipping sound like so much fun and doable, I said to myself, "Katie, you can do this."
I'm sure glad I did because I am doing it! I was tired of working for other people on their time frame. I knew I needed the encouragement and accountability to go forward and get the task done and that's one of the great benefits of the coaching group. 
I would have to say one of the biggest paybacks I have gotten from taking Flipper University and being a part of the coaching group is simply being open to new challenges.
I have left my comfort zone on many occasions since being part of this group and have taken on many new challenges. I have changed the way I think and gained a more positive attitude. The coaching group has been such an encouragement.
I have seen such amazing results from all of the members. I hear myself saying, "I can't do this." But then I say to myself, "Well, so and so did it in the flipping group. You have no excuse!"
Sometimes I feel stupid about something and then the group members say there are no stupid questions. I also love the step by step videos you share with us like putting a box together or shipping something on a pallet.
Members will also share experiences that I have not yet encountered. This helps me avoid it if I ever come across the same experience. This gives me the courage to face obstacles and try new things.
The positive atmosphere of the coaching group is so contagious. They have become like a second family so to speak.
Recently I shared with the group I was going on a trip. There were members in our group who reached out to me saying they lived in that area. I met one of my flipping buddies in person! It was amazing!
We didn't get to go out looking for items to flip because we didn't have enough time. But it was so fun exchanging flipping stories.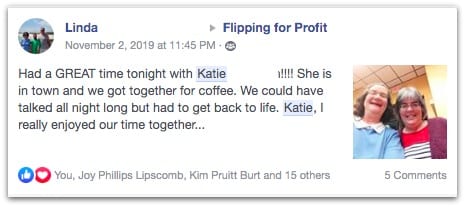 Before I was a member of this group, I would have been too shy to share what I was struggling with. But I have been able to let my walls down and I actually share my flipping struggles and they have helped solve some challenges I have had. It's a great community and we all help each other.
We really love all aspects of flipping. But of course, with every business there are things that work and don't work. Share the pros and cons of flipping for you personally.
 One of the things I enjoy about flipping is it gives me the freedom to work when I feel up to it. I don't have to call in sick if I am having a bad day.
I can work my own schedule around other activities like Bible studies, visitations, doctor visits, etc. I have the freedom of time. What I put into this business is what I will get out of it. I am doing this for my benefit not someone else's pocket book. I am investing in my future by paying down debt while keeping my mind going with new challenges.
One of the struggles I do find is I can get lazy. Like any home business, you have to be self-motivated.
No one else is going to do the work for you or bring in the money. Sometimes I don't like getting out in the cold weather to go sourcing.
My joints are hurting and this cold weather makes it worse.
At first, my family would sometimes make jokes about my obsession with flipping, but after seeing the results, they are much more onboard with it now. My family will ask what sold when they hear the cha-ching!
Fear can sometimes get in the way and stop me from buying something I want to flip.
I will say to myself, "What if I buy this and it sits in my shed? Where will I put it?" And then in my hesitation, someone else seizes the opportunity.
I will ask myself, "What do others think of me when I am out in the community?" Maybe they think, "She is an opportunist!" or I'm trying to get something for nothing. All of these negative thoughts will pull me down at times, but I try to do my best to put those thought behind me and not allow them to creep in. 
What are some of the items that you have sourced and sold?
There was a couple trying to sell an adjustable bed for $1,000. They had it listed for months and I never saw it – probably because of the $1,000 price tag.
They ended up having to get rid of it so I got it for free! My husband and I decided to keep it for now. We love the massage feature! We also found a clothes steamer and an air purifier that we kept as well.
One of my big flips was a set of Bible commentaries. I put them on eBay auction and sold them for over $130. They were given to us free!
I loved hearing the cha-ching sound when they sold. I also sold some old books and shoes and also sold my husband Jeff's shoes after he had to go to Diabetic shoes.
I flipped an old Kirby vacuum for $180. I challenged myself after it sold by jumping on YouTube to learn the best way to break down the vacuum into a smaller box for shipping. This saved me money and got to its destination safely.
A few other great flips I had were 8 bags of Depends I picked for $2 and turned around and sold them for over $50. I picked an Otis Spunkmeyer Commercial Cookie Oven for $5 and sold it for $140.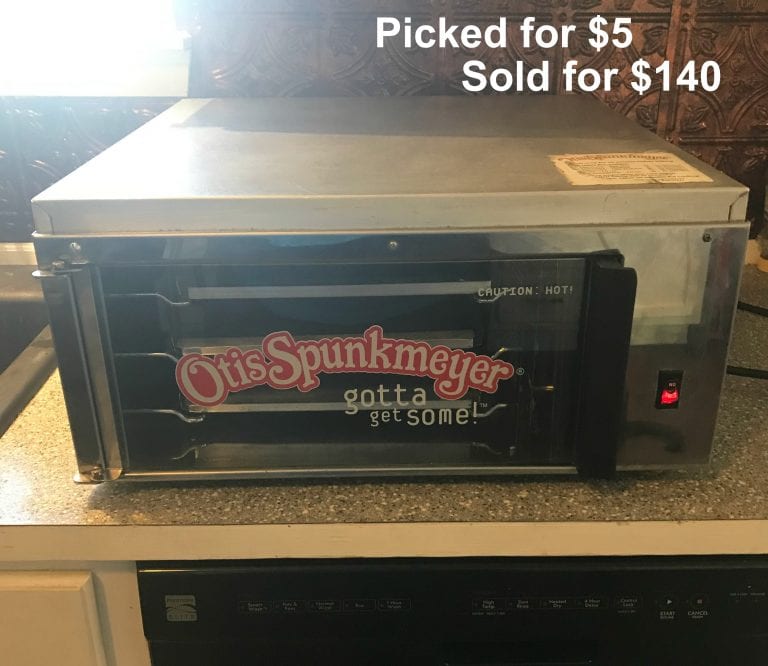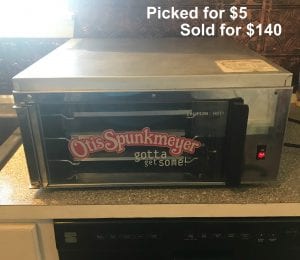 The cookie oven was a learning experience for sure. I spent two days cleaning it up and learned to make a Styrofoam box to ship it, but I got it done!
I have had periods of just breaking even on my flips. These I consider learning experiences and they are fewer and farther between now the more experience I have. I bought a flute for $22 and sold it for $25. I got some experience and a good review from the buyer!
Every single day we receive emails from people who are scared to start flipping because they feel afraid of the challenges. As you know, every business has challenges, including flipping! What are some challenges you have to overcome to find success with your flipping side hustle?
My family's track record for moving around doesn't help with holding down and obtaining employment. In fact, I have moved to 11 different states living in 19 different houses. So as you can imagine, it's hard to be able to get that perfect job and keep it.
I also love that no one is telling me I am too old or too sick to work with flipping. I can work this business even though I have some health issues.
Honestly, one of my hardest challenges was getting my family on board. At first, they didn't take me seriously. After some convincing, Jeff and I now have a system that works great for both of us. He drives me to my sourcing areas and keeps me focused. He encourages me to go when I don't feel like getting out. He shows interest in what I am doing now and I really enjoy that!
Jeff's health has slowed down my progress. It is hard to focus on flipping when your husband is sick. The morale and time spent getting him better has been rough.
And all this time he has been working full-time. Luckily, he has been able to sit while preaching and can take breaks from studying. I had to make myself get out to source with little encouragement between doctor appointments. But things are getting so much better now!
Last year, we moved again to a new state and I lost my momentum. Living in a tourist town, I had to learn where to find the deals away from the tourist traps. We live in a small town of less than 2,000 people. People don't come to Mountain View unless that is their destination.
Shipping is limited. There is not even a local Fed Ex drop off in my town.
Even with these challenges, I have figured out a way around them and am still finding success with flipping.
I have learned to just go with the flow and to work a little each day at getting better at flipping. Staying consistent and getting encouragement from the coaching group has helped me as I overcome the challenges and continue to learn and grow in this business.
Katie, thank you so much for sharing your flipping success story while living in a small town and being challenged by many cross-country moves. We are super happy that you can take your "flipping job" with you wherever you go and you have been finding success despite life's challenges!
If you think flipping could be a good fit for you check out our FREE intro workshop!
FOLLOW THE FLIPPING ADVENTURE: