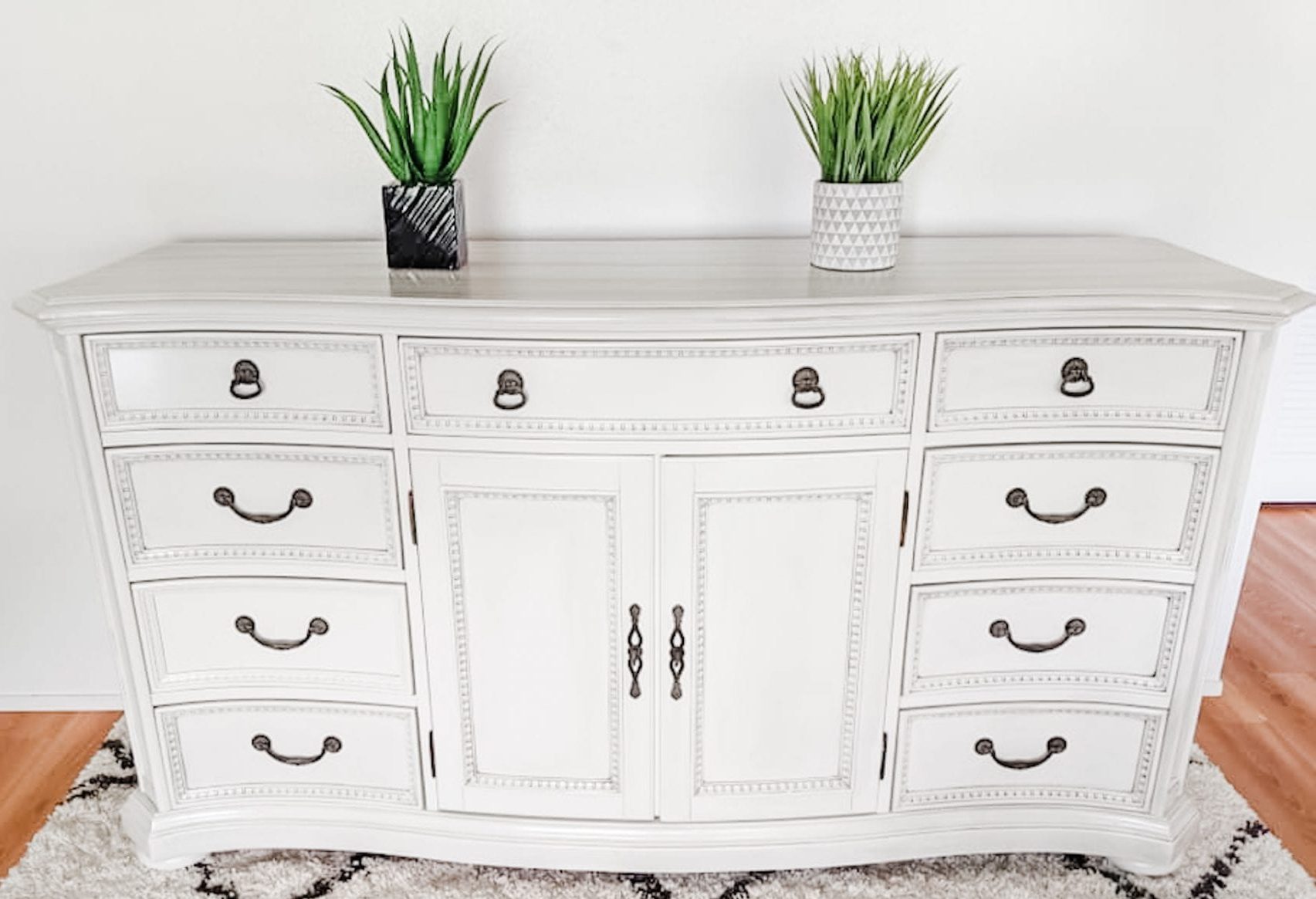 February 10, 2020

How This Dad Turned $27 Into $1,200 By Shipping Freight (From Hawaii!)

Many people are intimidated to sell larger items because of freight shipping.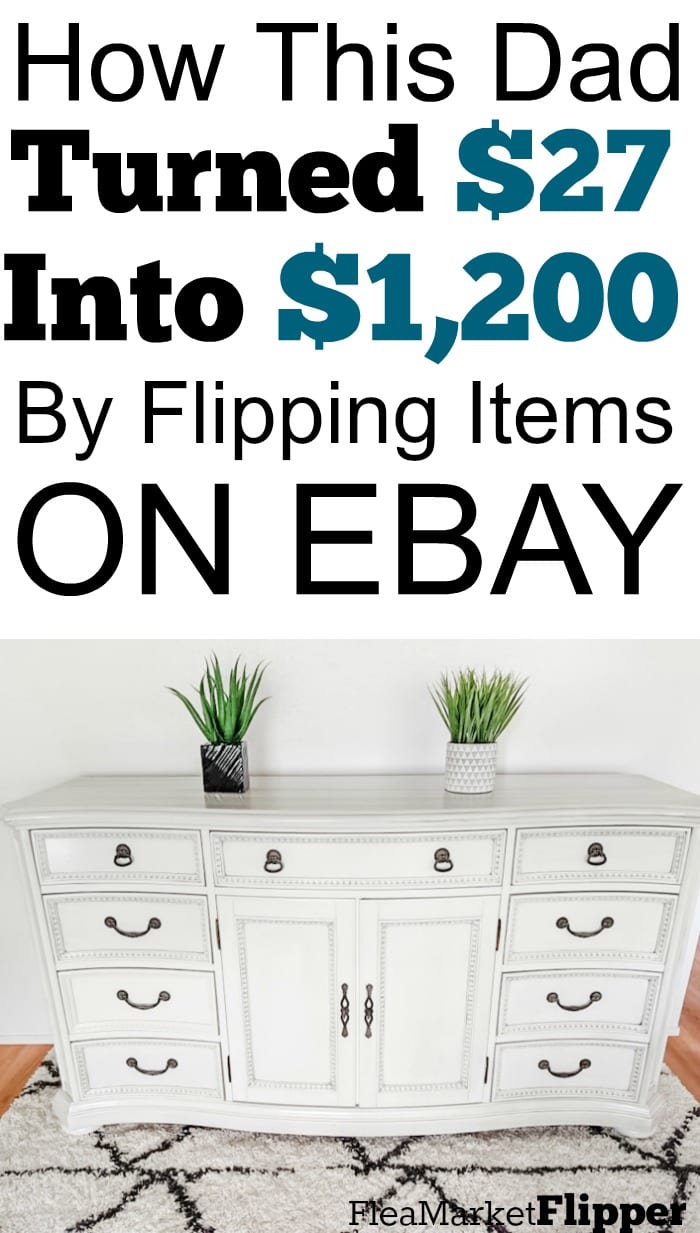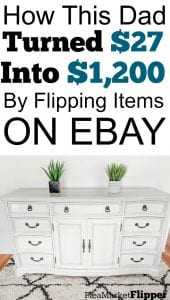 But that didn't stop Derek from learning the ins and outs and shipping freight from Hawaii!  (And making good profits while doing so!).
Derek and his family of four live on the Island of Oahu (one of the Hawaiian islands). This beautiful paradise is filled with awesome beaches, amazing food, and year-round warm weather.
We are super stoked that Derek has been flipping furniture and appliances full-time on the island and has been killing it with his newflipping business.
Since taking Flipper U, Derek has learned to ship large items (even living on the island) and has been picking amazing high-end furniture and re-purposing it for a nice profit!
Welcome Derek! We are super stoked to have you with us sharing today. Tell our readers a little history about yourself.
Hi Rob and Melissa, thank you for giving me the opportunity to share! My name is Derek and me and my family live on the windward side of Oahu. My wife's name is Astrid and we have two kiddos, Allie and Ailana.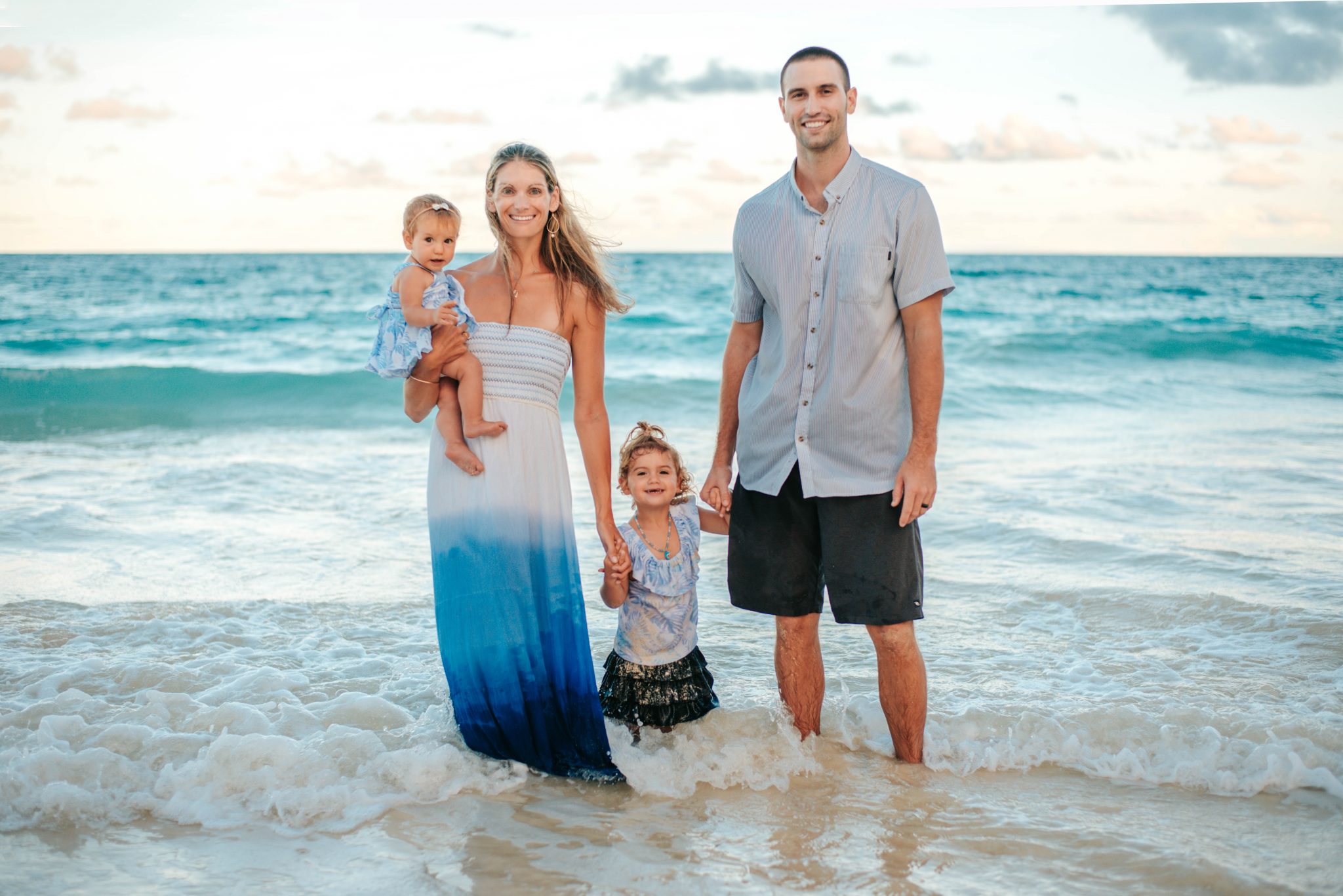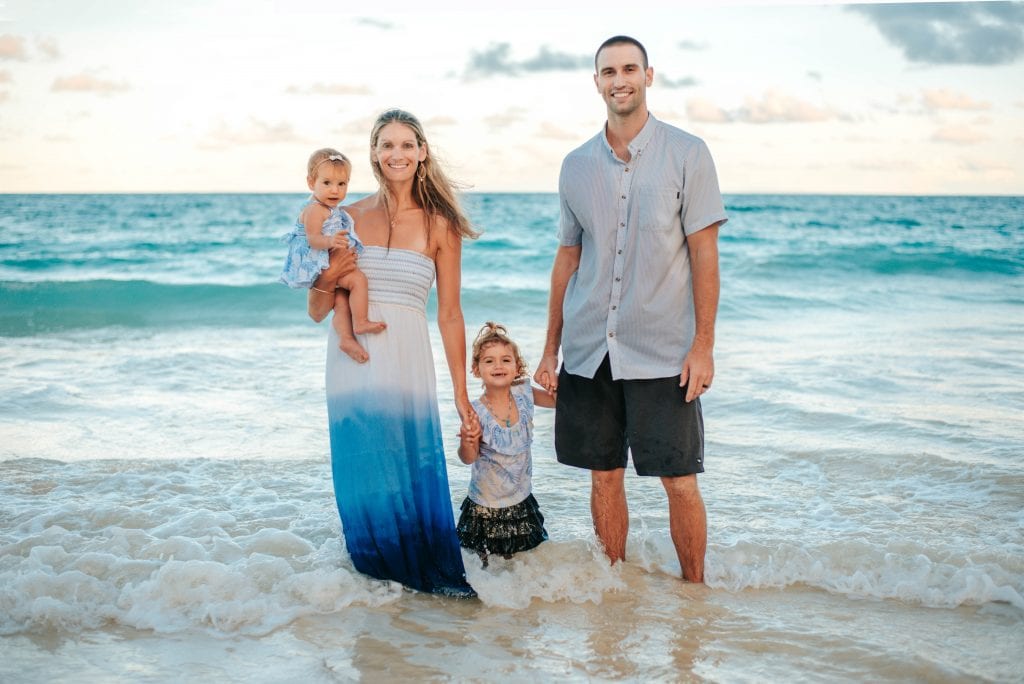 We have lived here on the island for close to five years now and are really enjoying our time here. We were planning on moving back to the mainland this past summer but decided to stay for a couple more years.
I am originally from a small town in southern Idaho and Astrid is from a town outside of Paris, France. She came to America on a swimming scholarship and got her Master's Degree in economics from UCSB.
She is now a sales operations manager for a tech company based out of Santa Barbara.
I joined the Coast Guard a couple years out of high school and after boot camp was stationed on a cutter in Santa Barbara. That's where Astrid and I met.
We got married in 2015 and also ended up getting stationed on Oahu that year. Talk about some pretty sweet billet locations.
During my second year of being stationed on Oahu, I started realizing this wasn't the career path I wanted to continue going down.
I was making good money and enjoyed the work for the most part, but really didn't care for a lot of the other aspects of the job. I wanted to be able to set my own hours (even if I worked longer and made less money).
I desired to do work that meant something to me.
My parents own and operate a Color Glo territory. Growing up, I was fortunate enough to see the freedom and flexibility self-employment brings so I knew I wanted to pursue that path.
I have always been interested in real estate investing so I started listening to Bigger Pockets podcasts to find out the options in that field.
Eventually that led me to Mr. Money Mustache, Early Retirement Extreme, JL Collins, ChooseFI and the like. But even with all that good info, I still hadn't found what I was looking for.
I started seriously considering buying a Color Glo territory so I took a couple weeks of leave and went back home to train with my parents. Randomly on that trip, I listened to a podcast I never heard before called Side Hustle Nation.
Rob, you were on talking about flipping big ticket items full-time and for what I considered to be unheard of prices (at least to my ears)! I continued with my training but started researching all I could about the Flea Market Flipper.
Eventually, I jumped into Flipper University and haven't looked back!  In my search for a lifestyle business I could learn to enjoy once trained, I feel confident flipping is it. I also feel like flipping can meet my goal to becoming financially independent.
It's so cool that you live on an island! As you know, we love the water and the beach. How did you get started finding and selling items in Hawaii?
I started looking around for items I could flip on Facebook marketplace to start with.
I came across two leather recliners that I thought just needed some cleaning. I bought both of them for $35. After cleaning them, most of the old dye came off so they looked awful!
They also had a horrible fish smell and I had to leave them outside on our patio because they smelled so bad!
I spent a lot of time on the phone with my Mom trying to get the right shade of brown leather dye mixed and finally got it to match. I was also able to get rid of that awful fish smell with lots of cleaning and some odor neutralizer.
I posted them on the marketplace and was able to sell one a couple of days later for $150. The other one took a little longer to sell, so I ended up decreasing the price to $85 and it sold.
I was happy with these first two flips. I made a profit, but also learned a ton. From there, I started experimenting on more leather furniture and appliances. I pick up mostly broken washers and dryers that needed simple fixes.
We have enjoyed seeing the photos of your awesome flips in our Facebook coaching group. That's impressive that you are able to flip items, even though you do not live on the mainland. What items are you focusing on mostly for resale?
Lately I have been focusing on furniture as well as appliances. I really enjoy painting quality wood furniture and giving it a new look and then offering delivery to customer's homes for added value and profit.
If it's nice enough, I'll freight ship it to the mainland but I haven't found any worth enough yet. So, flipping furniture has been fun for me.
I find that dressers sell really well. I also look for high-end leather furniture as there are certain brands that resell very well. I flipped a handful so far and made anywhere from $200 to $750 profit on them.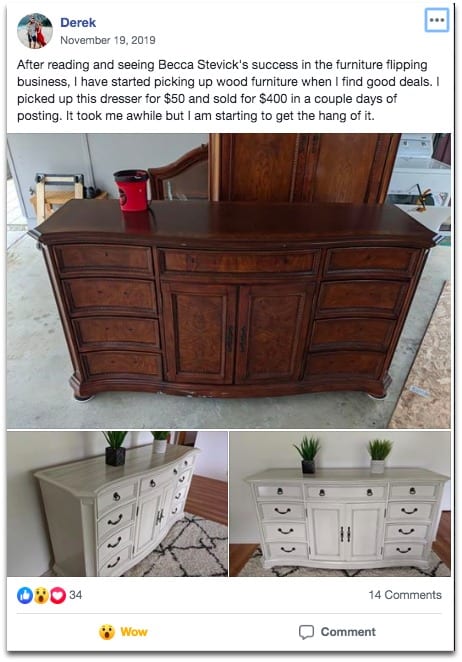 They often require some work, as they need to be repaired and re-dyed, but that is enjoyable for me.
I recently flipped a couch for a $350 profit and only cleaned and delivered it. Currently, I am trying to focus more on wood furniture as it is easier to clean/repair and paint.
There is also money in repairing and flipping appliances, which I learned to do from Tradeskills.io. Oftentimes, people get rid of their appliances because they either stop working (many times it is a very easy fix) or they are replacing them with newer machines.
I really like your business model, Rob, so I am looking for more big-ticket commercial items online and at online auctions. But those are more of a rarity at this point in time for me.
We are super excited that you've been able to go full-time flipping and you are doing so well at it. We love to hear people's dreams when they realize they can actually make a great living flipping. What are some of your goals with the business?
This past January, I left active duty (I stayed in the reserves for the great healthcare) and have been flipping full-time! I have really been enjoying it and at the end of the day I actually look forward to the start of the next!
My favorite part is being able to work from home and spend a lot more time with my daughters.
With that said, my short-term financial goal is to be able to cover ALL of our expenses (rent, groceries, vehicle costs, utilities, etc.) with my flipping business so that we can save and invest my wife's entire income.
Having her extra source of income has definitely been a blessing in starting this business. And the fact that she is able to work from home as well is awesome because when she gets busy, I can take the girls and when I get busy, she can take the girls. It's been working well for both of us.
My long-term personal goal for the business is to cash flow enough that my wife can quit her full-time job and transition to doing some part-time consulting. She really enjoys certain aspects of her job. If she went to consulting then she could join me in the business.
We really love seeing people take our course and run with it! You certainly have been one of those who has taken off in this business. What are some things that have helped you since taking Flipper U?
Flipper U was well worth the investment! The coaching group alone is such an encouragement, which is very important when you are getting started in this business.
I also didn't know what items to hunt for or the best places to look for them and now I know some of the best places to look and many more items to look for. The fact that you and Melissa make yourselves so readily available for any questions or concerns we have is awesome!
Also the prices and shipping on Oahu is very expensive. I knew nothing about freight shipping before Flipper U and would have never even considered it as an option, but now that I've been walked through step by step of how to do it, I don't worry at all about it.
What have you found to work for you with the business and struggles that you've had to overcome with it?
One of the great things about flipping is that when you're ready to take it full-time, you will be your own boss and therefore make your own schedule.
I love the flexibility of this job and finding something different every day to work on. It is also very rewarding to pick up an item, add value to it, and get it to a happy buyer for a much better price than they could have bought it for brand new.
You can also work this business from anywhere in the world, as there will be supply and demand everywhere you go. It's also a job that doesn't require a long learning curve or a lot of start-up capital. You can start with whatever interests you and be in business right away!
I think one thing I have had to work on to overcome is realizing that to be successful in this business, having inventory is key. It requires time and energy to look and find the right items to flip.
It's important to have enough inventory to be making consistent sales. It does take time to build up your inventory. It can also be a challenge having enough space to store the inventory (garage, extra bedroom, storage unit, etc.).
Ok, you know I love to sell crazy stuff. Unique items are one of our specialties! What crazy stuff have you sourced?
I bought a 200lb commercial cheese grater from an online auction for $27. When I bought it, I had no idea what it was or if it worked. I ended up looking it up online and calling the manufacturer.
I was able to test it and it worked. It was just missing the blade. I ended up posting it on eBay and it sold four days later for $1,200!

I built a crate for it (it was my first time building one and it took me literally the whole day haha) and then freight shipped it to Connecticut for $234. Total profit was around $850 after shipping and eBay fees.
Another time, I picked up a $40 high-end name brand recliner that needed some work on it. I spent about six hours (three of those on the phone with my mom mixing the right color for the dye) working on it. I posted it and it sold within one day for $800!
More recently I bought a commercial AC unit at an online auction. I had no idea what it was when I bought it but after doing some research I found out these AC units go for $12K to $18K.
I bought it for $30 and I have it listed for $11K on eBay with free shipping anywhere in the country. Fingers crossed that it sells soon!
Everyone has different challenges when they first start flipping. I'm pretty passionate about helping people get past those obstacles and do some serious flipping!  What were some hurdles you had to get over to start flipping?
I would say that the main challenge was to know what to flip, what not to flip, and where to find good items to flip! I've learned that some items are not worth the time and effort (like really rusty appliances, leather furniture that requires a lot of work, etc.).
Managing my time and building solid inventory can be challenging for me as well. I often spend too much time working on an item and don't flip it quick enough.
It can be hard also when I realize the amount of work that some items require. That's part of the learning process for me as well.
Freight shipping was also scary in the beginning, but I've found when you have the right guidance it becomes pretty straightforward!
Thanks so much for sharing your experience and your future goals with us. We are so happy that you are able to choose where you live and still be successful flipping items full-time. Keep us posted on your next flips!
If you think flipping items could be a good fit for you, check out our FREE Intro Workshop 
FOLLOW THE FLIPPING ADVENTURE: