With the unexpected social distancing and quarantine, many Americans have a lot of time on their hands at home. This has given people the opportunity to downsize, simplify life, and declutter their homes. This also creates the opportunity to identify and sell unwanted items.
It feels good to get rid of things we are no longer needing and making space – and we can make money in the process!
Today we have an interview with one of our Flipper U students, Rebekah, who is a full-time registered nurse and retired Navy Commander. She joined one of our sourcing workshops with a goal to declutter her house and make $250 for Christmas.
She managed to declutter and sell her unwanted items bringing in an extra $250 in cash right before Christmas. And she's kept going strong for the past 5 months!
Welcome Rebekah! Thanks for joining us. 
Thanks for the invite! I'm Rebekah. I have been interested in flipping for quite some time, and I'm so happy I was able to stumble upon Flea Market Flipper! 
I am a registered nurse and I work full time as a nurse supervisor in Geriatric Programs at the Federal Health Care Center in North Chicago, IL. I have been at this job for 8 years. Prior to that, I spent 22 years active duty in the United States Navy, retiring in 2011 as a Commander.
I am married and I have 6 children. I have four step-children ranging in age from 18 to 34 and two boys with my husband who are 9 and 13.  
We live in the Chicagoland area, just south of the Wisconsin border. I was born and raised in Minnesota and joined the Navy after College. I received my Bachelor's in Nursing Degree from Wagner College in New York City and my Master's in Nursing from Rush University in Chicago, IL.  
My hobbies include shuttling my kids around (ha!), crafting, sewing, thrifting, and just being lazy around the house. While being lazy around the house, I am entertained by my favorite TV shows. They include Judge Judy, Gordon Ramsay, and other cooking or judge shows. With the forced quarantine, I've been able to catch up on quite a few episodes!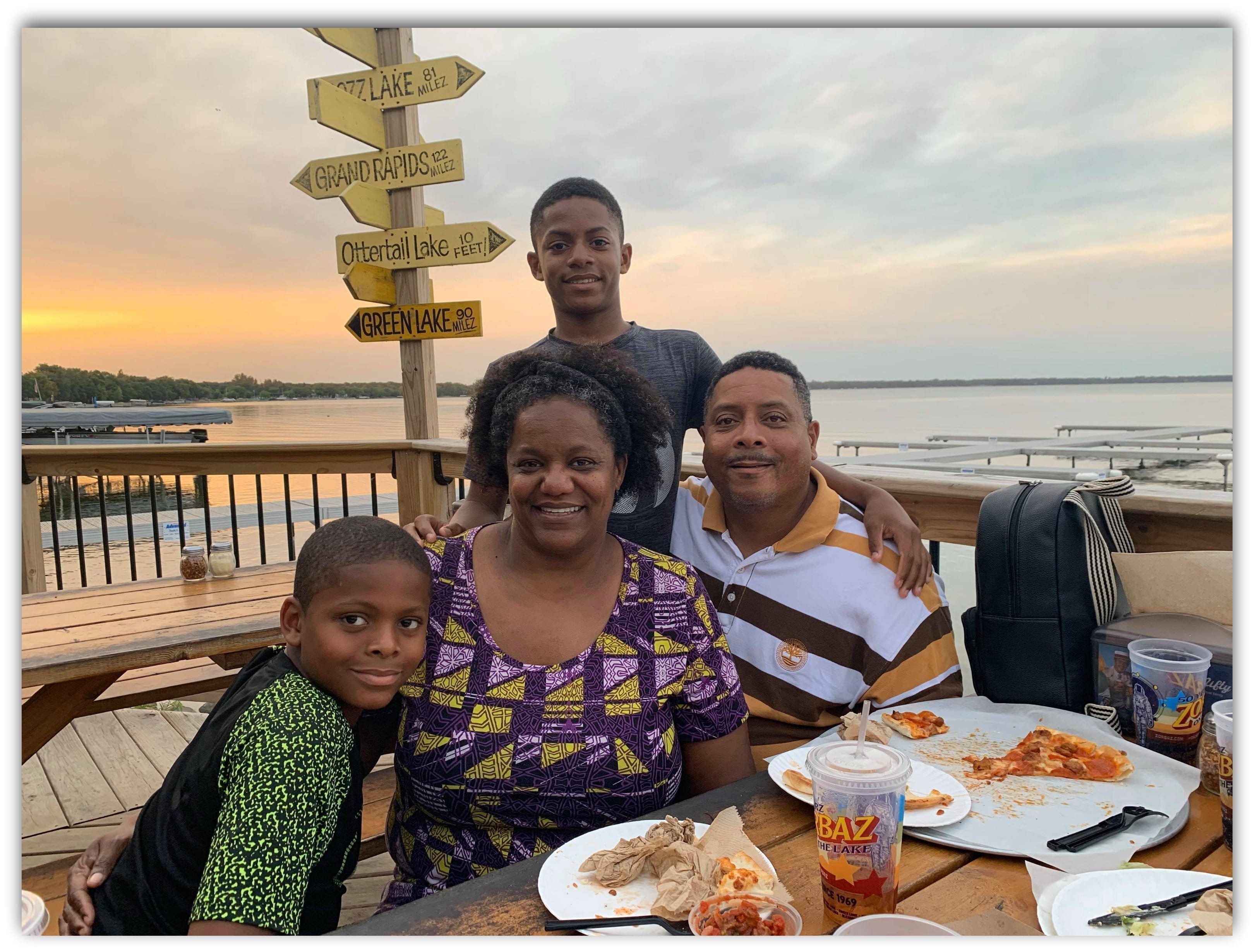 However, my new hobby, is learning how to get better at flipping items! I have done a complete declutter of my house and have managed to sell unwanted items for a total of $2,165 since the end of November! I was able to to make some extra cash for Christmas, but it has gone well beyond that.
Now, I spend some of my free time sourcing items and selling them.    
How did you come across our blog and get interested in joining us?  
Several months ago, I was searching around on Pinterest and I saw a post from you and Melissa about flipping. After hearing your story and watching some of your videos, I started to following you on Facebook. 
Last fall, you offered a sourcing workshop that I signed up for. I wanted to spend some time doing an inventory of my house and wanted to sell some unwanted items I had. I enjoyed the challenge so much and learned quite a bit from you.
In December, I did a much-needed decluttering of my entire house and the Christmas Flipping Challenge was perfect timing! Since I had been able to sell some unwanted items and made some cash, when Flipper University Black Friday sale came up, I took the plunge.
There are so many side hustles out there. What intrigued you about selling unwanted items for profit?
I have always been interested in selling and I wanted to sell my own unwanted items instead of sending everything to the thrift stores. But it wasn't something that I did all the time. I would mostly sell things that were accumulating in my basement or other areas of our home for "someday selling"…not very smart, I know. 
I did a lot of eBay selling years ago, but hadn't been selling recently. After finding Flea Market Flipper, I decided that now was the time to sell unwanted items that were taking up space and making clutter in my house. I'm sure happy I got started again.
You started in one of our sourcing workshops. What unwanted items did you sell?  
I have a weird mixture of items that I am currently selling, mostly declutter from my home. I just recently began to get good at the sourcing part of flipping.
Just before Christmas, I did a declutter and sold a Flavorwave for $90, Rodan and Fields facial products I wasn't using for $130, an old Coach purse for $15, and a Rotisserie that was tucked away in my pantry for $160!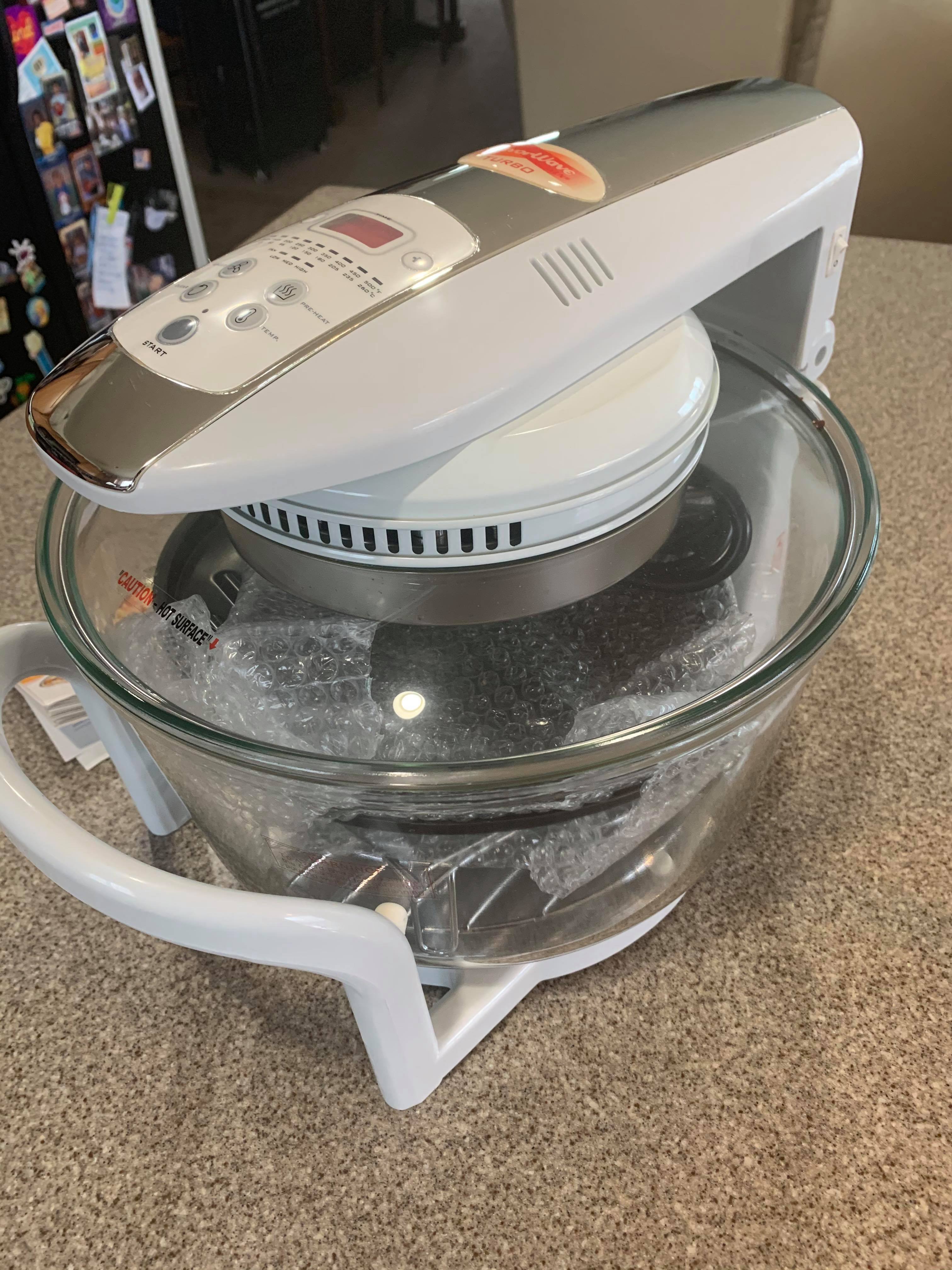 It felt good to clean and declutter. Just this weekend, I branched out and found my first FREE item through Facebook Marketplace. I picked up a post-surgery ice machine. I should be able to make over $100 on that!
I'm open to almost anything, including freight. However, I need to dive in more of the training before I can tackle freight shipping.
One of the really exciting things about training others to flip items is the increased finances it creates. How will you use your extra income?  
My goal is to bring in extra income for my family to pay off our debt. We currently have some credit cards, a car loan, and our mortgage that we would love to pay off. 
I "sort of" follow Dave Ramsey but haven't done very well at putting extra money to debt. Instead, we spoil ourselves and our two boys that are at home! Oops!
But it really is my goal to start applying some of the extra money I make to our debt. So our main goal for 2020 is to get going on Dave Ramsey's Baby Step 2 and get out of as much debt as possible.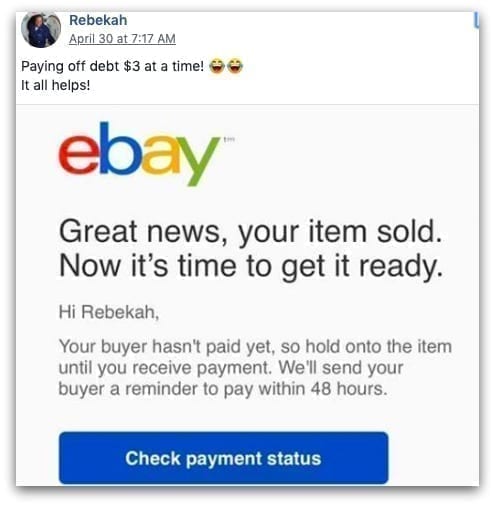 My husband is self-employed as a referee/umpire and I'm hoping to talk him into joining me in this flipping adventure. 
We loved it that you set a your goal of hitting $250 by selling unwanted items. What is the next goal you want to hit this month?
My goal for next month is to clear $500! This money is all ear marked to pay down debt or for sourcing new items. 
From Nov 28 to Dec 28, my eBay total sales were $630. Of course, I paid money to source the items, but was pretty happy with this. 
Since starting in December, I've been able to make $2,165! We are using this to pay down our debt.
So I think a goal of $500 for next month is very achievable. I decided I would limit my sourcing money to $75 until I get better at sourcing and selling.  
What has your experience been so far decluttering and selling unwanted items?
To be honest, I haven't finished all the modules yet. I sort of jumped right in and need to put the time in to finish the classes. 
But, since taking the sourcing workshop as well as beginning Flipper U, I am busy decluttering and am so happy to have been able to sell unwanted items that were taking up space! I'm really picky right now with what I source and I have been carefully checking the comps on eBay.
I'm also active on the Flipper U Facebook page.  I make sure that I read each post and then read all the comments as well. I have learned a TON of information this way.  
We really have a fantastic group, and everyone is so positive. One of my favorite posts was someone mentioning that we should be posting our failures as well as our successes. This is so true, because we all need to keep trying and learning.
My very first big flip was a flop and I learned many valuable lessons and received a wealth of advice from several different members of the group that helped me not feel so bad. This really helped me keep going.    
Let's talk pros and cons. Every business and side hustle has them. What are yours?
I think the biggest pro of flipping is of course earning extra money selling unwanted items that we are no longer using. These items aren't doing me any good lying around taking up space. This has definitely helped our family financially. I am looking forward to getting rid of some debt. So money is definitely a plus!
I think the only negative thing I can think of is that I can't do it 100% from my home. I have to get out there and pick things up. Do I love going to meet someone somewhere? Not so much! 
However, I still can't put thrifting as a "con" though because I still love doing it.   
You talked a little about mistakes. We've all made them. What are some mistakes you made and how did you get past them?
My first big flip (or should I say flop) was a vintage tape deck. Little did I know, this thing was very heavy. The seller is the one who put it in my car for me and I didn't realize the weight …. until I tried to lift it out of my car.  
When I sold it and shipped it, I made the mistake of not getting insurance.  I also did not package it carefully. It broke in shipment and I ended up having to refund $250 out of the $375 sale. He kept the item, but I lost about $25 after all the fees and shipping and the refund.    
Instead of getting discouraged, the Facebook group encouraged me so much. I was able to learn a whole lot from the experience, pick myself back up, and keep going. 
That's the great thing about this community of flippers. We are all learning together. Mistakes don't have to be the end for us. We can learn and get better at it.  
What are some challenges you have had to overcome to get started flipping?   
I think my biggest challenge is that I work full-time, so I have to do my sourcing and posting in the evenings and on weekends. I also have two active boys that need me as well!
At times, my husband isn't exactly thrilled when I suddenly run out the door to go source something. I've explained what I'm doing and why. I think it's just a matter of time and he will be on board with my new flipping goal.
He's overprotective at times, and understandably. However, when I source I am aware of safety and meet people in a public area. 
I want to get better at this so that I can make more money and start paying off our debt. I'm working hard to declutter, but once I sell unwanted items I'm no longer using, I will need to learn to source other places. That's what I'm working on now.
Flipper U and the flipping group has helped me see beyond the "trash" and see "treasure" in some of the unwanted items that are sitting in my house! As I learn and participate in the coaching group, I will no doubt get better and better at both sourcing and reselling. I'm looking forward to putting the money towards paying down our debt.
Thanks so much for sharing your story with us, Rebekah. We look forward to seeing what 2020 has in store for you and your flipping journey. Keep decluttering, listing, learning, and flipping. You've got this!
Do you want to sell unwanted items to make extra money? Flipping items can be a great side hustle. Check out our free intro webinar today!
Resources
Free 5-Day Intro To Flipping Video Course 
FREE Workshop How To Thrive With Your Flipping Biz During A Recession
Related Posts
How I Quit My Job To Flip Flea Market Stuff Full-Time
How This SAHM Made $1,000 In Her First Month Flipping Used Items
Finding Free Items To Flip: How This Couple Turned A FREE Item Into $1,299!
How This Family Used eBay To Crush $65,000 Of Debt In Only 14 Months!
How We Turned $100 Into $3,200 By Flipping Items While On Vacation