Is your flipping business struggling? Are you not making the profits you would like to? We are going to dive into a few reasons why your reselling business could be struggling. 
As most of you know, I love flipping!  I love finding great deals and reselling them for big profits!  I started flipping when I was 16 years old and I've never stopped.
In the beginning, it was a side hustle. I would flip for extra money when we needed it for unexpected expenses or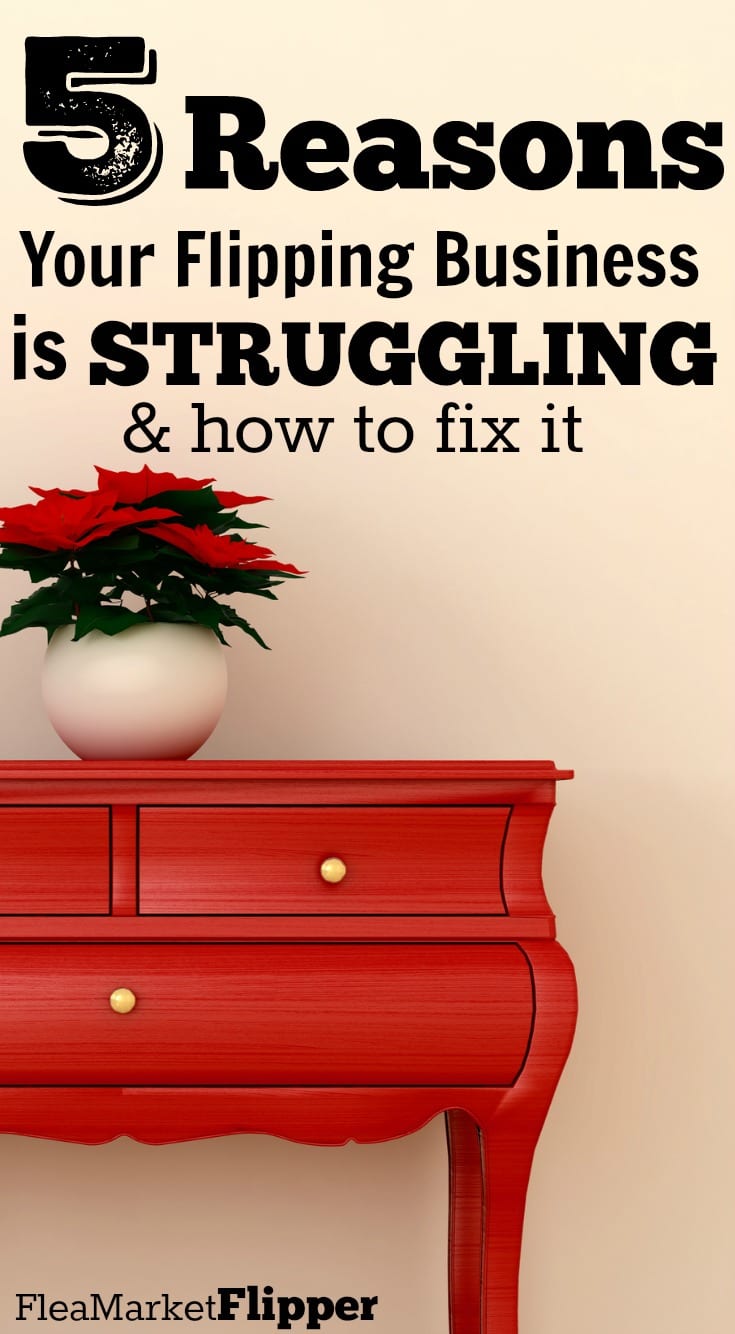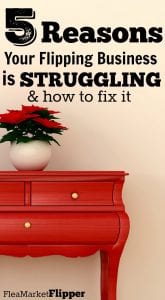 vacations.
But everything changed when we had kids. Melissa dropped down to part-time with her personal training to be home with the kids.  I was working part-time doing home inspections and flipping on the side.   
After my job unexpectedly cut my health insurance benefits right before our last baby was born, I decided to make flipping my full-time job.
Honestly, I was making most of my money flipping at that point anyway and only stayed at my job for the benefits.
It was a pretty scary decision and nerve racking at first.
In the beginning, we made mistakes, had some trial and error, and stretched ourselves learning new things. We experimented and found a business model that was going to work for our family.   
Was it easy?
No!
Did we have doubts? 
Of course!
Did we struggle? 
Yes, in the beginning (and some days we still do!). 
We have made mistakes along the way. I am going to share five common mistakes most flippers will encounter – And how you can fix them!  We've had to fix these mistakes in our own flipping business, and I will often see my new flipping students struggle in some of these same areas. 
Here is the good news – You can fix them and move past them to find success flipping, whether you are flipping part-time or full-time. 
So let's dive into the 5 reasons your flipping business could be struggling, and how you can fix them!
1. Being afraid to take action – before knowing exactly what you are doing!  
Like I mentioned before, I've been flipping since I was 16 years old.
But until four years ago, it was just for extra money. I wasn't supporting my family with it. 
I learned pretty quickly after going full-time that I was going to have to up my game if I was going to make enough money flipping to support my family of 5.  
Now remember, I didn't have a road map like Flipper University to learn from, or a community of people that I could bounce ideas off of. I had to put aside my fears and I had to decide to take action before I knew what I was doing.
I started researching ways I could make more money flipping. In my research, I found larger items that were freight shipped were selling for really great money and almost all of them were selling.  
At the time, I had a very expensive dining set that I had purchased for $350. I had it listed locally for $750 for months with no bites. I had never freight shipped anything and I wasn't sure how to do it.  But I decided to list the set on eBay and if I sold I would figure the shipping part out. 
In less than a month, it sold for $2200 and I was forced to figure out how to pallet a large item and ship it freight. 
Boy, I am glad I did! I learned a long the way and have been able to freight ship hundreds of items around the country.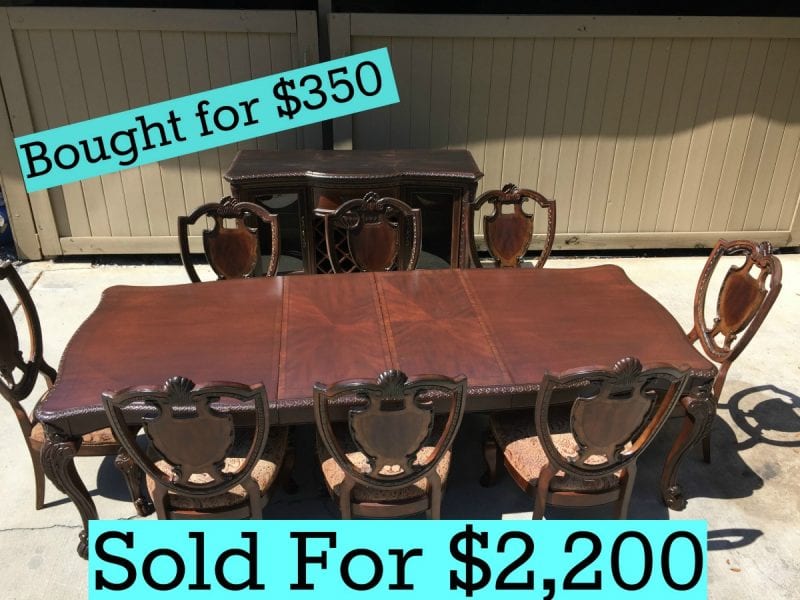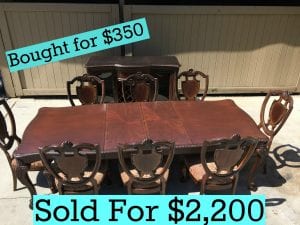 Freight shipping has allowed us to have the business model of lower volume and higher profits which allows us more time with our family. 
You can't allow fear to keep you from stepping out and learning new things!  Decide to take action before you know what you are doing and trust you will learn things along the way.
In order for your flipping business to be successful, you have to be willing to act before you are comfortable with the process.  If you hold back and don't try, your business will suffer.
2. You're Allowing Mistakes to Paralyze You.
You may be watching my videos and some of my flips and think I've got it all together.
Well, I've got news for you. I'm just like anyone. I've made mistakes, have had bumps in the road, and challenges in my business that I have had to resolve.
It can be frustrating and stressful at times, but you can't allow your mistakes to stop you from moving forward.  
One of our course members shared a quote from Bob Ross, the famous painter.
"There's no such thing as mistakes, just happy accidents." 
If you've ever seen him paint on TV, you know there are probably hundreds of unexpected colors, accidental strokes, and "mistakes" in his pieces. 
But he never quit because of them. He just worked with them, learned from them, and in the end, created some really awesome masterpieces!  
Mistakes don't have to be paralyzing. I've found every time I make a mistake, I learn something valuable for the next time I'm confronted with the same situation.
Mistakes are necessary to go from being good at flipping to being great at it. The more we learn from our mistakes, the more successful we will become. Don't allow mistakes to stop you. Mistakes are just growing experiences in disguise!
Our friend Joseph Hogue from Let's Talk Money posted this meme on Instagram this week and it's so true!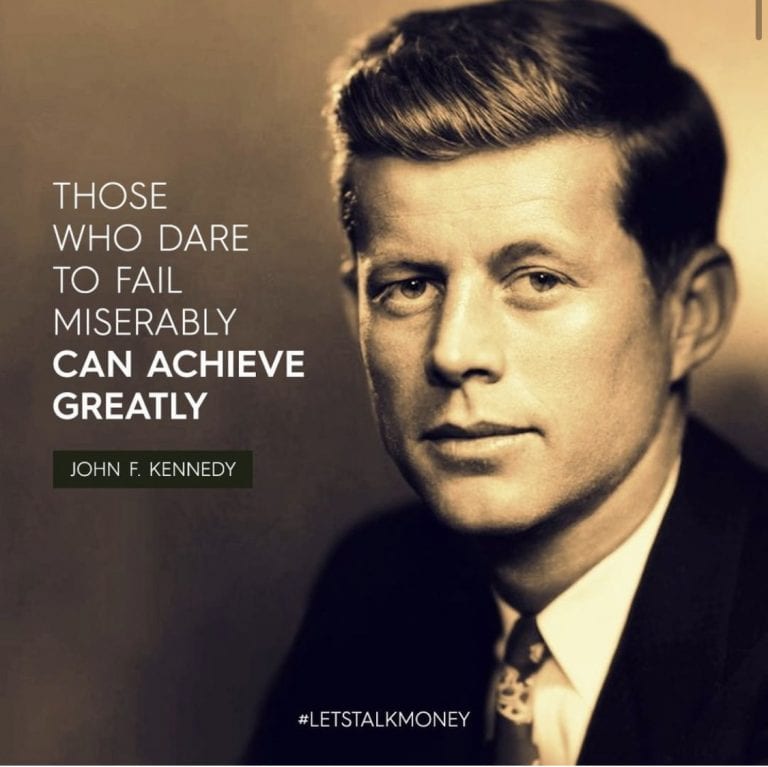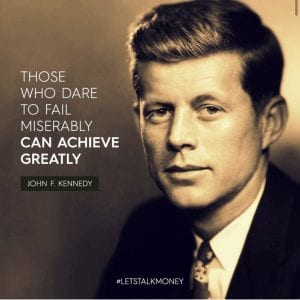 "Those Who Dare To Fail Miserably Can Achieve Greatly" – John F. Kennedy
3. You're Not Consistent. 
You know the story about the turtle and the hare? 
It's the slow, consistent, persistent one who wins the race.
It's not about doing something one day and expecting success.
Success with your flipping business is not about what you do today. It's about what you do today, tomorrow, the next day, and the next day. 
It's what you keep doing consistently every single day for multiple days for months and months.    
Ask yourself in what areas you've been inconsistent in.
Maybe you haven't been consistent sourcing items. Make a plan for yourself to take 10 minutes a day to source items.
Maybe you have been inconsistent listing items. Set a date for yourself in your planner when you will photograph your items and list them.  
To be honest, consistency is probably the number one thing I struggle with. When my flipping sales are low, I can usually pinpoint it to being inconsistent in some area of my business. 
For me, it's usually with listing. I love finding deals and I can find thousand dollar deals multiple times a day. But it's the consistency with getting the item cleaned, fixed, and photographed for listing. This is something I am constantly working on to improve.
Consistency will move your business in the right direction.  Inconsistency will move you in the wrong direction.
Determine what areas you need to work on and set some small goals for yourself to improve your consistency.
4. You're Spending Too Much Time Around Negative Influences.
"You are the average of the five people you spend the most time with."  This quote by Jim Rohn says it all.
Melissa and I really are careful about who we listen to and what we fill out minds with.
When we take our morning runs, we are listening to uplifting positive podcasts.
Our friends are people who support, encourage and challenge us. (And if they don't then we don't invest the time to grow our relationship).
We very seldom listen to the news. Why? Not because we want to stick our heads in the sand and not know what's going on in the world. But because the news is so negative!
We choose not to listen to the negativity day in and day out.  We figure if it's important enough, we will hear about it without watching the news. I stopped watching the news several years ago and I noticed an immediate improvement in my mindset!
We are always taking an inventory and making a choice with who we spend our time with.
We have decided we want to be around those who believe in our dreams, give us good advice, and speak positive things into our lives.  This has served us well in our business and personally.
Mindset is an important part of being successful in this business.  Are you spending a lot of time around people who are negative?
Take an inventory of the people you spend the most time with. Are they squashing your dreams or encouraging you in them?
If it's possible, try to limit your time with people you find to be negative. Sit down and write a list of people who lift you up and encourage you and make a plan to spend time with them and share your goals with them.
Being around positive people is great for business!
5. You're Treating Flipping Like a Hobby and Not a Business
For the first 18 years of flipping, I didn't treat flipping like a business. Over those beginning years, I made great money, but I wasn't in the mindset that it was really a business.
It was still my "extra" money that I used for vacations and unexpected expenses. I wasn't very good at keeping track of what I paid for items, what I put into them or what I sold them for.
I had a tough time keeping track of receipts, mileage, and other business expenses. It's not that I wasn't making "full-time" money flipping, it was that I just had the mindset it was a hobby and not a way to make a living.  
I'm super thankful for Melissa! When I went full-time flipping, I started to have more of a mindset that it was a business and not a hobby.
Melissa and I took deliberate steps to get ourselves into "business" status. We opened up a separate account for the business and we formed an LLC.
Melissa started to help me get organized keeping track of what I paid for my inventory, receipts for supplies I was buying, and keeping better records of other business expenses I was incurring. 
These steps helped us to change our thinking. We no longer look at flipping as just a fun thing to do, it is now our livelihood.
Whether it's your side hustle or full-time hustle, you should always be treating it as a business.  
Melissa and I now have short term and long term business goals. We plan ahead keeping better track of our expenses (Melissa is much better at this than I am, but I am working on it!).
We also focus on things we can do to improve our business. Taking these steps in making our hobby a real  business has helped us in so many ways.
We are now a business and not a hobby. Two different mindsets with two very different results!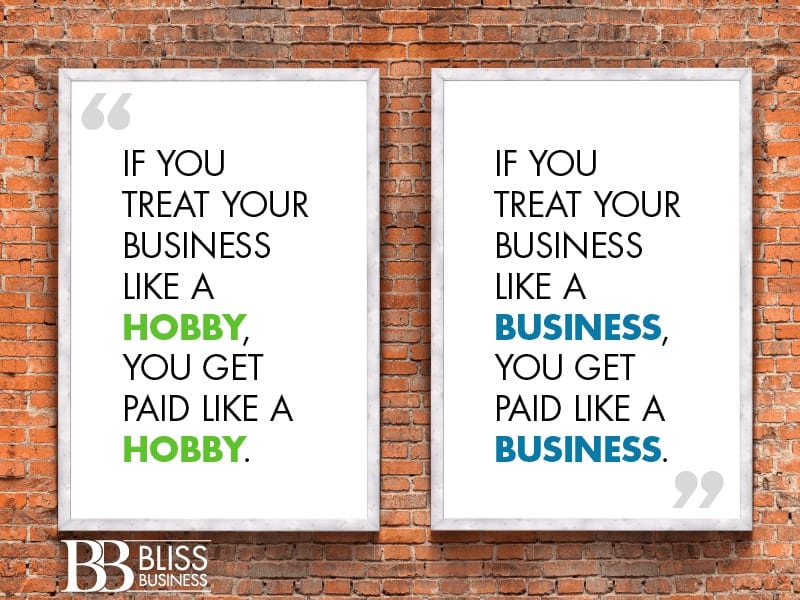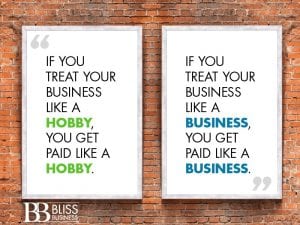 If you are seeing these five mistakes in your flipping business, don't worry!  With a little planning and change in your mindset, you can turn things around and go from a business that is struggling to one that is thriving! 
And it doesn't have to be overwhelming!
Flipping is one of the quickest side hustles to get started with! And over time you can grow it into something more.
If you are willing to sit down and take inventory of where you need to improve, be diligent about making changes, you will be back in action in no time. 
We still get off track at times where we need to re-evaluate and refocus our efforts to get back to the basics. It's all part of finding success with this amazing flipping gig!
If you think flipping items could be a great way to make an extra income then check out our FREE Flipping Workshop to see if this is a good fit for you. 
We want to hear from you!
Is your flipping business struggling? What obstacles are you facing right now? Comment below!
Further Resources
Make Your First $100 Flipping In 7 Days (Free Video Course)
Free Workshop How To Turn Your Passion of Flipping Items Into A Profitable Reselling Business
How We Flipped A Chair From The Trash Into $103,000 of Inventory In Just Four Months!
How This Family Used eBay To Pay Off $65,000 Of Debt In 14 Months
5 Reasons Your Flipping Business Is Struggling – And How You Can Fix Them!