July 10, 2017

FAQ- Does Buying and Reselling Take Advantage of People?

Recently we've had a few negative comments (2 total) on the blog and social media, and while we know those come with the territory of putting yourself out there on the internet, we wanted to address their concern.  Both comments basically said that we were greedy for making money on things that people need. I am not going to link to them, but we left the comments up on both the blog and our Facebook page because we thought we would just address it: Does buying and reselling take advantage of people? 

This post may contain affiliate links. Check out our affiliate disclosure for more information.

These comments threw us off guard a little because first of all, we take pride in our integrity. We want to live a life that we are proud of and be a good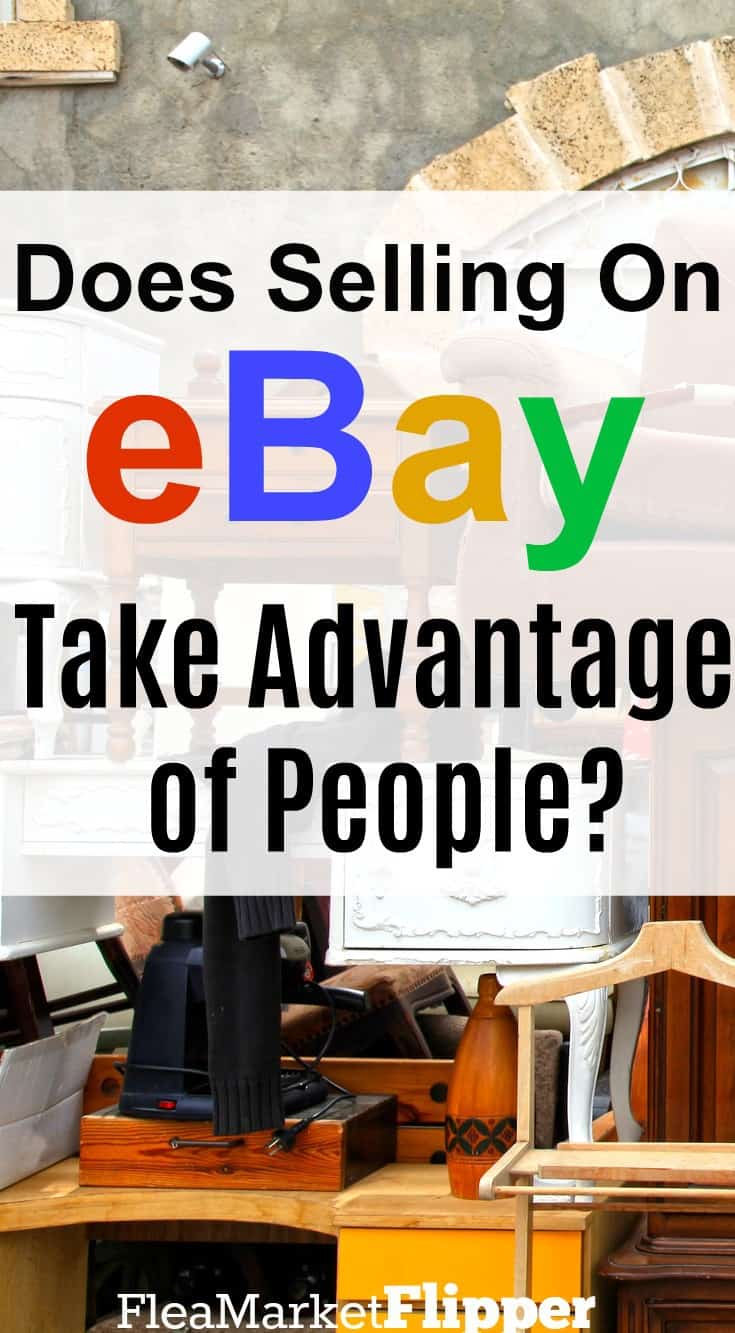 influence for our kids. And second, we don't feel like we are taking advantage of people when they are buying from us. We don't feel like the grocery stores are taking advantage of us by making money off of our need to eat. Melissa doesn't feel like Target takes advantage of us because they make money on from our kid's clothes. I don't feel like Amazon Prime
takes advantage of me because I order parts or something on there almost every other day.  (Well, maybe I do feel like they take a little bit of advantage of my buying habits.) 🙂  But, you get the point. Businesses are powered by solving problems and fulfilling needs.
The particular item that one lady was talking about was a prosthetic foot. She felt like I was taking advantage of someone who had a need for the foot. But, in reality, if we didn't sell the customer the prosthetic foot for $250, he would have had to spend hundreds of dollars if not thousands more to get a new one. He saved money because I spent my Saturday morning at the flea market. Also, if I wouldn't have bought the foot to sell, it would still be sitting in the bottom of a junk basket at the flea market. The vendor that I bought it from might have even thrown it in the trash because he looked freaked out by it and wanted it gone.
I want my customers to be happy with their purchase . They are getting an item at a lower cost then they can buy in the store so saving money is a big benefit to them. Another benefit to some of my customers is that they may have not been able to find that item anywhere else.  I come across some unique things and it takes a specific person who is looking for it. (How many people are looking for a deal on a prosthetic foot on eBay?) Another thing is no one is forcing anyone to buy anything from me. It's not like we are selling the last cup of water on earth and charging $1 Million dollars for it.
I would love to be able to hunt for treasures and just give them to people who need them, but the reality is we have a mortgage to pay and three little kiddos to feed too. Maybe one day it will all just be for fun and I can post things for free, but for now, our family depends on our eBay sales. Buying and reselling items pays our bills.
I would also like to address another part of this question. Does buying items at a low price take advantage of the people I buy from?
I buy from a good variety of people, but a large portion are from vendors at the flea market. Since I have been going to the same flea market for a couple years now, I have gotten to know several of the vendors I buy from. Many of them know that I sell on eBay and will even tell me what an item is selling for on eBay in order to get me to buy it.  Even if they don't know I am looking for items to flip, I don't feel bad buying from them because they are making money on me, and usually repeat business. Many of these vendors buy large bins of items from Salvation Army at their auction or buy old storage units and sell everything off at the flea market for a profit.  So even when I am paying less than the value of an item, they are still making their profit on me – and I want them too! I help keep them in business and they help keep me in business.
I also buy from people I find on Craigslist, Offer Up, eBay, and Facebook.  These people typically are looking to get rid of an item to clean out their house and/or make some extra cash. I don't feel bad for buying from them either because they are wanting to sell.  If they wanted to, they could take the time to look up the item, put some elbow grease in it, and post it in the best place to make the most money, but most of the time people don't want to take the time and just want it sold and gone.
Everyone involved is benefiting from these buying and reselling transactions, not just myself.  The people I am buying from are looking to sell their item and make some money. I give them their money and take the item off their hands. I take the time to clean it up if necessary, take good pictures, and post it for any potential buyers. My buyers are either looking for a good deal or looking for a specific item and I am able to provide both of those for them. It's a win-win-win situation.
I do all my buying and reselling with integrity. I do negotiate price on both ends, but not to anything unfair. And if either the buyer or the seller want the price higher or lower, nobody is forcing them to sell to me or buy from me.  I will also disclose everything I know about an item before selling it, including any defects or any issue that may be wrong with the item that I am aware of. I never try to sneak a defect by anyone. That is definitely not my style, and even if it was, I wouldn't be able to keep a good standing with eBay if I did that.
I don't think anyone thinks Mike and Frank of American Pickers are taking advantage of people when they are picking through items. They are doing the same thing I do: finding cool things to buy from people at a deal and selling them to people looking for those things. We are all providing a service to people looking for a good deal. I don't believe that buying and reselling is taking advantage of any party involved.
"One man's junk is another man's treasure"
If buying and reselling interests you, grab the download of the 5 things I never buy a the flea market to resell.  (This will also subscribe you to email updates from our flea market flips and ebay tips. You can unsubscribe anytime.) 
Related Posts
Does Buying and selling on eBay Scare you?
A Flipper's Review of Amazon Prime
A Sneak Peek Inside a Flipper's Storage Unit
I Would Love To Hear From You!
Do you think that people who buying and reselling on eBay are getting taken advantage of?
FOLLOW THE FLIPPING ADVENTURE: