How This Mother Of Four Is Flipping Her Way Through Nursing School
Today we are bringing you one of our super fun Flipper University students, Dotty Young.
Dotty is a part-time nursing student and a married mother of four kids! If anyone can use the "no time" excuse for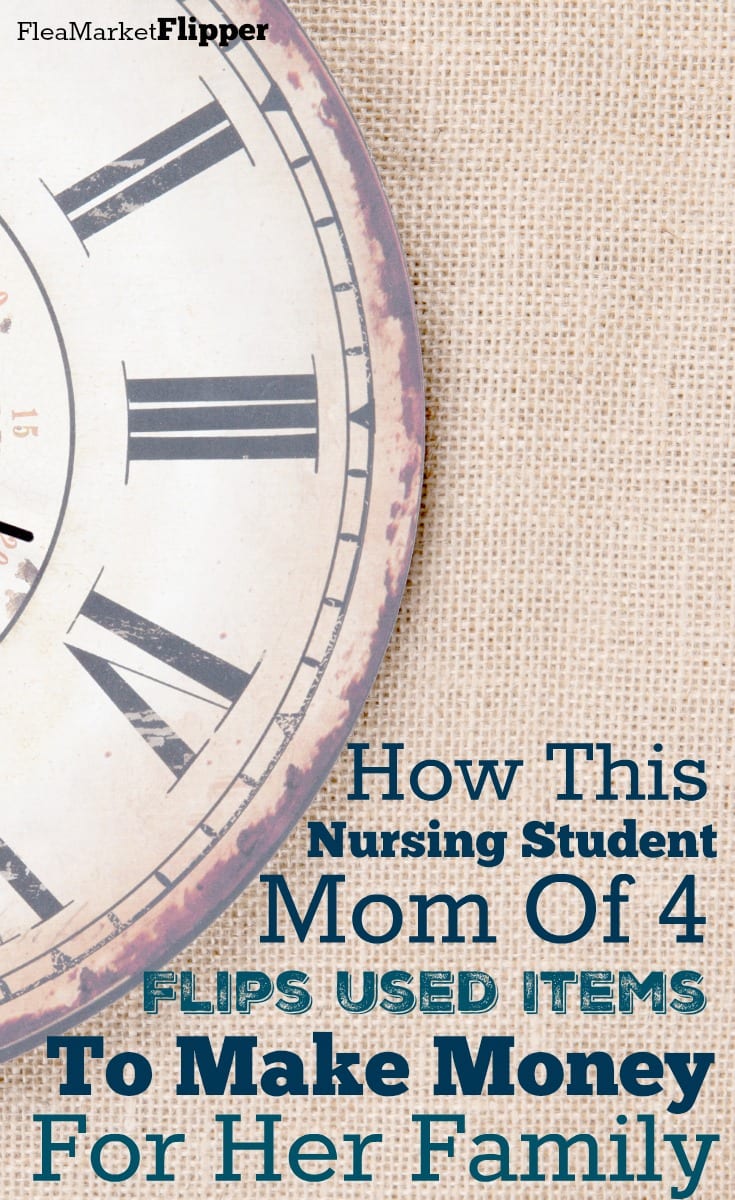 flipping, it would be Dotty. We are super stoked for what she has been able to accomplish between her hours of studying and weekly nursing tests!
If you have been around us at Flea Market Flipper for any length of time, you already know we sell some pretty weird stuff! We like the unusual things that take just the right buyer. We often buy these items locally for pennies and when the right buyer comes along, we make a great profit.
This plan of action has worked really well for us – sometimes making thousands of dollars on these items! All of our Flipper University students are unique in how they source their items and the types of items that they sell.
We sure get an adrenaline jump when we meet someone who finds and sells some crazy stuff like us!
Dotty has been able to help support her family financially while going to school and flipping some crazy unique items for a huge profit!
If you are busy with life and not sure if you can squeeze in a flipping side hustle, listen to how Dotty manages her busy schedule and has been flipping her way through nursing school!
One of the best things about interviews is we get to know our Flipper U students. Dotty, tell us a little of your history.
Hi Rob and Melissa.  I am 39 years old and happily married to my math PhD husband.
I am also a mom of four amazing girls, ages 13, 10, 7, and almost 5. We had our first two kids while my husband was still in graduate school, with no end in sight! (Birth control just didn't work on me–go figure!)
When my husband was in grad school, we lived right next to a Goodwill in the college town in Ohio. I learned very quickly that the best way to stretch our limited income was to find as many things as I could second-hand.
At the time my husband was in school, I was working night shift so we already were saving money on childcare expenses.
But another way that I was able to help my family financially was by furnishing our modest home entirely with second-hand items. This was easy for me because honestly, I enjoyed it and I love finding great deals.
How did you find us here at Flea Market Flipper?
As you already know from the group, I find a ton of free items! I was searching the web looking for ideas on re-making an item that I had gotten free.
Nothing thrilled me more than to find you and Melissa on YouTube sharing how you make money from something I already had over a decade of experience doing!
How did you decide to jump into Flipper University?
As soon as I found you on YouTube, I was intrigued. Since I had already spent "so much time" sourcing second-hand items, I came to realize that what I really needed was to learn the logistics of navigating large-item sales on eBay.
Small item sales had become pretty easy for me as I had been selling them for years. After watching a few of your YouTube videos, it didn't take me long to figure out you were an expert in selling large items and not only that, you could teach me how too!
Another important reason I chose to get on board with Flipper University was the expertise of a community for those not-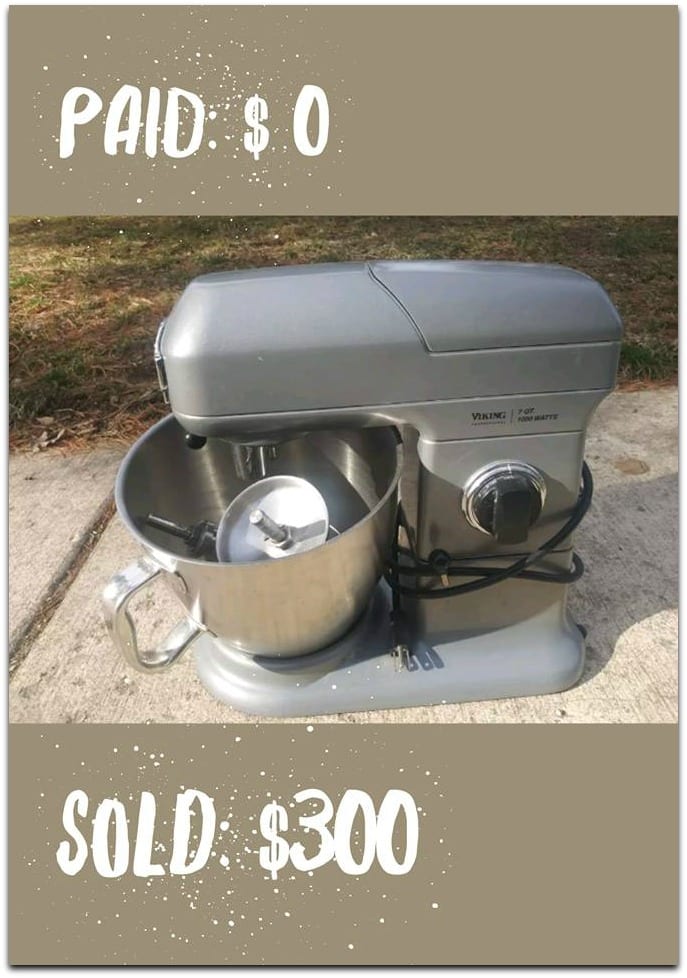 common-but-really-derailing-events that happen in any new venture.
I knew sourcing and selling large items was all new territory for me and with that, there would be a learning curve. As soon as I was added to the coaching group, I had never felt so "at home" in any professional venture I had been a part of up to that point.
I also knew that based on my newbie sales just from simply following your advice on your YouTube channel, I KNEW I would recoup the course fee in no time – and thankfully I was right!
You mentioned that our coaching group has really been helpful for your success? Would you elaborate on that?
I've tried to accomplish many different goals in my life. Sometimes I've succeeded – sometimes I've failed.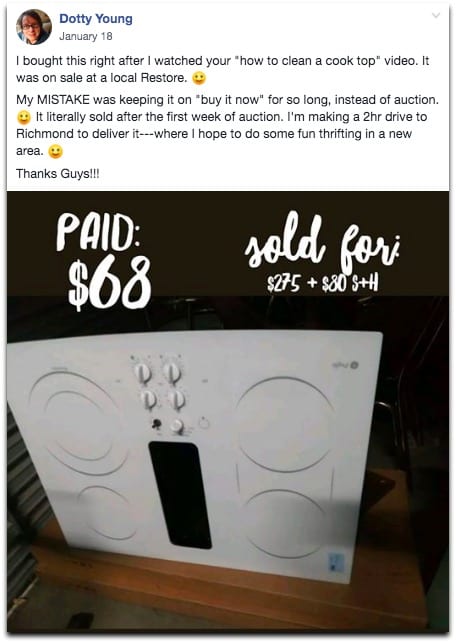 There has been ONE consistent, common thread in all of my successes though, and that has been having a supportive community around me.
Our community of sellers is not a competition–it's a group of coworkers who support one another.
I've been so thankful to have daily motivational posts from others in the group. I love the great videos from you and Melissa showing us how to construct a pallet for an extra-large shipment.
I get encouraged by members who post their before-and-after pictures of free furniture they pick up and refurbish. These things are all so encouraging on a bad day.
Zig Ziglar is credited with saying, "People say that motivation doesn't last–neither does bathing! That's why we recommend it daily."
In a profession where we spend a disproportionate amount of time driving around alone, having an encouraging online group can be the difference between staying motivated and staying on the couch. I choose to get up off the couch and make it happen!
We have been pretty excited watching you make some great money flipping. You have shared how this has been a blessing to your family while you are a part-time student.
Indeed, I am a part-time student (although I feel like a full-time student sometimes!) finishing up my pre-requisites to become a psychiatric nurse practitioner. I have a long way to go.
After I'm done with my pre-requisites, it will be on to my Master's Degree. I plan to work as an RN for a few years and from there I will move on to my doctorate program.
Flipping has given me the opportunity to help provide finances for my family while studying 20+ hours a week and going to school. This is something I never thought possible, but I am doing it and it is so enjoyable!
We are always amazed at seeing how much you are studying, taking exams, and fitting in flipping between school and tests! How have you been able to manage that kind of a schedule?
I already have a bachelor's degree in creative writing (yeah, seriously, lol!).  I found a Masters RN program specifically for people like me, who have experience in something not-medical-related, but had a passion for improving patient outcomes.
My oldest daughter has a chronic illness–it's actually a "lovely" combination of several illnesses, which kept her from getting proper treatment for a long time.
I spent SO MUCH TIME navigating the health care system, that I started helping other parents dealing with the same issues with their children.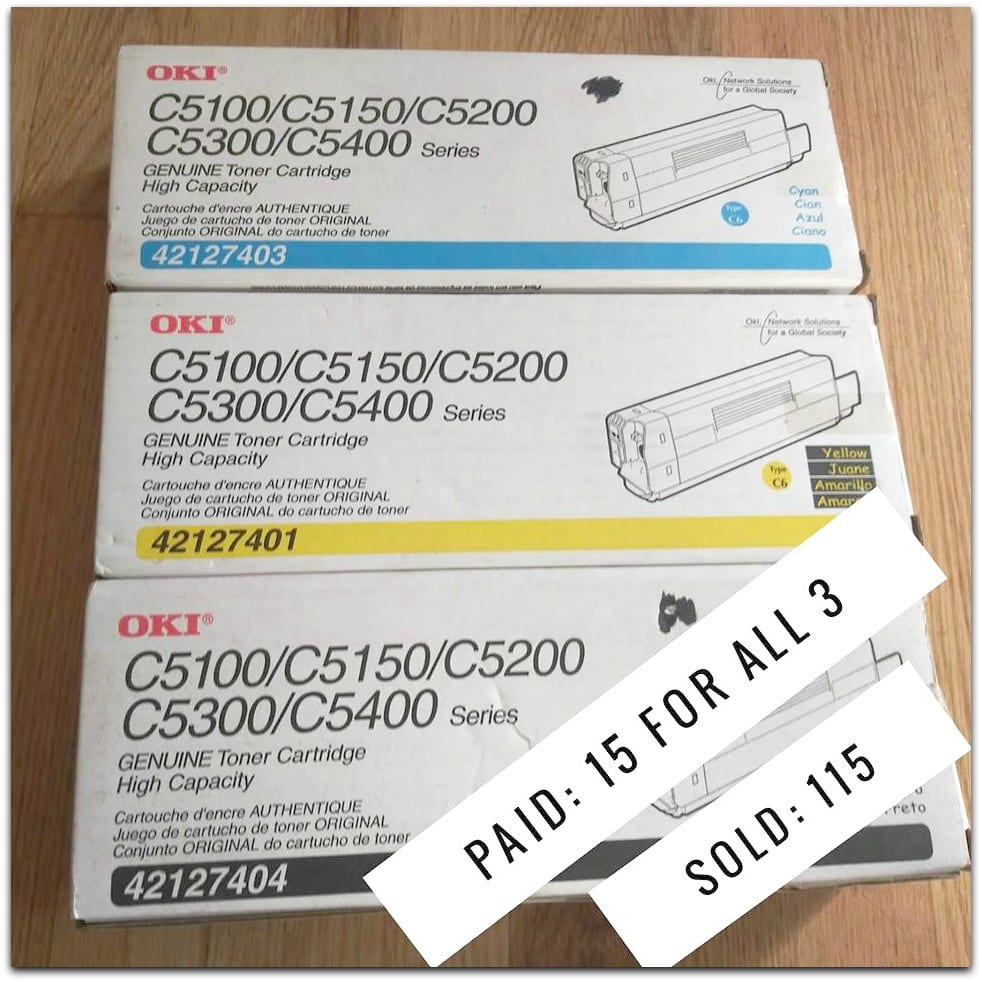 This led me to my current path for psychiatric nurse practitioner. Imagine how happy I was to find out that people actually can get paid for spending time navigating the health care system!
A nurse's job is to care for and advocate for a patient, and it's what I've literally been doing as a mom for over 10 years. So it was a very natural transition for me to go in this direction.
At the end of this semester, I will be done with my prerequisites. I literally love every minute of growing fungus and bacteria in microbiology lab or helping other students learn how the blood flows through every vessel in the body.  I am like the Queen of All the Nerds!
My typical week has me going to school on Tuesdays and Thursdays. My big days for sourcing items to sell is on Fridays and Saturdays. After I am done with class and sourcing items, I use my evenings for studying and getting my sold items boxed and ready to ship.
On Mondays, I have a lab that takes up three hours of my day and on Wednesdays, I use my time to study, do chores, and catch-up on all of the things I didn't get done during the week.
I try not to waste any of my valuable time. When I go to the grocery store, I pop in to the Goodwill next door. When I am on my 30 min commute home from school – I drive an extra 10 minutes to go to another thrifting spot. I take every opportunity to work my flipping into my demanding days and this has worked well for our family.
One of my favorite things to do is Retail Arbitrage through Amazon. Any time I am shopping for anything, this is an opportunity for me to scour a clearance section. About half the time, I'm able to find enough items to flip on "any" shopping trip to cover the price of whatever I needed to buy—which is awesome.
I am also very successful with selling used books. I use my Amazon scanner very quickly and scan several books in just a few minutes. I often will find great books to resell at a nice profit.
Basically, I infiltrate my flipping journey into every aspect of my life with any time I have available.
How about that flight simulator you sold? Wow, that was so much fun for our entire coaching group to watch from beginning to end. How did that come about?
Oh my gosh! Even though I love my studies, sometimes my brain shifts into neutral on its own and I scroll mindlessly through Craigslist or LetGo. With the rigors of my studies, sometimes I just need a distraction.
Well, one night I FOUND ONE. There was a guy on Craigslist who claimed to be giving away the components of a Gulfstream IV flight simulator.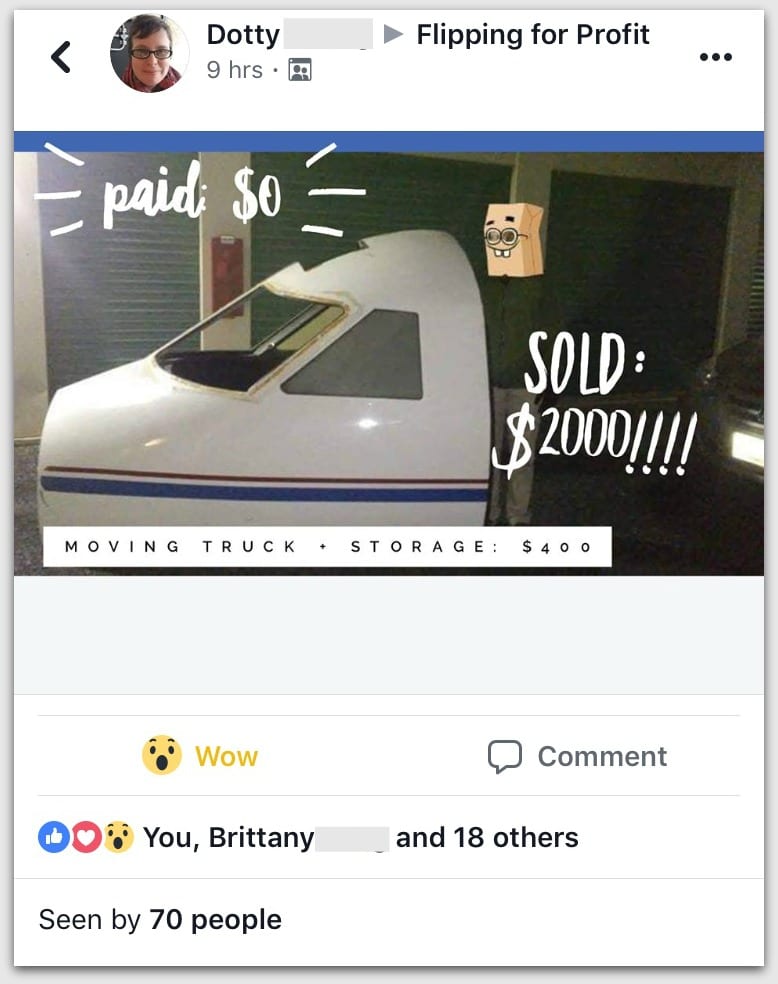 I emailed the guy right away with my usual pitch, "Hi, I'm a reseller who flips things to pay for nursing school." This time I added something like "Oh my gosh seriously my inner nerd is dying with delight!"
Right there, I told him I'd take it and he said it was mine.
One of the great things about flipping is the opportunity to meet people and hear their unique stories. This story got so much better when I finally went to pick up the simulator.
I went to meet him the next day—and it turned out the guy was an AIR FORCE ONE pilot! He was moving for the zillionth time and his wife said something to the effect of, "We've had that dang cockpit through four moves, and you still haven't put it together—get rid of it."
So he was literally offering it for free if I would just get it out of his garage before his move. On the outside I said, "Thank you so much!"  But on the inside, I was saying, "Oh my gosh, are you kidding me? How could you just give this away? I will drag it home in my teeth if I have to!"  
It took a little work navigating the logistics of renting a 10-ft truck, getting a new storage shed, and scheduling the pick up around my weekly exams, but I made it work! The pilot even helped me load it, along with another commercial mixer lying around his garage that he gave me for free. (I sold it for $300!)
I really enjoyed the stories that went along the simulator. He told me a few low-key stories about being an Air Force One Pilot. He said, "Melania is actually the easiest passenger. All she wants is bottled water and wi-fi." Joe Biden once had his grandkids with him and he started yelling, "Get down off that!" when they got over excited and jumped on the seats, and so forth.
Overall, it cost me a grand total of $400 for a truck rental and a new storage shed rental. But less than a month later, I sold it for $2,000 to a very happy grandpa who had always wanted to be a pilot.
I used the money to buy a cargo van with a lift—so I can finally transport large pieces on my own, without anyone straining any muscles.
It's been so great for me and Melissa to share in your flipping success. What words of wisdom do you have for others who have crazy schedules, but are thinking about getting started with flipping?
I guess I would say start small and start with what you know. I'm not an expert in golf clubs or designer handbags, but I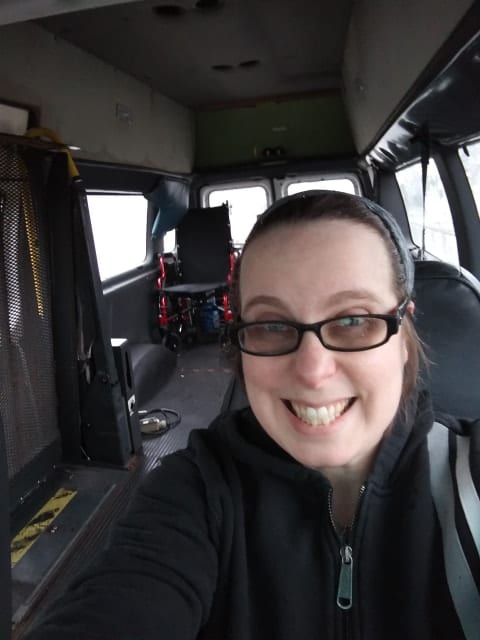 know how to furnish a home for very little money and with beauty.
I know what items a family needs when they are starting out and I know how to get those items for as little money as possible. You or your family might know car parts, or herbal teas, or kids' clothes, or craft items—and those are the things people come to you and ask you about.
Those are the things people look at you with wide-eyed wonder and say, "Wow, I'm glad you know what you're doing, because I'm clueless!" Start with those things.
I didn't do that for ages, because I thought, "This is easy–anyone can do it!" But the truth is, anyone CAN'T do what YOU do—and that's why they need you. Every time you do what YOU are good at, even if it's supposedly simple, you're giving someone else the tools to succeed.
Thank you so much, Dotty, for spending the afternoon with us and sharing your flipping journey.
You have really inspired the coaching group in so many ways by balancing your busy, demanding schedule along with finding the most amazing free stuff to sell! You are an inspiration and we thank you for your contribution to the coaching group.
You have made us all a little braver!
Further Resources
Ready to get started with a flipping side-hustle or grow your existing reselling business? Check out our FREE Intro workshop to see if this is a good fit for you!
Download these 5 mistakes reseller's make that could be costing them money to avoid making these yourself! (This will also add you to our flea market flips and eBay tips newsletter. You can unsubscribe anytime.)
Related Posts
How This Family Used eBay To Crush $65,000 Of Debt In Only 14 Months!
How This Single Mom Went From Working Two Jobs To Making $5,000/Month On Her Flipping Side Hustle
How This Couple Who Adopted 6 Kids Made $26K Last Year With Their Flipping Hobby
How This Mom Of 6 Made $3,187 On ONE FLIP By Gaining Confidence With Shipping Large Items
How This Mother Of Four Is Flipping Her Way Through Nursing School