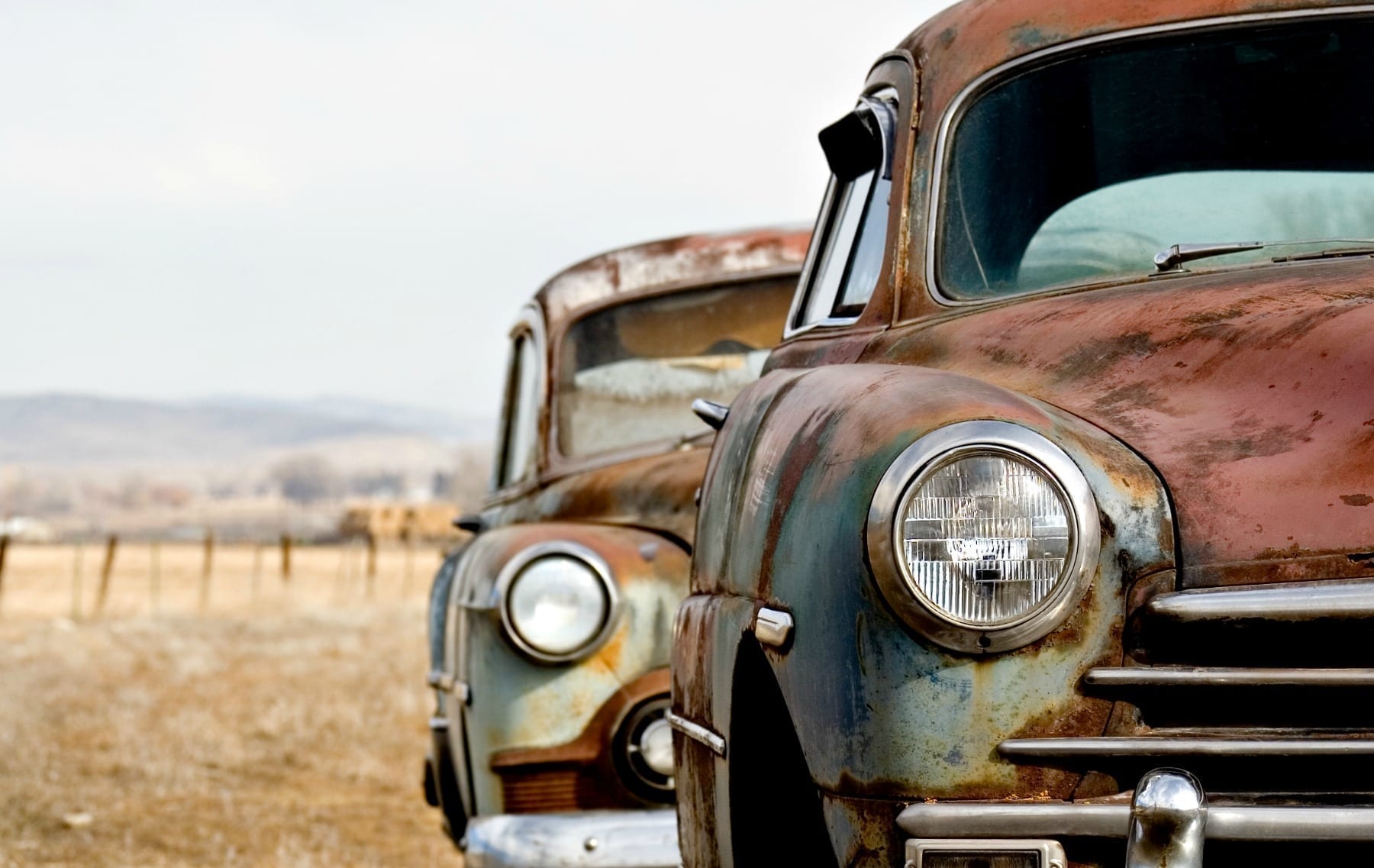 May 04, 2020

Success On EBay In Canada? How This Mechanic Made $4,200 CAD In 2.5 Months

Can I flip items on eBay if I live in Canada? This is a question we get emailed to us quite often. Not only are there thousands of people in the United States who are looking to make extra money, but there are those who live outside the United States who are wanting to create an extra income, as well.  

Our answer to this question? Yes!

Today we have Mark, one of our Flipper U course members, who is a Canadian auto mechanic. He's been killing it with his side hustle! Mark jumped into flipping to create an extra income for himself – and he has made over $4,000 flipping used items on eBay in less than three months! 
We are super happy to have you join us today to hear your flipping success story! 
Thanks for inviting me to tell my story. I'm Mark and I am  a 56-year-old auto mechanic who lives in Canada. Unfortunately, the auto industry and its pay structure does not afford me a regular and stable income.
Some months, my income will rather fluctuate based on workload availability. If there is little work, there is little pay. 
As you can probably imagine, this can make financial matters a little sketchy sometimes. This fluctuation in my income is my main reason for joining Flipper U. I wanted to help stabilize my income flow and try and get ahead a bit. 
In all honesty, I am not getting younger either and this trade takes a toll on the body. In some ways, flipping is a way of learning another avenue of earning money should I no longer be able to carry on with my current employment. 
Now if we could take flipping to the next level and make it a permanent income, I'd be in heaven!
I'm sure there are differences and obstacles you face flipping outside the US. Can you flip items on eBay when you live in Canada?
It's easy to say you can't make money flipping if you live out of the country. But in my opinion, that's the easy way out.
My advice is that you just need to be savvy in deciding on your buys and then always being conscious of shipping costs for that item. I've managed well and I pay 2-3 times what the same shipping would be in the United States.
No excuses. You can make money flipping on Ebay if you live outside the United States!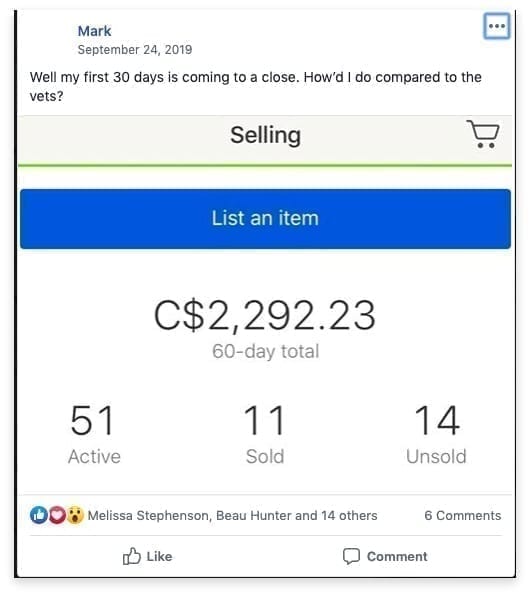 We love hearing how people landed on our Flea Market Flipper blog.   How did you find us?  
Flea Market Flipper showed up in my Facebook feed as I was on the lookout for second income possibilities. As you probably already know, there are way too many "opportunities" out there, most sound like a scam. 
I watched your videos and you and Melissa just had a certain way about you. I figured the initial investment to get started was minimal so I went for it.
In Fact, I made the money back from the purchase of the course in my first flip! It's been a great experience for me so far.  
We know new sellers can get paralyzed by the fear of starting. You seemed to get right to it! What were your first steps to getting started?
I started by following the suggested sourcing tips I got from you and also from the coaching group.
I also looked in my own closet and found things I wasn't using and started there. After selling my own items, I moved on to checking out local thrift stores and garage sales. With all of these different ways of sourcing, I have been able to find some profitable finds.  
I pretty much sell whatever I feel I can make a buck on. I have sold anything from electronics to model trains and accessories to clothing and baby strollers, just to name a few. 
In my first two and a half months, I have sold $4,202 in total and I'm quite fine with this!
Making $4,202 in less than three months is no joke!  What do you plan to do with your extra income?
One of the downfalls of my trade is the lack of stable income as I mentioned, so that also leads to debt. When times are lean, you may need help and this creates some debt. So right now, those extra profits are paying down that debt.  
We really love our members Facebook coaching group. What have you been learning while being a part of the group?
The members FB group is AMAZING. Just simply the sharing of ideas and the types of things that are being sourced is invaluable for me. It has really opened my eyes to the potential that is out there if you just go and look for it. 
And believe me, you don't have to look very hard. I'm no longer afraid to bite the bullet and randomly buy something to flip because Flipper University and our members Facebook group has taught me how to research items to see what they can sell for.  I now know whether I am picking something profitable or not. 
The very first item I flipped from a thrift store was a "medical printer" and I have ZERO knowledge of medical printers. However, after researching model numbers and comps it became apparent that there was a tidy profit to be made.
I turned that item into a $350 profit in under a month. In all honesty, I could have held out for more but I prefer not to sit on things for longer than I have to. I was pretty happy with that profit.  
I know after being in this business for 23 years that there are pros and cons to flipping. What are the positive aspects and maybe some of the not so positive aspects of flipping for you personally? 
I think one negative aspect of flipping is the struggle to have enough space.  In fact, I am thinking of a storage unit soon. Space is always something to consider when sourcing items and sometimes it can be something that holds me back.  
One of the things I love about flipping is the satisfaction of the hunt. I enjoy being able to identify and purchase an item and then being rewarded when it sells. This has the added benefit of helping me pay down debt quicker.  
What are a couple of items you sold where the profit surprised you? 
I sourced a shortwave radio recently for $20 and sold for $500. I also realized I could sell broken electronics and cameras and I could still make a good profit! 
Yes, there really is a market for selling non-working or broken items!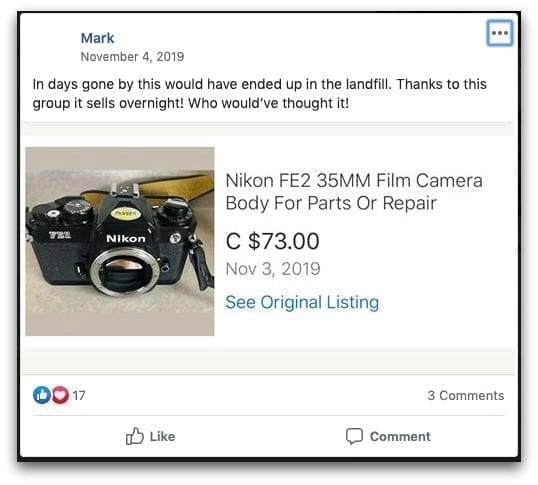 What are some challenges you have had to overcome to be successful with flipping?   
I work full-time, but currently I am on workers comp for an injury and it will be a total of 6 months by the time I go back to work.  This time off work has allowed me to get my foot in the door so to speak and get into the groove of flipping.
Going back to work will no doubt cut into my time, but it can always be a side gig to supplement my income.
I think the most challenging thing for me right now is just having enough space. I have steered away from a storage unit because I know things will change when I go back to work,  but at the same time I have had to pass up many great items because I simply have no place to store them, so it's a catch 22.  
Thank you so much Mark, for joining us all the way from Canada. We are happy that you have decided that yes, you can make money flipping even if you live outside the country. You've helped to show people that selling on eBay in Canada is not only possible, but can be very profitable!
We look forward to seeing what the next few months have in store for you.  Keep rocking your side hustle!  
If you are interested in learning how to make flipping a successful side hustle, please check out our free webinar today!
Further Resources
Free 5-Day Intro To Flipping Video Course 
FREE Workshop How To Turn Your Passion of Flipping Items Into A Profitable Reselling Business
Related Posts
How This Mom QUIT HER JOB To Flip Items Full-Time (And Was Able To Pay Off $12K Of Debt In 5 Months!)
How This SAHM Made $1,000 In Her First Month Flipping Used Items
How We Made $6,250 In ONE Weekend Of Flipping Used Items On eBay
How This Couple Turned A Free Find Into $1,299!
Can I Flip Items On eBay If I Live Outside The United States? Jennifer's Success Story
FOLLOW THE FLIPPING ADVENTURE: