What would you do if someone gave you $100 to do good with?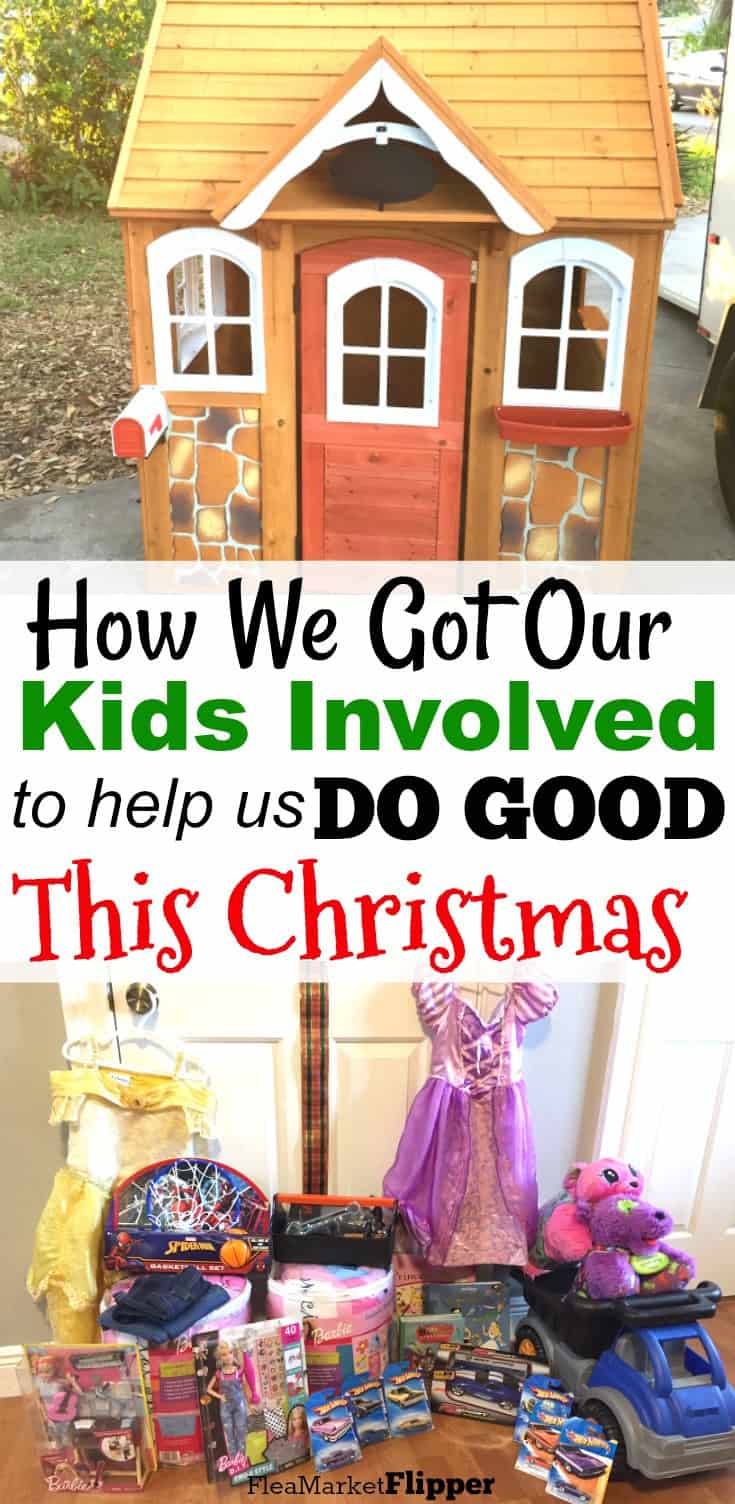 It's a pretty interesting question because there are so many things you could do for someone. Especially around Christmastime.
We recently had the opportunity to do this thanks to an awesome blogger J.Money at Rockstar Finance.
Last weekend we received an e-mail from J.Money stating that he was working on a project for Rockstar Finance. They have a community fund where people donate throughout the year, and then each month members go out and do good with it. This group is mainly made up of financial bloggers, but it's not exclusive.
The fund had $2,000 left in it for the year, so he wanted 20 bloggers to accept $100 each and go out and do good with it. I happen to see the e-mail shortly after it came in and replied heck yes!
They have a huge following so I knew a ton of people would be wanting to participate as well, but he said the first 20 to reply would get $100 in Paypal that day. We made the cut!
I didn't really know what we would do with it just yet, but knew that I love Christmastime and love helping people, so this would be fun.
We asked the peeps on Facebook how they would do good if someone gave them $100 and had some awesome responses.
"Go find an angel tree and make a child happy for Christmas!" – Greg A.
"Feed the people I see living on the streets, buy warm clothing for them." – Elizabeth G. 
"Buy subway gift cards for those in need." – Natascha R.
"You can support local teachers and help with classroom needs." -Erica A.
"Buy good used books to give to people. You could buy a whole bunch of used books with $100 and they could be "re-gifted" over and over making the impact of the $100 multiply." – Mike M.
"Pay off as many unpaid school lunches as I could." – Jessica G.
Not even the cats were forgotten 😉
"I️ would buy another heated cat house for the stray cats we help where we live. We have a lot of strays living in the cold streets who need help for their winter survival. We rescued 8 already!" – Stacey S.
So if you are looking for some great ideas to help people this holiday season, there ya go!
After thinking about it for a little bit, we decided we wanted to do something that our kids could be involved in. And something that had to do with helping other kids have a good Christmas.
I am just a big kid myself, and Christmas is my favorite time of year, so I wanted to make sure some kids who may have a tough time would have a fun Christmas too.
We started asking some of our friends and our church if anyone knew of a family in need this Christmas. We could have just donated toys to a drive or program – there are so many good ones this time of year. But we wanted to have a little more of a connection and know who we are helping.
Our friends who pastor a church on the other side of town, told us of a single mom who has 4 older children of her own, and also fosters 3 little ones. They said she has a huge heart for kids, but can obviously get overwhelmed by everything involved in being a parent and also a foster parent. It takes a special person to be able to care for kids that you have no idea how long they will be with you.
We felt this would be a perfect opportunity for our kids to help other kids that have had a tougher family life and might not have a big Christmas.
We decided to take on this venture to the flea market! The only issue was we were supposed to leave for Colorado on Thursday, and the flea market wasn't until Saturday. Of course we could have gone to the store to buy toys for the kids, but we wanted to get the most bang for our buck and find some new toys at the flea market. And have our kids help us buy them.
Thankfully we run our own schedule. We decided to leave Saturday after the flea market instead.
The kids we were buying for were 4, 3, and 18 months. Pretty similar to our kiddos so we had a good idea of what to find for them.
Our kids go with us to the flea market often, and usually end up with some sort of small toy after, but we were sure to let them know this day was all about other kids. We were shopping for someone else's Christmas presents – we were not there to get anything for ourselves.
They did surprisingly well looking for toys that weren't for themselves.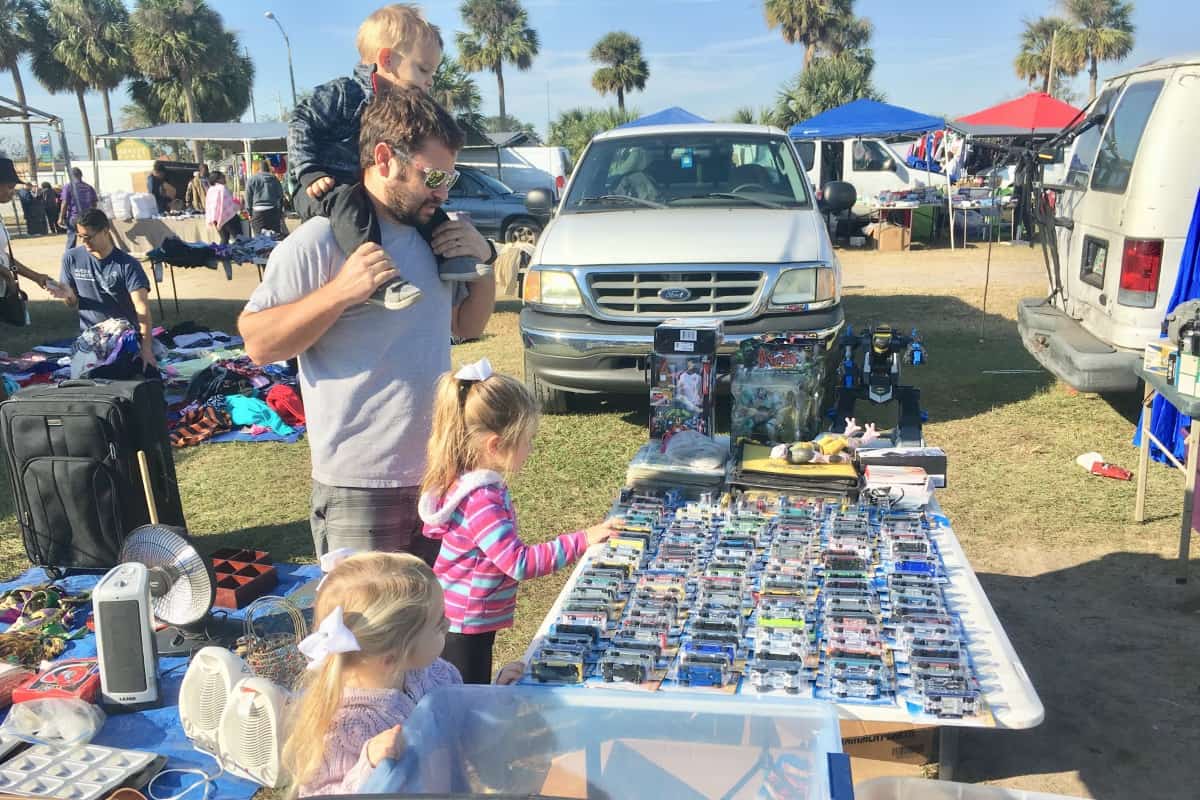 We ended up finding 21 items for a total of $95. And the best part is they retailed for $267! Almost everything we bought was new in the package or had tags on it. (Except the dress-up dresses and the books, but they were both in excellent condition or we wouldn't have given them as gifts.)
Check out this Facebook Live we did right after the flea market:
Below is the itemized total of what we purchased at the flea market and the retail value (including taxes and shipping for some items that could only be found online).
Presents Purchased
Barbie Sleeping Bags (2) – Paid $15 each ($30 total); retails for $25 each ($50 total)
Disney Storybook – paid $3 ; retails for $13
Disney Princess Look and Find book – paid $2; retails for $7
Toddler Bible – paid $3; retails for $17
Remote control GTX Viper Car– Paid $1o; Retails for $28
Rapunzel Dress Up Dress – paid $3; retails for $15
Belle Dress Up Dress – paid $4; Retails for $20
DIY emoji Barbie – Paid $9; Retails for $22
Musical Barbie – Paid $9; Retails for $15
Scented Pillow Pets (2) –  Paid $3.50 each ($7 for two); retail $21.50 each ($43 for two)
Dump Truck – Paid $5; Retail $21
Hot Wheels Matchbox Cars (6) –  Paid $1 each ($6 for 6); retail is the same
Legging Jeans (2) – Paid $2 each ($4 for two); Retail $5 each ($10 for two)
Total paid for flea market items – $95      Retail Value $267
When we first received the money and were trying to figure out how we would spend it, we were inspired to match it with another $100. We felt like it shouldn't have taken someone else giving us money to give away for us to do it, but at least it put us in the mindset to give more.
On the way home from the flea market, we stopped to get the little boy two more toys since we seemed to find more for the girls at the flea market. We bought him a tool set and a mini basketball hoop, both for $12.
Here are all the gifts we were able to get that day:
I also had my mind set on a playhouse that one of my flea market vendors had a week before. I had planned to pick it up for my kids for Christmas, but decided it would be a great addition for the family we were helping out. It wasn't just a cheap plastic playhouse.
It was one made of cedar wood and took a whole day to put together with all the little pieces. Check it out!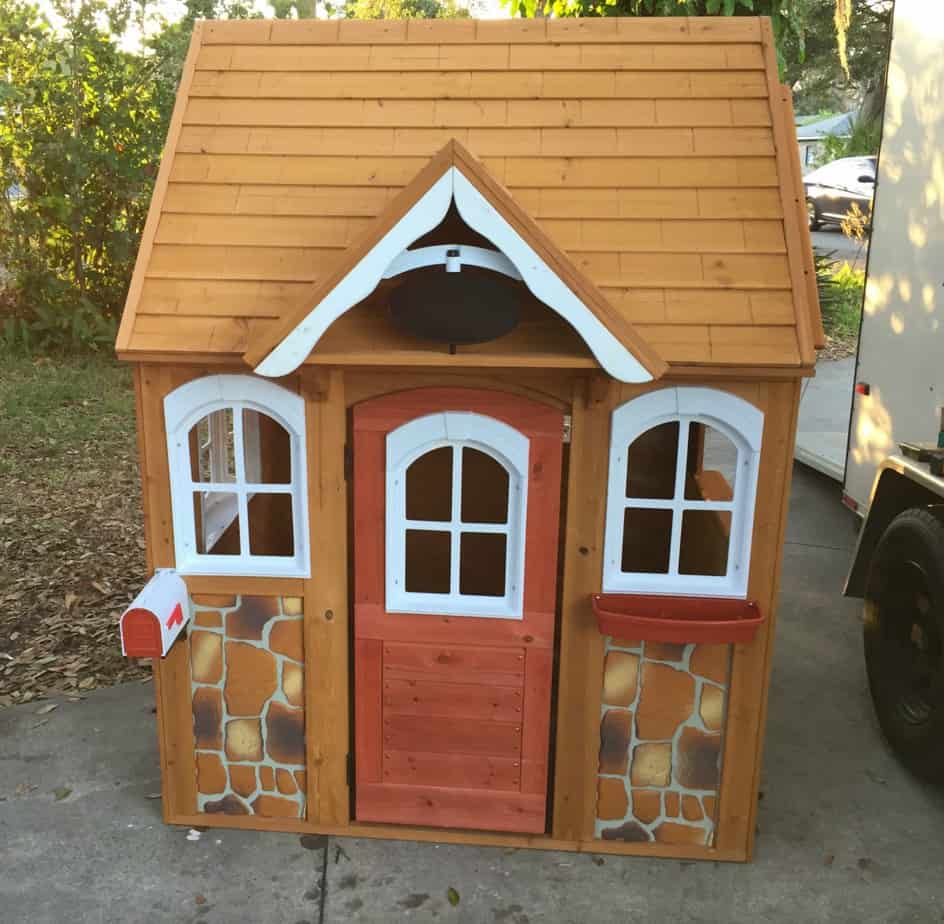 The house retails for $399 + tax, so $405. I was able to pick it up for $45 and then had to purchase hardware for $33. So we had $78 into it.
That brings our total amount we spent to $193. And the total retail was $692!
It was bugging Melissa a little bit not to hit exactly $200 and match it. So we plan to buy someone coffee or lunch on our trek to Colorado. 😉
This whole experience opened our eyes to make sure we make it a point to help others who may be in a rough spot. Both Melissa and I have giving hearts, but we sometimes get caught up in our own every day busy-ness to make time to help others. (Who isn't busy right?)
This opportunity from Rockstar Finance helped us to remember to make giving to others a priority – and it doesn't have to be money. It can be time or resources as well.
Check out all the GOOD the personal finance community does over at the Rockstar Finance Community Fund.
We plan to do good more intentionally in 2018.  Who else has this as one of their 2018 goals? Comment below!
Related Posts:
How we saved $900 on Christmas gifts by shopping at the flea market
How we saved over $300 on our kids' Christmas presents this year
Christmas gifts that don't break the bank
17 Thrifty Christmas Gifts On A Budget