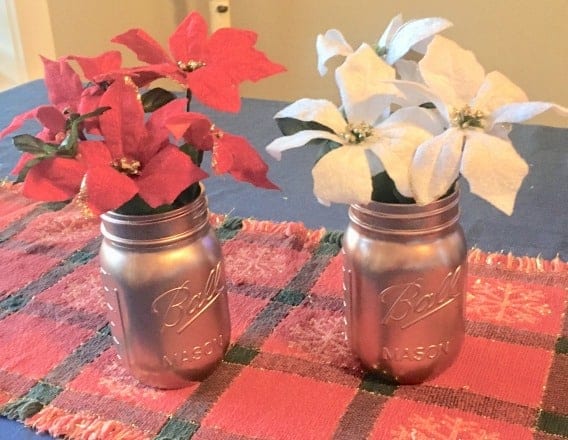 November 29, 2018

Thrifty Christmas Gifts On A Budget
Thrifty Christmas Gifts On A Budget
With Christmas just around the corner, you may be thinking about your gift budget. I know I am. Which is why I came up with this list of thrifty Christmas gifts for you!
Luckily we get most of our gifts at flea markets and thrift stores, so it costs A LOT less for us. I wanted to put together this list of gift ideas on a budget for you, because it's totally how we do things.
All of the gifts below are a combination of thrift stores, our flea market, and the dollar store finds or creations. And the best part is more than half of these thrifty Christmas gifts are under $10!
This post may contain affiliate links. Please see our affiliate disclosure for more information.
1. Hot Chocolate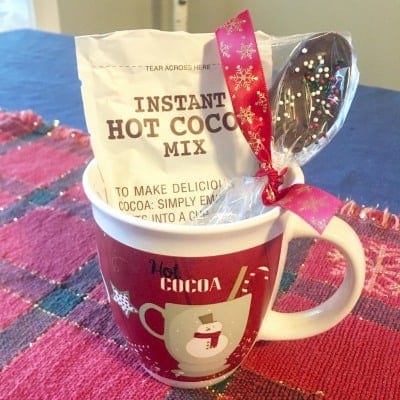 Christmas and hot chocolate go together. Even here in Florida! (It's currently 40 degrees out, but it might be 80 tomorrow).
So many thrift stores have super cute coffee mugs for cheap. I found these mugs for $1 each, but a thrift store I went to later they were running a special on mugs for $0.10 each!
I added a packet of hot chocolate ($0.20), and dipped some plastic spoons in chocolate (super easy and about $.05 per spoon).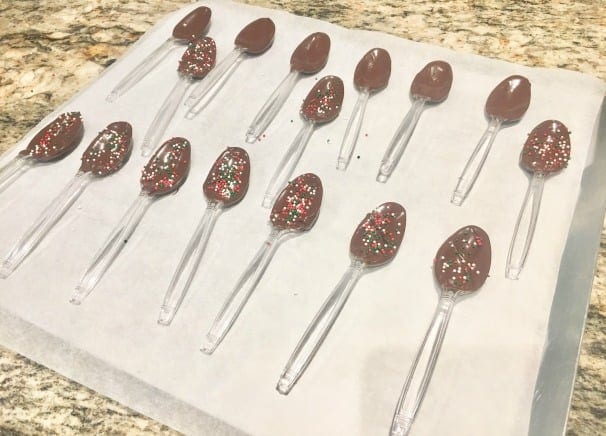 Perfect little gift for only $1.25!
2. For the Coffee Lover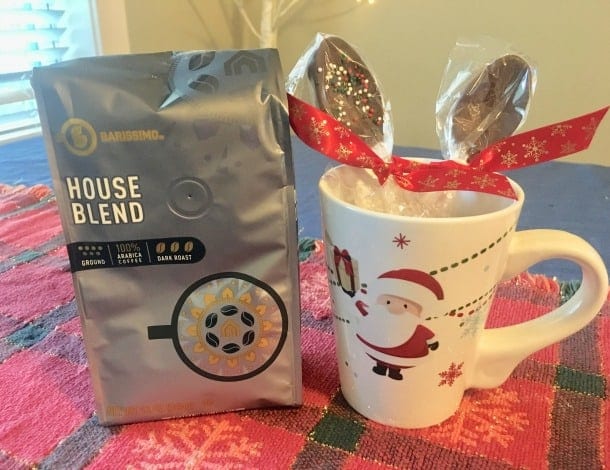 This one was similar to the hot chocolate, I just added coffee instead. And two spoons – just because one seemed too empty.
3. Christmas morning pancakes.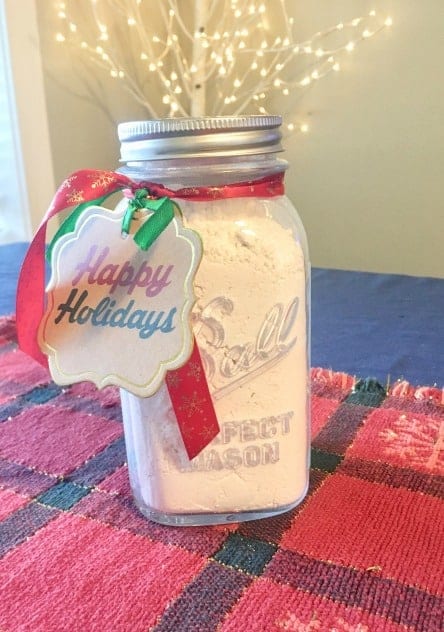 This jar was from a thrift store, and I filled it with Rob's favorite pancake recipe.
He used to make pancakes from a box on Sunday mornings, but now he likes to make home made ones! (I do all the other cooking, but he loves doing pancakes before church!)
4. For the cook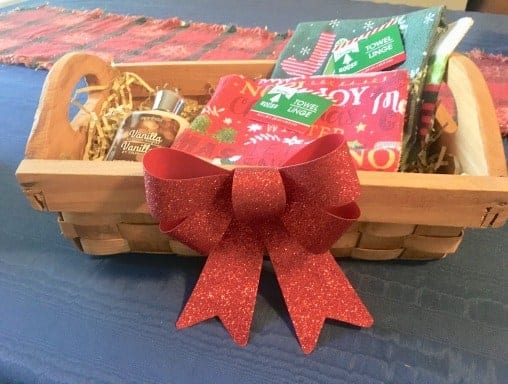 If you are attending a dinner or get together at a friend's house, then this little basket with dish towels and hand lotion is perfect. And for a total of $4.50!
The basket was from a thrift store, and the towels and lotion were from the Dollar Store. The bow was a pack of 2 for $1 at the Dollar Store.
5. For the host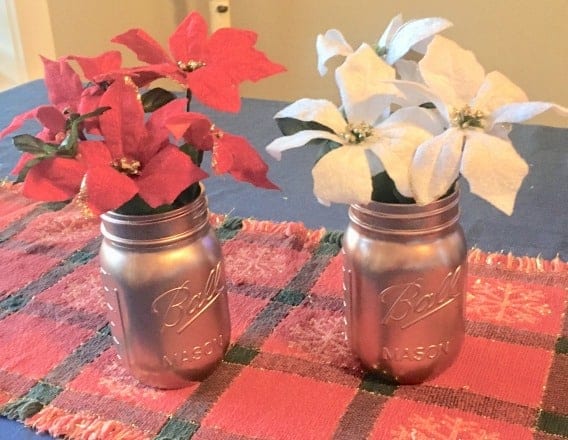 This one may be one of my favorite thrifty Christmas gifts!  Not because of the flowers, but because of the rose gold mason jars! (which will be very versatile and can be used for many things all year round!)
I have found mason jars at thrift stores before for cheap, but sometimes I also buy them at Joann's when I have a 40% off coupon. These ended up being $0.75 each.
I tried this rose gold paint for the first time and I'm in love!
I'm not the most patient painter, so sometimes when things require a lot of coats it ends up not turning out awesome. This was perfect because it only needed ONE COAT. And they turned out beautiful!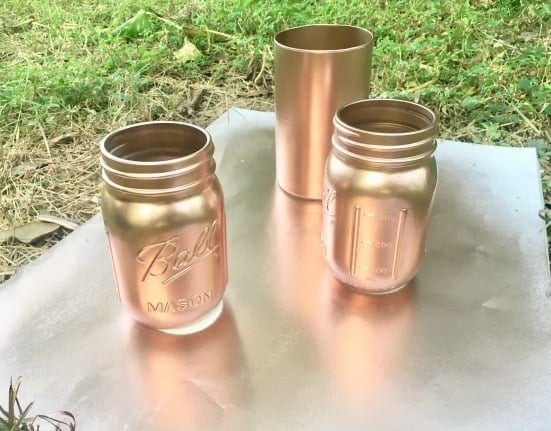 I painted a vase too (that I picked up from a thrift store for $1), but I ended up loving the mason jars more.
And it dries fast too!
It's always nice to bring a gift for someone who is hosting a Christmas get together. This is quick and only cost $2!
These were fake flowers from the Dollar Store, but you could also use real flowers if you prefer.
6. Relaxing gift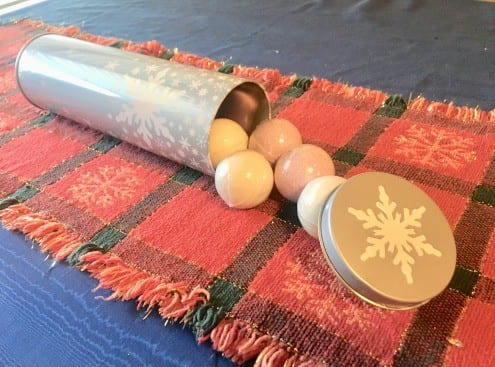 This would be a great gift for any teacher, coach, mom friend, or anyone else that you know who could use some relaxation. (everyone on the planet…)
I found this tin at a thrift store for $0.50, and the bath bombs were 3 for $1 at The Dollar Store! I have never seen them that cheap! Bath bombs are usually pretty expensive.
I put 9 in this container, so it ended up costing $3.50 total.
7. For the crafty mom friend
I saw this Bath & Body Works Make Your Own Ornament at our Habitat for Humanity store for only $0.50! It was missing the markers, but that was it. So I bought $1 markers from the dollar store and for $1.50 had a great gift for someone who loves to do crafts with their kid.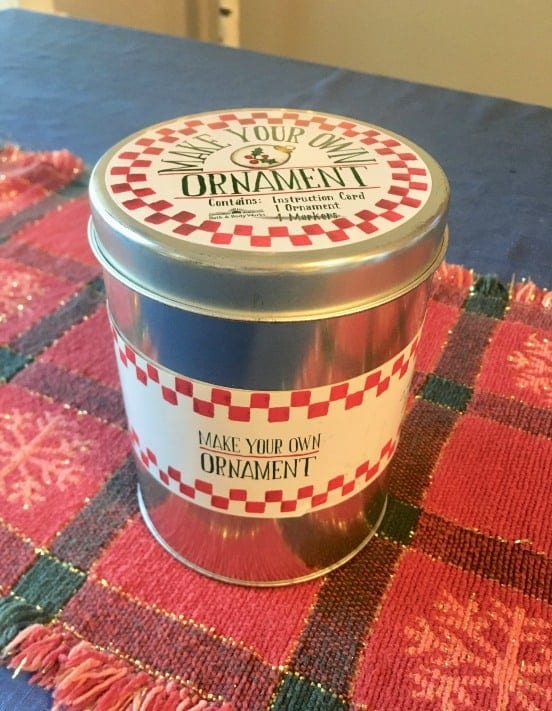 8. For the co-worker/office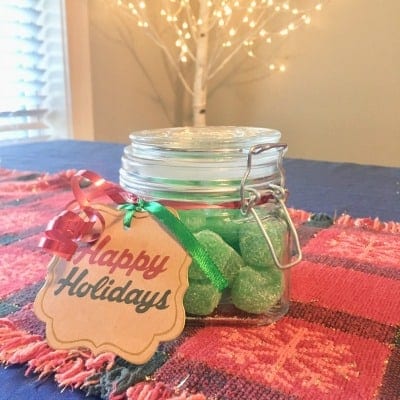 This gift only cost $2.10 and could be a great host gift, or also co-worker/office friend gift.
The jar and the candy are from the Dollar Store, and the tag is left over from last year (probably from Joanns with a coupon).
9. Stress-relieving lavender sugar scrub gift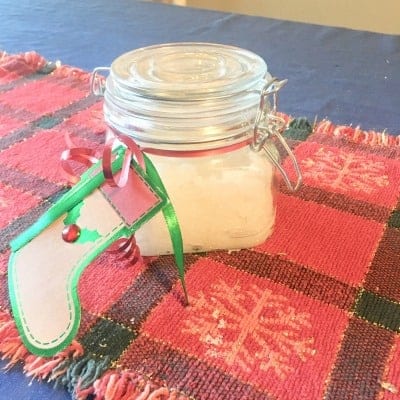 Same jar from the Dollar store, but this time filled with a sugar scrub.
2 cups of sugar
3/4 cup of coconut oil
20 drops of Lavender Essential Oil (Could also use other essential oils of your choice)
10. For EVERYONE: Christmas Cookies!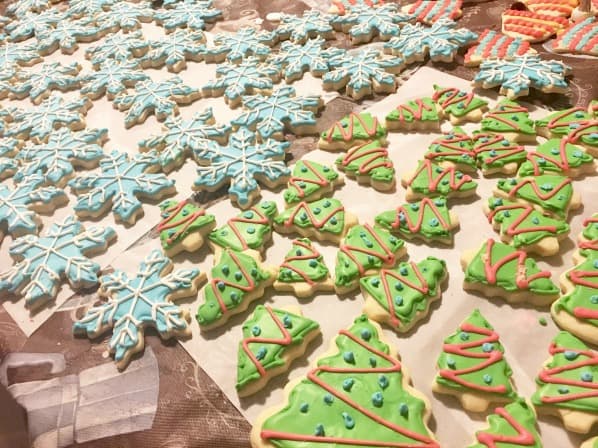 This is my favorite gift to give. Christmas cookies are a great gift for anyone!
These are budget friendly – but they are also time consuming. But SO worth it if you can pull it off. It usually takes me 2-3 nights to make and decorate my Christmas cookies, and they are awesome gifs for friends, teachers, coaches, grandparents, or really anyone!
I usually buy tins from thrift stores when I can find them. I bought most of these in the picture for $0.50 each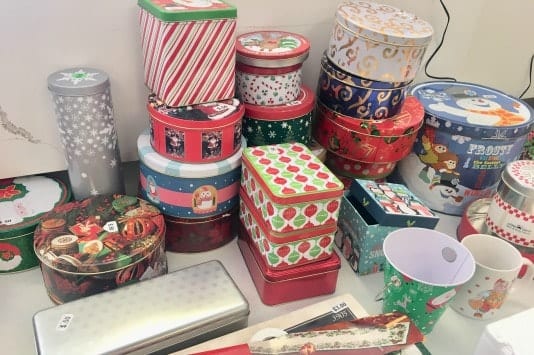 Aside from homemade gifts, thrift stores, flea markets and yard sales have a lot of new things too!
Especially for kids.
11. Toddler Toys
Check out these brand new Melissa and Doug animal blocks that I picked up from a local thrift store for only $2! (They retail for $12)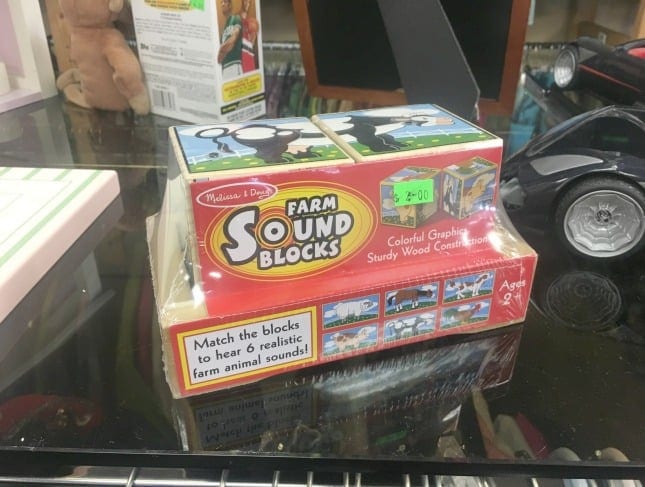 12. Little girls' toys
We found someone at the flea market selling new in box barbie dolls for $5 and stocked up on a few!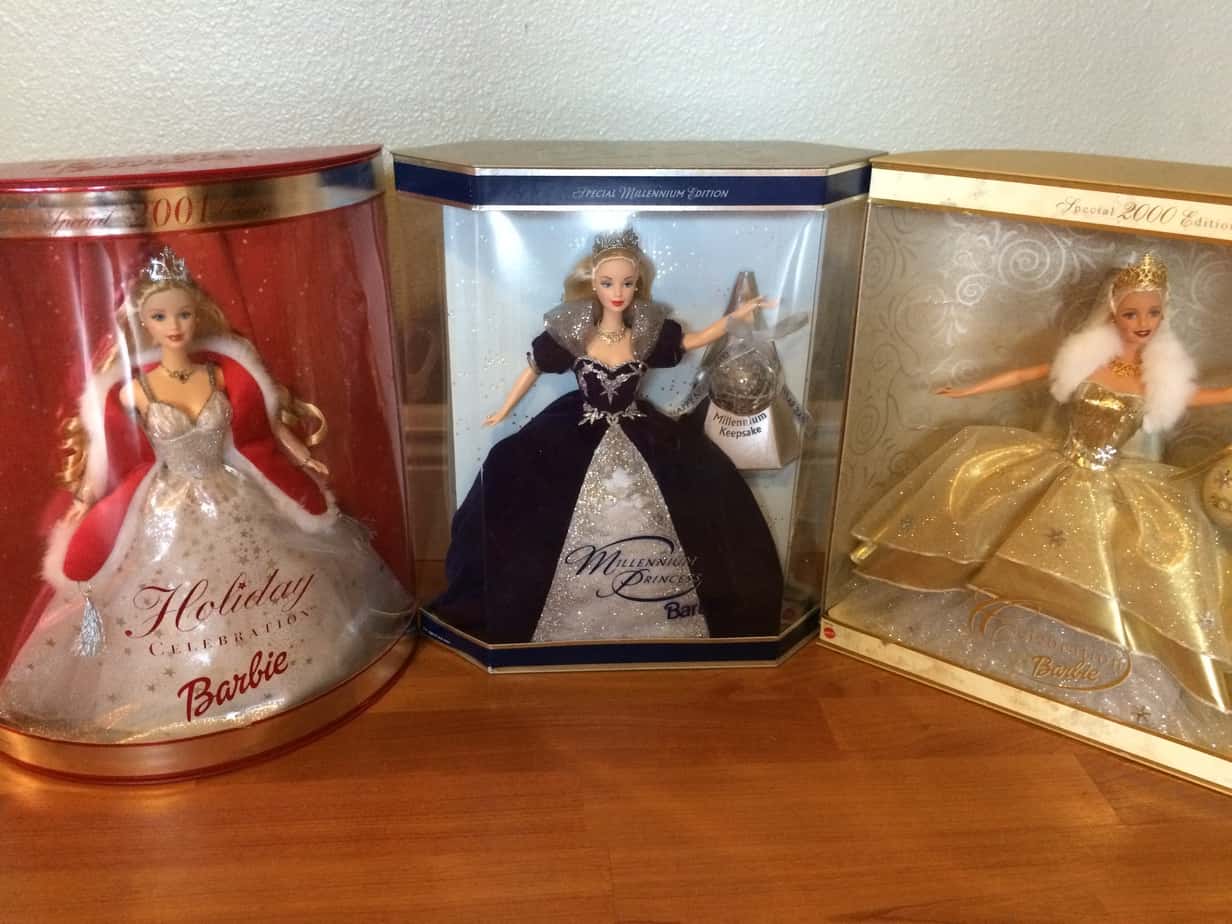 Great Christmas presents for our girls for a few years in a row. 🙂
13. For pretend play
While I was browsing the thrift stores the other day, I saw this solid wood doll-house for $25. I didn't buy it yet, but I may go back and grab it for the girls.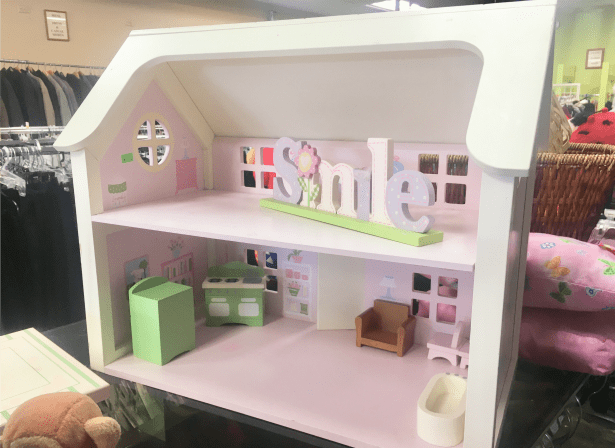 14. For the person who needs tools
There are also plenty of new in the box items for adults as well.
Check out this ratchet set that I saw at our local Habitat for Humanity. Only $8 and would be a perfect gift for someone who needs tools.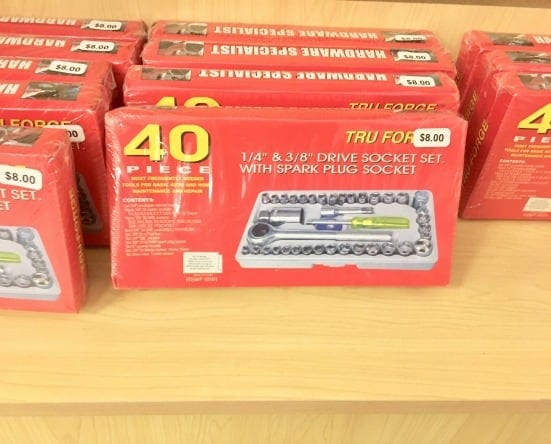 15. For the aspiring musician
We come across musical instruments all the time for cheap. We have bought and sold several guitars, but could also use them for great thrifty Christmas gifts! The other day I spotted this keyboard at a thrift store for only $7!
It's not a professional one, but would be great for someone getting started.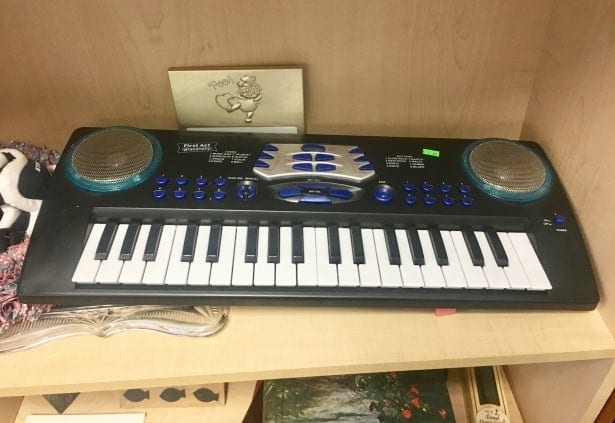 16. Power Wheels
All kids love to drive cars and trucks. We have bought and sold a lot of Power Wheels and occasionally will keep one for a little while for the kids to play with.
Here's little man two years ago in the kid's Barbie princess car that we picked up for $20 (retail was $300)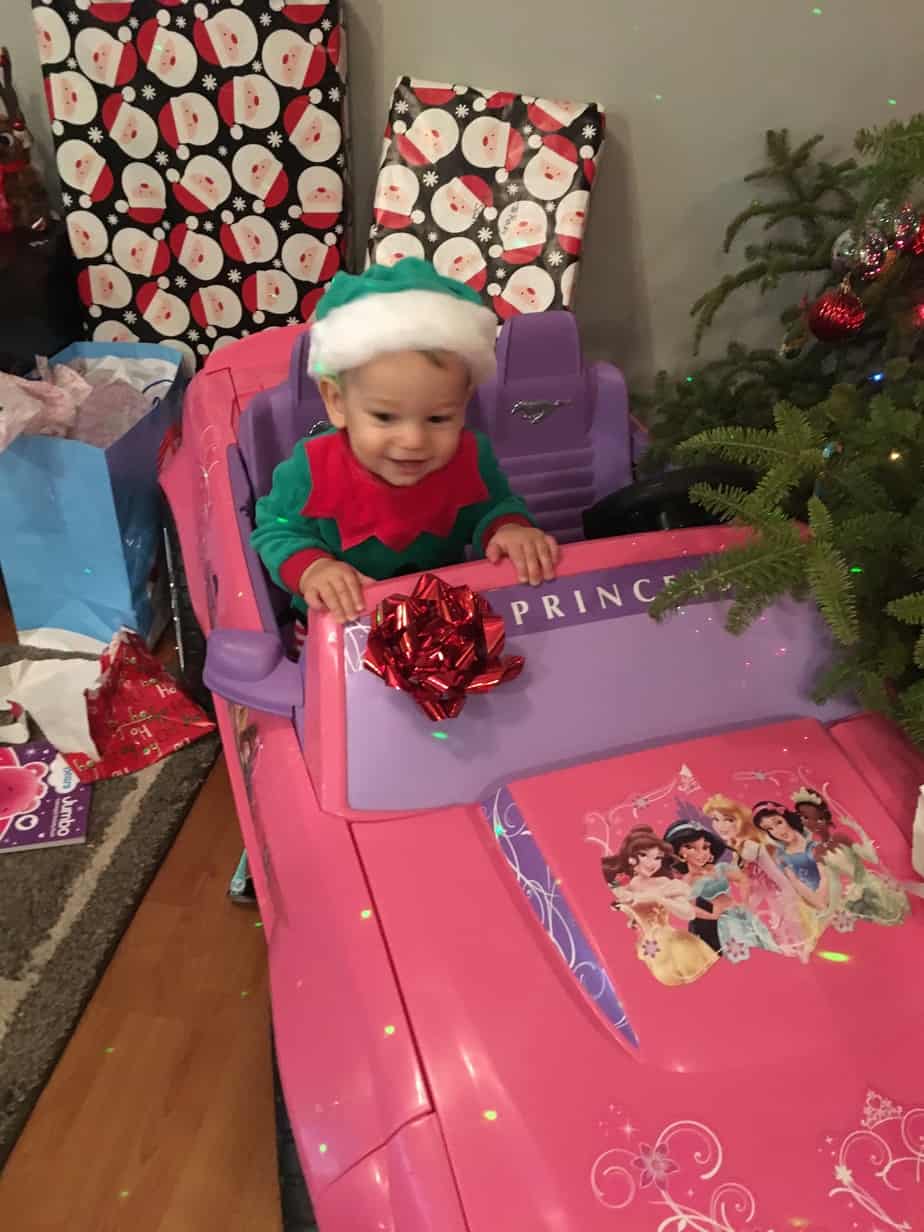 We ended up selling the car after the kids played with it for a few months for $150.
17. Bikes
Bikes are something we never buy new. This one we picked up for only $3 at the flea market! And it was like new!
Our daughter rides this thing around everywhere!
And that's it for now.
If you love looking for thrifty Christmas gifts, grab our PDF download of 8 Household Items You Should Be Saving Money On If you want to save some money and also keep updated with some of our recent flips and finds.
You can check out some more thrifty Christmas ideas here:
How We Saved $900 On Our Kids' Christmas Gifts By Shopping At The Flea Market
Christmas Gifts That Don't Break The Bank
How We Got Our Kids Involved To Do Good This Christmas
We want to hear from YOU!
What is your favorite thrifty Christmas idea? Comment below!
Thrifty Christmas Gifts On A Budget
FOLLOW THE FLIPPING ADVENTURE: