In case you didn't know, Christmas is my FAVORITE time of year! And if you have been following us for a while, you are probably saying enough already! Haha- sorry. I.Love.Christmas. And I really love when I save money on Christmas gifts!
This post may contain affiliate links. Please see our affiliate disclosure for more details. 
Last year had been the most fun yet, and I am so excited for this year! Our girls really got into the Christmas season last year and loved opening gifts! (what kid doesn't right?) We do gifts a little different than most people do, and I bet you can guess where most of our gifts were from! Yep – the flea market and thrift stores. Aside from a few Dollar Store stocking stuffers, we only bought 2 items new, and they were from Amazon. They were 3 packages of underwear
 for the girls (one thing that probably shouldn't be bought used- even for a flea market guru), and Disney Princess MagiClips
 (princess figurines with clip-on dresses) for my oldest daughter. (I looked a the flea market for them with no luck). Those two things counted for 1/3 of the cost of all of their gifts combined!
Check out this loot they scored. I am not showing this to brag about what we got our kids. We don't want gifts to be the focal point of Christmas. We want them to have good childhood memories, and Christmas is usually associated with that. We actually are in the process of downsizing, so all of this stuff they got is replacing toys we have sold or are selling. (and some will probably be sold soon too)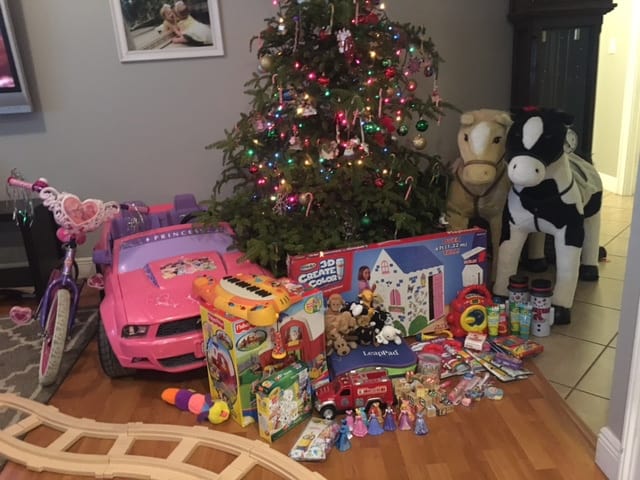 What I do want to brag a little about is WHAT WE PAID for all these gifts! I really love to save money on Christmas! The grand total was $153! At first I thought that was a little high. I didn't think we had spent that much on the kids. And then I tallied up what everything would have cost new. I was blown away!! The total was $1,039! That is crazy to me! That is a savings of $886! I am super happy that we didn't buy a lot of our stuff new, the reality is the kids would never have gotten it because we wouldn't have paid that much for it. When I say new, I mean new from the store. Several of the items we got from the flea market were still new in the box. The Fisher Price Little People Animal Friends Farm was still in the box and inside everything was still in plastic! There was even a bonus VHS tape to play for the kids! ha. Too bad that's one thing we don't own is a VCR player.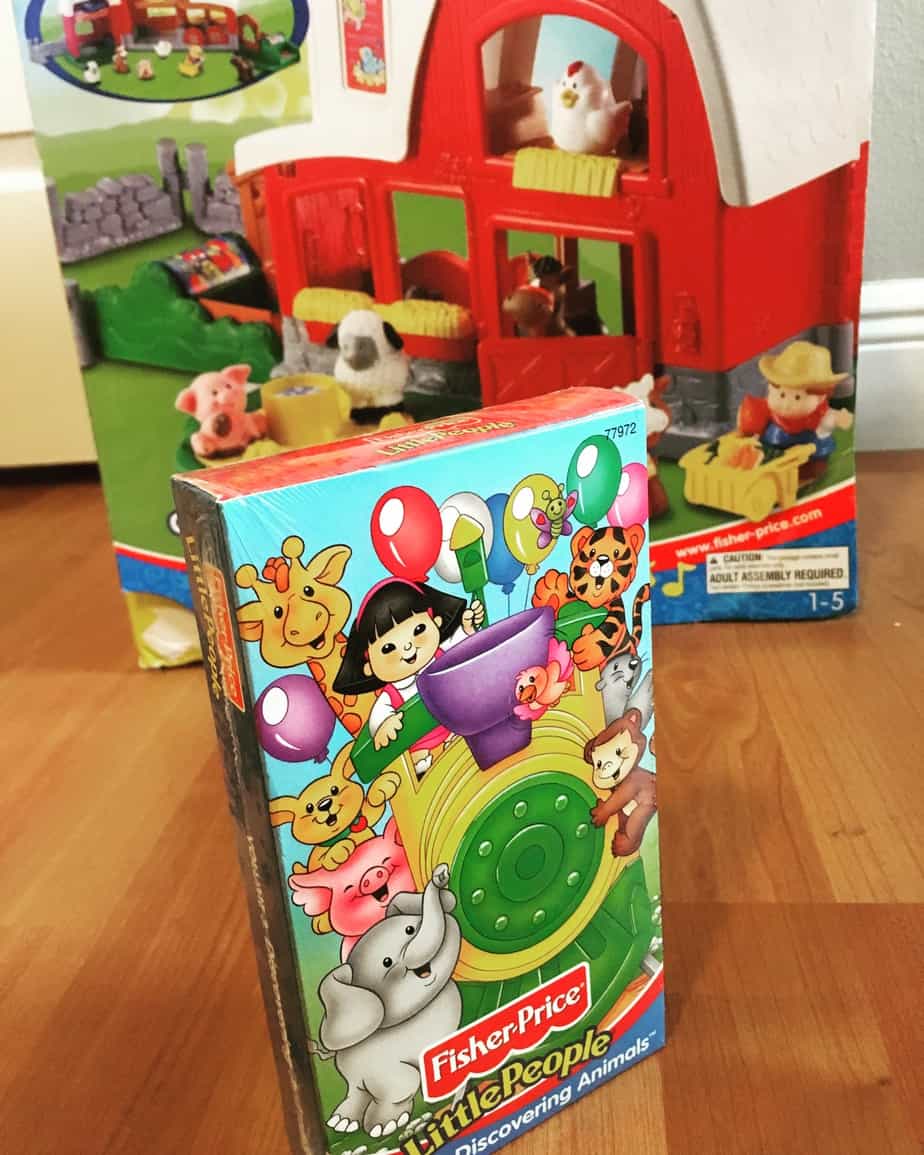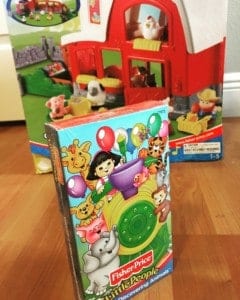 Breakdown of what we spent to save money on Christmas:
Fisher-Price Little People Animal Friends Farm – paid $10, retails for $30
Disney Princess Mustang Power Wheels – paid $20, retails for $300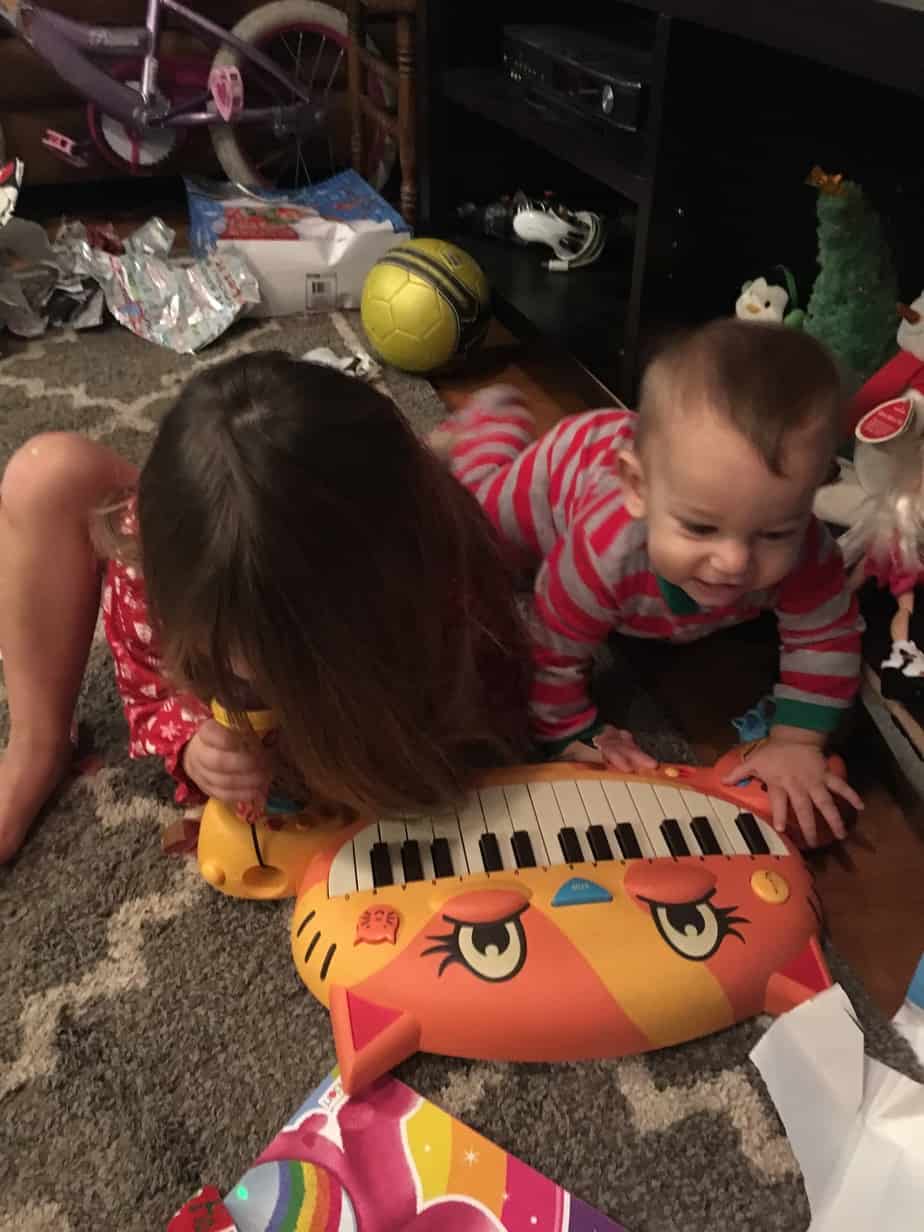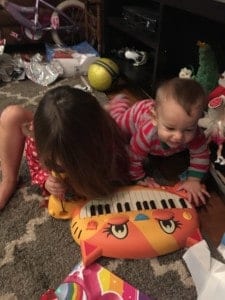 Meowsic Keyboard Piano – paid $4, retails for $27
Tonka Rescue Force Truck –  paid $3, retails for $38
Microphone Little Virtuoso Sing Along Cd – paid $3, retails for $46 I really could not believe this one. It looked like a cheap little toy, and on Amazon it is almost $50! That seemed a tad over priced to me. 
Elmo Toy Camera – paid $3, retails for $18
Disney Princess MagiClips
– $29 on Amazon. I looked for these at the flea market but couldn't find them. My 4 year old played with these for hours at a friends house and we thought she would really like them.
Coloring books – paid $4 at Dollar Store
Vintage Blocks – paid $3, retails about $13
CraZart Twist Up Crayons – paid $5 at Big Lots
Crayola Bath Paints $1 ea new at Big Lots
Paw Patrol Puzzle – paid $3, retails for $12
Leap pad and books – paid $7, retails for $82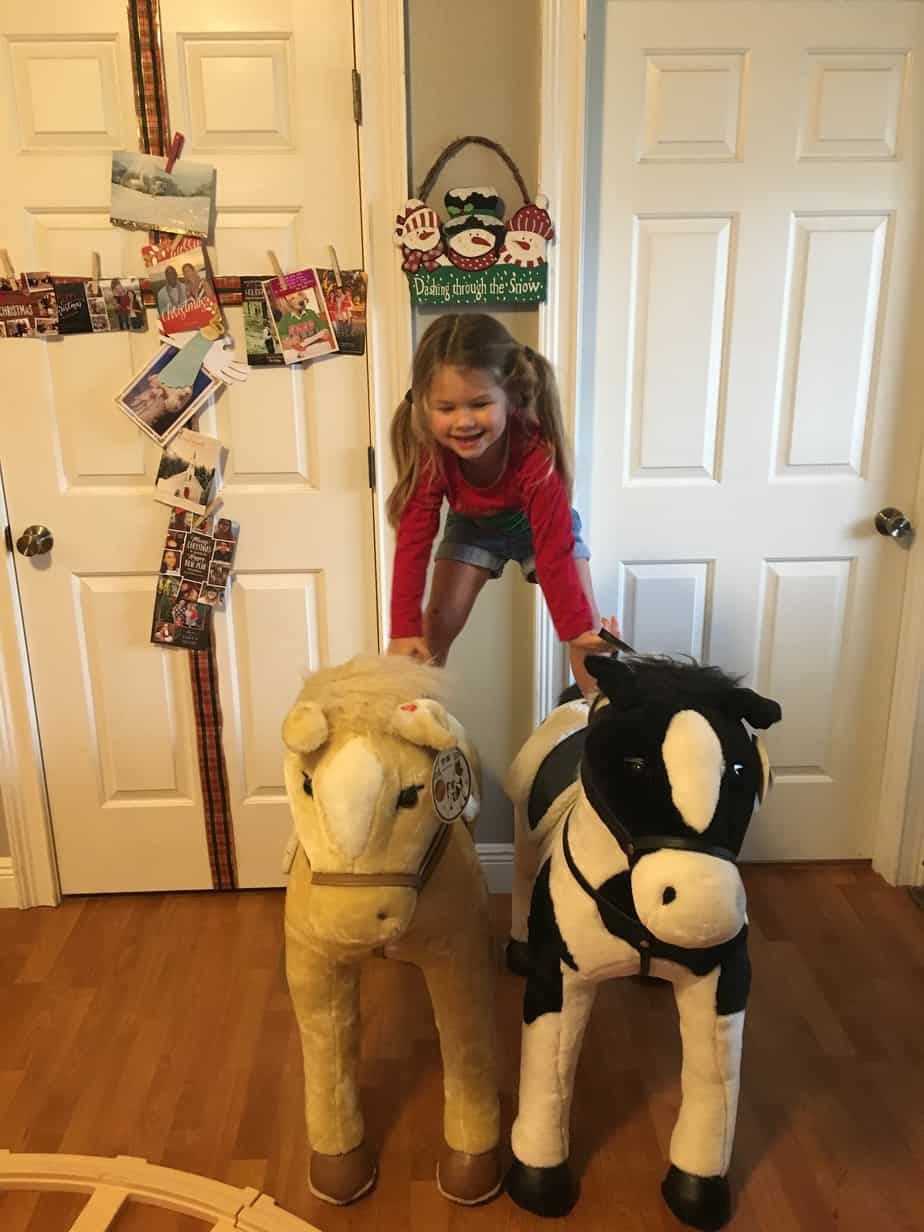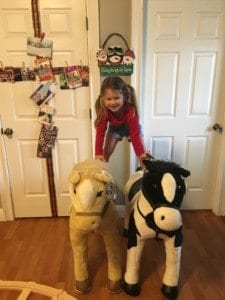 RoseArt Create and Color Playhouse – paid $5, retails for $30
Disney Princess
, Minnie Mouse
, and Minion
Underwear – paid $27 on Amazon 
Baby Jesus Story Book $3 at Bargain Books
(2)Life size Horses – paid $0, retails about $80 each
Snowman Banks $2 – these were old cookie tin banks, so probably not worth much. 
16″ Huffy Princess Bike – paid $7, retails for $80
12″ Huffy Princess Bike – paid $0, retails for $60. This was a hand me down from our 4 year old daughter to our 2 year old daughter. There was no reason to buy a new bike for little L, so this bike got cleaned up, and we added a big bow and a tag with her name on it. She was so excited that it was HER bike now. She had graduted from her tricycle!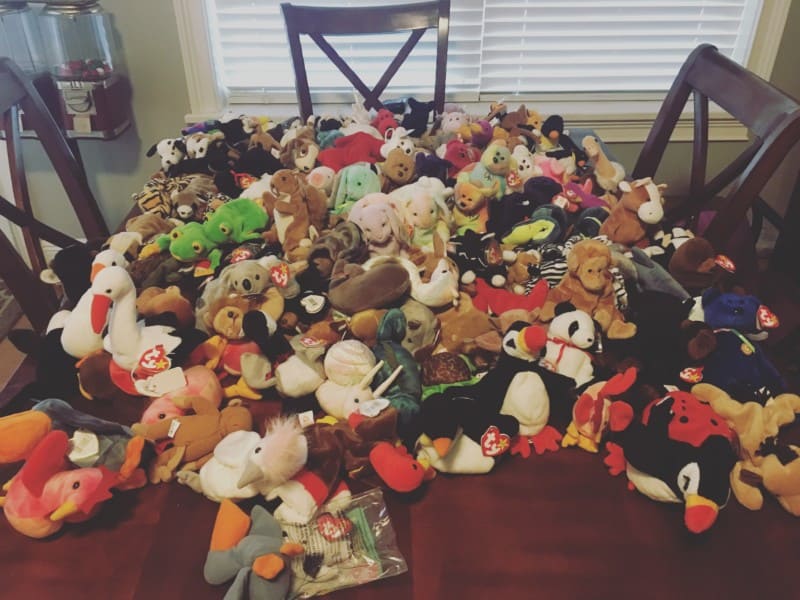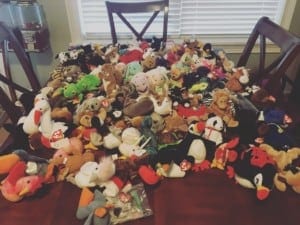 Beanie Babies – paid $1.40 for 10, retails about $60. This purchase is worthy of a whole blog post itself! If you follow us on Facebook or Instagram, than you know that we bought a tub of 140 Beanie Babies for $20 at the flea market the week before Christmas! We have been going through them to see if we have any worth anything. We have gotten a pretty extensive Beanie Baby education in the last week. There are probably 80 left to go through still.
Miscellaneous Stocking Stuffer Items paid $12 new
I still think that $153 was a bit much to spend on the kids for Christmas, but it was FAR better than over $1,000! So I will take that as a win! Now we can't show any pictures to baby B when he is older. He only had two toys under the tree to his name. But don't worry, the little elf managed to take over the keyboard and the Mustang!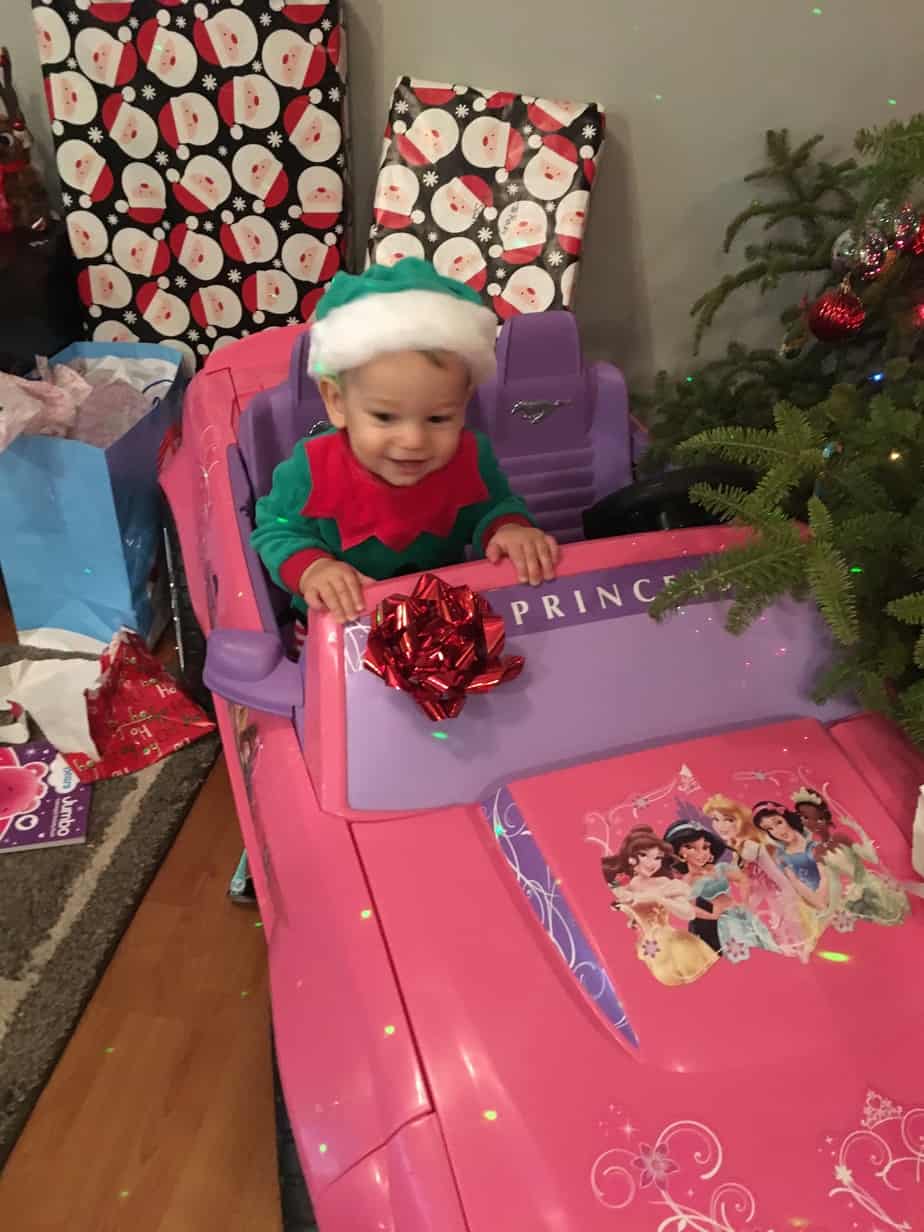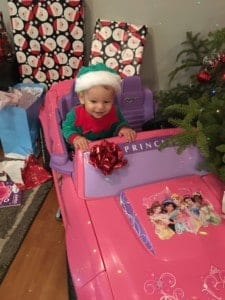 One extra toy I forgot to mention was the Thomas the Train that was set up all over the house when they woke up Christmas morning. I bought this train about 3 years ago for $20. This same train (not mine) is posted on  for $200-$400. The kids loved it! They hadn't seen it for a long time (probably a year) now so it was like a new toy to them. It was such a fun Christmas morning! (and the relief of being able to save money on Christmas really helped!)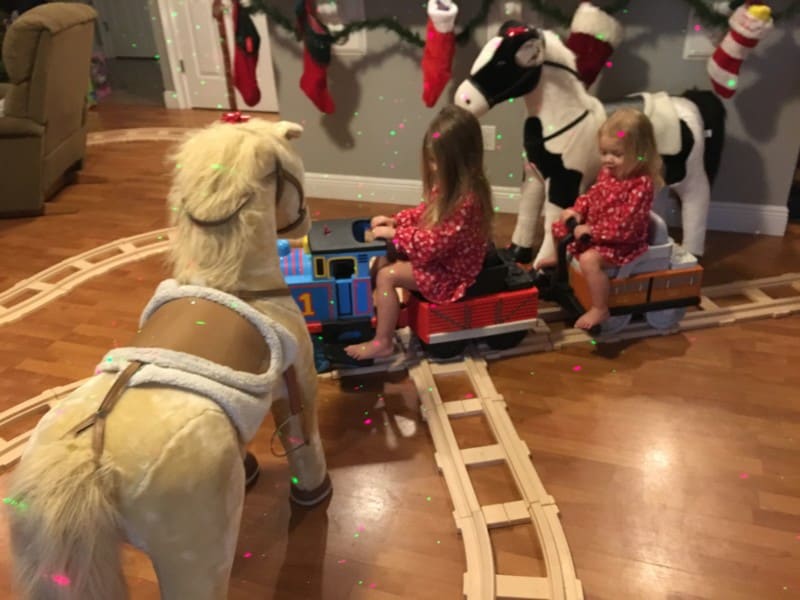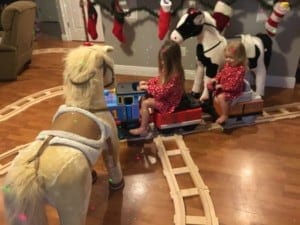 I LOVE buying items from thrift stores and flea markets to keep or to resell – I can't stand paying full price for things!  But there are some items that I typically stay away from – especially for reselling purposes. Download my PDF list of 5 things I never buy at the flea market. This will also add you to our flea market flips and eBay tips updates. You can unsubscribe anytime.
I Want to Hear From YOU!
Are you a frugal Christmas shopper? Share with us some of your favorite ways to save money on Christmas gifts in the comments below.
Related Posts
Flea Market Flipper's Guide to a Frugal Christmas
How I Quit My Job to Flip Flea Market Stuff Full-Time
How We made $2,100 on One $50 Offer Up Purchase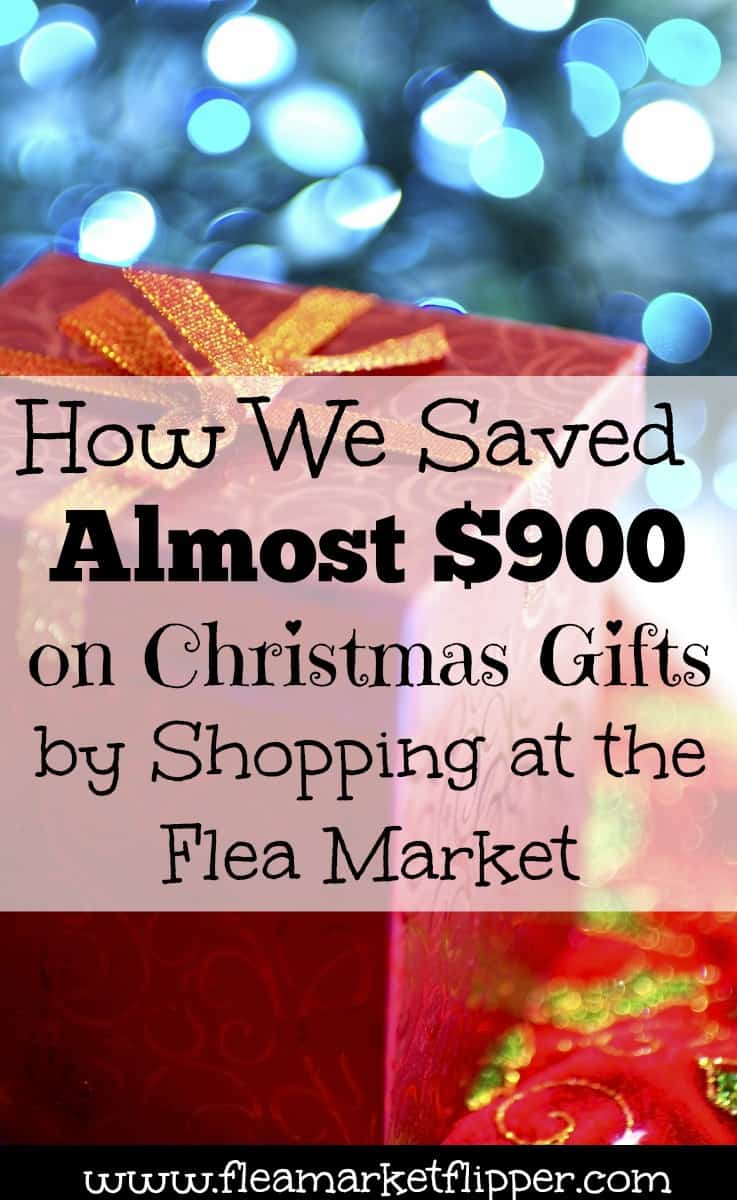 Some stock photos are purchased from Canva in this post.