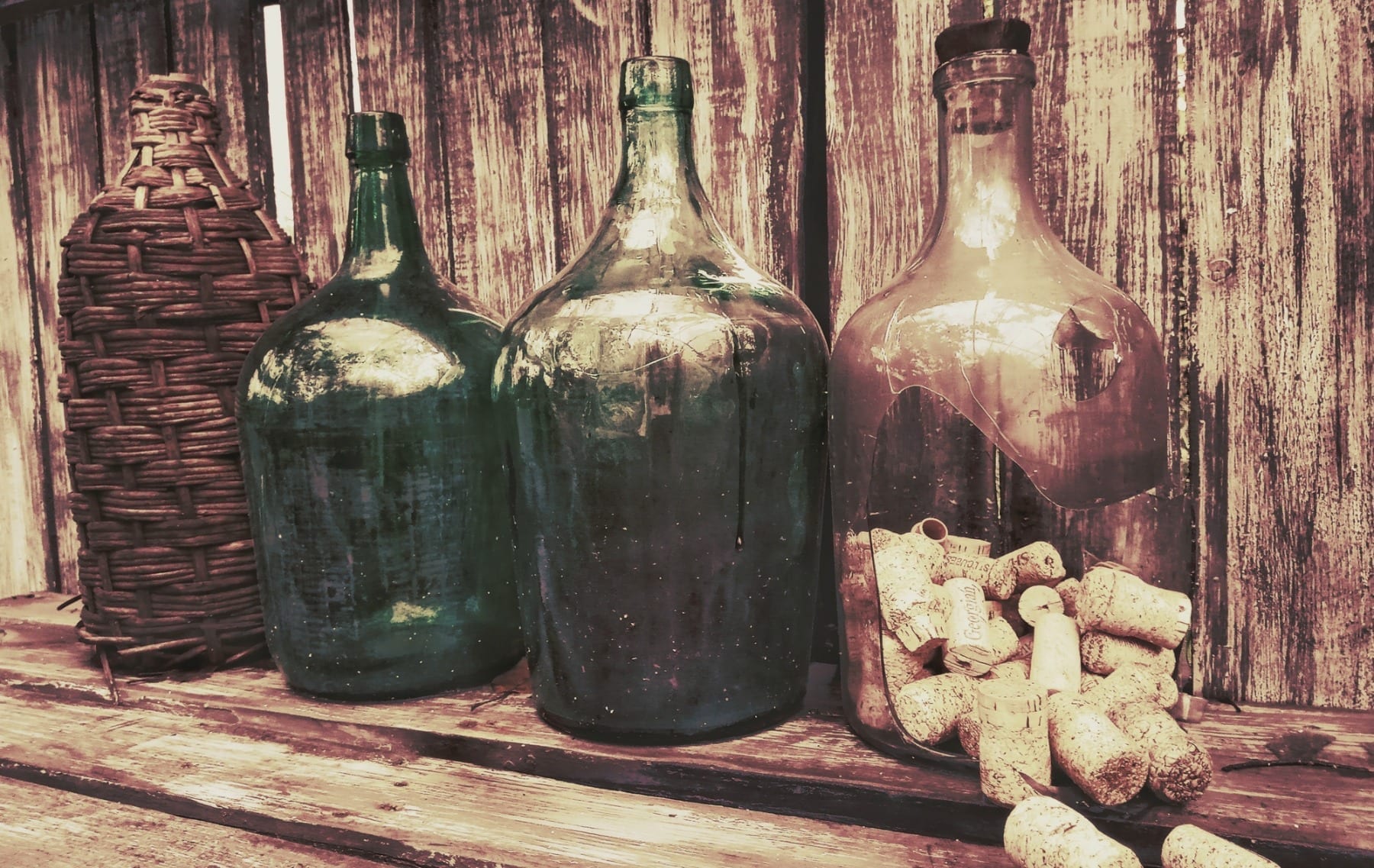 February 29, 2020

How This Professional Chef Made His First $1,000 Flipping Used Items

Today we have the privilege of interviewing one of our Flipper U students, Mario, who works 60 hours a week as a full-time, professional Chef.

He is brand new to flipping and he hit his first $1,000 in flipping sales!

We receive emails every day from people wanting to make a legitimate side hustle income. Mario has proved that even while working 60 hours a week at his day job and no prior experience, he can turn a fun hobby into a legitimate income stream! Mario has learned to source, list, and flip items for a very nice profit.  
We are so happy to have you join us today, Mario. Share with our readers a little about yourself.
My name is Mario and I am both a father to two boys and a husband to a great wife. I have a full-time job as a professional Chef that requires about 60 hours of my time per week.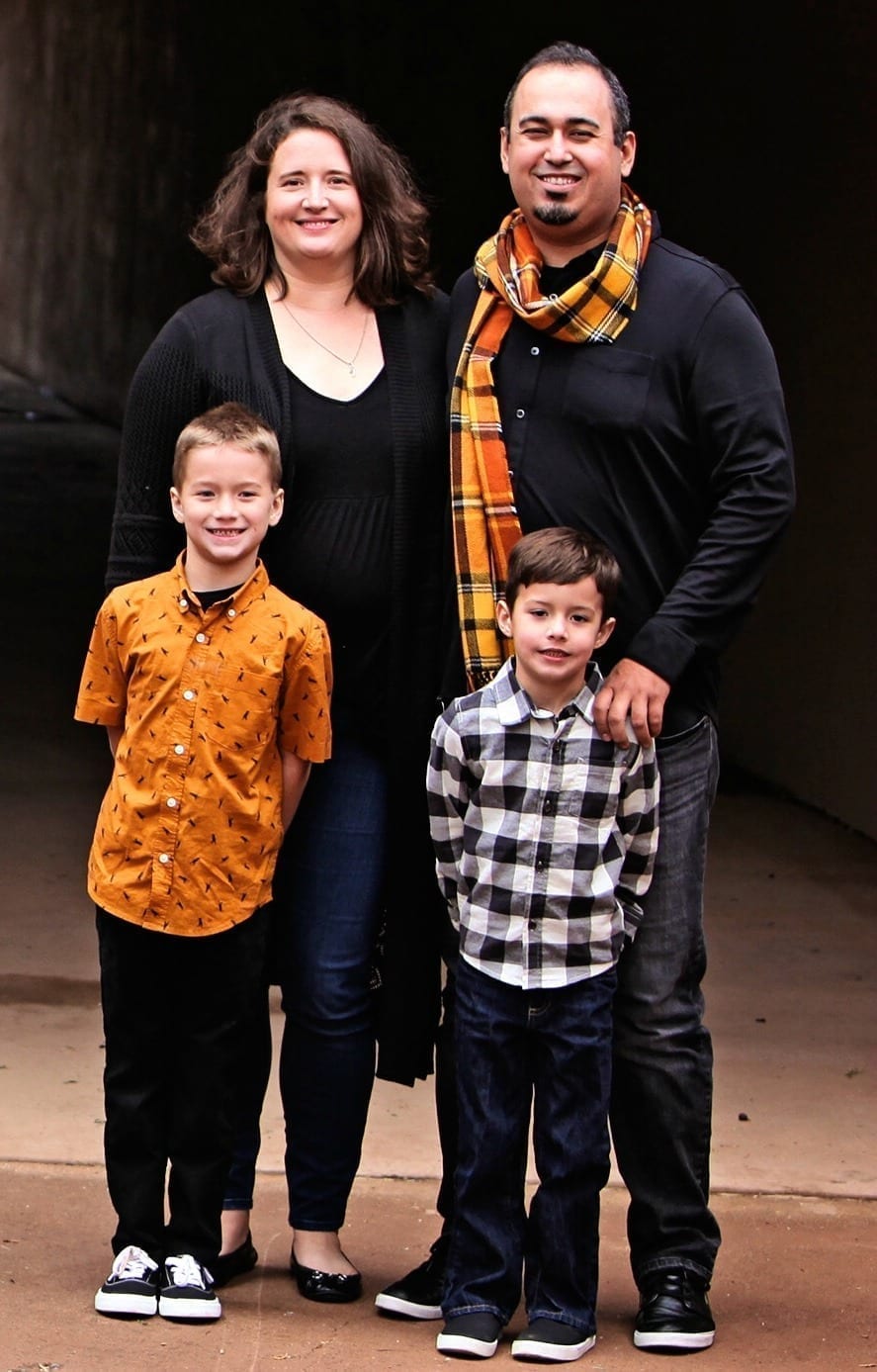 My career has always been in the forefront of my life. I have always strived to do the best at my job and have always taken a failure as a learning experience. I recently moved to Phoenix, Arizona for my job and relocated my family with me.
We thought it was interesting how you "accidentally" found us. How did that happen?
Honestly, I was surfing through Pinterest just mindlessly scrolling and saw the different financial blogs. Flea Market Flipper just happened to be one that I clicked on.
I have always enjoyed the thought of flipping. I loved watching American Pickers on A&E and Storage Wars. I have always imagined how much fun it must be to be a flipper. So I went onto your main website and saw your course, Flipper University, being offered.
For several months, I found myself going back and forth on whether I should make the investment to take the course. Looking back, I am so glad I did. I became addicted to flipping from the start!
How did you get started with flipping items with no prior experience?
After taking the Flipper U course, I immediately went to Goodwill and purchased my first item. I did not have any prior experience flipping other than the TV shows I had watched.
On my first visit to Goodwill, I found a recessed ironing board for $15 and found that I could sell it for $150. GREAT! I thought the money would just come rolling in, but reality is not always so kind.
I had an agreement with my wife that I could only buy the one item and could only continue flipping using the profits from that. She was kind of a non-believer at that point.
She did not want us to be using our everyday funds for something that was supposed to be a "side hobby". It took 5 months for that ironing board to sell. I found myself obsessing over it every single day. Will it sell today? How about today? How about now? Now?
While I waited for it to sell, I used the time to study. I watched YouTube videos, I read blogs, I followed the Flipper U Facebook page with envy, seeing everyone else's flips! But then it finally sold for $100 and using that profit, everything exploded.
I took the knowledge I gained from all that time studying and went on a rampage at Goodwill and the Flea Market. I went from having no inventory, no profits, to $1,000+ within a month. I have to say, I have Flipper U to thank for that!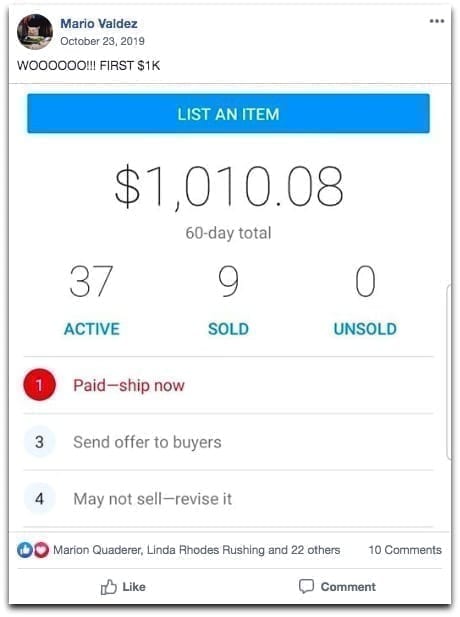 As you know, we focus our attention on selling large items. But we really love that in our coaching group, there are a different variety of items being sourced and sold. What items do you sell mostly?
I'm pretty eclectic with what I sell. I haven't really found a niche to stick with yet. I do sell a lot of electronics from Goodwill.
If I can find handicap or special needs equipment like strollers or wheelchairs, I jump on that the first chance I get.
Since I am just starting out, I am still constantly learning what sells and what doesn't. The amount of information I absorb while at a flea market or thrift store is intense. I usually leave with a headache.
If I think it might be worth something, I look it up. Even if I don't think it is worth anything, I still look it up! I find it's just as important to know both sides of the coin.
I recently sold this range hood for $225. Picked it up for $40.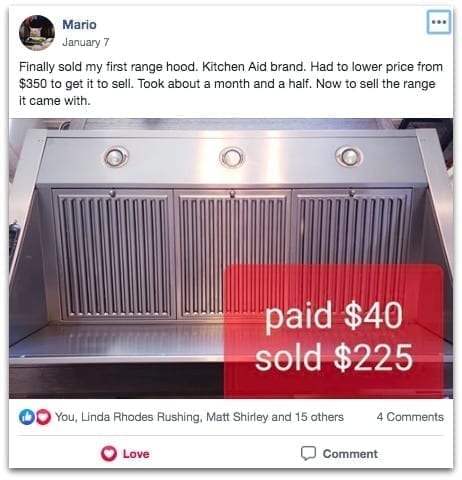 Do you have any financial goals with your new flipping income?  
I am fortunate enough that with my full-time job, I was able to consider flipping a "side hobby". And at first that was all it was. But the goal has changed.
My wife is currently a stay at home mom, but with our youngest about to start school next year, our plan was for her to join the workforce.
However, at the time we considered her going back to work, flipping wasn't even an option. Seeing how lucrative this business can be, our current goal is to make this HER full-time job.
We would work it out that I go out sourcing the items and she would handle more of the business aspects of the job.
Right now, we are taking 20% of our profits and are putting it towards a Disney trip and Christmas!
My wife has now seen the light and believes that this is definitely a way that she can still work from home, while I still have the fun of sourcing the product.
Who doesn't believe once that Cha-Ching sound starts going off, right?
How has investing in Flipper U helped you find success flipping?
I'll say that the course does pay for itself. Everyone has been so helpful in the coaching group as well. I know you hear this a lot, but I can't say enough just how having a group that is like-minded really gets you through. 
Not many people in our life are really on board with the flipper's mindset. I really enjoy seeing other people's flips- especially the BIG ones.
Seeing what people are sourcing, how much, and the mindset they are in is most important to me. Seeing Matt's sourcing reports or Stacy's Tip of the Week or your crazy flips (like that stuffed coyote), is what I'm trying to absorb from the FB group.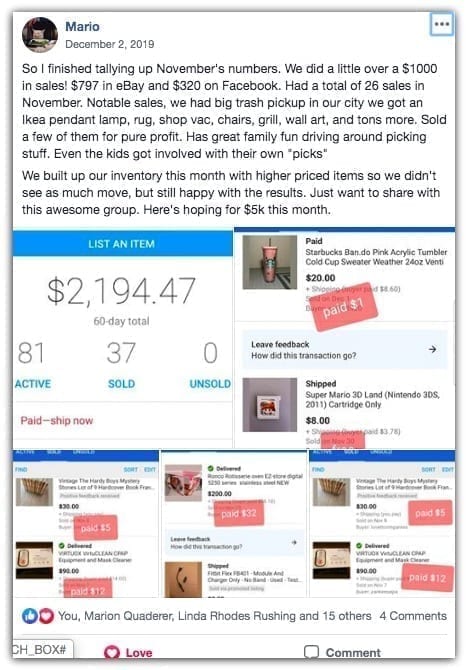 When people post "I bought this for $5 and sold it for $50."
Ok, but did you have to negotiate? If so, how much? Does the item sell well on eBay? Do you expect it take long? How much of a percent are you keeping? How much are you reinvesting?
That is the stuff I'm interested in. Not just necessarily profits, but information. And again, I'm so thankful for that information being so readily available from everyone in the coaching group.
I find myself trying hard to post my stuff as much as possible thinking that maybe it can help someone else, or at least give them a little more information. It may be an item they wouldn't have normally bought and with the post, it might trigger them to buy it the next time they see it.
I can relate to your love for the sourcing part – That's the part I love as well! What are the things that work for you in this business and some of the struggles you've had to overcome?
I definitely love the sourcing part.
I mean, I REALLY love it.
Going on the hunt at a flea market or thrift store is a thrill for me. Sourcing on FB or apps like OfferUp doesn't give the same physical thrill. But they do have their advantages.
I also love that flipping brings in money for my family doing something that I consider "fun." That's pretty great.
My day job is pretty cool and I love it, but flipping is a different kind of fun.
I love the fact that in essence flipping makes me kind of an entrepreneur. That has always been a goal of mine. And flipping just seems to fill that little void.
I think some of the challenges I face with my new flipping "hobby" is a lack of space. I have learned that I have to be careful with what I flip because we could run out of space very quickly. The shipping part can also be tedious, as well as dealing with eBay.
I also have to consider the financial part of the business. The first week, before we were really making a lot of money, we didn't really think about it. But reality soon hit us pretty hard with eBay fees, shipping fees, taxes, and book keeping.  I'm a numbers guy.  I love a good spreadsheet. My wife however, does not. 
Full-time work definitely puts a damper on the amount of time I can spend flipping. In my line of work, weekends are usually out. But I've always been of the mindset, if you want something bad enough, you'll do whatever it takes to make it happen.
The fears of getting started were pretty bad. I don't know why, but I had an irrational fear of listing my first couple of items. "What if I don't list it right? What if it doesn't sell? What if I don't ship it right? What if I don't make a profit?"
I had 10,000 fears of listing (which I have found to be a pretty common fear among new flippers in the fb coaching group and it's great to have each other to work through it).
But after the first couple listings and hearing a couple of Cha-Chings, I got over that fear pretty fast. Looking back, it seems silly, but at the time it really was a crippling fear.
We love seeing people come into Flipper U with short term goals and then moving to long term flipping goals after they see the potential. How have your goals changed since joining us?
At first, flipping was just to get a hobby that bonused as a way to make money at the same time. I joined Flipper U because I thought flipping would be fun (as seen on TV) and I thought I might be able to get good at it.
Fishing is also a hobby of mine, but that's just an endless hole that sucks money. But now, I can see flipping as being so much more.
I see how it can become a way of life. Both you and Melissa have painted a beautiful picture of what that kind of life can be and I am looking forward to it!
Thank you so much Mario for taking time to share your story with us! We love having you as an active member in our coaching group!
If you think that flipping items to make an extra side income could be for you, then check out our FREE Intro Workshop!
Further Resources
FREE Workshop How To Turn Your Passion of Flipping Items Into A Profitable Reselling Business
Related Posts
How This Mom QUIT HER JOB To Flip Items Full-Time (And Was Able To Pay Off $12K Of Debt In 5 Months!)
How This SAHM Made $1,000 In Her First Month Flipping Used Items