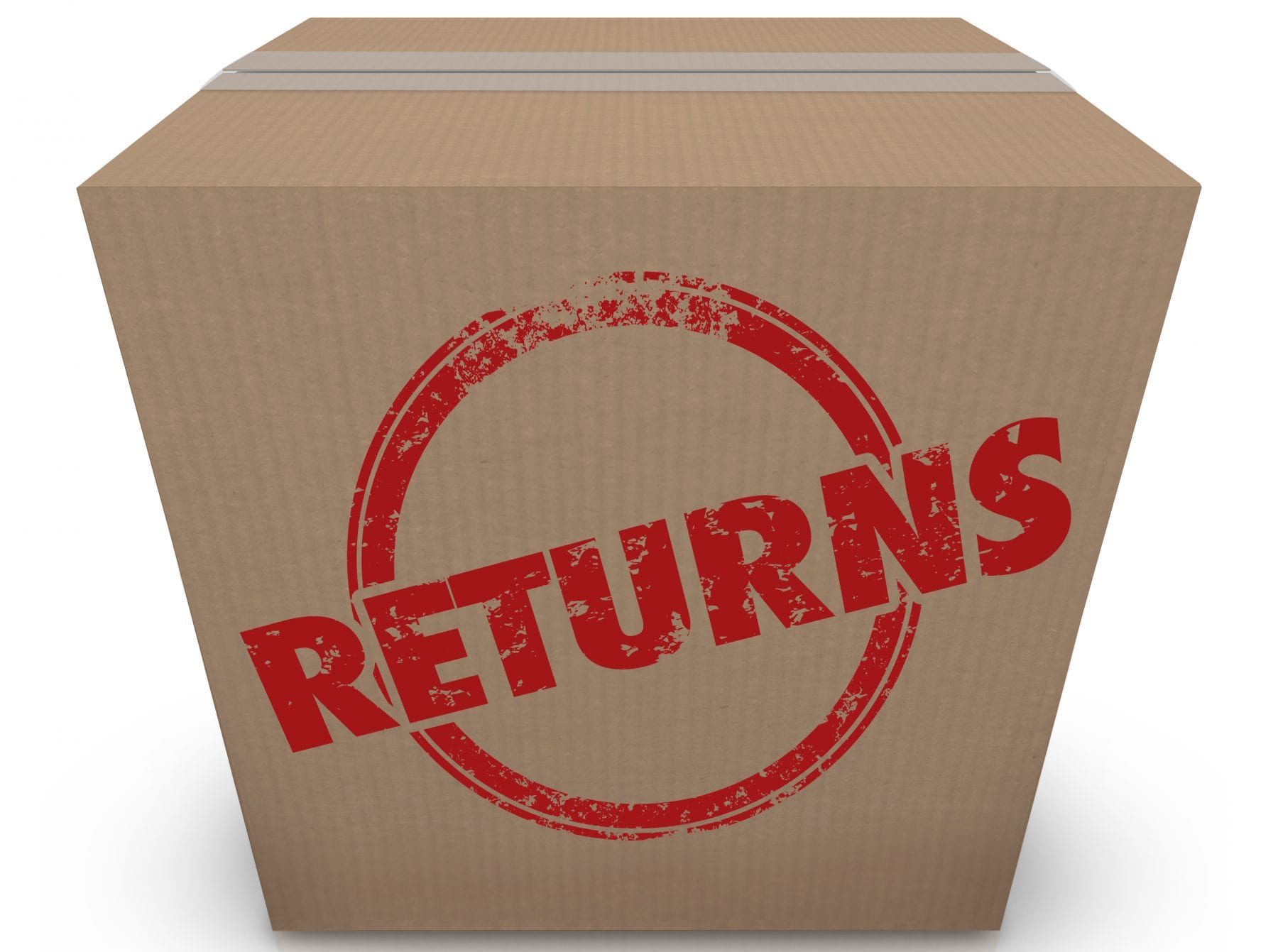 February 18, 2020

Item Not As Described, No Returns: 10 Tips to Help Avoid Returns on eBay

Your eBay buyer claimed the item was not as described. You believe that it was exactly as described.

Is there anything you can do? Do you have to accept returns to sell on eBay?

Being faced with a return request can be very intimidating. In fact, it can be so scary that people don't want to deal with selling on eBay at all because it's too nerve racking.

Let me say this, "It shouldn't be." It's very rare for us to have to accept a return. There is a big reason for this. We protect ourselves! We have several policies built into our business model that protect us from having to return items.

Today I am going to share with you 10 tips to protect yourself as a seller and decrease your eBay return requests. Even with these tips in place, you may still get the occasional return request, but they should be very few and far between.

That does not mean that you will automatically have to accept a return and refund their money if you get a request. That's the great thing about implementing these tips.

If you add these tips in your listings, 9/10 times eBay will side with you in the event you get a request to return an item.

So here are 10 tips to help avoid eBay returns for items not as described if you do not accept returns.
1. Have A Clear eBay Return Policy
When you start selling on Ebay, decide if you are willing to take returns at all. You might be asking, "Do private sellers have to accept returns?" The answer is No.
I have been selling on eBay for 23 years and I do not accept returns and never have. You do not have to offer returns or refunds on your items either.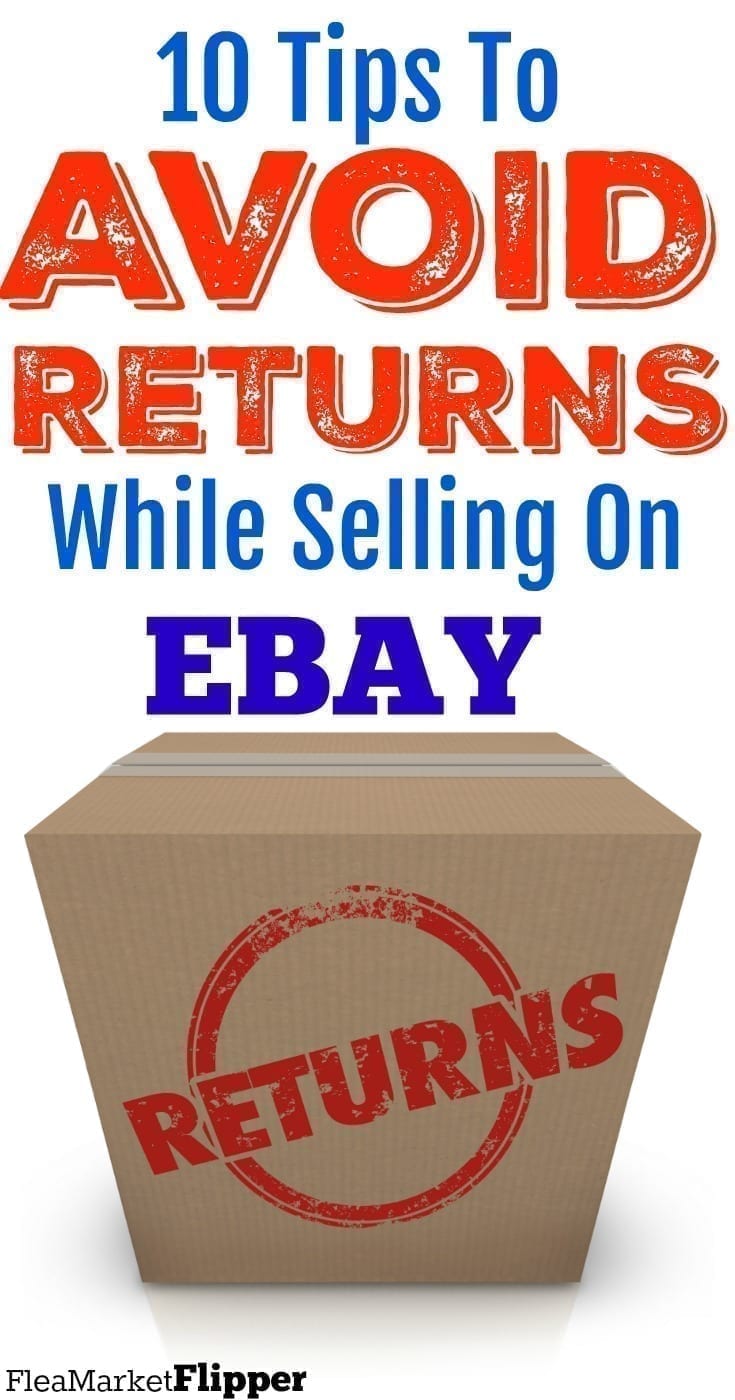 When I go in to create a listing on eBay, I can choose the option "No returns." This is something I make sure I have checked each time I list something on eBay.
With this selected, I am giving a clear eBay return policy. With this box checked, I am clearly stating to my buyer that I am not willing to accept a return.
I do not have to accept returns on any item with this box checked, unless the buyer specifically states "Item not as described." If the buyer puts in a return request with the "Item not as described" as the reason, it DOES NOT mean that I automatically have to accept a return of the item.
If I can prove to eBay (and I often can) that I described the item accurately and it was as described, eBay will side with me in the dispute. Some people think private sellers have to accept returns and this is just not the case. Having a very clear eBay Return Policy stating you do not accept returns will help you in the event of a return request dispute.
2. Have Accurate Information In Your Listings
Having an accurate listing description is so important, especially if you are selling used items like I am.
I go over the item with a fine toothed comb and try to mention and notate anything that may be wrong with the item. I describe anything that is not working with the item, any wear on the item, scuffs, scratches or anything that would potentially be a reason for the buyer to want to return the item. My desire is that they get more than they are expecting!
Just remember, if it is not mentioned in the listing, it's a potential reason eBay would side with the buyer in an event of an "Item Not As Described" return request.
You want to have all of your bases covered and be very detailed and specific about anything that could possibly be wrong with your item. If you have a complaint "item not as described" and you don't accept returns for a reason that is mentioned in your listing, eBay will side with you and you are in a position not to accept the return.
Be accurate in your listings, it will save you money and a headache in the long run!
3. Provide Detailed Photographs
EBay gives you the opportunity to add 12 photos to your listing. I always encourage our members to use those photos! Take good photos with good lighting from every angle. Take a front, back, side, and inside view of your item.
Pay attention to anything you may have listed in your description as a defect, scuff, scratch, and make sure you take a good close up picture of that area. You can even notate it in your description when you list anything that might be wrong with the item. Say something like: There is a scratch on the back, please see photo #9 for details.
If you get in the habit of taking great pictures and as many pictures as possible, when faced with an "Item not as described, no returns" case with eBay and they see you have it notated and photographed, the chances are better that they will side with you.
Take great pictures! This will definitely help any return request case that comes your way and a good habit to get into.
4. Have Solid Terms & Conditions
After 23 years selling on Ebay, I have learned that adding my own Terms & Conditions to my eBay listing is very helpful. I have details about my terms with shipping, returns, freight shipping, and refunds. This is something I have saved as a document and I just copy and paste it into all of my listings.
Having good Terms & Conditions is just one more measure that I put into place to make sure that things are laid out very clearly with my return policy and other things that can come up with a buyer of my items.
Adding these each time has saved me many times when buyers have tried to get me to accept a return. If you have your Terms & Conditions laid out clearly, this will ensure your "Not as Described, no returns" dispute will more than likely go your way.
5. When Creating Your eBay Listing, Add In "Sold As-Is, No Returns."
After making an accurate listing with good pictures, I try to add in the words "Sold as is, no returns" to my listings. This is just another reminder to the buyer that the item that they will receive is exactly as it appeared in the listing and photographs and I will not take a return request.
On top of clicking "no returns" in the actual listing, and putting my Terms & Conditions in, I notate it again that the item is "as is, no returns."
This is just a third reminder that I will not be accepting returns and will help the buyer to be more sure about themselves when they purchase the item.
It will also help you with Ebay if you should get a return request and they see that this was in three different places in your listing. Another measure to cover yourself in the rare instance you get a return request.

6. If You Have A Return Request, Get Info From The Buyer & Call eBay
So what do you do when a buyer says item not as described? I pretty much do the same thing every time. As soon as I get an alert that a buyer put in a return request for a return, I send a nice note to the buyer apologizing and asking to get more information so I can help them in any way I can.
I try to get them to give me the reason for the return. If the return request is for "Item not as described," I get them to let me know why they think it is not as described. Often times, they will say something that was clearly stated in my listing.
As soon as I find out the reason and it was stated in my listing, I will call eBay and see if they will side with me on my "no return" policy. Often, they will review the messages and realize the buyer did not read the listing.
I can only put it in the listing. I can't make the buyer read it! This happens more often than not. In this case, I have a trackable eBay message from the buyer for the reason and eBay will review those emails and almost 100% will side in my favor.
It's always good to see where eBay stands with the case before you contact the buyer back. If they say they will side with you, you will be able to relay that information to the buyer that it was clear in the listing and that you will not be accepting the return for that reason.
This is the plan of action I take with the few requests that I get for a return and 9/10 times, eBay sides with me. Get in the habit of getting information from your buyer for reasons they are returning. If it is a lame reason (and sometimes it is!), you will have it in the messages with Ebay and they will honor your no return policy with proof through eBay messages.
Always get info to present to eBay and call them before responding to the buyer to see where they stand with the return.
7. Insure All Items Before Shipping In Case Of Damage
Honestly, this is one of those lessons I have had to learn the hard way. I used to send out many of my items without insurance! After refunding a couple buyers for items that were damaged and not insured, I learned pretty quickly that the extra few dollars in insurance was well worth it.
If you send out an item and it gets to your buyer damaged and you don't have insurance, you WILL BE refunding the cost of the item! eBay will always side with the buyer of a damaged item.
I have learned that none of my items are shipped without insurance. This is just one more way to protect myself against a refund request for "Item not as described." Insurance through Fedex and UPS is pretty reasonable: $1 per $100 in coverage.
This is a small fee to protect myself from losing money in the event that the item is damaged in shipment. Fedex and UPS are very hard on items and 1/10 of my items I ship is damaged with shipping. Check out how to file a damage claim with FedEx if your item gets damaged.
Here is a box that was shipped with FedEx. This is obviously not how I shipped it out and was damaged in shipping. By having insurance, the buyer got his money back and I was still paid for my item.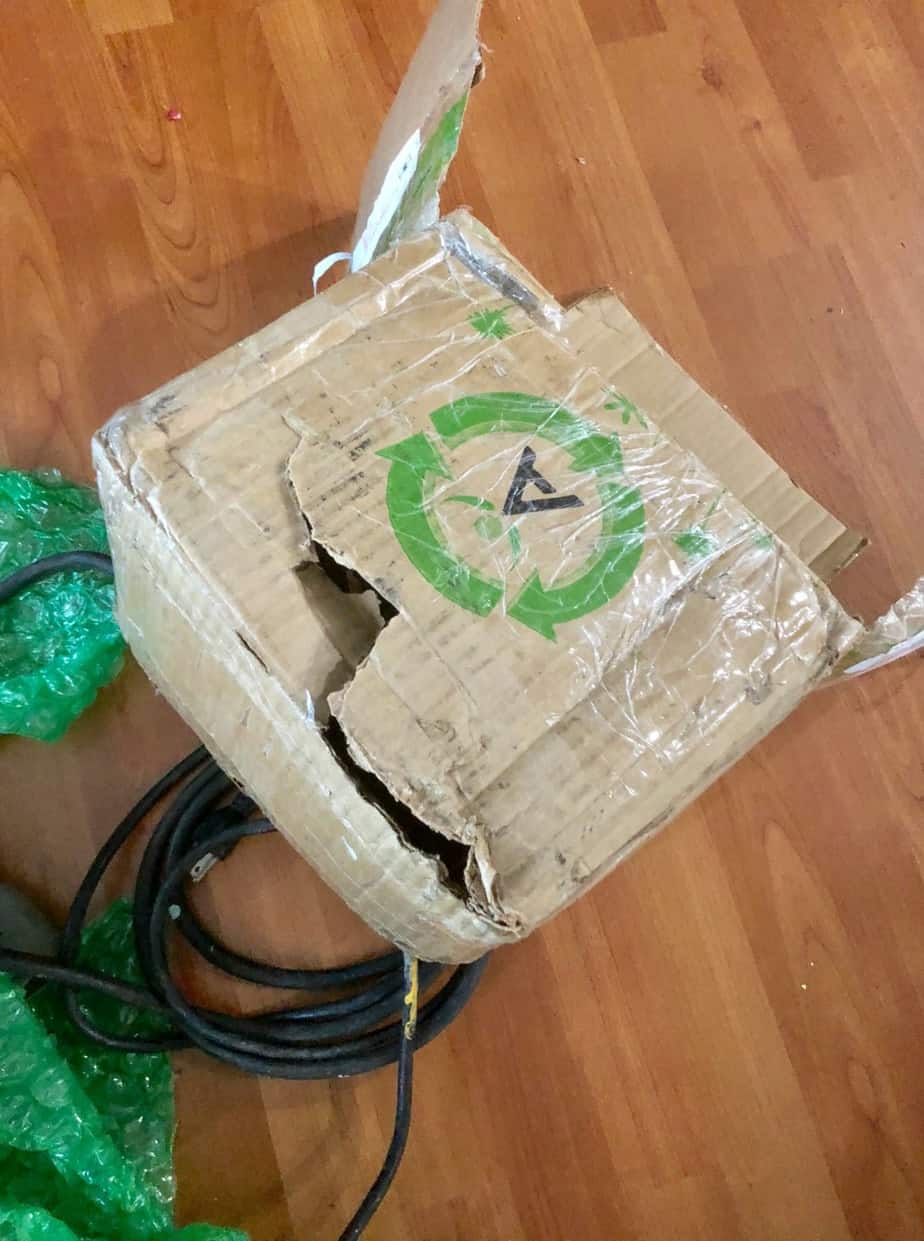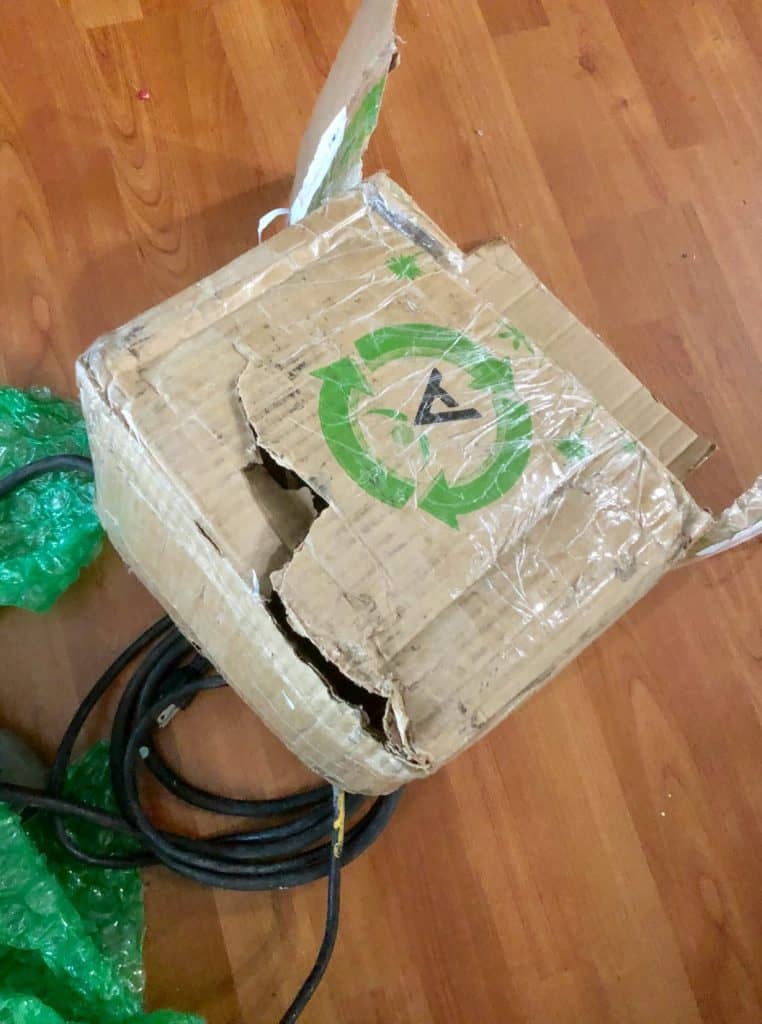 Purchase shipping insurance for your items – It's well worth the money!
8. Take Photographs Of Your Packaging
This may sound like overkill to you, but stay with me while I explain! Even though I insure all of my packages through Fedex and eBay and it should be a no brainer, it sometimes can get complicated.
Whenever an item that I ship is damaged, I put in a claim with the carrier. The carrier will then go and pick up the damaged item and do it's own investigation of the damage. Almost 100%, I will receive a letter from the carrier that they have done their research and investigation and they find that it is not covered.
Ninety percent of people will just not think to call them and fight it. They will just accept that they are not covered and walk away. If you know me, you know I'm not one of those people.
I will fight for them to cover my packages. After all, I paid for the insurance right? After inspecting a damaged package, they will sometimes say that the package wasn't packaged to standard and not covered. When I have photographs of how I shipped my item, I will have those as proof. This will get them to move the decision in my favor and pay out the damage coverage. It shouldn't be like this, I know. But it is. So I take photographs of all of the items that I ship so I can use it as evidence that I packaged the item sufficiently.
My second reason for taking photographs of the items I ship? It's to protect myself from the buyer! What if an eBay buyer damaged an item and wants a refund? This doesn't happen often, but it has happened!
One buyer in particular contacted me asking for a partial refund for an item that he received damaged. I sent him a message apologizing and requesting more information and photographs of the damage. This was one of those times I was pretty happy I had taken photographs while I was packing it.
When he sent back the photographs of the damage to the cook top, I could see that the straps he used were not the same as the ones I had shipped it with. After a few emails, I was able to piece it together that he dropped the cooktop when he was getting it off of the truck at his home. He tried to re-tie it down with new straps and put in a request for a refund.
After a few emails and notifying him that the straps were not mine, he dropped the request for a refund. It's very, very important to take photographs for your records both using freight and Fedex and UPS. Taking photographs will protect you in the event eBay buyer damaged item and wants refund.
9. Keep Good Communication With Your Buyer
Always, always be nice! Whenever I get a return request, I always send a message to the buyer apologizing for any inconvenience and then I take the approach to get information so I can help them.
If you lash back at them rudely, it will be much harder to work together to resolve the dispute. Even if the dispute is clearly on their end, it is always best to keep good communication with them and always take the approach that you want to help to resolve the issue.
EBay always checks these messages and they want to see that you did everything you could to resolve the buyer's issue. If they are rude or threatening to you, do not retaliate.
You always want to do your part to keep that communication open and positive with the buyer, even if they are upset and not doing the same with you. Remaining helpful and polite will definitely help with your return dispute or in the event that the person leaves negative feedback that needs to be removed.
10. Take Advantage Of The eBay Partial Refund Option
So what happens if your eBay item is not as described? In the rare instance, this can happen. We're not perfect and we can make mistakes. Maybe you listed the item with wrong information or you didn't include something in the listing that needed to be included.
In this case, I just try to do damage control. I first contact the buyer and find out what is wrong with the item.
If the problem is small, I take advantage of the eBay partial refund policy. When being faced with paying return shipping on an item that's not as described, I always give the buyer the option to keep the item with an offer to refund part of their money.
I will ask them if they want to keep the item and I will give a partial refund with Paypal for X amount. If the item is still working and the "not as described" problem is small, the person may want to keep the item and accept the partial refund. This is a win win for both of us. I don't have to pay to get the item back and the person is happy because I resolved their problem.
If using Ebay's partial refund policy does not work for you, you will need to follow Ebay's return process.
If the buyer put in a formal return request, you can accept the return, send them a shipping label, and wait for the item to get back to you.
Do not give a refund without getting the item back!
You do not have to be in a hurry when you receive the item to refund them. You can wait, inspect the item, and make sure that it is in the same shape as when you sent it. Then and only then you give a refund for the item.
Offering a return of an item is always my last resort and honestly it is very rare. However, it does happen and when it does, I have to deal with it as best as I can. If you implement these return policy tips to your eBay listings, your return requests will be less and your actual returns will be almost non-existent!
Make a point to take action on your listings to avoid unwanted returns. If you are scared to start eBay because of the fear of returns, don't be. If you take these 10 tips and add these policies to your listings, you will keep your buyers happy and satisfied and almost all but eliminate returns!
This will help make you a top seller and keep money in your pocket!
Ready to start making a good side income from flipping? Check out our FREE intro Workshop!
Further Resources
FREE Workshop How To Turn Your Passion of Flipping Items Into A Profitable Reselling Business
Related Posts
How This Mom QUIT HER JOB To Flip Items Full-Time (And Was Able To Pay Off $12K Of Debt In 5 Months!)
How This SAHM Made $1,000 In Her First Month Flipping Used Items