New to eBay? Everybody has to start somewhere. I was new to eBay at one time too. One of the biggest hurdles that our course members face is getting over the initial fear of learning and using eBay as a platform for selling.  Making sales on eBay is a game changer.
Ebay can be intimidating. It has 182 million users with the option of shipping all over the world. That can be overwhelming.
But when you learn it and use the platform, magical things can happen!
Take Tomas and his wife Tiffany – they had never sold anything on eBay before. They jumped into Flipper University, learned how to use the platform – and BOOM! They made $4,500 in sales their first 90 days!
Let's hear their story…
From Food Stamps to Financial Freedom
My name is Tomas and I have been married to the love of my life, Tiffany, for 12 years now. We have three wonderful children- ages 8, 10 and 16.
Our debt free journey started about 8 years ago. Prior to working my way up to a leadership retail position, I was working three jobs and we still weren't making ends meet. We had a house we couldn't afford, car payments and student loans. We relied on credit cards to "cover the difference," at the end of the month.
We were on Government Assistance and used Food Stamps to help put food on the table.
Even after my promotion, we were still living paycheck to paycheck. I was making more money than I have ever made in my life and we still couldn't figure it out. We had no plan and could not see the light at the end of the "debt tunnel".
Around that same time, I received a phone call saying that I needed to get to the hospital right away. My Dad was rushed into the ER and was in very bad shape. He passed away in the hospital about 3 weeks later.
This Absolutely Crushed Me
One of the things that drove me to make money was the hope that one day I could take care of my Dad so he didn't have to stress about money anymore.
After he passed, I decided that I wanted to be the Executor of his Estate.
This gave me an inside look at the financial burden that he faced on a daily basis.
The kindest man on earth had a constant weight on his shoulders.
This Was My Breaking Point
I decided right there that I had to do something to take control of my financial future, but I didn't know what. I had heard from a buddy of mine about this crazy guy named Dave Ramsey. I never really dug into his principles.
At that time, I decided to check out one of his books from the library and my wife and I went all in. That was all we needed to get started. We created a budget and got rolling.
We sold everything we could on Craigslist and Facebook Marketplace. We sold clothes, furniture, household items, and even our patio table.
That was my first experience flipping.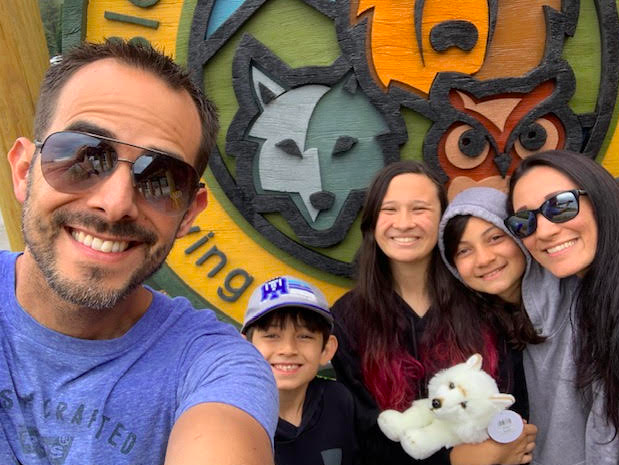 We lived off rice and beans and peanut butter and jelly for months. Before we knew it, we had paid off about $25K in debt! That was our first year.
We went from wondering where our money went, to giving every penny a purpose. We finally had a PLAN!
We learned very quickly that it's not about how much money we were making, but it was about how intentional we were with that money.
It was so life changing, that I have since become a Certified Financial Coach. Now I enjoy helping people achieve their goals and navigate through their financial situations.
How Flipping Became More Than Emergency Money
In the beginning of our debt pay off, we used selling items to get emergency money to get us out from under our debt. I had never really thought about using "flipping" as a way to bring in extra income.
I was introduced to Flea Market Flipper through an article a friend of mine posted on how she had made $100k in sales flipping items on eBay. The article was interesting and sparked my interest to learn more about how she had been able to make that kind of money in just two years.
At that time, even though we were out of debt, I had been looking for ways to supplement my income and add in some extra money to my budget.
We were hesitant to make the initial investment at first because it seemed too good to be true. But after we thought about it, we invested in the course and I am so glad we decided to do so! It was well worth the money!
Turning My Love of Thrifting Into Cash
I have always loved yard sales, bargaining, and the thrill of the hunt. When we were paying off debt, we utilized Craigslist to sell everything we didn't need around the house.
It really gave us a boost in our debt free journey.
Before our recent move, we utilized Facebook to sell several items that we didn't want to take with us.
That was our first experience with "flipping." We had never used any other platforms other than Craigslist and FBMP for sales. So when we were introduced to eBay, it was a little overwhelming at first. It was a little scary
Now that we are focused on flipping items, we have been using eBay. We were nervous at first, but started off slowly by selling the things we had laying around the house.
This gave us an opportunity to "test the waters" minimizing our risk. After just a few sales, we have been able to get much better at eBay and it has really paid off learning how to use this platform.
Learning The Art of Sourcing
When we first started flipping, we were just selling our own items. Now we have been learning to source and branch out selling and shipping medium-to-large items. We didn't even realize that selling these items was a possibility on eBay.
Now while I am at my day job, my wife, Tiffany sources items. She contacts the people selling and when I get home, I do the negotiating (negotiating isn't Tiffany's favorite). While I'm working at my regular job and something sells, she packages the item up so we can ship it. She also finds tons of free packing material and boxes so we can keep our expenses to a minimum.
It's a great business to do together and each of us brings something different to the table to make it a success. We have found so much joy in working the business together and succeeding at it.
From Debt Pay Off to Cash In Our Pockets
When we first started selling, we were just focused on a means to the end – getting rid of our debt. We hadn't caught the vision yet that reselling could actually make us some great money for our budget.
But once we got connected with other resellers and saw what they were doing, we caught the vision for ourselves and we just keep getting better and better at it.
I have been able to sell and ship large items such as Exercise/Sport Equipment, Cooktops and Printers. We have also sold Strollers and Printer Ink.
Nothing, however, is off the table! If I can get it for the right price, I'll sell it! This has opened up so many opportunities for income for me and my family.
I even picked up a couple vintage Rota-Dent tooth polishers from an Estate Sale for $2.50 each. They sold on eBay for $55 and $58 within a couple days.
There are so many things to find and sell and that's really the thrill of the business!
Surpassing Our $1,000 Per Month Flipping Goal
When we first began this venture, our initial goal was to make an extra $1K a month to add to our budget. It's our goal in the next four years to pay cash for a house. So we wanted some extra money to help us meet that goal.
We were unsure how long it would take for us to get to $1K per month since we knew nothing about sourcing or selling on eBay.
But to our surprise, we quickly realized there is money to be made in this business. We earned our initial investment for the cost of Flipper University in the first month! It was a cooktop that we picked up that helped us reach our goal to get back our initial investment.
Over the first three months selling on eBay as a brand new seller, we had over $4,500 in sales, surpassing our initial goal by $500 per month was a nice surprise.
We invested just $1,100 of our own money and got $7,000 of inventory. After selling $4,500 worth of items, we still have $3,500 to sell! We are so happy with our progress so far.
I am currently working 50+ hours a week at my day job so the time I have to spend on my flipping business is on evenings after work and on my days off. But with some planning and making good use of my time, it's working out great!
Learning to Build Great Contacts
One of the best things about the Flipping For Profit group is learning from others. They are always willing to share their tips and tricks and I've learned a lot.
The one thing that totally made sense to me when I heard it from the other flippers is the importance of building contacts in this business. The more contacts who can provide items for me to sell, the better use of my time I can make.
I can find a lot of items, but if I have someone working with me who can also help me source, that's a big benefit.
A Good Luck Encounter
I recently answered an ad on facebook for a printer that I bought for $5. I see a lot of old electronics are selling really well on eBay.
When I went to pick up the printer, I got to talking to the guy who was recycling his old printers. He was only getting pennies for them at the recycling center so it made more sense for him to sell to me.
I jumped on the opportunity and bought two commercial printers from him for $12.50. I sold one a couple days later for $300 and a few days after that the other one sold for $350.
I will take $650 for a $25 investment any day! And it's just the beginning.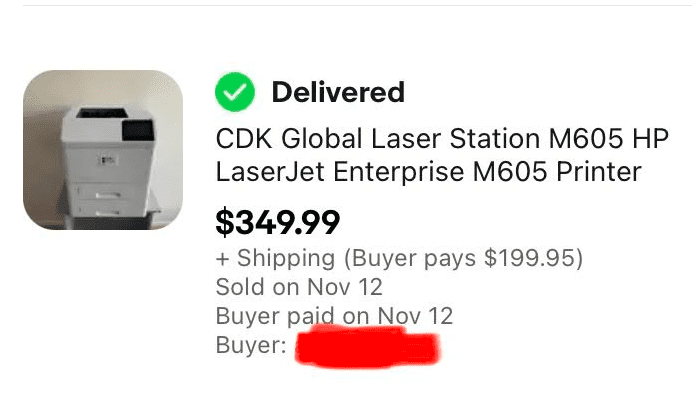 From Reluctant to Believing!
When I think back to starting out with Flipper University, of course I was very reluctant. Even my wife, Tiffany, was a little hesitant. But we had been looking for something to do together as a business and this side hustle seemed legit and checked off all the boxes for us.
Taking the course was definitely an investment for us and we did not want to spend money on something that wasn't going to work for us.
But since taking the course, we've found that not only the course has been amazing, but also the Facebook community has been our "go-to" for answers to any questions we have had.
We're glad we made that decision and we've never looked back!
It's also great and inspiring to see other people's successes and challenges along the way in the group. We have gotten several pointers on shipping and packaging items (which was probably the scariest thing for us going into this).
I would say with confidence, we feel pretty comfortable shipping pretty much anything now and we no longer let the shipping worries hold us back from sourcing certain items.
We Had No Clue How Much Fun Flipping and Making Money Could Be
I think one of the best things about flipping items is that it is so much fun!! We enjoy all aspects of it. And not only that, it has gone from a hobby that we do together to a business that actually pays us money!
The amazing potential for our flipping ROI has really been eye opening. Who knew someone would pay $880 (on eBay) for a cooktop that we picked up for $110? We sure didn't! But we saw people in the course members group doing it, so we figured, "Why not us?"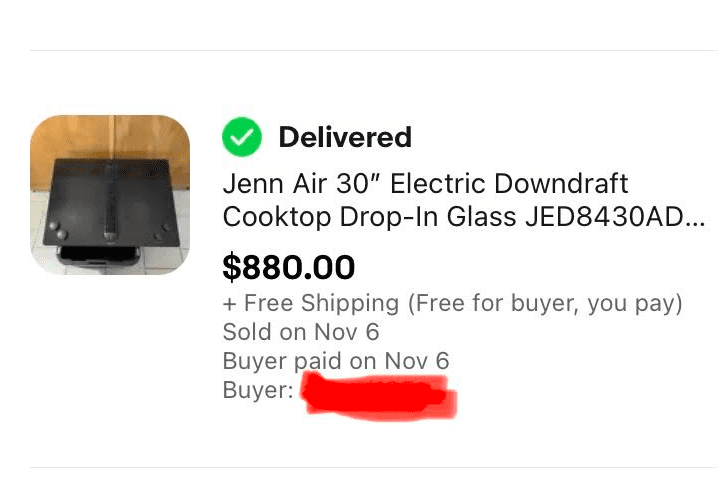 I think one of the only negative aspects of flipping that I can think of is that it's not always as consistent as I would like it to be. Sometimes the items I am sure will sell quickly just continue to sit. Scammers are also very annoying but as we have built up our feedback on eBay, they come around less and less.
But I think that's just part of the learning curve and we will continue to get better and better at sourcing and selling consistently. Working full-time while trying to get started flipping has its challenges as well.
Fear of Shipping
I also had to work through the fear of shipping an item through eBay when I first started. It was definitely intimidating at first, but it's been worth taking the risk to learn and make mistakes.
I always thought it would just be easier to sell everything locally so I didn't have to learn how to ship, but I quickly realized how much more income I could have access to if I took the time to learn how to sell and ship items on eBay compared to local sales.
Through some trial and error (and Rob videos), we have gotten more and more comfortable shipping and now the sky's the limit as far as what we can source, sell and ship!
You rock, Tomas and Tiffany! We are so happy that you have joined us and are succeeding in this amazing business!
Are you looking for a side hustle to earn an extra $1000 per month? Check out our free intro webinar to see if flipping is for you! To me, it's definitely the best business around!
FURTHER RESOURCES
Download These 47 Household Items To Resell TODAY!
FREE Workshop How To Turn Your Passion of Flipping Items Into A Profitable Reselling Business
RELATED POSTS
How This Painter Made $1,700 In One Week Of Flipping Items
How This Father Of 4 Made $10K In 6 Months Of His Flipping Business