This post contains affiliate links, please see our full affiliate disclosure for more info.
Switched over to eBay managed payments but still want to keep your eBay business income separate? But there are so many options out there, how do you choose the best bank for you to use with ebay's managed payments?
We got you!
We wanted to keep our eBay business accounting separated from our personal bank account so we looked into several different options once Paypal was no longer an option.
And when I mean we looked into them, we signed up for a few of them before realizing they weren't a great fit and I'm pretty sure our credit took a hit for it.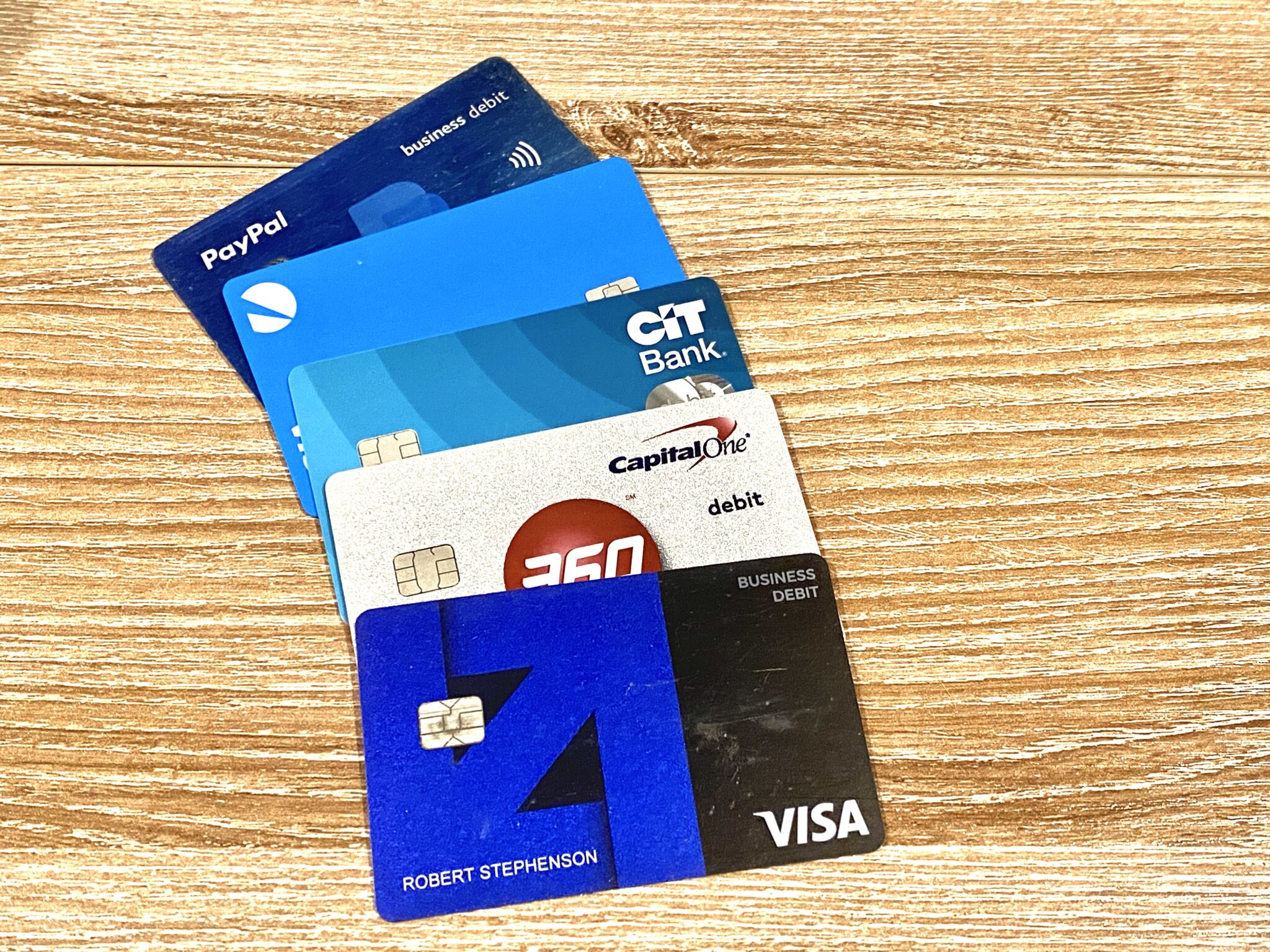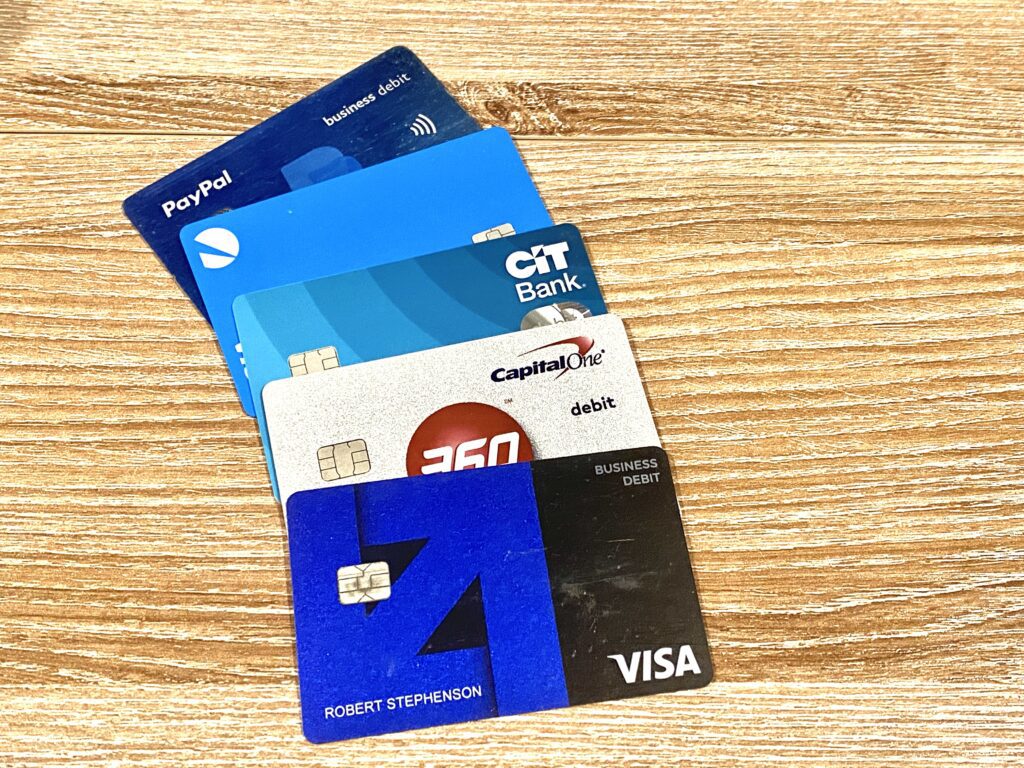 But it was still worth it to check them out so we could share what we've found with YOU!
I want to give you some of the pros and cons of each account so you can decide what's best for you. (And also share with you what we decided to go with!)
But before we jump in, do you even really need an extra bank account?
Yes & No.
You could use your own personal bank account and have eBay do a direct deposit, but that's not something we advise.
Even if you are just doing this as a small side hustle, we still recommend a separate account because it's so much easier for accounting purposes!
And yes, even if you are doing this as a small side hustle you should still keep records of what you are making – and you are still responsible to report taxes on them
You can read more on reseller taxes here.
So let's dive in!
Azlo Is A Bust
When we found out we were being switched over to managed payments last fall, I started looking into different options for separate bank accounts. Before when we had Paypal, it was no problem. We used Paypal as a separate account and it was great for keeping track of all of our tax details throughout the year.
All that changed with Managed Payments.
After listening to a podcast one morning on our run I heard a pitch for Azlo – an online banking account perfect for small businesses & entrepreneurs.
I signed up and it seemed really awesome! Something I would have totally wanted to recommend to you, but after 2 months in, they were bought out by another company and were shutting down these types of accounts.
So Azlo is out. ☹
Up next is Qube…
Qube is a cool account because it comes with some budgeting tools that are pretty nifty. My wife Melissa does our budget and still prefers to do it on a spreadsheet so she didn't want to switch to their tools. However, that doesn't mean you can't use these great tools for your own budgeting needs!
With that said, we were still interested in using Qube as an outside bank account for eBay.
And then we realized that they were a mobile app only and we couldn't access our account on a laptop or desktop.
This was kind of a deal breaker because when Melissa is doing our Profit/Loss sheets and budget, she likes to work from the computer.
For us, this wasn't going to work.
But if you are someone who does everything from your phone it could be an awesome fit for you.
Qube Pros
Individual plans are free
App is free and easy to use
Several people (couples and families) can can connect to the same account
Real-time financial monitoring
FDIC insured
Fraud protection available
Qube Cons
Qube is not available outside the US
It's currently being beta tested (not yet finalized). That might mean there are still some bugs that need to be worked out.
Accounts cost $8-15 if you want to use the app with your partner or kids
Limited features with free accounts
You must use Qube debit card
No rewards available with the free option
Only available on App currently (this may change in the future)
Betterment
Betterment is an interesting one. It has two sides to their offering and it's pretty cool.
They offer banking services and also offer investing services.
We aren't very savvy in the investing side of things (unless of course it's investing in awesome inventory that's going to 10x your money!) So we can't speak a lot about investing. BUT Betterment seems to have a really cool ability to just be an extra business checking account, or also add an investing portfolio if you are interested.
Betterment Pros
Solid 0.10% Betterment cash reserve
No monthly checking fees
ATM fees reimbursed worldwide
FDIC insured through third party bank
Debit Cards for checking accounts
No foreign debit card fees
No withdrawal Limits
No overdraft fees
Online banking available both desktop and mobile
No account minimums
Betterment Cons
Offers no interest for checking
No branches
No check deposits
Limited Live Support hours and no live chat options
No cash deposits
Capital One 360 Checking
CapitalOne has become a major player in the banking industry over the past several years. Everywhere you look, you will see them advertised.
Not only do they offer checking accounts and investing options, they have some of the most competitive travel rewards cards on the market.
They are a full-service bank and that includes online checking accounts.
And they have a lot to offer, including an interest bearing checking account, which is pretty rare when you are getting a free checking account.
Let's take a look at the pros and cons of Capital 360 checking.
Capital One 360 Pros
24/7 Mobile Banking
No fees to open, keep & use
70,000 fee-free ATMS around the country
0.10 APY for checking accounts
Debit Card Lock & Unlock Features from App
Deposit Money From App
Receive real-time alerts about your account balance and activity
Capital One 360 Cons
Limited Services at in-person branches
Low interest on checking account
Depositing checks from App is not fool-proof – still working out the bugs
Few local branches for in-person services
Chase Business Checking
We've been long time customers of Chase for both their business and travel cards. We use Chase credit cards a lot for our everyday items so we can earn travel miles and points.
I want to include Chase because some people may weigh out the $15 fee per month in order to be able to go into a brick and mortar bank. Some may not want to completely go online.. That can be a lot of change all at once.
Chase has a good reputation and they offer some pretty sweet bonuses if you open an account with a minimum deposit. You can get up to $300 free money by doing this.
Chase Pros
No minimum deposit to open an account.
Unlimited electronic deposits
Earn up to $300 sign up bonus (we love free money!)
Access 16,000 ATMs
Online banking and bill-pay and mobile banking
Chase Cons
$15 monthly fee
Fee-free cash deposits limited to $5000 per month.
Fee-free physical transactions limited to 20 per month.
No free wires included
Novo Small Business Banking
Novo is fairly new on the scene, however, it offers some great benefits. Novo is best known for business banking with freelancers (or small side hustle businesses).
One unique feature is that Novo has integration features with communication apps like Slack and many others. As a business owner, you can easily transfer funds and push updates through these communication channels. This way, your teams can easily see what invoices are due and what payments have been made.
Isn't technology amazing? Let's get a better look at the pros and cons of Novo.
Novo Pros
No monthly fees
Easy Set up
Easily transfer funds from your business to personal accounts
Integration with communication software
May make check deposits with app
Novo Cons
Business accounts only
Electronic checks only (paper check will go through extra steps)
No cash deposits
Minimum opening deposit $50
Credit Check to Open account
Chime Checking
Chime is another great option for a free online checking account. This is an interesting one with benefits such as getting your paycheck 2 days earlier with direct deposit and the ability to use your debit card when it may overdraft your account with the SpotMe feature.
Who hasn't used their debit card with no money in their account? Yup, we've accidentally done that!
Chime has a great reputation in the banking industry as a great option for a free online checking account for business owners. It's easy to use and convenient.
Let's take a deeper look into the comparisons of Chime's checking account options.
Chime Pros
No monthly fees or overdraft fees
Large free ATM network
Receive your packcheck up to 2 days early with direct deposit.
Allows you to use your debit card while overdrafting the account with SpotMe feature
Chime Cons
Cash deposit is difficult and may cost you money
Transfers initiated through Chime limited to $200 a day
If fraud is detected, others have reported their accounts have been frozen
Mobile check deposit ONLY available if you have direct deposit set up
$2.50 charge for all out of network ATMs
The $200/ day transfer limit I wouldn't be a fan of. Most of my single eBay transactions are over $200.
CIT Checking Account
After all of our research, CIT is the business checking account we decided on for our eBay business. There were a few reasons why.
CIT bank offers a small amount of interest to the checking accounts. Even though it's small, we may as well make some interest as they use our money, right? It's only fair! They will also reimburse a few of the ATM fees and we could open an account with a very small amount of money.
As we went through all the pros and cons of each one, it seemed as though CIT business account was our best option and so far we've been really happy with it.
Let's take a closer look at what CIT offers.
CIT Pros
Higher interest rates than traditional banks no matter your balance
No monthly fees on any accounts
Remote check deposits
24/7 Banking for iOS and Android
Up to $30 ATM Fee reimbursment
CIT Cons
$100 initial deposit required
So what is the best bank account for managed payments?
All in all, there are many business checking accounts to choose from, each having their own benefits and disadvantages. The best thing to do is to go through all of the pros and cons of each one mentioned, and decide which one serves your business the best.
CIT works great for us.
So once you pick which card you are going to use – how do you add it to eBay Managed Payments?
That's a great question. Let's jump into that.
First, login to your eBay account.
Second, Under My eBay find Payment Information and then Payments.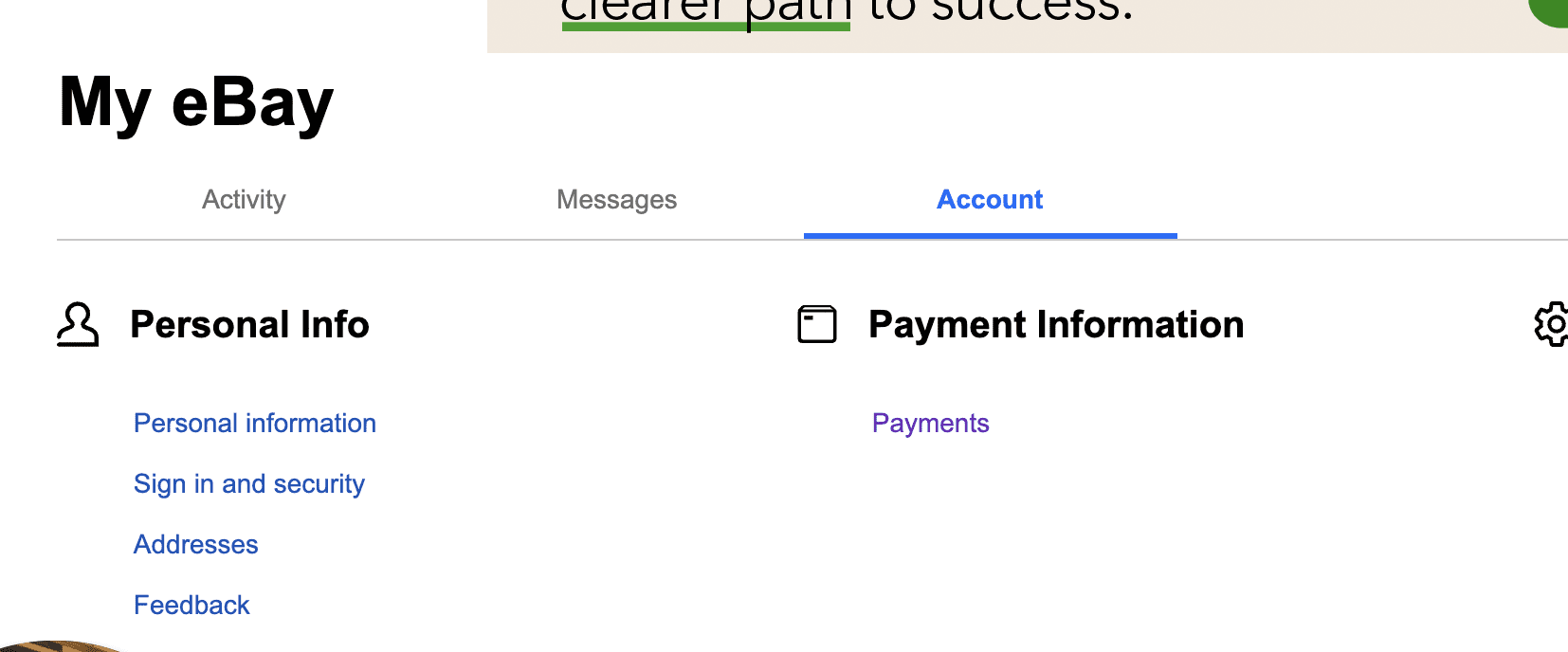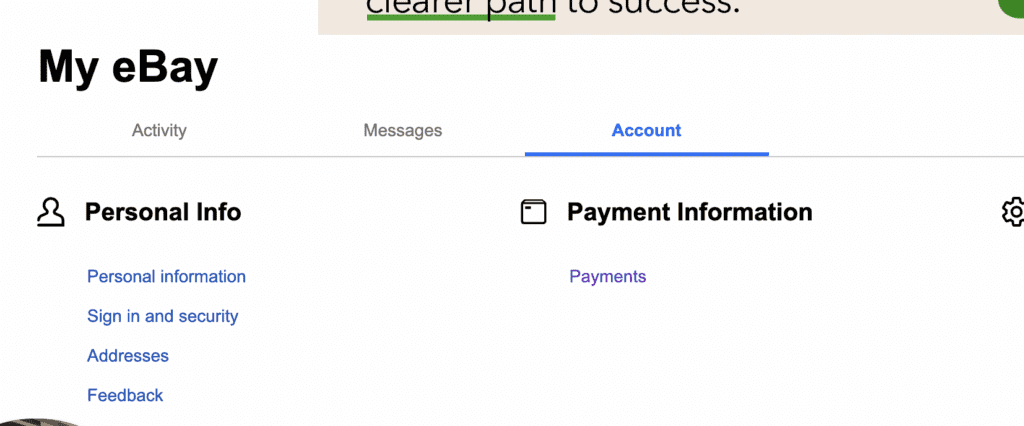 Third, Add your bank account of choice.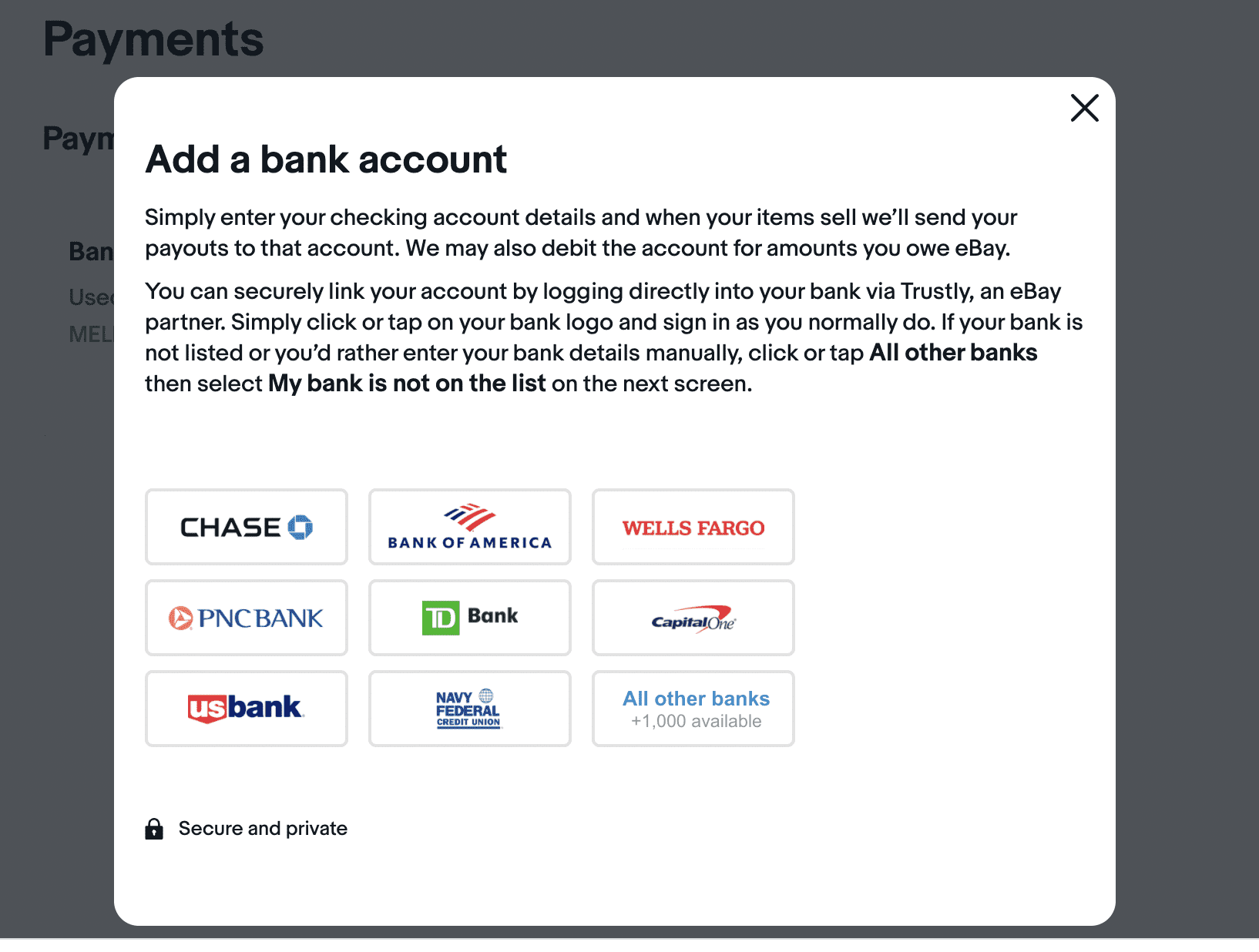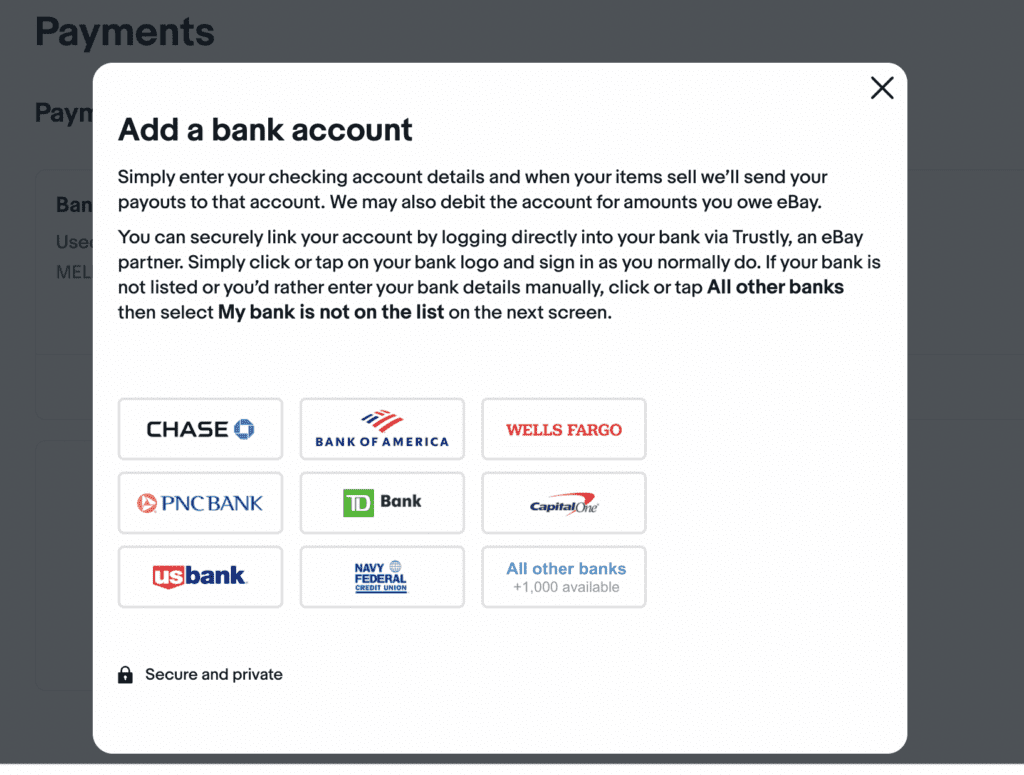 If you follow the prompts you will have your account connected in a few minutes.
So Far With Managed Payments
Many people are upset about managed payments, and of course I wasn't excited about it either! But now that I've been using it for a year it's not terrible. In fact, it's pretty simple to use and we believe we are saving money on our transactions.
Could it be better?
Yes.
But was PayPal perfect?
Nope.
(A few years ago PayPal held a $25K transaction and planned on holding it for 6 months until I got our state representative involved).
So far I have noticed that my fees have been slightly on the lower side then before, which is good.
My biggest complaint is that they hold the money for 3 days before issuing it to my account.
With my larger items I leave a 5-day shipping window so it's not that big of a deal, but it would be nice to have access to the funds immediately.
There's no reason to hold funds once a seller is established and shows they are not a scammer.
But keeping a consistent flow of items getting listed and selling helps with cash flow.
And I don't think they should charge their fee on the sales tax that we never see, but I view it as a cost of doing business because I definitely don't want to learn all the sales tax info for each state.
What has been your experience with eBay's managed payments?
Many people messaged us that they no longer want to use eBay because of it, but I think there is always a workaround.
It's not as terrible as many people think and it's definitely not worth quitting the platform (almost all reselling platforms have similar fees and less of a reach of potential customers).
So, have you started using a different online bank account that we didn't mention? What bank account are you currently using for managed payments? Let us know in the comments below!
FURTHER RESOURCES
Download These 47 Household Items To Resell TODAY!
FREE Workshop How To Turn Your Passion of Flipping Items Into A Profitable Reselling Business
RELATED POSTS
Frustrated With Managed Payments?
Reseller Taxes: What You Need To Know (From A CPA)