Every once in a while I'm surprised by what people flip to make extra money. Today is one of those days. David is a professional painter who flips "goof paint" and free furniture he picks up from his jobs.
Goof paint? Yup!
You know that paint you buy and it's the wrong color? Companies offload this perfectly good "goof paint" for very little money.
Because David knows paint, he picks up those paint buckets for very little, and uses his painting expertise and connections to resell the paint for a profit!
Genius!
Not only that, he gets some amazing free furniture from his painting jobs and a number of other valuable items to flip for a nice profit!
I have said this and I will say it again – There is absolutely no limit to flipping items! There are literally thousands of dollars worth of items that can be picked up every day to make money – even "goof paint!"
Let's Hear From David
My name is David and I am a single Dad to a very cool young man who is going to be 17 this month. He is my "Why", and the reason I keep aiming to level up.
I know he learns by my example, and not just what I tell him and that keeps me in check.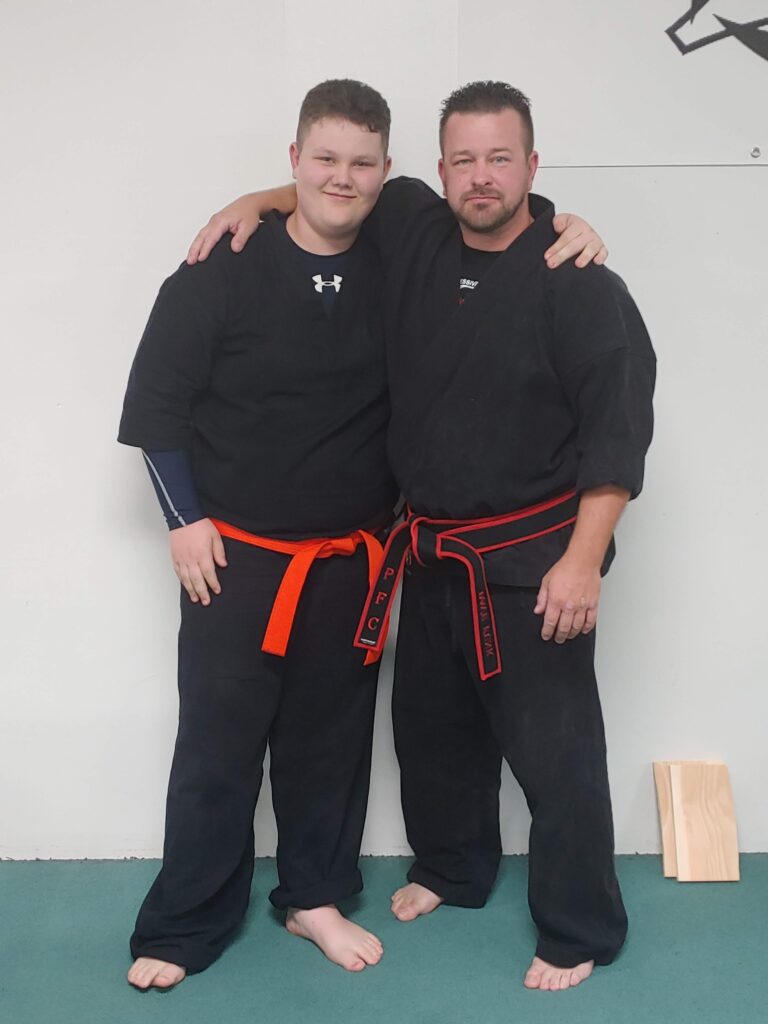 I live in Chesterfield, VA, and my current main source of income is my painting business. I have two or three painters who work with me helping with projects, but sometimes it is just me painting.
With painting, there are pros and cons to both sides of that coin.
There was plenty of "bad" news from Covid
But, it forced me to re-evaluate my painting business and find ways to stay profitable while the world was shutting down.
I knew people still had homes that needed to be painted, so I eventually decided I would paint vinyl shutters. I knew there was excellent money in that, it was needed in my area, and it did not require me to be inside of anyone's home.
Changing up my painting model helped me stay afloat during Covid, but also my flipping side hustle helped me add some great income to my budget.
In my spare time, I listen to a ton of audiobooks since I am on the road a lot. Some of my favorite books are "The Go-Giver", "The Greatest Salesman in the World", and "Chop Wood, Carry Water".
Discovering Flipping
About 4 years ago, I was searching online for new side hustles ideas when I came across an article about Rob and Melissa. Their story inspired me to learn more about flipping.
I started to think maybe flipping could be a great side hustle for me.
After hearing Rob and Melissa's experience with flipping, I even started to consider it could be a full-time income for me at some point.
Using My Painting Gig to Find Treasure
Since I have a painting business, I'm sure you can imagine that sometimes people have things they just want out of their house. In my line of business, it happens a lot more than you might think.
Early in my painting career, when I was offered items to take, I would only take what I wanted or whatever was useful to me personally. I was years into the business before I realized the opportunity of taking the items. Many of the items were in amazing condition, and reselling them for a profit.
Once I got a taste of turning my free items into money
I now make sure that every painting customer knows that I am a flipper. I am more than happy to take whatever they don't want.
At times, I will even buy some of the items from them if I can make a good profit (for the right price of course…lol).
More often than not I get offered furniture, but I have also been given all kinds of household items that could be resold.
I Get Asked Sometimes What My Niche Is
If I had a niche (which I don't!), it would be furniture. But honestly, I'll sell anything that I think will make some money!
But furniture is really enjoyable for me and with my painting business, I get offered a lot of furniture. I have gotten and painted so many sets of kitchen cabinets and various furniture items to resell.
So as I have free time and the space in my shop to work on the furniture, I look for free dressers on FBMP and re-paint them. Most of my pieces turn out great and I can resell them within a week locally for a nice profit.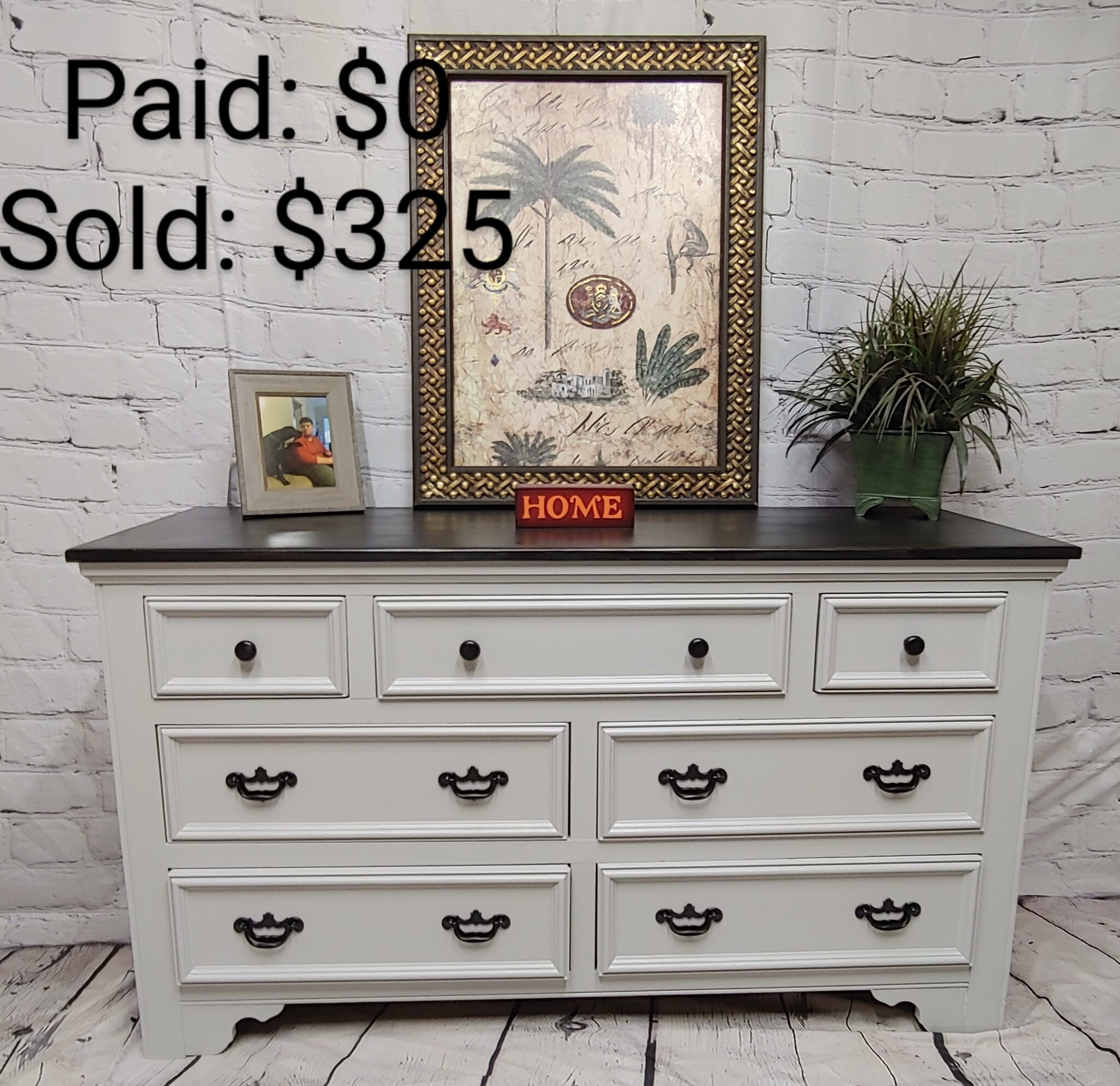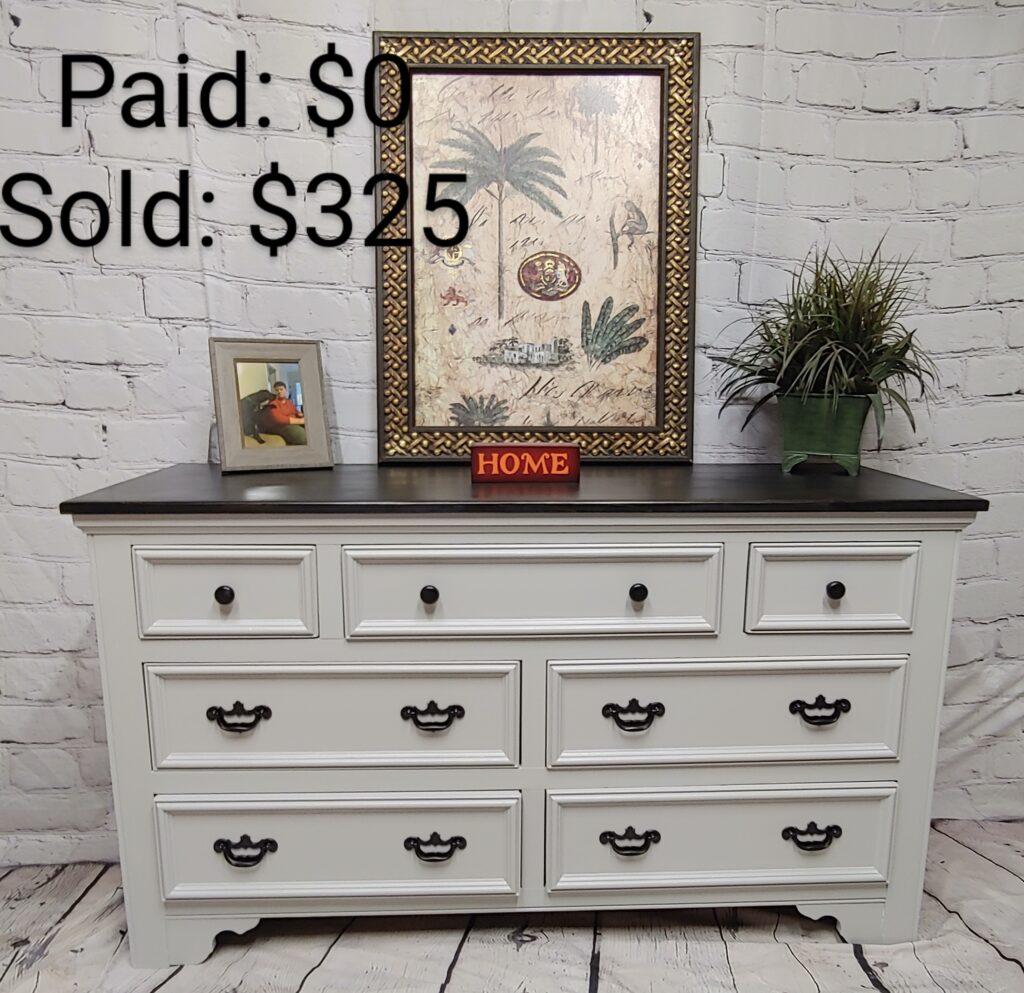 I also have been educated about Teakwood furniture. So I did not know very much teak until Rob taught us about the value of this type of furniture. Who knew the value? I had no idea it sold for such great profit!
I have also sold couches, bikes, electronics, games, tools, etc. I just try to stick to items that people need or want right now, in hopes of a faster sale. I'd rather not sit on anything too long but it definitely happens sometimes.
Extra Money Helps
Since starting in the flipping business, I've been able to create some extra money in my budget, which has been nice. I use the money I make flipping items in a lot of ways. Sometimes it pays my electric bill because, how convenient is that?
Sometimes I have items for sale for a while as I'm waiting for that right buyer to come along. I may even forget that I have the item for sale. At times, I make a sale right when a bill is due. I love that.
I also have been saving some of my flipping money as well, but it just feels better to be able to use the money however it is needed at that moment. That feels really great!
Finding A Supportive Community
I have really enjoyed taking Flipper University, but admittedly I have not taken full advantage of the information. It has been, however, an excellent resource for me to refer to with the questions I have.
When I want to know something, the information in the course is great to have as a guide as well as the Facebook group community.
Because of the Facebook community, I have been able to see how everyone else operates their flipping business and I have also gotten ideas for items to flip.
Seeing other people's struggles and successes in the business has been very helpful for me in learning this business. I enjoy hearing other sellers' experiences and watching them all play out. It's been very encouraging and really helpful.
I am one of the quiet ones in the group, silently lurking, but I am still actively taking in the information and soaking it all in.
The Ups and Downs of Flipping
With every business (even my painting business) there are always pros and cons to it.
The one thing that has surprised me the most about flipping is how much it feels like a life hack. I have a day job and it often feels like "work." But with flipping, I can just go to a garage sale and turn $20 into $100. Really? That never gets old for me. It's the simplest thing I've ever done to get paid. I love every aspect of reselling. It's so enjoyable.
I think the only negative about flipping is when you sell large items like furniture, space can be a struggle. There is only so much room for storage so I can only take so many pieces of furniture. I have to be picky on what I take so I don't run out of room.
Flipping is So Versatile
I think the best thing about flipping is it can be worked into any business. Not only do I flip free furniture and items I get free from my painting jobs, but I've also learned to flip paint!
It sounds crazy, but hear me out…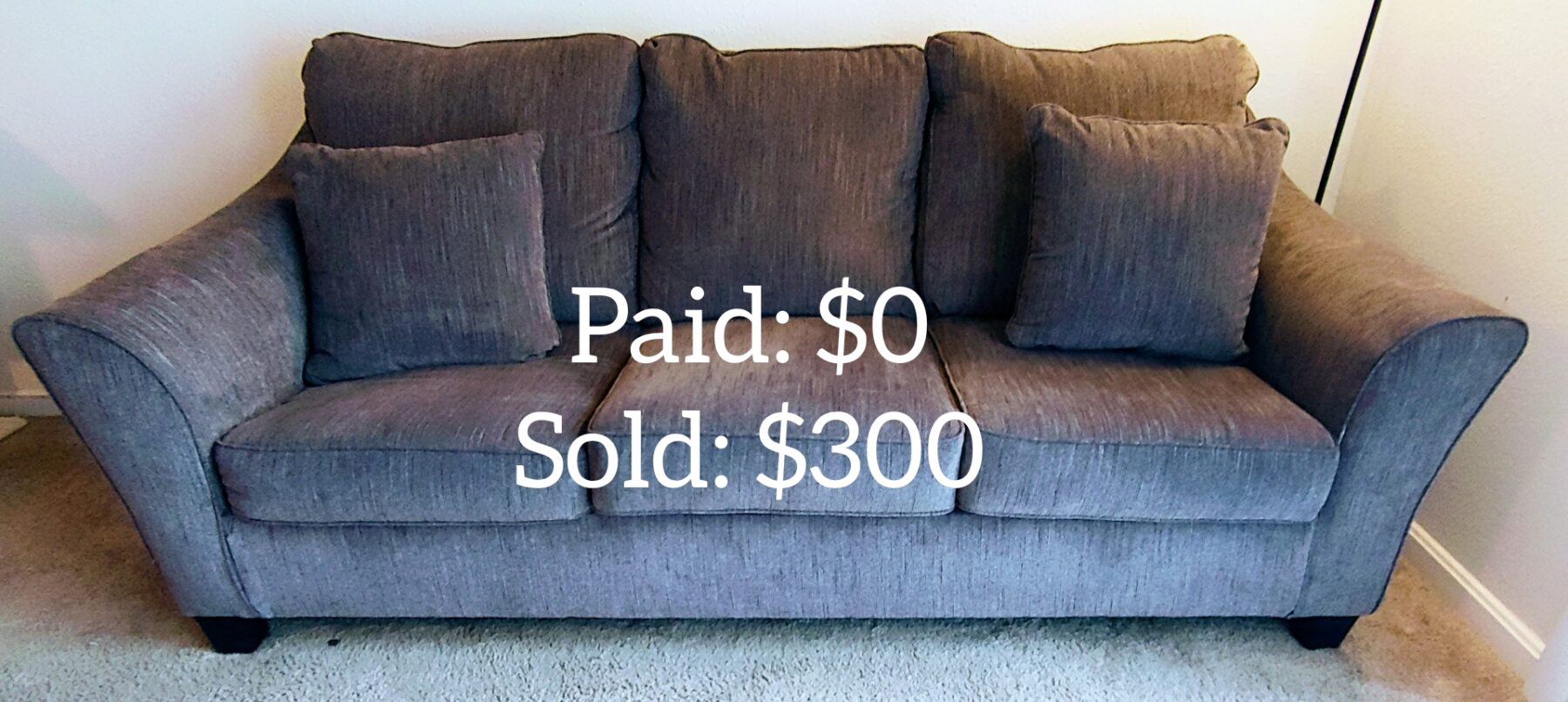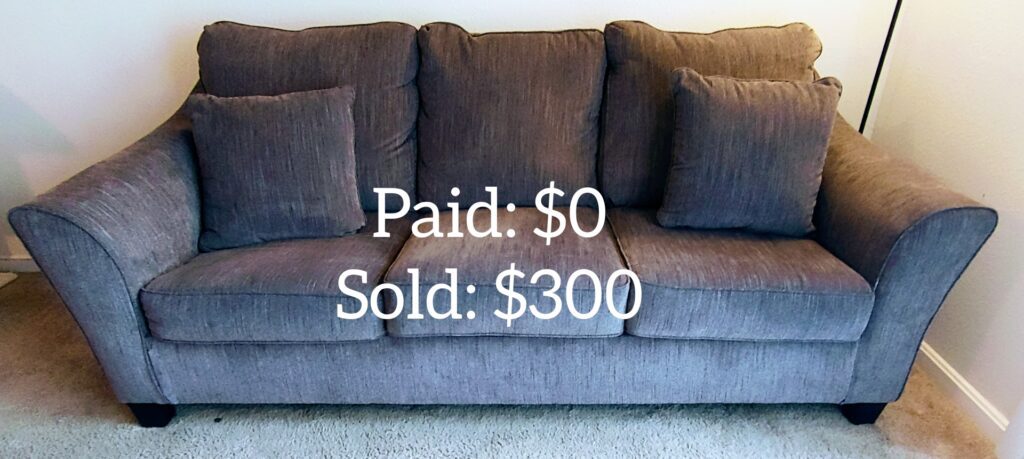 I buy "goof paint" from the paint store and sell it for a profit. I buy whatever they have and I can usually find other painters who want to buy it.
Weird, right?
But that's one thing I've learned about flipping. You can literally learn how to flip anything! And because I know paint, it's been easy money for me to grab the 5 gallon "goof paint" and resell it for a profit.
Most of the paint I buy is good quality, just made in the wrong color. I stick to buying only the 5-gallon buckets because the single gallons don't seem to sell as well.
I Have Learned To Integrate Flipping Into My Paint Business
Thankfully I have a lot of flexibility as a painter. So recently, I was able to take a week off of painting to focus on just flipping, which was pretty cool.
I had no idea it was going to go down like that, but I found a guy on facebook marketplace who had a free couch.
The free couch turned into a free couch and a desk…
And then I found out he was moving out, and it was game on! I took a whole trailer full of free stuff out of his house, and sold him on a paint job too!
I spent the rest of that week just finding space for all of the stuff I got from his house and taking the week to get them all listed.
It was an epic score!
It made me $1,700 in profit for that week and $600 for a small paint job that he hired me to do.
A Lifetime of Learning
I continue to make learning a lifetime goal. I'm a student for life, and I continue to learn new techniques, and ways to flip items and it's been very satisfying.
I do at times wear imposter syndrome well. What does that mean? I have often felt that my definition of success is for other people, and not me.
Then again, there's nothing like earning another sale to quiet the stinkin' thinkin' and get a confidence boost at the same time.
One foot in front of the other, one sale at a time, is all the proof you ever need.
Keys to Success
As I think back to getting started in flipping and what has helped me the most, I think for me, staying focused on one item at a time has helped me. I only move on to the next item when I have my first item listed and ready to be sold.
Focus is a superpower, and it makes the process far easier to manage when you concentrate on one item at a time. Keep it simple!
I also recommend that if you are interested in flipping, don't wait. Find your first item and get it listed as fast as you can so that you can get your first sale as quickly as possible.
I think people start flipping with more curiosity than confidence. But confidence comes by just doing it! So get that first sale quick for that big confidence boost.
There are no limits to what you can flip and the deals never run out.
Goof paint and furniture – Amazing! We are super stoked by David's success with his flipping side hustle and look forward to hearing all his flipping success.
Are you looking for a side hustle? Check out our free intro webinar to see if flipping is a good fit for you!
FURTHER RESOURCES
Download These 47 Household Items To Resell TODAY!
FREE Workshop How To Turn Your Passion of Flipping Items Into A Profitable Reselling Business
RELATED POSTS
How this Father Of 4 Made An Extra $10K Flipping Used Items On The Side
What We Sold To Make $6K In One Month On EBay
How This SAHM Makes An Extra $4K/ Month Selling Vintage Items