"One man's junk is another man's treasure." How many of you have heard this trash to treasure saying?
Melissa's dad used to say this all. the. time.
There is a lot of truth to it — especially when you are in the business of flipping used items.
And what's even better than finding a great deal on an item is finding items to sell that you got for free!
We love finding free items, and tend to spot them almost on a weekly basis.
We make it a point to walk to our downtown area (about a mile away), about 5x per week. Melissa and I really enjoy that time to either plan out our day (if it's in the morning), or recap our day, and plan the rest of the night and week, and come up with new ideas (if we walk in the evenings). And just to clarify – most walks are with our three kids in the strollers. They are with us pretty much all the time. 🙂
On these walks we regularly find things in the trash. Since we are walking we can only pick up things that will fit in the stroller, so if it's larger we try to come back with the car and pick it up.
Here are a few items we found in the trash that made us $1,000!
4 Ways to Find FREE Items
Contrary to popular belief, finding items for free does not mean you have to go dumpster diving.
Now, I am not opposed to the occasional dumpster – but they are clean ones if that makes any sense.
Found these two fire nozzles in a dumpster and sold them for $192 on eBay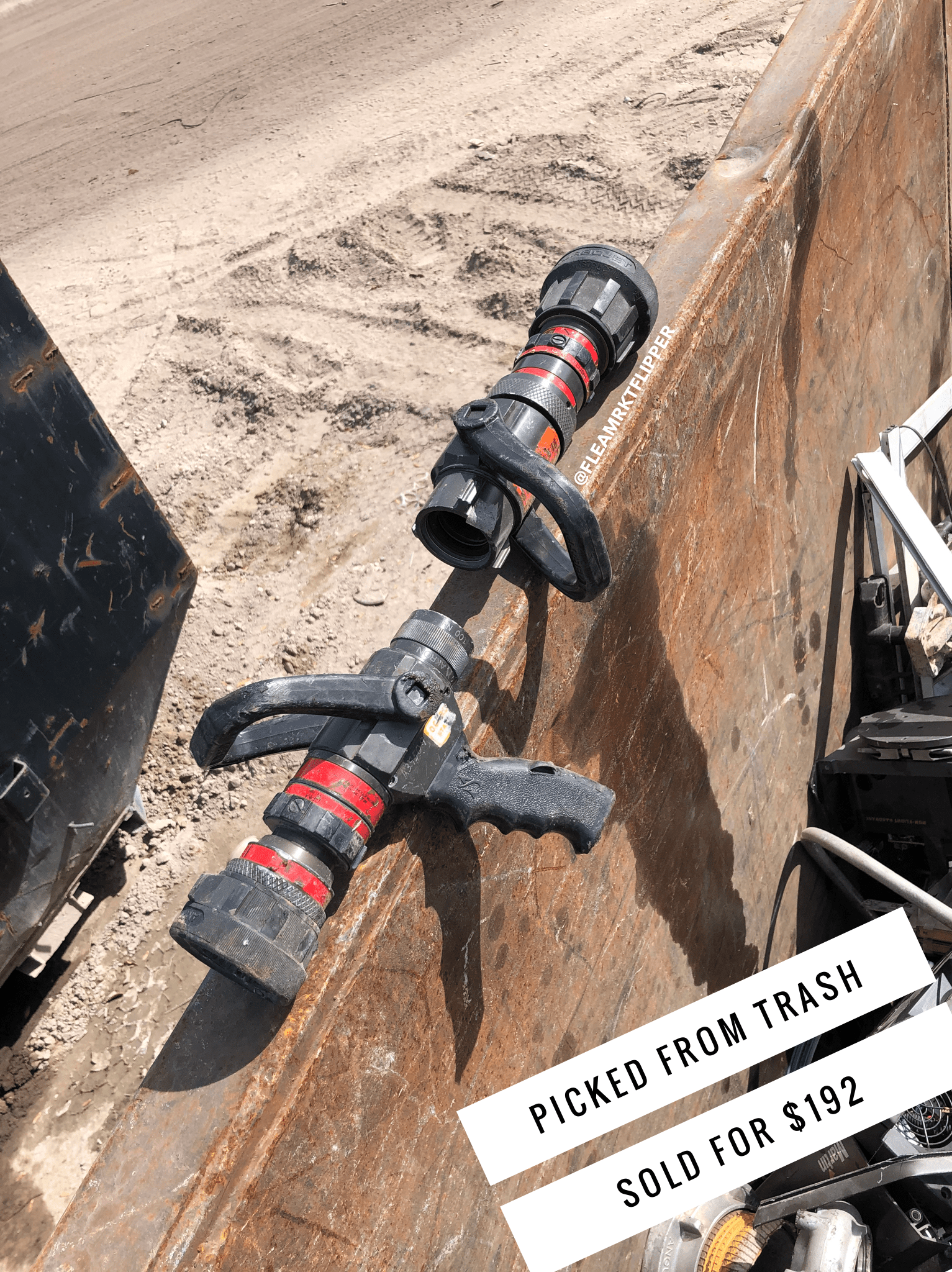 There are several other ways to find free items:
1. Walk or Drive Around The Day Before Trash Day
Find out what days of the week are trash days and usually people will set things out by the curb the night before.
We have found so much on the curb just on our walks – and that's the same mile stretch we go down.
You can also drive to some higher end neighborhoods and sometimes find some good appliances or furniture that they are getting rid of because they are upgrading.
2. Go to Apartment Complexes at the end of the month
People are constantly moving in and out of apartment complexes, and when people move, they tend to leave a lot behind because they don't want to haul it off.
If you go check out near the dumpsters the last few days of the month, you can usually find some good items to sell.
3. Tell people what you do
For the longest time we didn't really tell people what we did. Most people didn't get it and so I just didn't really elaborate on it.
But now we tell everybody!
And that has gotten us a lot of free items over the years.
Like this bed frame for instance. A friend of ours manages some properties and people leave stuff all the time. She told us we could come get this bed if we wanted to sell it.
We sold it on eBay for $589!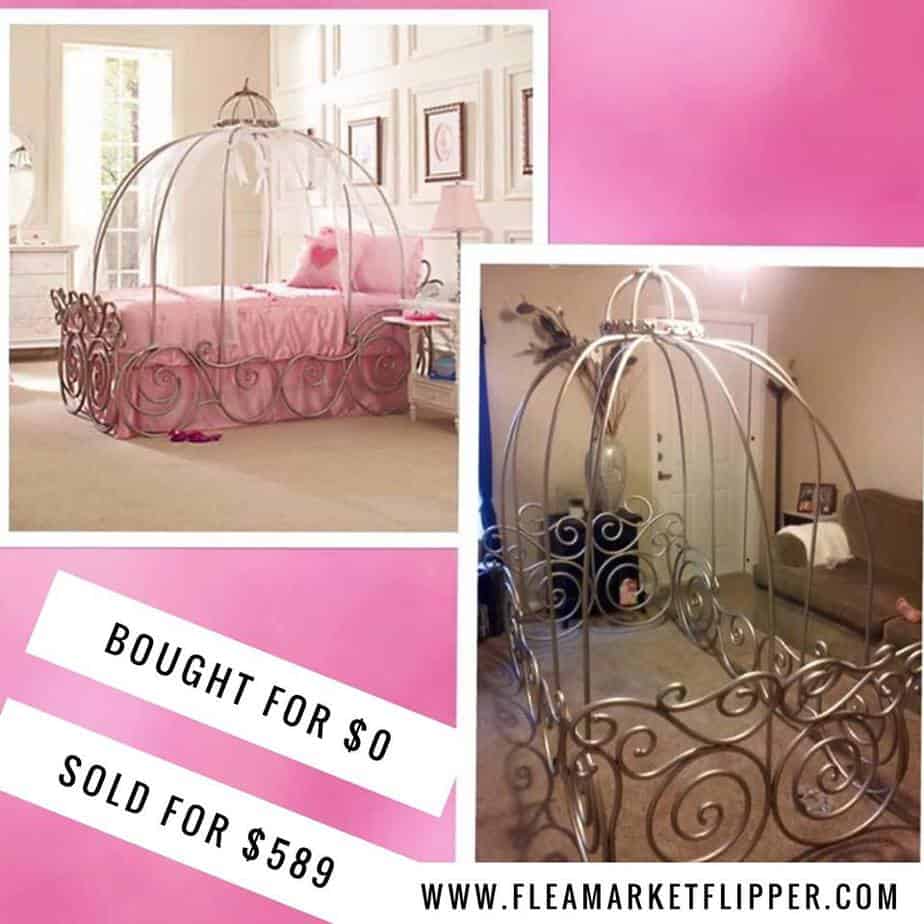 And this swing set was also a referral. A friend of a friend reached out and asked if I wanted to come pick up this swing set because they were moving and needed it gone quickly.
We sold it locally for $300!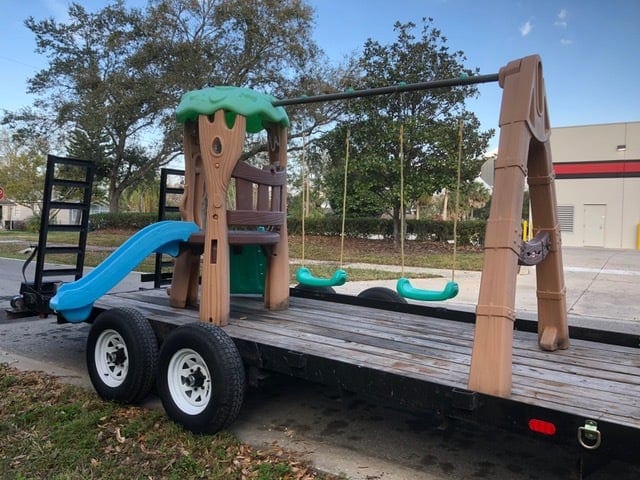 4. Put a post on Reselling Apps asking for items
Back in the day I used to put out signs asking people for their old Nordic tracks (like the we buy houses signs). Or I would put an ad in our local classifieds telling people I would come pick up their unwanted items.
Nowadays (that makes me sound old), you can put a post on OfferUp, Facebook Marketplace, and Craigslist saying the same thing.
You would be surprised what things people could have to give you.
Now you may end up sorting through some junk, but if you don't have much money for inventory in the beginning, this can be a great way to start!
Upcycle Used Furniture
Another way to make money from the trash is to upcycle or repurpose used furniture.
Painting and repurposing furniture has gotten HUGE in the past few years.
And some people can make pieces turn out gorgeous!
Now there is a little more work involved, and money for supplies. but if it's something you enjoy it can be a great way to make an extra income!
Look at this piece that Flipper University alum Derek redid! He picked it up for $50 and sold it for $400 after he painted it!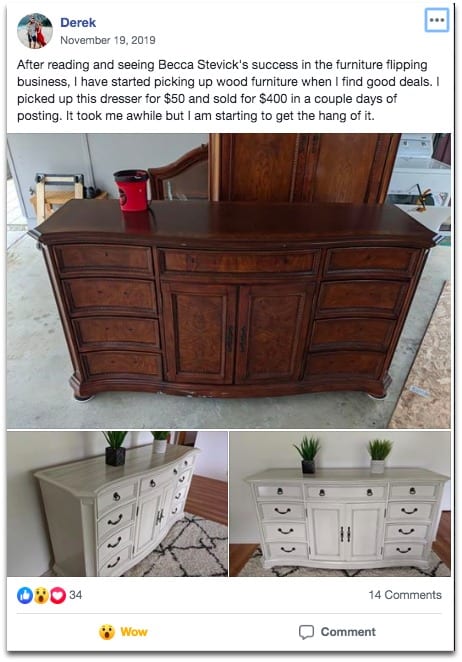 And just look at what member Becca Stevick did with this beautiful hutch!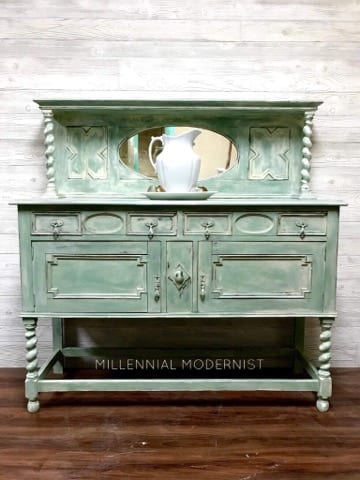 There is so much you can do with furniture, and the best part is you can find a lot of it for free or for pretty cheap! It just sometimes needs some love.
We found these antique chairs in the trash and sold them for $150 on Facebook Marketplace.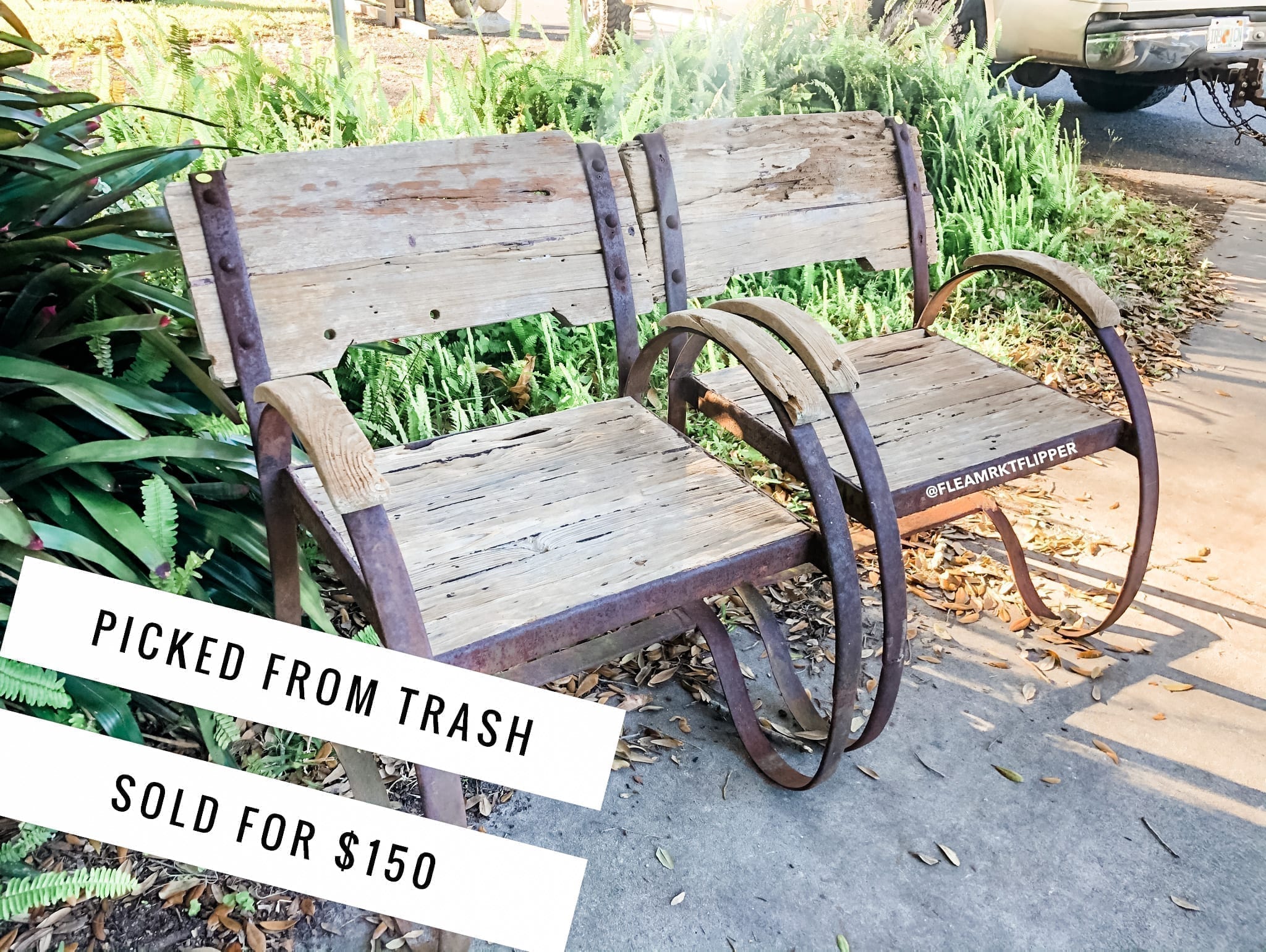 Melissa actually upcycled this set of night stands that she picked for $20 and she sold them on eBay for $300 plus shipping.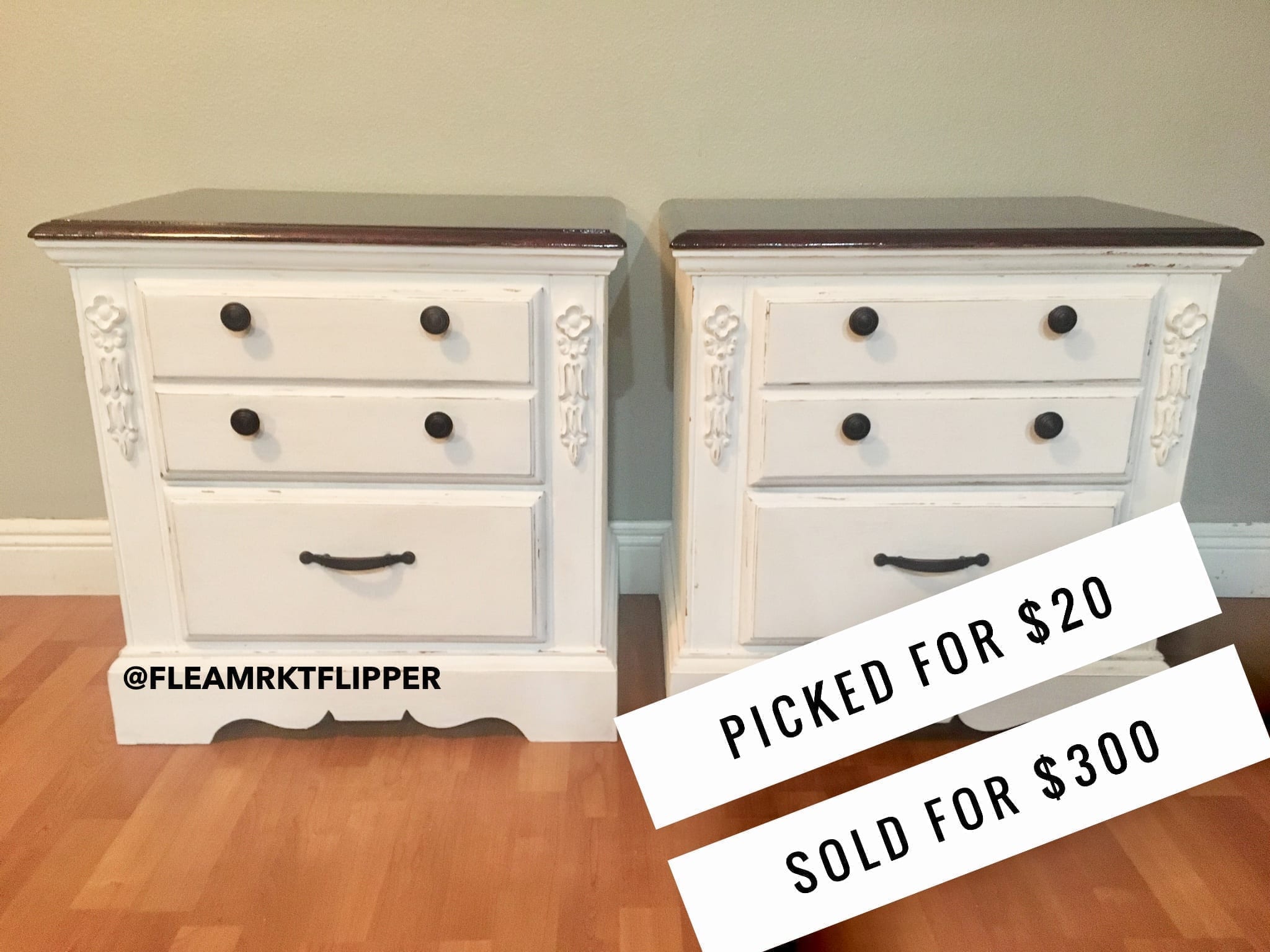 We shipped those guys on a pallet and they went up north.
If you want to get into repurposing or upcycling used furniture, check out this post on How To Sell Used Furniture Online To Make The Most Profit.
Benefits of turning trash to treasure
Aside from the obvious benefit of making extra money, there are several other benefits taking trash and turning it into cash.
It's good for the environment
We are very wasteful as a culture these days. Our grandparents and great grandparents wouldn't buy new things very often, and when they did, it was usually out of need.
Now we stand in line a day before the newest iphone comes out even if our old one works perfectly fine.
Don't get me wrong, I like nice things too, and I'm not knocking people who do this, I'm just stating a fact that our culture tends to buy more "stuff".
And when we buy more stuff we have to get rid of the old stuff, and inevitably a lot gets thrown away.
So buy pulling things from the trash to resell you are saving it from the landfill!
It allows people to find items at a discount
By getting things before they go in the landfill, you are helping someone else get that item at a discount.
For example, we sold this Dyson vacuum for $90 that we picked from the trash. These retail for over $300!
So the person who bought it got a great deal and we got paid to be the middle man.
Had we not picked it up, it could be in a landfill somewhere and the buyer would be out an extra $200+ for a new vacuum.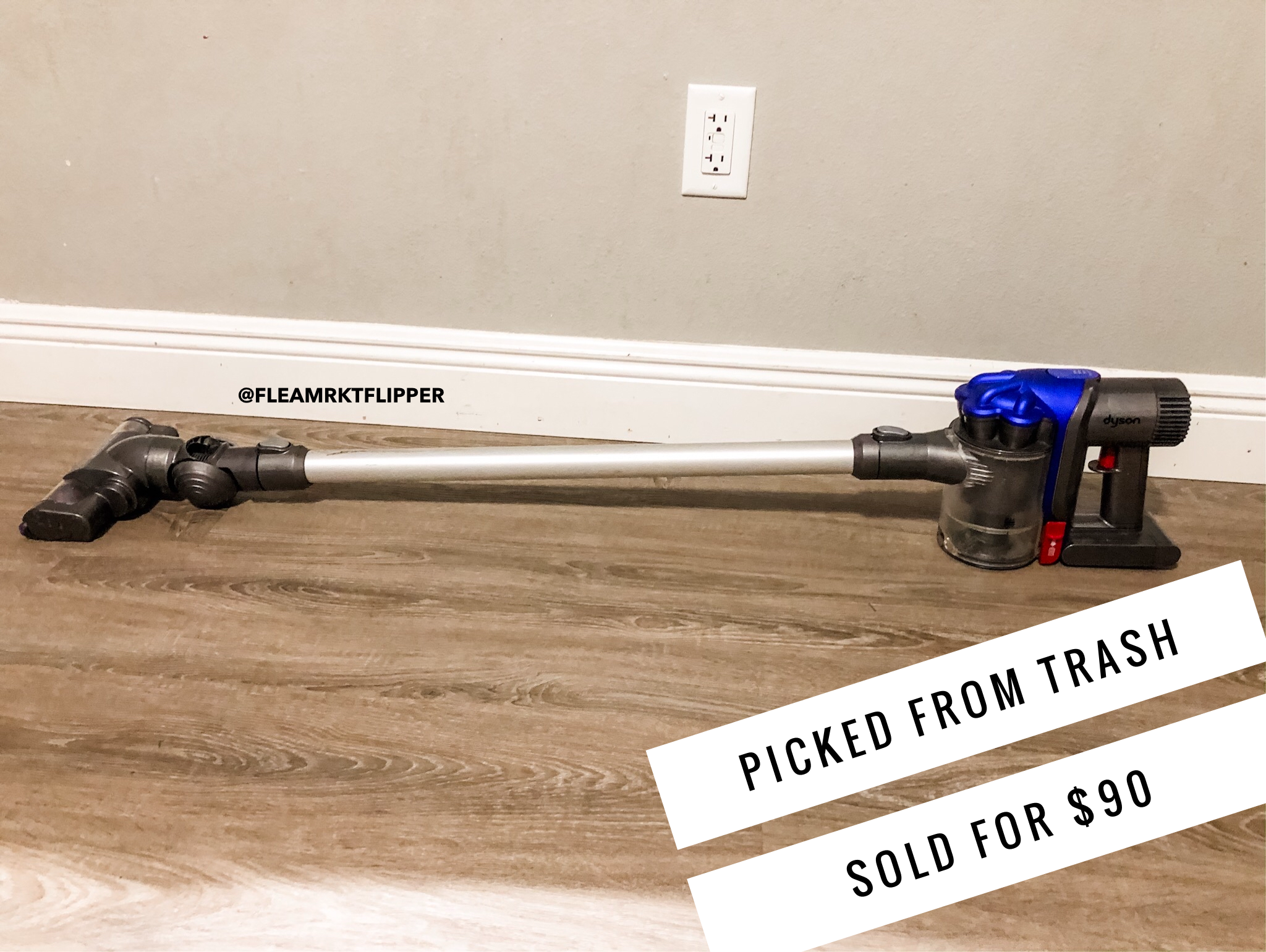 Treasure Hunting is FUN!
One of the biggest reasons I started flipping items back in the day was because it's FUN!
I don't enjoy monotony at all. I don't last long doing the same thing over and over every day.
With reselling, you never know what treasures you are going to find! Every day is a new adventure!
And every day people are throwing things away. Keep your eyes open because you will never know what you can find!
Ready to start turning some of your treasure finds into cash and increase your flipping profits? Than Check out our FREE workshop to see if this is a great fit for you!
Have you ever turned trash to treasure? Comment below and tell us about your finds!
Further Resources
Make Your First $100 Flipping In 7 Days (FREE Video Course)
Free Workshop How To Turn Your Passion of Flipping Items Into A Profitable Reselling Business
Related Posts:
Business Grad To Full-Time Furniture Flipper
How To Sell Furniture Online To Make The Most Profit
How This Dad Turned $27 Into $1,200 By Shipping Freight