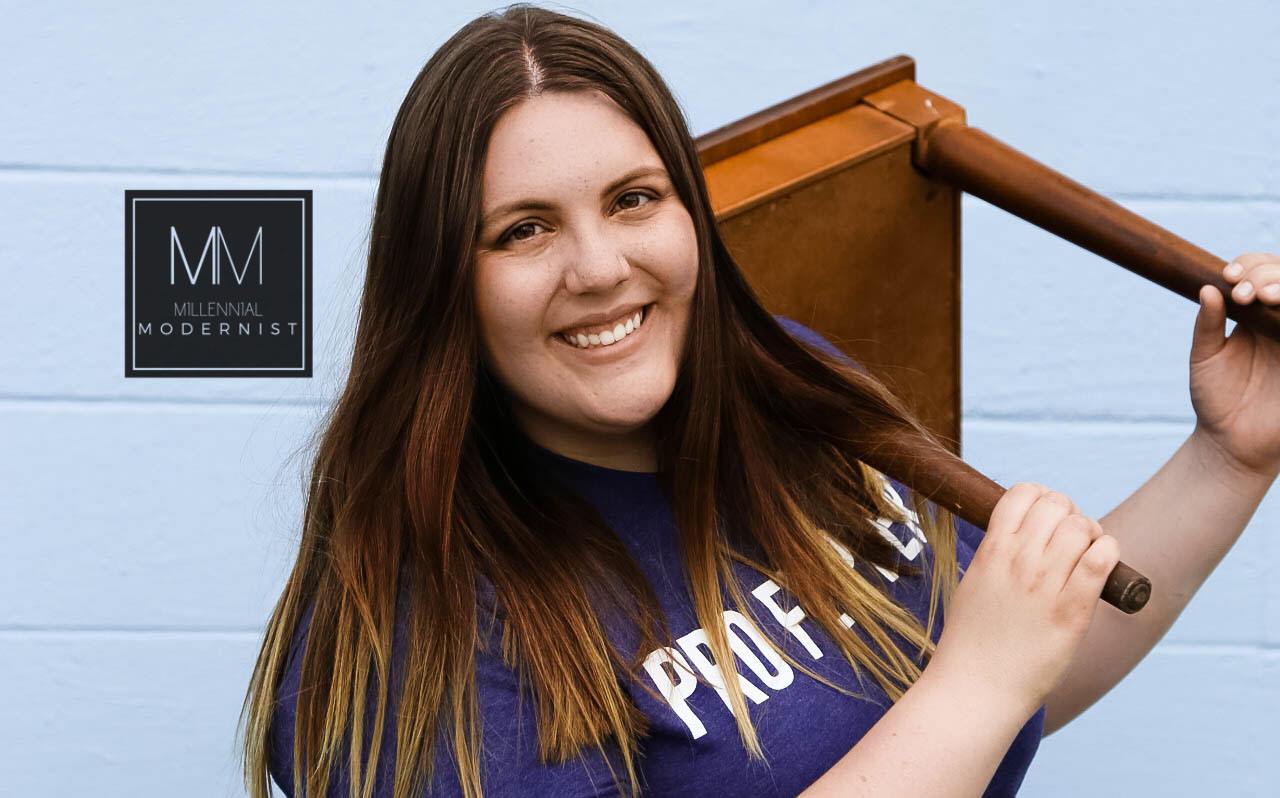 June 13, 2019

From Business Grad To Full-Time Furniture Flipper
From Business Grad To Full-Time Furniture Flipper
Do you love rescuing old furniture and giving it a face lift? Do you love using power tools and getting your hands full of paint? If so, have you ever thought of being a full-time furniture flipper? Or even do it on the side to make an extra income?
Flipping repurposed furniture for a profit is still an untapped market – especially on eBay. Did you know that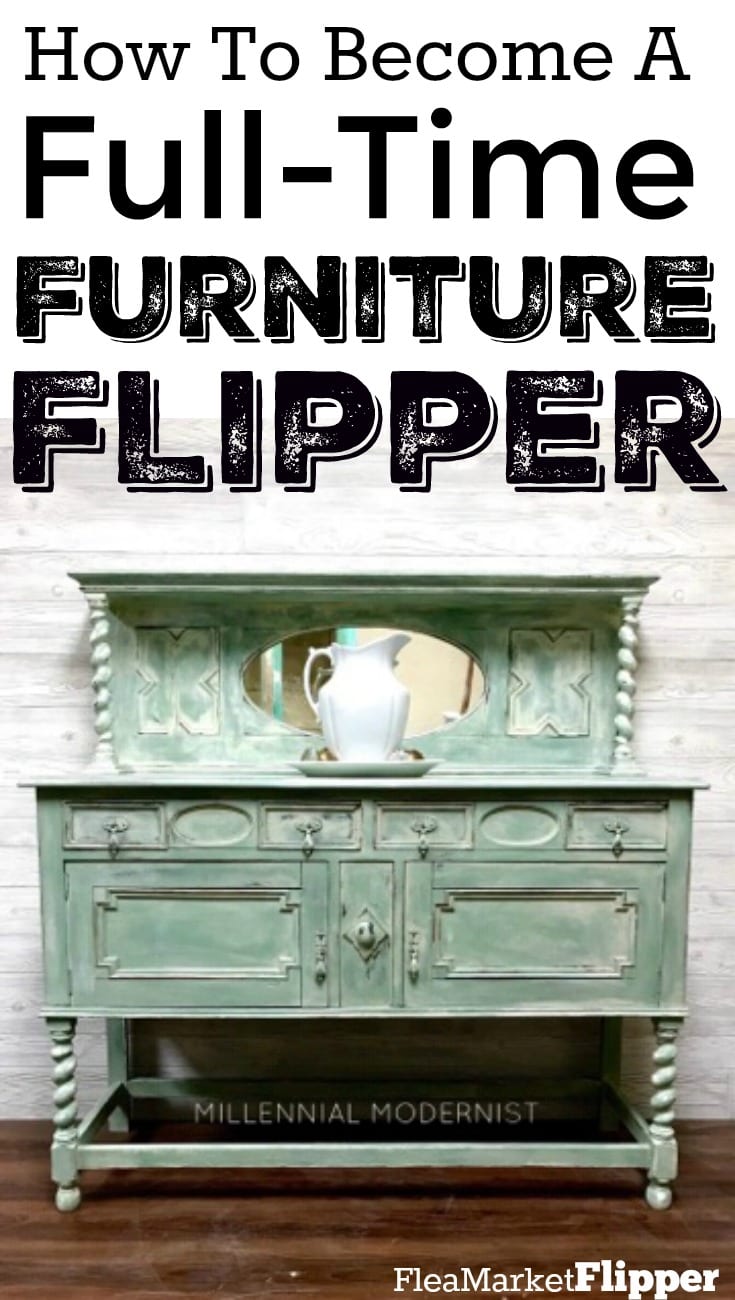 you can actually make a living grabbing cheap or free furniture, repurposing it, and selling it for a good profit?
We are here today with our Flipper University student, Becca, who is doing just that. She recycles and refinishes furniture that was one step away from a land fill.
Becca adds her unique inspiration and talent to the piece creating some unique and stunning masterpieces!  Not only that, she has been able to make a living flipping furniture as her full-time job and she is loving every minute of it!
We are super stoked to have you here with us, Becca. Please share with our readers a little bit about yourself:  
My name is Becca and I'm from Springfield, MO; well- sort of. My family was a military family so we've lived all over the place; we even spent five years in Germany!
I moved to Springfield to attend Missouri State University and I graduated with my Bachelor's in Entrepreneurship. Usually I have to follow that with, "YES- Entrepreneurship is a degree option and YES you should try it out!"
Springfield is the third largest city in Missouri; we have the benefits of a large city and all of the perks of a smaller community.
I live with my boyfriend, Andrew, and my very best friend, Shelby, who we adopted from the Humane Society. She's a Persian tortoiseshell cat and she's the best ever. I like design magazines, coffee, cats, and lots of paint!
How did you find us here at Flea Market Flipper?
I actually found Flea Market Flipper on Pinterest! I like to drink my morning coffee and peruse Pinterest. I kept seeing posts from you and Melissa about your flea market flips.
I didn't jump in to Flipper University right away. I think I should have done that immediately, but instead I spent several weeks lurking on your page to find out who you were!
Two things get us super stoked; People who flip full time like us and people who aren't afraid to ship big items! You are the coaching group's expert in furniture flips! Your furniture work is beautiful.  Tell us a little about that:
Never in my wildest imagination did I ever think that someday my hobbies would include being an expert full-time furniture flipper. Seriously- I didn't even take any art classes in college. Everything was strictly business.
I think the incendiary catalyst for me was when I started selling houseplants for fun. I knew a lot of people had a hard time keeping houseplants alive, so I started growing my own and finding little planters for them at thrift stores.
I sold everything locally using the online platform Facebook Marketplace. I found myself opening up a flea market booth in a local store and selling quality items for a fraction of standard retail cost.
After rigorous research across several stores in my area, I realized the biggest profit potential was in furniture – because I could get it extremely cheap if I was in the right place at the right time.
The world is run by people who show up.
What I mean by that is this: you're not going to get the low-priced treasures by shopping online. You have to get up early and go to the auctions, yard sales, estate sales, and you have to make friends.
When you find a piece of furniture that is cheap you often will find that it needs a makeover or a repair. Most people could see a chair and buy it for $3 and aim to sell it for $17.50 locally. But what if you painted that chair into an artistic masterpiece and sold it for $75? It has been done and it can be done – and it's a blast!
People like to spend their money on functional things. Almost everyone usually needs some sort of furniture. It's so much easier to sell something useful than something knick-knacky.
On the subject of talent… there is a bit of learned talent that is required to be a furniture flipper. When I started dipping my toes in furniture flipping, I kept telling myself that I wouldn't touch something if I couldn't fix it with a hammer and nails (LOL sick joke; ask me about the time I tried to take apart a pallet with a hammer and ended up getting a tetanus shot).
I put in long hours learning my way around power tools. I also need to thank my dad; he bought me my first screwdriver and taught me how to use almost all of my tools in my tool chest.
I'm not saying that furniture flipping is hard, but I'm not saying it's easy. It's a journey to discovering what you're capable of.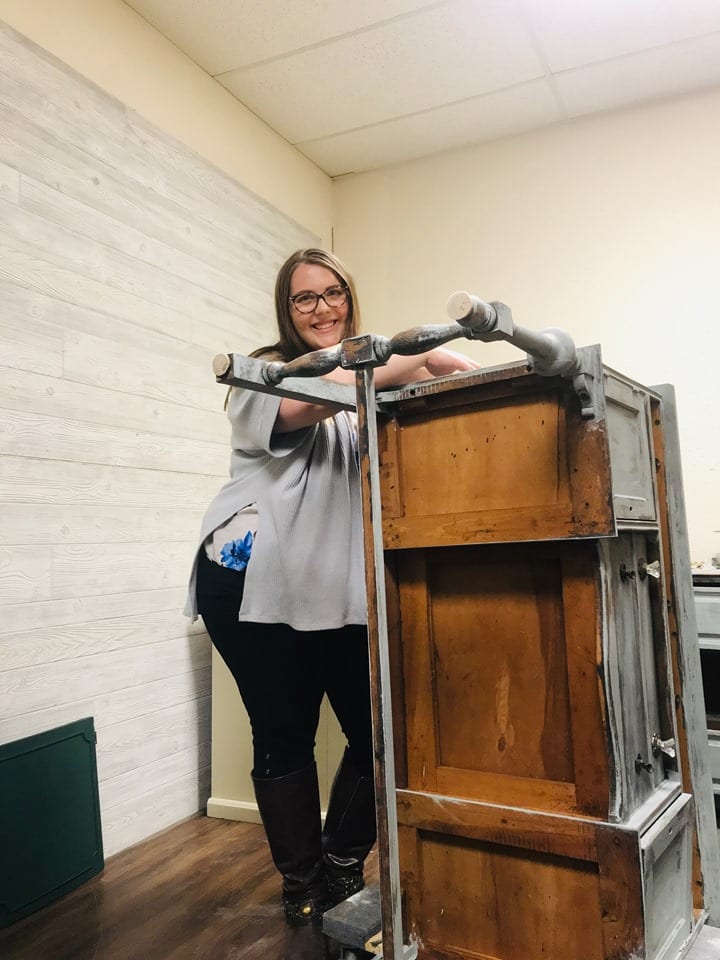 Online resources are your best friend. I'm very passionate about furniture flipping and I will be your best friend if you are wanting to learn! I am thrilled to help anyone who is willing to listen and learn the art of furniture flipping!
What is your ultimate goal with your furniture flipping profits? 
Like I said before, I never dreamt I'd be a furniture flipper and never realized I could actually make money doing it. I love it!
I initially started flipping in order to put all of the profits towards paying off my student loans. Flipping furniture has now become my full-time gig and I wouldn't have it any other way!
On average, I make about $3,000 per month between online sales, vintage market booths, shows, and local flips. I really love flipping furniture and it's true- when you love what you do, you never work a day in your life.
My ultimate goal currently is to continue to aggressively finish paying off my student loans and use the money to live comfortably and enjoy life!
You seem to get some really awesome furniture for very little money. What is your secret to sourcing the furniture you flip? 
I have my best luck going to auctions in small towns. This is where I pick up most of my items to repurpose. Now that I am an experienced painter, I'm not afraid to spend a little more on my flip pieces so I can start with great quality.
I often go to antique stores to find unique, one-of-a-kind carved pieces. I frequently draw inspiration from the Renaissance period; I usually try to draw from that era.
Occasionally I can find great pieces at estate sales, yard sales, and the occasional dumpster! I hate seeing beautiful furniture thrown away especially if there is nothing wrong with the piece of furniture.
People are so quick to toss something away because it's "old". Let me tell you… they don't make furniture like they used to!
I love these pieces because I can take them and add my inspiration and make them into a great piece to resell.
We often come across people who don't get into flipping because they don't have money. We can't express to people enough that you don't need money to start flipping. Just out of curiously, how much money did you start with to start your furniture flips?
It's hard to say because it started as a hobby for me. I didn't start with $10 and keep track of the growth, although that would have been cool!
I know the first time I spent quite a lot of money on plants was around $50 to make $200. That's pretty much where it started and it's been a rolling wheel ever since!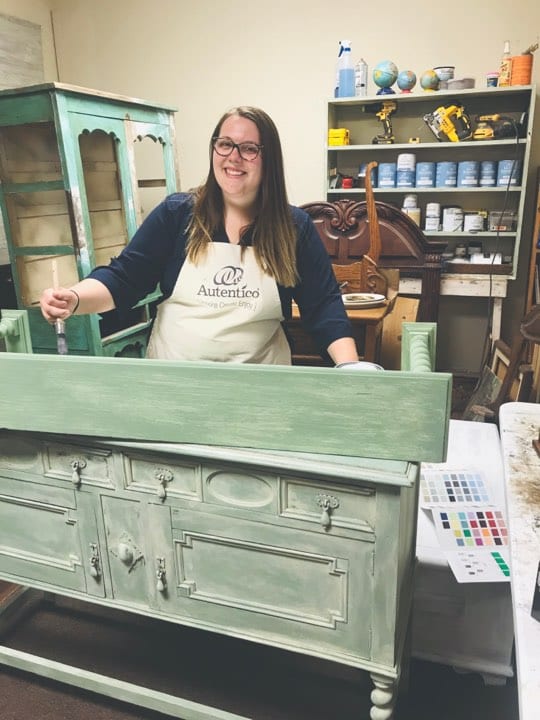 Like you said, anyone who wants to flip for profit doesn't need much. Furniture flipping is no different. There are endless furniture pieces to pick from. If you are a beginner, you can start with the free stuff.
You've been an active member of our coaching group for a while now and we really appreciate your input. How has the coaching group helped you and what have you gained from it?  
The coaching group is amazing. We are all a group of strangers with the same goals; to flip to make a profit.
This same goal unites us. I've made some great friends in this group. It's a place to share concerns, pitfalls, celebrations, victories, and get much-needed advice.
And there's plenty of us online all the time and we get answers to our questions very quickly!
Your informational videos on YouTube and also in our coaching group have been tremendously helpful.
As a seller, you've given me the confidence boost that I needed to make my large item sales sell faster and for a higher profit.
You and Melissa are the best kind of coaches; down to earth, friendly, within reach, and motivational.
I just started doing some coaching calls with the Flipper University course members. I love sharing my 22 years of flipping wisdom with them. What words of wisdom would you give to other furniture flippers out there who want to get started? 
I would encourage them to join a group on Facebook called, "World of Chalk Paint, Distress, & Decoupage". There's over 200,000 members from all starting points, both beginner and advanced.
You'll find that the best paint to use on furniture is not readily available in big box stores. I have tried every different type of furniture paint that I could get my hands on because I wanted to discover the best.
After spending a lot of time and money on paint, I can without a doubt say that the best paint out there is Autentico. I love it so much that I became a stockist and I carry it in one of my vintage market booths.
It has 35% chalk content, over 150 colors (with an amazing neutrals palette), many colors of wax, and the highest quality of brushes!
Autentico also has lines of self-sealing paint for high moisture areas like kitchen/bathroom cabinets. To top it off, we have lines for wall paint.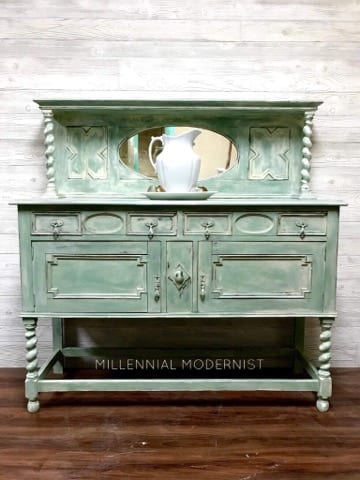 Any other furniture lovers should be encouraged to try this paint and feel the difference. If you live in the United States, you can order it through me and you'll receive a bottomless bowl of advice and encouragement.
I don't throw a coat of cheap paint on a nice piece of furniture just to make a few bucks. It has become an art to me; I won't burn my business logo into the piece if it isn't up to a high standard of quality. Paint the piece properly and you will be rewarded with profit!
Lastly, up until a year and a half ago, I was afraid to ship anything via freight. After taking Flipper University Freight course, I am no longer afraid and this opened up a world of possibilities for my pieces.
I recommend to anyone wanting to get into furniture flipping to learn how to ship freight. Usually my pieces sell locally pretty quickly, but I love knowing I can put my masterpieces on a pallet and ship them ANYWHERE!
Even better, I can travel and buy inventory pieces, pallet them and ship them to myself for cheap. After I receive them, I can paint the piece and ship it all over again!  It's a great skill to learn and really has given me confidence to market my pieces to a broader audience.
Thank you so much Becca!!
You can find Becca's beautiful work on Facebook at The Millennial Modernist.
Further Resources
Ready to get started with a flipping side-hustle or grow your existing reselling business? Check out our FREE Intro workshop to see if this is a good fit for you!
Download these 5 mistakes reseller's make that could be costing them money to avoid making these yourself! (This will also add you to our flea market flips and eBay tips newsletter. You can unsubscribe anytime.)
Related Posts
How This CPA Made $12,000 Flipping Items On The Side
How This Family Used eBay To Crush $65,000 Of Debt In Only 14 Months!
How This Single Mom Went From Working Two Jobs To Making $5,000/Month On Her Flipping Side Hustle
How This Couple Who Adopted 6 Kids Made $26K Last Year With Their Flipping Hobby
How This Mom Of 6 Made $3,187 On ONE FLIP By Gaining Confidence With Shipping Large Items
We Want To Hear From You!
Are you a furniture flipper who wants to take your side hustle to a new level? Have you thought about offering shipping for your amazing work? Comment below!
From Business Grad To Full-Time Furniture Flipper
FOLLOW THE FLIPPING ADVENTURE: