Flipping Success: Flipper University Member Highlight
Today we want to highlight one of our Flipper University students Beau and his flipping success!
Beau has been killing it with his eBay business (that he does on the side) lately and we wanted to take a few minutes to talk to him about what he has done, how he has done it, and what his goals are for his future flipping.
Beau used to flip items back in the day. He was a band teacher and was always drawn to instruments to buy and resell. (A great reminder to always start with items you know!)
In 2008 he took a break for a bit – a 9 year break to be exact!
Then one day last year he listed and sold a pair of his wife's shoes that she didn't wear anymore. And right around that same time he saw a large garage sale and stopping in to check it out. Then he remembered how he had made some good side money with flipping but even more importantly he remembered how much he enjoyed it! (We are all about living a life you love!)
So Beau was back!
Since he is a band teacher he has the summers off, he spent about 10-20 hours on his side hustle. During the school year he spends about 4 hours a week on his flipping business.
He found us through our interview with Bobby Hoyt on Millennial Money Man.
Beau enrolled in the Pro Flipper PLUS package for Flipper University (which includes the freight shipping course), because he wanted to start jumping into larger items and higher profit items.
He was able to pay back the course with ONE flip that he would have never done outside of Flipper University. It was a large refrigerator that he picked up for $150 and sold for $650 on Facebook Marketplace!
He more than paid for the course, and sold it within a week of picking it up!

We chatted a little about the shoes Beau does because he rocks at them! He is constantly posting these wins in our members Facebook group. Here is a pair of shoes he bought for $10 and sold for $295!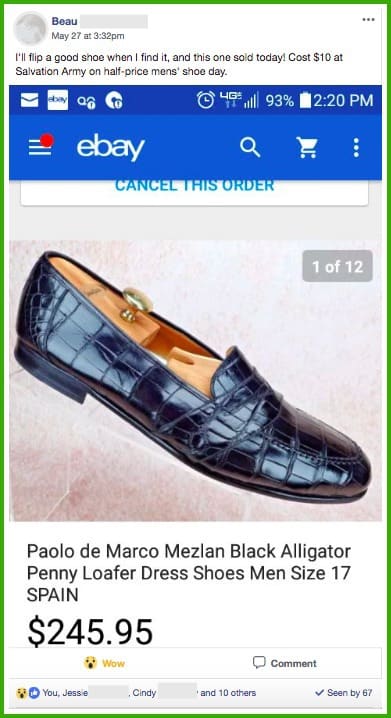 His goal for the next year is to keep reinvesting in his business and really dive into the higher profit items. Beau has less hours to spend on flipping during the school year, so he wants to make those hours matter.
We want to hear from you!
What are your flipping goals for this year?
And if you want to start flipping items for profit, don't make these 5 mistakes that will eat up your flipping profits! (It's a 5-day free e-mail intro course.)
Related Posts
How This Guy Went From $3 Profits to $100 Profits In His Reselling Business
What We Flipped To Make $1,200 In One Day Of Flipping Flea Market Items
How We Made $133,054 In One Year Of Flipping Flea Market Items
Learning Resources
Beginner's Guide To Selling On eBay E-Book
5 Mistakes That Cut Into Flipping Profits E-Mail Intro Course
Flipping Success: Flipper University Member Highlight