Have you ever heard the phrase, "The key to a happy marriage is low expectations." While we laughed at that statement, there is some real truth to it. Expectations are often met or exceeded when we under promise over deliver.
Instead of the other way around.
This is true in marriage or any relationship, including a buyer/seller relationship.
If there is one thing I've learned over the past 24 years of flipping, it is to not give my buyers unreasonable expectations.
I think everyone can attest to buying something in the past, only to be extremely disappointed when you opened it up and the shape of the item was not what you expected. Your seller used words like "nice" and "mint condition" only to find out there were scratches, scuffs, and the item was not in the condition you expected it to be.
If we are honest, we all have expectations about a lot of things. The same is true for the buyers of your items. I know this sounds negative, but I have learned through the years to give a reduced quality impression of the item. The item I am selling is worse or problematic in my description than it may actually be in real life. It might sound counterproductive, but this leaves little room for disappointment when my buyer receives it.
Because I have learned to under promise over deliver, most of the time, my buyers are super happy about the condition of their purchases. Simply because I am giving them a different picture of the item than they were expecting.
To under promise over deliver sets my buyer up to be happy rather than be disappointed. In fact, they will almost 100% be surprised at how nice the item is on delivery.
Today I will share with you how I have learned to under promise over deliver over the years. These 7 tips will help you have a satisfied, happy buyers more often that not. This has served me well over the past few years.
Stop Using Subjective Words
In my early years of selling on eBay, I would list my items using subjective words.
What does this mean?
I would describe my listings by what I thought would sell it better. Or by trying to judge what I thought my buyer might want. These subjective words would not give an accurate description of how the item actually looked.
Melissa says I'm super positive and my listings definitely portrayed my positivity. And years ago, being too positive would get me in trouble with my buyers.
I would describe my listed item with subjective words like "mint condition" and "great condition". I have even used "small dent" or "tiny scratch" as descriptives for items.
These were very subjective and would often set me up for a return request.
How is that possible?
Because using subjective words are really a matter of opinion and can mean very different things to different people.
The "mint condition" I thought it was in, may not have been the same "mint condition" someone else was expecting. More times than not, that got me into trouble. 
After a few return requests for "Item not as described" is when I noticed I had been used these subjective words. I decided when describing items in the future, if I want to under promise over deliver, I would need to change things up.
I decided to start using more objective descriptive words. In doing that, I would not be giving my customers false expectations.
I started using words like "expect scratches, scuffs, nicks and signs of wear" while referring them to photos of the areas described so they could see it for themselves.
Instead of "tiny scratch" I might even measure the scratch to let them know exactly. I would be honest and describe the defects exactly how I saw them, not diminishing areas of damage or defects by making them sound better.
After this one small change…
I started to see a dramatic increase in happy customers and thus, a lot less return requests.
Avoiding words that could mislead my buyer and using more descriptions that swayed more to the negative aspects of my listings was making a big difference.
This change in my listings did three positive things for me as a seller. 
eBay sided with me more often in the rare instance I did receive a "not as described" return request.
My customers simply were happier and more satisfied.
I had less stress and more money in my pocket!
In the long run, I have saved hundreds by describing my listings by "being a little more negative." I know that sounds so counterproductive, but listing more objectively and leaning towards the negative side of things has worked. 
Since I've stopped using subjective words in my listings and making my listings sound better than they are, I have seen my transactions run more smoothly and my feedback has really been building in a positive way.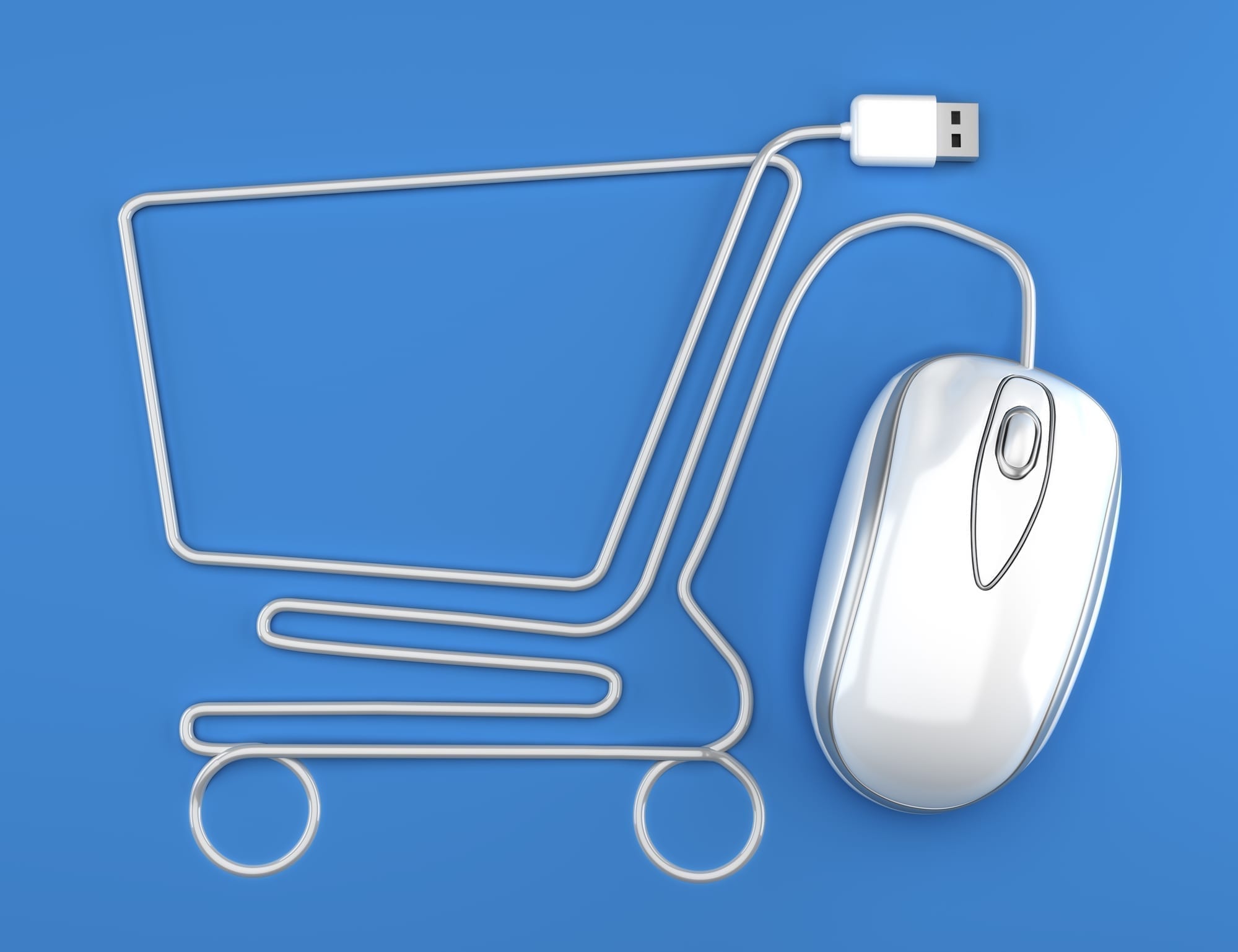 Take Accurate Photos:
Have you heard the saying, "A picture is worth a thousand words?" It's so true. Photos are so important if we want to accurately describe our listings.
Taking accurate photos will make sure your customers are not developing an expectation that won't be met.
In the world of electronics and computer graphics, there are so many ways to take a great photograph. With a simple round light and an iPhone, you can take nice photos that describe your listed items well.
On the other hand, however, those useful filters and photo programs can also cause inaccurate photos. With that said, you never want to use filters or photo enhancers that change the actual color or condition of the item in your photos.
Although this may be tempting as your items will probably sell faster with a superb photos. It's just not worth changing the photograph to give false expectations. 
You always want to be careful your photo portrays the exact color and condition of what they are selling. It's never a good idea to hide or make defects look better than they are. An honest photo will help to under promise over deliver.
Unfortunately, in my home, we don't have good lighting. So as a rule, we use a ring light for our photos and try to stay away from filters altogether.
However, we do lighten up our photos with the editor on our iPhones. We always made sure that it doesn't change the color or give any false expectation to our customers. 
Give customers the full picture
Not only does taking a good photo help to under promise over deliver, but taking as many photos as possible will also help your items sell faster. It can also lead to a much more positive experience with your sales.
EBay includes 12 photographs to each listing and I recommend you use all of them.  
When listing an item on eBay, I take a photo from each angle of my item (front, back, top, bottom, and all sides).
If there is a defect, I definitely highlight that with a separate photo. If there is a scratch, dent, tear or anything that could possibly cause my buyer to be unhappy with my item when they receive it, I take a good close up photo of the area highlighting the defect. I will also refer to the photo in my listing.
Taking accurate photos and including enough photos in my listings has saved me so much hassle and money over the past years. This will definitely lead to a happy, more satisfied customer experience when they receive the shipment.
Ship Faster Than They Expect
Have you ever purchased an item from eBay that said it would be shipped in approximately five business days? To your surprise two days later you received it in the mail? It's always a great feeling when you are not expecting it for several days and it gets delivered to you so fast you would swear they hand delivered it!  
I set my listings to ship in three business days. But if it's in my power, I will ship the smaller items much sooner than three business days. This way, the buyer will be getting their items sooner than expected. This is just another way to under promise over deliver.
Lightening fast shipping will help make a very happy customer. In fact, some of my best positive feedback I've received is from buyers that were thrilled at how fast they received their items.
Under promise over deliver by shipping faster than your buyer expects!
Take Time to Package Well
Over the years I've received many eBay purchases that were just thrown in a box and shipped with no care. I would notice that they used a box that was in poor condition and didn't add any additional padding to your item. This made me feel as though no thought was put into the shipment.
Not taking care of your shipments speaks to the buyer that the seller is not professional. This is definitely not what we are shooting for when we want to be a Top Rated Seller.
On the other hand, I have made purchases on eBay and received the item with perfect packaging on the inside and outside. The box is neatly packaged with plenty of padding or a nice plastic bag around the item. This causes an immediate positive impression of the seller who took extra time and thought into packaging my item.
Packaged with care
Having this kind of care in the packaging is honestly rare. Most of my purchases from eBay will come with no extra care put into the packaging. It's just a regular box, packaging, and nothing that draws attention.
But believe me, when I receive a package with an extra poly bag around the purchased item, or a neat wrapping of bubble wrap around my buy it makes a great impression of that buyer.
Under promise over deliver, remember?
Going the extra mile by boxing up your eBay sales with care will not only show professionalism and will no doubt lead to positive feedback and a strong reputation.
Under promise over deliver with a well packaged shipment that is not the norm. This small gesture reflects a professional, caring seller.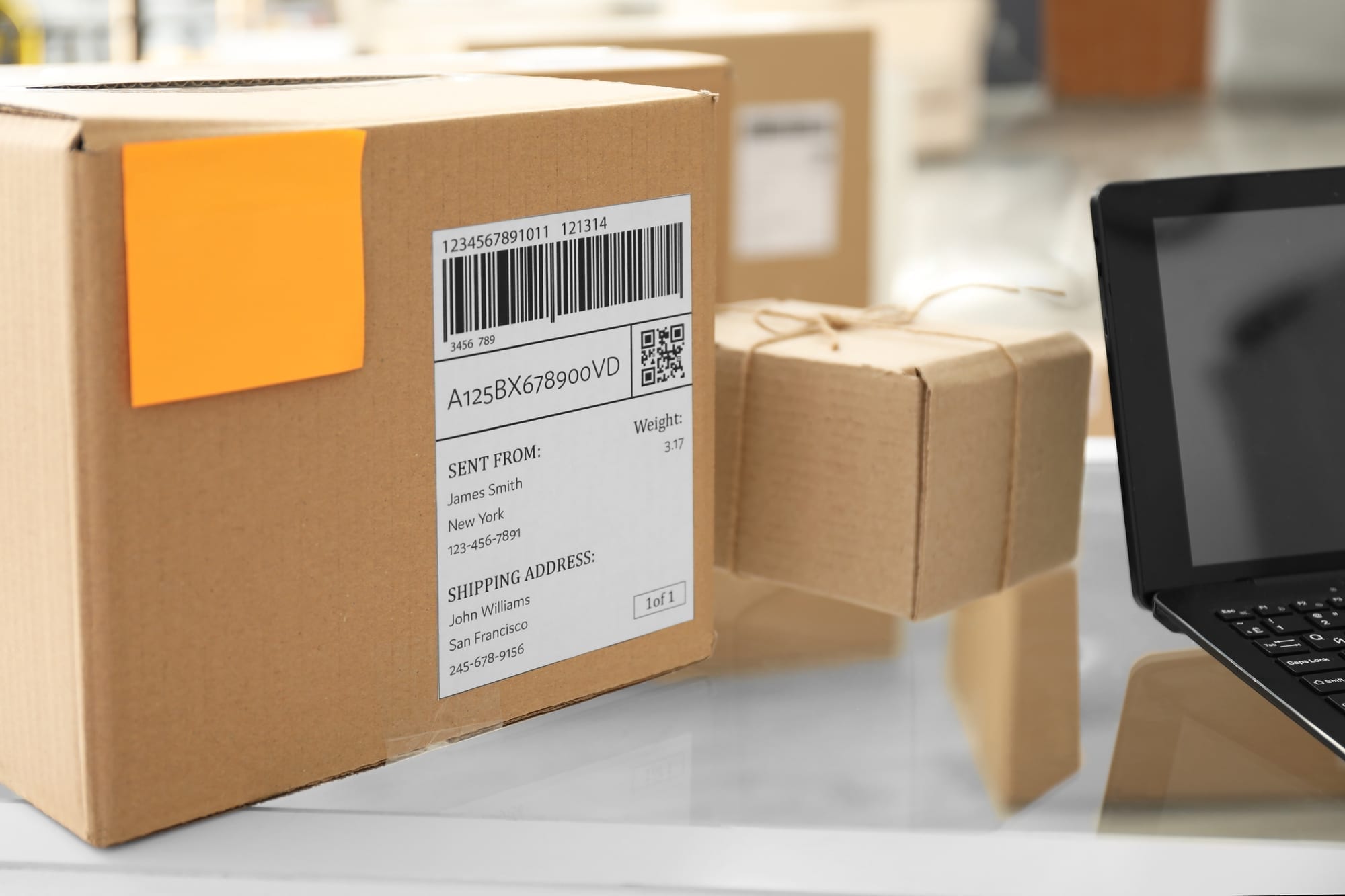 Add In Something Extra
Occasionally, I will receive an item I purchased and I will notice a little "extra" something in the box with the item. Nothing like a nice surprise I wasn't expecting.
Through the years, I've sold so many things and often I've sold multiples of the same item. At times, I end up with extra parts and pieces that can be helpful to those purchasing my items.
Even if I don't have it included in the listing, sometimes, I throw in an extra vacuum bag, a belt, or replacement part for an item that I am selling. 
When my buyer opens up their package and sees I took the extra time to add a little something extra to their package, they automatically feel like they are getting more for their money.
This gesture costs me very little to do but pays off in great dividends. Most times, these extras I add can be parts or extra pieces that are cluttering up my warehouse because they are not being used.
Decluttering my warehouse and adding in valuable parts and extras for my customers can mean a very happy buyer. It can mean less money spent and less hassle for my customer later on and they appreciate it.
Adding in an unexpected "extra" to your items that don't cost you anything is a great way to under promise over deliver and your customers will remember this in the future.
Detail Your Items Before Shipping
What a nice surprise for the buyer when they open their purchases and the item you sold them looks even better than in the photos!
Whenever I sell an item, keeping in mind my motto under promise over deliver, I take the sold item and detail clean it right before wrapping it and putting it in the box. I usually use Scrubbing Bubbles for any metal or plastic areas or polish on wood.
If at all possible, I make sure there is no visible dirt and I detail clean my sold equipment as best I can. This will just give it that extra care and detail so when my buyer opens the box, they will be even more surprised and satisfied with their buy.
Experiencing both sides of a sale
I've experienced both sides of the coin. I've had items arrive to me seemingly worse than what was in the listing photographs and even better than expected.
When I receive items that don't look as good as the photos in the listings, honestly, this is just disappointing. I go from excitement of receiving the item to not feeling great about the buy. No one wants to have expectations only to find out the item wasn't what they expected. 
But believe me, the other side of the coin is a great feeling! When I've pulled out my purchase from the box and see that it is much better than I even thought, my experience will undoubtedly be a positive one!
Everyone wants to have their expectations met. When we have our expectations met, we will have a positive experience. If it's in your power to take that extra few minutes to shine things up and clean the fingerprints from the metal, glass, or wood, it's worth the extra time.
Under promise over deliver by detailing your items before you package them up. It will make a huge difference in your feedback scores and an easy customer experience.
Include a Thank You
Two powerful words that can make an impact is a simple "Thank You." We live in a world where people want to heard and appreciated.
In my opinion, a simple thank you to my customers is an easy way to impact someone in a positive way and it's free!
Many of our course members in our facebook group consistently include a thank you note in their shipments. They will have professional thank you notes or small, inexpensive, personalized cards made up with their store's name, a little about themselves, and a nice thank you for the purchase.   
One of our course members, Jennifer, lost her husband suddenly several years ago. She created a "thank you" to add to her purchases and has gotten some really great feedback from it!
She has used her flipping/reselling to be able to travel with her six kids to 48 states! They have in mind to continue flipping with a goal to travel to Alaska and Hawaii finalizing their family dream of traveling to all 50 states!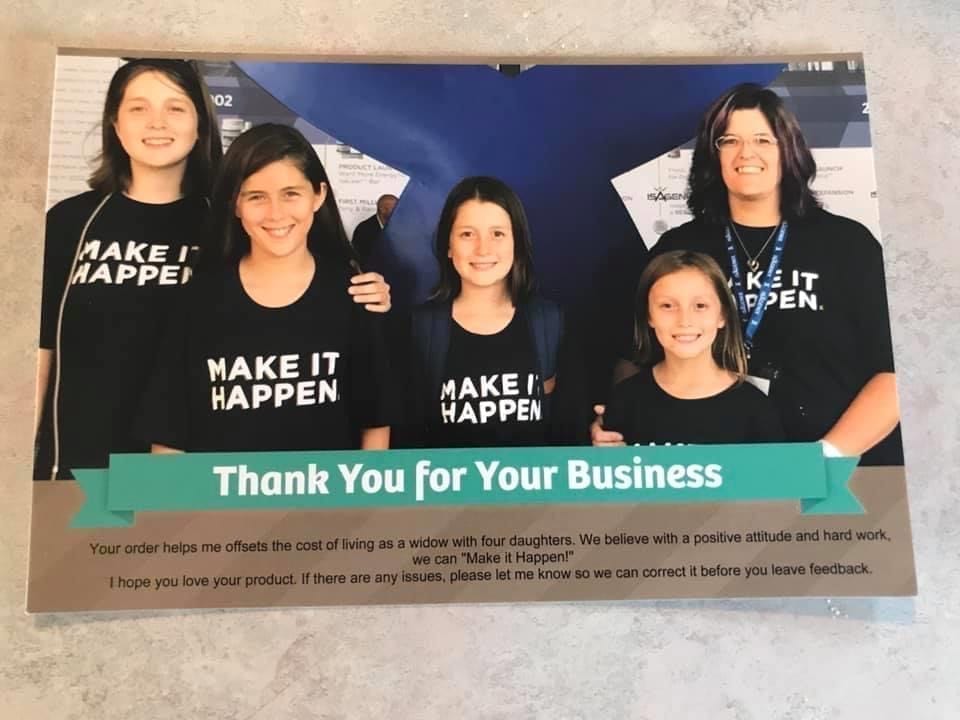 Many buyers like knowing that they may be supporting a retired couple, single mom, widow or someone who loves cats or dogs or simply just loves selling on eBay.
When I receive this unexpected thank you in my purchases, it just gives me the feeling that I am in some small way a part of the person's life.
Should I do this with all buyers?
Now I will admit, due to freight shipping as being my main business model, I don't include notes in my shipments. This just wouldn't work for my shipments.
But I know of several course members who include a nice personalized note of thanks to their buyers and it speaks volumes. 
Thanking your buyer is a great way to under promise over deliver on your sales! Many people do not expect to be thanked for purchasing from you.
But let's be honest, being thanked just feels good. It lets the buyer know they are not just another number. You took the time to tell them you appreciate they chose to buy from you rather than one of the other buyers.  
Not only will this be a great way to under promise over deliver, but it will do a couple of other things for you as a seller.
Sets you apart from the others who are selling similar items.
Prompts the buyer to leave you great feedback.
Reminds the buyer of you when their product runs out and they are ready to re-order.
If you desire to have success on eBay or on any selling platform, apply these 7 tips to under promise and over deliver and it will lead to happier, more satisfied customers. You will find easier transactions, less return requests, and increased positive feedback.
If you have interest in flipping and are looking for a profitable side hustle or a full time gig, check out our free intro flipping webinar today!
Further Resources
Free 5-Day Intro To Flipping Video Course
FREE Workshop How To Turn Your Passion of Flipping Items Into A Profitable Reselling Business
How to file an insurance claim with USPS
Related Posts
Facebook Yard Sale Site: How to make $500 this month!
Item not as described? 10 Tips to avoid returns on eBay
Increase Reselling Profits: 7 Habits for 2020 that will help maximize your flipping business