What would you do if you made $50K in two months? That's what most people make in a year!
Today we have a guest post from one of our Flipper University course members, Alisha, who was able to help her 70 year old mother liquidate her 50-year old sign business so she could retire. She was able to sell $50K of equipment in just two months! And she's still going strong.
Let's hear her story.
My name is Alisha Zwirtz. A little about me – I met my husband Alphonze on my first mission trip to Kenya Africa. I kept returning to East Africa, each time spending time with this fascinating guy.
After 5 years of visits, I quit my job as VP of sales for a software company, rented out my home, and moved to Nairobi Kenya to marry him!
We were both in our late 30's, never married, and it was a crazy leap of faith for both of us. Even though we knew each other for several years, we had never spent more than two weeks at a time together, and that was always when I had gone to Africa for short term mission trips. We had never even been on an actual date when we got married!
It was a totally illogical decision and as you can imagine, all of our friends thought we were crazy.
Alphonze pastored a church in Nairobi and we lived there for two years learning to combine our lives, our personalities, and our cultures. It was and continues to be a great adventure!
From Africa to the United States
After living in Nairobi for two years, I was desperate to move back to the states and be near my family. So we wrestled through the long, crazy immigration process and returned to my home in Oklahoma City.
Alphonze has since earned US citizenship and we have added two precious babies, Beckham (5) and Zia (3).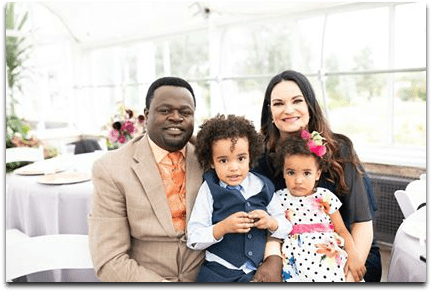 The church in Nairobi is still going and Alphonze now pastors a church in Oklahoma City as well. Marrying him is the best thing I ever did! This week we celebrated our 10 year anniversary!
I have been a serial side-hustler all my life. Even when I worked in software sales I always had something else I was doing to make money. I guess you could say hustles are my hobby.
I get excited about new opportunities and multiple streams of income. I was 40 when our first child was born. I have been blessed with the experience of traveling around the world. I have had so many cool life experiences. But at this season in my life, I wanted to be home and enjoy being a mom to our two little ones.
As a rule, we keep a pretty tight budget and are aggressively paying off debt. Anytime we can create a sustainable hustle that is flexible and can cover a line item in our budget, I call it a win!
Flipping seemed like it would be a great fit for our lifestyle with the flexibility it provides with everything else we have going on.
Finding Flea Market Flipper
While searching on google, I found you and Melissa on Flea Market Flipper. We own rental houses as one of our side hustles and we also flip them. I occasionally have items from our houses that we don't need. I thought I could learn to sell the items and make a few bucks.
I started following you and Melissa on Facebook for the purpose of learning how to sell just those items.
I was intrigued by the whole flipping process, but wasn't actively jumping into selling. Little did I know at the time, flipping is a very viable and lucrative side hustle!
Flipping Helps Family
In October 2019, my mom made the surprise decision to close her 50-year-old sign manufacturing company and retire! She had a 7,000 sq ft building full of heavy equipment. When she shared this decision with me, she was overwhelmed with what to do next.
My dad had passed away five years ago and I had no one to give me direction on how to sell this stuff I knew nothing about. I truthfully considered contacting you, Rob, and asking if you could help me!
As I was wrestling with how to ask you and Melissa for help, you announced in October a free-to-join 30-day flipping challenge on FaceBook.
I was in!
I am forever grateful that I joined that challenge. It gave me the confidence and weekly training to dive into selling my mom's company assets – mostly manufacturing equipment. I had no knowledge of the equipment so that made it extra challenging.
It was honestly so scary. She had so much stuff. It was very overwhelming and neither of us knew where to start. I just wanted to do right for my mom.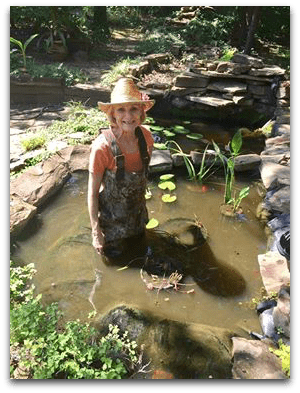 As I started diving into the information you shared through the free flipping challenge, we started making sales right away. It was the biggest high! We would high five and dance with joy at every sale!
Finding Success Flipping Large Items
Thankfully, from mid October to mid December, I was able to sell off $50K of my mom's company assets!
That's $50K in just two and a half months!
I picked it up again in February and March and managed to sell another $12K of her equipment for a total of $62K! How is that for getting over being overwhelmed and figuring things out?
When Flipper University opened in November, I bought the course. I figured even if I never made another sale, I owed that much to you and Melissa for what you did for my family.
After the enrolled in Flipper U, I watched the freight shipping course. With this new, valuable training, I was able to sell larger items that I was not successfully selling locally.
This was amazing because most of the items my mom was liquidating from her business were large and heavy.
Through my newfound eBay exposure, I sold many unique items. We even had folks drive several hours to pick up my mom's manufacturing equipment and one guy even flew in from another state, rented a Uhaul, and drove the equipment home with him.
Palletizing and shipping was scary for us, but we just went through your course step by step. With your help and the help of the others in the coaching group, we got it done and my confidence soared!
Finding Support Through Facebook Coaching Group
The Flipping for Profit Facebook group was as invaluable as the course was for us. They helped me work through my questions. I learned to use the search function to find answers to my questions. I found a ton of information that had been covered before. When I post a question in the group, the feedback is fast and thorough.
The first quarter of 2020, I didn't sell as much as anticipated because it is a very busy season for my event center. There were a lot of wedding engagements that happened in December and I was busy with events and facility tours.
COVID-19 Brings New Opportunities
COVID-19 shut my business down completely. With time on our hands, I refocused on flipping and it turned on like a faucet!
I realized what I had learned through your course gave me another stream of income when we needed it. What an amazing opportunity and a blessing to be able to create money when our other income came to a screeching halt!
Since Covid-19 hit, I joined the April #quarantine facebook challenge you offered and faced my fear of selling smaller items on eBay. I was convinced that shipping costs would eat all my profits for items under $100.00. I was wrong.
Selling smalls is a different strategy, but I have been having the best time and making some money! This time I have been mostly selling items for myself, as opposed to focusing on selling for my mom.
I am SO excited to report that I have joined the Pro Flipper Club ranks!! I've made OVER $1,000.00 IN PROFIT FROM CLUTTER! I sold some items on Facebook marketplace, but mostly little packages I sold on eBay and shipped with USPS.
We have been learning the ropes of sourcing on FaceBook for items to sell for ourselves. This is small potatoes compared to what I have been able to bring in for my mom, but we are getting better at it every day and looking forward to the business opportunity flipping can bring for our family.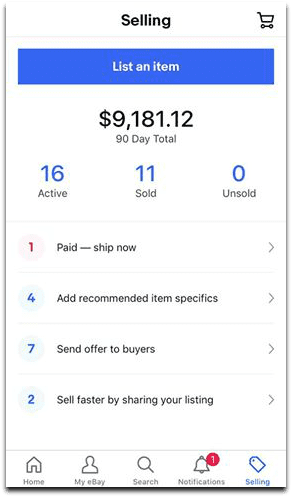 With all that said, Flipper U has been well worth the investment. I have been able receive valuable information that would have taken me years to learn on my own. I am not a fan of college for most people, but I am a huge proponent of purchasing a course from someone who is already making money doing something I want or need to do!
Now that I am comfortable selling smaller items on eBay, I will start working through the small tools and supplies at my mom's shop. I feel like we will be able to turn these items into a good sum of money – which is so exciting.
Before I was comfortable shipping small parcels, I thought we would have to have a rummage sale and settle for pennies on the dollar! Not anymore!
May God bless you, Rob and Melissa. By sharing your knowledge, I was able to step up and assist my mom during a scary time for her and turn it into a victory! May God also bless the coaching group. Their advice and encouragement have been a game-changer.
Thanks so much Alisha for sharing your story!
If you think flipping could be a good fit for you, check out our free intro workshop.
FURTHER RESOURCES
FREE Workshop How To Turn Your Passion of Flipping Items Into A Profitable Reselling Business
RELATED POSTS
How I Quit My Job To Flip Flea Market Stuff Full-Time
How This SAHM Made $1,000 In Her First Month Flipping Used Items
How This Mom QUIT HER JOB To Flip Items Full-Time (And Was Able To Pay Off $12K Of Debt In 5 Months!)