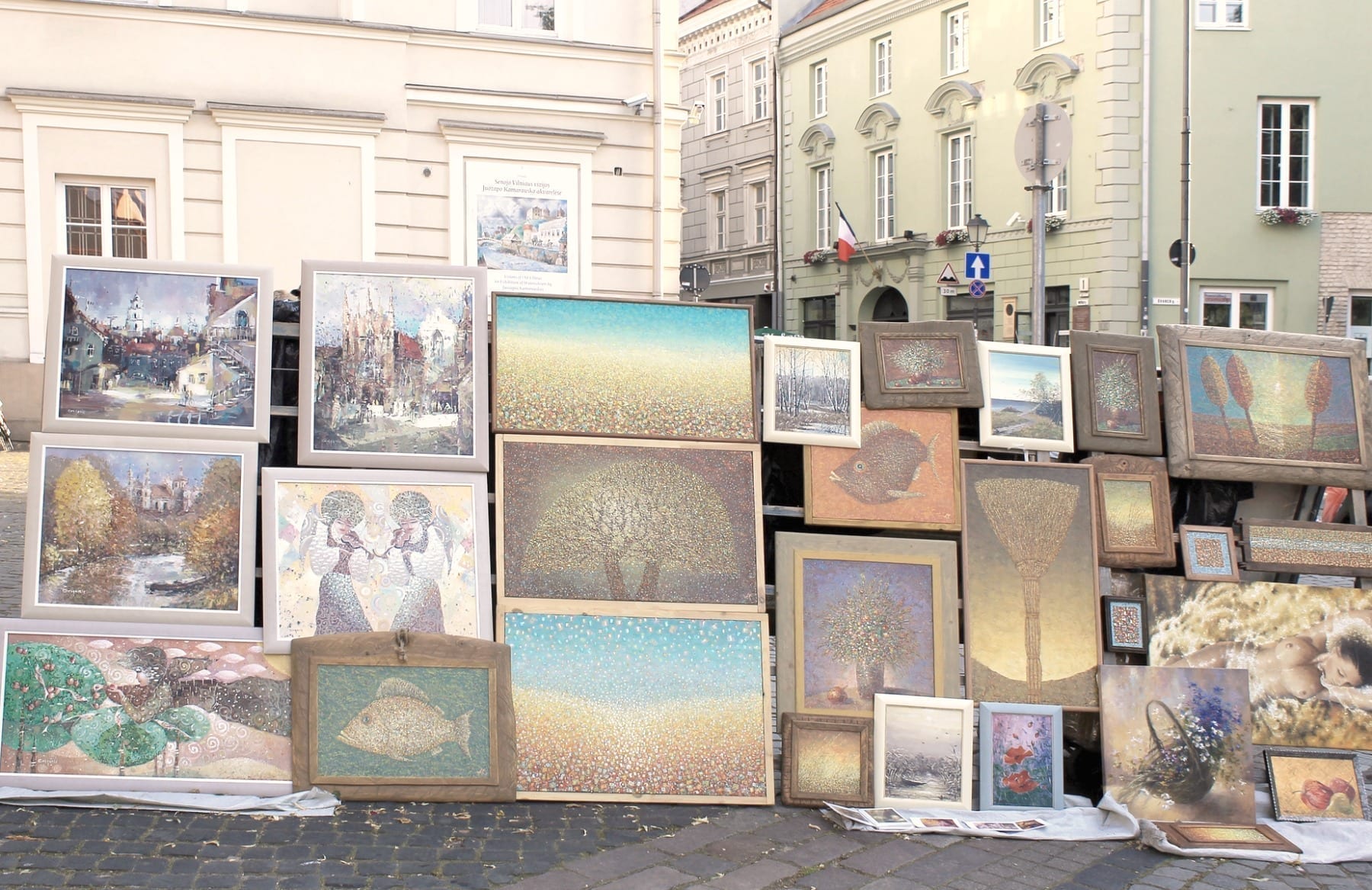 March 28, 2020

How This Young Woman Found Success With Her Flipping Side Hustle While Battling Mental Illness

Do you have challenges in your life? That's really a loaded question right now with everything going on in the world.

We are all facing new challenges every day with the ever changing status of the world around us and what we deem as 'normal' these days. 

And while so many are now facing new obstacles from financial hardships to health issues as well as other difficulties, this is not the first time people have had to push through and overcome these issues. 

We really get inspired by people who are able to move past those obstacles with courage and dignity and today we are happy to introduce Ashleigh, one of our Flipper U students, who has been killing it with her side hustle!

Ashleigh not only has financial challenges currently, but she also suffers from mental health disorders.

We are so stoked to hear her story of hope and how she has been able to push through these difficult circumstances and succeed at flipping!
Welcome Ashleigh! We are so happy to have you join us today. Would you give our readers a little history about yourself?
My name is Ashleigh. I'm 33 years old and I am just a delight! Haha, seriously though, with my bubbly demeanor you'd never guess I battle severe mental illness.
My mental illnesses include bipolar II disorder (including severe, debilitating depression), borderline personality disorder, severe anxiety, and obsessive compulsive personality disorder. 
Over my lifetime, I have had 23 psychiatric hospitalizations. I'm only sharing this to show the extent that mental illness impacts my day to day life, including my ability to work my flipping business.
Mental illness makes things extra challenging. 
But I'm really sharing this because I want you to know that if you battle mental illness you can fight through it and have your own flipping business too. The fact is, it doesn't matter WHAT your battle is, you can push through and be a flipper.  
One of the highlights of being owners of Flea Market Flipper is to hear how people landed on our blog to find our course. How did that happen for you?
I had been looking for ways to earn extra money and love furniture painting and flipping. As I researched ways to do that, I came across a Flea Market Flipper article about one of your students, Becca.
In your article, you talked about her success as a full-time furniture artist and flipper! What an inspiring story. It was so intriguing AND THUS the rabbit hole began.
When we saw your video about the course, the biggest clincher for us joining was freight shipping. It didn't take us long to realize if we were going to make a full-time income flipping, we would need to adopt your strategy of focusing on larger items with bigger profit margins. 
In order to accomplish that, we were going to need to know how to freight ship. Even though the timing was a little crazy for us to jump into the course, we are glad we did!
Are you new to flipping or have you been selling items for a while?   
I am completely new!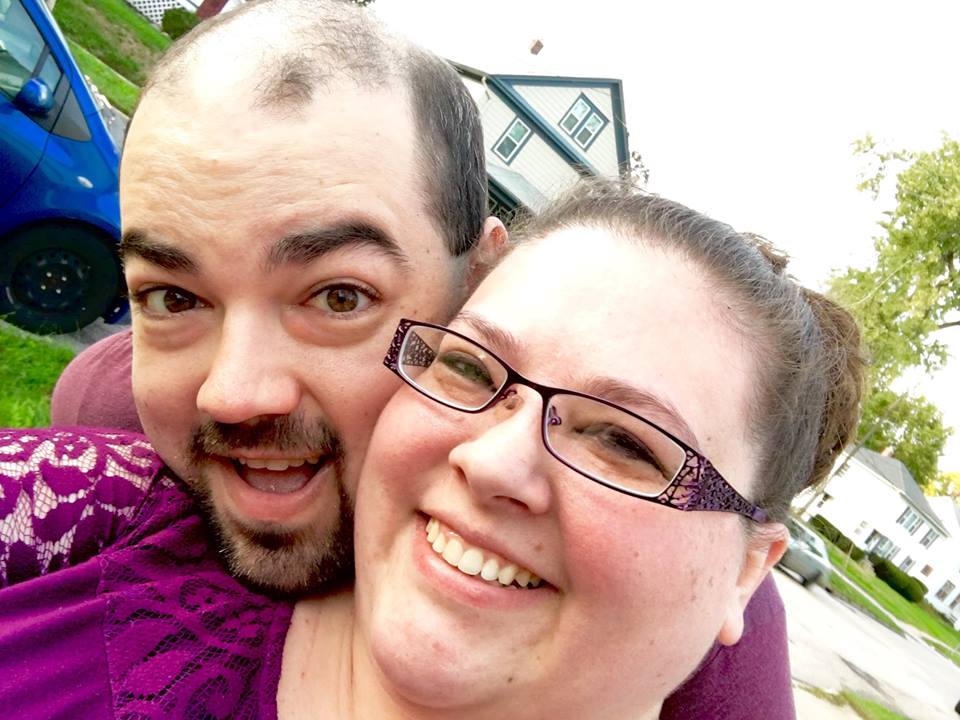 Initially, I first signed up for your six week workshop offered by Flea Market Flipper, just to get my toes wet.  My homework for Day One of the challenge had me go to Goodwill to research some items there.
The first thing I did was research a Sport tube. This was a skiing and fishing equipment carrier that they were asking $6 for. I decided to go ahead and buy it.
Before long,  I sold it for $59! This was just a dollar shy of TEN TIMES what I invested in it! At that moment, I was hooked.
We love our coaching group because of the variety of items they sell. What items do you sell mostly?
So far it's been stuff on the smaller side, but that's not the plan. The whole reason we (my fiancé and I) jumped in to Flipper University was to learn the skill of freight shipping. 
Because of our current financial situation, buying larger items to flip has been more challenging due to lack of investment money and space.
With time, though, we hope to grow that portion of the business for sure!  We definitely see the potential and would like to make that our business model.
We feel really honored that you were so brave to share your mental health struggles with us and our readers. Would you share with us what challenges you've overcome?
In 2013, I left my last full time job because of my mental illness and its impact on my ability to work. It had always impacted my life and work in a big way.
But after yet another hospitalization, my doctors recommended that I consider disability. The fact that I haven't worked a "regular" job since 2013, was a struggle in itself.  
Sometimes it feels amazing that I have been able to accomplish flipping at all, but I have! My mental illness causes me to get overwhelmed very easily. When I'm going through periods where my depression symptoms are higher, the overwhelm takes over even MORE.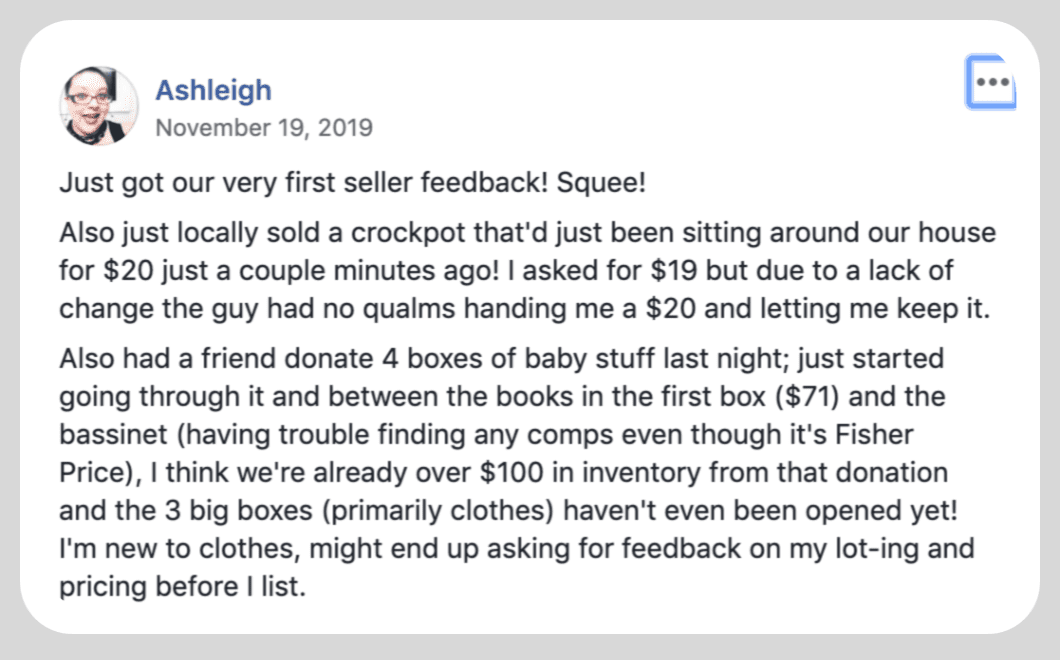 How does your illness affect your business and how have you been able to move past that?
So looking at even just one multi-part task, like needing to get an item listed (do final comps research, take pictures, put together the listing) can loom large. I'll go to do it and before I can even start, the anxiety will build and build and build and build until I shut down.
I'd say that's the biggest way it affects me. That happens a LOT – like, really often. Honestly I can get overwhelmed even from one task that's not even multi-part. It doesn't make sense. It's not rational. But then, often mental illness isn't.
Also, because of our financial situation, we had to do something. So as part of our plan to succeed in flipping, we decided to both get temp jobs for the holidays.
I would like to say this is my FIRST job since 2013!!! And my success pushing through with flipping played a large role in giving me the courage to try a small 12-hour a week job. 
We were handing out samples at Sam's Club! It wasn't able to help the business because we were just temp and given minimal hours, but it did help bring in some income.
But our future goal is to become permanent at Sam's Club. I will continue with 12 hours per week, but Adam will become full time.
By taking this step, this will hopefully enable us to start investing a little more to the inventory of our business. Our ultimate goal will be to re-invest our profits to the business and go from there.  
Financial stress can definitely be a struggle. What is your hope with this business as you get it off the ground?  
Ultimately we are hoping to grow this to be our full-time, main income. It will take a change in strategy to get there; we originally tried to make this our full-time gig when we were otherwise unemployed and running out of savings.
Saving every penny for bills meant we didn't have money to invest in the business for sourcing items and our flipping business stagnated big time.
There are free items to source out there, but we just weren't finding them in a high enough volume to really grow. Now that we're working jobs outside of our flipping business, we hope we will be able to feed and grow a more healthy business and really just make that much more progress.
We also are space challenged! 
Because of your business model of selling fewer items for more profit, this usually requires space because the items are larger. Because of our financial situation, we went ahead and rented out our spare bedroom to help bring in some extra money. So that now takes away our storage space for inventory.
This is what we had to do for our current financial situation, but are certain we can still make things happen by being creative!   
We know you started out with us during one of our 6-week challenges. But what has changed for you since taking Flipper University?   
Everything! Everything I have learned in this business I learned through this course and the amazing members in the facebook group. The group is where the real magic happens!
In the coaching group, we can share ideas, struggles, and mistakes and this really helps me move forward in my business. The whole experience with Flipper U and the coaching group is that it has empowered me to be able to earn some money after not working due to disability for over six years.
That in itself is totally amazing!
We have been really inspired by your flips and how you've succeeded flipping even with the challenges you have faced. Share a few of the items that you have flipped.  
We sold a men's bike that was missing a pedal. I didn't think anyone would want it, but I was wrong! Someone wanted it for one of its parts!  Selling items that are no longer working is one of the big things we learned from Flipper U. There is actually a huge market for selling items that no longer work.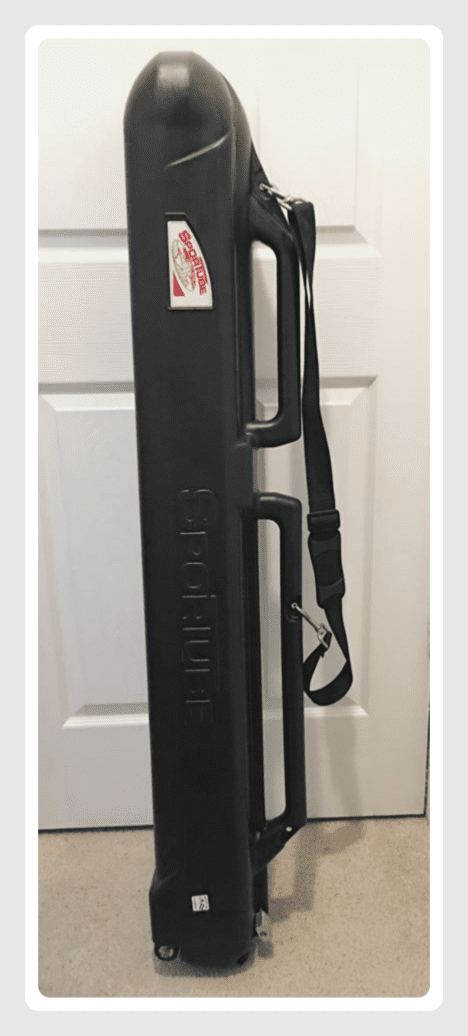 I also picked a free mahogany corner curio cabinet on Craigslist. Honestly, I still can't believe someone wanted to get rid of it. It was very beautiful. I sold it locally for $100.
We love to see our course members branch out into new territory. Tell us a little bit about how you found the $4,000 painting.
This was a big jump for us. As you probably know, art is so subjective that I normally would be too chicken to purchase something like this. But this particular artist is so well established and his art sells so consistently that it didn't feel like a gamble.
I'm certain if we can improve the listing by getting some better pictures and our feedback up to a high enough level, it's just a matter of time before we get our asking price.
The artist has a full wikipedia article and he's been the official artist for tons of huge events, like the 1994 World Cup, the 1996 Summer Olympics, the 2000 World Series, the Grammy Awards, the Rock and Roll Hall of Fame, the Super Bowl, etc.
When we looked at the comps, his works consistently sold, and consistently sold in the same price ranges. Definitely didn't feel like a gamble.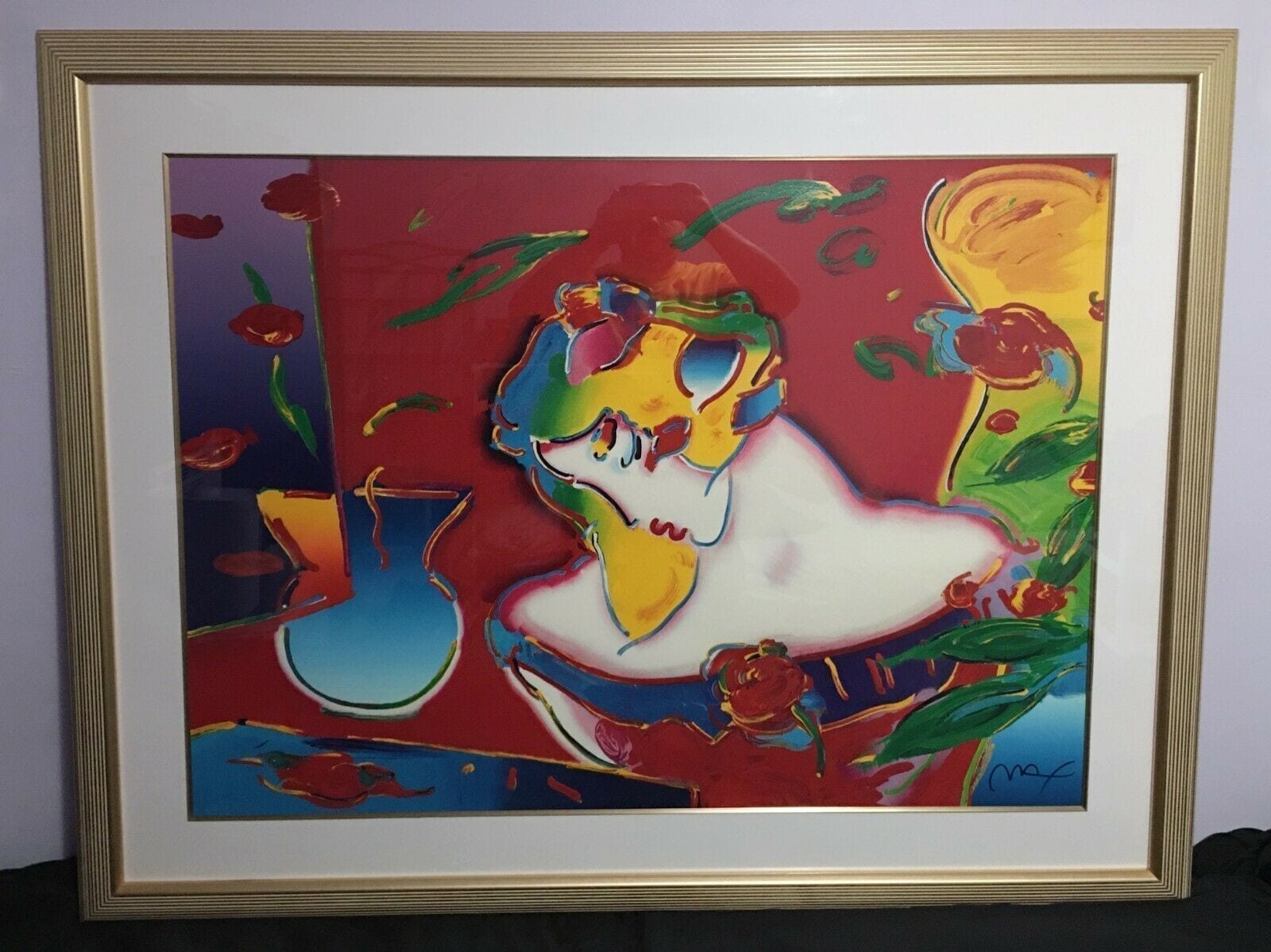 We were able to find this beautiful piece from Craigslist. At the time, we were brand new to flipping and so we would spend hours at a time going through every single new listing for the day, researching comps to see if it's priced low enough that we should get it since we didn't have a solid idea of what anything was worth.
How did you know to buy this particular piece?
Since we were researching every single item, when we came across this painting we researched it too. Comps told us it would bring in $4,000 – $4,900.  The seller was asking $500 and so we offered $350 and ended up getting it for $400.  
At the time, we were not investing money unless we thought we could get at least 10x what we were putting into it. This painting fit that bill so we went for it. Now we wait to see when it sells!
Thank you so much, Ashleigh, for sharing your flipping journey with us! We absolutely love hearing people who have overcome and are winning in life because they just don't give up! 
You have been able to move past some difficult circumstances and still find yourself a successful flipper! We are thankful for your bravery in sharing your struggles with us. 
We look forward to hearing more about your flipping success in 2020!
If you think that flipping items to make an extra side income could be for you, then check out our FREE Intro Webinar!
Further Resources
Free 5-Day Intro To Flipping Video Course 
FREE Workshop How To Turn Your Passion of Flipping Items Into A Profitable Reselling Business
Related Posts
How This Mom QUIT HER JOB To Flip Items Full-Time (And Was Able To Pay Off $12K Of Debt In 5 Months!)
How This SAHM Made $1,000 In Her First Month Flipping Used Items
How We Made $6,250 In ONE Weekend Of Flipping Used Items On eBay
How This Couple Turned A Free Find Into $1,299!
How We Made $79,054 In One Year Of Flipping Items (And In 15-20 Hrs/Week)
FOLLOW THE FLIPPING ADVENTURE: