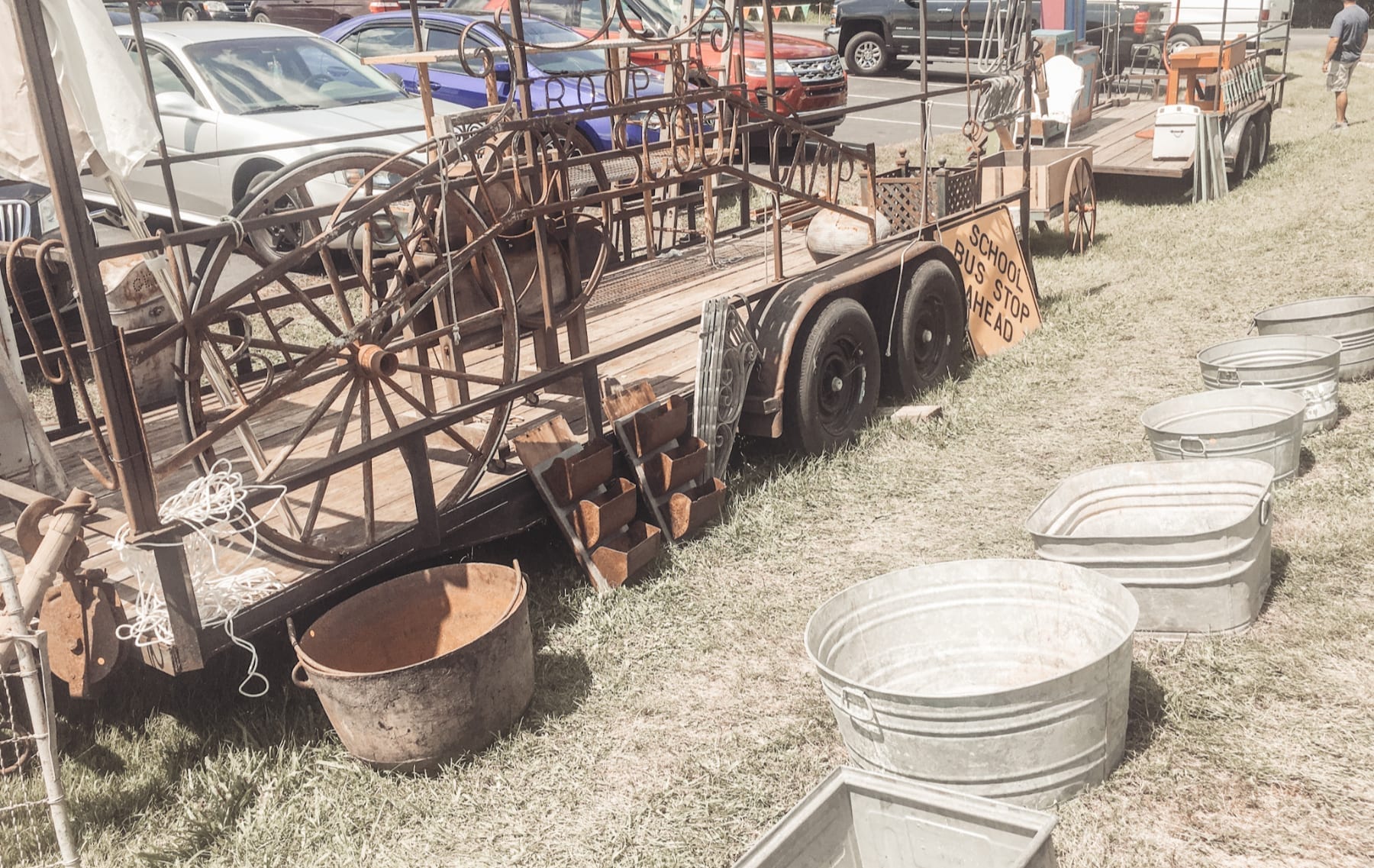 March 07, 2020

How We Made $79,054 In One Year By Flipping Used Items (And In 10-15 Hrs/Week)

This recap post has been a long time coming.

Time literally flies by anymore. I had intended for this to come out by the end of January… But life happens.

2019 was a good year to be a flipper. We had a sales total of $79,054! And that was seriously in only about 10-15hrs/week.

That's an average of $117/hr! And doing something I LOVE!

We will dive into the numbers more in just a bit. But first, let's do a quick recap of the year.
Trash To Cash
We started out the year with a flipping challenge.
The challenge was to find something $25 or less, sell it and take the money to reinvest into other items.
We found an accent chair in the trash on one of our walks, went back with the truck and picked it up.
It needed one piece of wood reinforced underneath and it was good to go. I fixed it and we sold it in just over a week for $50.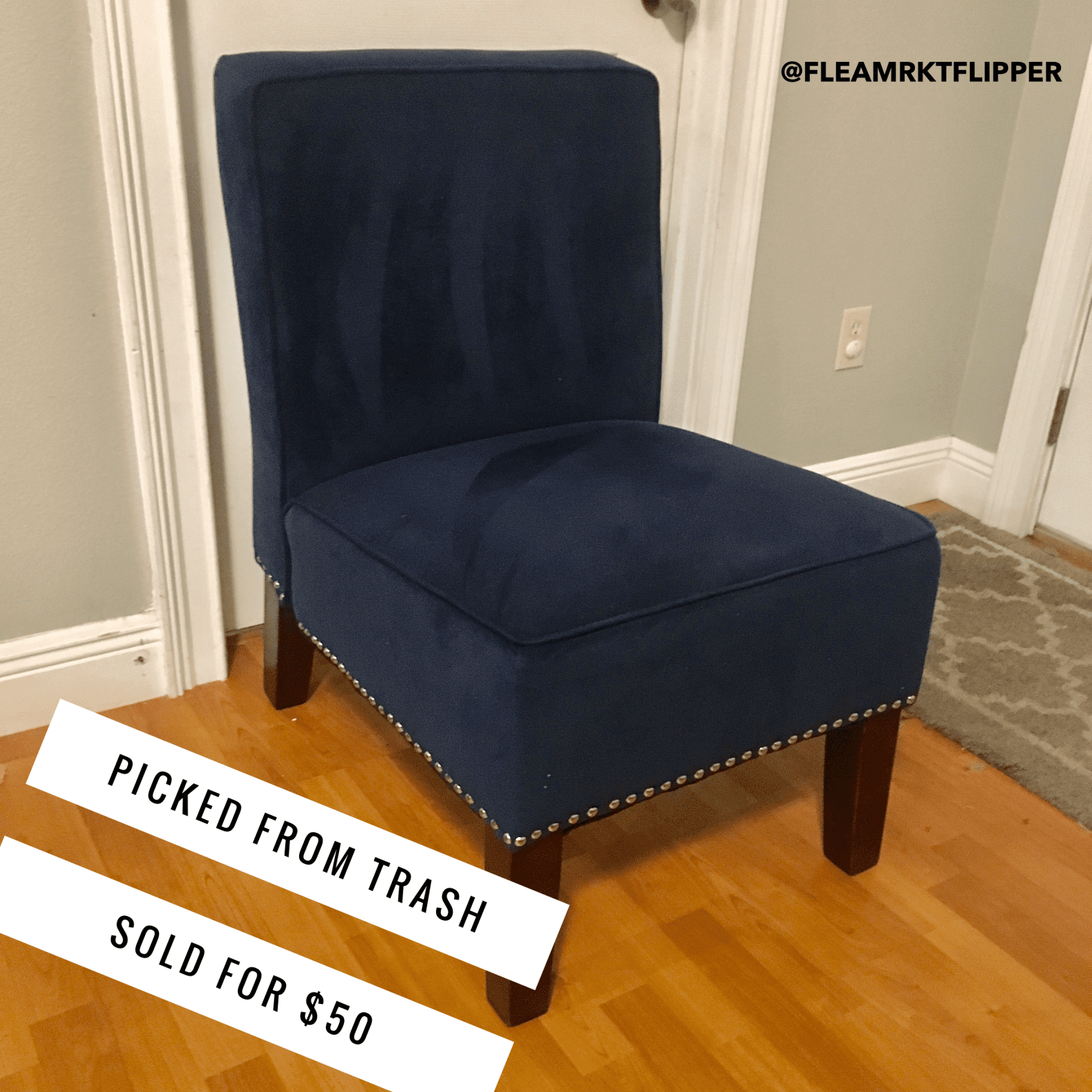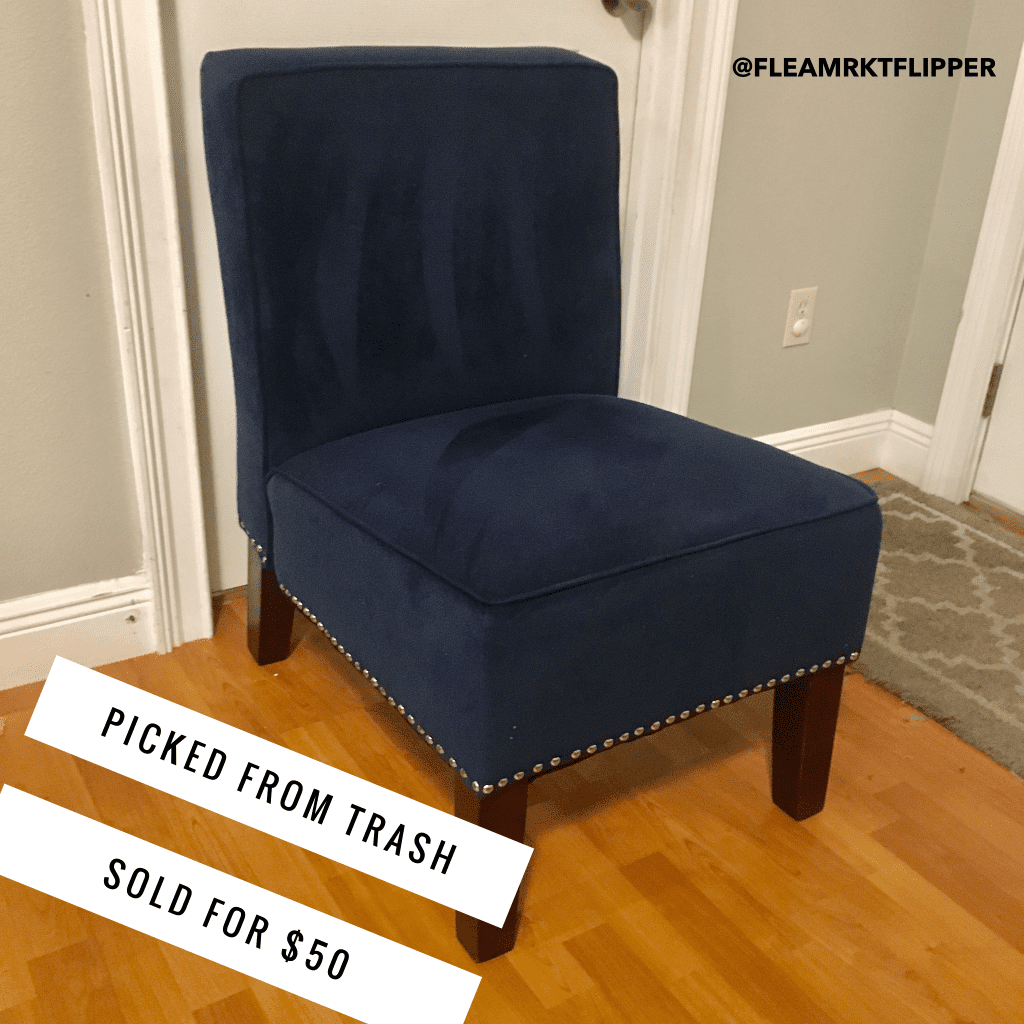 Then we took that $50 & bought two different kids of exercise bikes. They both sold on eBay for $500 EACH!
We kept it going and by May we had made $11,000 in cash and had $103,000 in inventory!
The challenge was rockin'!
Until we dropped the ball..
Ok, so we were still buying and reselling, but we no longer could keep the money separate because we had to pay bills with it. We had intended to keep the money in a separate account and do something really cool like buy a rental property at the end of the year!
But adulting is fun sometimes and bills had to be paid.
We did manage to pay off all of our credit card debt last year, ($55K!), which was a huge stress reliever and we count that as a WIN!
But the challenge itself fizzled out around June. We ended the 6 months with $15,200 in cash and $117,000 of inventory to sell!
That's $15,200 CASH from a chair that was found in the trash!
Time Is Money
Now let's get back to the hours because I know that's something you are perplexed about.
Maybe you are thinking "How in the heck can you only be working 10-15 hrs a week for those profits?" Let me explain.
Our business model is very different from most resellers. We go for higher profit items and in return can get away with a lower volume of sales.
To make $79,054 in sales, we only sold 90 items. That's an average sale of $878 per item.
So instead of finding, cleaning, taking pictures of, listing, selling, and shipping thousands of items in the year to make up that number. We only had to do 90!
Of course we have more inventory listed than just the 90, but on average we keep 100 items listed at a time.
Think of all the hours spent packaging and shipping up $20 items. You would have to sell 3,950 items at $20 to make up $79K.
This is not to discount any other resellers out there. So many of them are hard workers and they are crushing their flipping business!!
Personally, I am not a work-a-holic. And I own it. I have no issues spending time with Melissa and our kids and not taking life so seriously most of the time.
Over the years we have found this low volume, high profit business model works for us.
Typically this means that we are selling larger items and shipping them via FedEx or even more commonly with freight shipping.
Most people list the large items for pick-up only, but if you can offer shipping you open up a whole new world of sales! (Which is why we started teaching this large item shipping to help other flippers!)
Highlighted Flips
Our first freight shipment of the year was this commercial kettle/ steamer machine for a restaurant kitchen
Picked for $125 and sold for $3,000!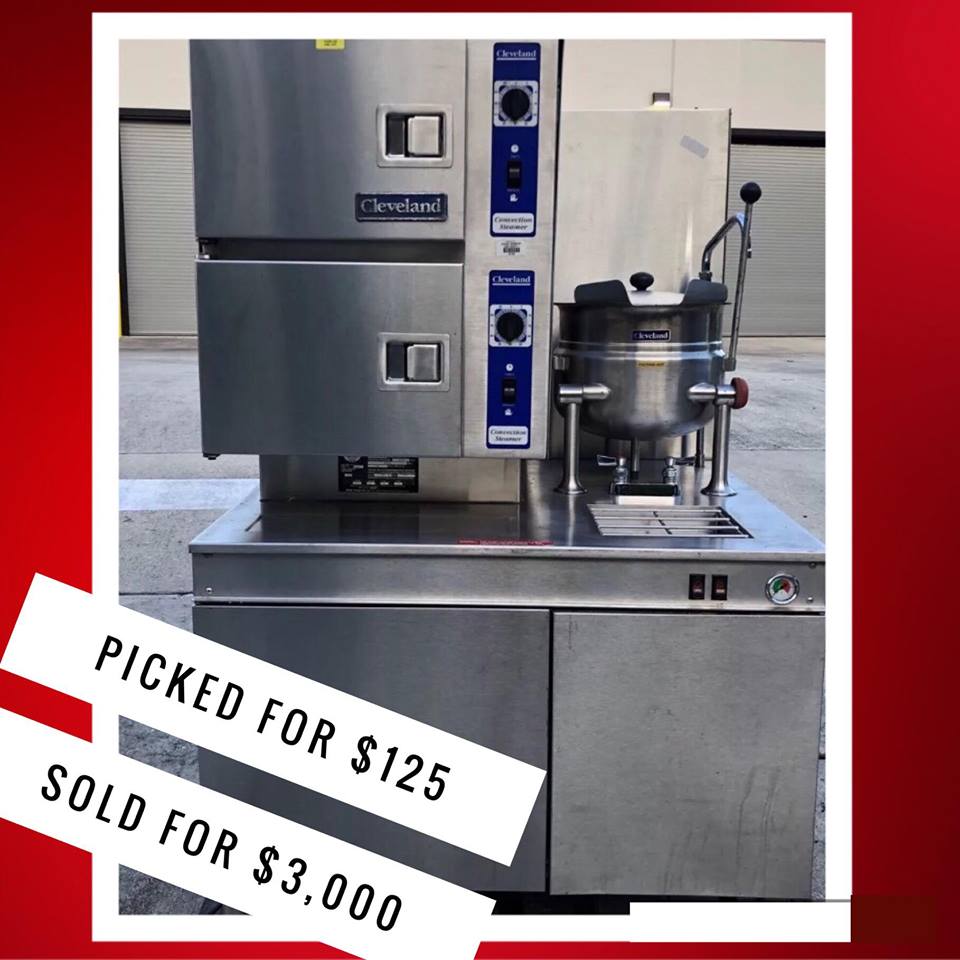 The second flip from the 2019 flipping challenge was this AirDyne bike. Picked it from OfferUp for $15 and sold for $500 on eBay! (It was shipped with freight shipping on a pallet).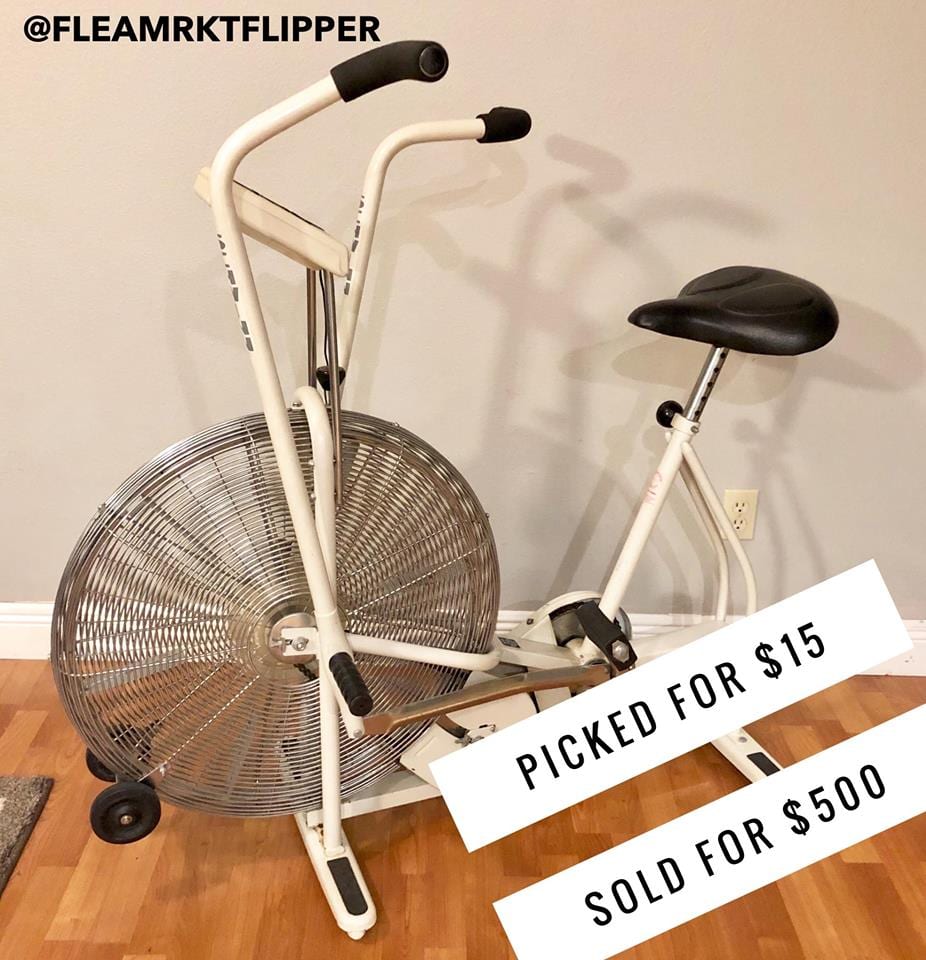 This was one of Melissa's flips. We gravitate to strollers because some of the nice ones are so expensive! When people can get a good deal on them second hand, it's great to help them out! We picked this one from the flea market for $70 and sold for $270 on eBay.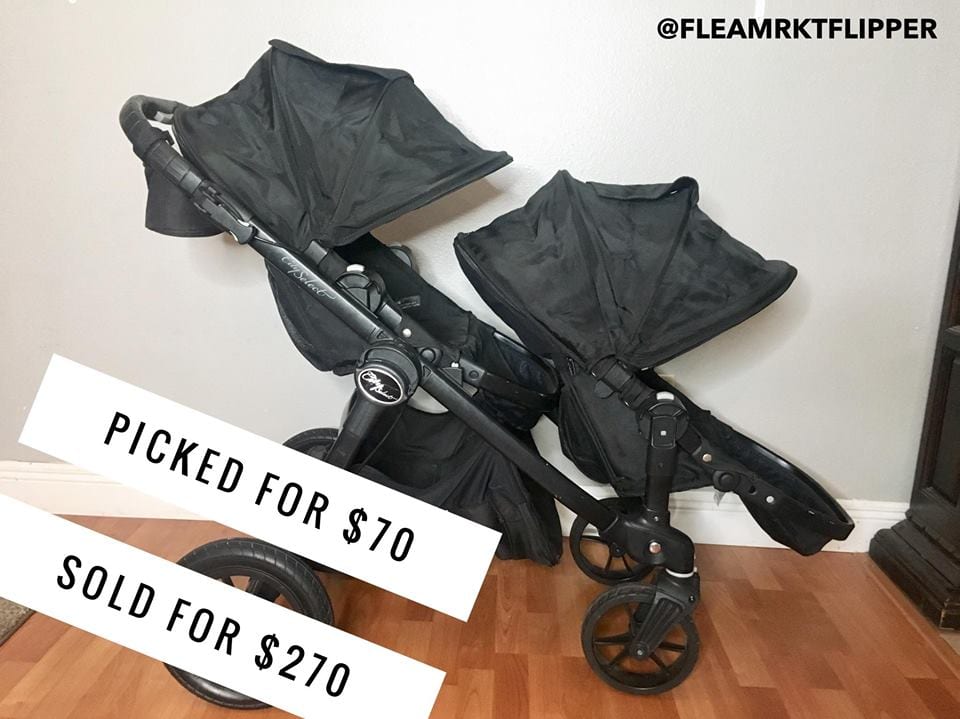 This pizza dough roller was a fun one because it was the very last item we picked on the 127 Yard Sale.
We did the 690 mile trek from Gadsden, Alabama to Addison, Michigan last summer and found some pretty great items to sell! We picked this pizza dough roller for $100 and sold it for $1,750 on eBay!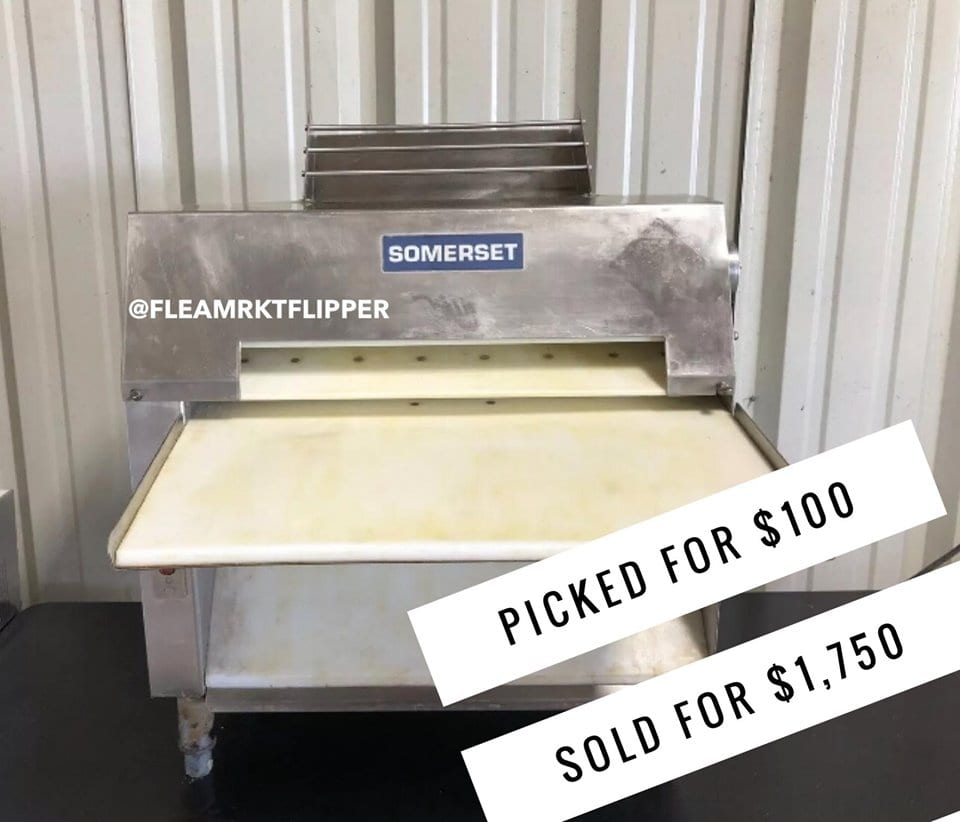 The biggest flip of the year was my beloved International truck! We picked it from Rhode Island for $3,500 and put some sweat equity into it and we drove it for 3 years and pulled our 5th wheel with it.
We decided to sell it so we can downsize the truck and get a smaller camper. We sold it on Facebook Marketplace for $18,000!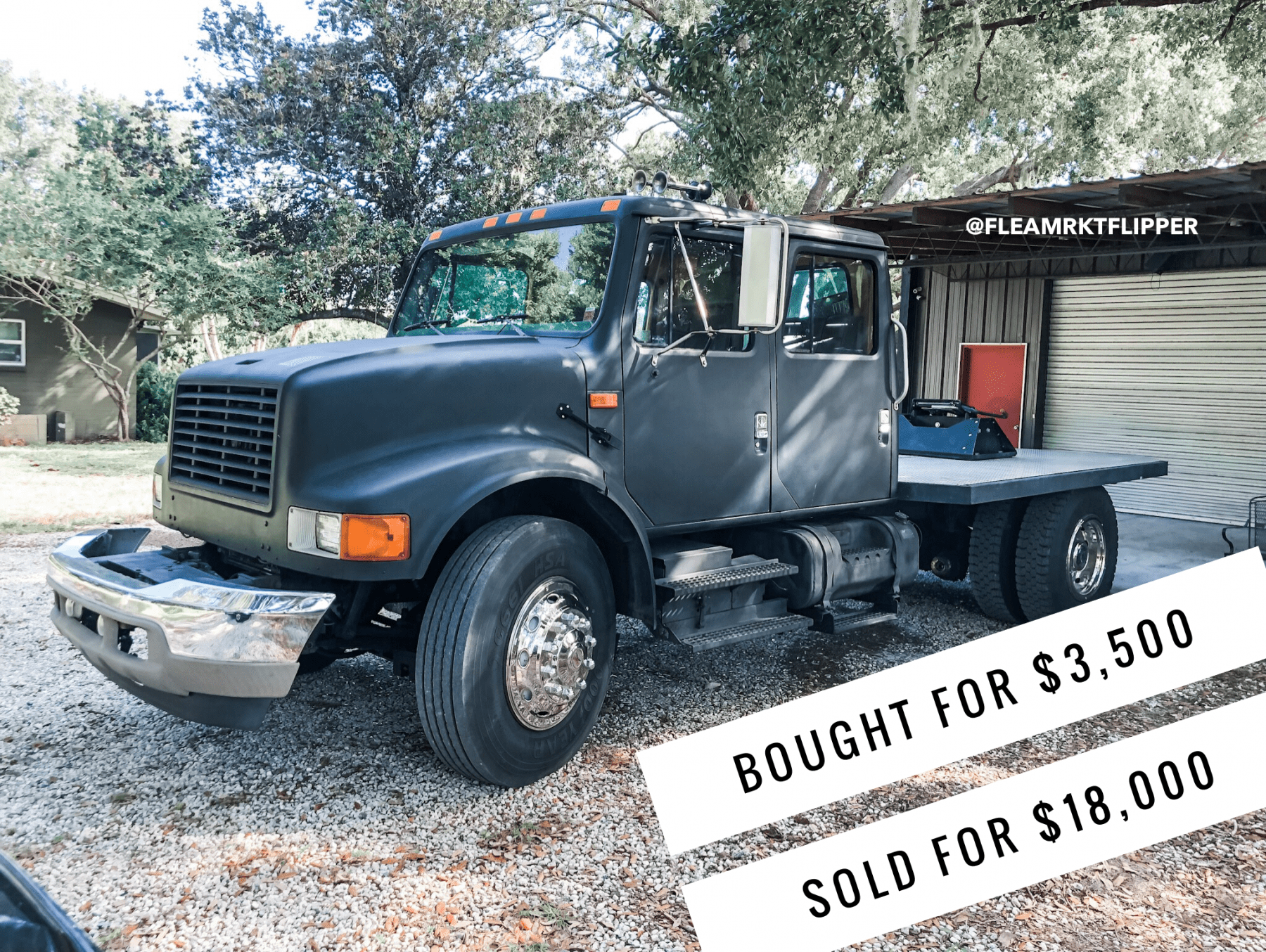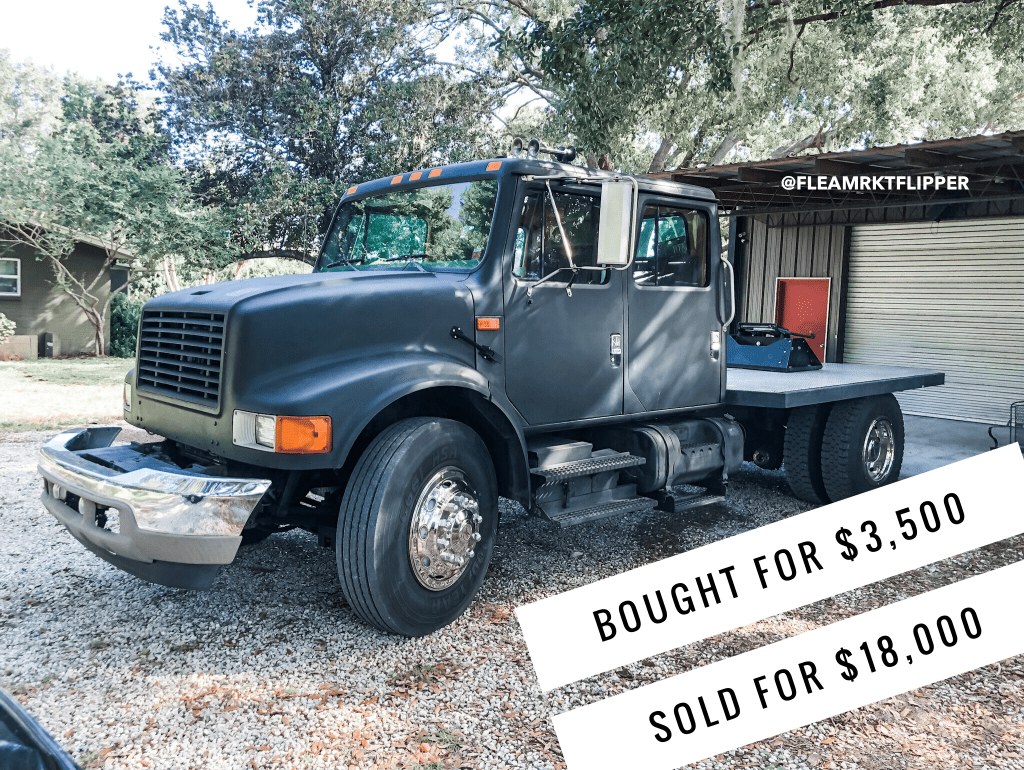 Other 2019 Highlights
We made the trek up with our kiddos up the 127 yard sale.
This year we made it the whole way in the 4 days!
The kids really did great. They know that we are "working" (this is my kind of work!) and that we have to stop a lot to look at items. They were troopers and even helped us find a couple cool items.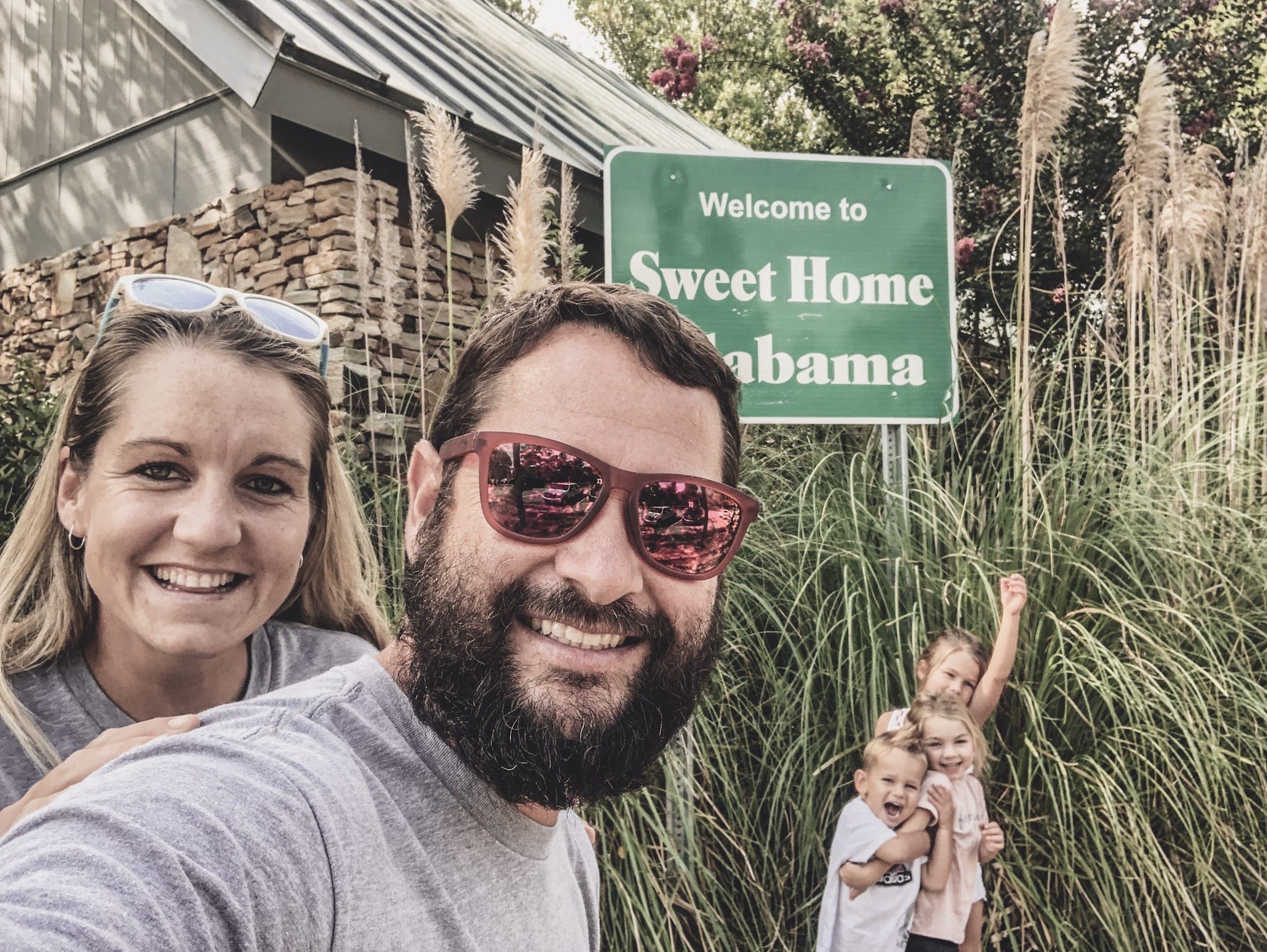 You can check out more details of our trip and what 15 items we picked worth over $8K.
We were given a shout out by Gary Vaynerchuck for one of our trash finds.
We have seriously found so many items in the trash lately. People don't want to take the time to sell them so they just throw them away. Not that I'm complaining about free money, but it's kinda crazy how wasteful our culture is.
At least as resellers we're doing our part to recycle and save the planet!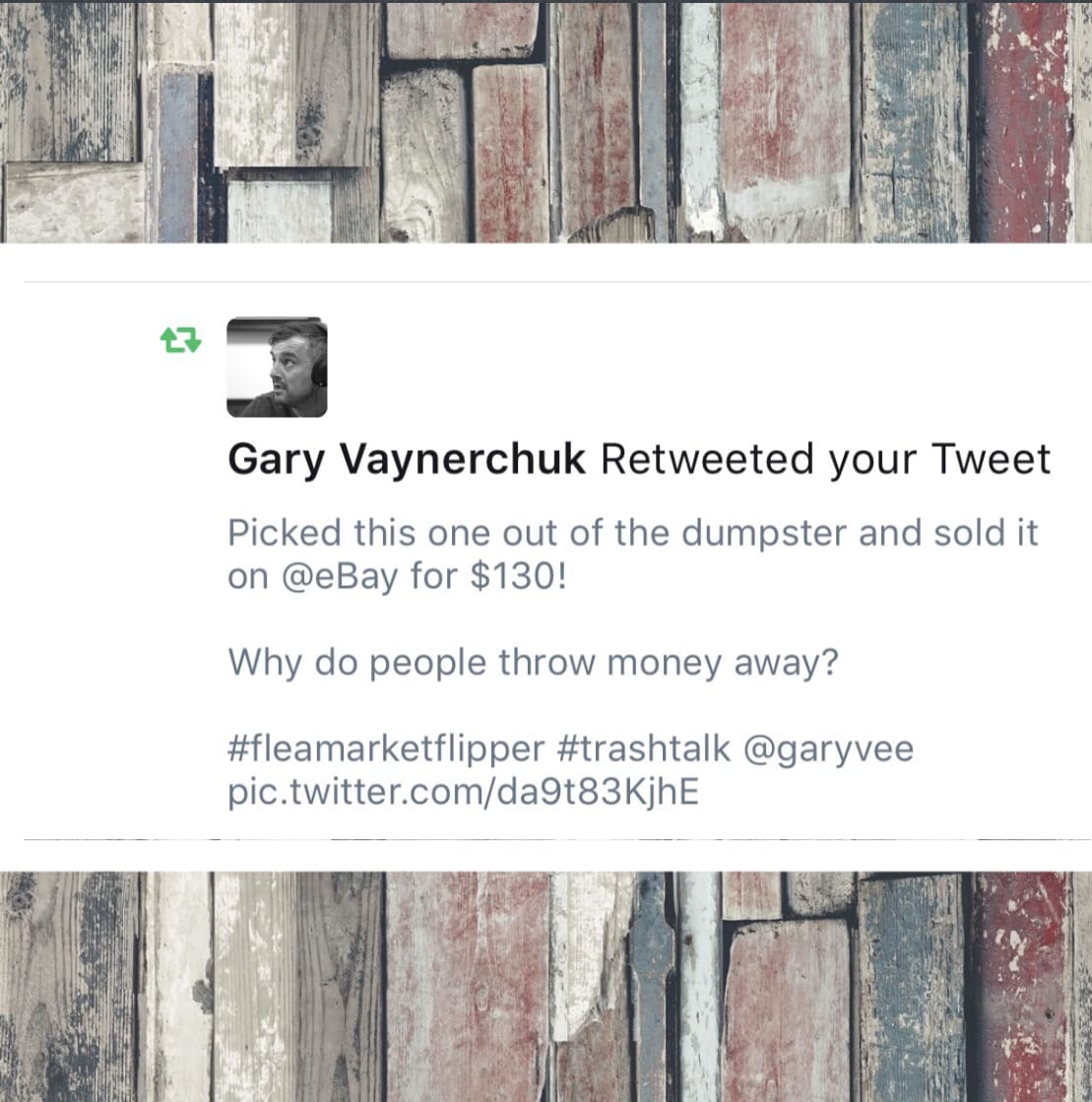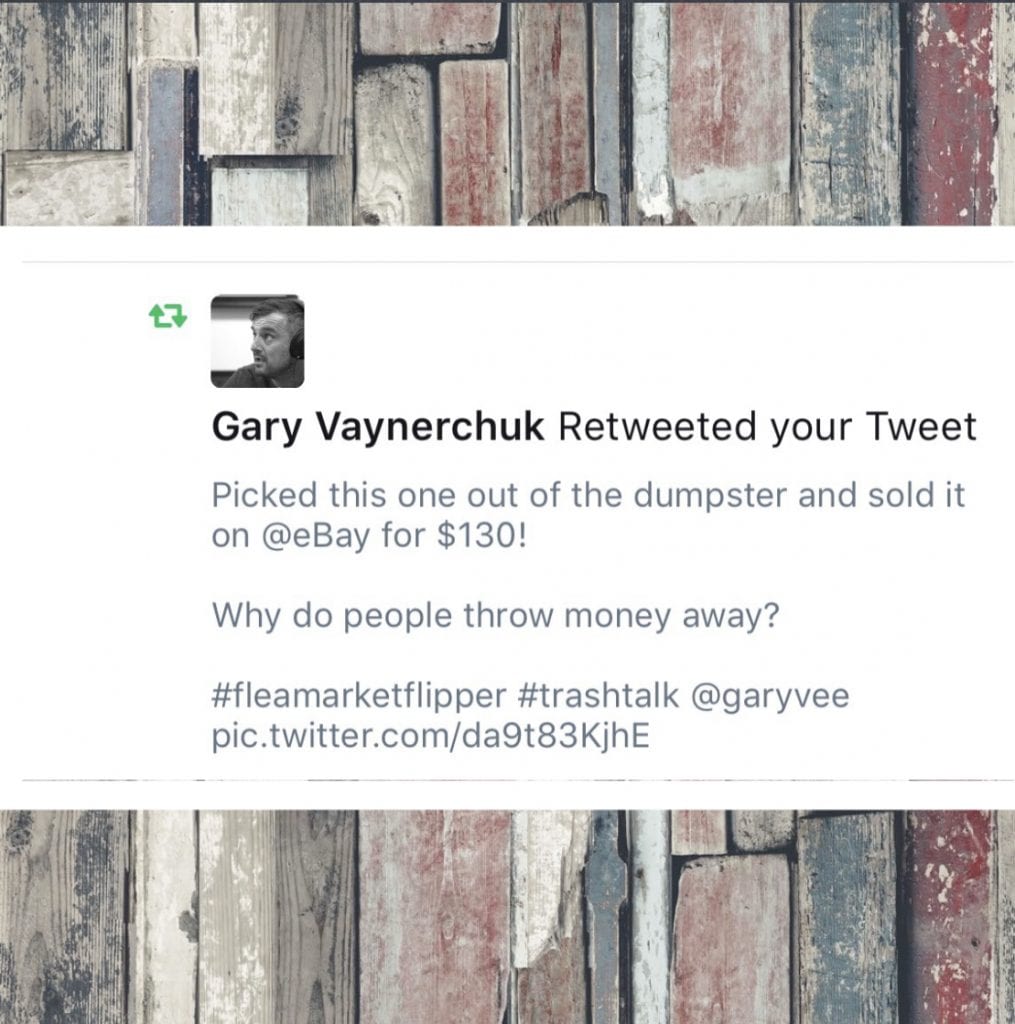 We were asked by Grant Sabatier of Millennial Money to speak at his Financial Freedom event.
The event is this coming May and will be our first major speaking gig. We are super stoked, but I would be lying if I wasn't nervous… Speaking in front of a large group of people is not my jam…
But I am excited about sharing our message of how flipping items has allowed us to live life on our own schedule!
There is still time to check out the event! We will be doing a meetup with anyone who jumps in (just shoot us an e-mail to let us know you will be there so we can let you know more details of the meetup!).
Check out more details about the Financial Freedom event.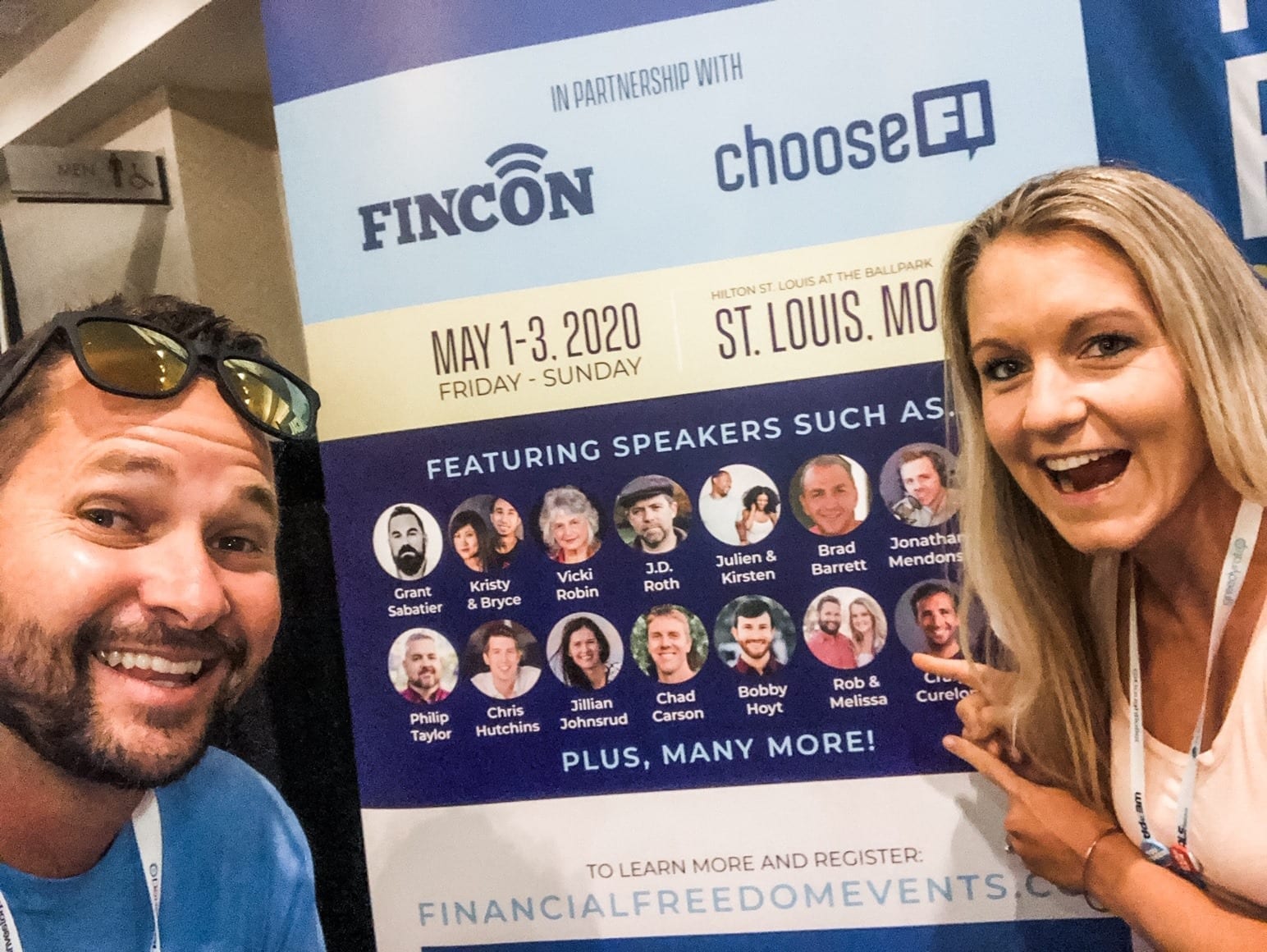 We invested in a mastermind with John Lee Dumas from Entrepreneurs on Fire.
I love learning.
I know that is contrary to how I did in school. (I really hated school and memorizing things for tests). But I love learning about things I am passionate about.
I believe we should always be learning from people who are doing what we want to do. Melissa & I are both strong believers in taking the course, joining the mastermind, and hiring the coach.
It's not always easy, (usually it's not), but it's almost always worth it.
We invested in this mastermind because we want to serve our audience better. We knew JLD would attract some awesome entrepreneurs for this mastermind and we couldn't wait to learn from everyone.
It was an awesome experience and we learned from some incredible people!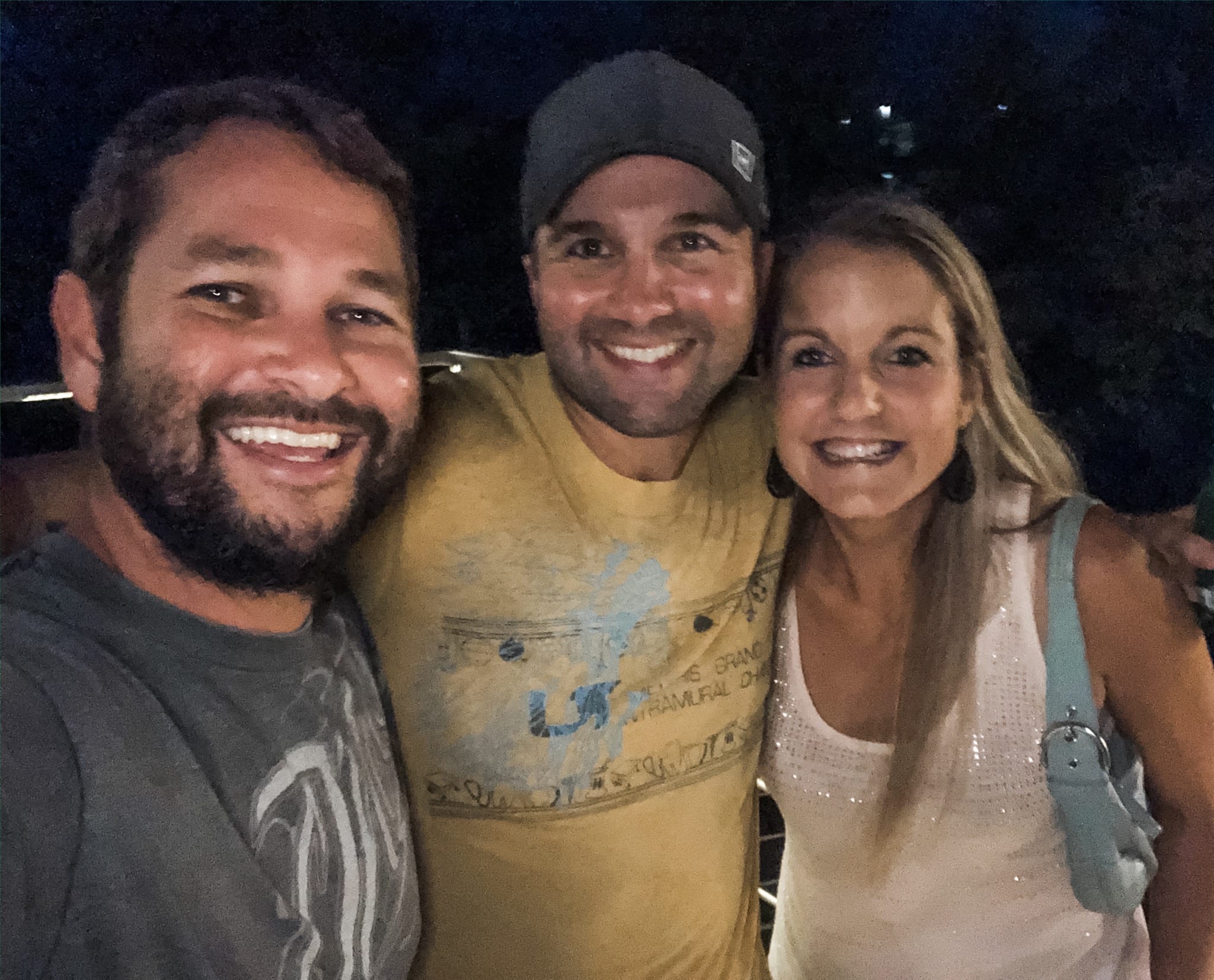 Alright, let's get to the numbers!
Breakdown Of Monthly Income & Profits
January – $6,014 | 12 items total (eBay – 11, Facebook Marketplace – 1) eBay & Paypal fees – $619| Shipping Fees: $161 | Cost of items: $182 | Profit: $5,052
February – $12,099 | 11 items total (eBay – 8, Facebook Marketplace – 3) eBay & Paypal fees – $985 | Shipping Fees: $790 | Cost of items: $445| Profit: $9,879
March – $3,883 | 12 items total (eBay – 11, Facebook Marketplace – 1) eBay & Paypal fees – $475| Shipping Fees: $361| Cost of items: $150| Profit: $2,897
April – $3,962 | 5 items total (eBay – 5) eBay & Paypal fees – $475| Shipping Fees: $299 | Cost of items: $175| Profit: $3,013
May – $5,659 | 5 items total (eBay – 5) eBay & Paypal fees – $478| Shipping Fees: $720 | Cost of items: $333| Profit: $4,128
June – $1,414 | 6 items total (eBay – 6) eBay & Paypal fees – $138 | Shipping Fees: $289 | Cost of items: $200| Profit: $787
July – $6,144 | 8 items total (eBay – 8) eBay & Paypal fees – $814| Shipping Fees: $610 | Cost of items: $400| Profit: $4,320
August – $7,389 | 8 items total (eBay – 6, Facebook Marketplace – 2) eBay & Paypal fees – $669| Shipping Fees: $415 | Cost of items: $225| Profit: $6,080
September – $21,609 | 9 items total (eBay – 6, Facebook Marketplace – 3) eBay & Paypal fees – $358| Shipping Fees: $423 | Cost of items: $3,618| Profit: $17,210
October – $4,550 | 5 items total (eBay – 4, Facebook Marketplace – 1) eBay & Paypal fees – $169 | Shipping Fees: $256 | Cost of items: $225| Profit: $3,900
November – $3,439 | 3 items total (eBay – 3) eBay & Paypal fees – $147| Shipping Fees: $186 |Cost of items: $175| Profit: $2,931
December – $2,892 | 6 items total (eBay – 5, Facebook Marketplace – 1) eBay & Paypal fees – $342 | Shipping Fees: $397|Cost of items: $275| Profit: $1,878
Total Sales: $79,054 | Total eBay & Paypal Fees: $5,669 | Total Shipping Costs: $4,907 | Total Cost of Items Sold: $6,403 | Total Profits: $62,075
We are happy with those numbers for the amount of time and effort we put into our flipping business last year. It was a full-time income on part-time hours.
Helping Others Make Money Flipping
I already told you I'm not a work-a-holic (like my wife Melissa), but I'm not only working 10 hours per week.
A second part of our business is helping other people start their flipping biz or take it to the next level and conquer freight shipping. Remember when I told you how offering shipping can open up a whole new world of sales? It's totally true! And we are here to help people feel comfortable shipping large items so they can increase their flipping profits! (In my opinion there are a lot of flippers – especially furniture flippers losing out on profits because they won't ship their large pieces.)
We help coach people through our online course Flipper University & our Flipping For Profit members coaching group.
It's kinda strange to say it, but I get even more excited about helping other flippers make money than I do my own sales! (And I'm super passionate about flipping!)
It jazzes me up to help others make money to pay their bills, demolish debt, go on vacations and relieve a little financial stress in their lives.
Kipp asked a lot of questions in the beginning – which is exactly what our coaching group is for! And he's doing awesome! Check out his $1,100/mo average!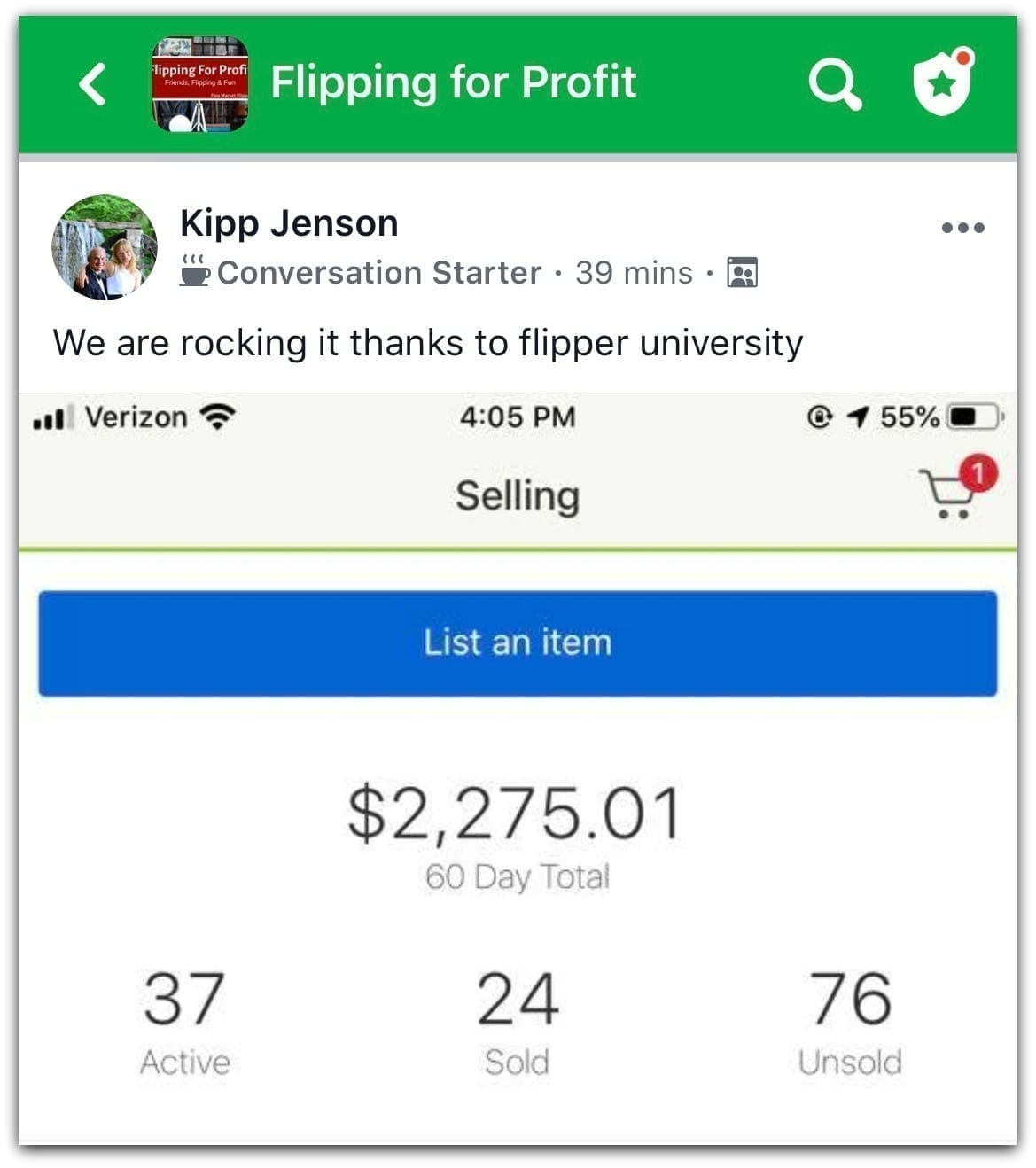 And Alex & Kim have jumped into flipping large items with both feet – and it shows! Check out how they started off this year with a $1,750 sale!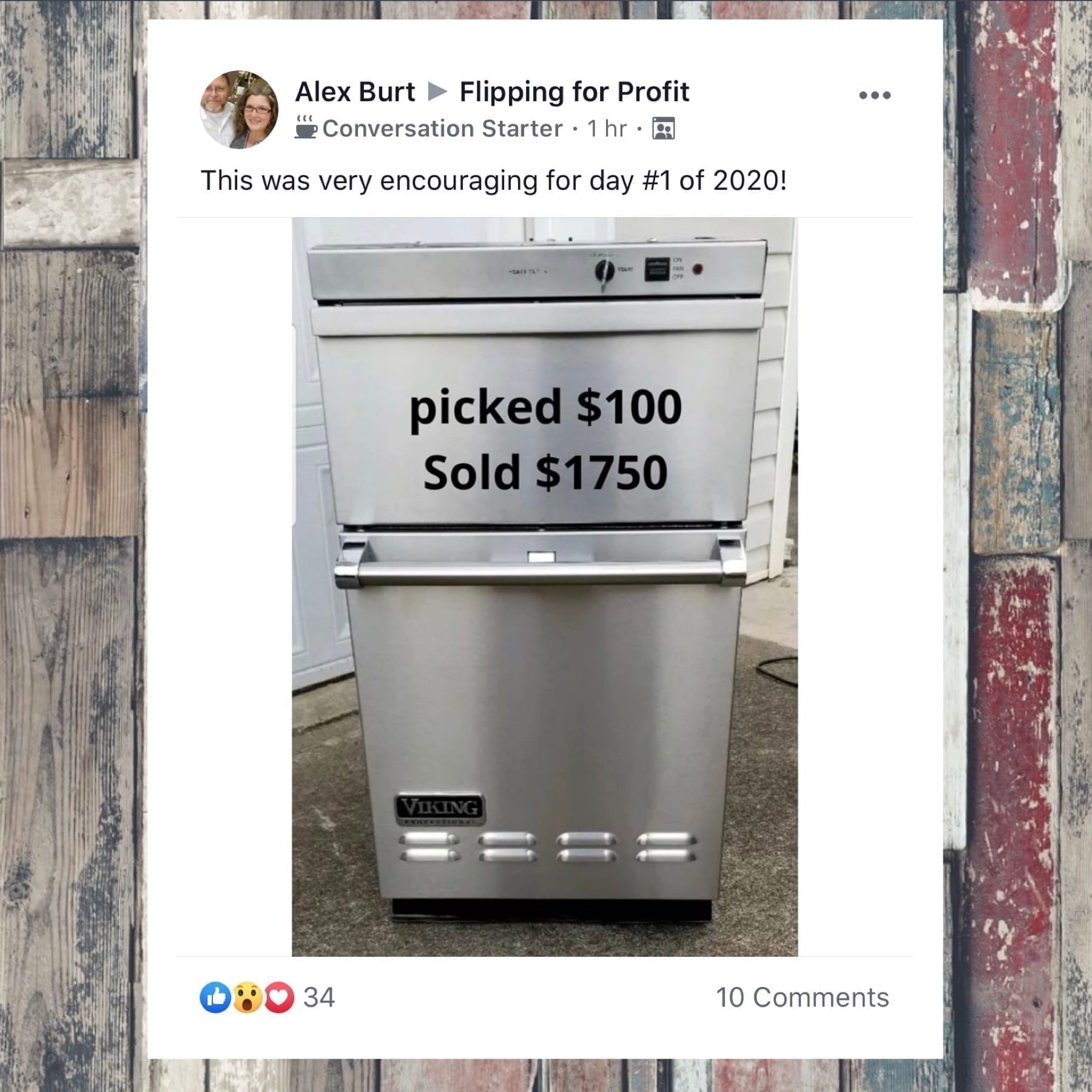 Joy has been crushing it with her flipping biz! She jumped into the larger items and sold one item (an ice cream machine) to make up $4,500 of this total!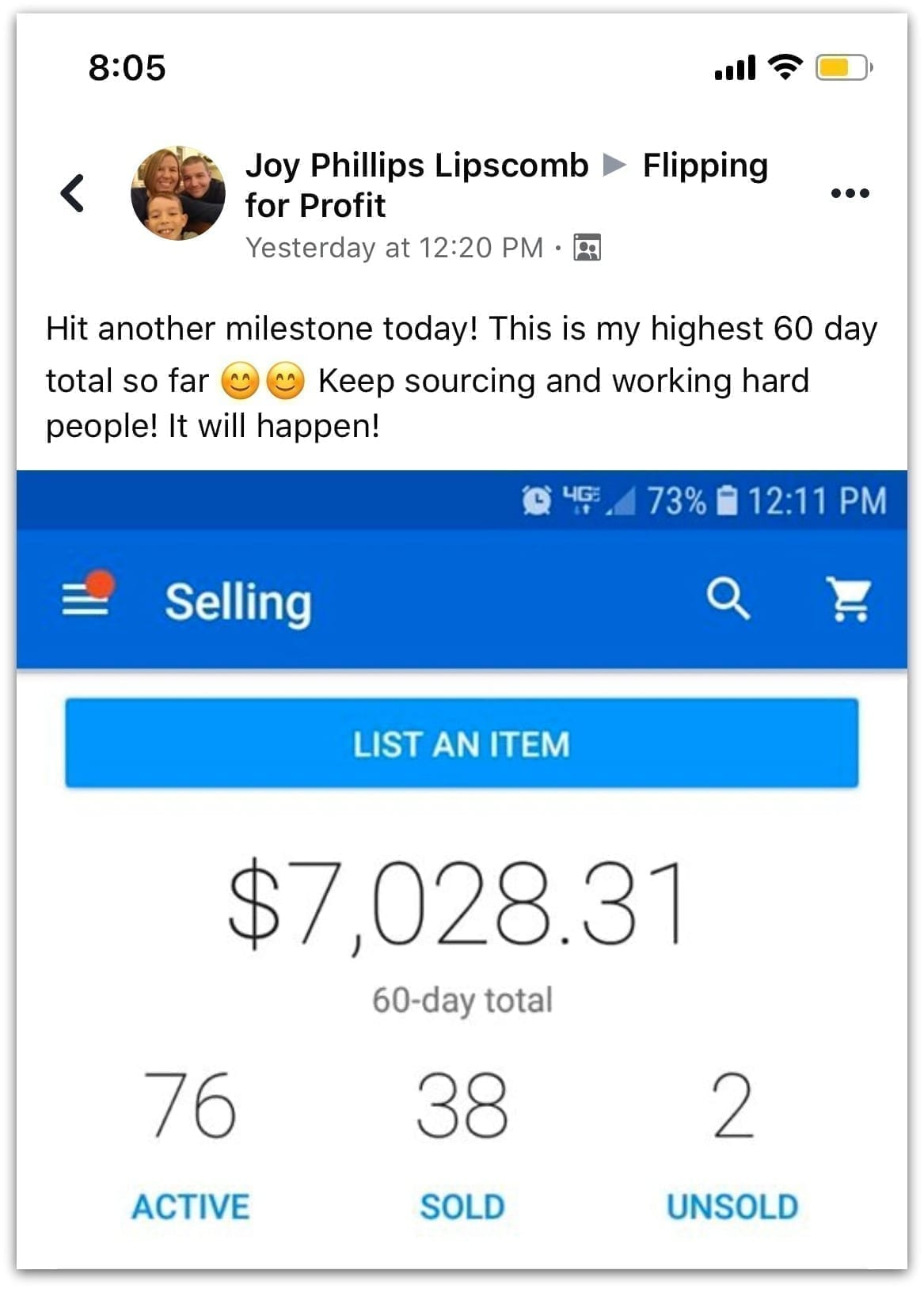 Those are just a small handful of the wins we get to see on a weekly basis – and it's so flipping encouraging!! (See what I did there.. 😉)
If you are interested in upleveling your flipping game, check out our Free 1-hour Intro Workshop
Short Workshops
Last year we also hosted two 6-week workshops: A Freight Shipping Workshop & a Sourcing Workshop. They were both so much fun and I really loved getting to help people in both areas on a little deeper level.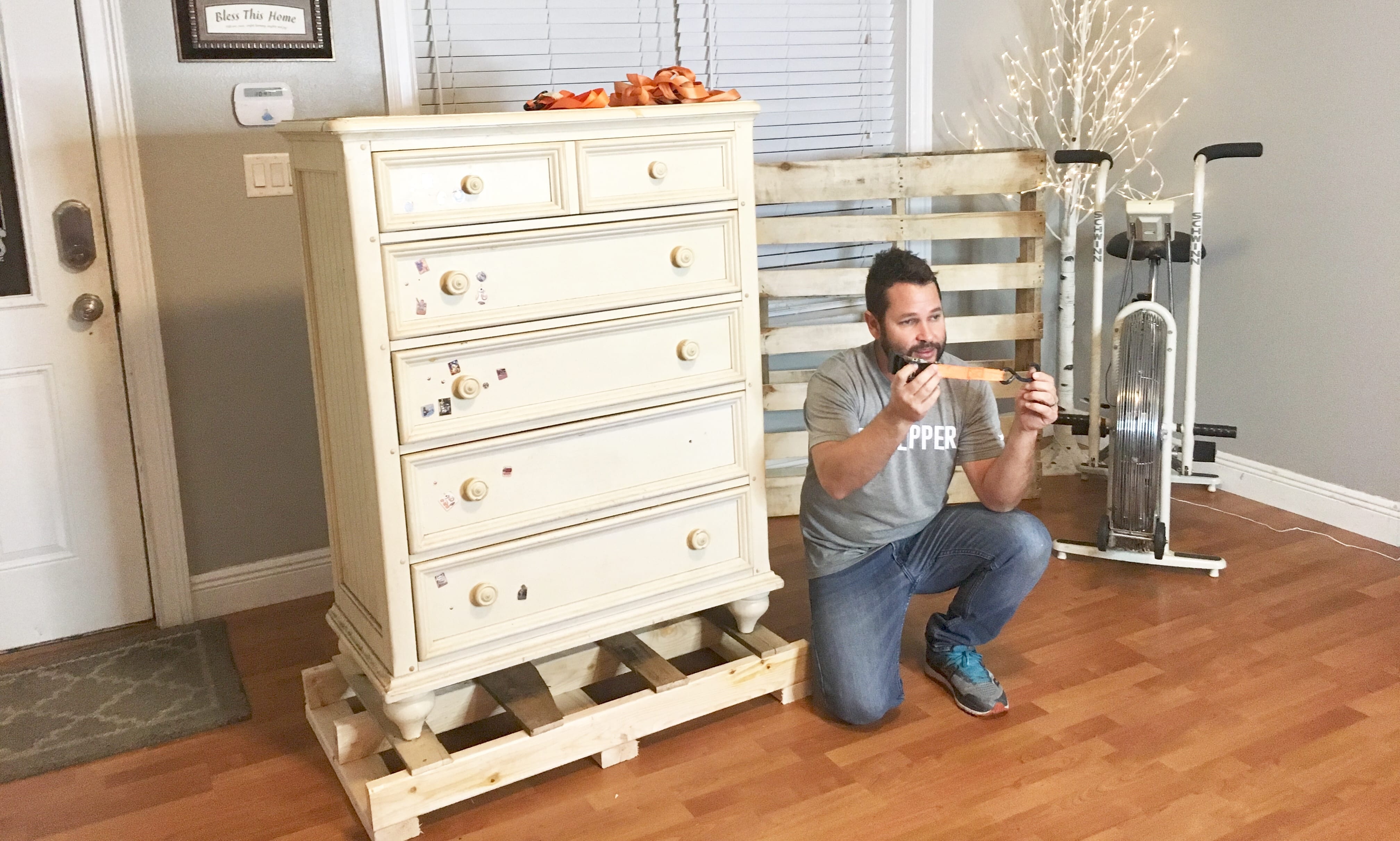 We have two workshops planned for this year and the first one starts in a few days! (depending on when you are reading this).
We are revisiting one of our most popular workshops – a Shoe Flipping Workshop with our friend and shoe-flipping master Beau Hunter.
Like we mentioned before, we don't do a ton of smaller items, but it's a great place for people to start making money quickly – with little investment.
There are awesome shoes everywhere!
Check out these awesome shoes that Beau found for $10 and flipped for $246!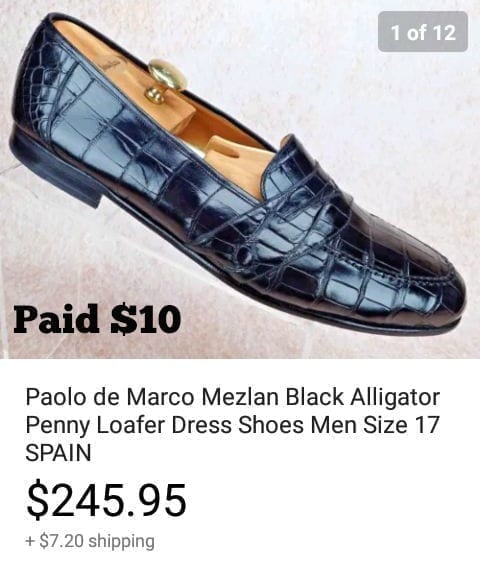 He helped some of our workshop attendees really up their shoe flipping game!
Stacy found these for $6 and in less than a week sold them for $130!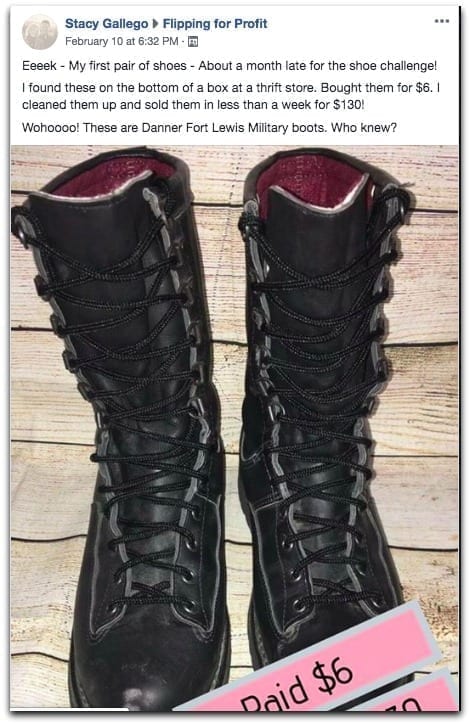 And Lauren sold these sneakers for $90 in less than a day after listing them!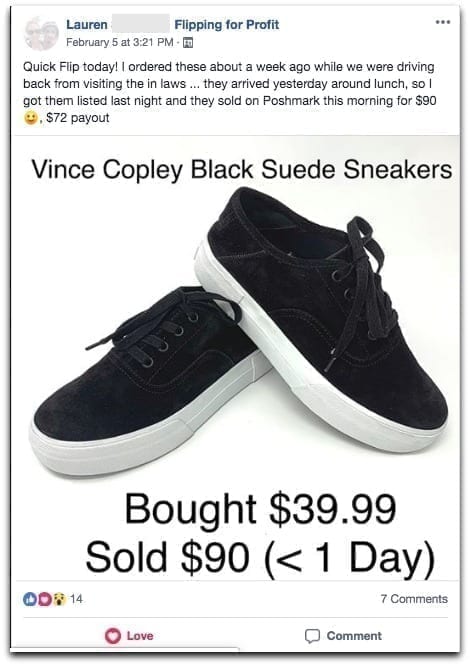 If you are reading this in the beginning of March, Jump into the Shoe Flipping Workshop before it's gone!
Closing out 2019
2019 was a great year. We enjoyed some great flips, trips, and helping others make an income from home.
If you are ready to start a side hustle to make some extra cash, check out our free intro webinar!
Further Resources
Free 5-Day Intro To Flipping Video Course
FREE Workshop How To Turn Your Passion of Flipping Items Into A Profitable Reselling Business
Related Posts
How This Mom QUIT HER JOB To Flip Items Full-Time (And Was Able To Pay Off $12K Of Debt In 5 Months!)
How This SAHM Made $1,000 In Her First Month Flipping Used Items
How We Made $6,250 In ONE Weekend Of Flipping Used Items On eBay