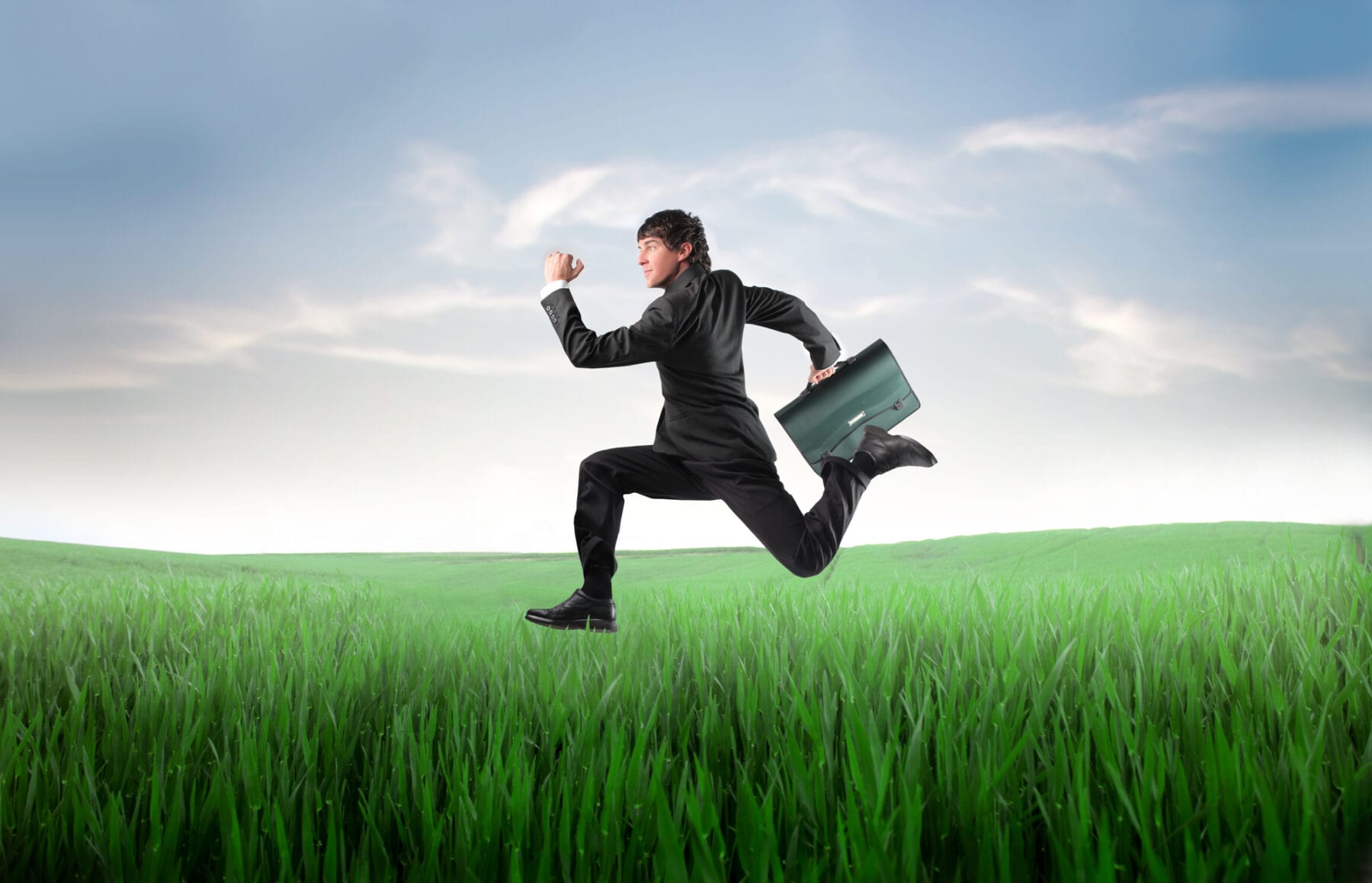 August 28, 2020

Escaping the 9 to 5: How Jesse Quit His Job to Flip Full-Time

For as long as I can remember, I've never wanted to work a traditional job. I've never been keen on having a boss. I've never wanted to be forced to follow a schedule and be at work at a certain time.

In the beginning of my work life, even though I knew I didn't want a boss, that's just what everyone in society did. It was the natural progression to become a grown up.
Get a "normal" job
Start working 9-5
Work for the benefits
Get 1 week of vacation a year
Pray you have a nice boss
It was never for me, but that's just what you do when you don't know there is anything else out there!
Four years ago, my job informed me that they were stopping my health benefits. I only worked the job because I thought I had to work for health benefits. We were expecting our youngest and we were praying Melissa would deliver before our benefits ended.
When I jumped into full-time flipping
At this point I had been flipping for over 20 years part-time. I always viewed it as a side hustle. So when my job ended, we were pretty much thrown into full-time flipping and my journey to escape the 9 to 5 began.
Looking back, it was stressful at times, but we wouldn't change a thing. No longer would I have to work a "normal" job or be anywhere at a certain time. I don't have to work for health benefits or vacation. I even have a really, nice boss. When I say "boss," I mean my beautiful wife, Melissa! So you could say all my prayers have been answered.
We get so excited when we see others in our members group who see the potential in flipping and decide to escape the 9 to 5 as well. They are finding courage and confidence to leave jobs they aren't happy with to pursue full-time flipping and nothing makes us happier!
Today I want to introduce Jesse, one of our course members, who found full-time flipping as a way to escape the 9 to 5 in order to support his family.
Welcome Jesse! Share a little bit about yourself with our readers.
My name is Jesse and I am 31 years old. I live in a small town in southwest Michigan with my wife Rebecca, our 3 dogs, and our cat, Pippin. We just recently bought a house and I finished Bible College in 2019. We are expecting our first baby this November.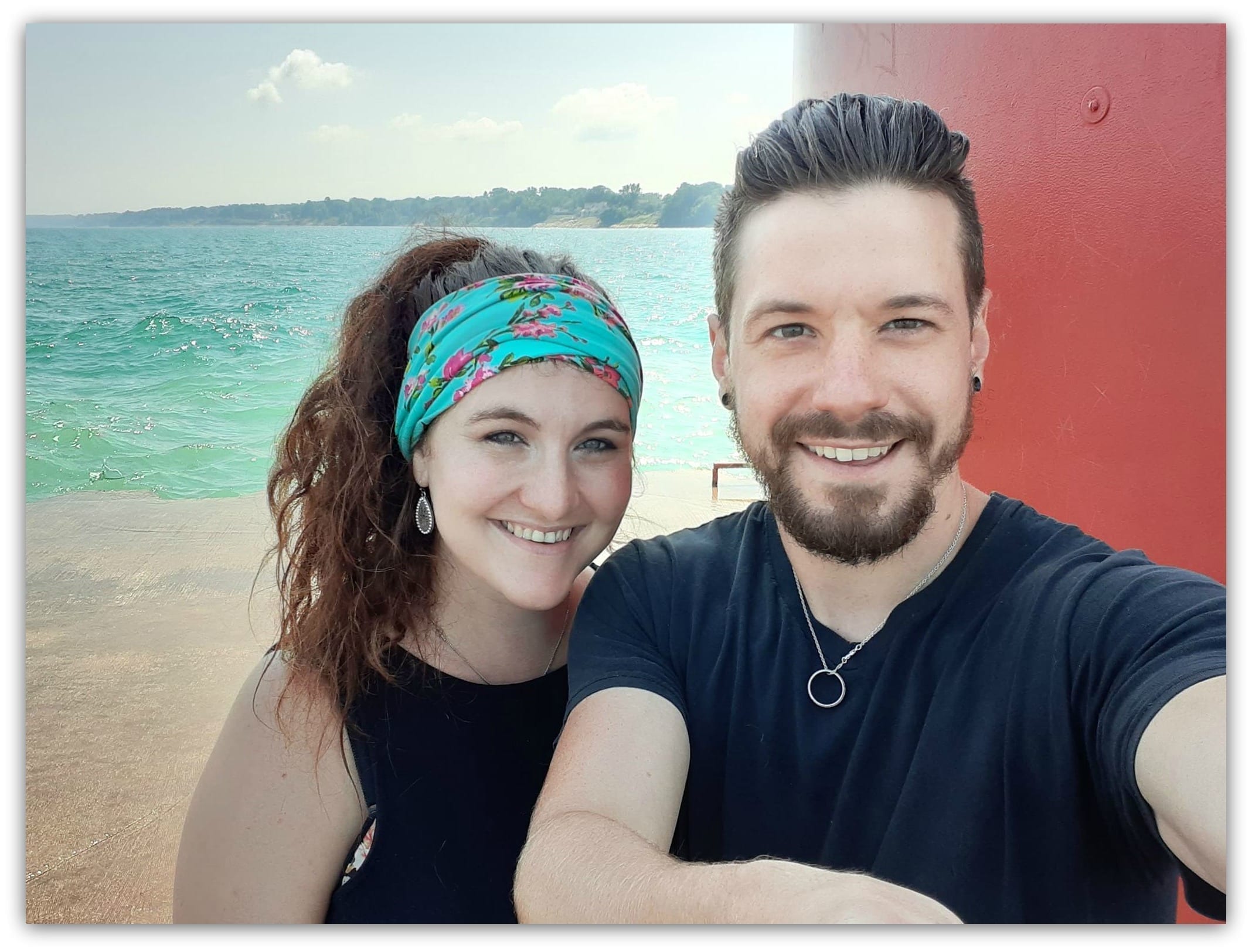 Living in a small town has its pros and cons. I've found there are not a lot of high paying jobs especially with good hours close by. I worked 3rd shift for three years while in Bible college and during the first part of our marriage.
It was horrible.
I still believe that my human body was not built to function during those hours of the day. In hindsight, it definitely wasn't helping our marriage either.
I've worked at hardware stores and grocery stores while working my way through Bible College.
The whole time doing that, I felt my time was being stolen from me. During that time, I realized there had to be a better way to make money.
When I began sourcing…
Our first year in our new house, my wife and I started collecting antiques we found at a scrap yard recycling center. People were just throwing them away!
We would take our new found treasures and sell them at flea markets and craft shows to get cash. We thought it was a lot of fun and had really great potential.
And that really fueled my desire to go sell online and figure out how to get better at it.
In your search to get better at flipping, we are so happy you found us at Flea Market Flipper.
I had been googling flipping or selling online for eBay and Facebook. In my search, I landed on some of your Youtube videos. I loved that they were really straightforward. I truly enjoyed how real and down to earth you and your family were.
Truth be told, I was waiting for you to solicit the sale of a book or a get rich quick scheme. Instead, I just found your videos to be encouraging and for the first time I found clarity!
For months, I watched your videos while I was on a break from school and while working at a job I disliked. I would view the videos and feel encouraged and motivated to do what had been in my heart for years – Selling online!.
Tell us, How did you go from being interested in selling online to actually being able to do it?
I have always thought selling things online was a great way to make money. But trying to learn the ins and outs of it was a lot of work and confusing to me.
I was trying to research it and learn about it while working a full-time job. Coming home after a long day at a job I didn't like to search for answers was not my idea of fun.
I started to see that working 38 to 40 hour to make a small paycheck was not worth it. While growing up, I was always told that you should "Make your money work for you," but I didn't know where to start.
Deep down, I knew flipping could do that for me.
I found Flipper University while searching about flipping online. Soon after I quickly realized all the questions I had been asking about flipping were right there in the course. I didn't have to do the research anymore, because you had done the searching for me and had 24 years of flipping experience.
Flipper U had amazing educational material that really, really helped my search for answers. The private facebook community gave me confidence that I could conduct my online business in the most quality way possible.
Once I was armed with Flipper U's knowledge and the support, I was able to make my first listing for sale online. From there, I have been able to gain momentum.
You've had a great start to flipping. What are some of your best flips so far?
The best part of this flipping business is that anything goes. Right now, my inventory has been super eclectic.
Over time I have sold things like an XBox to a lady's wallet. Found some water filters that I was able to flip that were overlooked by most people at a thrift store.
Grabbed 2 of those water filters and paid $3.99 each. Sold them the next day for $98!
Another one I found was a Espring UV water filter for $12.99 and it sold for $400 within three days; an air purifier I got for $15.99 and sold for $75; a broken CB radio for $5 and sold for $35; and a table and chairs I got for $30 and sold for $150, just to name a few!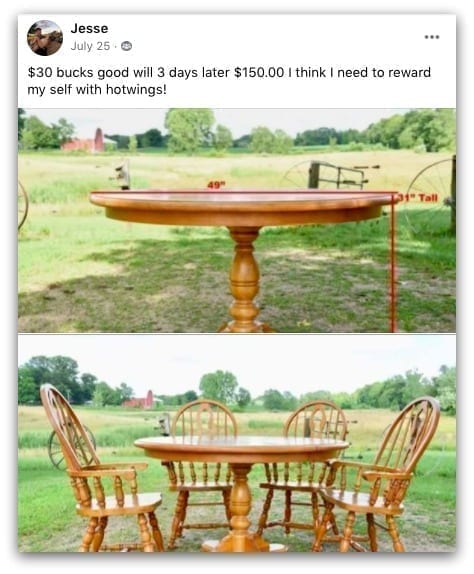 Every day is a journey of discovery for me right now. I spend a lot of time in thrift stores looking at items that are still in the box and looking to see if they are a diamond in the rough.
Things that I would have previously looked past (and that most look past) have been really great flips. You never know what carries monetary value to others, but I'm learning new things every day.
What have you had to overcome to get started flipping?
The thing that always kept me from pursuing selling online in the beginning was a lack of confidence. I knew I could make money, but there was just so much I didn't know.
When I went through Flipper U, it gave me the courage and the knowledge that I needed and it was a game changer for me.
If I could give any advice to people on the fence about flipping, it would be to encourage them to take Flipper U. It definitely gave me the know-how and provided concrete direction.
It provided step by step instructions for moving forward in this business. Having the action steps really helps to put everything into practice. This helped me go from thinking about it to doing it.
It felt good to invest in myself instead of waiting for someone else to determine my worth. It has also provided me freedom in my schedule and I enjoy that part of it.
It also has given me the confidence to build my business and to quit my full-time job. I can now have my money working for me instead of me working for someone else to make their money grow.
We loved how flipping has given you the courage to escape the 9 to 5! Tell us about that journey.
I previously worked at a tiny family owned grocery store that was flexible enough to allow me to attend Bible college. I was spending 38-40 hours a week there.
Every time I got paid, I would look at my check and think about how I could make that money in a shorter period of time working for myself.
After graduating Bible college late last year, my wife and I decided that I would not be returning to work a traditional job.
My wife came to me and said that if we were going to do this, we needed to do it right and fully commit.
Fully committing to flipping really meant investing our time and money into growing the business. We decided it wouldn't just be working at flipping casually on the weekends or when it was convenient.
We were all in!
Part of investing my time is also allocating hours to education and that also included investing in Flipper University.
The amount of money I have made hasn't taken an excessive amount of time, and we found that to be very encouraging. The harder I work at flipping, the more I learn and in turn the more money I make.
Some Goals I Wanted to Reach
Since starting, we have had a few goals in mind. Our short-term goal with flipping is to eliminate all of our debt.
So far, we have been able to pay off several bills and are chipping away at a few other things using my flipping profits. That's encouraging for us.
My first long term financial goal was to have flipping be my full-time income and I have already accomplished that!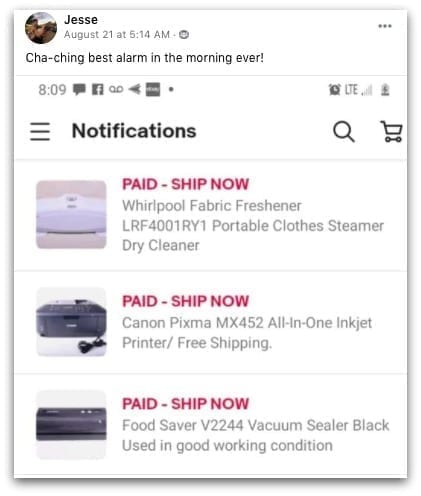 There were definitely some challenging weeks during COVID-19 where I didn't quite reach my goal to replace my income. But I've recently jumped back into the swing of things full force and I have been able to replace my full-time grocery store income!
Our other long-term goal is to return to Costa Rica. One of the requirements when I was in bible college was do missions work and I chose to go to Costa Rica.
From the moment I arrived, I fell in love with that place. A goal of mine is to definitely return one day for the people. The more I flip items the more I see how flipping can help us pay for travel.
So many people are in jobs they don't like. What specific steps did you take to get to a point where escaping your 9 to 5 could be a reality?
When I decided flipping full-time was my goal, I made a decision to be the best flipper I could be.
That meant, diving deeply into researching item information, methods of testing products, researching cleaning methods, and how to create various box sizes for improved shipping.
I have since focused on building relationships with local businesses for sourcing and connecting with those in my community. The employees at the local goodwill know me by name. Those relationships have really paid off in being able to source more efficiently.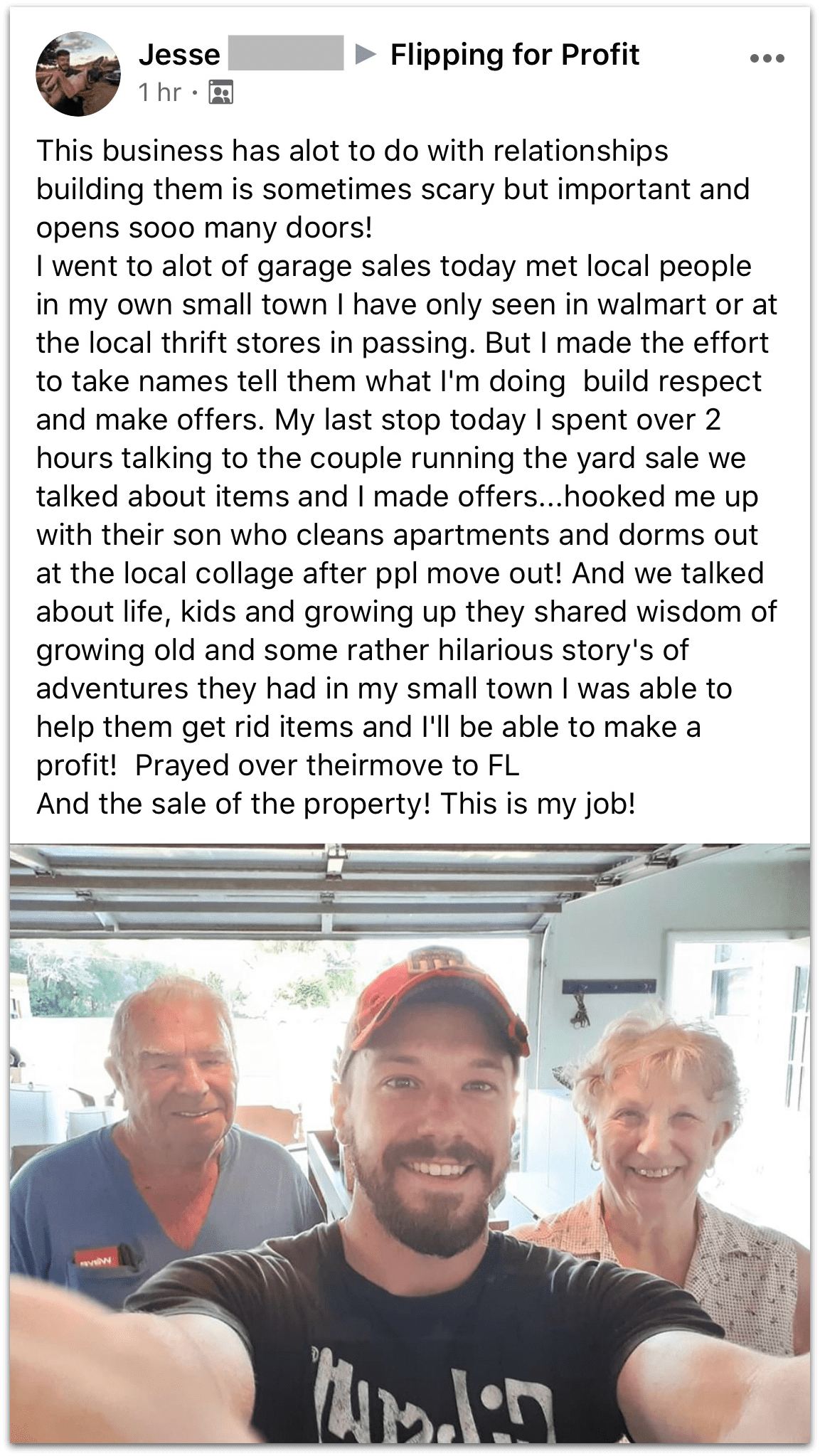 Escaping the 9 to 5 meant I had to devote myself to becoming as educated on every facet of flipping, so I can be the best seller possible. The lessons I have learned on this journey have been very worthwhile.
Our profits from this month will allow us to pay several bills. As this journey has continued I see how doing this successfully will allow us to not only provide for our newborn son, but spend as much time as possible with him.
How has the support of the members group helped your business?
The Facebook community is priceless and so beneficial. It was worth every penny to become a member. The members in the facebook community are active and always willing to provide feedback and share their personal experiences.
Others ask questions that I haven't thought of or was having trouble verbalizing. I feel that the Flipper U really set me up for success and the community helps support that success.
When researching flipping, I have seen no other course that offers support. To me, that was one of the most important aspects of taking the course. Ongoing support was really crucial to my success.
Escaping the 9 to 5 was the best decision I've made. I've enjoyed every bit of it, even the challenges that I have encountered in the business. I'm moving forward and never going back!
Congratulations, Jesse on jumping into full-time flipping with both feet! Keep up the great work in developing your flipping skills and killing it with your flips! We are looking forward to hearing how your flipping business continues to grow.
Do you feel like escaping the 9 to 5 grind? Are you working at a job you dislike? Do you have visions of having your own schedule and the ability to make unlimited income? Check out our free intro webinar today!
Further Resources
Free 5-Day Intro To Flipping Video Course
FREE Workshop How To Turn Your Passion of Flipping Items Into A Profitable Reselling Business
Related Posts
Changing jobs? How Flipping Used Items Helped Joanna Take The Leap
How This Nurse Made $1,695 In 12 Days By Flipping Items And Took Her Daughters To DISNEY!
Sell Unwanted Items: This Retired Navy Commander Made $250 Decluttering
How This Family Has Made $5,000 Flipping Used Items During Covid-19 Lockdown.
FOLLOW THE FLIPPING ADVENTURE: