Covid-19 has been creating craziness throughout the world. The stores are being sold out of necessities like toilet paper, cleaners, and chicken. There is major chaos in the business world with businesses slowed to a halt and closures and lay-offs.
This rapid loss of business will no doubt affect our economy. If you aren't affected by it currently, chances are in some way you will be affected financially.
It's a scary time for sure. But I can say this with all honesty. Don't let fear get the best of you. Don't sink back and take it. There is a way to survive!
Today we have our friend, Brandon, who made ONE sale last week NETTING him $1,000. Was the economy at its best? No. In fact, his $1,000 sale happened right in the middle of the Covid-19 lockdown.
The reality is, this pandemic has changed a lot of things, but if you are a flipper and you are working your business, history proves that you should continue to make a steady income! And that's good news!
In fact, It's a great time to be a flipper!
Don't let the threat of a recession scare you. You don't have to take a financial nose dive. You can actually stay afloat – or even better soar!
Take Brandon for instance. Since the start of quarantine, (almost 3 weeks), he has made close to $5,000!
And the best part is anyone can do this.
We are super stoked you are not only surviving, but thriving during the pandemic, Brandon! Before we start, give our readers an intro about yourself.
Hello my name is Brandon. I live about an hour west of St. Louis. I am married with three awesome kiddos, ages 13, 7, and 4. My wife, Kristina, actually is the one that found Flea Market Flipper. At the time she found it, I had no interest in adding anything more to my plate.
Kristina is a SAHM looking for ways to make extra money. She had an interest in flipping furniture. I work construction with a one hour commute to work each way. I told her I was willing to help her in any way, but I didn't really want it to be my thing.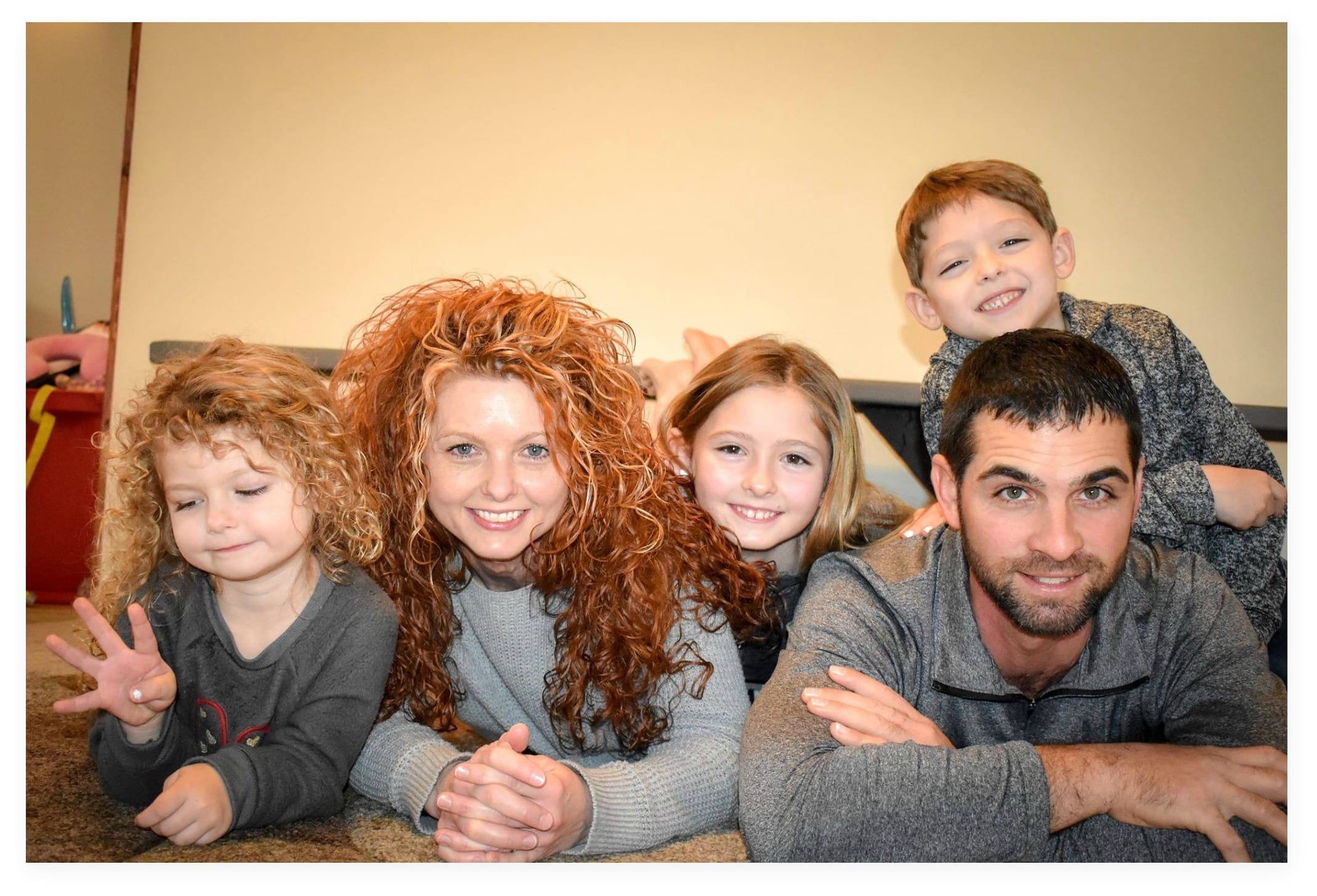 The idea of flipping sat around for a while. We held off on buying the course until one day, I just finally pulled out my credit card and bought it for her.
And our first month went great – we made our first huge sale of $2,800!
We've found our sales increasing during the quarantine. Have you experienced the same thing?
Man, you are right. This Covid-19 pandemic has definitely taken the world by storm. Panic has set in, jobs have been lost, and the stock market has been crashing down!
When I watch the news, it looks pretty bad. But for us, this means there will be opportunities in the flipping world.
I personally have seen an increase in my flipping profits. I have had absolutely no problem meeting with people and following social distancing guidelines. There are lots of ways to sourcing, including porch pickups and online payments.
During these times of uncertainty, history tells us selling discounted goods is the place to be. We can be a resource for consumers providing for things they need. There is a huge spike in people being at home on lockdown and that means many more people shopping online.
Thankfully, the service we provide flipping items is unique. Sellers definitely have the opportunity to earn quick cash if they need it. On top of that, we, as sellers, have the opportunity to sell merchandise that helps the buyer save money in the process.
With that said, we get to profit from some of the leg work we do to connect the dots!
It must be a great feeling knowing you can make $1,000 on one sale if you need extra money.
It is really awesome. Currently my job is secure as I work in infrastructure construction and we are considered essential. But, I'm confident if my construction job is affected in any way, I have learned how to make extra money quick. That's a good feeling to know that, especially in these crazy times.
As of right now, the money I make flipping is my extra money. We will use it to pay off our consumer debt and medical debt. Our plan is to get our debt back to ZERO!
If you would have asked me one year ago if this would be possible to make enough money to get out of debt, I would have said, " I doubt it." But with your help, Rob, including your coaching, guidance, and the Flea Market Flipper community, we will have our debt goals met in just 30 months!
We also have a goal to finish our shed project. We will use our shed for storage and working on our flipping business. Part of our flipping profits are going towards finishing this home project.
Can you dive more into the item that you netted $1,000 on?
Through the winter here in the midwest sometimes it can be challenging to source big profit items. There are fewer Flea Markets and sales of all kinds. The weather limits things.
Because of this, I started looking at estate sales online and onsite. When looking through a sale a few weeks ago, within an hour I saw an Octane Fitness Sit Down Elliptical machine. I remembered what you taught me in Flipper U that the comps were awesome on these and to buy one new was in the upwards of $3,500.
I placed my bid and the auction ended with my final bid of $256 as the winning bid!
We got it home and listed the machine on eBay for $1,634 and it sold in a week. It cost $276 to freight ship from Florida to Missouri. We netted right at $1,000 after all fees and shipping were paid. Not a bad week!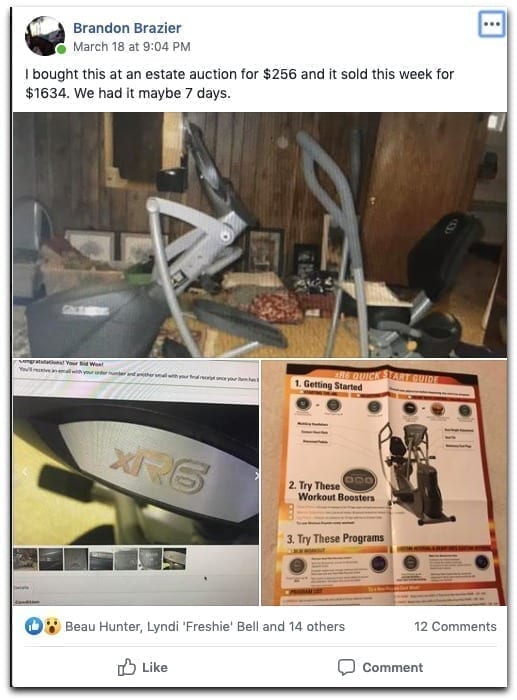 So how long did it take you to get that confident with flipping?
After I went through Flipper University over a year ago, I received a call from you and Melissa. It was a sourcing call to help me find items in my area that would potentially be great items to flip.
On that call, you researched my area and found one big item that was only one and a half hours from my house. We made contact with the seller and offered them $75 for the basketball rebound machine and they accepted. I figured the motor was broken.
The next day, I called the manufacturer and ordered a new motor for $100. I put the motor in and it worked great!
We listed this thing on eBay for $2,999 and within a couple weeks we got an offer for $2,800. Of course we accepted the offer and all of the sudden I was interested in flipping!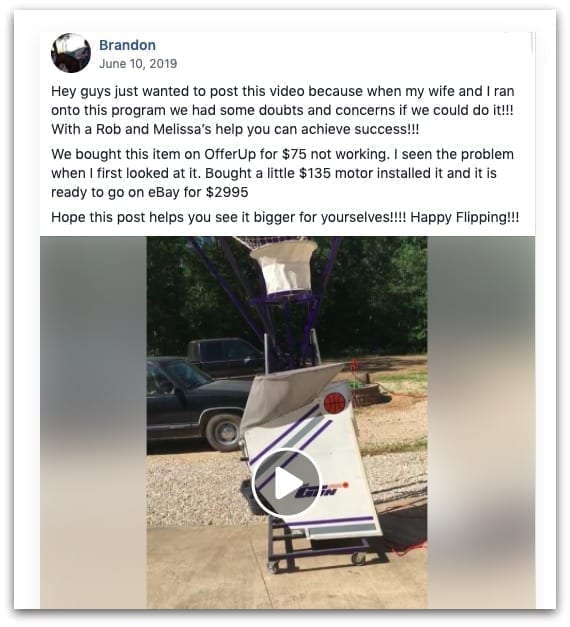 So to answer your question, right from the beginning with your coaching and training, I gained the confidence and did my first big bad freight shipment!
I've learned so much with you walking me through the process from building the pallet, printing the label, and dropping the item off at the terminal. I also learned how to communicate with the buyer through the entire process and Rob, you were solid as a rock through this whole thing!
Everything you promised, you delivered and I was well on my way within the first 30 day window. In fact I was able to pay off the cost of the course and all of the start up fees back to our credit card in the first month.
I'm thankful for all I've learned through Flipper University. Two things really stand out that have helped me gain confidence.
First, is the way you source in different areas and your ability to show me how to do it also. This business requires inventory so learning that skill helped me build that inventory. And in building the inventory, I continue to make sales.
Second, is freight shipping! Learning this skill has really opened up so many possibilities for some large profits on big items. This is where I was able to take this business from a hobby to a business in a hurry!
Thanks so much for sharing your story with us Brandon!
Since we did this interview with Brandon last week he's now up to $5,000 in sales! If we wait another day to post it we are going to have to update the total again. He is really killing it lately!
He has sold a few cooktops in the past couple weeks.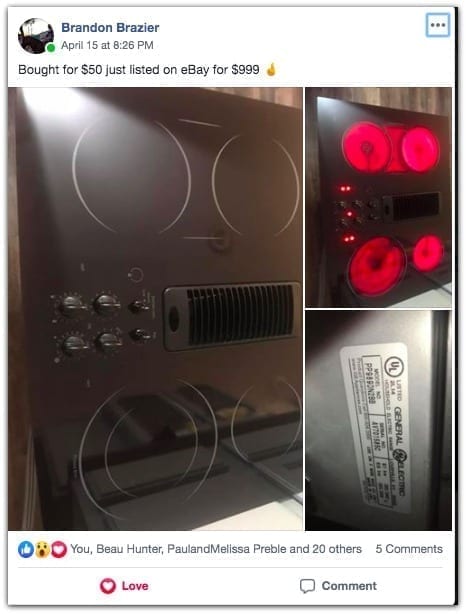 And some exercise equipment.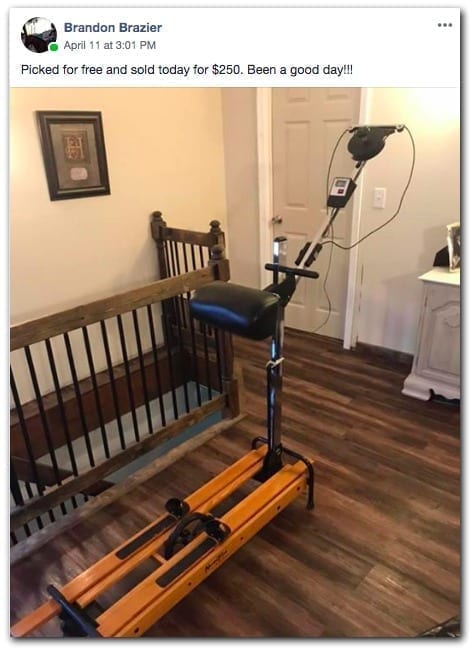 And just yesterday he posted this one in our member's group.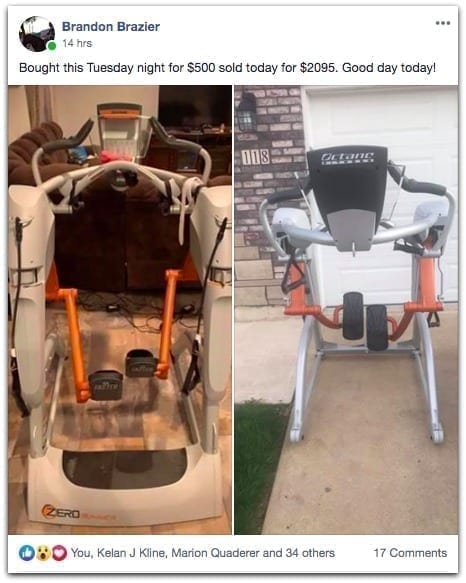 He picked it up TUESDAY and sold it on FRIDAY! That's $1,500 in 3 days!
Flipping truly is a way to make some great money through this Covid-19 lockdown and any other crisis in the economy that comes up. There are so many ways to continue to source and sell during this time.
What could you do with an extra $1,000 this week? I could think of a hundred things I could use it for. But, the crazy thing about this time in our economy is people need money now – not a month or two from now when things get better.
Flipping items for profit is a legitimate way to support yourself through this time and there is no shortage of items to flip and make money on. Have hope and don't give up! You can survive this pandemic.
If you think that flipping items to make extra income during the Covid-19 lockdown and beyond, check out our free intro workshop!
Further Resources
Free 5-Day Intro To Flipping Video Course
FREE Workshop How To Turn Your Passion of Flipping Items Into A Profitable Reselling Business
Related Posts
How This Mom QUIT HER JOB To Flip Items Full-Time (And Was Able To Pay Off $12K Of Debt In 5 Months!)
How This SAHM Made $1,000 In Her First Month Flipping Used Items
How We Made $6,250 In ONE Weekend Of Flipping Used Items On eBay