A few months ago we polled our readers to ask if they wanted us to do a monthly flipping income report again and we got a resounding yes!
So we are back at it posting what we sold, how much we sold it for, what we bought it for and all our costs for shipping and eBay fees.
The grand total of sales totaled $16,000 on the dot!
And in only 11 items!
Not a bad month.
Before we dive into all our costs and total profits, let's dive into a few flips!
Ebay Sales
The first flip of the month was this concrete saw. Picked it from for $300 and sold it on eBay for $1,700!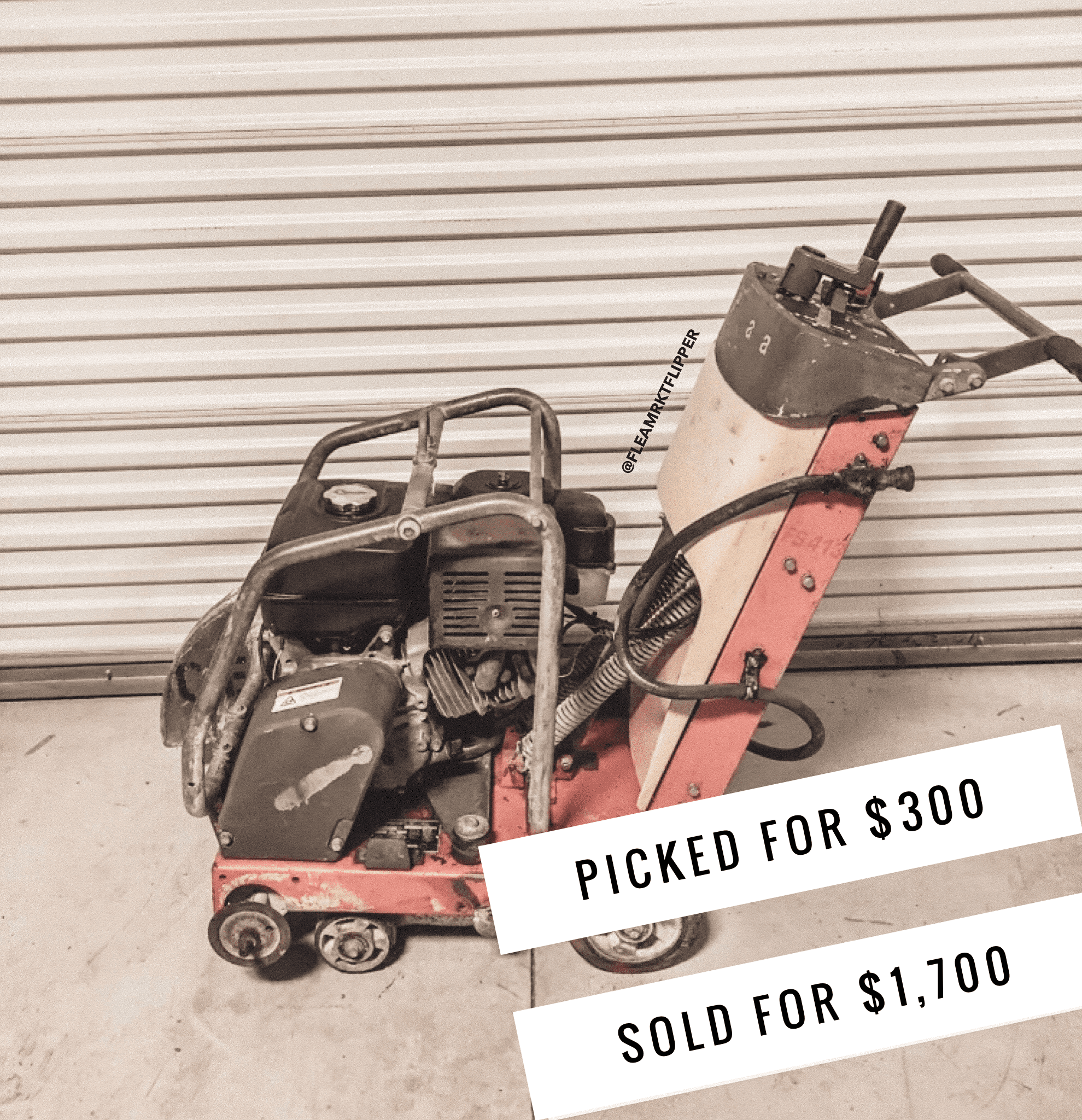 The next sale was a welder. This actually went all the way to Saipan!
At first I couldn't ship it to him because the charge was too high so I refunded him. But then he gave me a California address and said he would take care of getting it so we had a deal!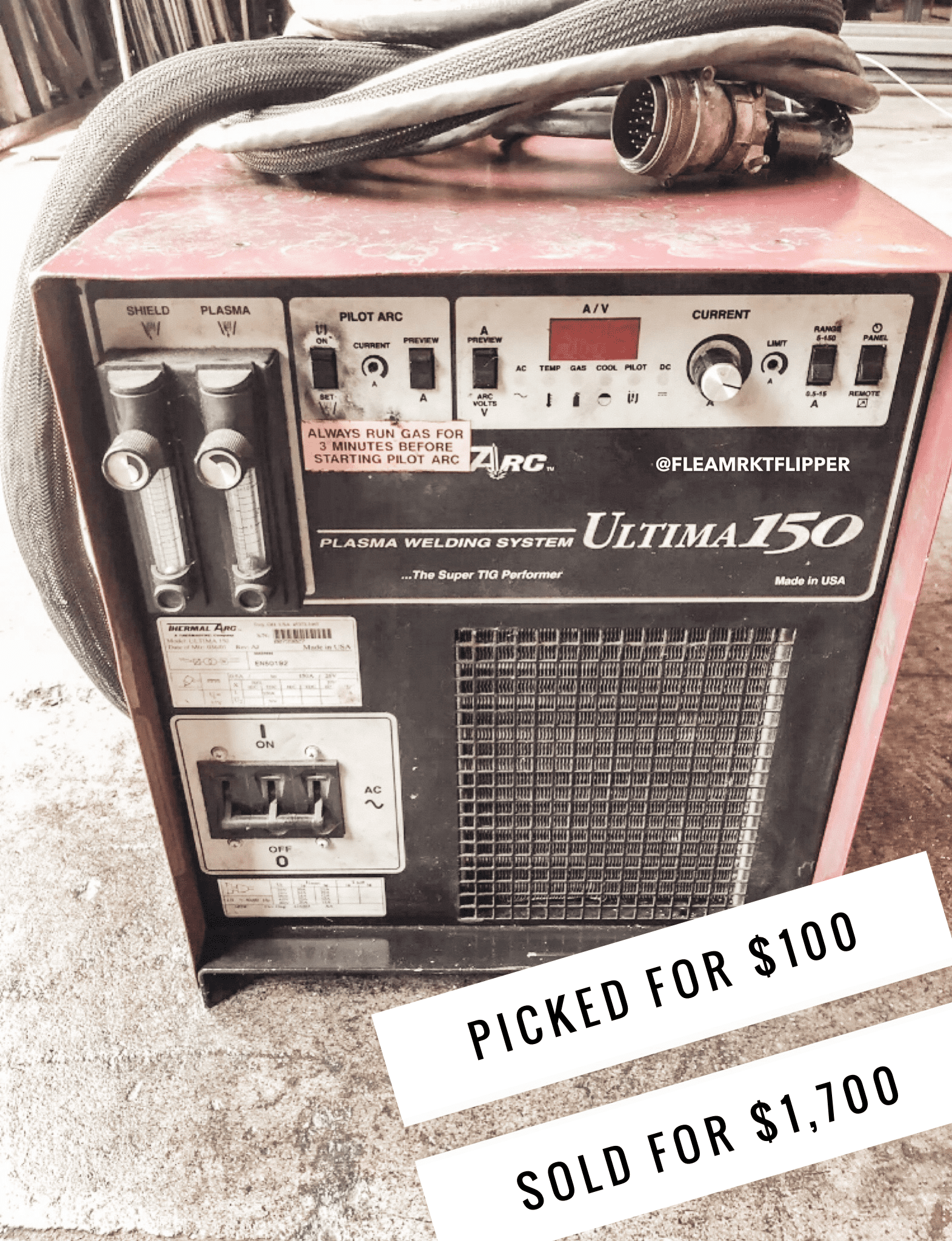 We sold two of these gas tanks last month. I found 5 of these in a dumpster and now we have sold them all!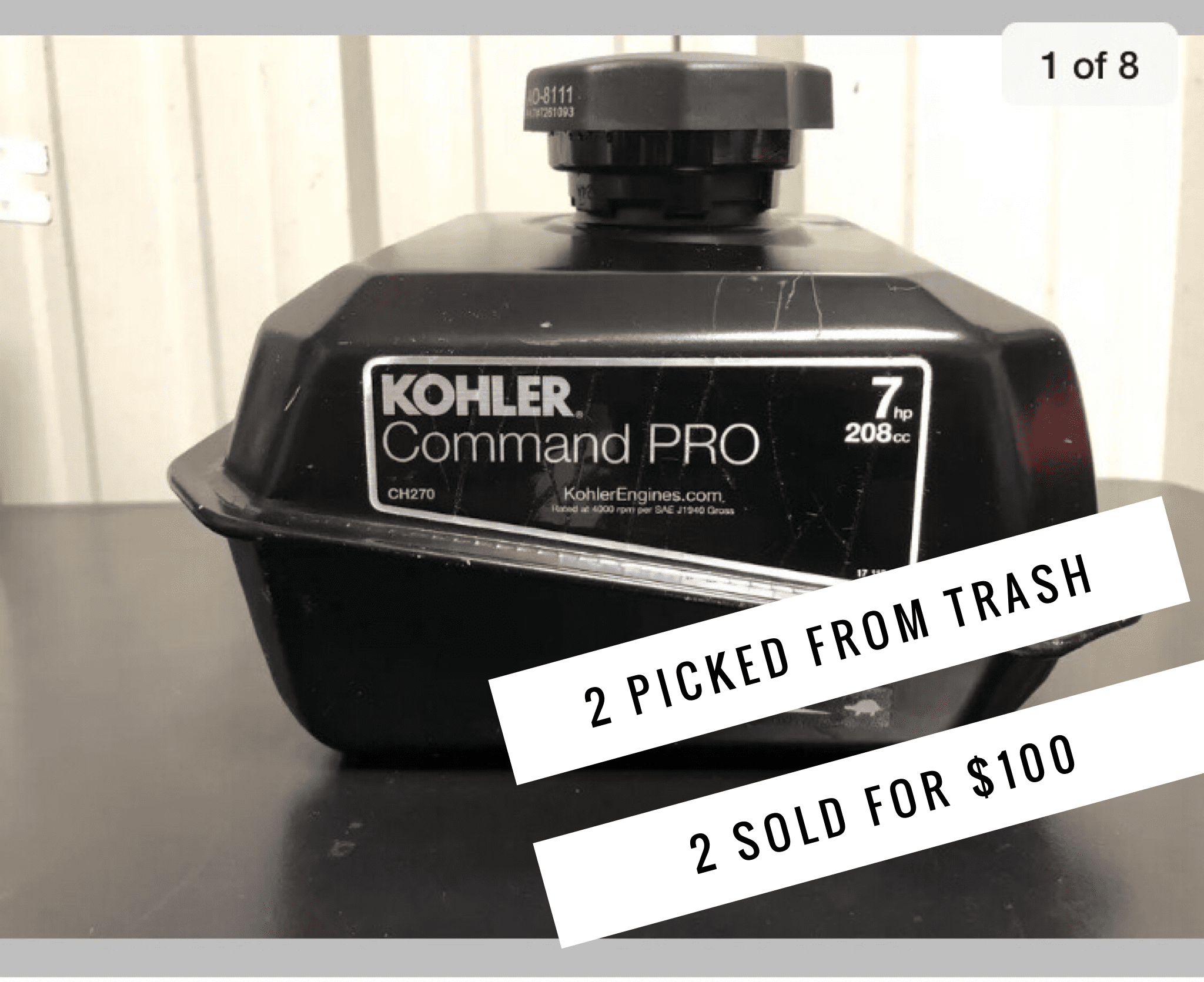 We sat on these bad boys for a while, but they are small so didn't take up much room. Picked them from the flea market for $5 each.
They are brand new encoders for something. I don't even really know what they do, but someone needed them!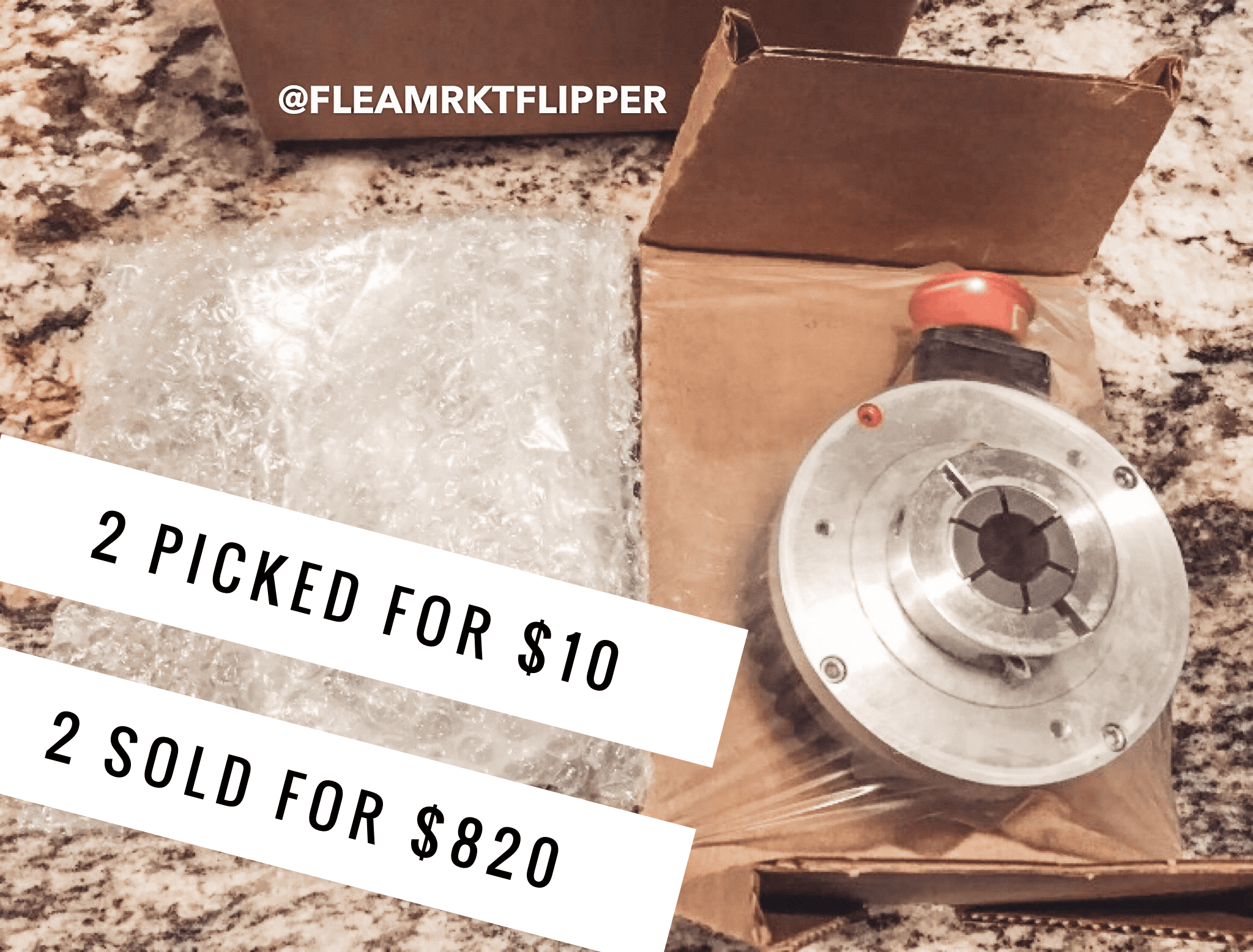 The next sale was this commercial Dance Dance Revolution board. I picked this while on our 30 day road trip across the country this summer.
Found 5 of these on OfferUp while in South Dakota and picked them up! The seller had bought them from a school auction and never did anything with them.
One of them made my investment back and the rest is all profit!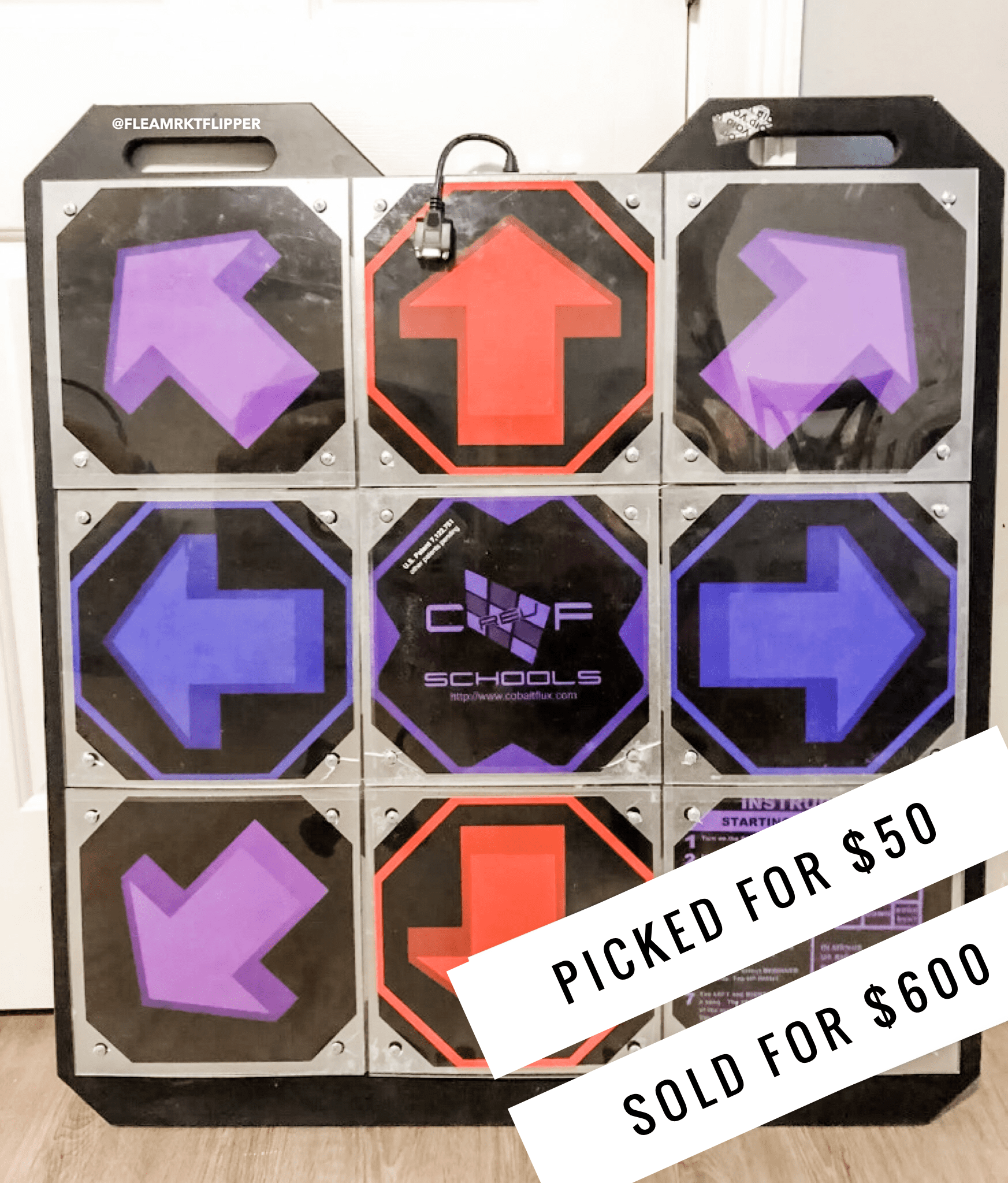 This flip was the biggest of the whole month!
I had someone interested in my other bus wash that I had (yep, my other one..), but it wasn't tall enough.
I told him I just so happen to have a taller one! This one needed a little more work so I gave him a bigger discount on it.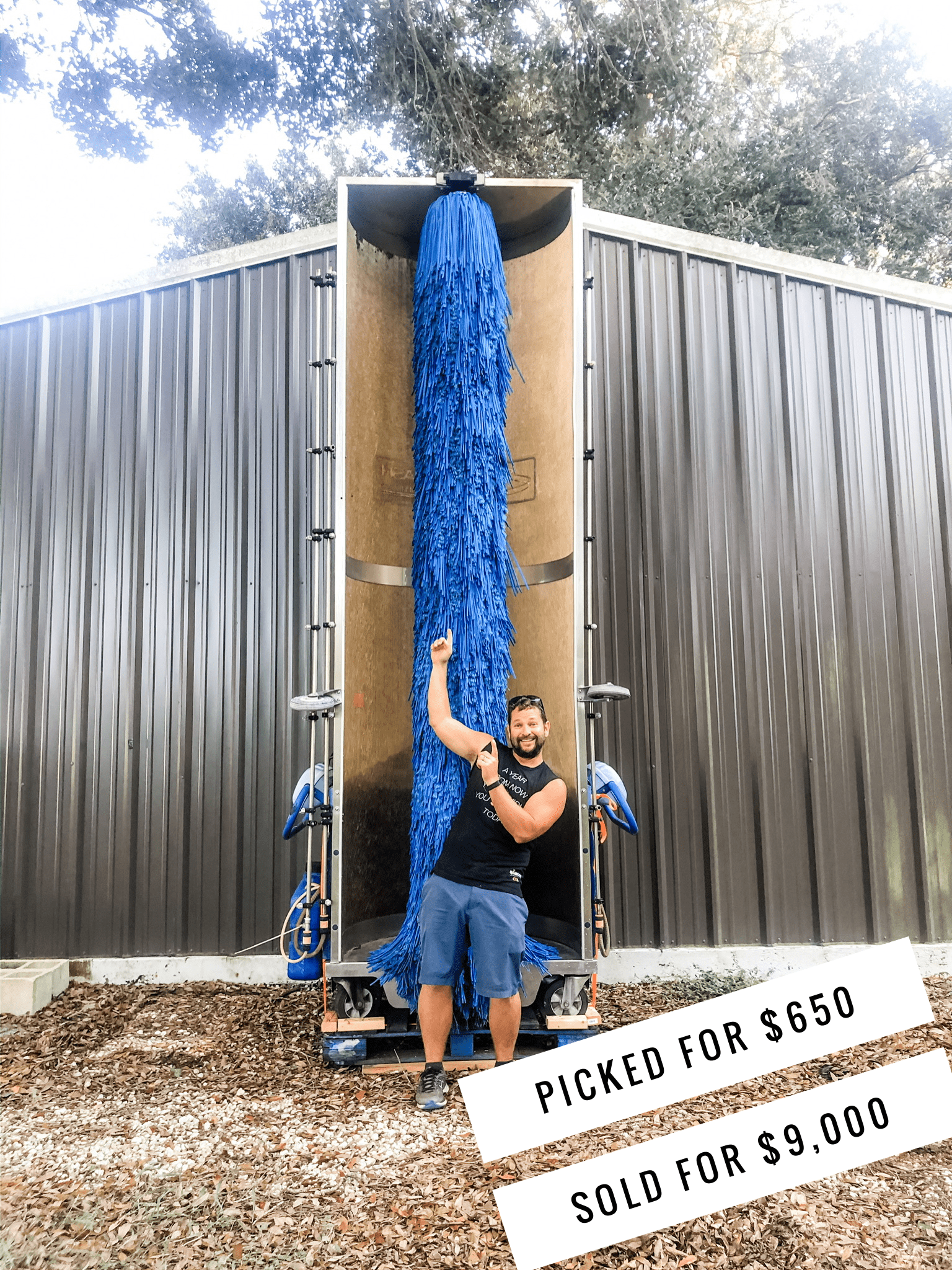 People ask us all the time about the flops… Well this next pick was just that.
I found this on Facebook Marketplace while picking up the (second) bus wash and decided to get it.
When I went to look at it, it was in a little rougher shape than I thought. I *should* have walked away… but I grabbed it.
Sold it on eBay for $550, which is good! But after shipping costs and fees it wasn't worth my time. Just barely made it in the positive on this one.
The bright side is I didn't lose any money!
But the game is to make money so we will pick up and move on.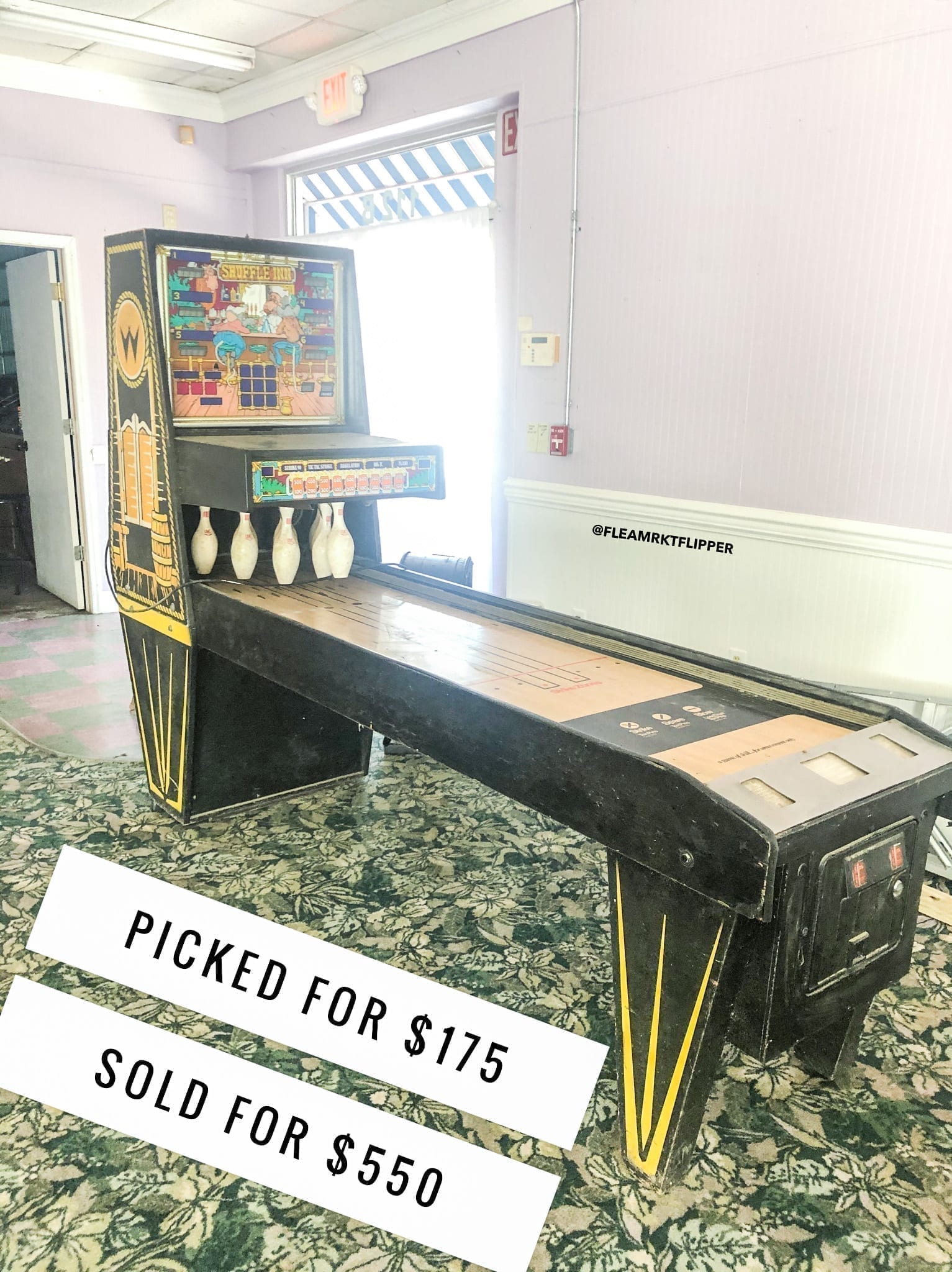 Melissa sold this Maxi Cosistroller for $230 total.
It was in almost perfect condition and I don't think it had ever been used. We listed it as a floor model and took really great closeup pictures, but the buyer claimed it wasn't new (we listed it as new other).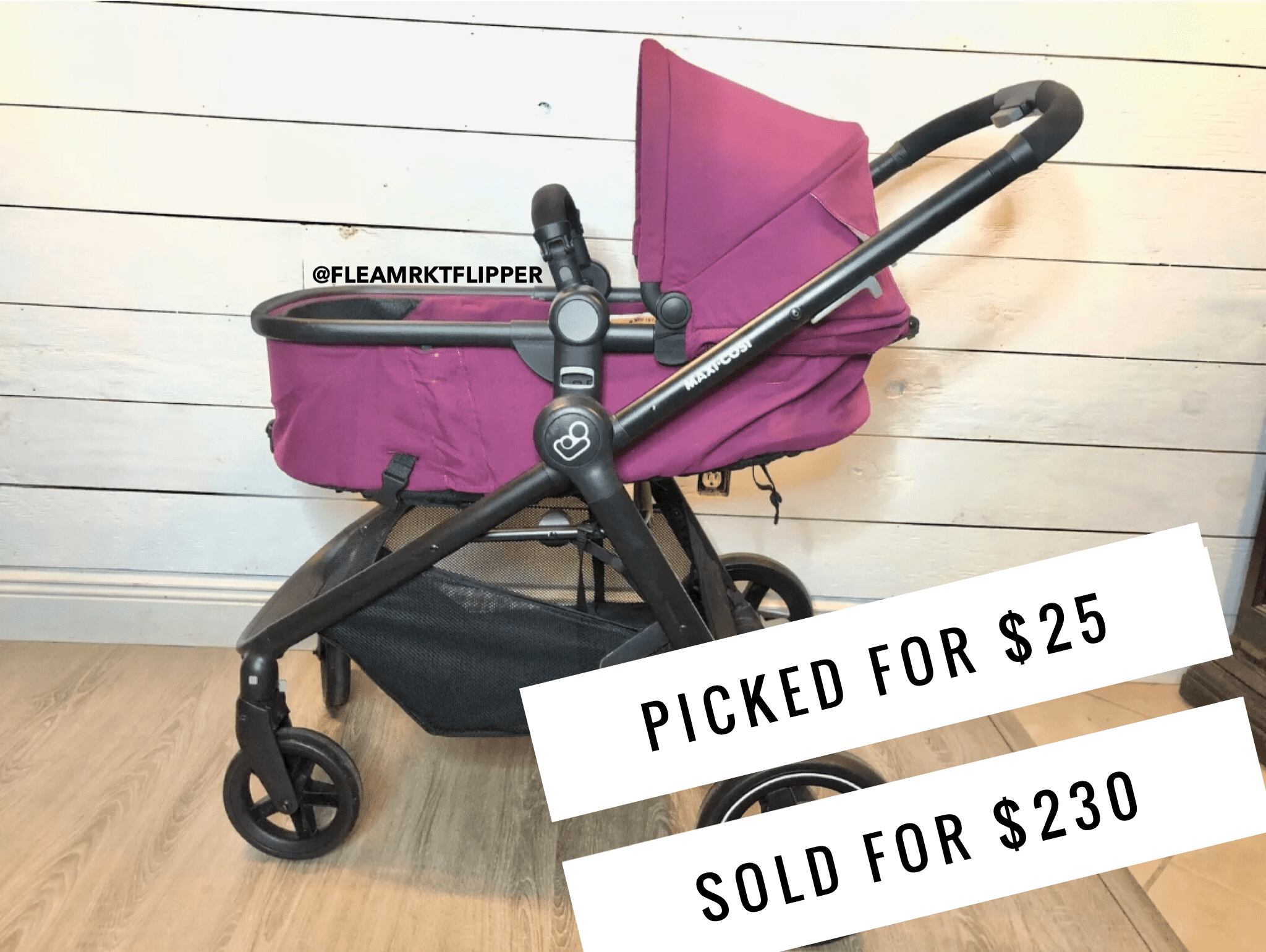 This buyer had already asked for quick shipping which we did, and we could have argued that the stroller was in excellent condition.
But instead of wasting time and risking negative feedback, Melissa just offered them a $50 partial refund.
Sometimes there will be difficult customers, happens in every business. So you just have to choose what's the best for the situation and keep moving on.
Would you believe empty boxes for various things sell! A friend gave us a whole bunch of boxes and wine crates a while back and we've been selling them over the last year.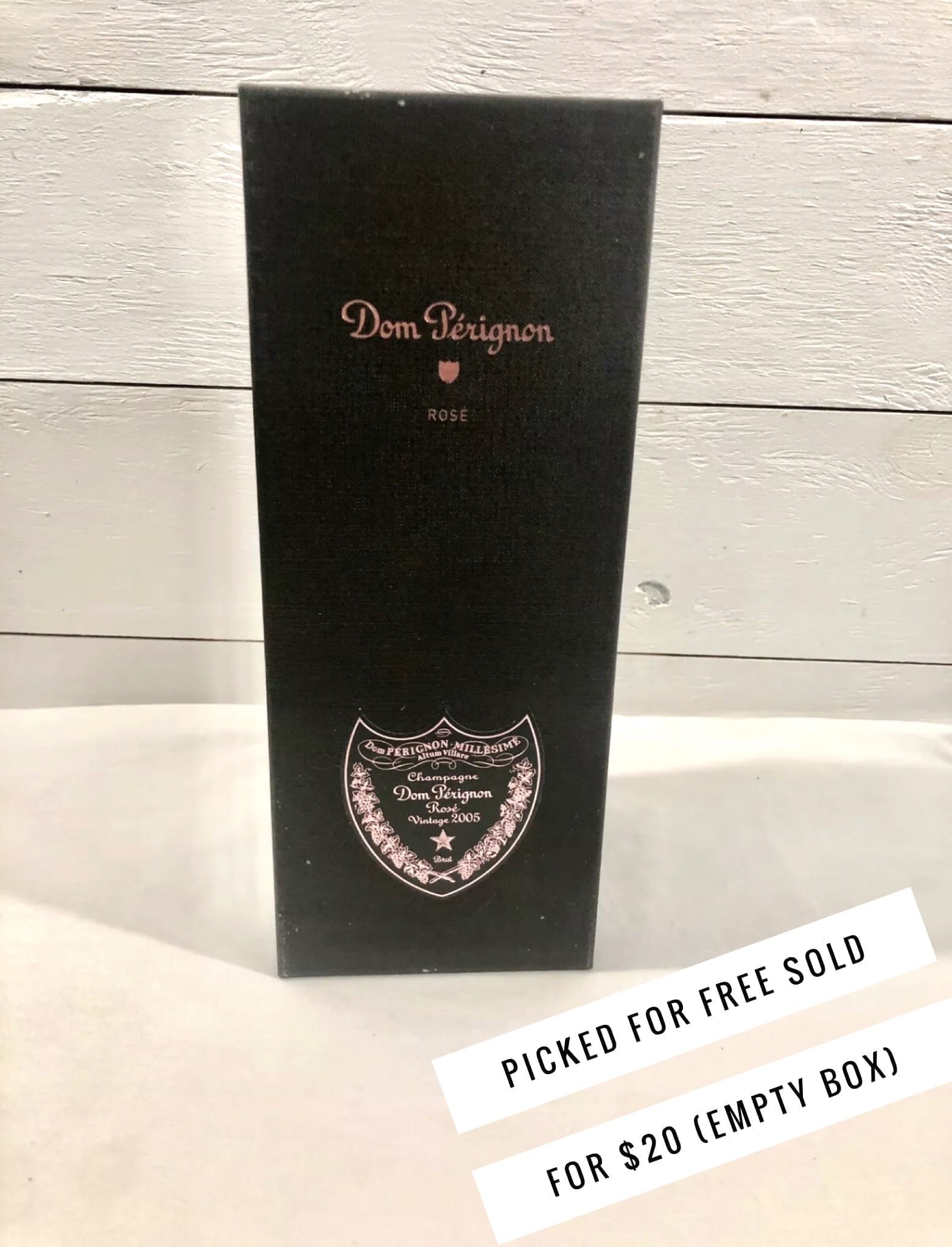 Facebook Marketplace Sales
This concrete grinder was a local sale on Facebook Marketplace. These are fun when you don't have to add any shipping costs or eBay fees.
Picked at an auction for $150.
$1,200 cash in hand.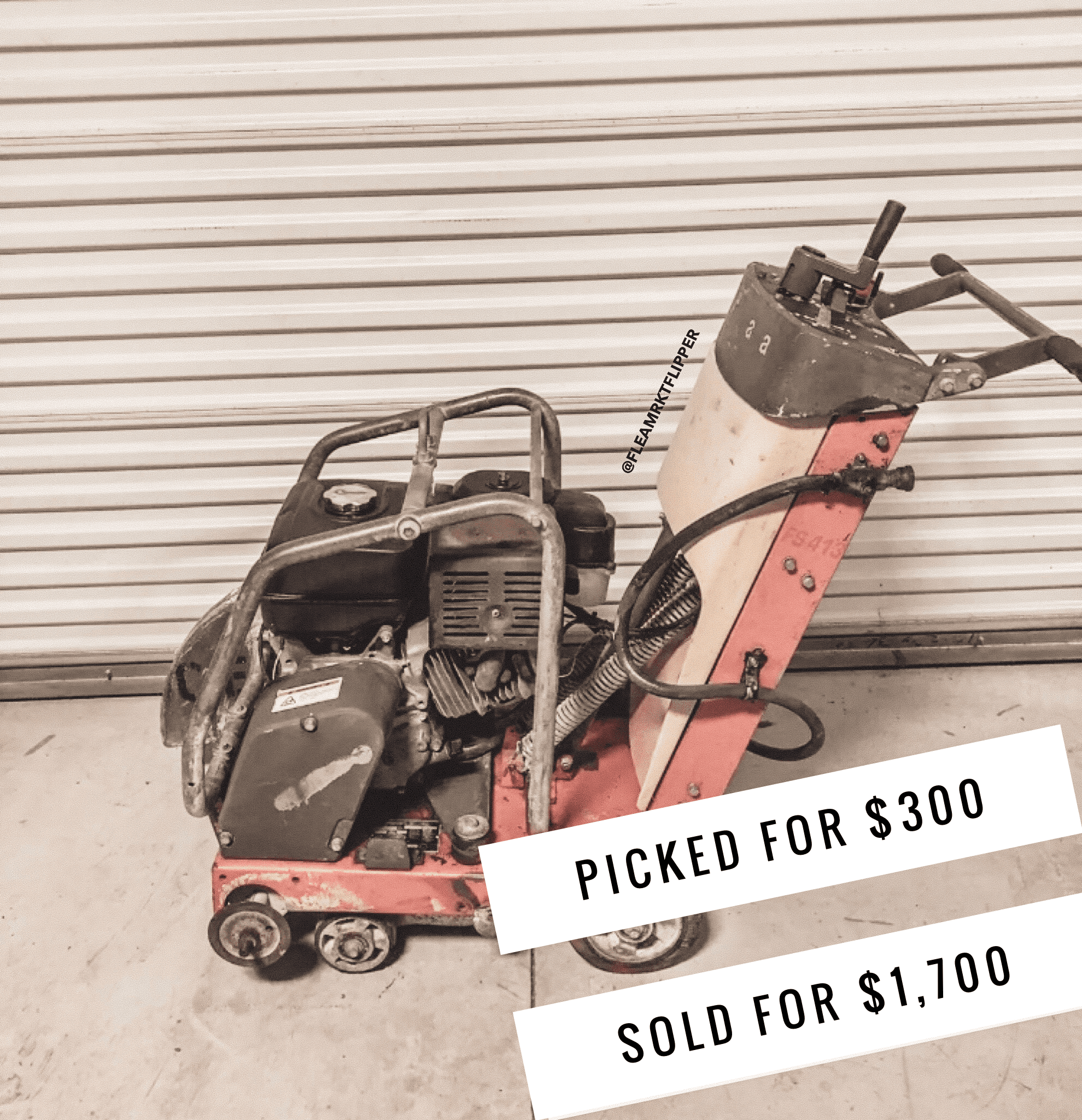 The last sale of the month was our own personal stroller!
We have put so many miles on this thing.
We like to run 3-5x a week and used to push this stroller all the time!
This summer our girls learned to ride bikes and we really didn't need a double any more. So now we are down to one single stroller.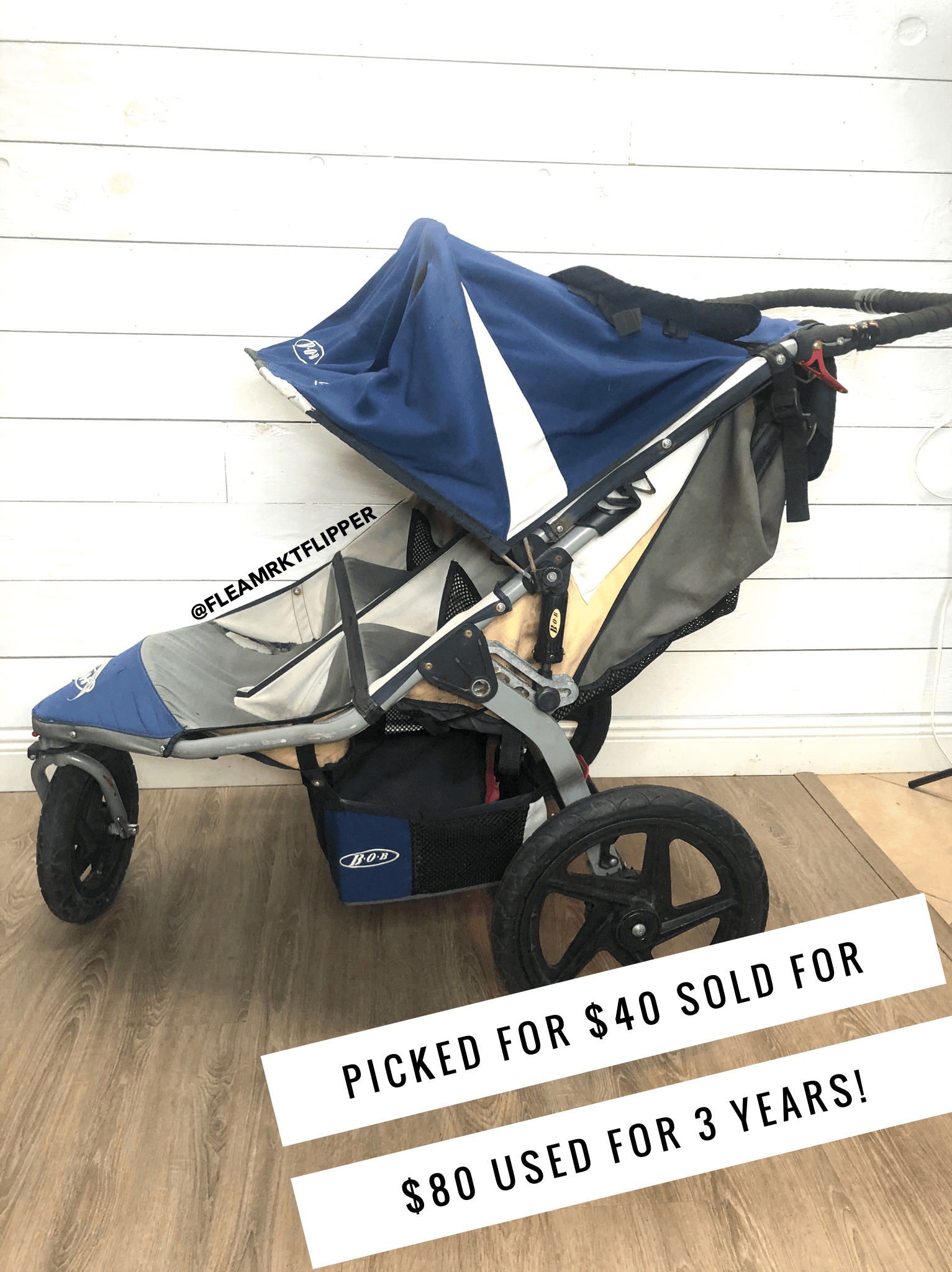 Got several years of use out of this stroller and still sold it for $80!
Bob's are great strollers and usually resell for more, but ours had a few rips so we sold it for less. But doubling our investment after so much use is pretty flipping awesome!
Kid's Want To Make Money Too
The kids have been asking for new toys and gadgets almost every time we go to the store.
We were getting tired of saying no, so we decided to give them a way to make some money!
They started going through their clothes and toys and with Melissa's help they opened an eBay account and listed a few items!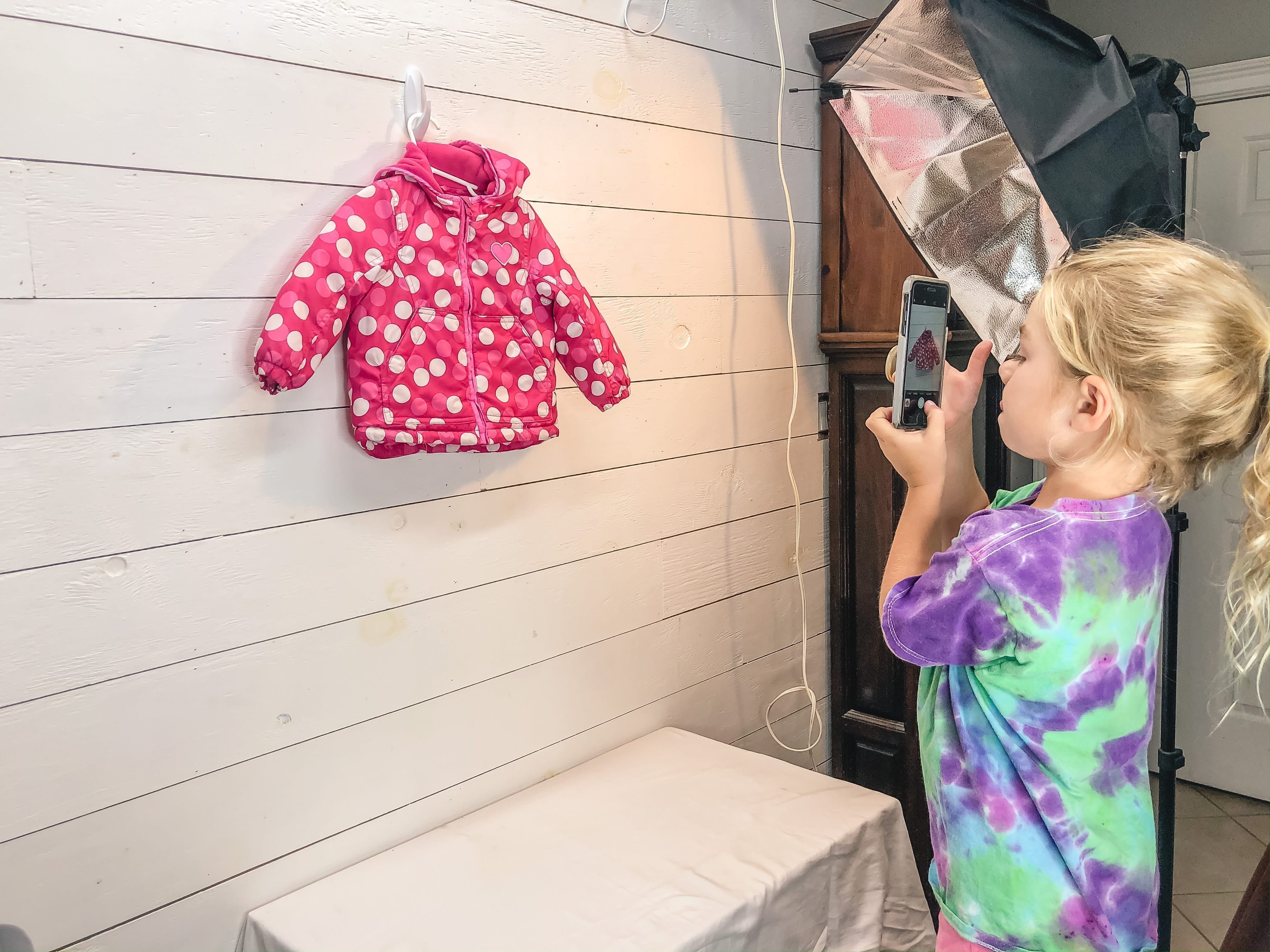 I took them to the thrift store one day too and they found a few items to flip!
They made 4 sales last month to total $74!
Brody was the first one to make a sale and he was so excited!
He sold this game we picked for $3 at the thrift store!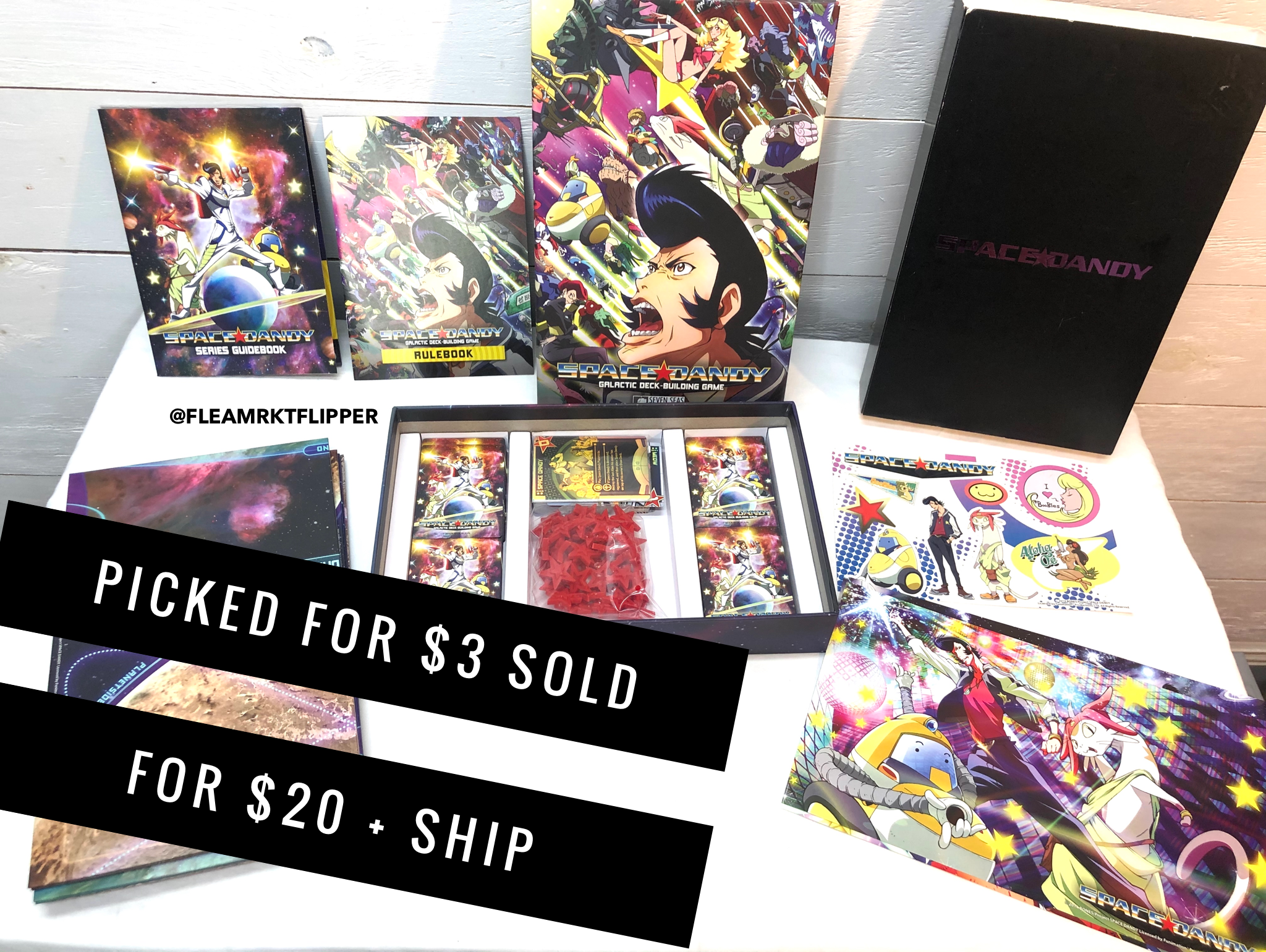 We will see if these get the flipping bug.
BREAKDOWN OF REVENUE, FEES, & PROFITS
Alright, let's dive into the numbers!
Below is what we spent, what we sold it for, our shipping costs and eBay fees.
Concrete Saw – Sold For $1,700, Picked for $300; Shipping costs $300; eBay Fees $211 ; Profit $889
Welder – Sold For $1,700, Picked for $100; Shipping costs $200; eBay Fees $195; Profit $1,205
Gas tanks – 2 Sold For $100, Picked from trash; Shipping costs $36; eBay Fees $12 ; Profit $52
Northstar Encoders – Sold For $820, Picked for $10; Shipping costs $20; eBay Fees $103 ; Profit $687
Dance Dance Revolution – Sold For $600, Picked for $50; Shipping costs $100; eBay Fees $61 ; Profit $389
Arcade Game– Sold For $550, Picked for $175; Shipping costs $265; eBay Fees $67 ; Profit $43
Bus Wash– Sold For $9,000, Picked for $650; Shipping costs $1,350; eBay Fees $0 ; Profit $7,000
Concrete Grinder– Sold For $1,200, Picked for $150; Shipping costs $0; eBay Fees $0 ; Profit $1,050
Maxi Cosi Stroller – Sold For $230, Picked for $20; Shipping costs $30; eBay Fees $30 ; Partial refund $50; Profit $100
Empty Dom Perignon Box – Sold For $20, Picked for $0; Shipping costs $9; eBay Fees $3 ; Profit $8
Bob Double Stroller – Sold For $80, Picked for $40; Shipping costs $0; eBay Fees $0 ; Profit $40
Total Sales: $16,000 Total Invested: $1,495, Total Shipping Costs: $2,310, Total eBay Fees: $682 Total Profit: $11,513
So that's a wrap for October!
Let's see what the end of the year will bring.
If you are interested in seeing if this flipping gig is for you, check out our FREE intro workshop.
FURTHER RESOURCES
FREE Workshop How To Turn Your Passion of Flipping Items Into A Profitable Reselling Business
RELATED POSTS
How A Single Mom Went From Working Two Jobs To Making $5,000/Month On Her Flipping Side Hustle
How This Working Mom Paid Off Two Vehicles From Her Flipping Side Hustle
How This 22 Year Old Athlete Made $12K In 3 Months From Flipping