The Best Items to Resell for Profit
What are the best items to resell for a profit? 
This is a common question I hear over and over. I spend a lot of time coaching and training other people to flip for big profits and I would say this is one of my top questions. 
The answer? It might surprise you! There are so many amazing items to resell for a great profit and it doesn't have to be complicated.  
The truth is you can start making some great side money today and the income is unlimited!  Profit can start immediately, but better yet, with a little time and commitment, you can build an inventory that can provide a consistent monthly income.  I call that the gift that keeps on giving!   
It's no secret; flipping is my passion.  I love all aspects of it.
I love finding the great deals, getting them listed, finding the right buyer, and shipping them across the country.  But the second thing I am passionate about is sharing my 22 years of flipping experience and helping others learn how to make money too! Flipping is a skill and I have taught many who are successfully make some great income!
So what are the best items to resell for profit?   Let's get started!
Large Items
Selling large items with freight shipping has really taken our business from part-time income to full-time.
When I decided to go full-time with flipping, I realized pretty quickly that I was going to have to up my game in order to be able to provide for our family of 5.
The idea of selling 500 items to make $5,000 didn't appeal to me. I needed to learn to work smarter not harder.  
I started doing a little bit of research on eBay. I noticed a consistent pattern; the larger items listed on eBay with freight shipping as an option were selling quickly and for much more money than the local sales.  This is where I had my "aha" moment.


I made a conscious decision to learn how to freight ship.  
My first experience freight shipping was with a formal furniture set. This sale really confirmed the freight shipping decision for me. I had this beautiful furniture set listed locally for $750 with no bites. On faith, I listed it on eBay determining in myself that I would figure out how to freight ship it if it sold.
Within a month, it sold for $2,200!  This was the start of a whole new level of flipping and selling larger items has made all the difference!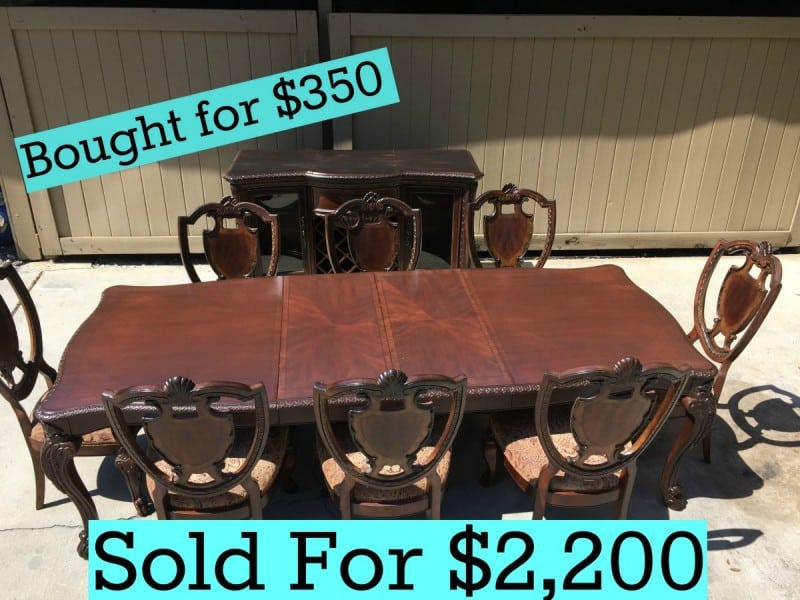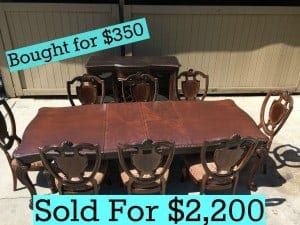 With freight shipping oversized items, I am able to find some really great items on local apps to flip.
On any given day, I am able to snap up some amazing deals! I throw them on eBay and sell cross-country to the right buyer. I have been able to go from part-time flipping income of $42K to $133K in our first year of flipping full-time!
Freight shipping changed the game for me and has been consistently providing great income for my family ever since.  
The best part?  I took my new found knowledge of freight shipping and now train others to do the same!  We now have several people in our coaching group who have learned how to buy and sell large items, shipping them across the United States increasing profits by thousands of dollars!  
Here are a few large items I freight ship often:
Exercise equipment 
Appliances
Commercial equipment
Furniture
Restaurant Equipment
Unique Items
If you have been following me on social media for any length of time, you know I sell crazy weird items! 
I love finding unique things that people are trying to sell locally (or not selling!) I snap them up at a discount and I am able to list them on eBay where I can find that right buyer who will pay top dollar for it.
Sometimes I may need to wait a little bit to find the right buyer, but when I do they are willing to pay – sometimes thousands more than I purchased it for.  
I often check out local apps and the flea market for some really crazy stuff.  The items I try to focus on finding are high-end stuff that would normally retail for a lot of money.
I can usually get them for $10 to $50. When I list on eBay, I have 175 million active users that have access to search for my item.  Many times, I will make hundreds and occasionally thousands of dollars on a $50 investment.
The great thing about selling unique items is there is no shortage of them. They are everywhere and you can find them in your area as well. I have even helped my course students source items all over the United States. I find the same everywhere – tons of crazy unique stuff worth lots of money!
The benefits of selling unique items are that they don't sell well locally and the average person doesn't want to deal with eBay.
That's where I come in. I love these buys because I can usually get the item for cents on the dollar and the exposure on eBay will bring me markups of up to 2,000%. This has worked great for us over the years so I don't plan on stopping any time soon!
Here are a few CRAZY items I have flipped:
A prosthetic leg – Yes!  I found this at the bottom of a bin at the flea market.  I paid $35 and sold it for $1,000 in less than 24 hours.
9-Foot Harley Davidson Sign – Picked this sign for $250 and sold for $7,500
Concrete Stamps – Picked these up for FREE and sold for $850
Boiler – Bought this from one of my contacts for $100 and sold for $2,400
There are so many unique items, you will never run out of things to pick!
Non-working Items
Over and over, I sell items that are broken, non-working, or unsure if they are working.
Because I specialize in large, more expensive items, people will often pay high dollar for these items even if it is for parts.   In this day and age, people just toss unwanted stuff in a landfill or sell for pennies on the dollar just to get rid of what they consider to be a "dead weight."
But for the flipper, these are awesome items to sell. There are people all over the world who buy my picks just for the parts. Not only that, they are willing to pay big bucks for them too!
I will often find something super cheap not knowing if it works. I will do a google search of the item and if it a high dollar item retail, I will do pretty well reselling it even if it is for parts.
People think it's crazy, but I've been doing this for years! Non working items are often times overlooked because one may assume they won't be worth anything.  But this could not be further from the truth!
One of our Flipper University students, Lisa picked up a non-tested commercial oven that was in the FREE section on OfferUp. She was able to sell it on eBay AS-IS, not sure if it worked, for $1,000! After fees and shipping she made a $600 profit! And this was her very first flip with us only a few weeks into the program.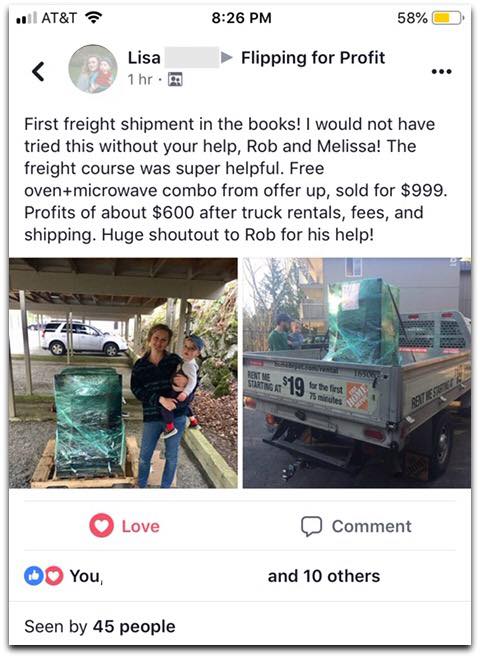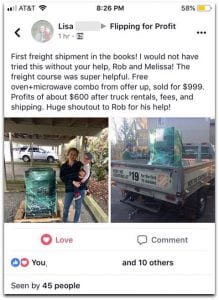 There are hundreds of broken items that people will actually pay for. They are willing to buy them because they are being sold at such a discounted rate that they can put a little money into them if need be. This oven above was well worth $5,000 new. 
So don't rule out someone's broken or non-working junk.
Here are a couple non-working items we sold for a big profit:
Commercial compressor – I just purchased one of these for $333 and sold it for $5350!  I had no idea if it worked and sold it as is.
Computer electronic boards – I purchased these from one of my contacts for $10 and sold five of them for $2,500.  I sold these as parts.
Trash
I recently posted this meme in our coaching group and it pretty much sums things up for me: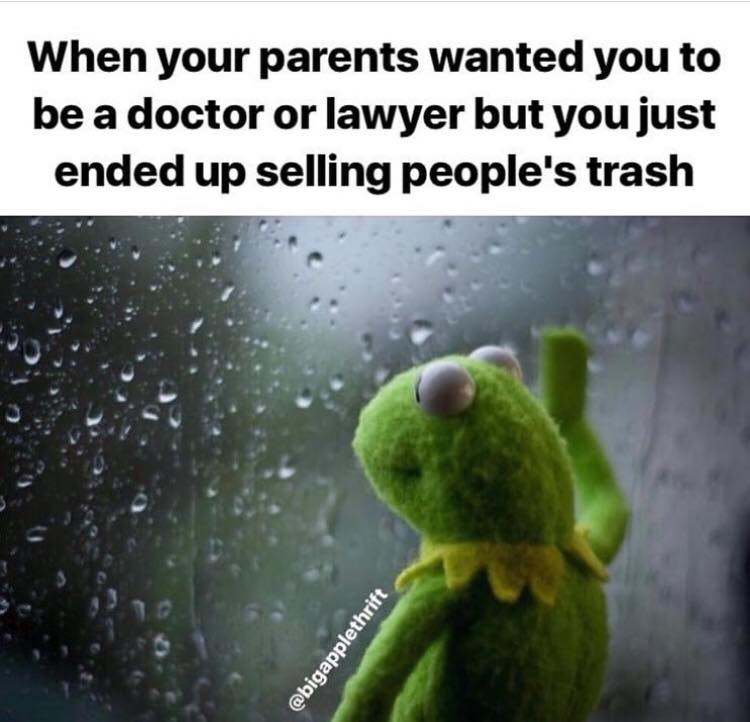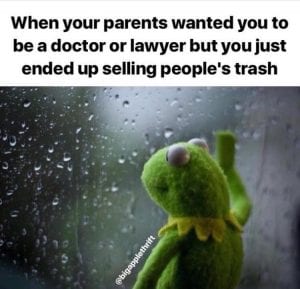 This is a funny joke, but honestly, I wouldn't change it for the world. I make a great living flipping and I don't mind a bit that I brake for the occasional dumpster!  
If you've been following us on social media for any length of time, you know we find some amazing stuff at the side of the road or in people's trash.  In fact, at the beginning of this year, we took a chair out of the trash on one of our nightly walks, fixed it, and sold it for $50.
We took that $50 and continued to re-invest it and now we have over $120K in inventory from that one piece of trash.  It's no joke trash can be valuable!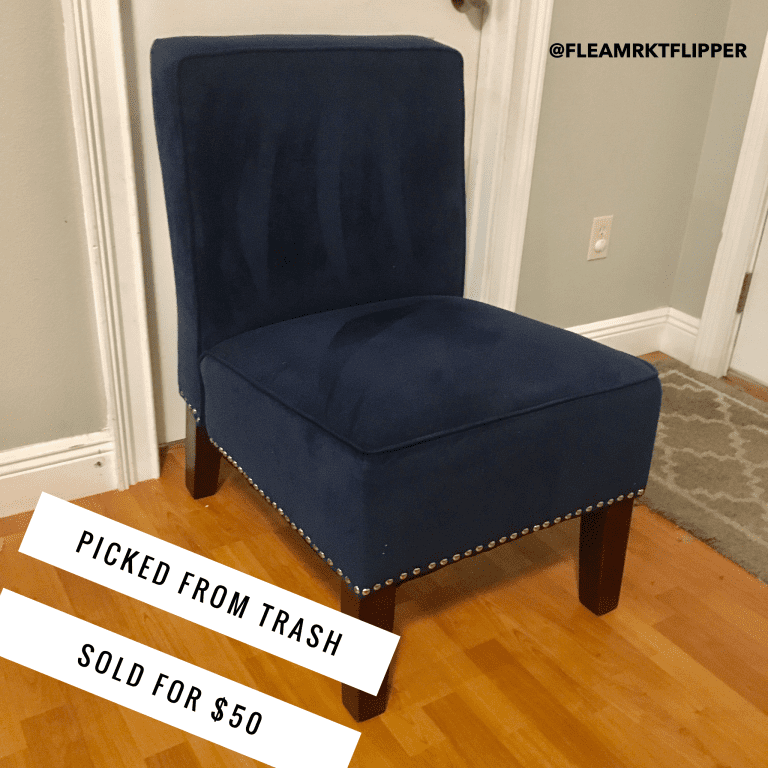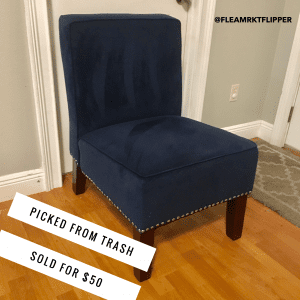 We live in a world where people throw so many things away.  Many of these items still have value and can be used instead of tossed.  I love being the guy who can find value in other people's trash! I'd rather take it and resell it to someone who can use it rather than have it fill a landfill!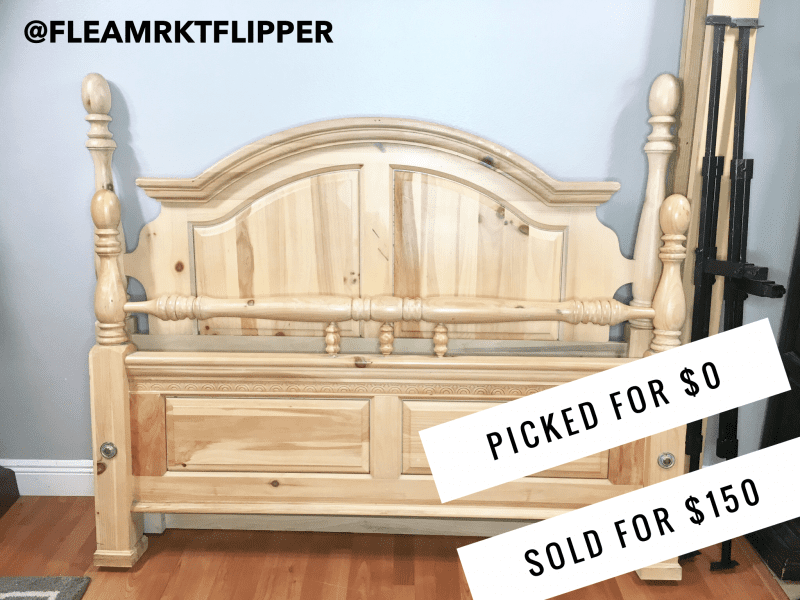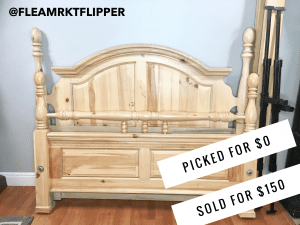 Here are a few things we pulled from the trash and made some cash:
Golf Cart Chargers – I've gotten a few of these and have sold them for $50 to $200 each
Wooden Headboard – I picked this off the side of the road and sold it on Facebook for $150 in a week
Kirby vacuum – This didn't even have a cord attached to it and I sold it as-is for $80
A Subwoofer – I picked this up from someone's trash on our way home from our nightly walk.  Sold it on eBay for $80.
Repurposed Furniture
Although we don't sell a lot of repurposed furniture, we know from the experience of some of our Flipper University students that this is largely an untapped market on eBay. 
In fact, we just interviewed our friend, Becca, who repurposes and flips furniture as a full-time job and she makes a great living doing it! She has learned how to paint and use all kinds of power tools.  After taking our freight shipping course, a whole new market has opened up for her to sell her pieces.  
Just look at one of her amazing restorations!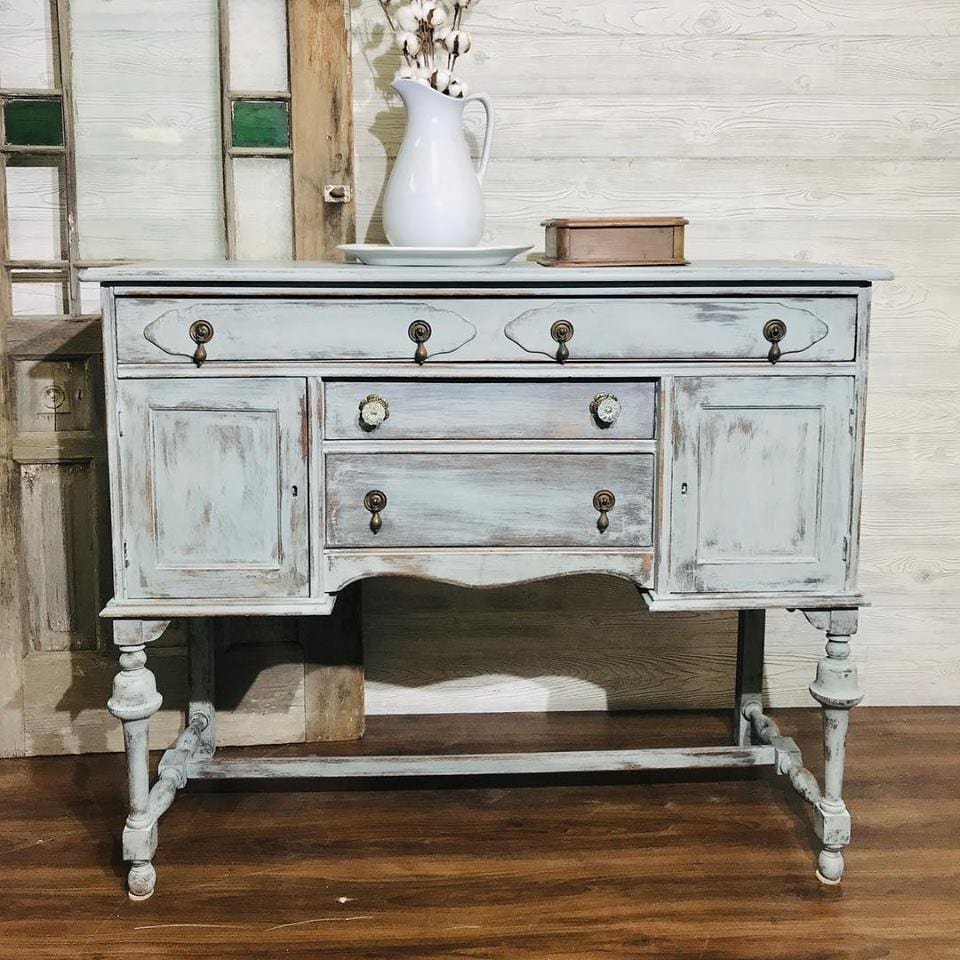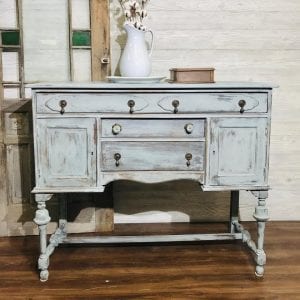 Repurposing furniture has become a huge market and there is no shortage of free or inexpensive furniture to choose from.
In fact, on any given day, I can pull a chair or end table from the trash or pick something up for a few bucks. Melissa loves to repurpose and if time permitted, she'd do a lot more of it! She has created some pieces to sell and to put in our AirBnb unit. 
If you are into creating beautiful pieces for a small amount of money, reselling repurposed furniture is perfect to resell for profit. 
A few repurposed furniture pieces we flipped:
A cloth chair pulled from the trash – Melissa cleaned it and painted it with an $8 fabric paint.  She knew she could have sold it for $100, but she loved it so much it's in our AirBnb
Two end tables – Picked for $20.  Painted and refurbished them and flipped on eBay for $300.
Your Own Junk
This is our favorite tip to our Flipper U students who are just starting out.  Take a look around your house and in your garage and pick out a few things you haven't been using for a while. 
It's not doing you any good taking up space when you can sell it for a profit! 
Selling our own stuff came in handy when we first had kids.
Melissa sold a lot of our baby stuff when the kids outgrew it.  We'd get our strollers at the flea market or off of OfferUp.
We would use it and when the kids grew out of it, we would throw it up on Facebook or would sell it on eBay and make more than what we bought it for! 
We rarely throw anything away. We always try to recoup money and make a profit. That's our business!  
Our friend, Kelly, started her $5,000 a month side hustle by selling a Rainbow vacuum that was collecting dust in her basement.  She sold it for $500!
Flipping for a profit doesn't have to be complicated. You really can start with your own junk!
The best part is it's free. This way, you won't end up leaving it on the side of the road so I can pick it up and sell it! I'd much rather see you sell it and make a profit!
A few of our own items we sold for profit:
All of our old iphones – People will pay money for my old phones if they are opposed to paying hundreds for the new phones.  I love recouping some of my money!
Baby stuff –   Melissa got started flipping by selling all of our baby stuff!  She sold all of the kids' baby clothes, high chairs, cribs, etc.  We often sold the items for more than we paid for them.
Old furniture – Whenever we wanted to upgrade to new furniture, we always sold our old couches and dining furniture for a good profit.  
The possibilities are endless on best items to resell for a profit!  Anyone anywhere can pick these money-making treasures up to make a great profit.
If flipping items is something you are interested in, check out our  FREE intro workshop to see if this is a good fit for you!
Related Posts
How We Made 17,900 In One Month Of eBay Sales
How This Family Used Ebay To Pay Off $65K Of Debt In 14 Months!
Recycler or Reseller? (Or Both!) How Reselling Can Be Good For The Planet AND Your Wallet
Further Resources
Beginner's Guide To Selling on eBay
We Want To Hear From YOU!
If you are already a flipper, what are your best items to resell for profit? If you are just starting out, what category are you going to start with?
Comment Below!
The Best Items to Resell for Profit