Holy buckets Batman! Last month was a crazy one for us. We were crazy busy buying, selling, and shipping items out that we sold on eBay, Facebook and OfferUp. (But mostly eBay).
The total was $17,900 in gross sales!
We will dive into the flips in just a minute, but first wanted to say we are super grateful for the month that we had last month.
Last year we had a few pretty low months for us, and to be completely honest, some of them were a struggle.
I don't say this to be discouraging, but we also don't want people to think that everything in life is always butterflies and rainbows and everything in our flipping business is perfect. It's not.
BUT it's during those times of struggle that we learn and grow the most.
Just last night I was talking with a friend and we were discussing how without the valleys you don't have the mountains. If life is always full of mountains then you have no idea that you are even on a mountain.
We need those valleys to appreciate the mountains.
Without the valleys we would never know when we're on a mountain.
Click To Tweet
It's also a time when we get closer to God because we have to rely on Him.
And last year you better believe Melissa and I grew closer to God as we were wondering what was going on.
We sell on eBay for our full-time gig, and while last year our numbers were decent, we weren't hitting our goals and couldn't figure out exactly why.
Just a few months ago we figured out two things that were hurting our sales.
Since we fixed these, sales have been back to normal, and even better than before!
So what are the things?
1. Be consistent in listing
This one sounds logical because if you want to sell items, you obviously need to list items. But I had gotten to a place where I knew I had a lot of items listed and was complacent about adding more. I would do it sporadically, but not very often.
Not listing can hurt eBay SEO (Search Engine Optimization). When someone is searching for an item, eBay shows them a series of results. Ideally your item will be on the first few pages or scrolls – which can happen if you have good eBay SEO and also if you are a Top Rated Seller.
By not consistently listing items, eBay doesn't think you are as active of a seller as other sellers who are listing every week or every day. eBay wants to show the listings from the most active sellers.
A big reason we weren't as consistent with our listing was because our focus was shifted somewhere else.
Last year we had planned to move into our 5th wheel full-time and that was consuming a lot of our energy.
It didn't end up happening. We made the decision to stay after a production company shot some footage of our flea market flipping adventures and we couldn't rent out our house if they would have wanted us to film here in Orlando.
Needless to say, our focus wasn't completely on selling.
2. We Ditched our eBay Store
Ok, we may get some head turns for this one. Pretty much any full-time eBay seller has an eBay store.
It makes sense for most people.
There are definitely benefits to having one, one of them being that you can put your whole store on vacation at one time.
This was the primary reason we got our store last April. We wanted to be able to put our store on vacation in case customers bought anything, they would know we wouldn't be able to ship it until the date we wrote we were back.
We also liked the sales we could run on our entire store (like a Black Friday or New Year sale).
After our eBay sales had been low for a few months in a row ( we usually would have high and low months, but not consecutively low months), we were trying to figure out if it was something we were doing.
We realized the low sales coincided with the start of our eBay store. Coincidence? Possibly.
But they also increased a month after we removed our eBay store.
Now I am NOT telling you to ditch your eBay store if you currently have one. For most eBay resellers who sell large volume of lower priced items – it works. I think it works well because these sellers are also listing very consistently to be able to sell the volume that they sell.
For us, it just didn't work. We sell high profit, low volume which means we are listing less often. It also means our shipping and handling time is slower than most because we have large items that sometimes we are shipping freight. eBay doesn't love that combination, and apparently didn't love it when we had a store.
Flipping Income Reports
We decided to start posting our income reports here from Flea Market Flipper for several reasons when we started the blog.
The first one is to keep ourselves accountable. I have been flipping items for profit and selling on eBay for over 20 years now, and had never kept good track of what I made.
It was always a hobby – but one that came in handy when finances were tight. Once we decided to take this more serious – like a business – we started keeping better records. It has helped us tremendously keep track of what is going in and out each month.
Another reason is to provide encouragement to people who want to get started flipping items for profit and selling on eBay as a part time or full time income.
It is pretty popular in the blogging world for bloggers to post their income reports, and we always found it encouraging to read those. They help us keep going when sometimes we would rather be doing other things, so we are hoping to help the reseller out there keep going!
Lastly, but most importantly is to provide value and information to our readers. We have students and readers who are doing flea market flipping (or thrift store and yard sale flipping) as a side hustle or main hustle and we want to provide information to help them become successful.
We are debating if we will keep posting income reports or not. We may just write them for the people who are on our e-mail list, and not publish them. The verdict is still out at the moment.
Now let's dive into the flips from last month!
March Flips
We sold 13 items to total $17,900 in gross sales.
The largest flip of the month was a HUGE Harley sign that we posted about last week.
We sold it for $9,000 total (including the shipping). Full breakdown of fees below.
Another large in size and profit flip was this Ice Merchandizer. We bought it for $100 and sold it on eBay for $1,500.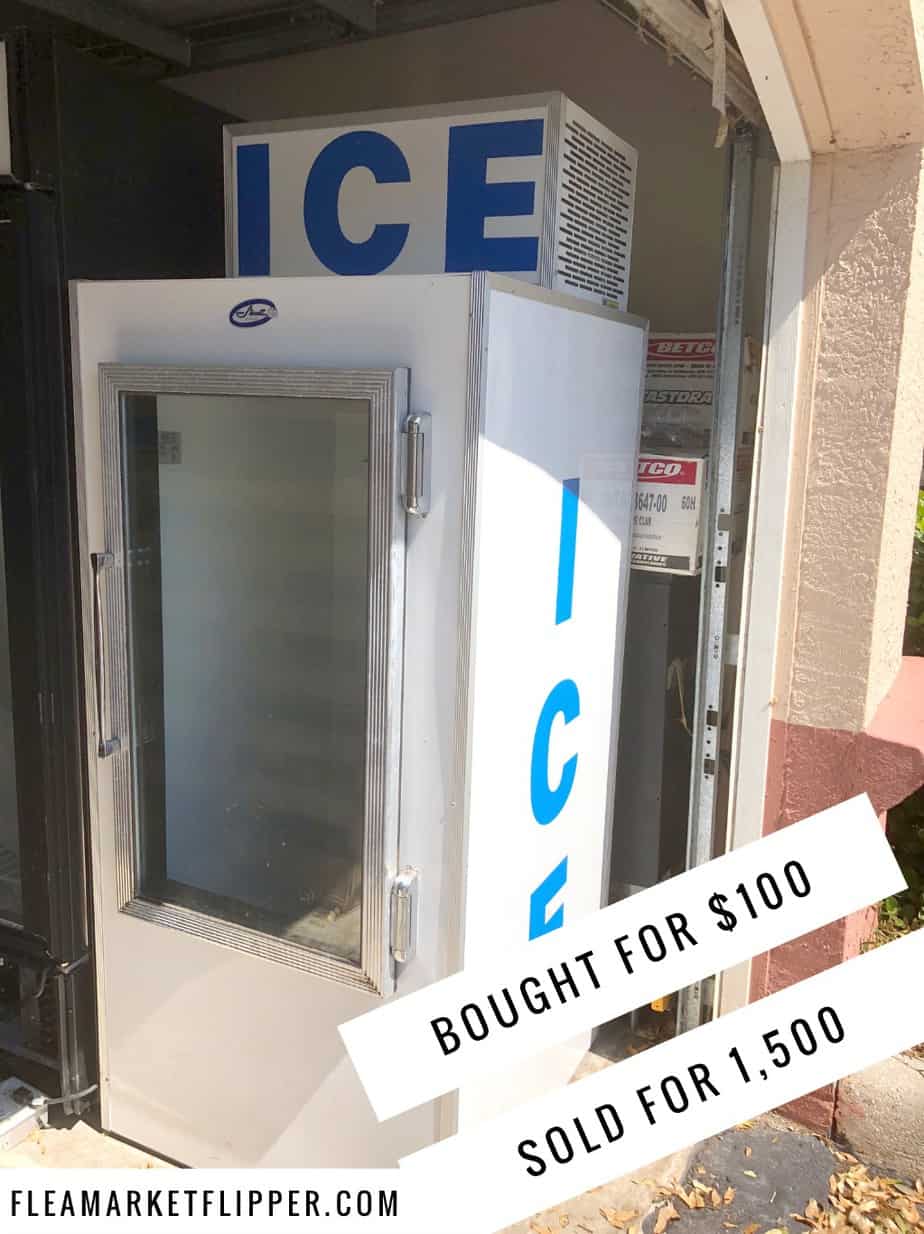 Melissa sold two strollers last month. One was an Uppababy Vista that we picked up for $20 at a flea market when we drove to Dallas.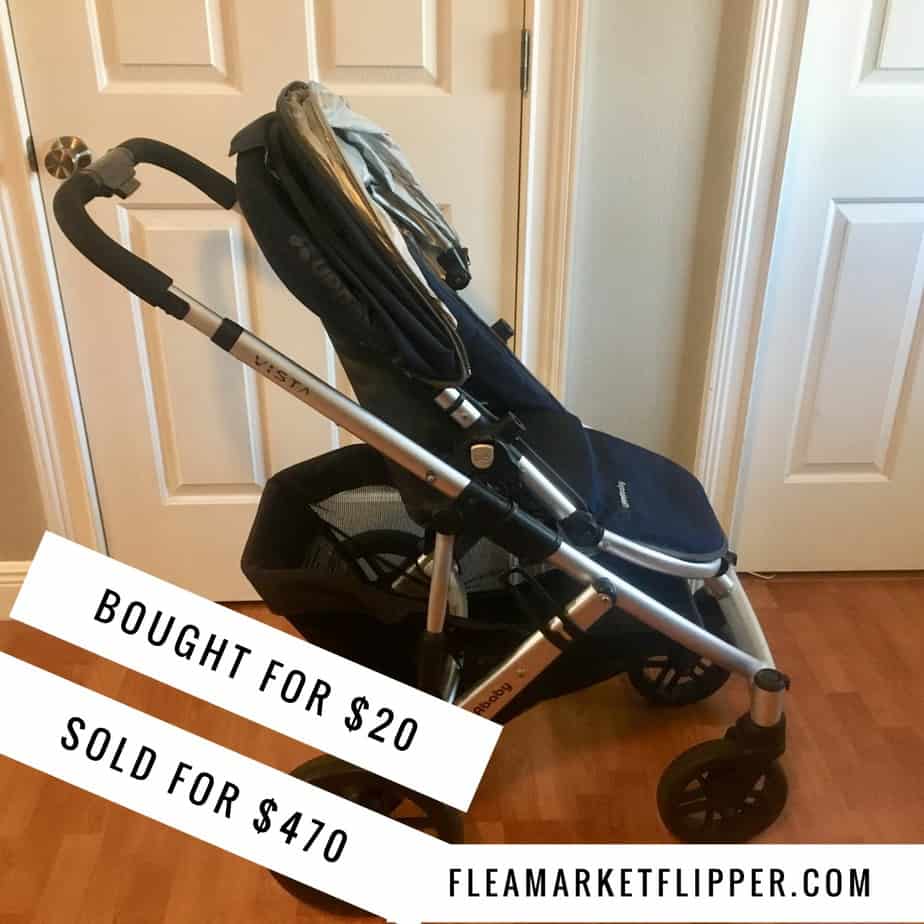 The other was Phil & Teds stroller that we picked up for $20 and sold for $150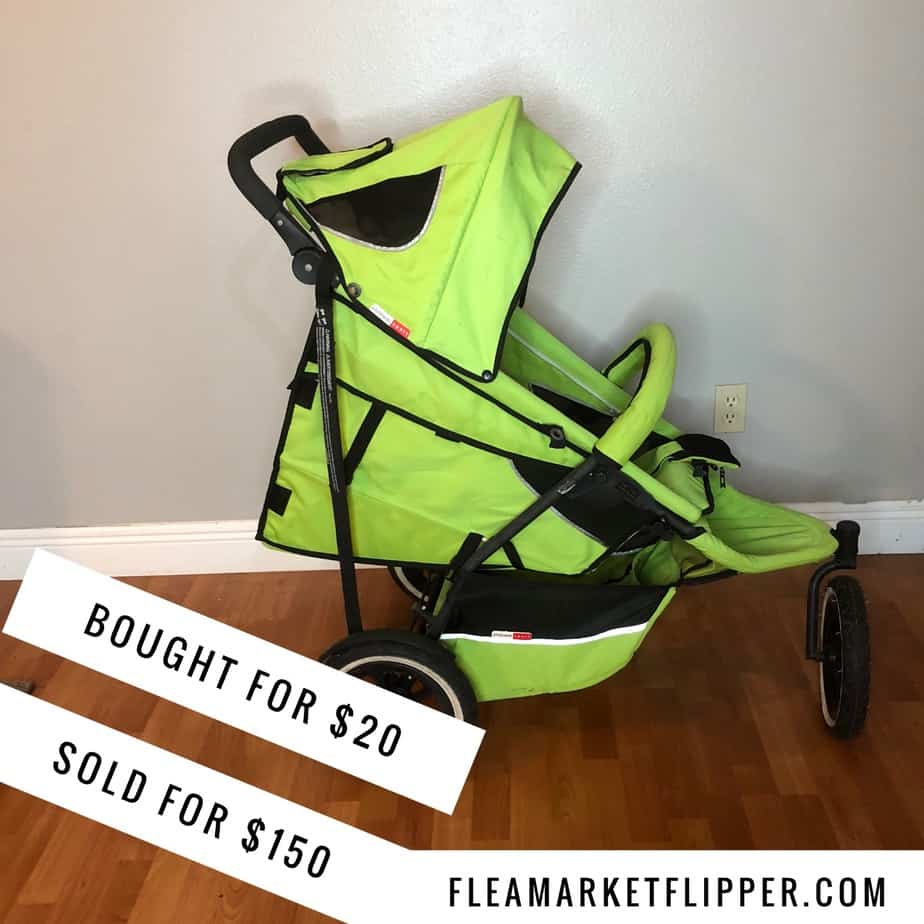 We sold two golf cart battery chargers for $200 each. I've sold several of these recently, so I have been on the lookout for them.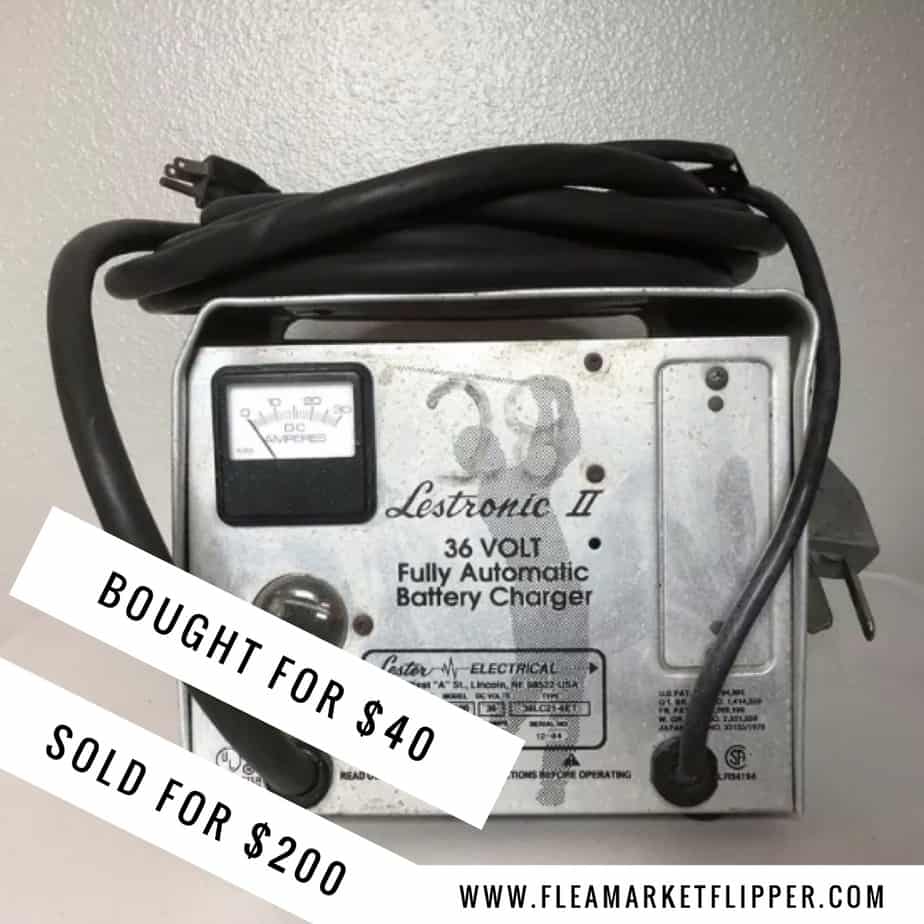 We also finally finished a transaction for our concrete stamps. I agreed with the buyer that he could make payments for a lot of concrete stamps that I had. It took him about a year to complete (which was way longer than expected), but we made over $5,000 on the whole transaction. This last payment was for $851.
Little man helped me get them ready to ship.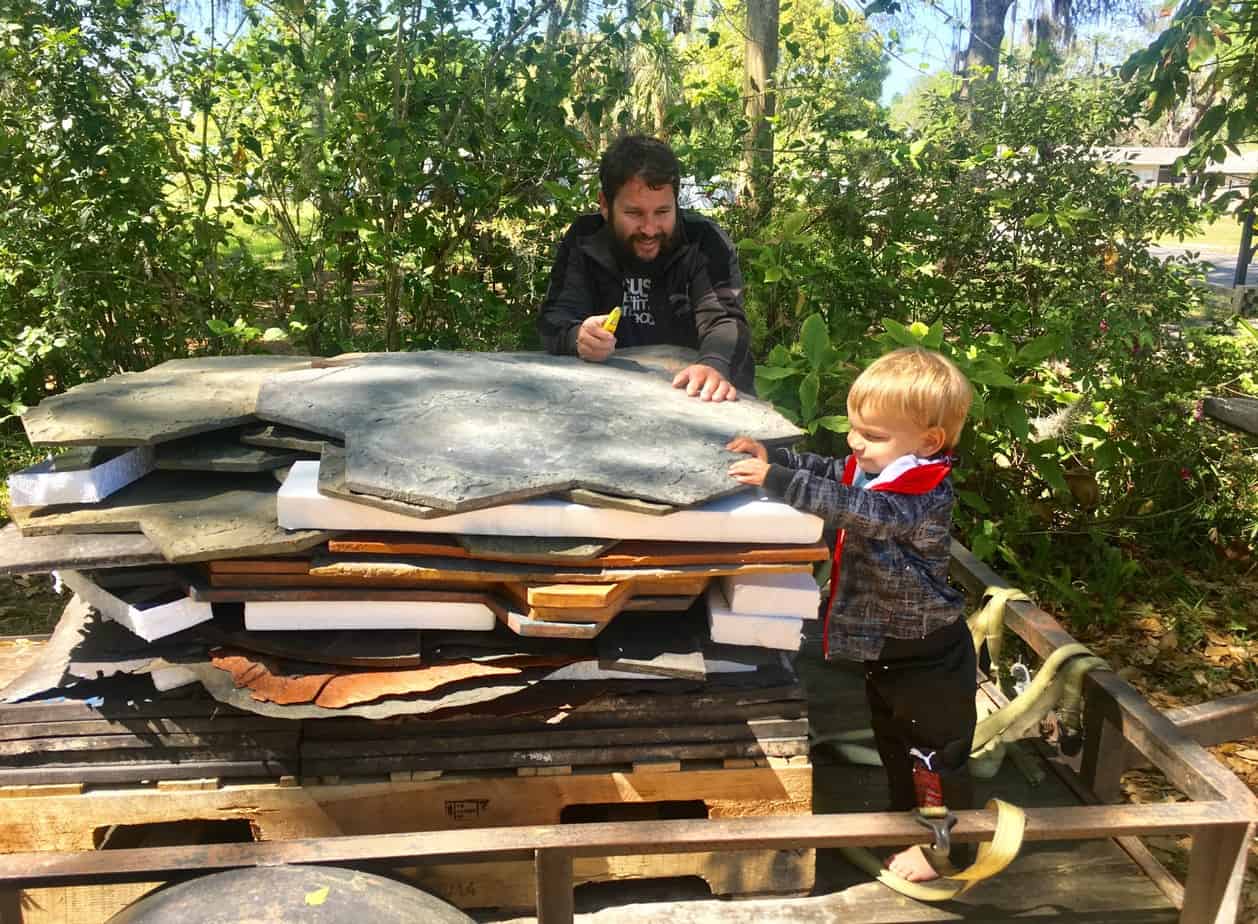 Those were the highlights of the month, the rest of the flips are in the detailed list below:
March Flip Totals
Stroller Uppababy Vista: Sold For-$470; Shipping Cost-$85; eBay  & PayPal fees-$61; Bought For-$20; Total Profit=$304
Golf Cart Battery Charger: Sold For- $199; Shipping Cost-$40; eBay & PayPal fees-$22; Bought For-$40; Total Profit=$97
DVD Screens: Sold For-$70; Shipping Cost-$25; eBay & PayPal fees-$7; Bought For-$5; Total Profit=$33
Concrete Stamps: Sold For-$851; Shipping Cost-$170; eBay & PayPal fees-$0; Bought For-$0; Total Profit=$681
Phil & Ted Stroller: Sold For-$150; Shipping Cost-$0; eBay & PayPal fees-$16; Bought For-$20; Total Profit=$114
Boiler: Sold For-$2,500; Shipping Cost-$0; eBay & PayPal fees-$0; Bought For-$100; Total Profit=$2,400
Cooling Machine: Sold For-$2,250; Shipping Cost-$140; eBay & PayPal fees-$271; Bought For-$400; Total Profit=$1,439
Ice Merchandizer: Sold For-$1,500; Shipping Cost-$195; eBay & PayPal fees-$194; Bought For-$100; Total Profit=$1,011
Blendtec: Sold For-$400; Shipping Cost-$207; eBay & PayPal fees-$32; Bought For-$40; Total Profit=$121
Battery Charger: Sold For-$200; Shipping Cost-$28 eBay & PayPal fees-$22; Bought For-$40; Total Profit=$110
Guitar: Sold For-$210; Shipping Cost-$35; eBay & PayPal fees-$27; Bought For-$25; Total Profit=$141
Harley Sign: Sold For-$9,000; Shipping Cost-$1,077; eBay  & PayPal fees-$750; Bought For-$250; Total Profit=$6,923
Peroxide Cleaners: Sold For-$100 Shipping Cost-$14; eBay & PayPal fees-$13; Bought For-$8; Total Profit=$73
Total Sales: $17,900, Total Shipping Costs: $2,106, eBay and PayPal fees: $1,415, Total Cost of Items: $1,028; Net Profit: $13,447
So March was a pretty great month for flips!
We are very grateful for the opportunity to do what we love for our work.  And  we are also very thankful that we get to share it with all of you who have the same passion for hunting for undervalued treasures and finding someone who will use it or love it again.
For those of you who would like to turn this passion into an income – Flipper University is opening again in just 3 weeks! (And don't worry, you don't need a truck or storage unit to get started.) 😉
If you are just getting started with flipping thing, check out our free 5-day intro e-mail course.
And if freight shipping is something your interested in, our 5 steps to get started with freight shipping post is a great place to start.
Related Posts:
How I Quit My Job To Flip Flea Market Stuff Full-Time
How We Made $4,729 in One Month Of Flipping Flea Market Items
Which Shipping Company is Better? FedEx or UPS?