Facebook isn't just a platform for socializing with friends; it's now another tool for resellers to share their listings with buyers across the continental United States. If you've used Facebook Marketplace locally, it's time to expand your reach by trying Facebook Marketplace shipping.
Facebook has around 221.6 million users in the United States that could potentially be in search of an item you are selling! Just think of how many more people you can reach by giving Facebook Marketplace shipping a try instead of just using the local option.
We're going to tell you about Facebook Marketplace shipping and what you need to know before you ship. Let's dive in.
What You Can Sell On Facebook Marketplace
Only certain types of items are allowed to be sold with shipping and checkout on Facebook Marketplace, and it's important to know that you can't sell items over $500 with this method. The price on items must be between $1 and $500.
Allowable categories include: antiques and collectibles, appliances, arts and crafts, auto parts, baby and kids items, bags and luggage, books, music, movies, clothing, shoes, electronics and computers, garden, health and beauty, household, jewelry, mobile phones, musical instruments, pet supplies, sports and outdoors, tools, toys, games, and video games.
How To Set Up Shipping
If you've used Facebook Marketplace to sell locally before, most of these steps will be the same. We found it easy to figure out.
To set up shipping on Facebook Marketplace, first start your listing.
Step 1 – Photos and Title
At the top of the listing you'll add photos and a title. When writing your title, use a lot of detail including brand, model, color, and size. Try to think of phrases someone might use when searching for that item.
Facebook Marketplace allows you to use 10 photos in your listing and you can choose one to be your main photo. Pick the best photo to be your main photo, so it grabs a buyer's attention. Use photos that have a clean background and good lighting.
I recommend using the maximum number of photos allowed so buyers can see defects or details of the item. This can potentially help reduce the number of questions, and also give buyers the confidence to buy your item.
Step 2 – Add All The Details
The next step is to add the details. Put your price in, then choose a category for your item. It is important to select the correct category for your item because some categories are not eligible for shipping on Facebook Marketplace, such as furniture.
Select the condition of your item, and be realistic. Do not say your item is new if it's not brand new in the box. One way to keep buyers happy with their item is to under promise and over deliver. After selecting the condition you can fill in the item description. This is where you want to describe the item in detail. List everything: scratches, scrapes, color defects, exact measurements of item, item color, function, etc. The more detail you can list, the more likely a buyer is to be satisfied when they receive the item.
I also recommend filling in the optional details section to the best of your knowledge. This includes brand, country of origin, and date range (important for antiques).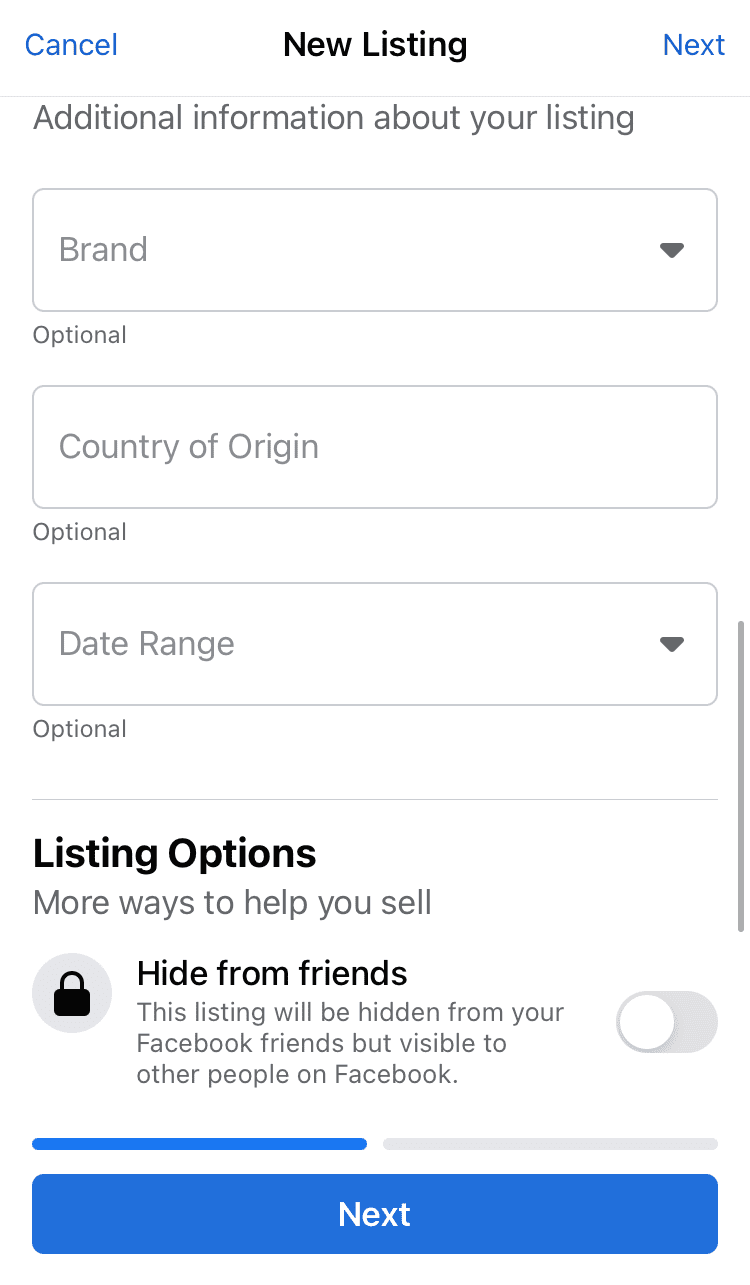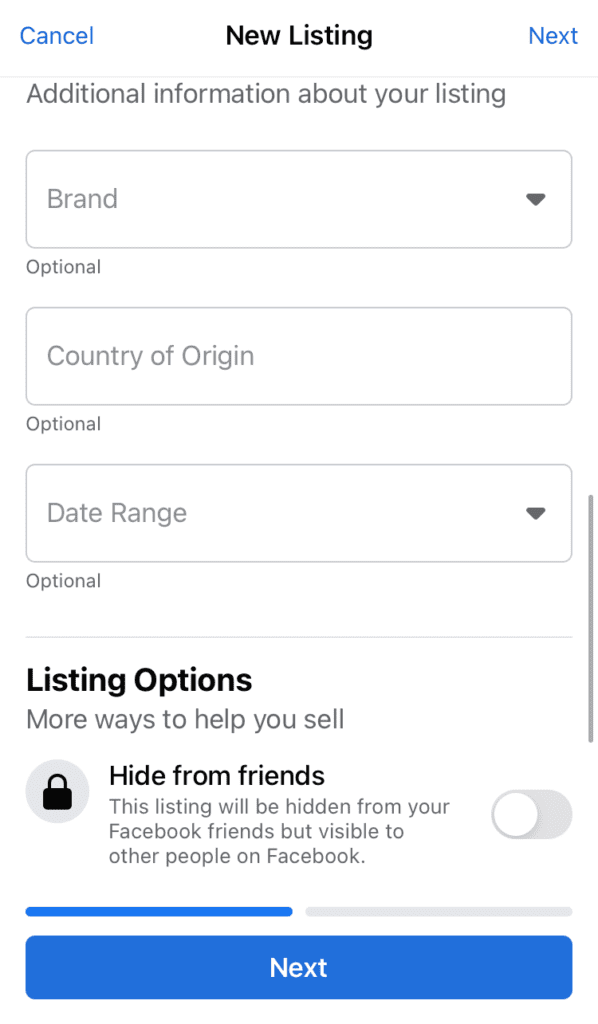 Step 3 – Additional Listing Options
At the bottom of the listing, you'll see a few more listing options that can help you maximize your views.
You can choose to list in more places by listing on your profile or in groups. This is one reason why it's beneficial to join local Facebook selling groups in your area. When you select this option to list in more places, Facebook Marketplace allows you to share this listing to Facebook groups that you belong to.
There is an option to hide the listing from your friends, but keep it visible to other people on Facebook. I don't recommend that option because you want to get as many eyes on your listing as possible, and you never know, one of your friends may be in the market for what you're selling! Or they could share the listing with someone they know.
At the very bottom of the listing page, there is an additional listing options button that allows you to change quantity or add variants. Once you're finished with your item listing, hit next, to go to the delivery method.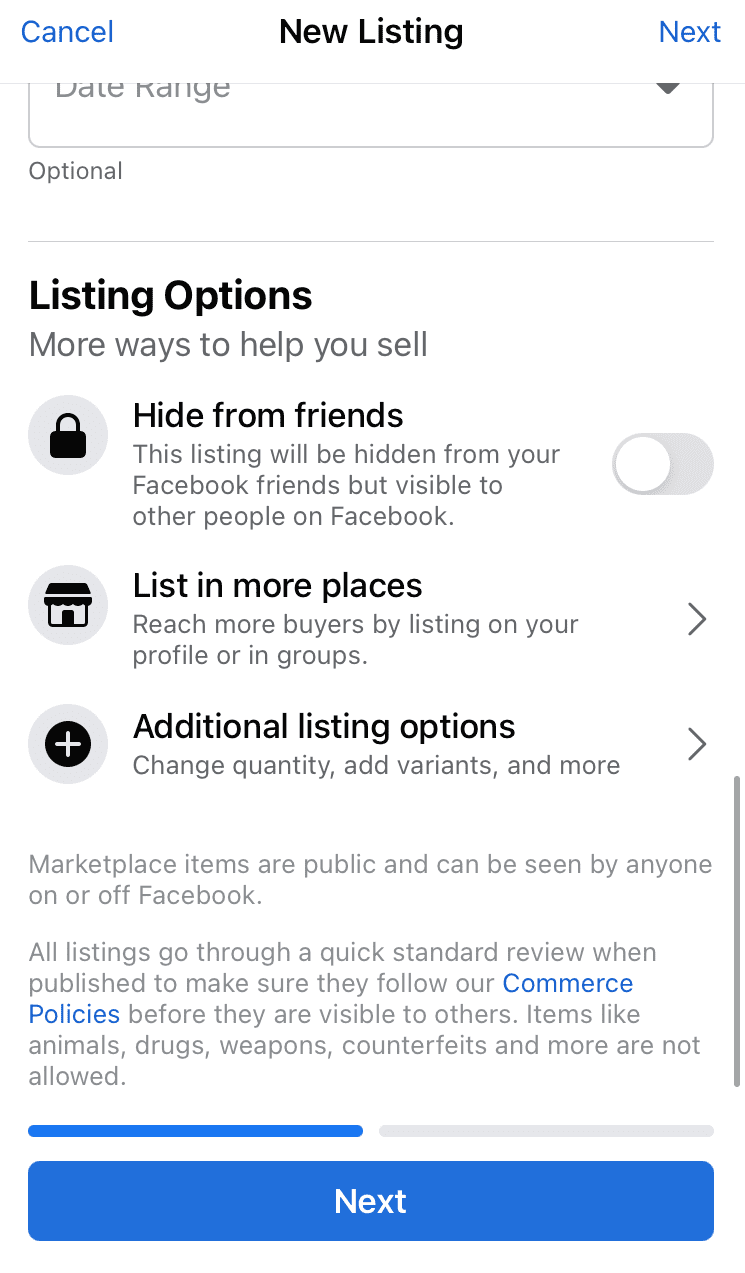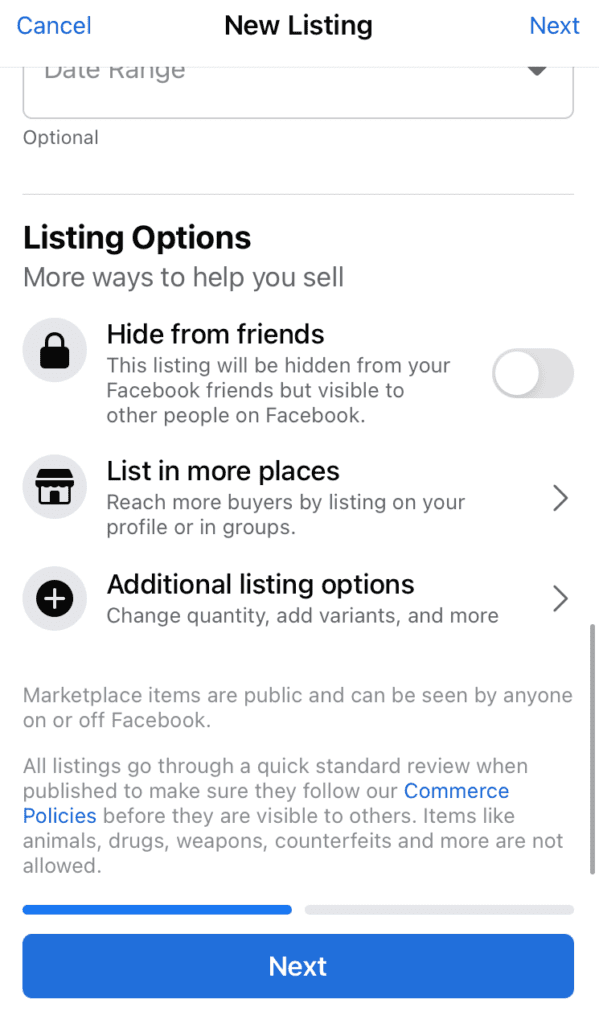 Step 4 – Select Your Delivery Method
Your location should pop up with your zip code. If it does not you'll need to click the drop down and plug in your zip code.
Under the drop down that says delivery method, this is where you can select shipping & local pickup to reach both local buyers and buyers across the country. If you don't want to deal with local meetups, you can just select shipping only, and ship the item directly to the buyer. Local pickup only is an option too, but for the purpose of this article we'll focus on the shipping option.
In a minute we'll talk more about how to ship an item.
Facebook Marketplace Shipping Costs
If you're thinking about trying Facebook Marketplace shipping, you're probably asking "What are the shipping costs?" The good news is, the shipping costs are paid 100% by the buyer!
As a seller, you will have to pay a small amount in seller fees for all products listed. Facebook Marketplace charges a 5% fee to the seller when they offer shipping, or a flat fee of $0.40 for shipments of $8.00 or less.
The fee is deducted automatically from your payout. For example if the item sold is $10, then Facebook Marketplace will deduct $0.50 for the selling fee. If the item sold is $6, Facebook Marketplace will deduct $0.40 for the flat fee.
The Selling Fee Applies To All Product Categories On Facebook Marketplace.
The Facebook Marketplace selling fee helps cover the cost of payment processing, customer support, and purchase protection. Purchase protection is a service for eligible orders (does not include antiques or collectibles).
The Facebook Marketplace selling fee helps cover the cost of payment processing, customer support, and purchase protection. Purchase protection is a service for eligible orders (does not include antiques or collectibles) that covers the buyer and allows them to automatically request a refund if they didn't receive their order, the product arrived damaged or different than described on the listing, the seller didn't follow their stated refund policy, the purchase was unauthorized, or the seller has been removed from Facebook.
Choosing The Right Shipping Fee
To ship on Facebook Marketplace you need to know the weight and size of your item. A tape measure and scale are two essential tools for accurate shipping. It is recommended to always measure and weigh after you package the item because that is what the shipping companies will do.
The easiest option is to use a prepaid shipping label via USPS. You will be able to select the shipping option based on the package weight.
<0.5 lbs – The buyer will pay $4 for shipping. Think of something very light like a trading card.
0.5-1lbs – The buyer will pay $5.75 for shipping. Think of a cell phone in a small padded envelope.
1-2 lbs – The buyer will pay $9.25 for shipping. Think of a clothing item.
2-5 lbs – The buyer will pay $13.50 for shipping. Think of a pair of shoes.
5-10 lbs – The buyer will pay $22 for shipping. Think of a laptop or other small electronic item.
>10 lbs – For items greater than 10 lbs, the seller will have to use their own shipping label instead, and will have to input the tracking information.
Once you've selected the package weight, you will link up your bank account so you are able to get paid for your orders sold with shipping and avoid cancellation. Then hit next, and you'll be taken to a screen to select where else to list your item, and then you hit publish.
How To Print The Facebook Marketplace Shipping Label
Prepaid shipping labels are generated after a buyer places an order. To print your prepaid shipping label, click on Shipping Orders and then it will show you your active orders. Click the single order you want to print the label for, and then click create shipping label. A pop-up will show that the label has been created and emailed to your email address on file. You can also click continue and it will take you to the screen with your shipping label on it. Print your label, and attach it to your package.
Sellers have three business days to ship the item. The buyer's payment method will be charged for the full order as soon as the seller marks the item as shipped. At that point the buyer will receive tracking information for their order. The order is delivered within 10 business days of placing the order.
As a seller, your payment will be initiated five days after the item is delivered upon receiving delivery confirmation.
Filing A Claim Through Facebook Marketplace
If you're using Facebook Marketplace it is important to note that you won't be able to get a customer service rep on the phone to answer questions but you can use the Facebook Marketplace Help Center for basic questions, or respond to claims through the portal.
If a buyer has a problem with their item they should contact you, the seller, to resolve the issue. If a buyer requests a refund you have two business days to respond and try to resolve the issue. After that point, the buyer can make a claim to Facebook, and sellers must accept returns in the same condition as they were received. Sellers must provide a return label to buyers when accepting a return request and may deduct the cost of the return label from a buyer's refund. Refunds must be issued within two business days from when the seller receives the returned items.
To appeal a buyer's dispute or claim, a seller may appeal the decision. From your account, go to Orders > Disputes to view active, pending or closed claims and filter by status or dispute. From there you can accept a dispute, submit an appeal or view messages between the buyer, seller and Facebook.
How To Avoid Facebook Marketplace Shipping Scams
Like every platform, scammers have set up shop on Facebook Marketplace. Most of the scammers are targeted toward buyers, but sellers need to be cautious too.
Do not issue refunds before you receive the item back and have examined it. Sometimes scammers will buy a more expensive item, request a refund, and ship a cheaper model or damaged item back in return. It's important to know the make, model, and serial numbers for all items you are selling so you can compare this with the returned item.
If you have a potential buyer message you and ask to buy your item through Facebook Messenger instead of the Facebook Marketplace portal, that is likely a scam.
Do not ship items before payment is received, and keep sales within the Facebook Marketplace portal unless you are doing local pickup. Do not use unusual payment methods. Stick to Facebook Checkout, or cash for a local pickup.
Do you sell on Facebook Marketplace? Comment below with any Facebook Marketplace shipping tips you can share!
FURTHER RESOURCES
Download These 47 Household Items To Resell TODAY!
FREE Workshop How To Turn Your Passion of Flipping Items Into A Profitable Reselling Business
RELATED POSTS
How To Sell On OfferUp To Make Extra Cash
What We Sold To Make Over $6K In One Month
This Retired Couple Makes $12K Flipping Large Items Online
.