Do you use PayPal for online transactions, personal or business? Have you always trusted them to keep your money safe against any fraudulent activity? If you use PayPal regularly (I still do!), this post isn't meant to scare you, but to give you tools to help if you find yourself in a similar situation as I was in – your PayPal account frozen!
Yep, not a fund situation. But that's where I found myself a few years ago. I probably would have held my tongue if it had been a small amount, but it was a $25K transaction!
The Debate to Keep Quiet!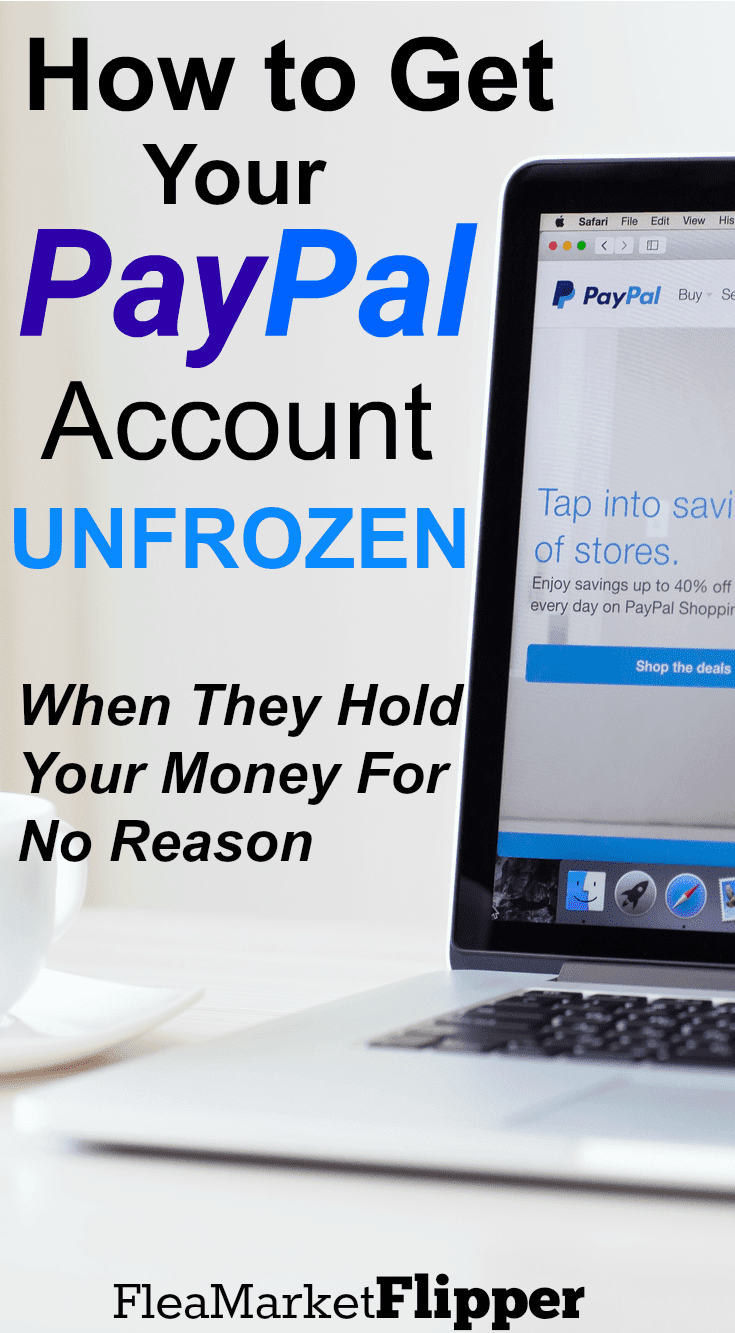 I debated whether or not to share my story about PayPal on our blog. The reason I hesitated is because I don't like talking negative in general and I don't typically like "bad-mouthing" a company. I would have written this post easily and angrily last year but I wanted to wait and have it be a little more objective and helpful to anyone that may be dealing with the same problem with Paypal. Another reason for hesitation was the fact that I pretty much HAVE to still use them. Since  is our primary income, I don't really have another option but to use PayPal.
This post may contain affiliate links, please visit our affiliate disclosure for more details. 
You may be reading this because you are going through a similar issue at the moment, and I hope my experience serves some help to you. If you are reading this and you have never had an issue, don't let this scare you off. Just take notes for any future large transactions you may have.
Last year we had one of our LARGEST flips EVER! Both in size and in profit. We bought a security tower from an auction for $6,000 and sold it within a month for $25,000 — a $19,000 profit! ( actually capped their fees on this to $750, so we didn't even lose a ton on fees). Check it out below!
We were so stoked for this flip. I mean, who doesn't want to see a $25,000 transaction in their account. I remember that Melissa and I were just finishing up a run with the kids (we push them in the strollers while we do 2-3 miles typically), and we were walking back home when I got the eBay Cha-ching sound and saw what had just sold. What a beautiful sound it was that morning!
That excitement lasted for a couple days and then it quickly turned into frustration and anger.
I went into my account the day after the transaction took place to find my PayPal account frozen.  At first I wasn't super alarmed; I know it was a big transaction and sometimes they hold things for a few days, especially until the item is delivered and then they release the funds.
I called Paypal to see when the freeze would be lifted and they said that in order to have access to MY MONEY, I had to pay them $1,024 that they said I owed on a delinquent account from 12 years ago! Funny how it just came up now when I've had an active account for the past 12 years and they could have told me anytime. If I was in fact delinquent then I shouldn't have been able to open another account. They basically held my funds and forced me to pay it, because they knew I needed that money. I told them over and over again that my account wasn't delinquent and the e-mail associated with it wasn't even one I'd ever had. After much frustration I just paid it because we needed the money to live on.
A few days passed by and I had transferred about half of the money out of Paypal, and left around $13,000 in. Hindsight I should have pulled it all out, because I logged in and found my PayPal account frozen again! I was beyond frustrated because I had already paid the $1,024 they claimed I owed, and the buyer had already received the security tower.
I called them to see why it was frozen this time, and that's when things started to get crazy. They said that according to their rules (which can be found in the fine print), they can hold money up to 180 days to make sure that the buyer is not going to come back and ask for a refund. When I heard 180 days I couldn't believe what I was hearing! 180 days is SIX MONTHS!!! They say that they have the right to hold your money and keep your PayPal account frozen for six months if they choose to. Then on top of that they said after 180 days they would review the transaction and decide if they were going to release the funds or HOLD IT FOR ANOTHER 180 DAYS. WHAT????
That is about when I lost it.
I was able to get in touch with the buyer of the lift, and thankfully he was a cool guy and actually a retired lawyer. He agreed to get on the phone with me as we called Paypal to hopefully clear things up. PayPal states that they hold the money in case the buyer does a chargeback on their card. Well, this buyer stated he was happy with the security tower and would sign an affidavit stating he would not request a chargeback. PayPal didn't care what he said, they stood by the 180 days.
At this point I was so angry and didn't know where to turn. I started Googling things like 'PayPal account frozen', 'how to unfreeze PayPal account', and stumbled upon this blog called screw-paypal.com. This site is dedicated to everything against PayPal. I discovered something on there that said write a letter to your congressman. It sounded a little extreme and like it would be a long process since I was a nobody to this congressman, but I decided to try it. I drove to my city government office and told them my situation. They gave me the proper person to get in touch with at Congressman Daniel Webster's Office. I wrote up a letter to Daniel Webster explaining the situation and sent it that day. (This is about a week into the situation).
Three days after he (or his office) received the letter, my account was unfrozen! I couldn't believe it. It makes me think that PayPal is doing things that aren't exactly legit if one call or letter from a congressman can change their decision. But, either way I was so happy to have the account unfrozen! And they gave back the extra $1,024 they said I owed from 12 years ago.
I WON!
The feelings of relief and joy came over me when I saw my account unfrozen.


I wanted to share my experience in case it helps anyone out there in a similar situation or prevents someone from getting in that situation (by not accepting amounts that high in PayPal). Honestly, I don't want this to scare anyone off from ever using PayPal or eBay. I have never had an issue in the past 20+ years like this one, and I probably use it more often than most people do.
So if you are unfortunate enough to find yourself in this situation, then write a letter to your congressman to express your problem. And if you are a flipper like me, or use PayPal for another business, be careful accepting payments higher than your normal payment history. Things that could potentially throw a flag and get your PayPal account frozen are
– Transactions largely different than your regular transactions
– Large transactions in general
– Paying with a credit card
Like I mentioned before, this post was not meant to scare you off from using eBay or any other business that use PayPal. There will always be bumps in the road no matter what business you do. You just have to push through and find the solutions.
If flipping items is something that intrigues you check out our FREE intro workshop to see if this could be a good fit for you.
I would love to hear from you. Have you ever had any problems dealing with PayPal? Have you ever had your PayPal account frozen? Comment below!
Related Posts
How to Remove Negative Feedback From Your eBay Account
Three Ways to Save Money on Shipping Items for eBay
How to Package and Ship Items for Ebay