Extra Money For Christmas: $3,000 In 3 Days Of Flipping
Have I mentioned before that Christmas is my favorite time of the year?  Well it definitely is!  (Especially when you can make extra money for Christmas!)  I felt like this year it came and went way too quickly and I can't believe that it's almost the new year already! And while I am sad Christmas is over, I am excited for a new year of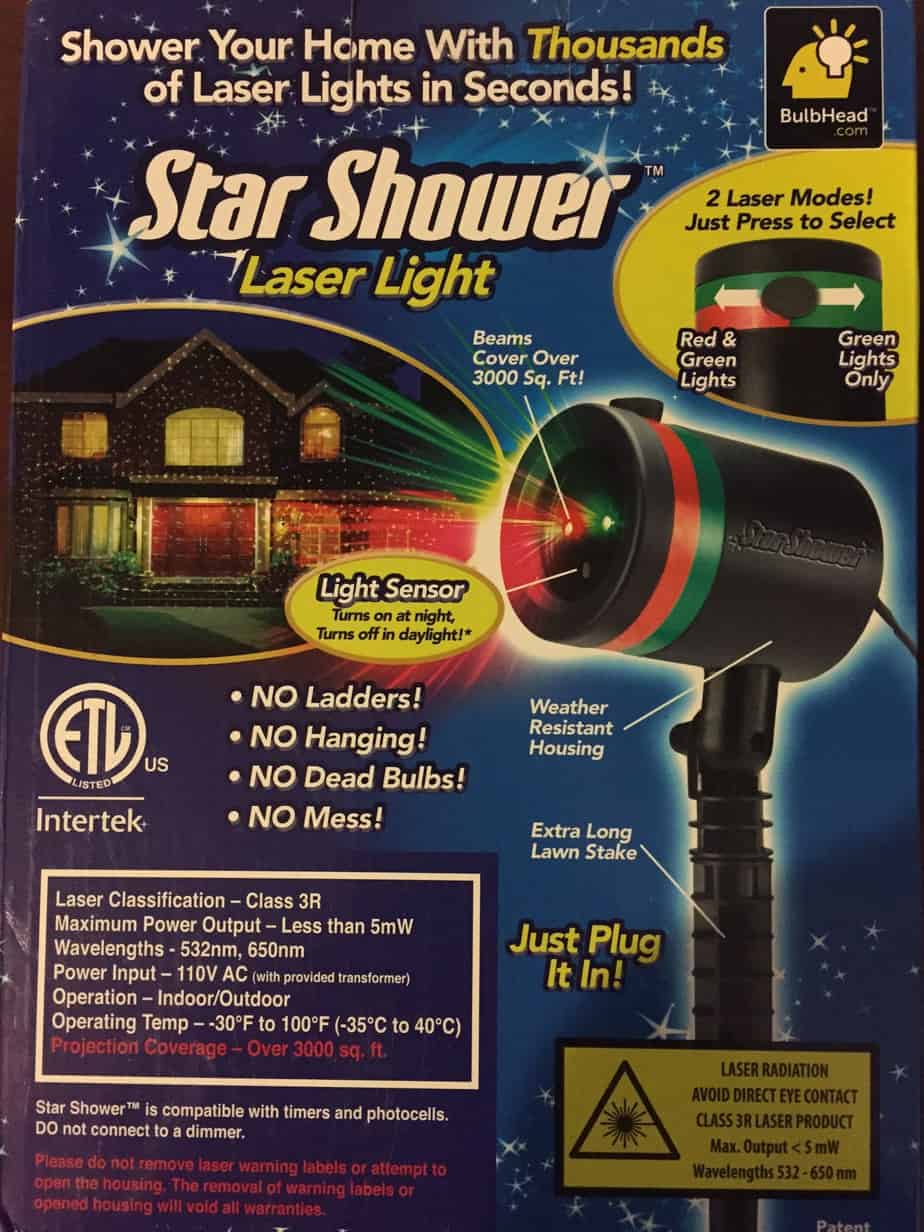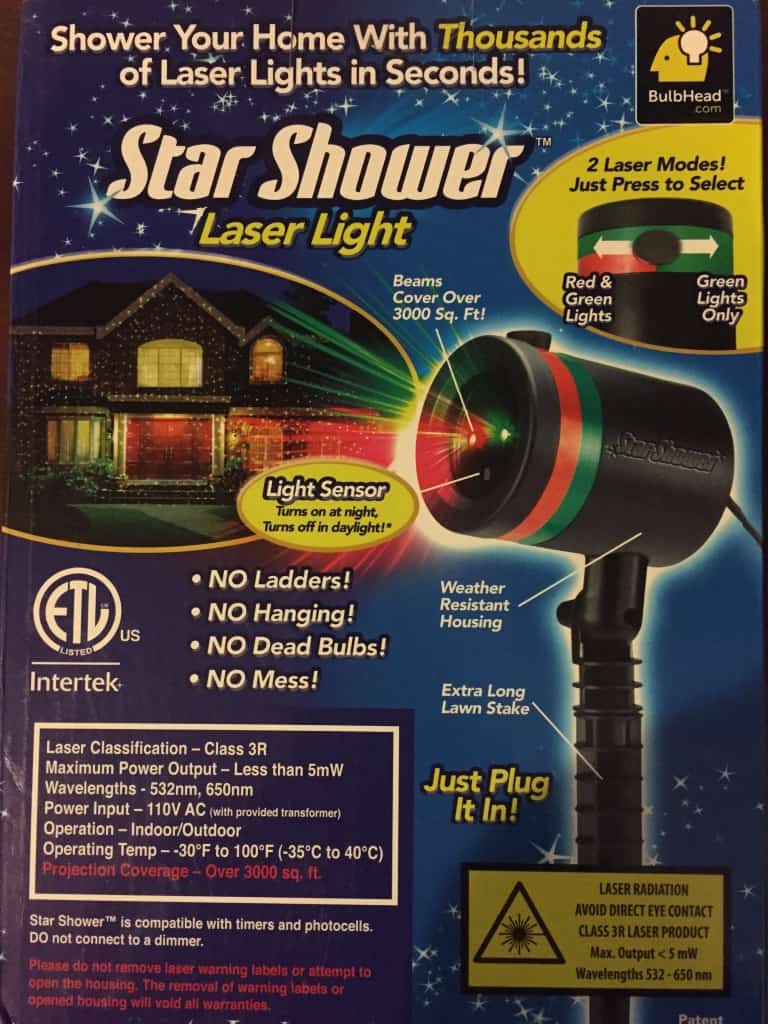 interesting finds, fun flips and extra cash.
On the weekend before Christmas I came across an awesome find, but I would never have looked twice at it if my wife and I hadn't visited some friends the night before.
In casual conversation, my friend mentioned that he wanted to get one of those *new* Christmas lights projectors (they just moved into a new house and all of their decorations were packed).  But they were sold out in all the stores he checked.
The Flea Market Find
Well the very next day I walked past a table at the flea market FULL of these Star Shower light projectors!
The vendor was selling them for $10 each.
I thought there may be a few people interested in them, so I wanted to buy a few. I ended up buying 11 of hem for $100 which brought them to about $9 each. (This was the first year they were available!)
I looked online and saw that they had been selling for $60-$100 so I decided to price mine on eBay for $63 with free shipping.
Melissa also posted them in a few of her Facebook selling groups and got a large response for interest. We priced them at $50 0n there to be cheaper than all the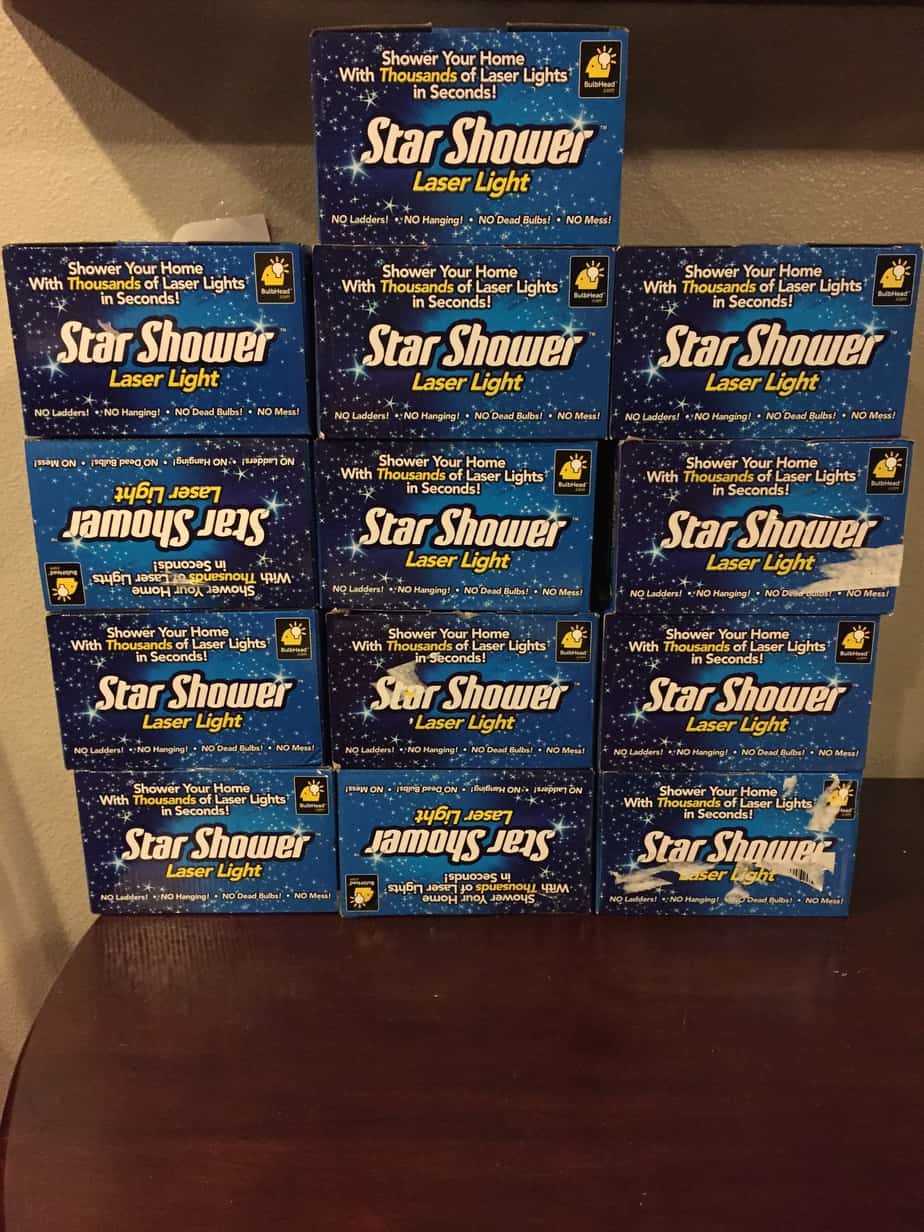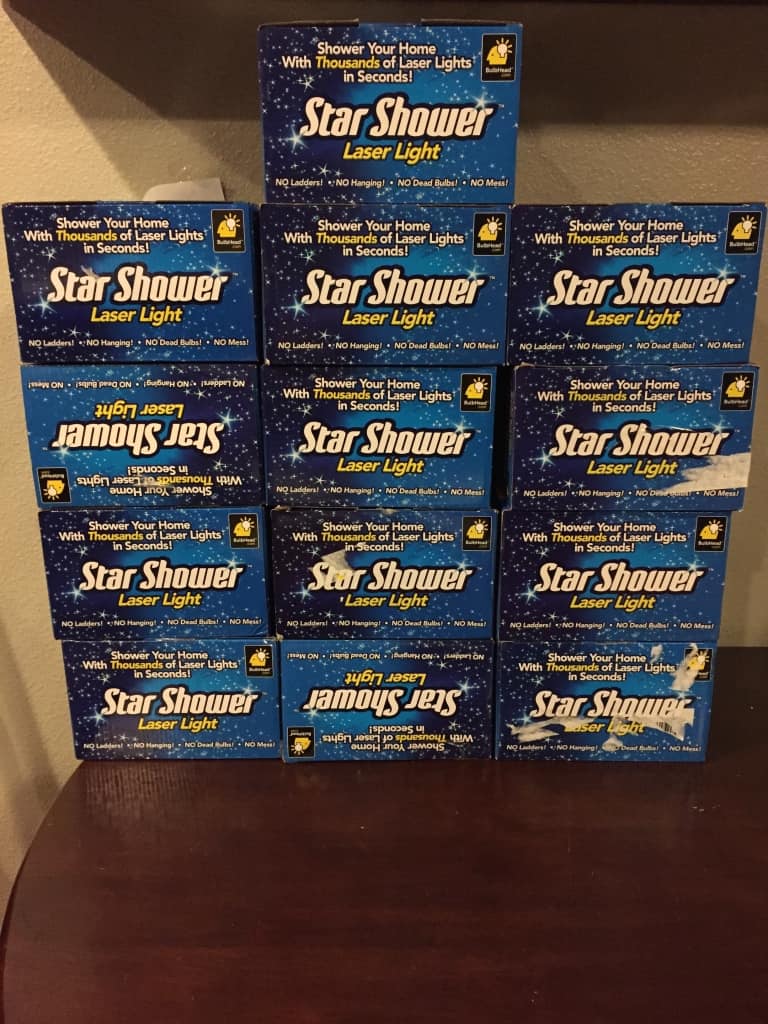 online options. Between eBay and Facebook we were sold out of the 10 that night. The following morning I went back to that vendor (I got her phone number), and bought 55 more at $7 each ($385).
Sell, Sell, Sell
We sold the majority of these ones through Facebook and I ended up going and buying one more lot of them. By this third day it was getting closer to Christmas so we ended up dropping the price on eBay to $35 to sell the last few.
Apparently we created a little drama when posting in some of the Facebook groups. (There is never anyone on Facebook starting drama right? HA!)
While many people were interested in buying the lights, there were a select few who thought we were asking too much since they were sold in stores for $40. We honestly had no idea what they were selling for 30 in the stores when we posted them because we had only checked eBay where they were selling for $60-$100.
We thought that being cheaper than people could order them online was a good thing, and for many people it was! In my opinion, if someone thinks an item is priced too high on any platform, then they don't have to buy it. We weren't selling the last bottles of water or last loaves of bread. We were selling a novelty item – definitely not a necessity!
I choose to not involve myself with drama of any kind, life is too short to get into debates on Facebook. 😉 So we left that group and sold them in other groups. (*Update*- this was before Facebook Marketplace was a thing and yard sale groups were the jam.)
There were plenty of people who were very happy. They wanted one of the lights for their house and they couldn't get them at any store anymore. (These ended up being a big hit and stores couldn't keep up!) They were happy to get them the same day – and cheaper then they could buy online.
It was a very crazy few days of buying lights, checking and testing them all to make sure they worked great, making sure all the pieces were there, and meeting up with people Melissa arranged to meet through Facebook.
But all the craziness was definitely worth it once it was done.  We made some nice extra money for Christmas for 3 days of some elbow grease. We ended up buying a total of 103 lights ($655). Five of those didn't power on, and 18 of them only showed a red or a green light instead of both, so we didn't sell those, and we gave away 7 of them as gifts. So that left us with 73 of them that we sold for a total of $3,359!
Not bad for a couple days work and a nice bonus just in time for Christmas!
Melissa made us quit selling them on Christmas Eve. (Yes people still wanted to purchase them!) Which meant that we took our fast shipping off of eBay, and also didn't respond to comments on Facebook about the items. (Since Facebook Marketplace wasn't big yet, messages weren't usually sent directly. If they were we wouldn't have responded on Christmas Eve.) We loved that we made some extra money for Christmas, but we drew the line for the holiday.
Here are some of the lights that were sold on eBay that were all packed up and ready to ship out!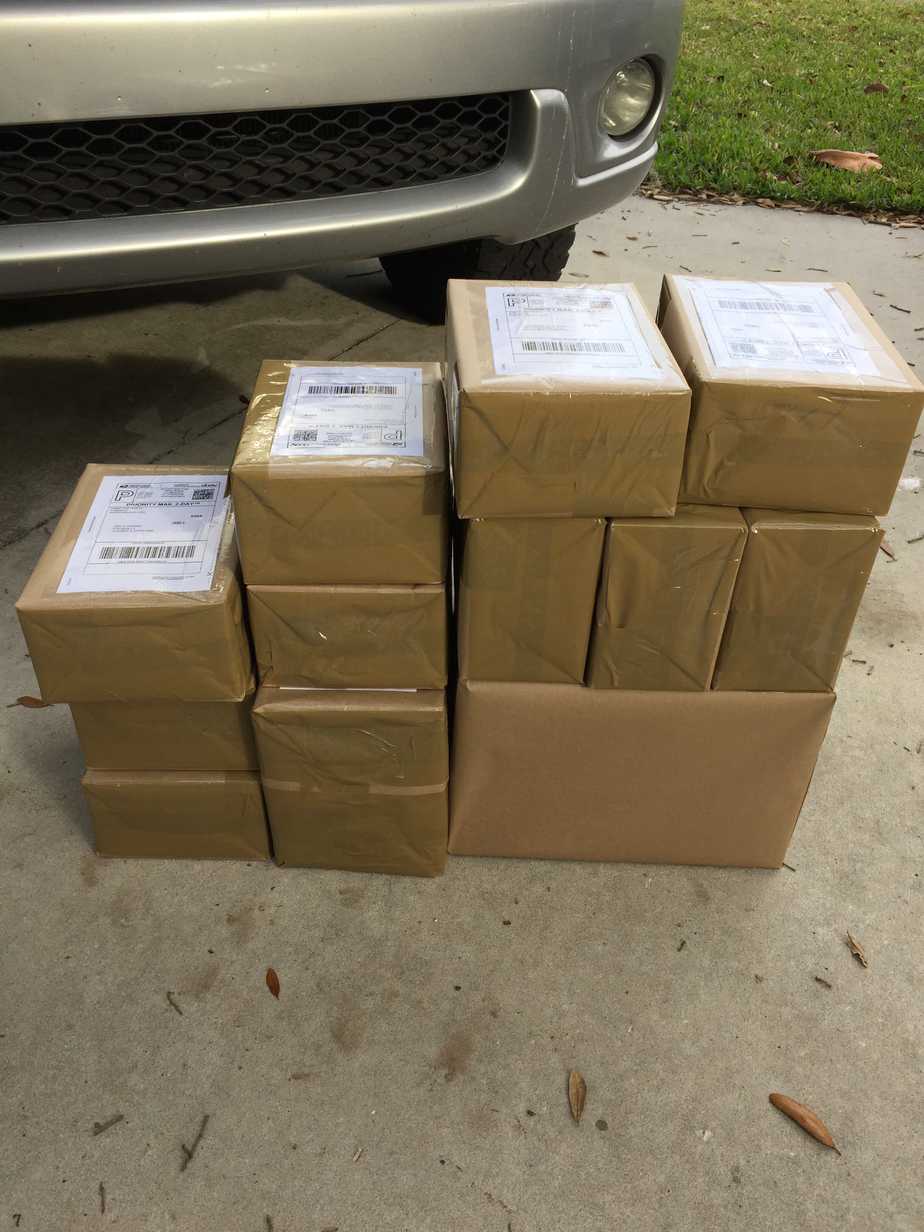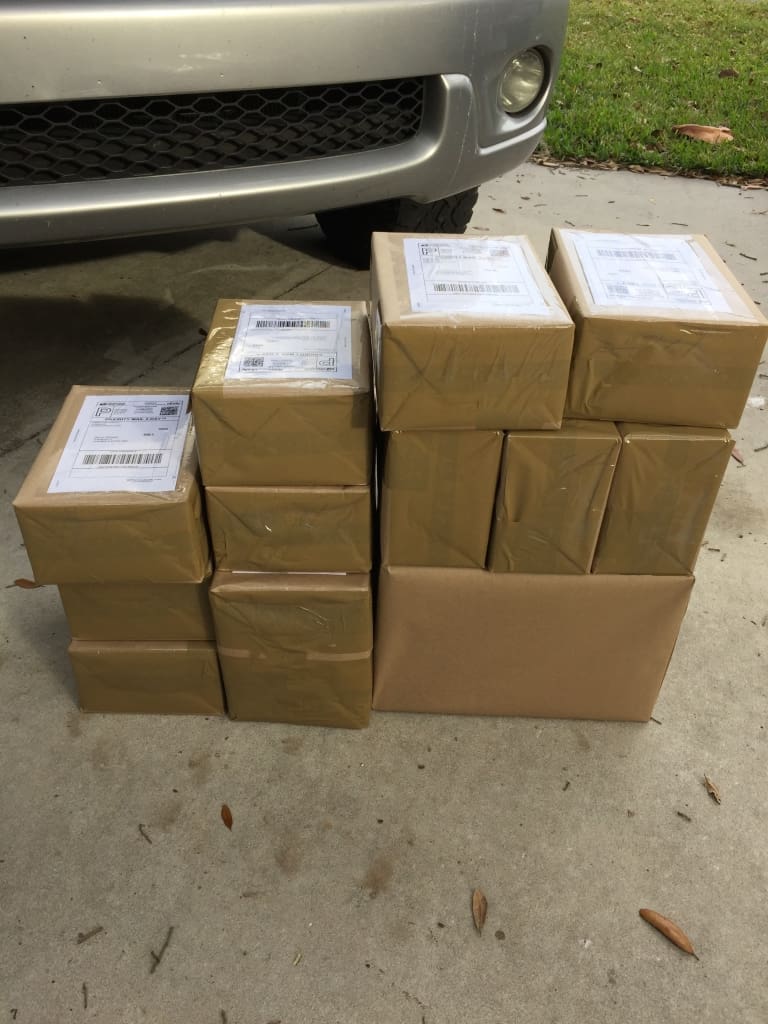 Packaging In Brown Paper
You may notice that we didn't put these in an extra box to ship, and just wrapped them in paper. This cut down on some packaging costs since the lights were already in a good box, but there are a few things you need to know before using it to ship.
The paper we use is a roll of brown Kraft paper.  It's a thicker brown paper that is made for packaging and crafts. You couldn't just use any kind of paper. (Never wrap a box in Christmas paper! It will be torn up quickly).
It's also important to note that USPS, FedEx, and UPS frown on the use of paper for one major reason: The machines they use to sort the packages could catch edges of the paper and tear it off.
So if you decide to use brown paper to package an item make sure you fold the ends very neatly and any seams are taped up with packaging tape. You can't leave any seams open that could get caught on the machine.
Also make sure the box you are using is sturdy enough to be the outside box. If it's flimsy it could cause the paper to tear if it's handled roughly.
As long as you are careful when using the paper, it should be fine. We have never had a package returned to us that we wrapped in brown paper.
Keep A Lookout For Trending Items To Resell
Star Shower was the first big brand to make these and they only had red and green lights, but now there are many brands that sell these and they do all sorts of things!
You can now get falling snow flakes, swirling Mickey's, Christmas trees, Jingle Bells and so much more!
Could you use some extra money this Christmas? Have you ever thought about flipping and reselling items? If so, check out our 14-Day Flipping Challenge to get you $100+ by next week! (This will also add you to our flea market flips and eBay tips update list. You can unsubscribe anytime.)
We want to hear from you!
Have you ever needed extra money for Christmas? If so, have you ever thought of flipping items as a source of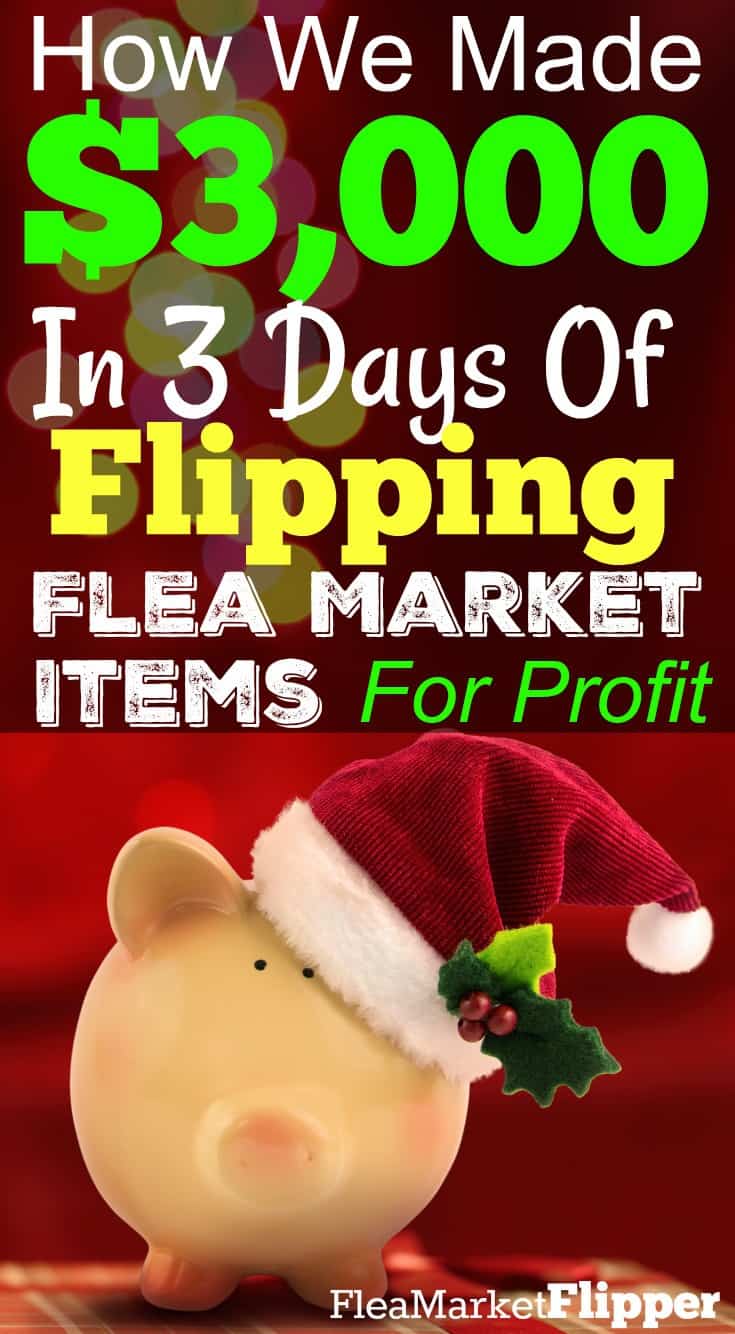 income? Comment Below!
Related Posts:
17 Thrifty Christmas Gifts On A Budget
Selling On Facebook MarketPlace: How We Turned $115 Into $2,250 In One Hour
How We Got Our Kid's Involved To DO GOOD This Christmas
How We Saved Almost $900 On Our Kids' Christmas Presents This Year
There may be affiliate links used in this post. Check out our affiliate disclosure for more information.
Extra Money For Christmas: $3,000 In 3 Days Of Flipping