We have just finished a 2+ week road trip up and down the east coast. My wife has family in New Jersey and Tennessee and we decided to visit them all and make some stops along the way to pick up items to sell.  Our goal was to find enough items with our thrift store flipping to cover our gas and hotel expenses which we were pretty successful!
Normally we would try to make the best time possible when driving, and we'll drive through the night to get somewhere far. We decided to take our time this trip and stop periodically at different thrift stores along the way. We just stopped at hotels when we got tired. We looked up thrift stores at a couple different stops that we made using our maps app. We tried a few thrift store locator apps' but they didn't work as well as just plugging in some thrift store names into our maps. We looked specifically for Habitat for humanity, Goodwill and Salvation Army, but also found some non chain ones as well.
Our first purchases were a stroller and a baby sleeping bag. Usually I only buy things that I know I can at least make $100 on, but I decided to buy a few smaller items at the beginning of the trip that would add up.  Our next stop in New Jersey we purchased a Nordic Track and a special needs stroller at a really cool thrift store that we stumbled upon (You can read more HERE).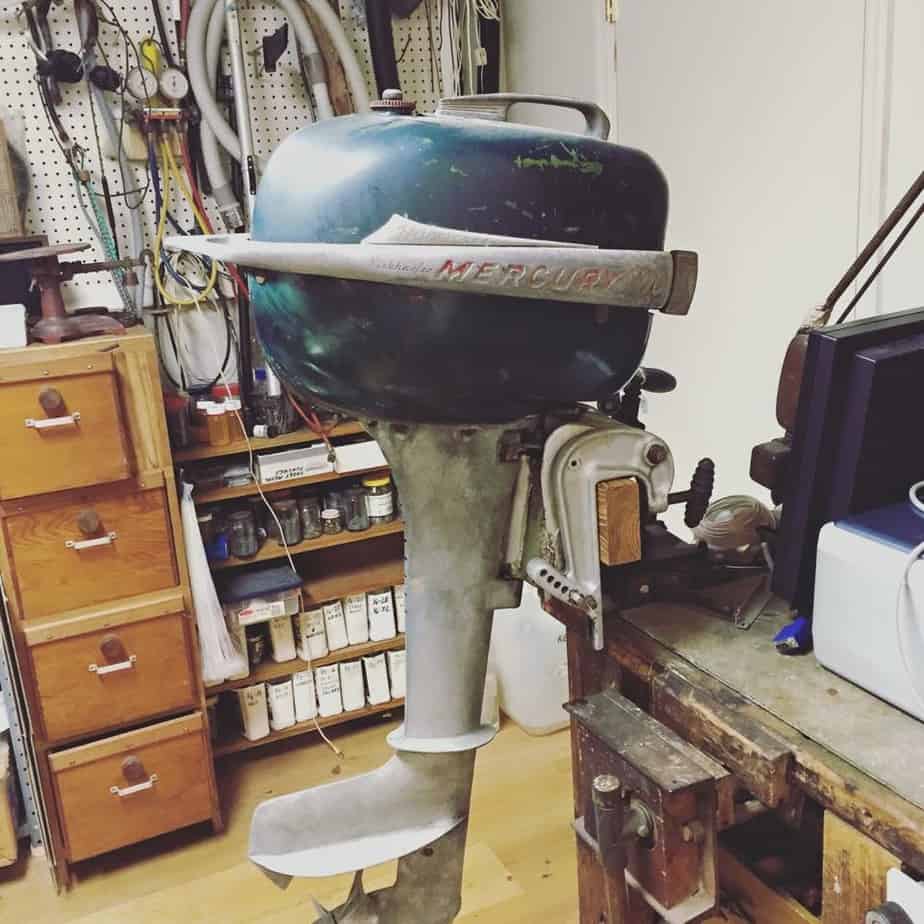 The rest of our items we found in Tennessee, which is where we spent the majority of our time. We browsed through several of the local thrift shops a couple of the days we were there and ended up finding TWO more nordic tracks for a good price! I also found a vintage outboard motor at an antique shop which I am really excited about. I was able to get it for half price because it had been sitting in her shop for a while and she wanted it gone
The day before w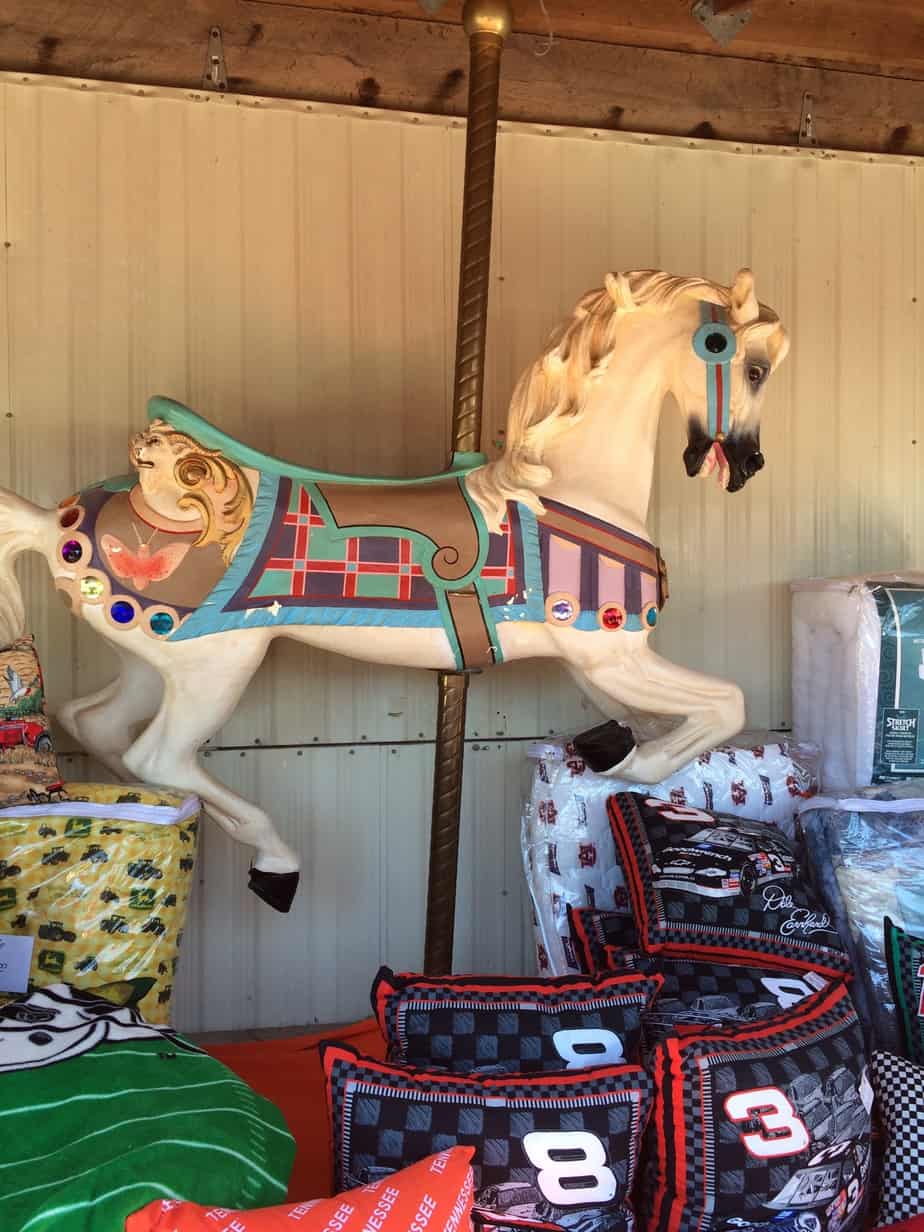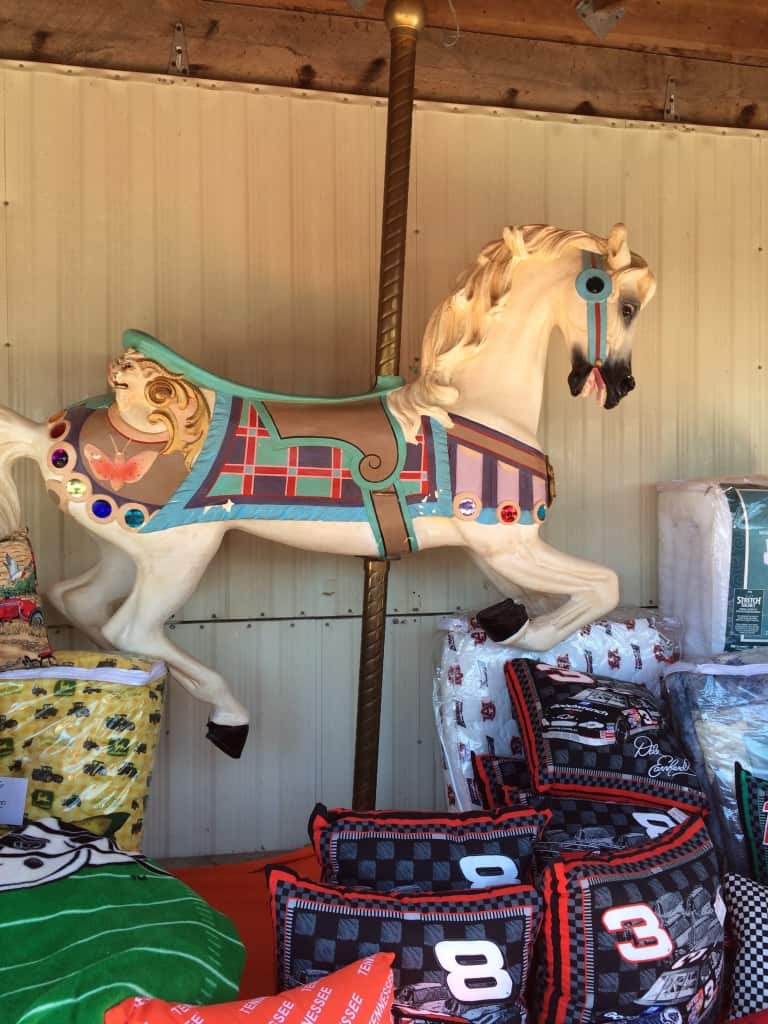 e left I found the best find of the whole trip at the local flea market. A life size carousel horse! It was used as a display piece for one of the vendors and I asked if she would sell it, she said of course. It took her a while to decide on a price that she wanted, and I didn't want to throw out a price to her until I knew where she was starting from. We agreed on $175 and while it was the most expensive buy of the trip, it should by far be the most profitable!  My wife found the exact same horse for sale for $4,000-$5,000, so we are hopeful to get at least $3,000 for it.
In case you lost track, here is a breakdown of the 8 items we purchased and what we should get for them:
Thrift Store Flipping Totals
Paid                     Estimated Resale Value
Stroller                              $15                                      $75
Baby Sleep Sack              $2.50                                  $10
Nordic Track                    $30                                     $250
Special Needs Stroller    $30                                     $150
Nordic Track                    $35                                      $450
Outboard Motor              $45                                      $550
Nordic Track                    $25                                      $250
Carousel Horse                $175                                    $3,000
Total Purchased: $357.50          Total Estimated Resale Value: $4,735
I have to say that was a pretty successful thrift store flipping trip and it easily paid for our gas, hotels, and time away.  A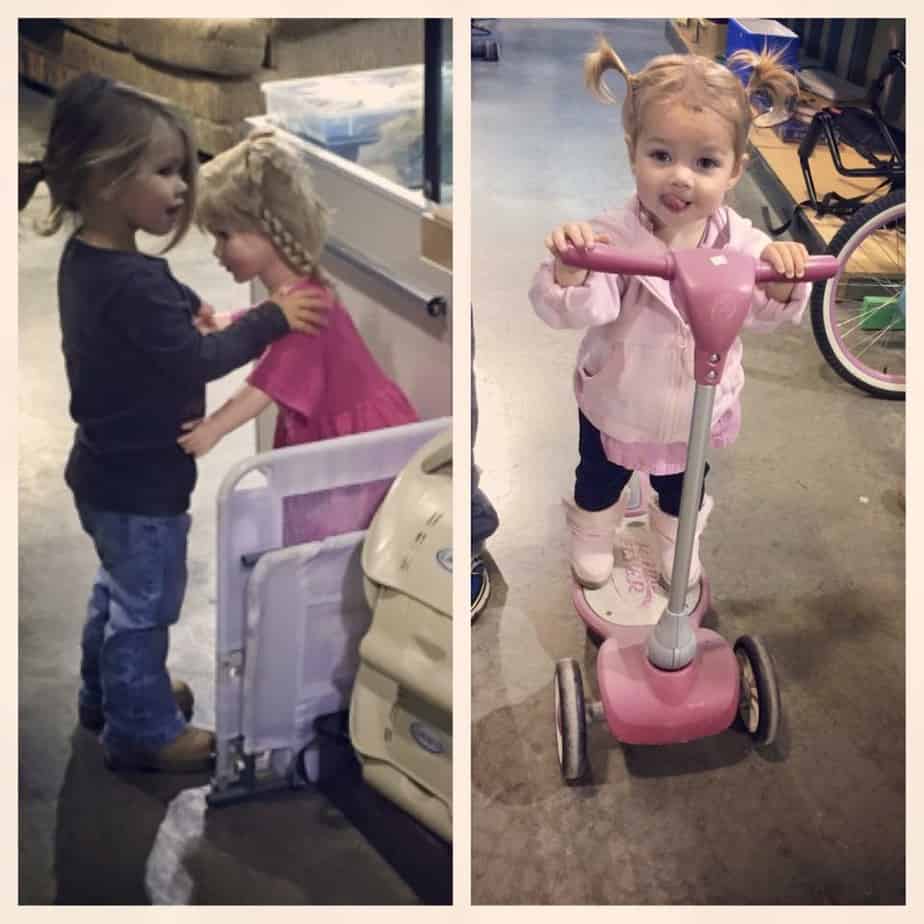 ND it was a lot of fun! It was nice to get out periodically at different stops and let the girls stretch their legs while we looked for any good deals we could find. One of our stops was at a habitat for Humanity and it happened to be their grand opening for that store, which meant there were cookies, key chains and stickers for the girls to take back to their car seats to enjoy.  The girls also enjoyed playing in the toys section at every. single. store.
One of my wife's favorite finds was a large box full of carousel horse music boxes (this was before we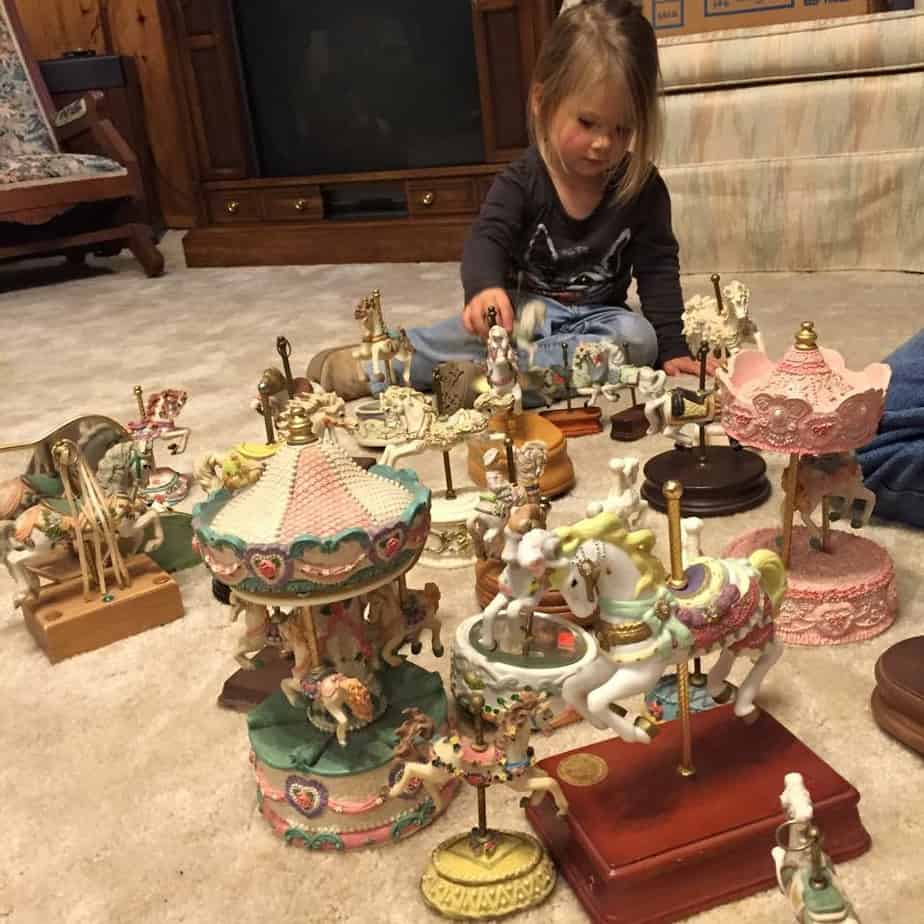 found the large horse, it must have been a sign). The whole box full (of 24 horses) was only $5! Roxy absolutely loved these horses and would wind them up over and over and over. Now dad has to build her a shelf in her room for her new collection.
I would call this a successful thrift store flipping trip on many levels. Fun, family and flipping! All of the purchased items are currently listed for sale, and we will post an update on the actual profit received from the items on this trip.  Until then I leave you with this question: Is the bird Lexi won at the gas station a penguin or a parrot? (My wife and I debated this the whole drive home).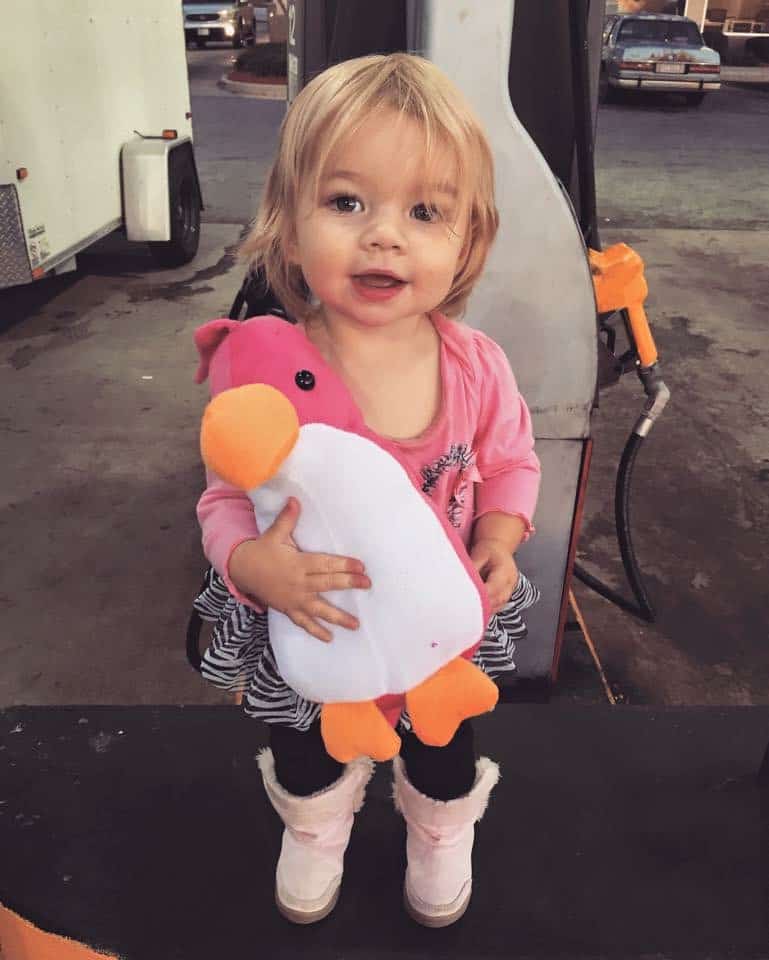 If you have thought about picking and flipping for a side hustle, check out our Flipper University! We would love to help you get started making an extra income from home.
If you would like to download some of the Best Places to Get Items to Flip, (some I used for our thrift store flipping trip) then check out the download HERE   This will also add you to our recent flips and eBay tips list. Don't worry we don't crowd your inbox, and you can unsubscribe anytime. 
I Want to Hear From YOU!
Penguin or Parrot? Seriously.