October 16, 2017

A Flea Market Flipper's Guide to Frugal Christmas Gift Shopping

Looking to save money on gifts this Christmas season so you can stick to your Christmas budget? Wanting to be more frugal now so you don't get slammed with a huge credit card bill next month? You have come to the right place!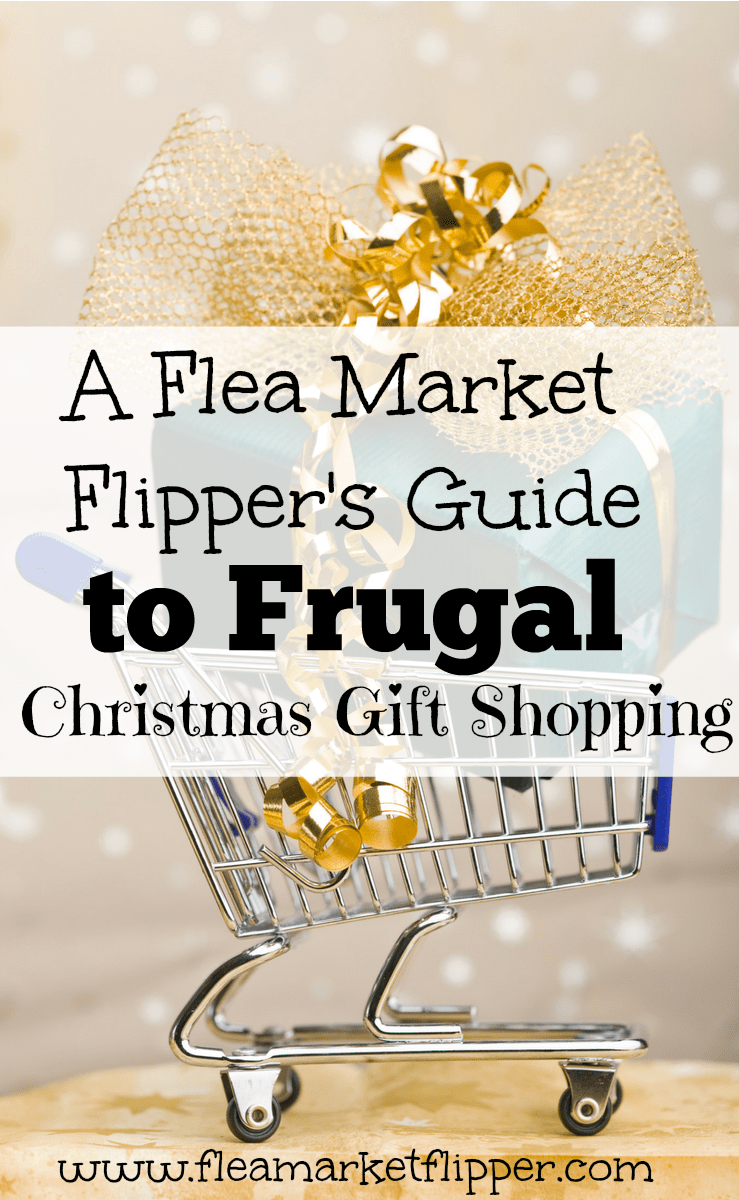 Christmas is my absolute FAVORITE time of year! I may or may not have been playing Christmas music around the house since September. I am not sure if it is the kid in me that just loves the season, (We all know that I am just big kid who refuses to grow up), or if it's because it's the celebration of the birth of Jesus Christ, or maybe it's the time spent with family and friends that I love.  Oh, and the cookies. My wife makes THE BEST cookies for Christmas! I enjoy them all month long. 🙂
Now that I am a dad, Christmas is even more fun! I have always loved getting people great fun gifts, so now that I have kids to shop for I can find all the fun things. 🙂 I know many times it is the wives that do the shopping, but when it comes to Christmas shopping, I like to do more than Melissa does. She prefers not to spend much money and usually bakes things for people as gifts (which is slightly ironic since she is a personal trainer.)
The great thing is she is married to me- and we get 90% of our gifts from the flea market! You can't get more Christmas budget friendly than that! We got all of our kid's presents at the flea market last year – except maybe a couple dollar tree stocking stuffers – and this year will be the same thing! You can shop very frugally for your Christmas at your local flea market and thrift store and still get nice gifts that won't break the bank! They probably will be more creative gifts too which are even more meaningful. Here are some tips on how to be frugal this Christmas and still get some great gifts.
Ideas to help you stick to your Christmas budget
Write out your list
Who are you shopping for? Honestly we don't buy a ton of gifts for a lot of people. Melissa will put together little things for people and bake some cookies to give away, but we only mostly shop for our kids and a few close family and friends. Writing out your list helps you see who you need to buy for. Write out some ideas next to their name, then you can be on the lookout while out at the flea markets, thrift stores, or eBay.
Look for unique things
You obviously have to know who you are buying for, but I think people appreciate the time you put into thinking of a gift- more than what you spent on it. For example, maybe you have a sister who loves to grow plants. You could find an old antique pail or jar and fill it with her favorite flower plant. Or maybe you have a dad who loves tools- you can find any tool imaginable at most flea markets! Last year I got my wife one of those Instant Hot Water Dispensers
 faucets for the sink. She loves her French Press
 for coffee and tea, so it was a perfect gift. I found one still in the box at the flea market. I know that I sell a lot of my items on  but the flea market is also a great place to look for unique and useful items to keep! Especially around Christmas time!
Find new things for a discounted price
People think that thrift stores and flea markets are full of just used things, or that the flea market just has new cheap gift-shop type things, but that isn't the case. Check out some of the toys displayed at our local flea market. New, in the box, ready to be wrapped.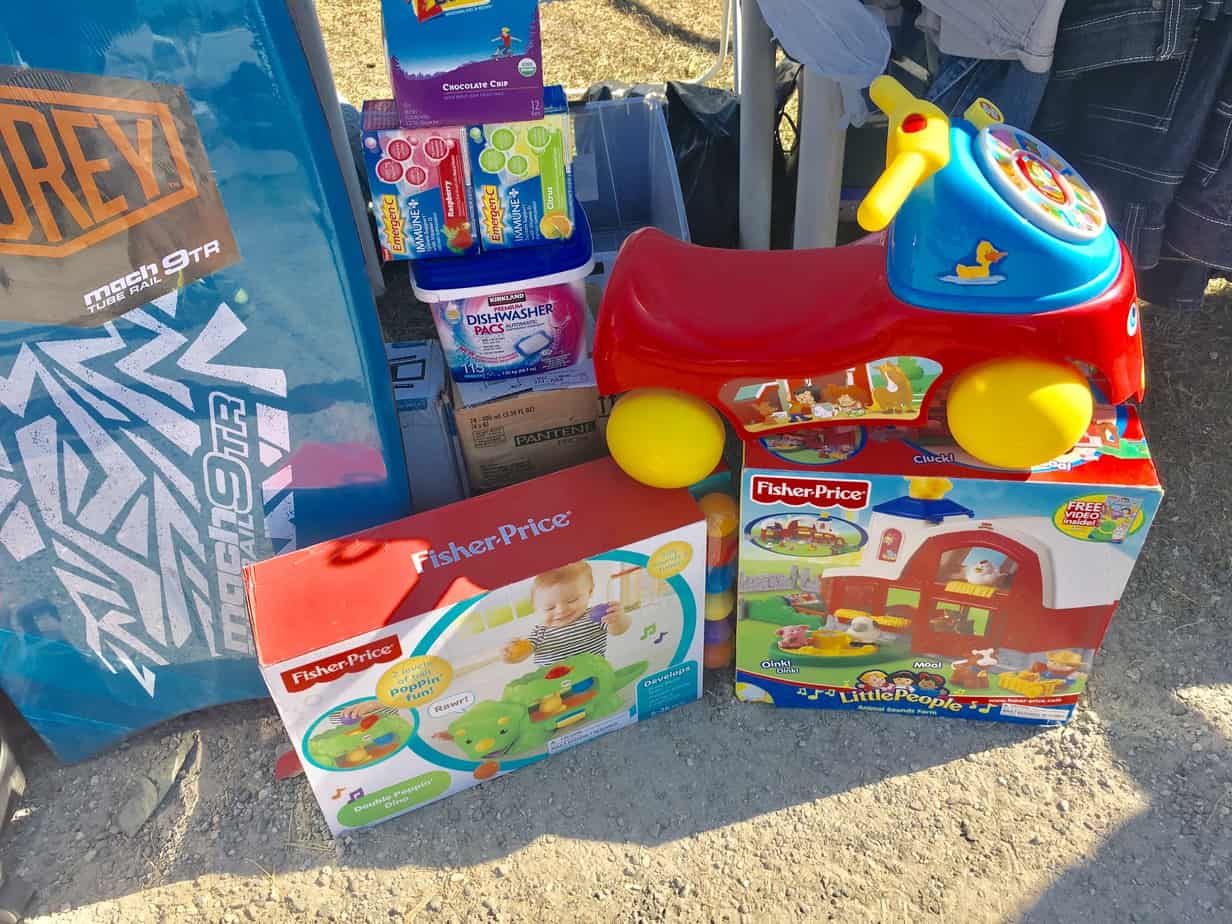 Just look at all those Disney Princess and Frozen accessories still in the boxes! Perfect for little girls. Most things like these cost $10-$20 in the stores, and at the flea market you can pick them up for $3-$5.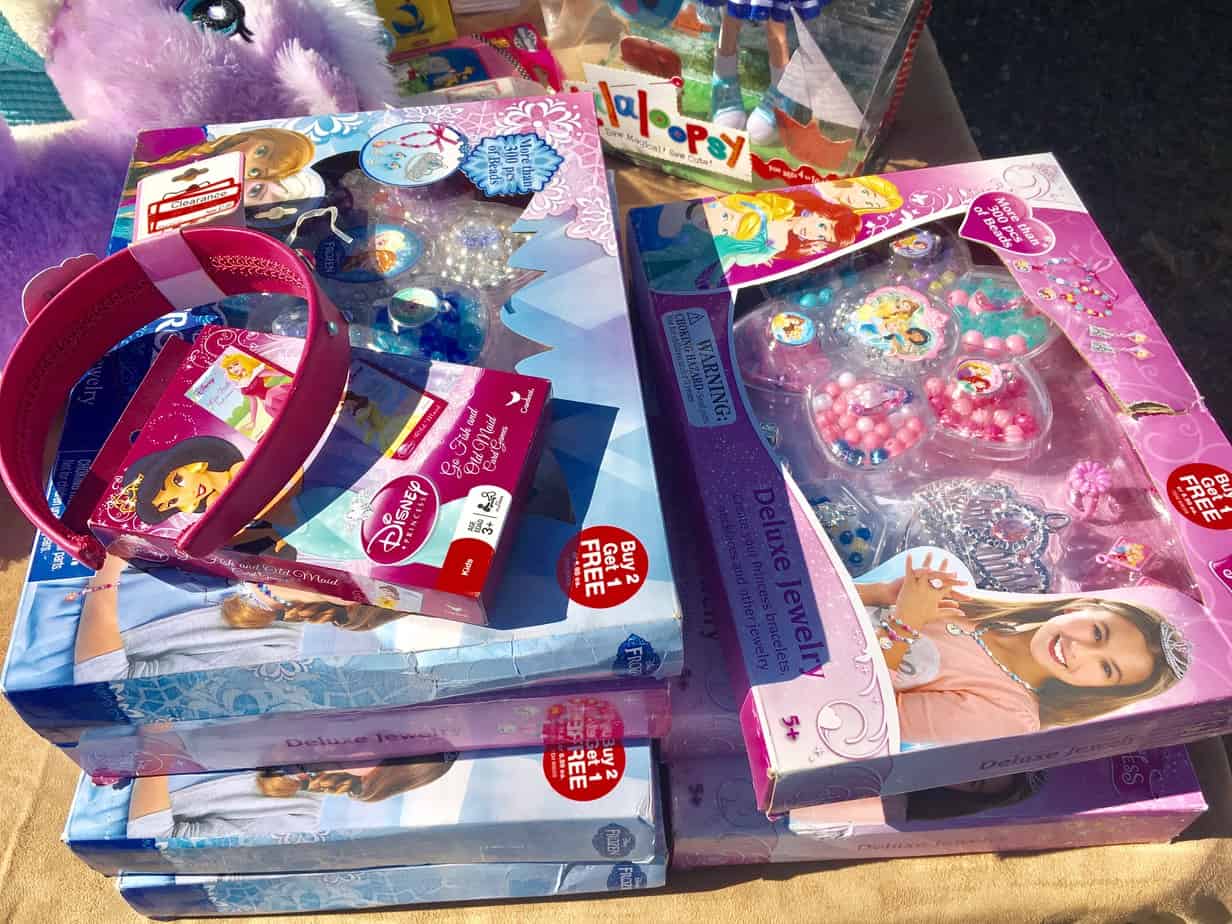 This is a big part of why we can sick to a Christmas budget with kids. Check out how we saved almost $900 last year on their Christmas gifts!
Get kids outside
Both my wife and I like to be active. So we like to buy gifts for our kids that get them outside. Of course we get them other toys too, but bikes are a must! And we spend very little on them. Last year we got a great Princess Bike
for $2! This year we found another one for $20. So now the 2 year old will get the other one, and the 4 year old will get the new (used) one. Which brings me to my next point.
Re-gift
You may only be able to get away with this one when the kids are little. But we have been taking some things out of circulation that were my 4 year olds and re-wrapping it for the 2 year old this year. So instead of buying a new bike for both like I stated above, the new and old bike will both get big bows on them come Christmas morning. They also have been fighting over a pair of hello kitty slippers, so we took the pair, wrapped them for the two year old, and bought the 4 year old a new (used) pair. Please don't feel bad for 2 year old little L. She is just fine with her little hand me downs. And we still got her some of her own new (used) things too. Melissa had also taken gifts that the baby got for his shower, and will re-wrap them for Christmas. Babies really don't need anything anyway. Why spend more money? They have no idea what is going on with gifts, and will not remember it at all. A good teether and blanket and they are good to go. I will say that my oldest daughter got these Stacking Up Cups
 when she turned one, and they have been a favorite for all three kids now. They may just get wrapped back up for little man and out back under the tree this year. 🙂 Melissa goes through their toys and periodically donates some, but these always end up making the cut and staying. Great entertainment and learning for the little ones.
Focus on Experiences
In my opinion, experience gifts trump things any day. These might be on the higher price range for your Christmas budget, but they come with memories- which are priceless. Some ideas are year memberships to the zoo, aquarium, science center, or any other place to go have fun as a family. Another idea could be a pedicure (I actually enjoy going to get a pedicure with my wife – and no I don't get my nails painted), or a massage – Everyone can appreciate one of those. One experience gift we are giving this year to my sister is a camping trip. We all enjoy going camping, so we will make arrangements to go away for a long weekend to somewhere fun. Camping doesn't have to be expensive either. Another GREAT idea for families is to give them the gift of a a babysitter! It costs nothing to do so, but your friends that are parents would greatly appreciate a night out!
Bake Yummy Things
Whether you are a talented baker or not, it's not too hard (according to Melissa) to make up a batch of cookies and give them to someone with a hand written note. They cost very little, but the time and thought of them are very nice! And most people don't take the time to write a handwritten note anymore, so people appreciate that. Here are some of her Christmas cookies, add a handwritten note and put in a small clear Christmas bag and viola, a pretty and thoughtful gift that cost less than a dollar per person (very Christmas budget friendly).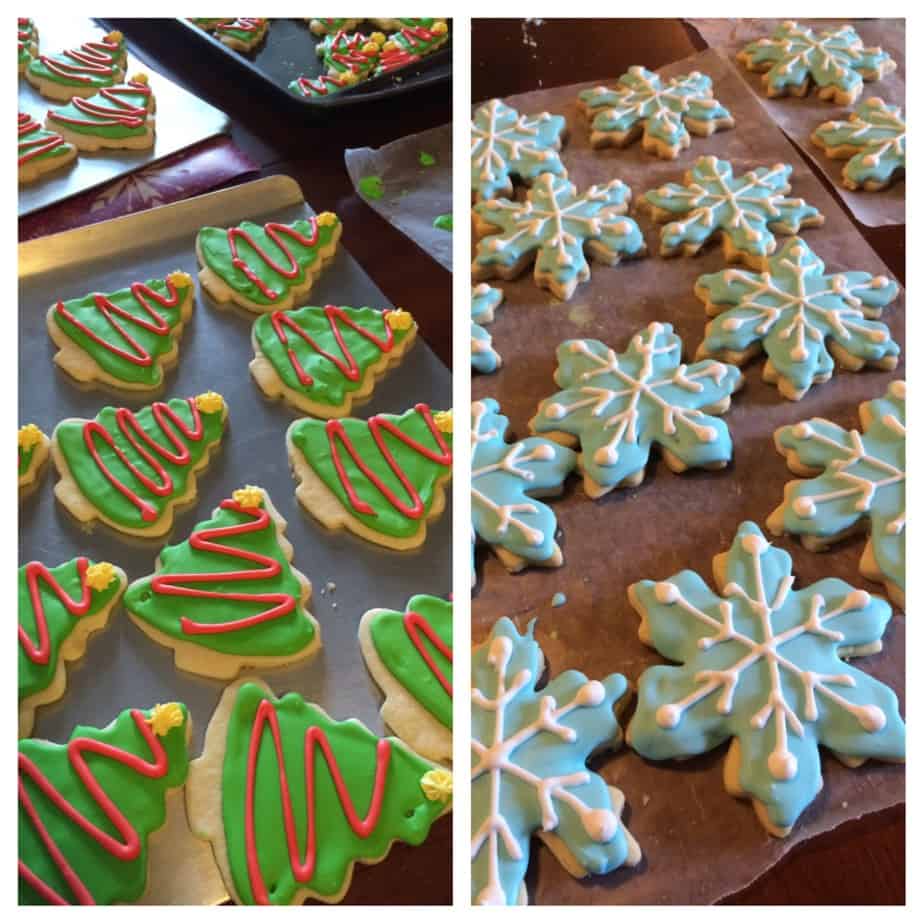 Capture Memories
This one is probably the least frugal ideas on the whole list, but it's something we do every year so we have to include it in our Christmas budget. Photo gifts are always great gifts for grandparents and other family. Each year we do a calendar that Melissa makes online through CVS. They are pictures that correlate with the year before so we have anew memory each month. We get an extra one to use ourselves. It fun to look back on each month. She also makes a photo book of the year or of any specific trips we went on. She really likes to do trips that we went on with friends or family so we can get an extra copy to give them as a gift. She does all our books through Picaboo and usually waits until there is a coupon code available. They run specials quite frequently.
As you can probably tell, experiences and memories are the most important things for our family during the holidays. I also love watching the kids' faces light up as they see the presents under the tree on Christmas morning, so toys and gifts are still at our house. But, everything under that tree was bought at the flea market, a thrift store, , Amazon
, or the Dollar store, and you better believe it was at a discounted cost!
Grab our PDF Download of 8 Household Items You Should Be Saving Money On (If you aren't already!) if you would like some more money-saving ideas. This will also add you to our flea market flips and eBay tip updates – we promise not to overcrowd your inbox, and you can unsubscribe anytime.
Related Christmas Budget Posts:
How We Saved $900 on Our Kids Christmas Gifts This Year
How We Saved $300 on Christmas Shopping
10 Kid Items You Should Never Pay Full-Price For
We want to hear from YOU!
Have you ever bought items at the flea market or thrift store to help you stick to your Christmas budget?
*Affiliate links may be used on this page. We may receive compensation for links clicked through this site. We would never promote anything we didn't use ourselves or fully recommend. Thank you for your support to keep this site going!*
*Pictures are stock photos from Canva.com*
FOLLOW THE FLIPPING ADVENTURE: