September 14, 2017

How We Made $2,100 From One $50 Offer Up Purchase

I love so many things about this flip. Of course I love the huge profit that we made from it,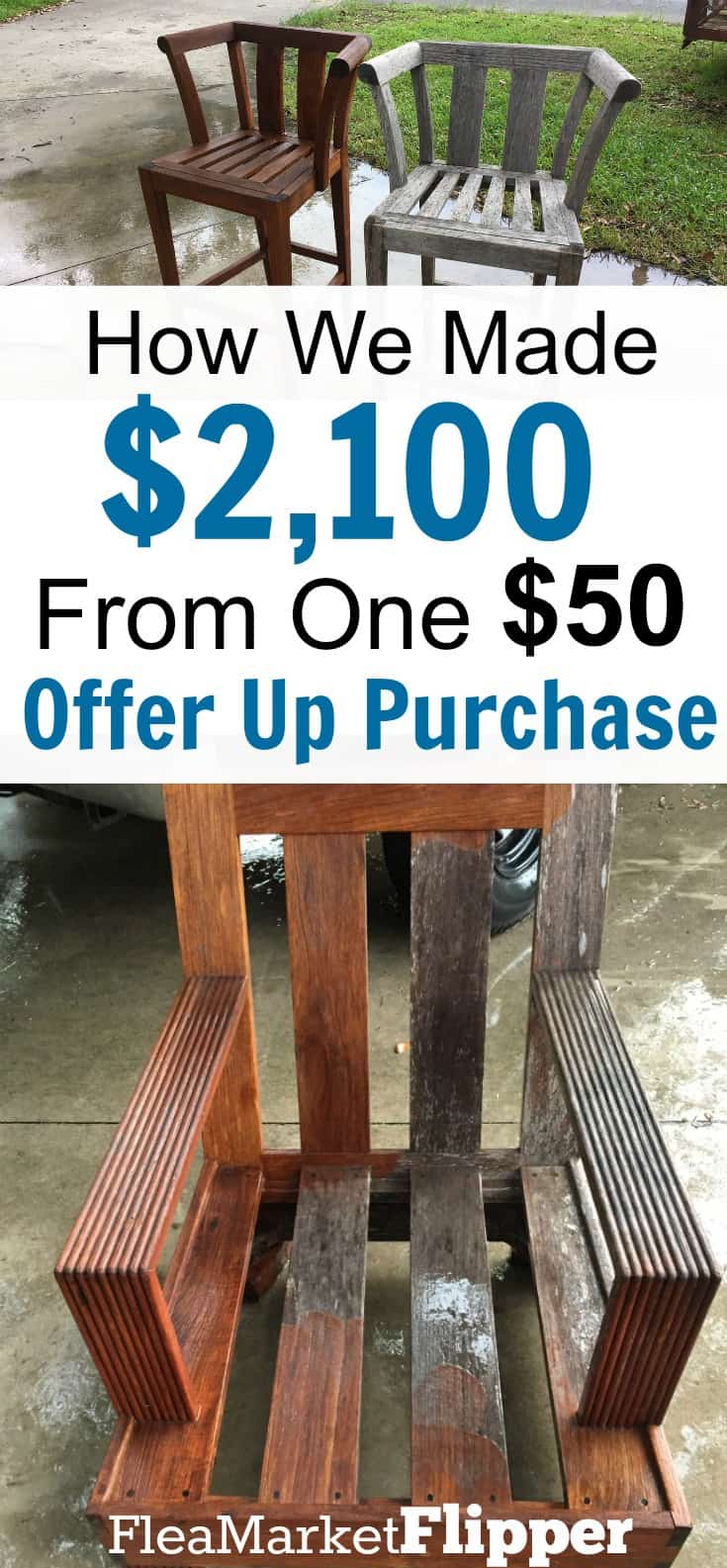 (not all flips have quite this large of ROI), but I also loved finding this one and cleaning it up. Once I spotted it on Offer Up, I knew there was potential to make some money, I just didn't know exactly how much.
This post may contain affiliate links. Please read our affiliate disclosure for more details.
One thing that I love to do in the evenings when I sit down after a long day is scroll through some of my selling apps. I like to check out Craigslist, Let Go and Offer Up, but if I had to pick just one to look at, it would be Offer Up. I love just scrolling through the pictures, and I have been able to find SO MANY great deals through that app. I bought this exercise machine for $40 and sold it for $1,000, and I bought this Yeti cooler for $75 and sold it on eBay for $275: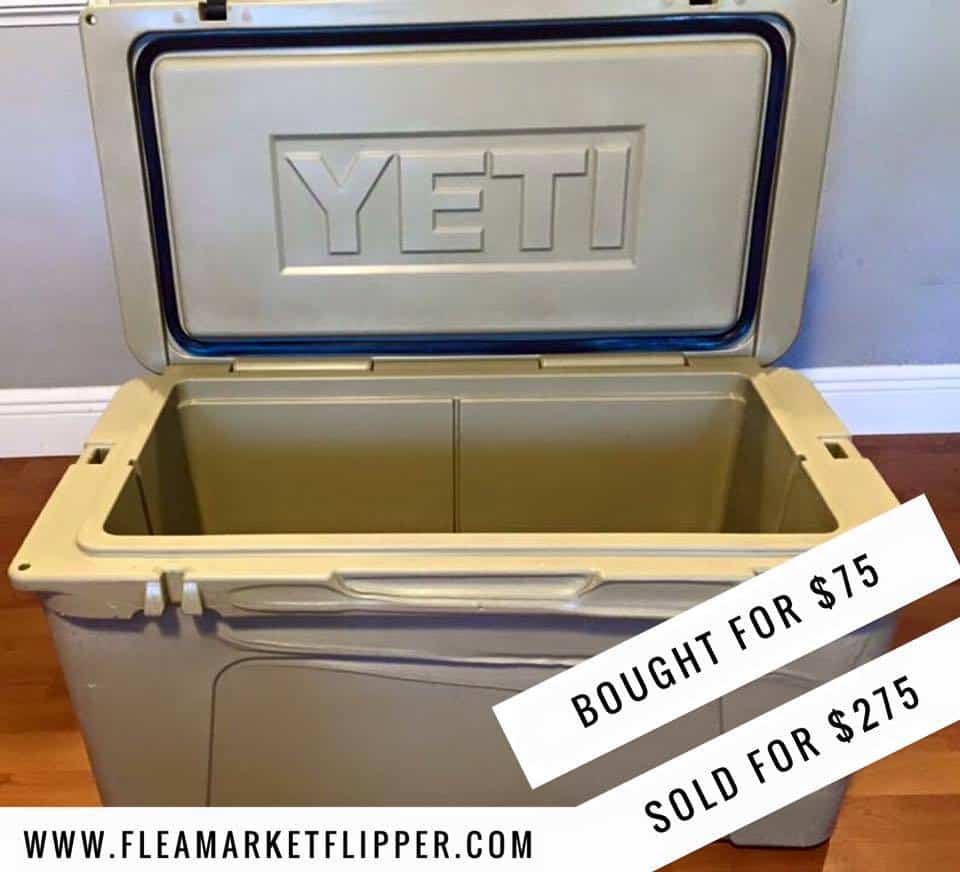 I also bought these vintage park toys on Offer Up for $25 and sold them for $550: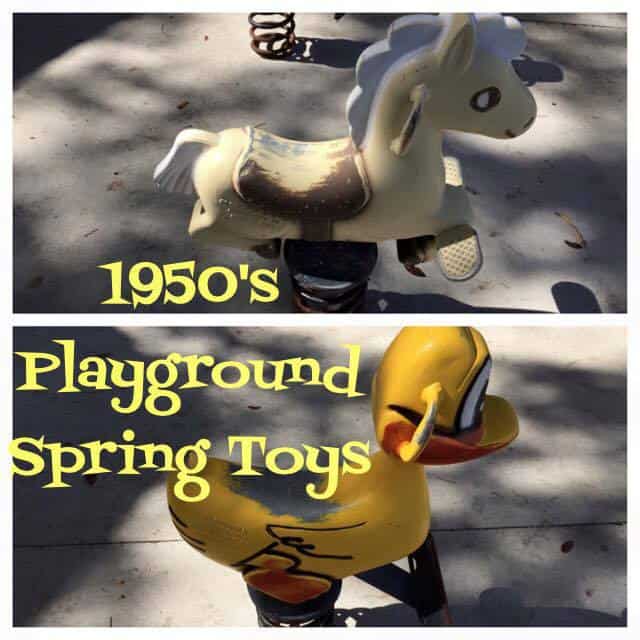 and this cool lookin' Thunderbird grill I found for $40 and sold for $350: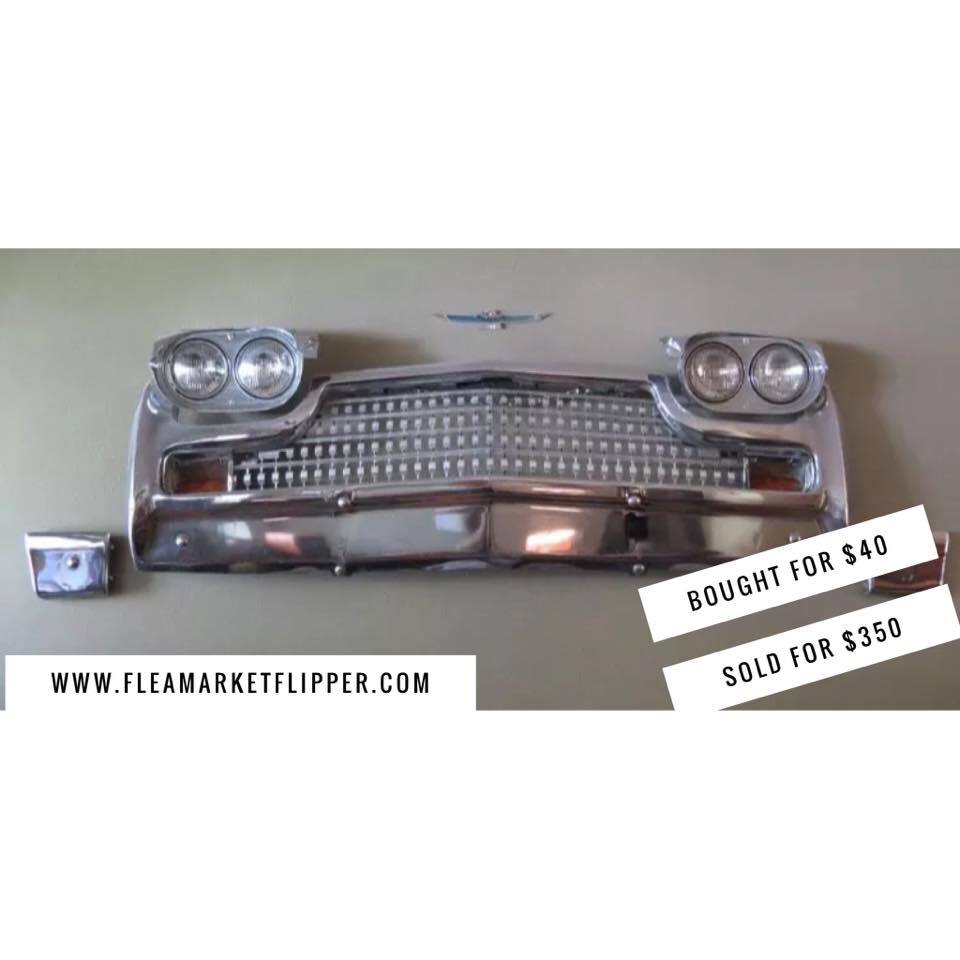 So basically if you like to find good deals you need to get Offer Up, and if you like to resell those good deals you need to
One evening I was scrolling through my favorite app and I found this patio set for sale for $100. It didn't look to be in great condition, but it caught my eye because I thought it might be made of teak wood. Being a boat guy I knew that teak could clean up really nicely, and if it was in fact teak, it could be worth a bit more with some elbow grease.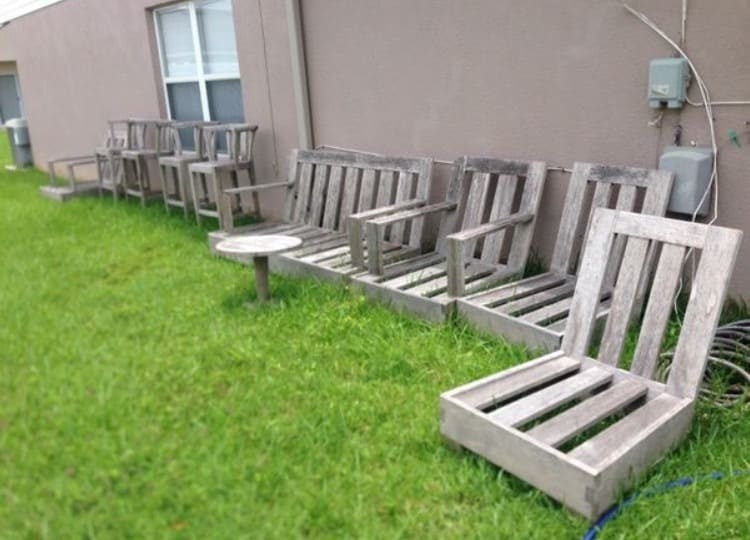 I met the seller at his house and was excited to find that they were indeed made of teak wood! SCORE! I paid $100 for 4 bar stools, 1 couch, 4 chairs, and a small table and brought them home. Of course Melissa looked at me a little puzzled that I saw something in this old wood. (They really looked to be in rough shape when I got them).
To show her that they could become nice again, I pulled them out in the front driveway and started pressure washing them. Just look at the difference between before and after pressure washing!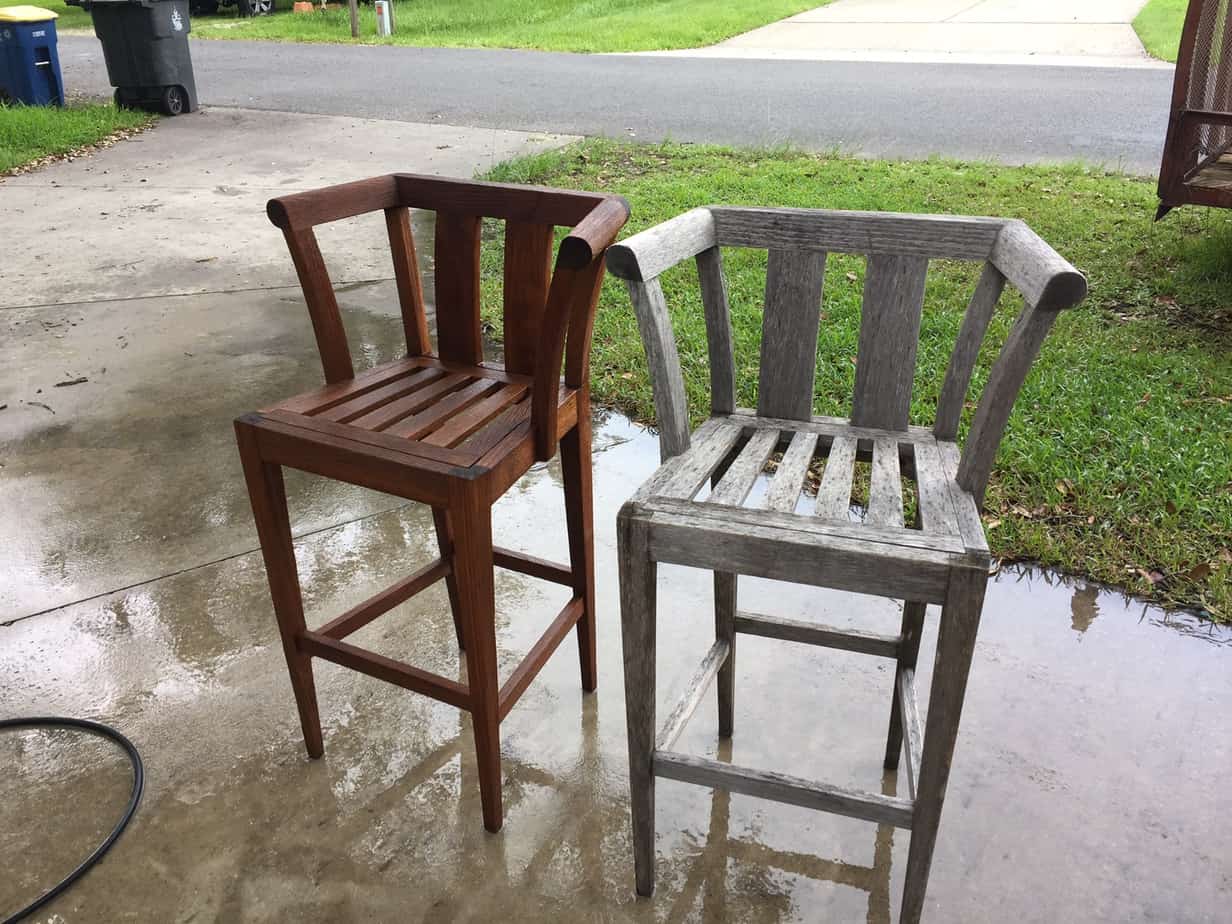 Here is another picture of one chair while pressure washing it.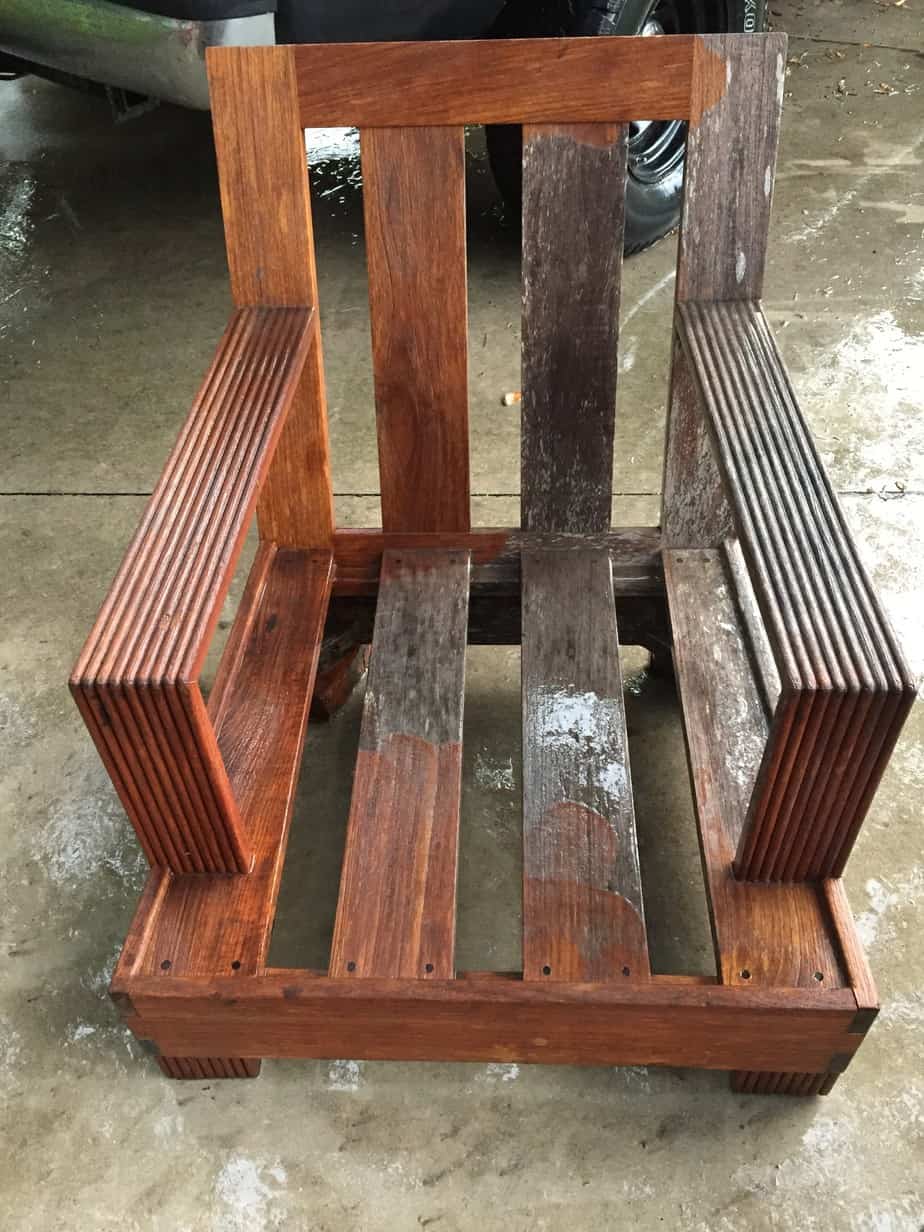 Check out the Facebook live we did after I pressure washed a few pieces.
After I pressure washed them and they dried, Melissa oiled them all with teak oil. She ended up using 3 coats on each piece because they sucked it up so much.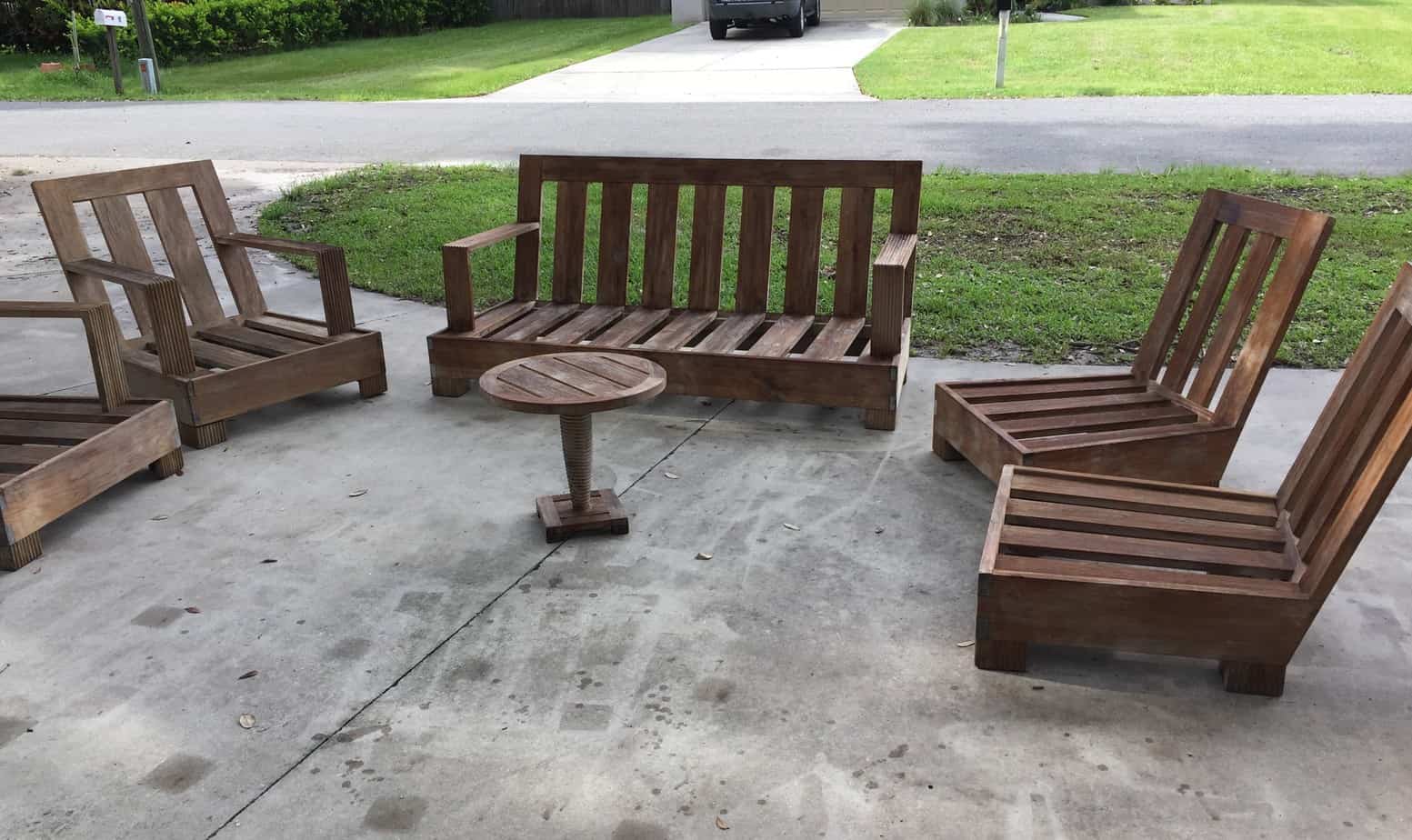 Then it was time for taking pictures and listing them online. We usually cross post our items on a few different selling platforms. We had these pieces listed on eBay, Craigslist and Facebook Marketplace. About 85% of the time, the items will sell on eBay first, and this time fell into that category. The funny part is that we usually list our prices higher on eBay than both Facebook marketplace or Craigslist. This specific set was listed for $1,400 on Facebook, but it sold for $1,800 on eBay first. A big part of that is the reach that it gets. Facebook marketplace and Craigslist are local markets only reaching a fraction of the amount of people that eBay can reach.
If you have been thinking about selling on eBay, but aren't exactly sure where to start, I just launched The Beginner's Guide to Selling on eBay!  I am SUPER excited about this project because eBay has been my life for so long and such a huge passion of mine, and I love sharing that with all of you!
Another pretty cool part of this flip is that the buyer actually lives only 2.5 hours away. So instead of paying a shipping company to ship it freight, I will deliver it myself and save about $300. I charged them $400 for shipping, so with the cost of my gas being approximately $80-$100, I should make an extra $300 on this item. I'll take a $2,050 profit on a $50 item! Oh, and the reason it's only $50 is because this purchase was only for the couch, chairs and tables. This transaction didn't include the bar stools. I have the bar stools listed for $500 on Facebook and $750 on eBay. We will see when they sell. *UPDATE* I ended up selling the bar stools to the same buyer. Before I palleted it, I told him I had more teak and he was interested in it, so sent him pictures and sold it for another $400!
Here is a pic' of me palleting it all up to sell.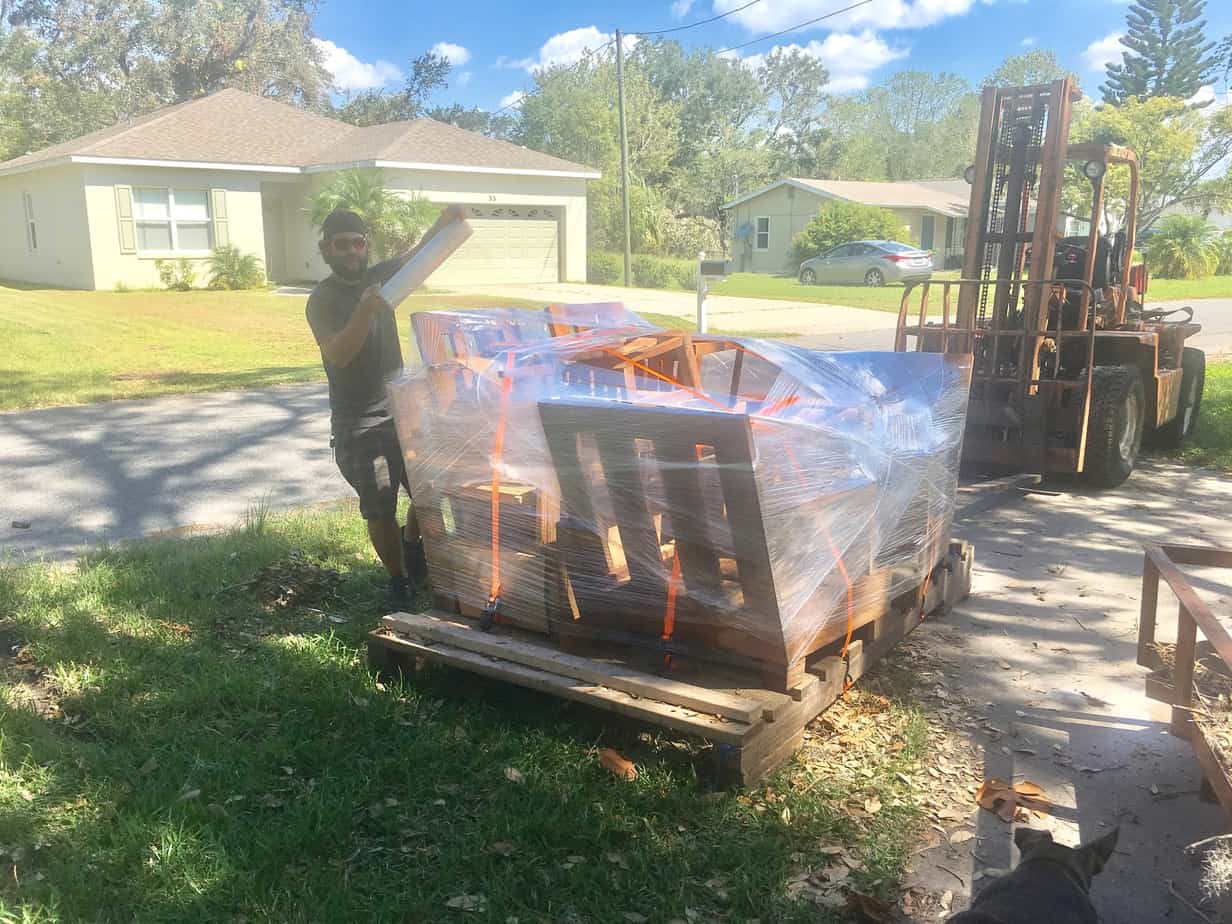 If you are ready to jump into flea market flipping (which also includes using apps from the comfort of your own home), for a side income or full-time income, then check out our online course Flipper University.  I am so passionate about flipping used items and using eBay to do it, and I am excited to share that passion with you!
If you haven't already, download our pdf list of 4 tools I used to make this flip – and many more flips – possible. It is crazy how simple they actually are. This will also subscribe you to our flea market flips and eBay tip updates, you can unsubscribe any time. 
Have you ever used Offer Up before? If so, what are some of your favorite finds you have found for personal use or for resale? Comment Below!
Related Posts
How I Quit My Job to Flip Flea Market Items Full-Time
How We Made $12,220 in One Month of Flipping Flea Market Items for Profit
Does Buying and Selling on eBay Scare You?
FOLLOW THE FLIPPING ADVENTURE: