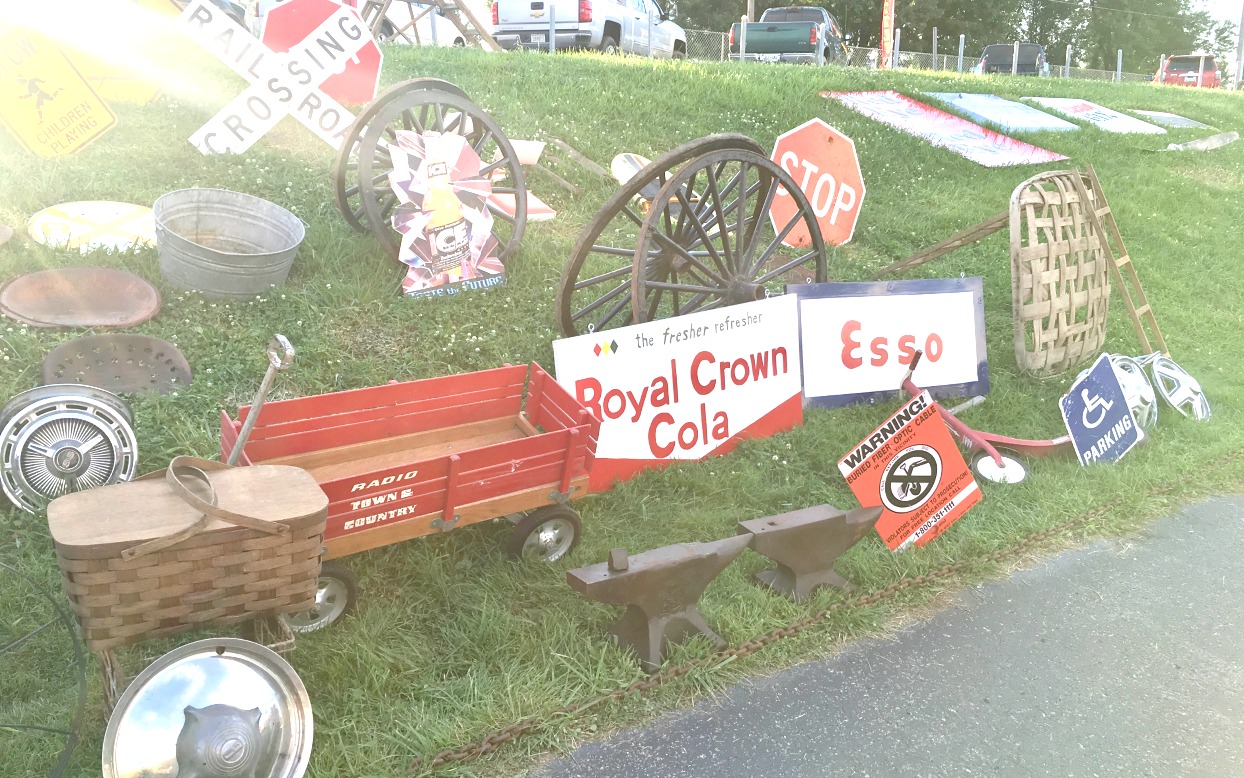 February 26, 2019

What We Flipped To Make $12,200 In One Week Of Flipping Flea Market Items
What We Flipped To Make $12,200 In One Week Of Flipping Flea Market Items
Wow!
God is good!
This past week has been phenomenal for sales!
We totaled $12,200 in sales in ONE WEEK!
Ok, that's a lot of exclamation points, but this flipping gig just excites me!
And I feel blessed that I get to do what I love every day. Is it work? Of course, but it's what I enjoy doing so it rarely feels like work.
Even if I had all the money in the world and could retire without ever thinking about money again – I would still want to flip items. That's how much I love it
I know there are a few of you out there like me – who love finding great deals and reselling items to people who will value them again.
I know you get me. 🙂 It's in our blood.
Ok, let's jump into what we sold!
The first two items are a part of the 2019 Flipping Challenge. This challenge has me fired up this year! We will be doing an update very soon.
These both sold the same day too!
This medical vest sold on eBay for $1,600. We picked it up at the flea market for $35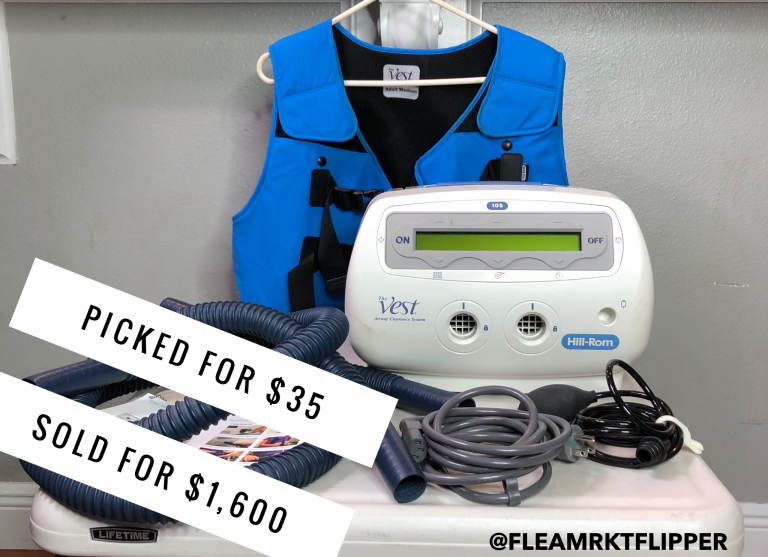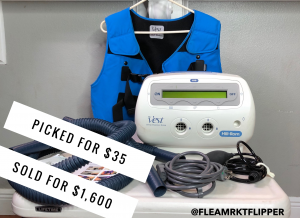 This oxygen machine sold on eBay for $600. We picked up this one from the flea market the same weekend for $25.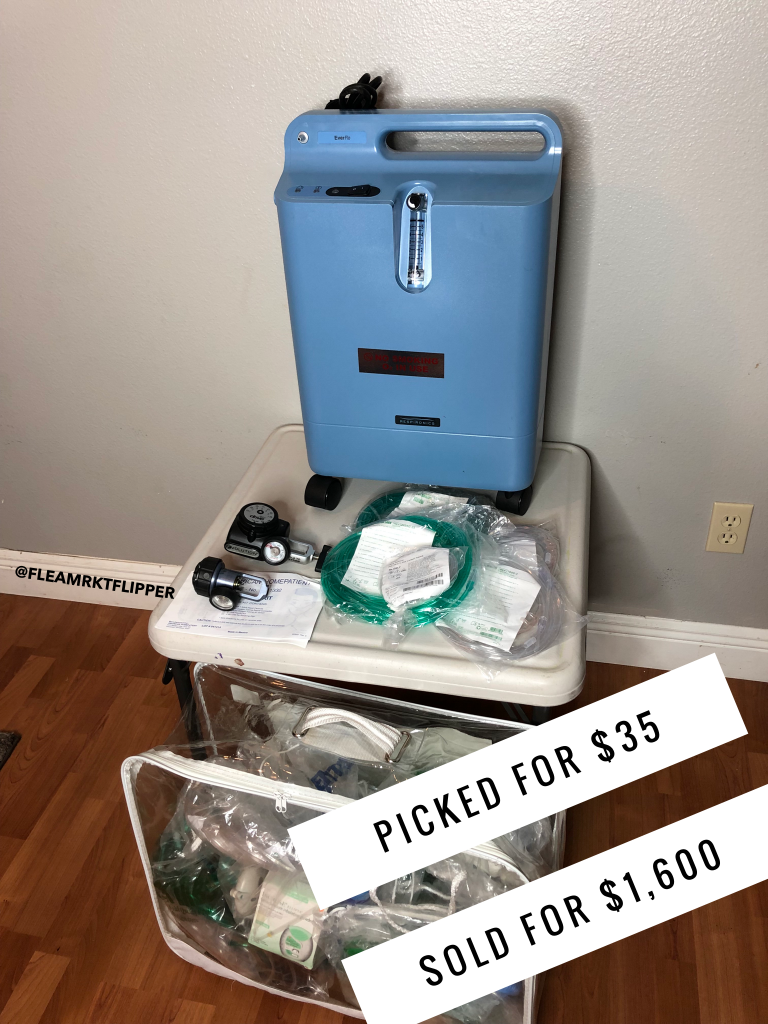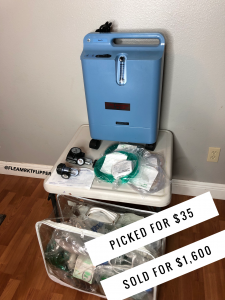 The last item that sold on eBay this week was this outboard motor part. I picked it up for $10 and sold it for $200.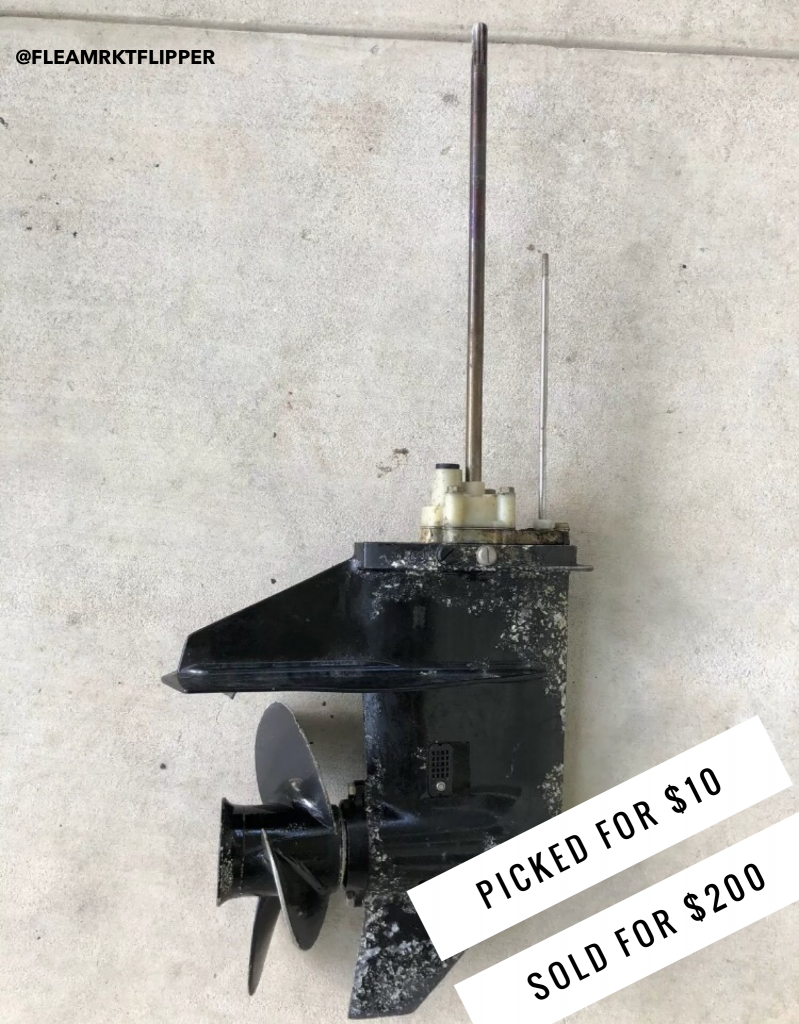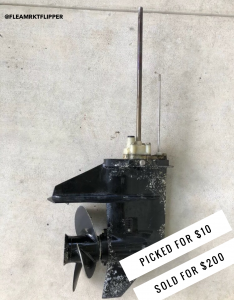 The next two items were both exercise equipment. (Exercise equipment has been HOT in February!)
A friend gave me this shoulder press – he needed it gone and said as long as I could get it that day I could have it. We sat on it for a little while because I didn't list it… oops. But once we listed it we sold it on Facebook Marketplace in about 2 months.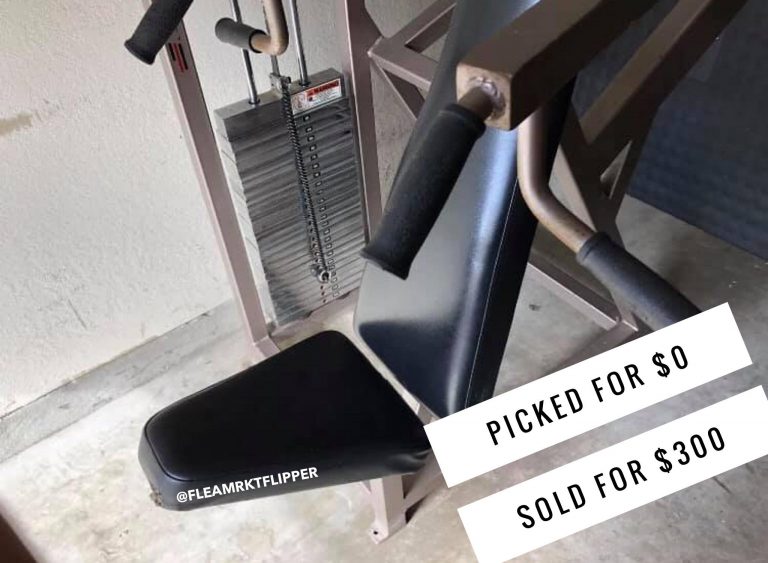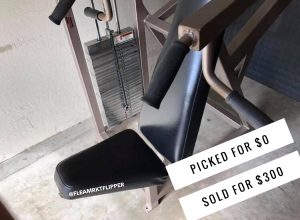 You may remember the lot of spin bikes we got as well.
We sold the last of them on Facebook Marketplace this week for $300! (Guess that means no more family spin classes…)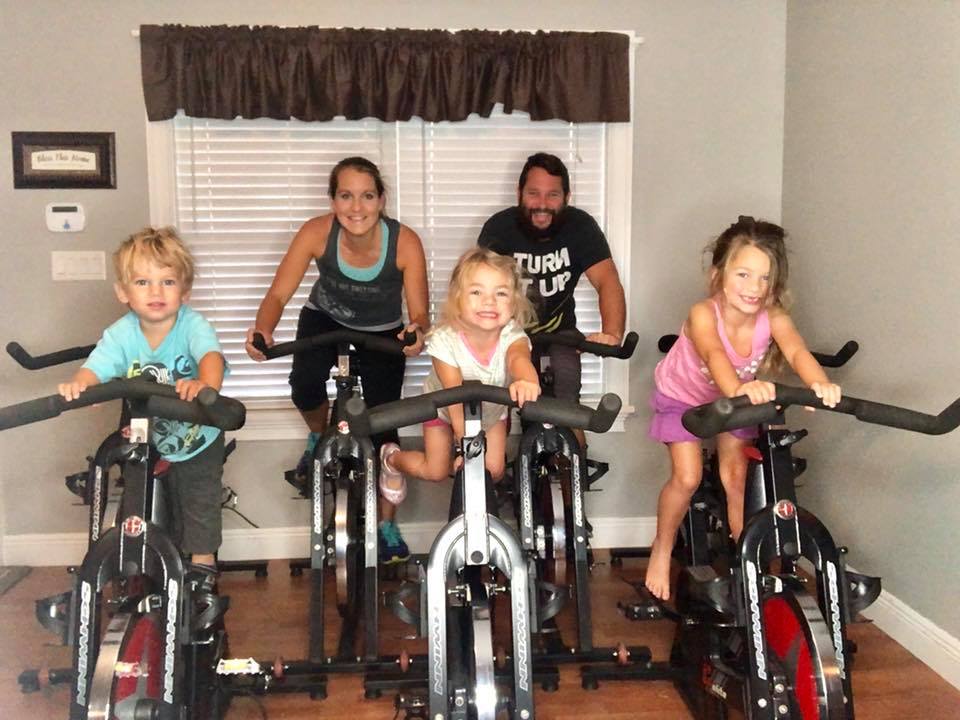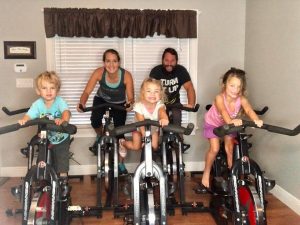 Another item we got for free sold this week as well. It was a commercial refrigerator for a restaurant. Someone gave it to us because they couldn't store it any longer and just needed it gone. (We get a couple good deals like this because we are willing to go pick them up and store them).
It sold to a local restaurant for $2,800!


The last item we sold was the largest one – a set of stage trusses! They sold for $6,400!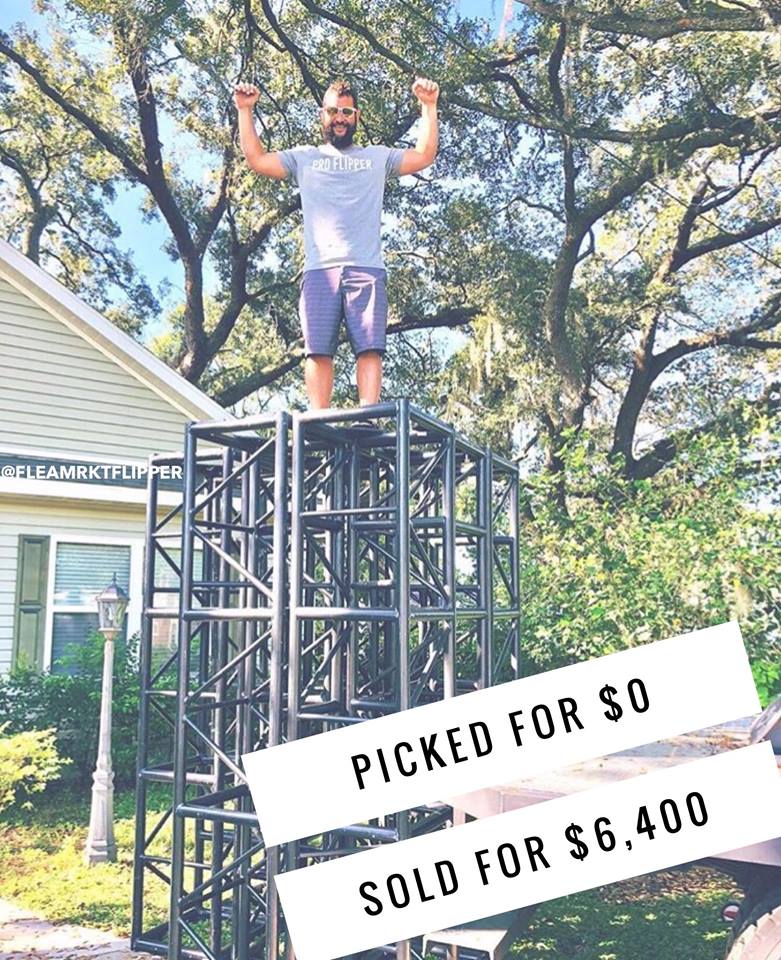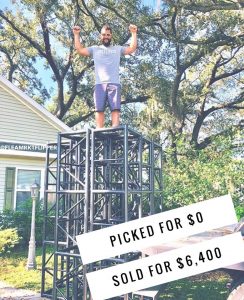 I actually sold these for a buddy. He had them, I sold them, and we split the profit. After his investment, and packaging and shipping, my profit was $2,250.
Breakdown of Profits
HillRom Vest – Sold for $1,600, Picked for $35, eBay & Paypal fees-$208, Shipping fees-$40, Profit-$1,317
Oxygen Machine – Sold for $600, Picked for $25, eBay & Paypal fees-$148, Shipping fees-$45, Profit-$452
Outboard Motor Part – Sold for $200, Picked for $10, eBay & Paypal fees-$26, Shipping fees-$25, Profit-$139
Shoulder Press – Sold for $300, Picked for $0, eBay & Paypal fees-$0, Shipping fees-$0, Profit-$300
Spin Bike – Sold for $300, Picked for $0, eBay & Paypal fees-$0, Shipping fees-$0, Profit-$300
Commercial Fridge – Sold for $2,800, Picked for $0, eBay & Paypal fees-$0, Shipping fees-$0, Profit-$2,800
Trusses – Sold for $6,400, Picked for $0, Partner- $2,750,  eBay & Paypal fees-$436, Shipping fees-$964, Profit-$2,250
So that was 7 transactions for $12,200 in sales and $7,558 Profit!
February has been an awesome some and we can't wait to see how it closes out.
If you have been thinking of getting into reselling as a side hustle, then be sure to check out these 5 mistakes resellers make that could be costing them money! (This will come to your inbox and will add you to our flea market flips and eBay tips update list.)
And if you are ready to jump in with both feet and make an income flipping flea market items (as well as thrift store, yard sale, OfferUp and Facebook Marketplace items), then check out if Flipper University may be a good fit for you!
We want to hear from YOU!
Have you thought of flipping flea market items or other used items online? Are you a current reseller? Comment below!
Related Posts
How We Made $84,985 In One Year Of Flipping Items (In Just 15-20 Hours Per Week
How This Mom Of SIX Made $3,187 On ONE Flip By Gaining Confidence In Shipping Large Items
How To Get Started Flipping Items On eBay
What We Flipped To Make $12,200 In One Week Flipping Flea Market Items
FOLLOW THE FLIPPING ADVENTURE: