If you're new to flipping, you might be wondering, who pays for shipping when you sell something on eBay? Does the buyer pay for shipping? Does the seller pay for shipping? How does the whole process work?
We will break down the topic and walk through the three options: calculated shipping, flat rate shipping, and free shipping.
Calculated Shipping On eBay
If you're just starting, we recommend starting with calculated shipping because that is where you will be less likely to make a mistake.
To use calculated shipping, you must take the item's measurements, packed in a box before listing the items. You need to know the weight of the package with all the shipping materials and the length, width, and height, which you will input during the listing process when selecting shipping.
eBay takes your zip code and the potential buyer's zip code and gives the potential buyer a shipping quote for shipping that from you to them. This is a foolproof way to ensure you're not making a mistake.
Another thing to note is when you're doing calculated shipping, you can add handling fees for expenses like buying a box or bubble wrap. Just be aware that sometimes buyers can be deterred if there are a bunch of handling fees.
If you've gone through the process of boxing up the item, you can have it ready to go; just make sure you mark the outside of the box or don't seal it, so you know what's inside and can double-check before shipping.
Pre-packaging an item is nice because once it sells, you just slap on a label and go.
One thing to note is don't round down on your numbers. Don't underestimate it. Always round up. If it's 12.5 inches, round up to 13. You don't want to get double charged for shipping if you miscalculate something.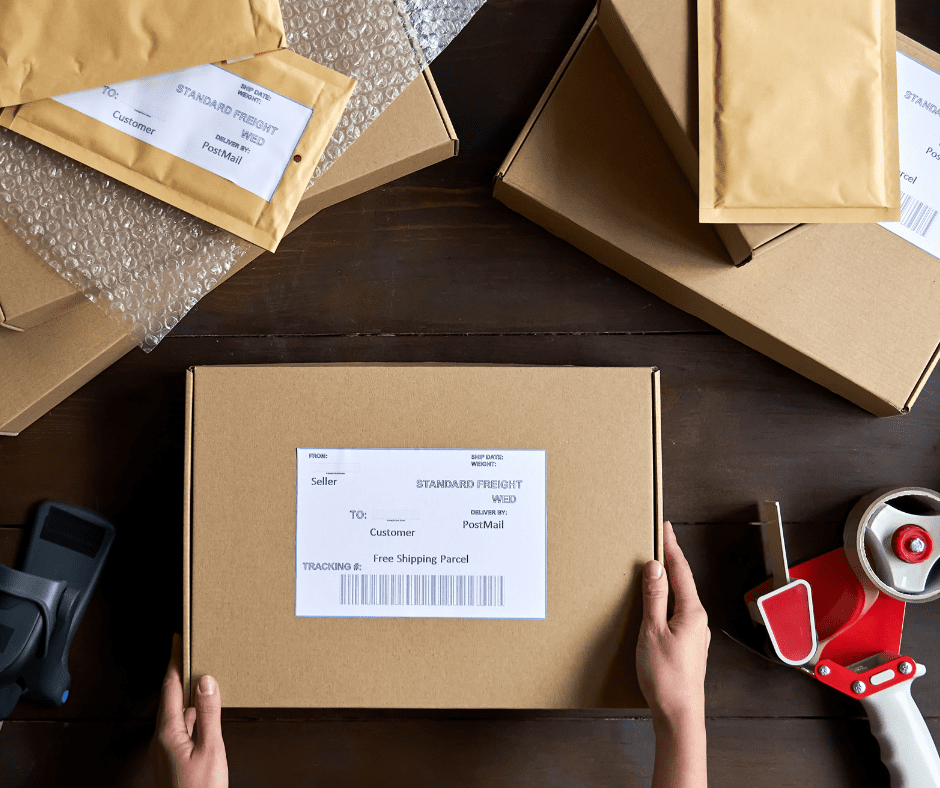 Flat Rate Shipping
Flat rate shipping is where you list the item on eBay, and you put in a flat rate for shipping. For example, if you're selling something small and you know you can get it across the country for $20, you might put $20 as the flat rate shipping.
With larger items, knowing what shipping might cost you is important so you don't underestimate it.
You are taking that risk on whoever buys it wherever they are in the country. You have to know how to ship and have a good idea of what it costs to ship the size of the box or freight you're shipping.
Some people ask us what we do if shipping ends up costing less. The person knows what the price is for shipping, so we don't refund the buyer if it is cheaper. Sometimes we're a little over on shipping, and sometimes under. It ends up balancing out in our business.
Free Shipping
We do a lot of free shipping on our items and go back and forth between flat rate and free shipping. We don't do calculated anymore.
With free shipping, we build the shipping price into the item price to show the shipping as free. The buyer should pay for your shipping, whether that's a flat rate or factored into the cost of an item with free shipping.
You do not want to lose money on shipping, so the buyer should pay for shipping no matter your chosen method.
We go back and forth between a flat rate or free shipping. Some buyers want a cheaper price on the item they're buying, and they don't mind that price getting an added cost afterward for shipping. And some buyers, they want to see that free shipping.
For example, sometimes we'll have an item priced at $5,000 with free shipping and sometimes lower it to $4,500 with $499 shipping.
Handling Mistakes With Shipping Calculations
If you're first starting, you might be overwhelmed and might make a mistake. If you say shipping will cost $20 and it ends up being $100, know that you are not required to ship that item. You can refund the buyer, explain what happened, and say it won't be worth shipping. Be apologetic, but you're not obligated to lose money on an item.
Don't get in the habit of canceling items all the time due to shipping. Once and a while, it's okay, though. Mistakes are part of the business, and they will help you learn.
Show Notes
Free Flipping Course: http://freeflippingcourse.com/
Follow us on Instagram: https://www.instagram.com/fleamrktflipper/
Check out our FREE Workshop: https://courses.fleamarketflipper.com/flipper-university-workshop-webinar
You can find us at: https://fleamarketflipper.com/
FURTHER RESOURCES
Let Us Find High Profit Items FOR You!
FREE Workshop How To Turn Your Passion of Flipping Items Into A Profitable Reselling Business
Download These 47 Household Items To Resell TODAY!
RELATED EPISODES
How And Why We've Only Had 1 Return In 2 Years
Our Recent $6K Flip And What You Need To Know About High Profit eBay Flips
Setting Your Listing Apart From Others To Make More Sales On eBay