Reseller Income: What We Flipped To Make $11,280 in One Month Of Flipping Flea Market Items
It is a good time to be a reseller!
Our flipping sales totaled $11,280! This was using mostly eBay and a little bit of Facebook Marketplace. EBay is consistently where we make our largest number of sales (about 85%),  and Facebook Marketplace is usually second (about 10%). We use Craigslist, Offer Up, and LetGo as well, but we end up buying more on them instead of selling.
Flea Market Flipper Reseller Income Reports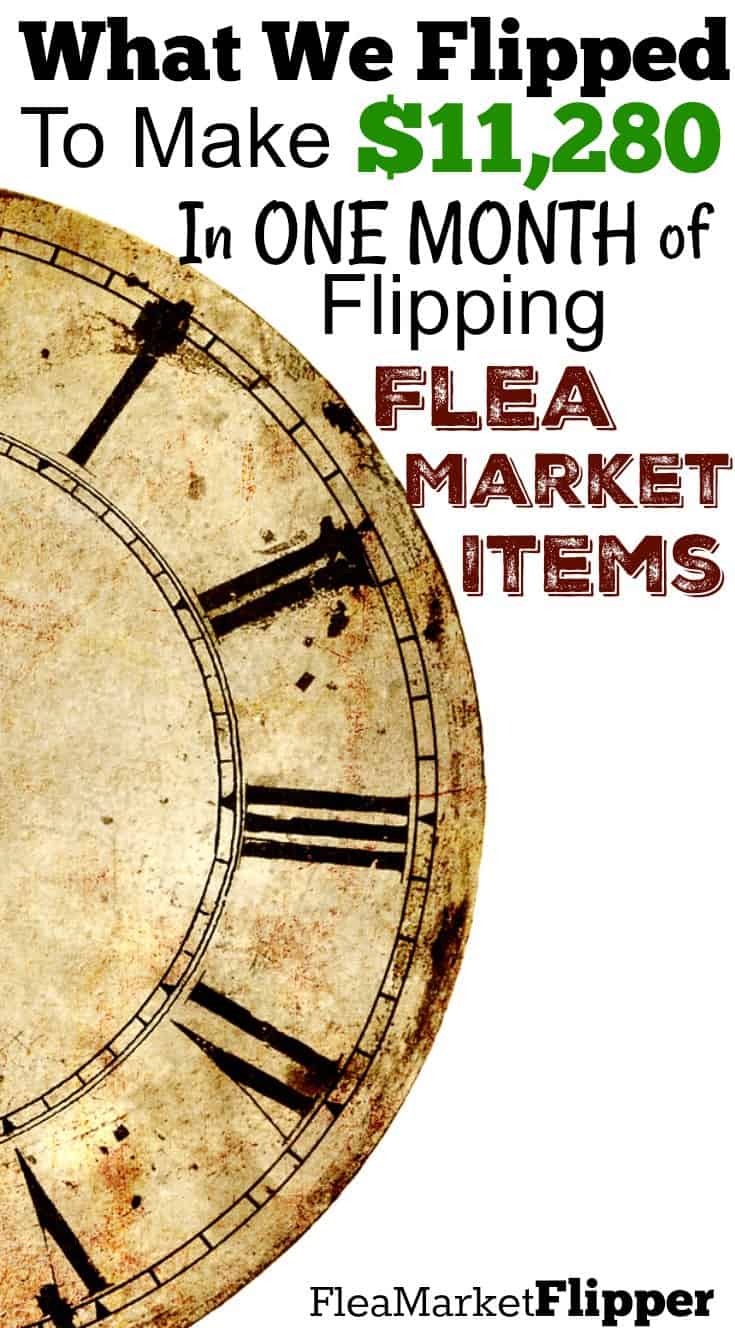 We decided to start posting our income reports here on Flea Market Flipper for several reasons when we started the blog.
The first one is to keep ourselves accountable. I have been flipping items for profit and selling on eBay for over 20 years now, and I never used to keep good track of what I made. It was always just a hobby – but one that came in handy when finances were tight.
Another reason is to provide encouragement to people who want to get started flipping items for profit as a reseller either part-time or full-time.
It is pretty popular in the blogging world for bloggers to post their income reports, and we always found it encouraging to read those. They help us keep going when sometimes we would rather be doing other things, so we are hoping to help the resellers out there keep going!
Lastly, but most importantly is to provide value and information to our readers. We have students and readers who are doing flea market flipping (or thrift store and yard sale flipping) as a side hustle or main gig and we want to provide information to help them become successful.
Flea Market Flips For The Month
Now let's dive into the flips from October 2018!
These sales were a total of 13 transactions.
We'll start with the largest sale of the month: A commercial leaf vacuum.
Melissa thinks it looks like a dinosaur. I could see that.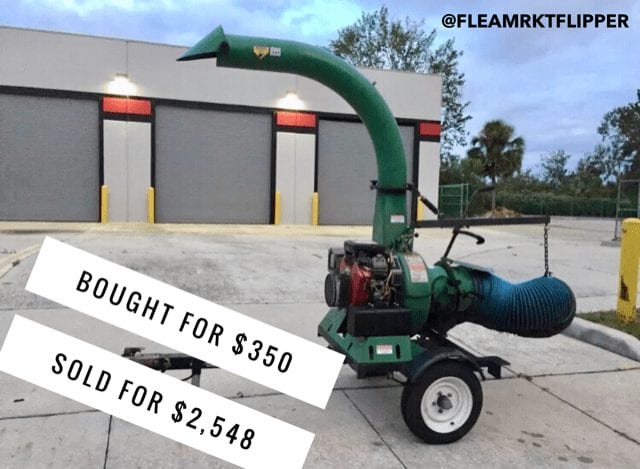 We bought this for $350 and sold it for $2,548 on eBay.
Next up is the cooktop we bought from the 127 Yard Sale! We picked it up for $40 and sold it on eBay for $350.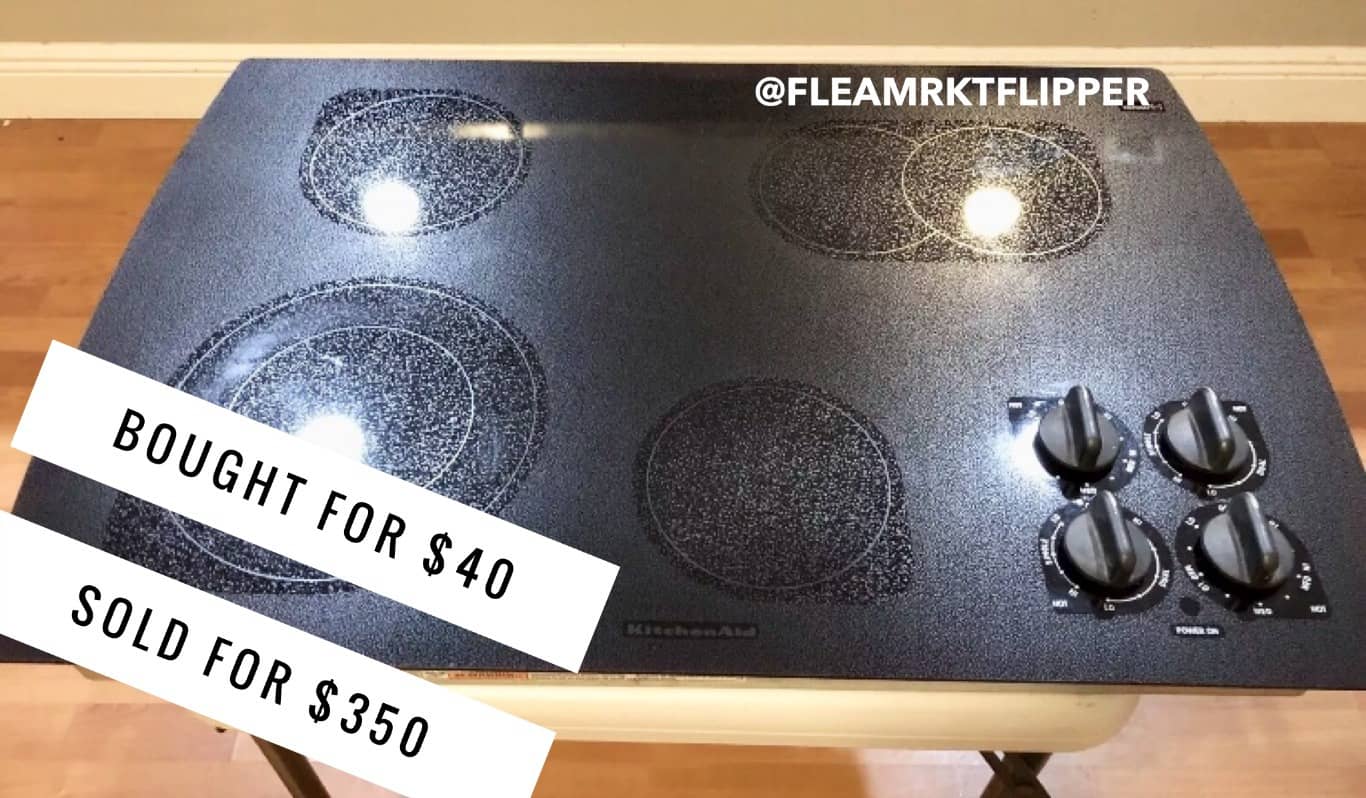 The next freight shipment was two walk in cooler condensers. They were purchased by the same person and shipped on a pallet.
We bought them for $100 each and sold them both together for $1,499. The best part is that they were already palleted when I bought them so I didn't have to even to put them on a pallet myself!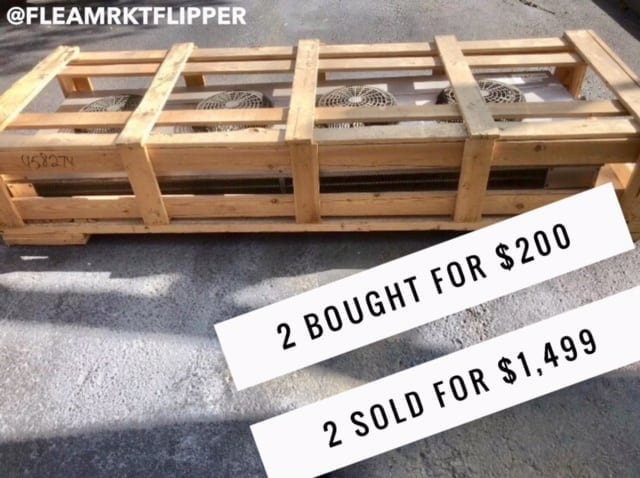 Remember that video we did where I got in the smelly army sleeping bag? Well we sold that joker last month! I bought that thing a while back for $5 and we sold it on eBay for $112.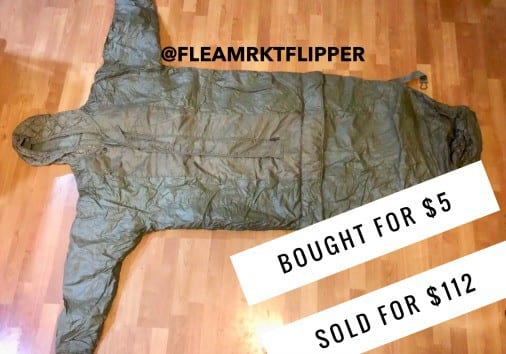 Then there was the hiking backpack. I picked this up for $10 for my niece who was about to travel on a missions trip for a few months in Costa Rica. She ended up using a different one, so I listed it on eBay and sold it for $90.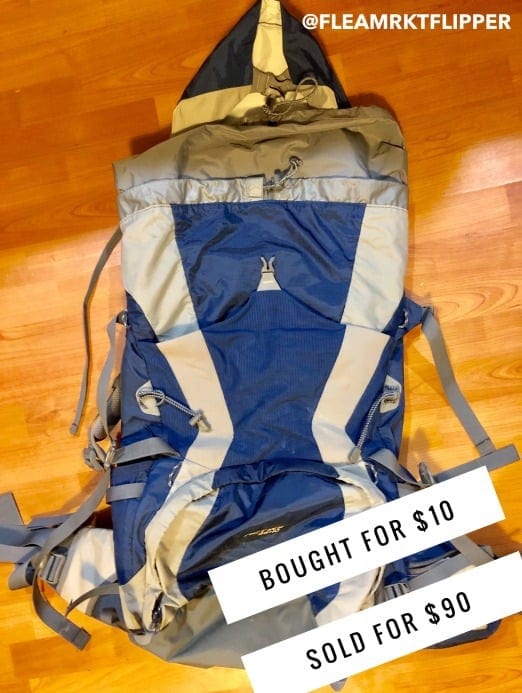 One fun flip last month was this Circle K sign. I can see how people can get into signs – they are pretty cool! I bought this one for $70 (and paid a little too much for it), and sold it on eBay for $250.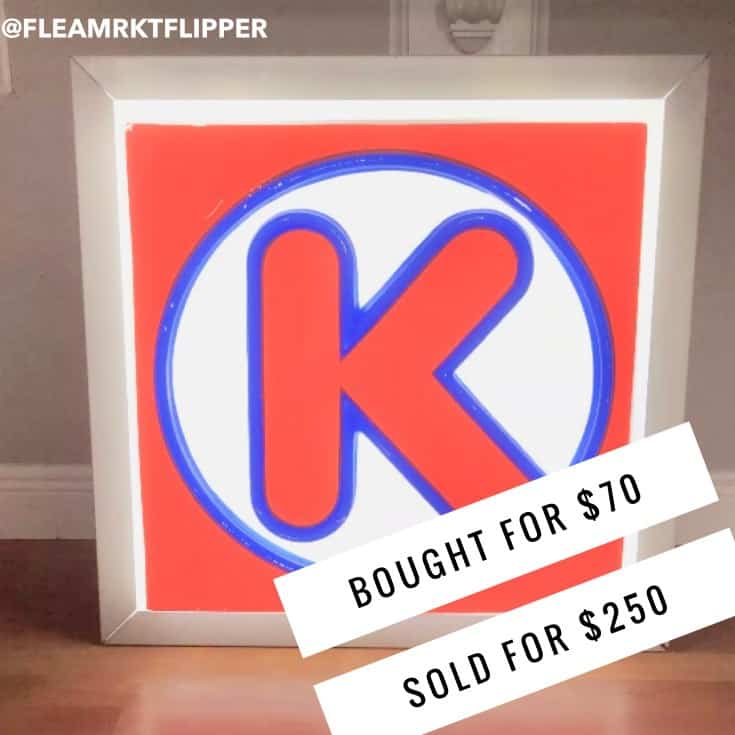 This subwoofer was a great flip! It obviously wasn't our highest profit, but I love that we found it in the trash! Picked it up on the side of the road while we were walking with the kids, and sold it on eBay for $80! And I sold it as-is just for parts. That was a fun one as a reseller.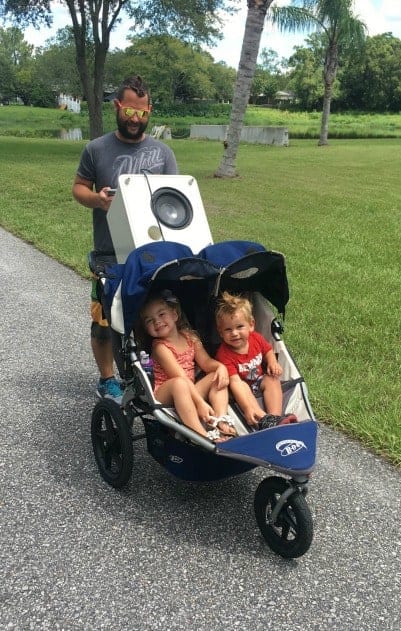 Next up we had this power board. I still have no idea what it really is. I bought it with a group of electronics, so ended up paying about $10 for it. Sold it on eBay for $374.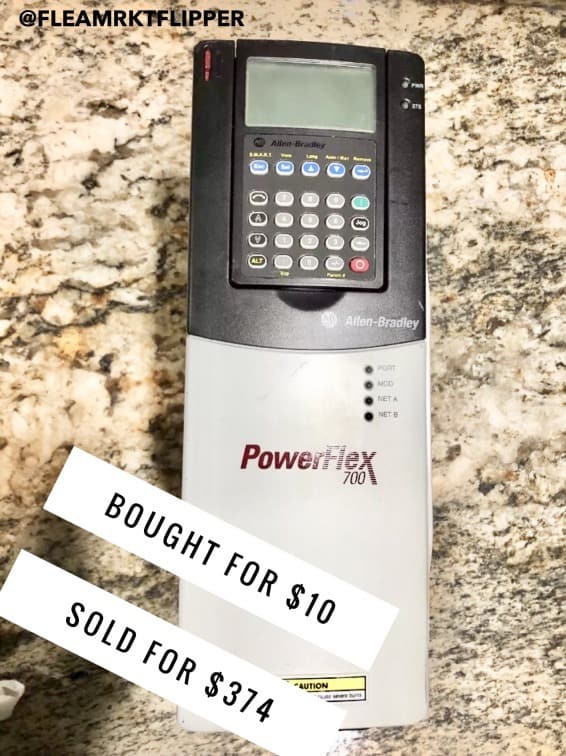 This dehumidifier has a fun story too! I was just talking with my flea market vendor buddy one day at his house. I saw this siting there and asked him how much for it, and he gave it to me!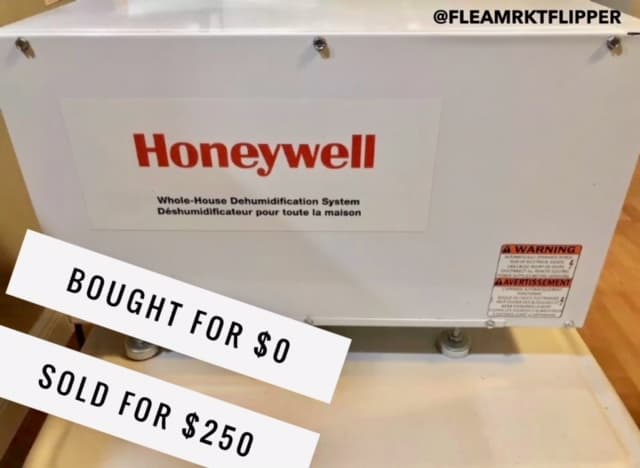 I know we have talked a lot about creating relationships before, and it really is a huge help in this business. You don't have to have good relationships with people to make it work, it just makes it easier and more fun! I never made it a priority until the last few years, and now I am friends with a few auction house managers, thrift store managers, flea market vendors, and scrap yard owners, and it makes reselling more profitable and enjoyable when you get to work with friends. 🙂
One of the largest flips in size and in profit were these stage trusses! We sold several of them to different people. One transaction was $950, and the other was $2,000!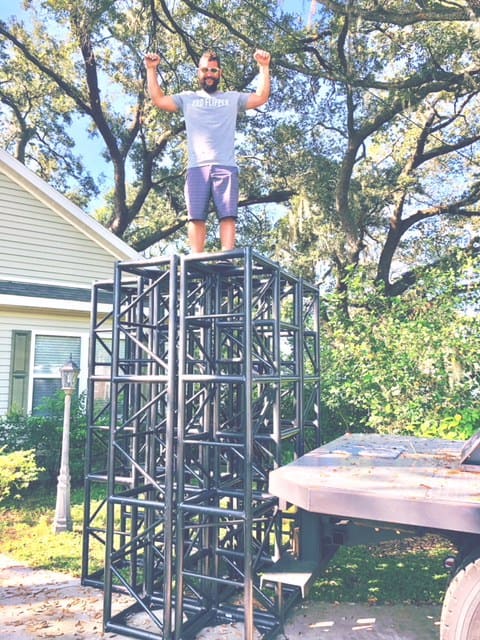 I didn't end up paying anything for these. I actually sold these for a friend. So after shipping and eBay costs we split the profits.
Selling stuff for other people can be a great way to increase your sales and profits without having to spend anything on inventory! It has to be an item worth your time though. If someone asks you to sell their $20 kitchen gadget and split the profit, your $8 income is probably not worth the time spent listing and shipping it. Your time is one of the most valuable things you have! So make sure you choose to get paid what your time is worth.
The next flip was high in profit but small in size. I bought these electronic boards in that group of electronics and spent about $8 each. So for these 5 boards we spent $40. They sold on eBay for $2,500!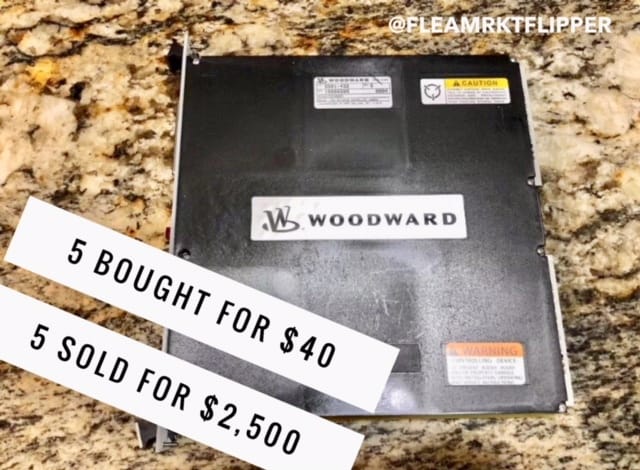 The last flip of the month was this commercial wheel barrow. It's the kind that is used on big farms for cleaning stalls or whatnot.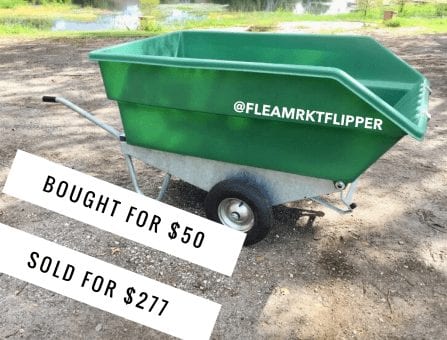 The person who bought this was actually international. It ended up going to the global shipping hub – where it stayed because they wouldn't ship it overseas for the price we paid. So eBay ended up refunding the buyer his money, let me keep my $277, and kept the item. So it's probably sitting somewhere in a warehouse until it gets auctioned off again.
I don't know why they let some larger items be eligible for the Global Shipping Program if they are not going to send them overseas.
Nobody was out any money, but I'm sure the buyer would have preferred to get the wheelbarrow that he wanted. Oh well.
Related Posts:
11 Tips For A Successful 127 Yard Sale
What We Flipped to Make $12,220 in One Month of Flipping Items 
Breakdown of Sales, Costs & Profits
Here is the breakdown of sales and all associated fees for the items. People ask us all the time if the eBay fees are worth it as a reseller. And while nobody wants to pay fees, they are still worth it to use the platform and reach so many people!
Leaf Vacuum — Sold for: $2,548, Bought for: $350, eBay & Paypal fees: $381 Shipping: $148, Profit: $1,669
Cooktop — Sold for $350, Bought for: $40, Shipping, eBay & Paypal fees: $76, Profit: $234
Walk in Cooler Condensers — Sold for $1,499, Bought for $200, Shipping, eBay & PayPal fees: $225, Profit: $1,074
Army Sleeping Bag— Sold for $112, Bought for $5, Shipping, eBay & Paypal fees: $35, Profit: $72
Hiking Backpack — Sold for $90, Bought for $10, Shipping, eBay & PayPal fees: $30, Profit: $50
Circle K Sign— Sold for $250, Bought for $70, Shipping, eBay & Paypal fees: $106, Profit: $74
Subwoofer — Sold for $80, Bought for $0, Shipping, eBay & Paypal fees: $33, Profit $47
Power Board — Sold for $374, Bought for $10, Shipping, eBay & Paypal fees: $75, Profit: $289
Dehumidifier — Sold for $250, Bought for $0, Shipping, eBay & Paypal fees: $74, Profit: $176
Stage Trusses — Sold for $950, Bought for $0, eBay & Paypal fees: $107, Shipping: $250 Partner: $350 Profit: $243
Stage Trusses — Sold for $2,000, Bought for $0, eBay & Paypal fees: $0 Shipping $900 Partner: $500, Profit: $600
Electronic boards — Sold for $2,500, Bought for $40, eBay & Paypal fees: $0 Shipping: $25, Profit: $2,435
Wheelbarrow — Sold for $277, Bought for $50, Shipping, eBay & Paypal fees: $68, Profit: $159
Total Sales:$11,280, Inventory costs: $775 Shipping, eBay & Paypal Fees: $2,533 Partner: $850, Total Net Profit $7,122
And that breaks down the whole month!
If you are ready to start flipping items for profit, but don't know where to start, check out our 14-Day Flipping Challenge! By next week we want to help you make your first $100 as a reseller! 🙂
We want to hear from you!
Are you already a reseller? If so, what was your favorite flip from last month? Comment below!
Reseller Income: What We Flipped To Make $11,280 in One Month Of Flipping Flea Market Items