Spray Painted Fabric Chair Rescued From The Trash
Before I jump into what I did to the chair, I have to mention that this chair was found in the trash. Just another item that was rescued from ending up in the landfill. All of us pickers, flippers and resellers are doing a great service to our planet. But that is a post for another day.
This post may contain affiliate links, please see our full affiliate disclosure for more information. 
We saw this chair as we were on our evening walk with the kids. Great things get set out by the trash the night before trash day!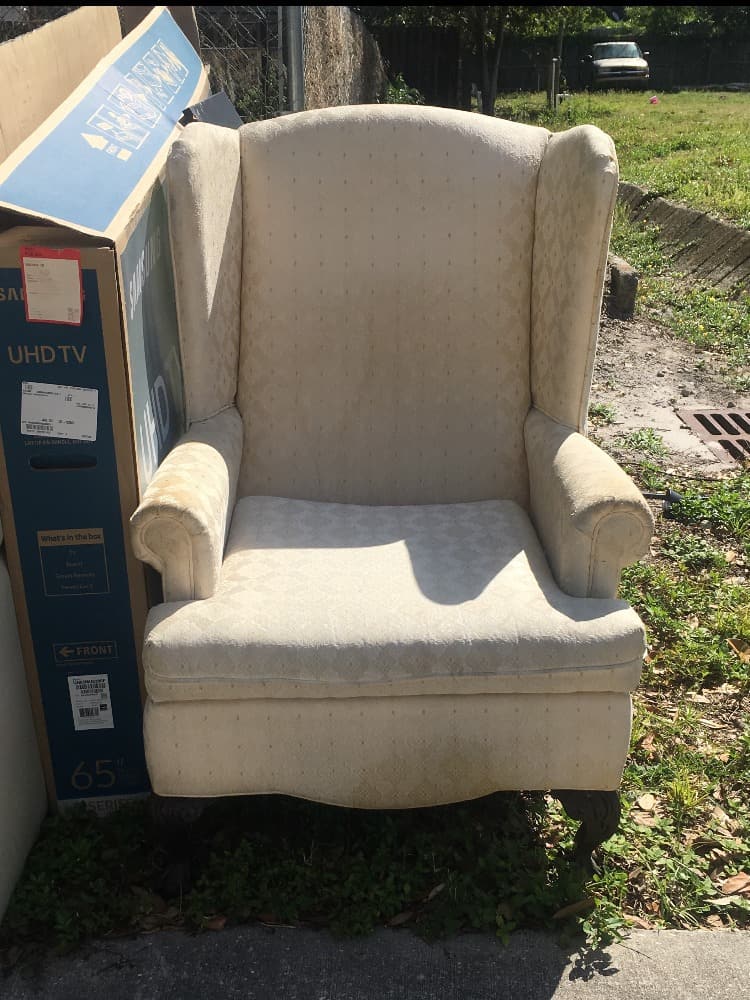 Quick Tip: Take a look what day is trash day for your area and make it a point to go for a walk or drive through that area the night before. I bet in the first few weeks you will find some treasures!
So back to the spray painted fabric chair.
I've been wanting to do one of these chairs for a little while. I've seen them on Pinterest and Facebook and they intrigued me. I saw a few that didn't turn out so hot so I had no idea what this one would end up like. But since it was free it was a great project to try.
I started out by cleaning the chair with a stain remover. I used shout and scrubbed out what I could. I also used Lysol since it came from the trash. 😉
Called in for a little help on this one.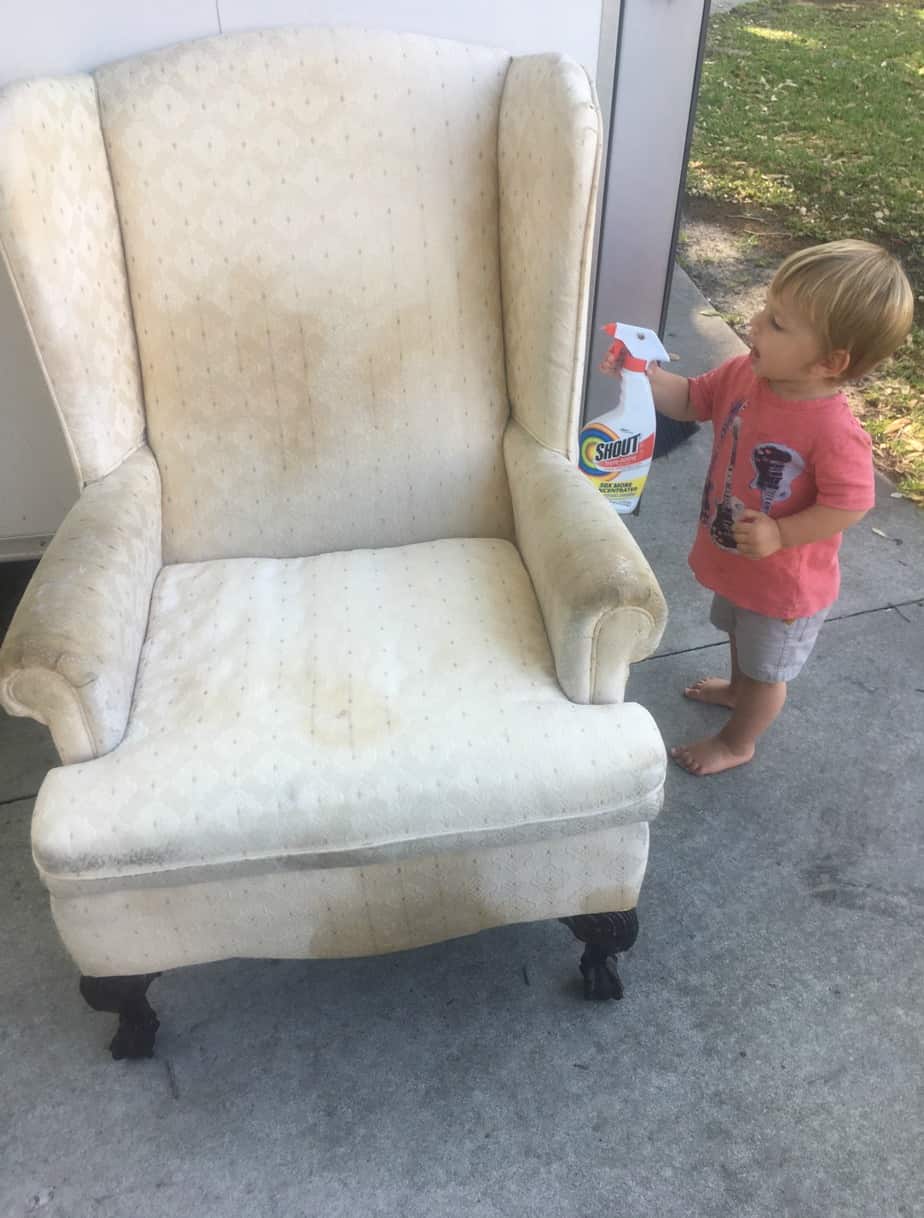 There may have been a better stain remover I could have used, because you can tell in the side by side picture that I didn't quite get the stain on the front out.
After the chair was cleaned (and disinfected), I let it dry out. At first I wasn't sure the best way to tackle this project – so I took it to Facebook!
Good ol' Facebook with all the people with all the answers. 🙂
One girl commented to use chalk paint diluted in a spray bottle and add fabric softener to help keep the chair soft. I thought that was a great idea! So I mixed them.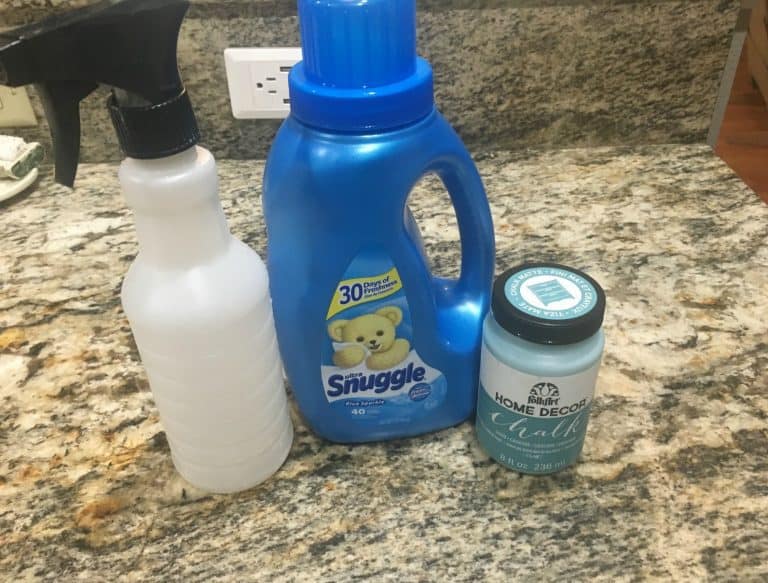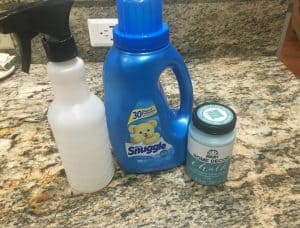 The chalk paint I chose was Folk Art Home Decor Chalk Paint in Cascade color. I have a thing for teal colors and it looked like it could be fun.
I probably should have measured, but I just eye-balled it. I ended up doing approximately 2/3 water to 1/3 paint with a Tablespoon or so of fabric softer thrown in the mix. If I made the mixture too thick it wouldn't spray through the bottle, so I would dilute it more until it did.
I pulled the cushion off of the chair and just got sprayin'. Any place that had cream color showing I painted teal.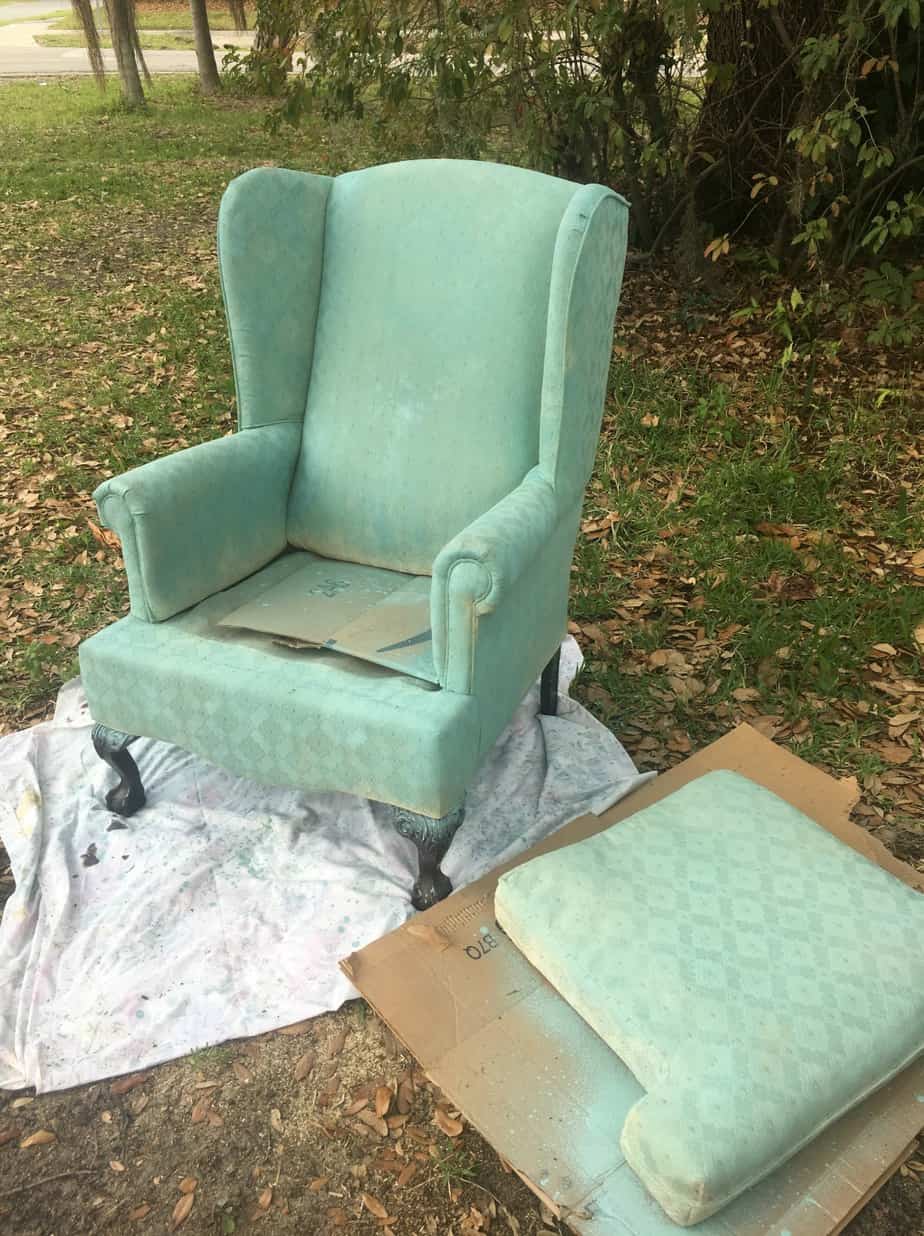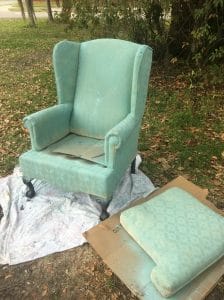 Only when I was finished with the first coat it didn't really look teal – more like sea-foam green.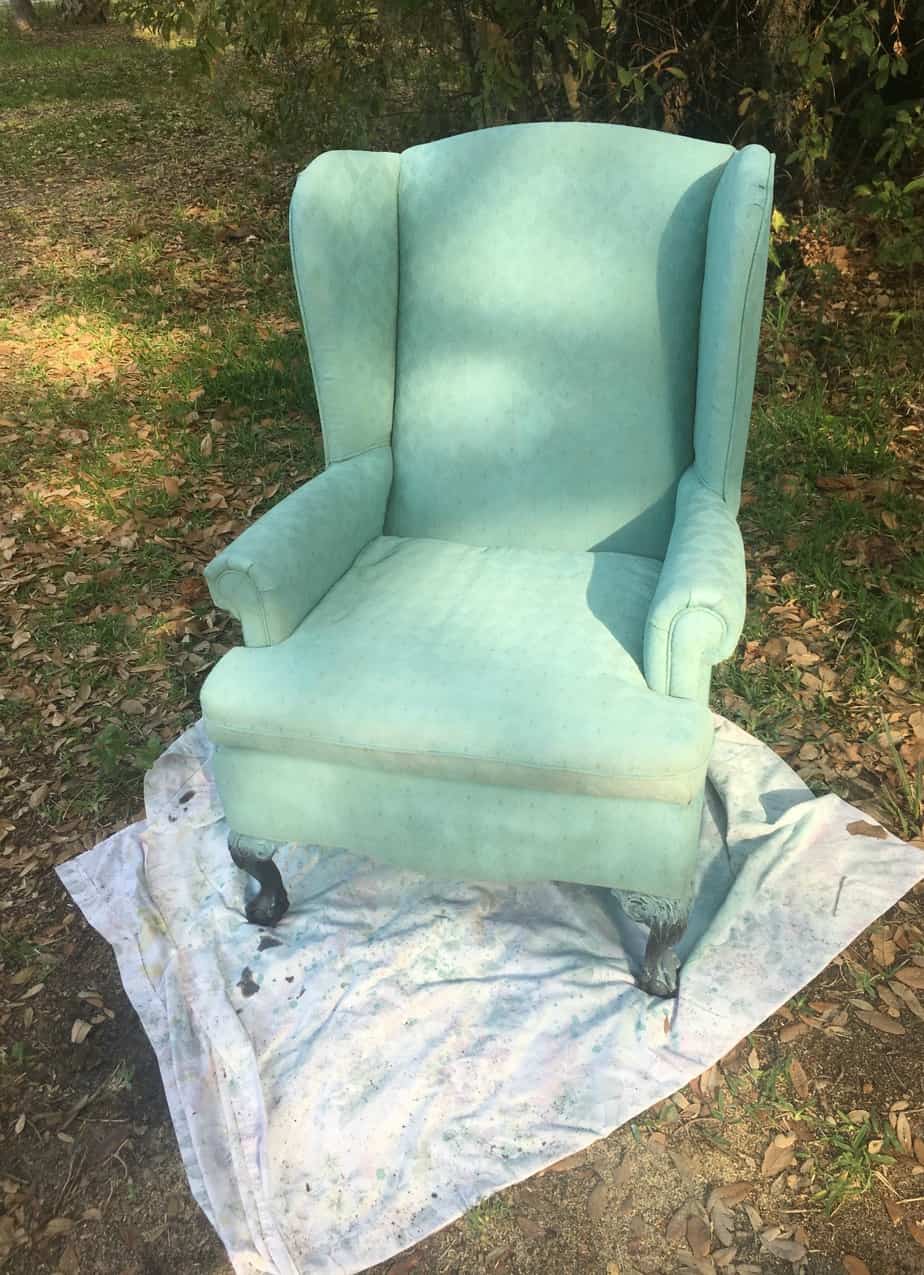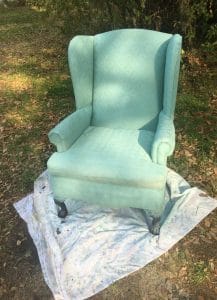 Not exactly the color I was going for, but I was hoping it would darken with another coat (or 3).
And it did!
I ended up doing 3 full coats and a few touch ups.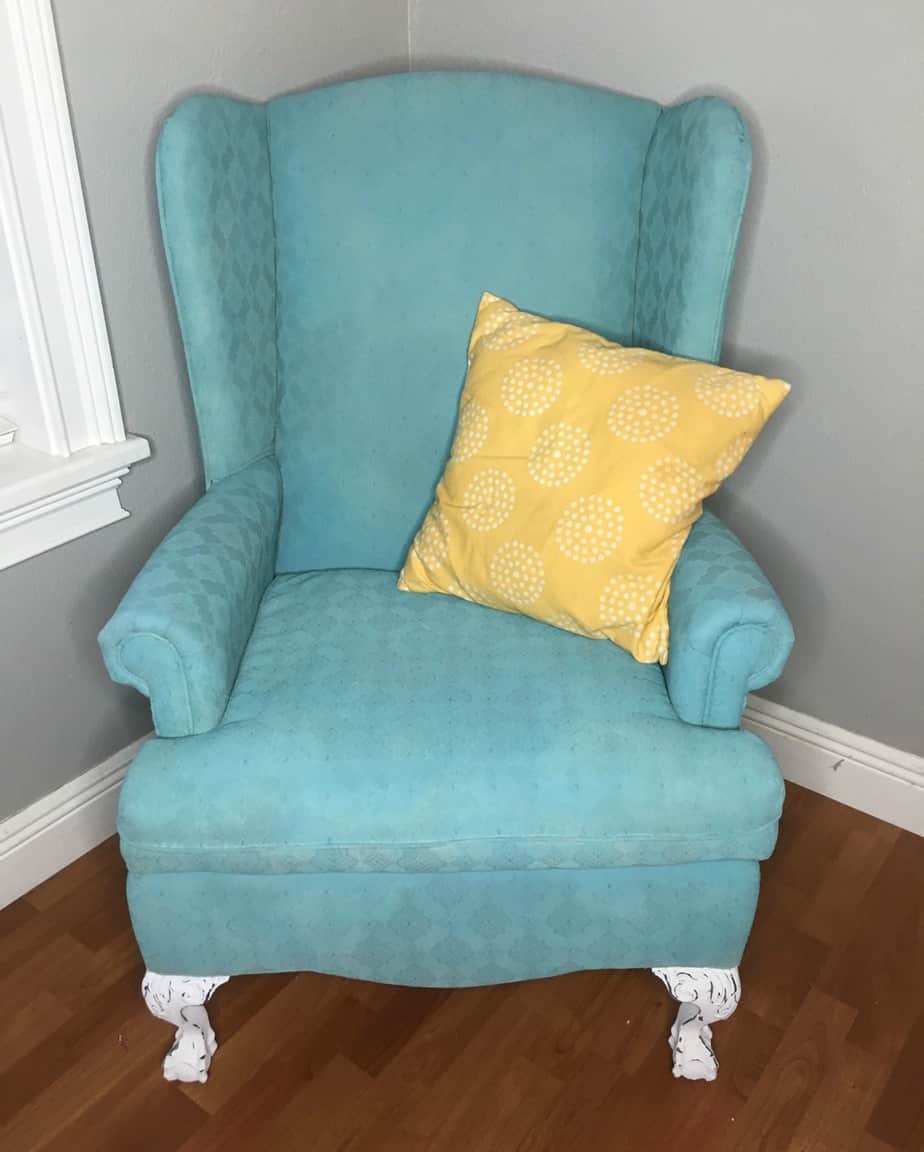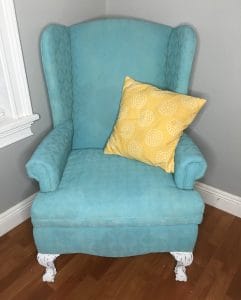 Looking at the picture, I can still see a little bit of splotchiness, but in person you can't tell as much.
Several people asked about what the chair felt like and asked if it was stiff. And it was actually a lot better then I thought it would be. Yes there was a little stiffness to it, but nothing really noticeable or uncomfortable.
One person on Facebook suggested that I seal it with wax and sand it it. The whole idea made me nervous. (You can sand fabric??).  I didn't know how the sealing would work either. It made sense to seal it to help with wear, but I didn't know if the wax would make it more stiff.
I ended up adding some wax to it, and it did make it a bit stiffer than it was before. There are many kinds of wax out there though and the one I used, may not have been so great for this project. I used Valspar sealing wax and it probably wasn't the best choice. It seemed more liquid-y than some of the other waxes.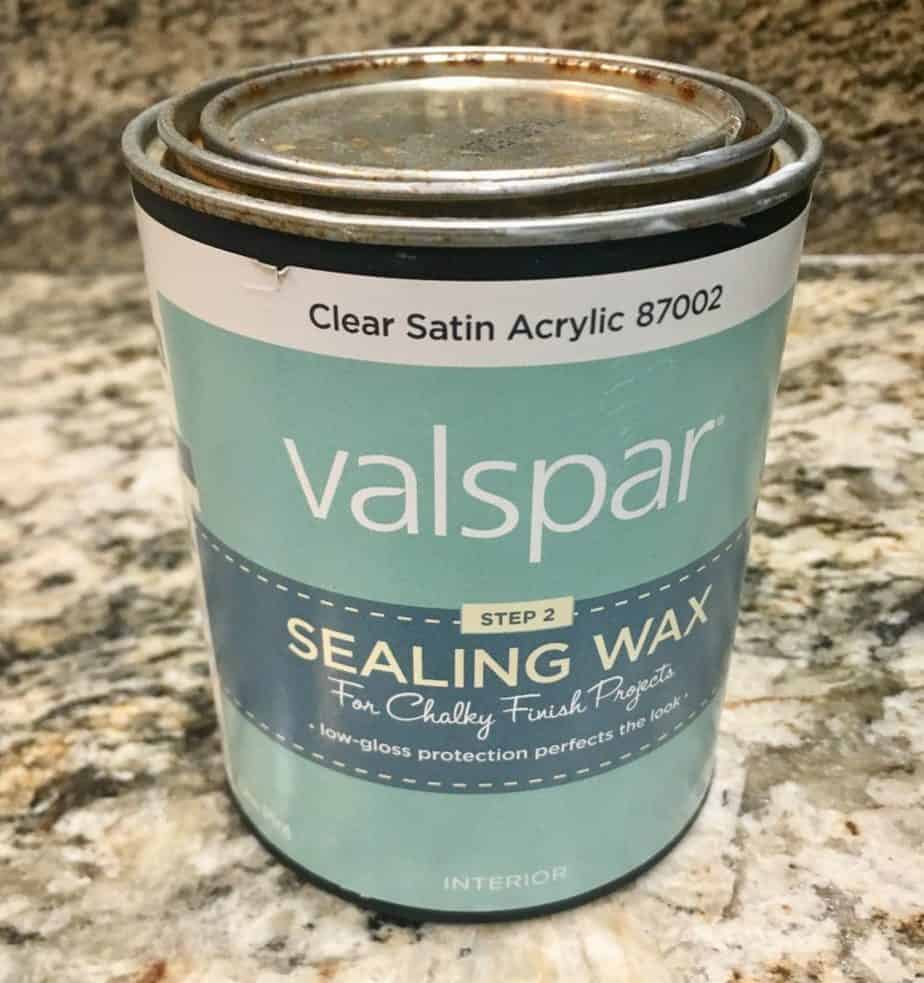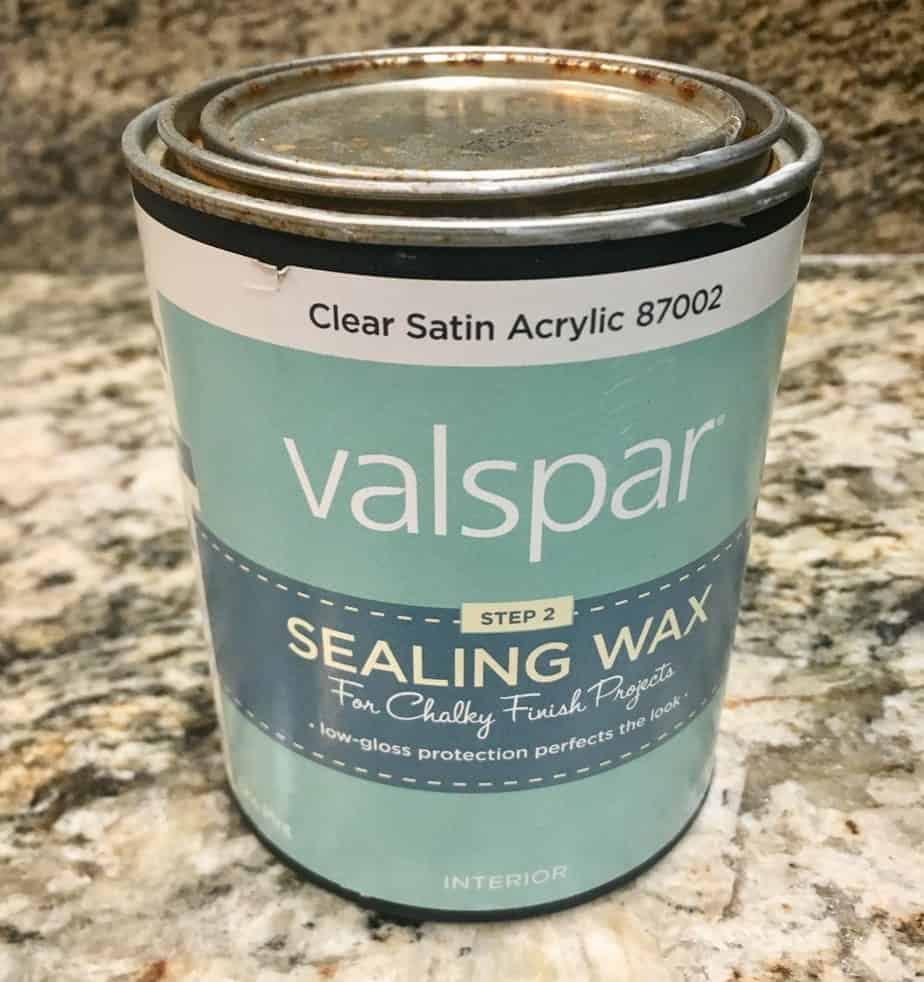 As far as the sanding goes, I didn't end up trying it. I'm the first to admit many people know a lot more than me when it comes to furniture, but I just couldn't bring myself to do it. You may be shaking your head at me right now thinking I should have sanded it. HA. But I was nervous it was going to tear apart the fabric.
I took this project on with the intention to sell it, but after doing it it really grew on me! I wanted to keep it, but wasn't exactly sure where I would put it.
Then right around the same time we put our little house up for rent on AirBnB and it was a perfect fit! Just look at that little accent chair in our cozy little house.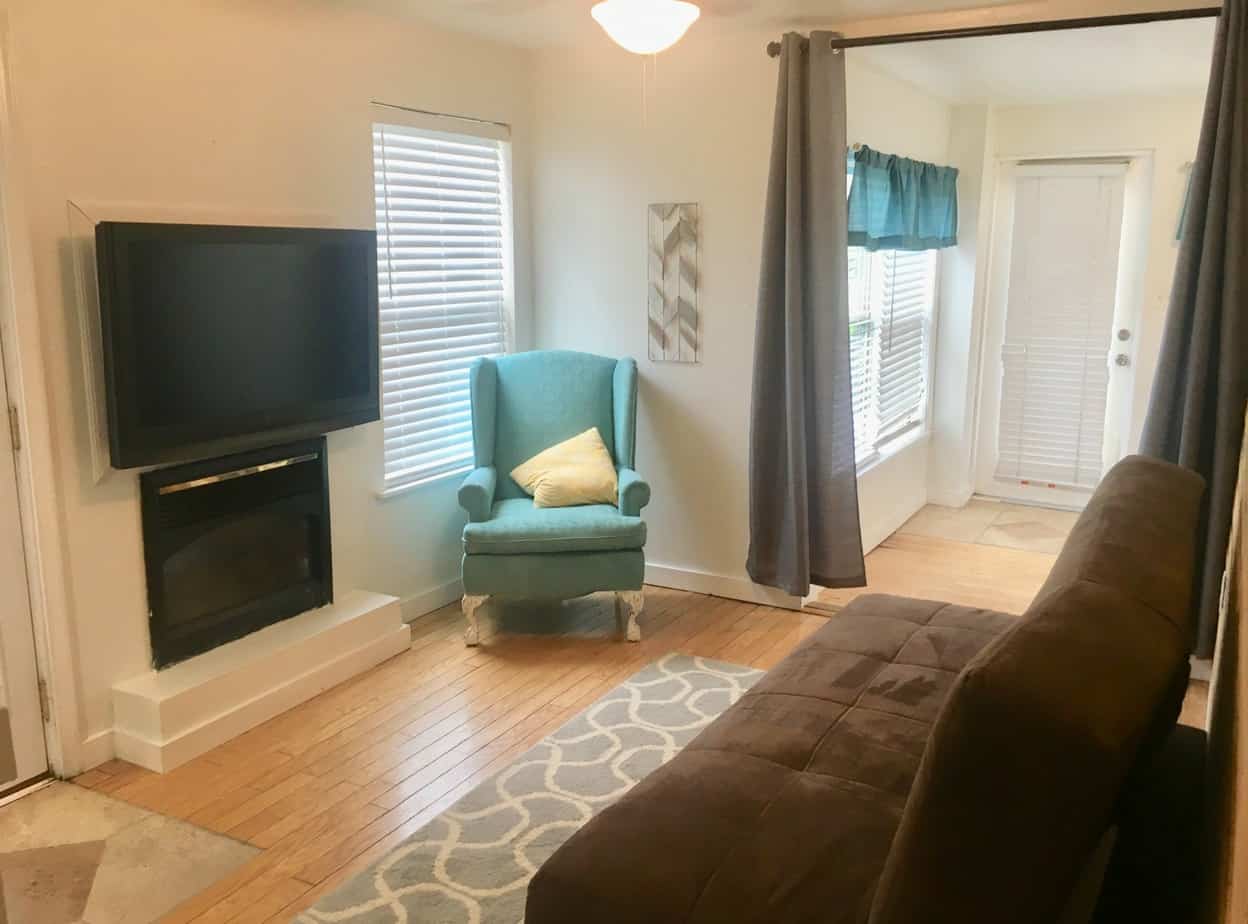 Another question I got asked several times was it's durability. I couldn't really tell how it would stand up to wear and tear just by look and feel, but now that it's in our rental property I'll be able to see how well it holds up. So far so good after 5 months of renting. And this whole project only cost me $8!
Have you ever done a spray painted fabric chair? How did it turn out? Comment below!
Are you a furniture flipper looking to take your business to the next level and increase your profits? Check out our Furniture Flip & Ship Course to help get you there!
And if you are new around here and want to get into flipping items for profit- check out these 5 Flipping Mistakes That Will Eat Up Your Profit. (This will also add you to our flea market flips and eBay tips updates. You can unsubscribe any time).
Related Posts:
Whitewashed Weathered Wood Kids' Art Station
Gorgeous Hall Table Redo For Less Than $10
Spray Painted Fabric Chair Rescued From The Trash