If you want to grow your reselling business in 2023, try Whatnot, a new app that will put you live online in front of potential buyers.
Whatnot is a new reselling platform that started in 2019 by focusing on collectible toys but has expanded to include trading cards, vintage clothing, jewelry, watches, bags, video games, antiques, and more. Unlike traditional reselling platforms, Whatnot is a live social selling platform. Users can bid on items in real-time to purchase from sellers. There are over 50 categories to sell in, and if there isn't one that fits specific things you want to sell, you can use the "other" category for marketing your shows.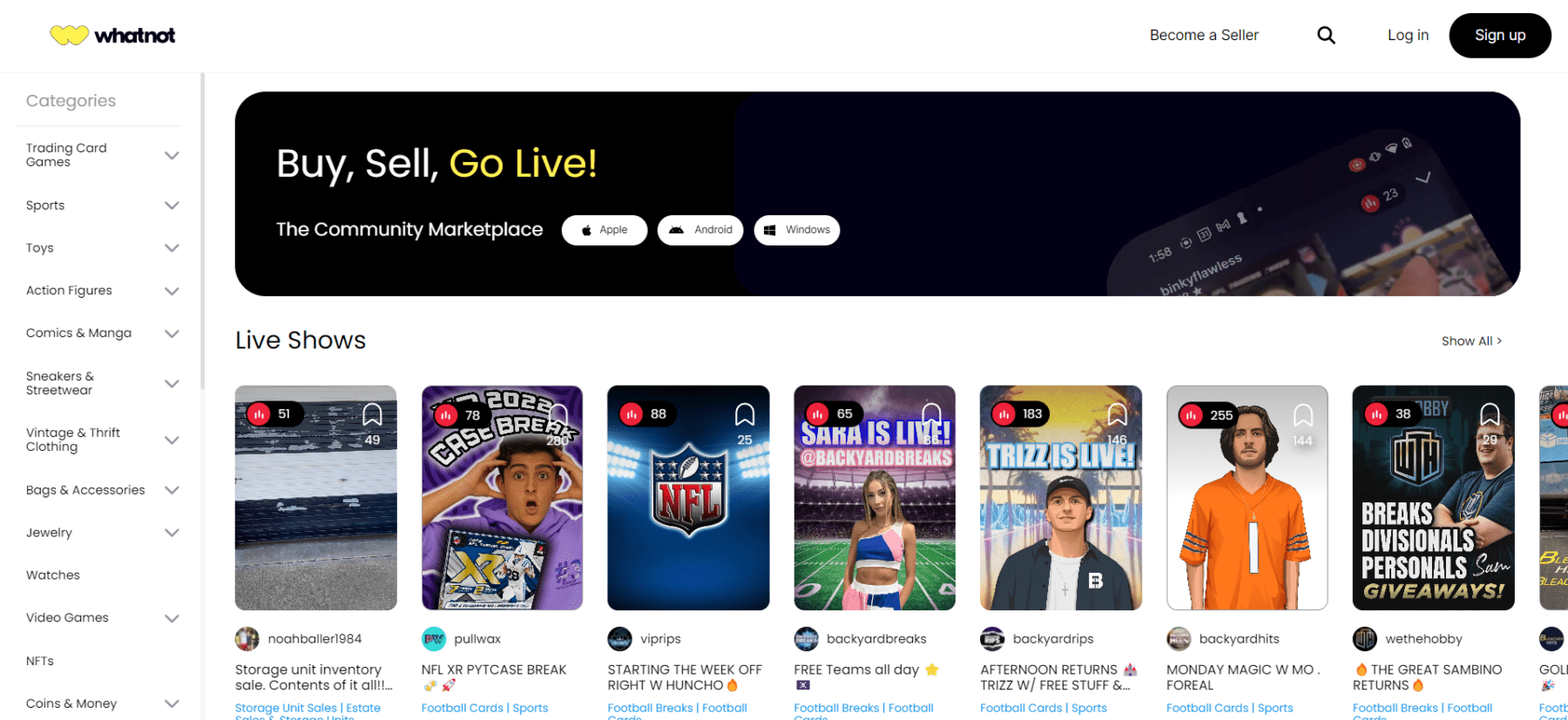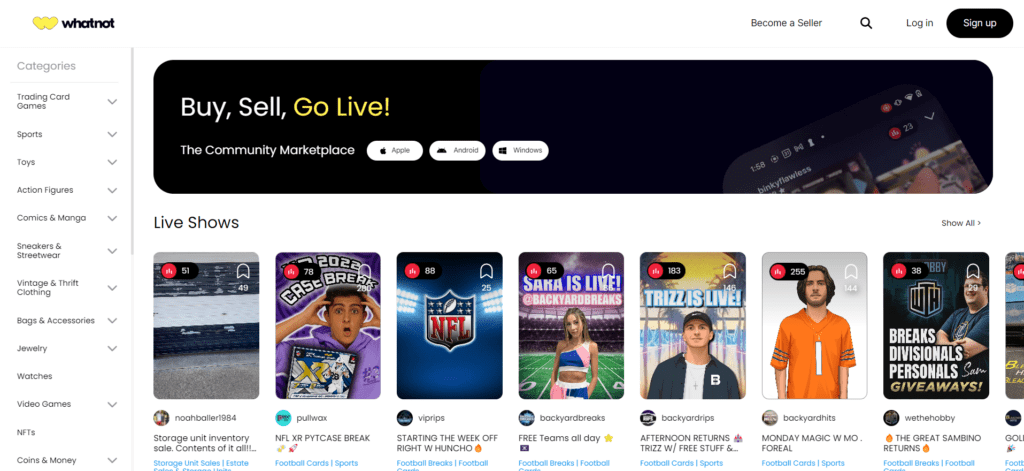 How Whatnot Works
Sellers show their items individually and talk about them while showing them. Buyers can click a button to bid. Once bids are placed, they are binding, so if a seller has a high bid, they are immediately charged.
Browsing Whatnot
When you sign up, search sales by category or follow sellers and categories to find items of interest. The main page shows you live sales happening now and upcoming ones. Once you find a seller you like, you can bookmark their future shows, and you'll get a notification on your phone when their live show is about to start.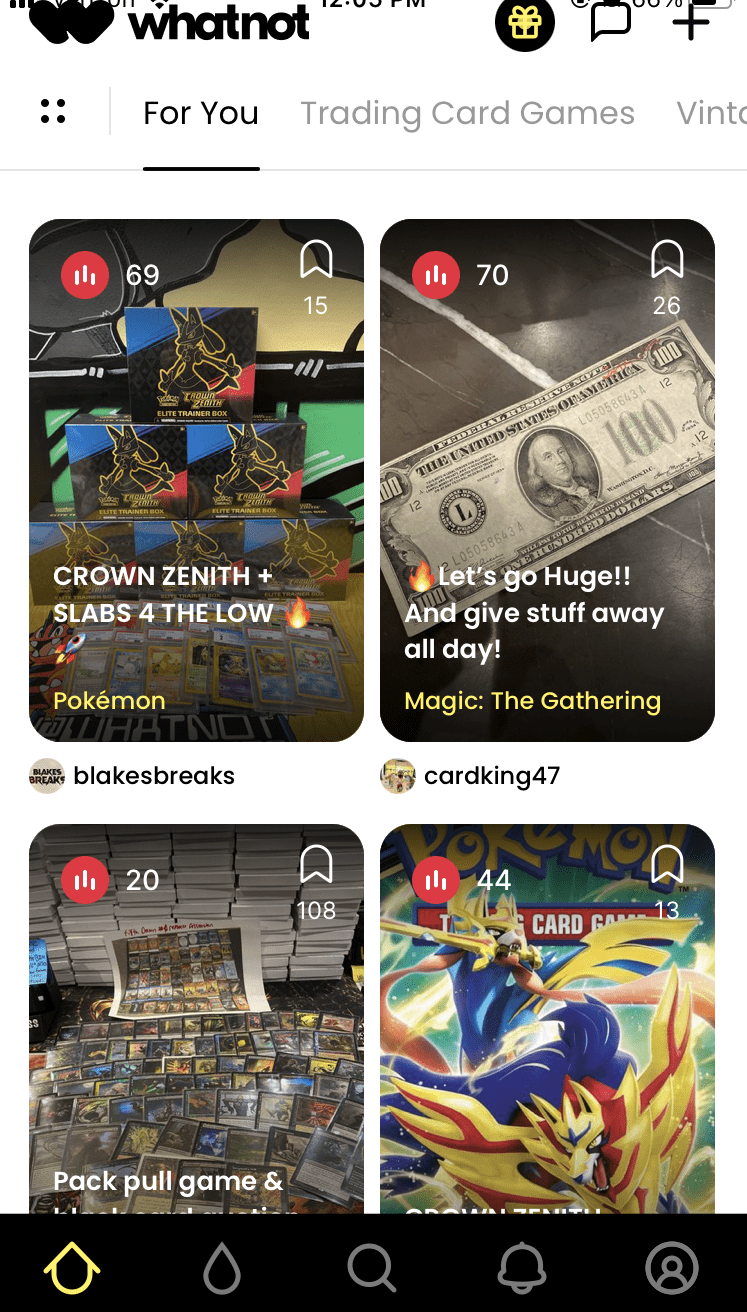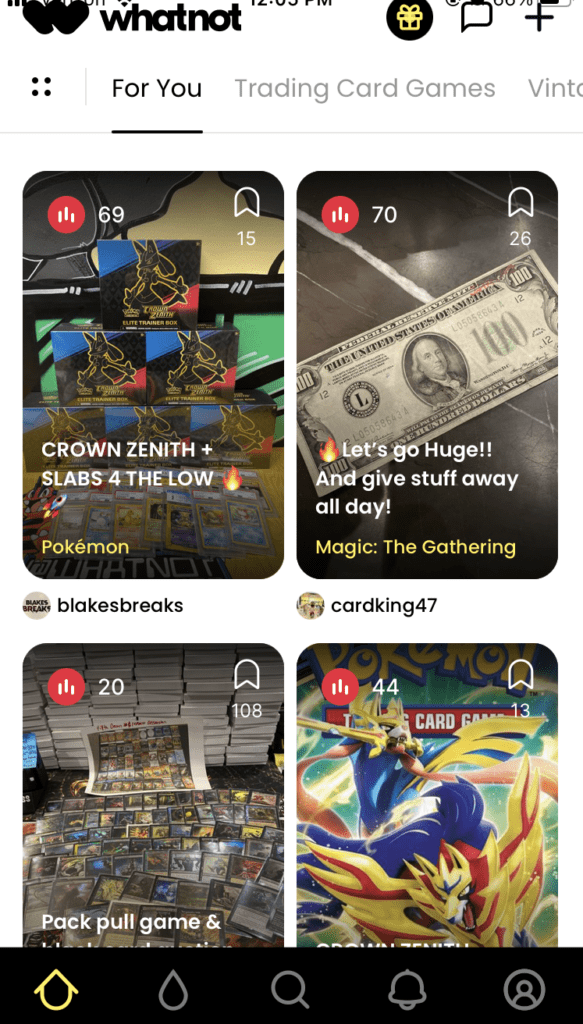 Sign Up To Sell On Whatnot
When you first join Whatnot, you will be a browser or buyer. To be a seller on Whatnot, you have to apply to sell. Whatnot reviews significant selling or content history to see if applicants have an established track record of sales or content creation in the category they are using to sell. For example, an online sales account or a brick-and-mortar store.
Whatnot wants applicants to have a strong and reputable brand within their category's community, so it might be beneficial to spend some time on the app commenting and making friends before applying to sell. Plus, then you'll have buyers ready to follow your live video.
According to Whatnot, applicants must also provide strong evidence of the quality and quantity of the inventory they plan to sell to ensure they have enough inventory to go live consistently.
After your application is submitted, you should receive an email with a decision within two weeks.
Once accepted as a seller, you will schedule a live group onboarding to learn the rules. You'll need to have your camera on and have to take a short quiz at the end to pass.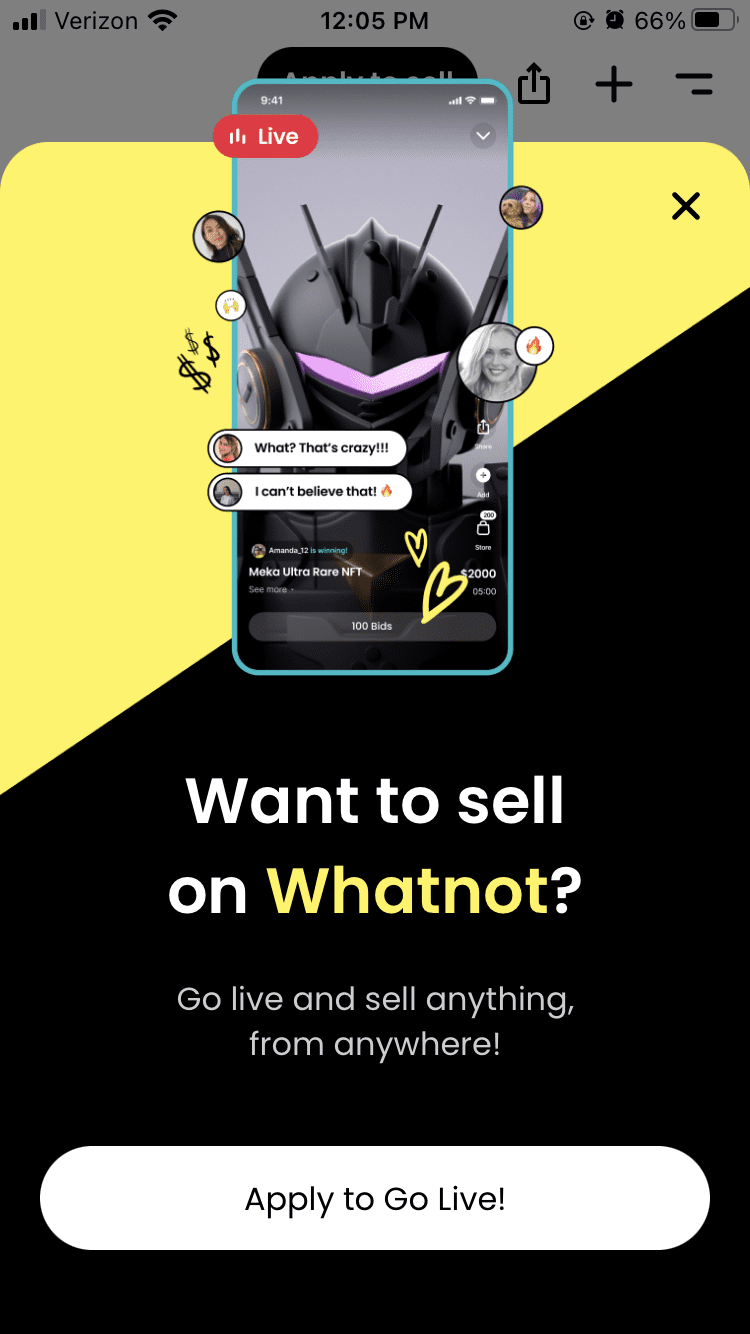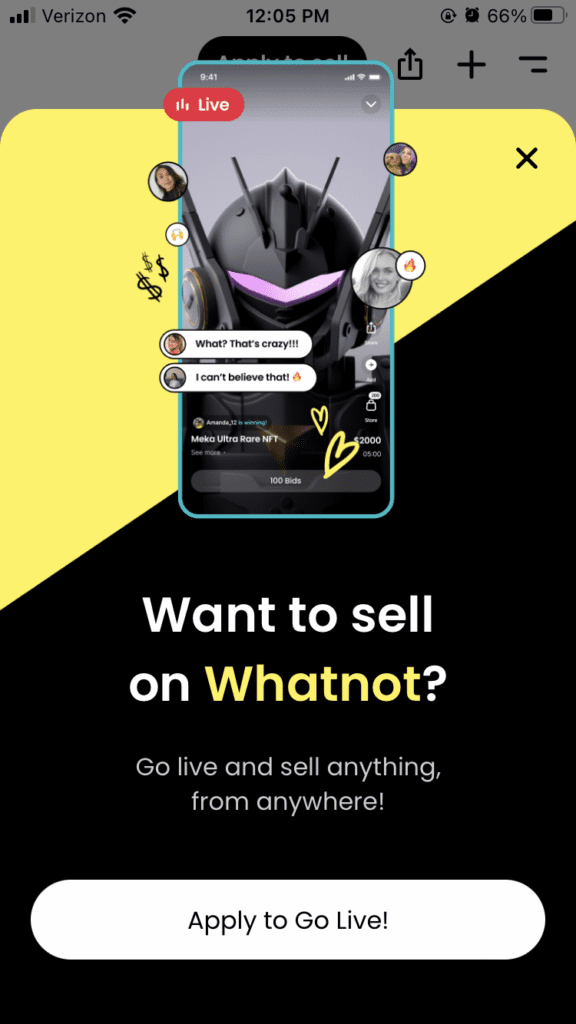 Schedule A Show
Once you're approved as a seller for Whatnot, you can schedule your show anytime you want. Viewers on Whatnot are consistent throughout the week.
During the show, you can explain items in detail. Whatnot keeps track of who buys what so you don't need to and gives you the info at the end of a sale so you can package and ship your items.
Once you've scheduled your show, you can load your shop with the inventory. You'll want a good photo of your item and a descriptive title. This is where you will also add the item's weight for shipping. You'll also have the option to create buy-it-now items for your online store and giveaways.
When running the live show, you can start the show from a device with a camera and internet. You can use your phone or a laptop. It helps to have a second device to start auctions and type in the chat. As always, make sure you have good lighting and a clean background.
Auction lengths can vary.
What Are The Fees?
Whatnot seller fees are an 8% commission on the sold price of an item, paid when it sells, plus 2.9% + $0.30 payment processing fee for the entire transaction.
The buyer is responsible for paying shipping based on weight and distance from the seller.
Payouts on Whatnot go through Paypal or ACH Payouts through Dwolla. Those agencies will provide 1099s at year-end.
If you're looking to grow your reselling business, Whatnot is another way to get your items in front of buyers and be able to show them off with a live video. Give it a try!
Are you ready to make $100 this week? Download our free PDF.
Related Articles
How To Use Facebook Marketplace For Your Reselling Business
How To Start Reselling Shoes For A Profit
Build A Successful Side Hustle Flipping Used Items With The Remaining 72 Hours Of Your Work Week